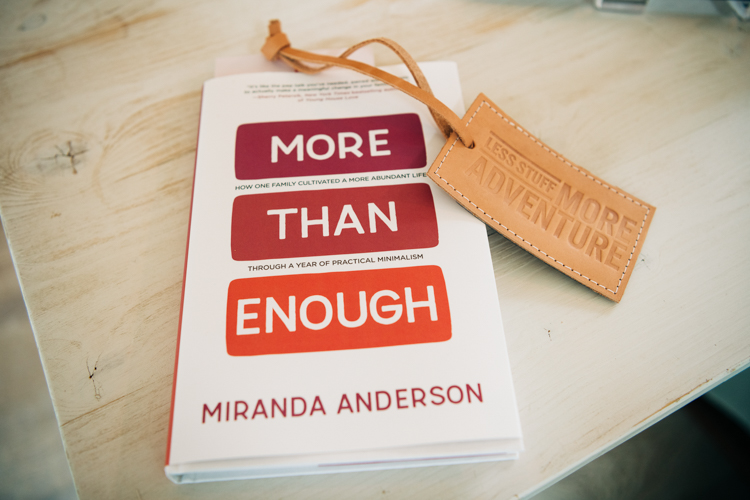 When one writes a book, it is only natural to celebrate. And the way I chose to celebrate was with picnic-style launch parties!
Initially, I dreamed of a long, low table in an orchard somewhere. Twinkle lights and cheese boards and good conversation. I wanted my launch parties to feel like an experience in and of themselves.
After some research and planning, and understanding these events would be held in July in Texas and Utah (both very hot locations!) the logistics bended to meet the vision in the middle of realistic and whimsical. And they both turned out perfectly. I hired Emmily Jones from Gatherist to coordinate and help design the events, which took a huge logistical load from me and brought a new level of detail and thoughtfulness to the plans.
While many of the details of the launch parties were similar, others were different. In this post I will share all of the details of the More Than Enough Launch Party in Austin, Texas.
All photography by Melisa Mckinney Photography, who I highly recommend to anyone in the Austin area looking for an incredible portrait and lifestyle photgrapher.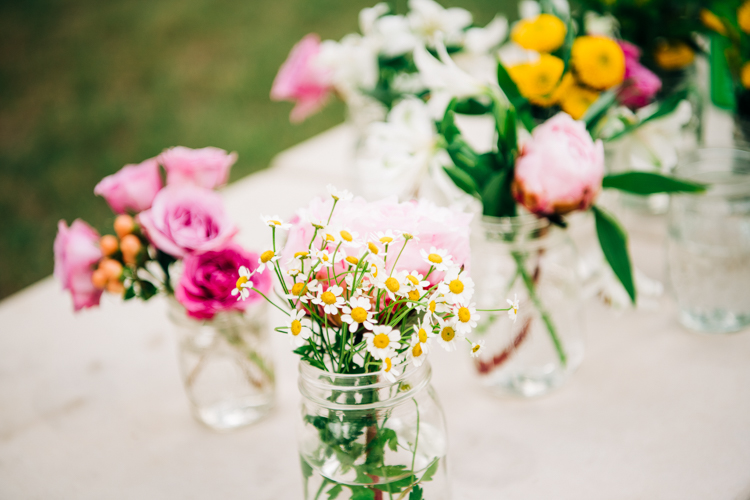 I stumbled upon The Wayback on instagram and immediately felt drawn to it's hip, casual vibes, indoor and outdoor venue space, and gorgeous location. This unique space boasts several small cottages for overnight rental, a darling pool available for guests (and even daily guests with a pool-only ticket), and an on-site restaurant with a cozy interior and a patio that spills onto a huge outdoor lawn and garden.
While it wasn't an orchard, the many live oaks twisting on the property felt perfect, and the logistics of having a full kitchen on-site for the catering of the event were easy to navigate. In addition, the owner Sydney and PR contact Arielle were both incredible to work with and helpful at every step along the way. Their generosity and thought infused the event with ease.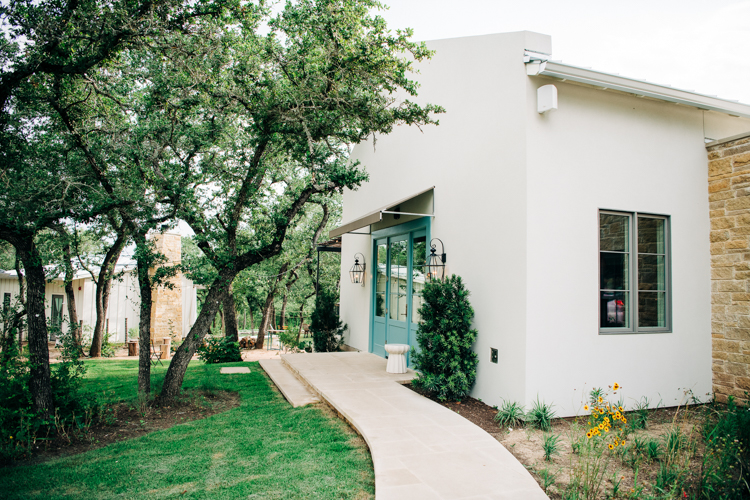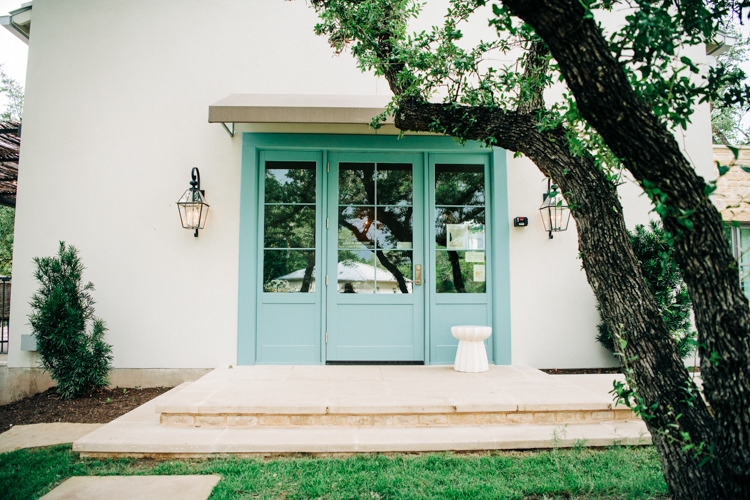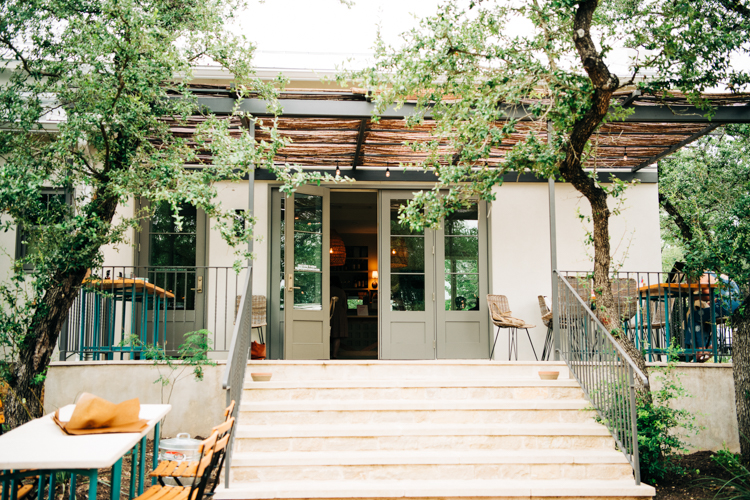 The flow of the event was through the front door to check in, past the bar to order a drink or grab the event's signature fresh strawberry + rosemary lemonade, then out the back door onto the patio and grounds. We had activities both on the patio and down around the central gathering space, lending to a communal yet relaxed ability to wander at will.
All of the tables and chairs were provided by The Wayback, easing our logistics. The whole style and vibe of the location is darling, and felt just right for what I wanted to accomplish. We had around 40 people at this event, and the space would have flexed for up to 100 or more. Should I ever need space for hosting something else in Austin, this is where I will turn.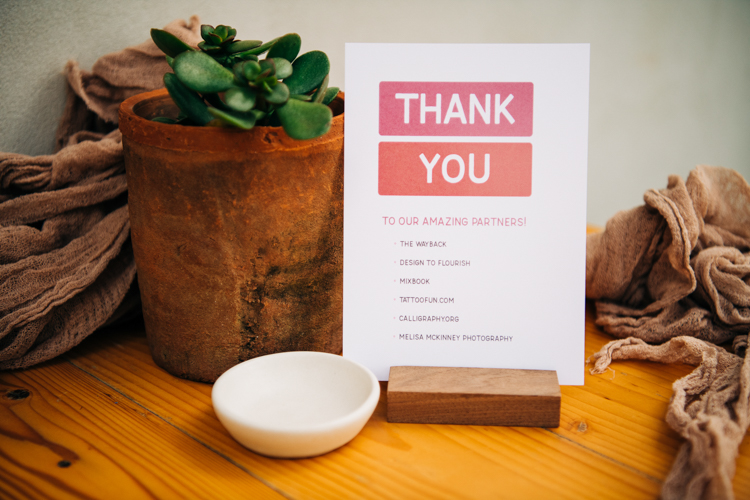 Food matters! It is one of my favorite pieces of planning events. The menu at the Austin Launch Party Picnic was even better than I imagined. Here's what it looked like: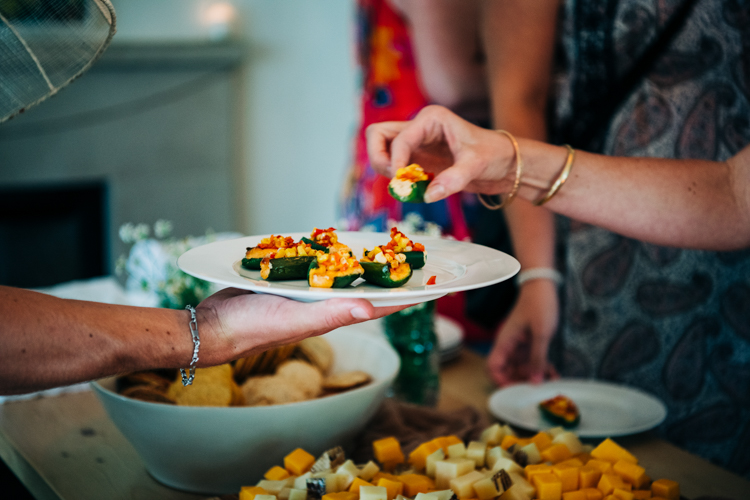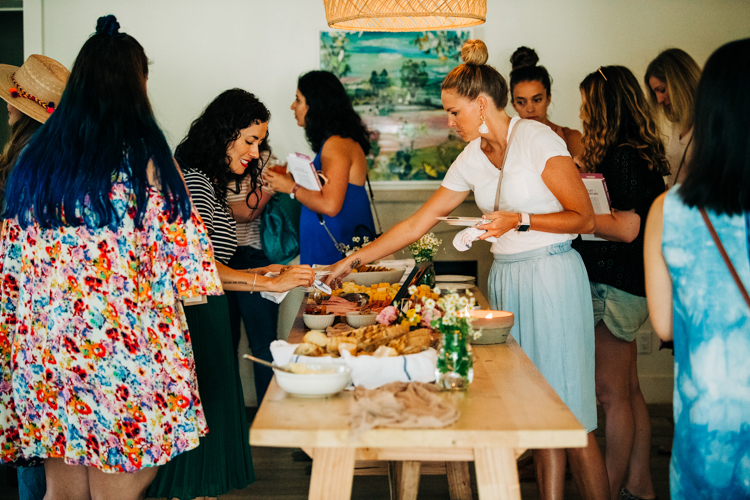 Menu
Cheese and Charcuterie Board
Fresh Bread Basket
Smoked Chicken Skewer
Red Snapper and Tomato Ceviche
Grilled Jalepeño and Cream Cheese bite
Honey Lime Chili Watermelon Skewer
Cucumber Bite With Goat Cheese and Lentil
Fresh Peach Hand Pies with Peach Cream
We chose to have the meat and cheese board inside along a long center table, then passed the heavy appetizers through the crowd. Each bite was curated and thoughtful. The appetizers showed up just when you needed another bite, and the picnic board was beautiful and robust.
I loved how The Wayback provided a curated menu for the event. We didn't pick food from a pre-determined set of dishes, rather collaborated with them (and their chef) to create just what we hoped for. It was delicious.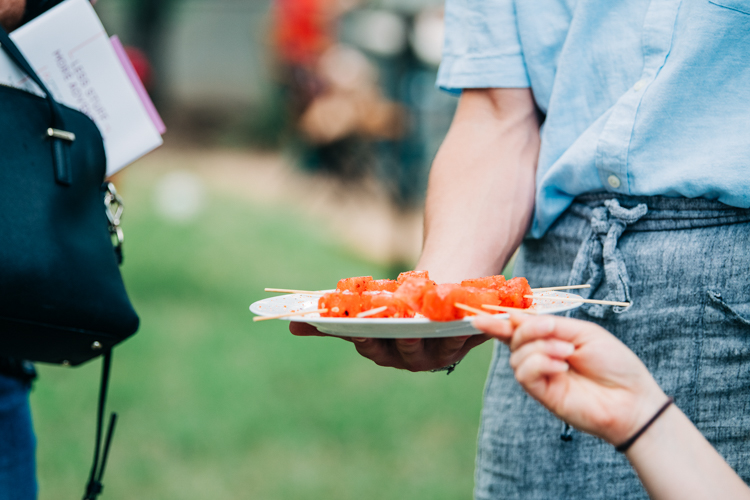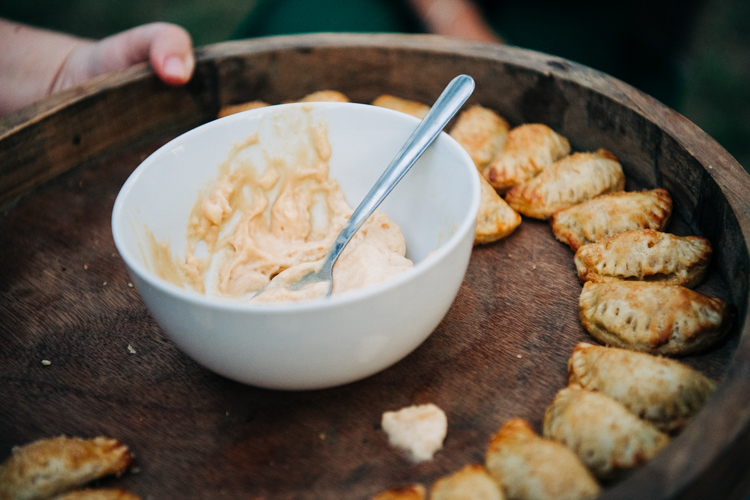 The Plan: Experience
Because it was important to me that the event felt like and experience for the guests, more about them than about me, I planned a few special activities. The first was having a calligrapher on site hand-lettering inserts for the "Less Stuff More Adventure" leather luggage tags that we gave to each attendee.
In Austin, we had Kelli Coyle of Design To Flourish using her incredible talent to letter names and email addresses, phone numbers, or whatever else the attendees wanted on their tag insert.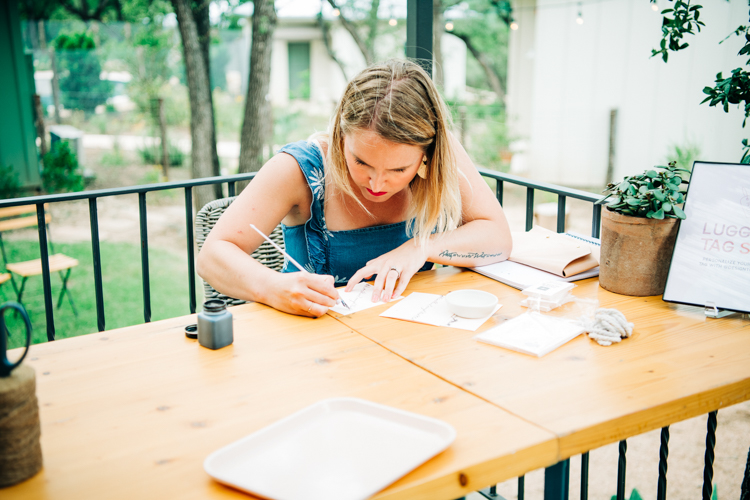 I loved partnering with a local calligrapher to bring her talents on board for the event. Kelli was kind, lovely, and generous with the guests. I love her beautiful, modern script and she was a joy.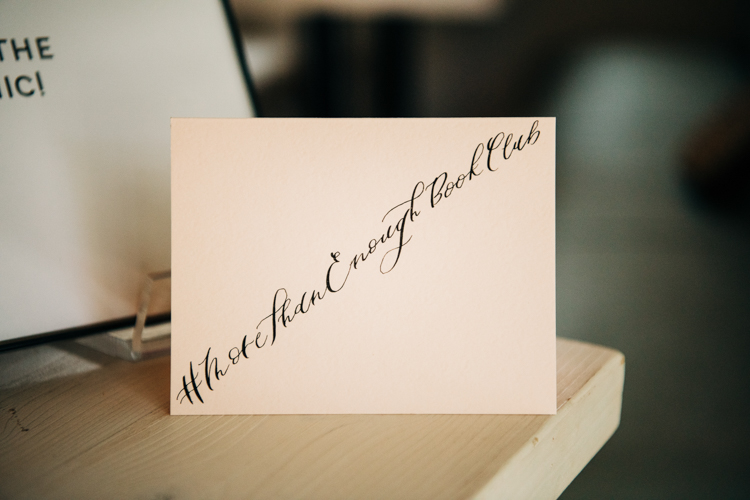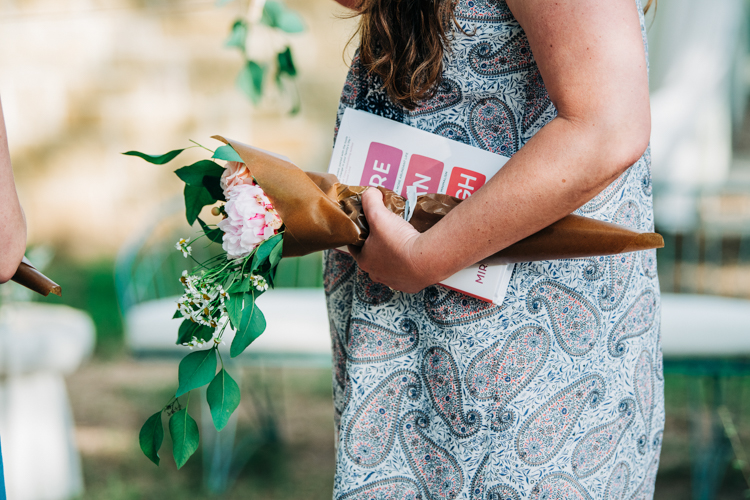 Custom Temporary Tattoos: Tattoo Fun
It's no secret that I love tattoos. I always have! Temporary tattoos are a fun way to enjoy the design and novelty of a tattoo without the commitment. Perfect for a party or event!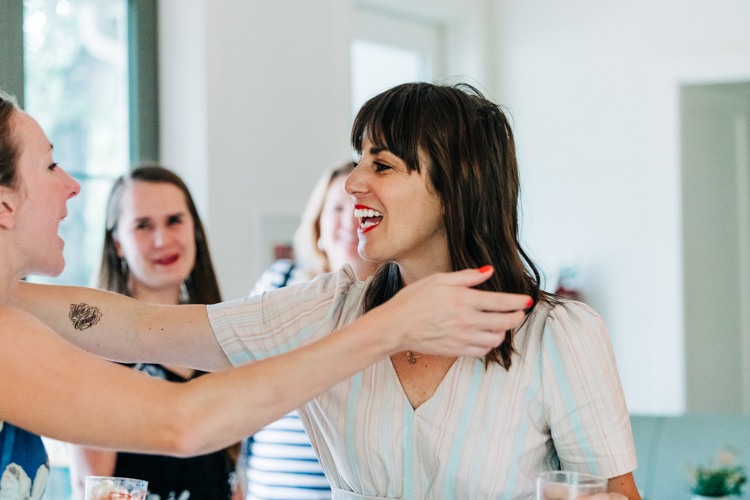 It was so fun to have a tattoo station where guests could apply or take home a couple temporary tattoos custom made for the book celebrations. I asked my friend and master calligrapher Melissa Esplin (of calligraphy.org) to hand letter designs for the two tattoos, then we had them created by tattoofun.com who has incredible quality and quick turn-around times.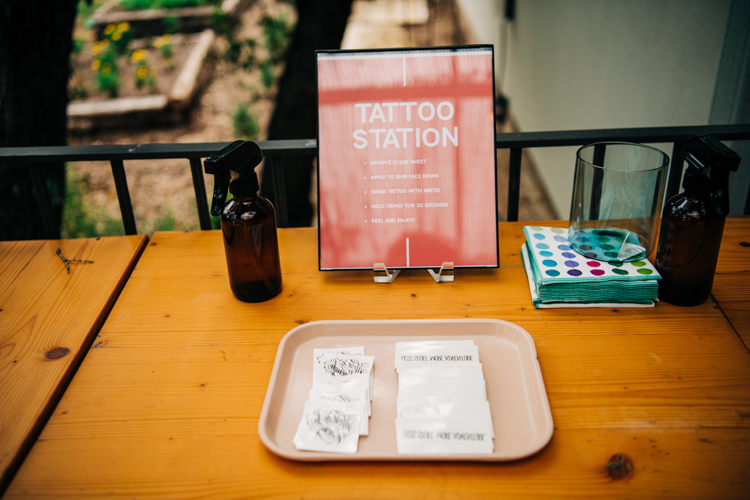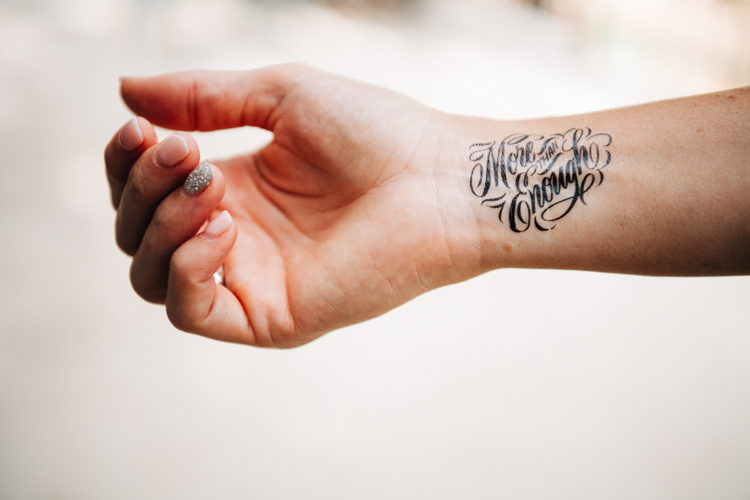 One of the tattoos was this gorgeous scripted "More Than Enough" that is pretty enough I am almost tempted to have it tattooed on me in real life. (Luckily, I've got a stack of the temporary ones and won't need to!)
The other phrase was a single line "Less Stuff, More Adventure" which is one of my favorite mottos and perfect for a temporary tattoo.
We provided spray water bottles for the application on-site, which worked amazing. It was so fun to have people walking around with phrases from the book stuck on their arms and hands. The temporary tattoos gave the event a sense of community and whimsy that I loved.
With the ease of ordering, high quality tattoos (which stay on for about a week beautifully) and customizable back papers on the tattoos themselves, I will definitely use tattoofun.com again. In fact, I can't wait to think of another reason to need to order some again!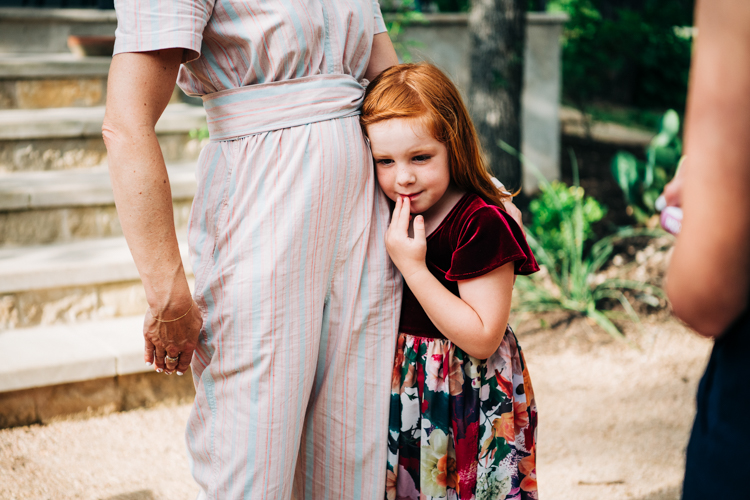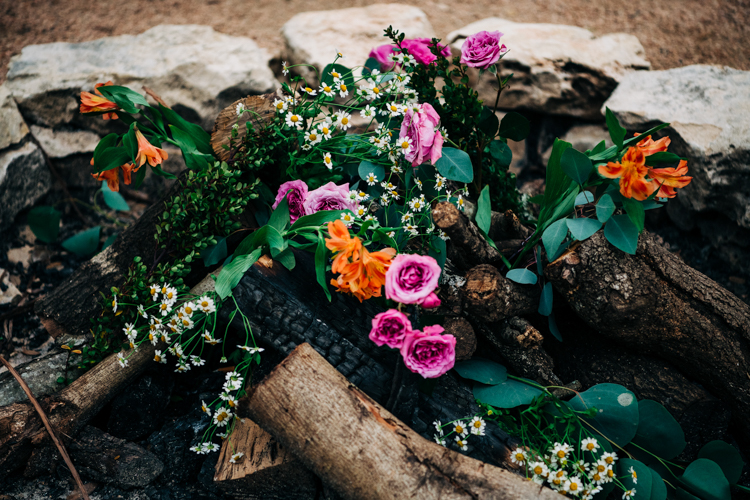 Another activity that I had seen on Pinterest and wanted to share at the launch party was a build-your-own bouquet station. I envisioned a pile of flowers spilling out of the bucket on a beautiful Madsen Bicycle, and that is exactly what I got!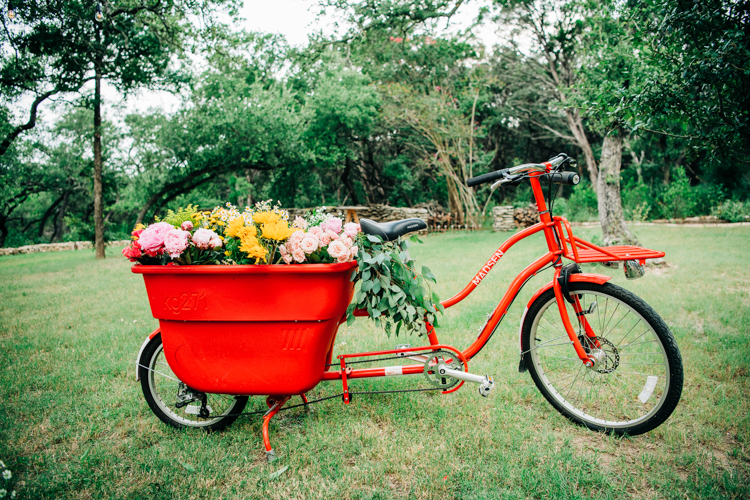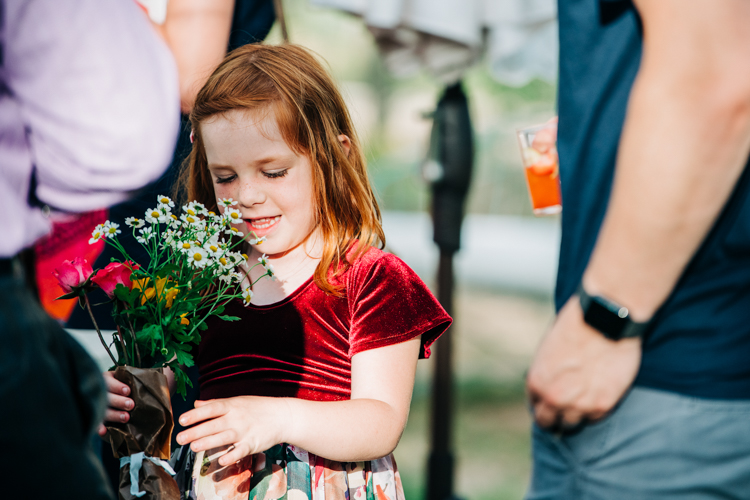 The concept of the bouquet station is simple and fun. Each attendee picks 4-6 stems from the flower station and wraps them up to take home and enjoy. The beauty of it is how the station doubles as gorgeous decor for the event, and everybody loves flowers! We bought all of the bundles at Trader Joe's and cut them to fit a dozen large mason jars in the back of the bicycle.
I love Madsen Bicycles. Our family got one for Christmas several years ago and we still use it often for family bike rides and ice cream runs. For this event I borrowed the shiny red bucket bike from my good friend and old neighbor Cara who also runs Red Bucket Floral. It couldn't have been more perfect for the event.
It was fun to see everyone wandering around with a bouquet tucked under their arms. Flowers everywhere makes anything feel like a special celebration.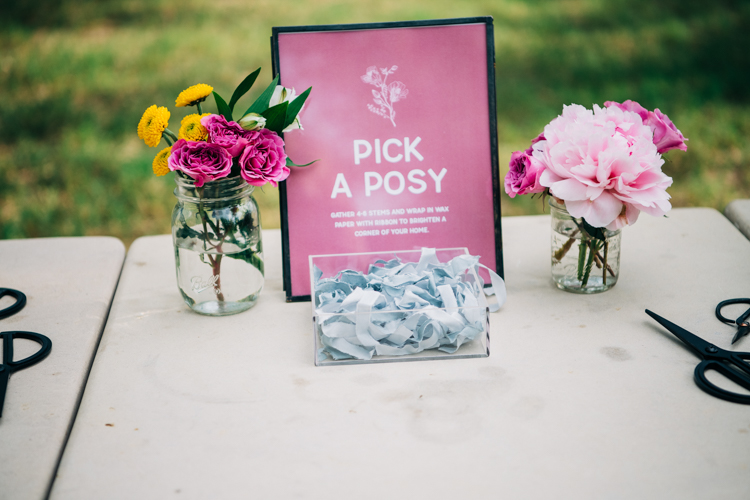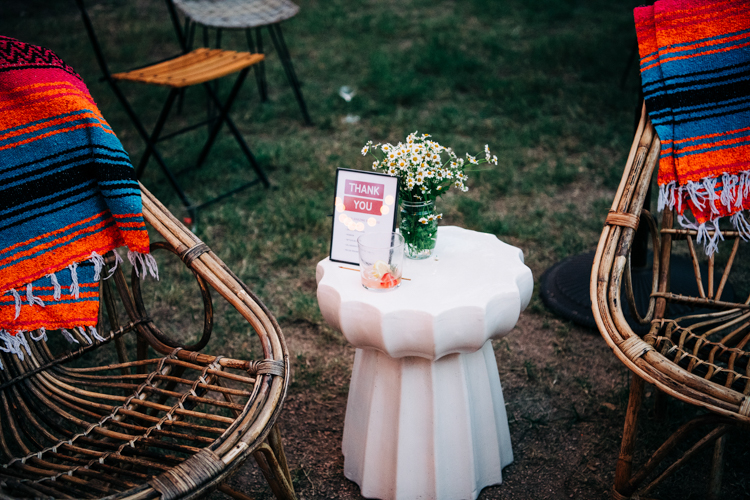 Dream Big Station
The final, fun activity to prompt thoughtful conversation was this: Dream Big.
We invited attendees to write down one of their big dreams and hang it on the line. The dreams ranged from "Visit Antarctica" to "Finish My Novel." Everyone has a big dream somewhere inside, and it feels appropriate with the theme of the book being abundance and intentionally living the life of your dreams to create space for people to not only think about but actually WRITE DOWN those dreams and share them.
In my experience, that is the first step toward fulfilling those dreams.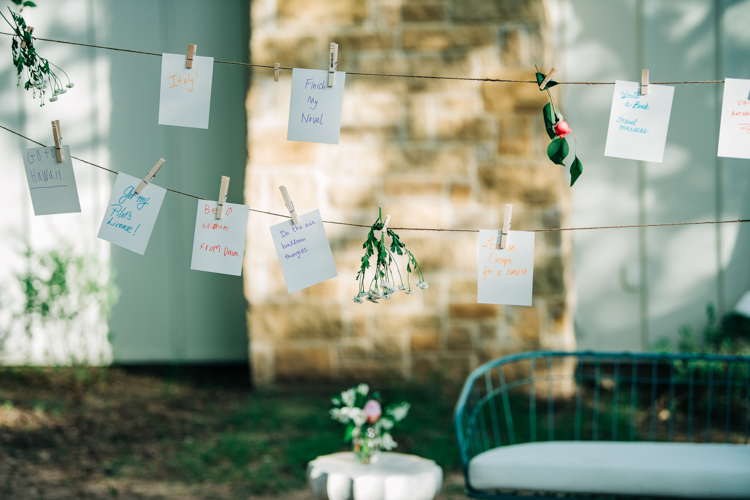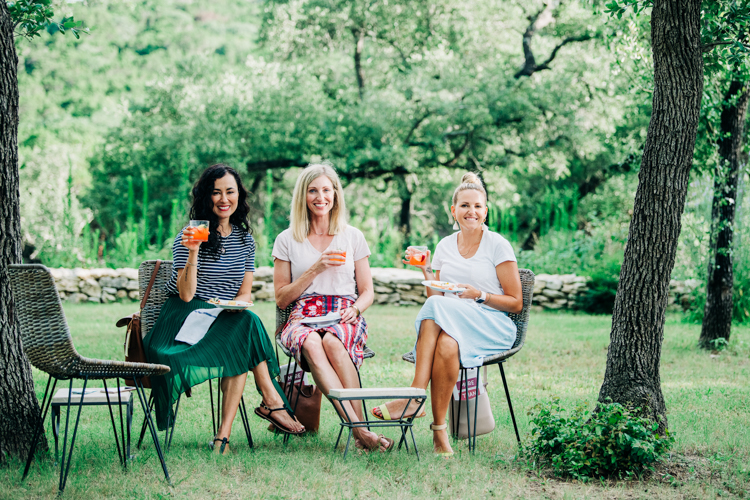 Sharing space with good friends, new friends all cheering me on in this new book endeavor was in and of itself a big dream fulfilled. This party and the book that brought it to pass have been an exciting and motivating force for change in my own live, and it was wonderful to bring some of that intention to the others at the event.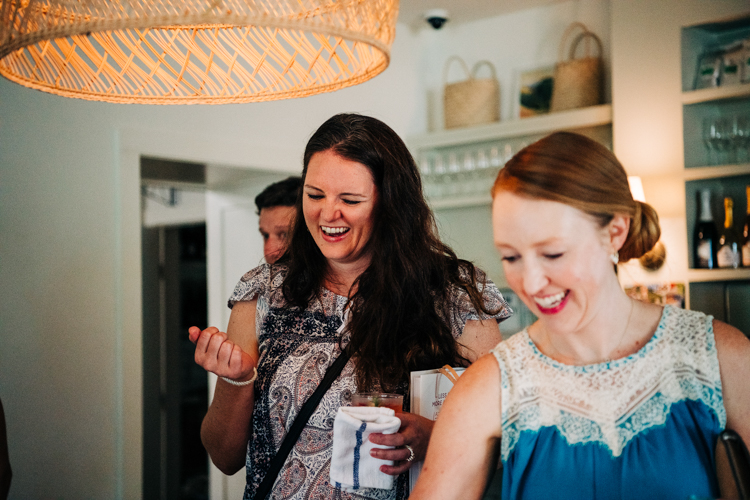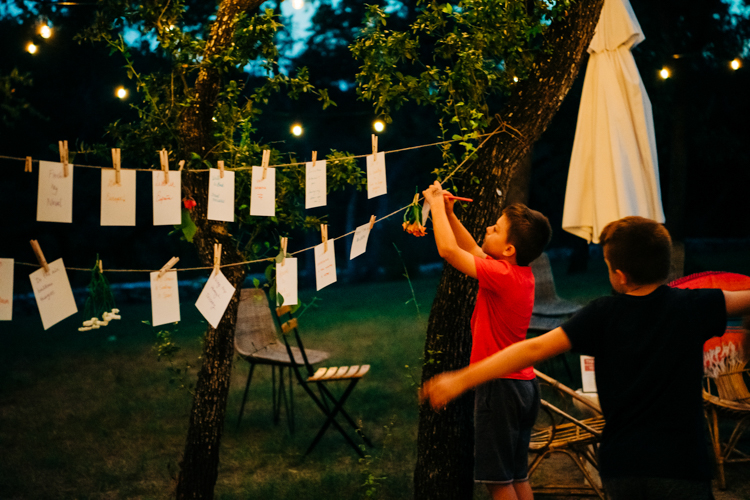 Author Talk + Live Q&A
Part-way through the mingling, eating, and enjoying the gorgeous early evening weather, I shared some thoughts as the author. This was new for me, but rather than simply talk about the book itself, I told a story about a time that I learned a lot about abundance mentality. How, as a teenager, I was introduced to the idea of already having all of the resources I needed in my life…and how empowering and healing that idea is.
I wanted to share not only that the book had value as my personal story, but how the principles inside can be applied and reflected into the readers own life. What that looks like, and how that feels.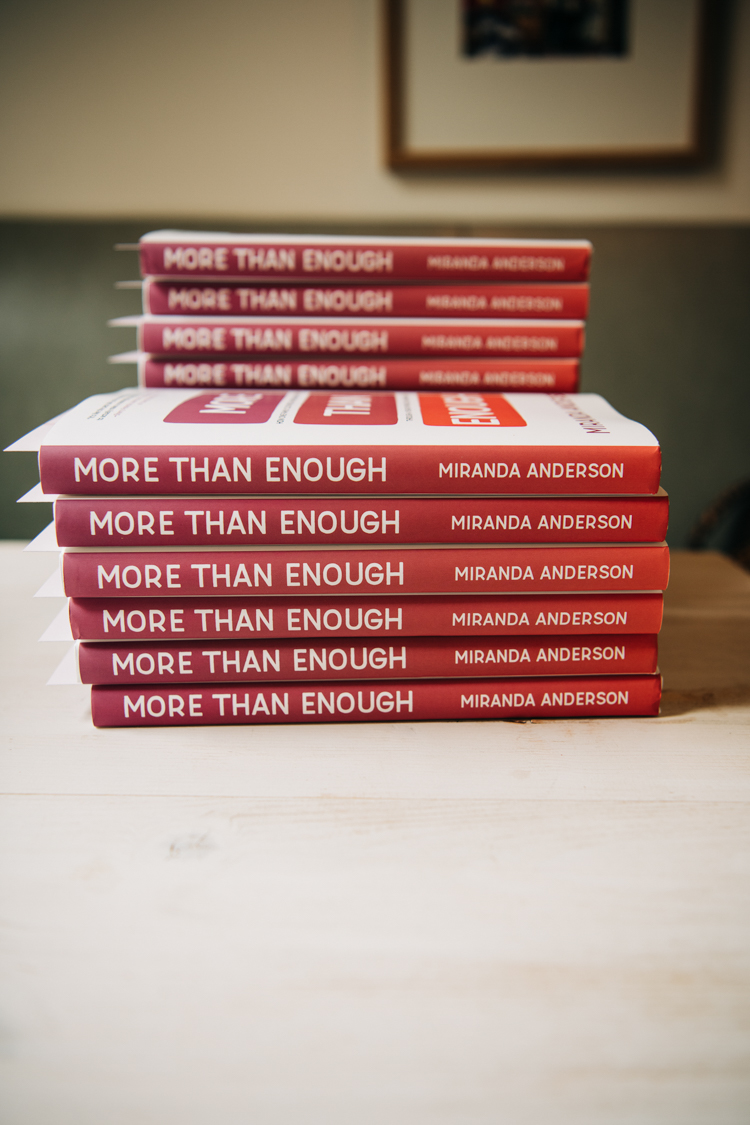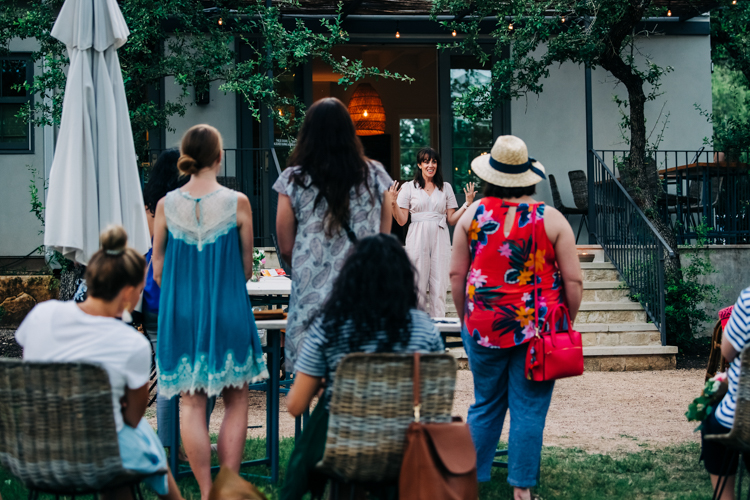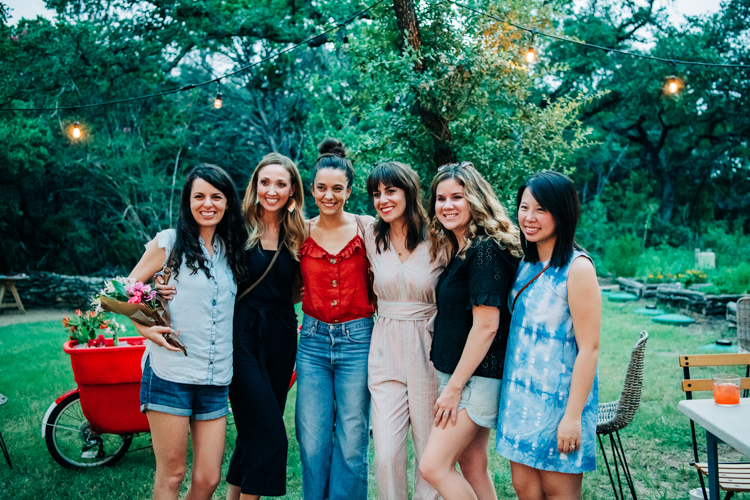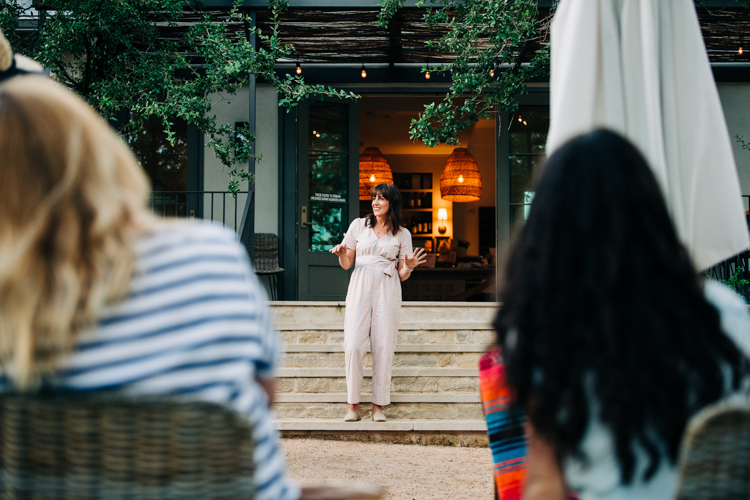 Public speaking is one of my great loves, and having a chance to share stories and insights always energizes and inspires me. I believe we are all connected through our stories, and when I share my own, those listening find pieces of their own story that they didn't realize, or had forgotten, or want to discover.
All in all the Austin Book Launch Party Picnic was the perfect way to bring the book to life. It felt just as I imagined it might, and was really, just super fun. They way a celebration should.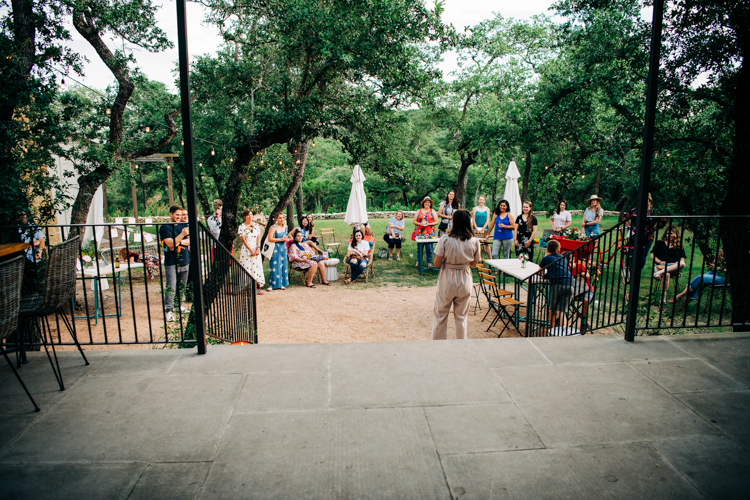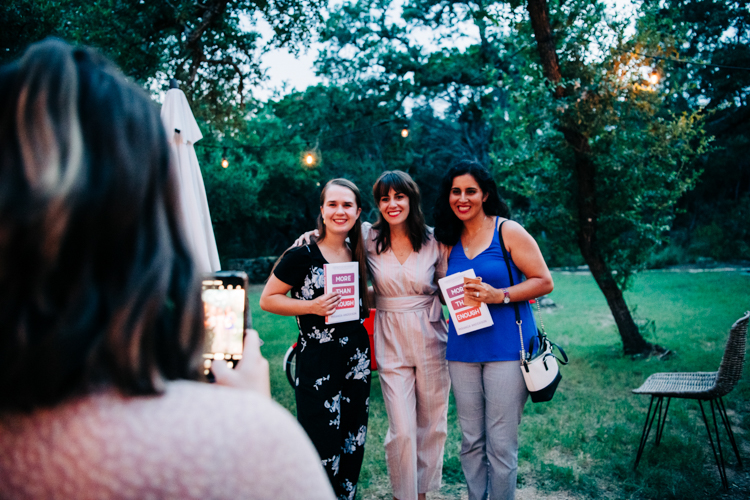 If you haven't yet ordered your copy of More Than Enough, find one on Amazon today!