Things have been quiet around here, but life behind the screen has been full of excitement lately. I've been preparing for our upcoming family trip to Costa Rica. It's a BIG family trip, involving my parents, four of my five siblings (one can't make it, shoot!!), their spouses and significant others, and all the children. We've got a great trip planned, with lots of kid-friendly activities, as well as a few little getaways for the adults only (cue sunset catamaran sailing trip.) Dave's little sister happens to also be my older sister's part-time nanny, and we're so excited to have her be coming along to enjoy the vacation, and help make some adult time possible.
I absolutely love Costa Rica, have spent a lot of time there, and am thrilled with the chance to return. I'm about to take a little walk down memory lane. Just fair warning.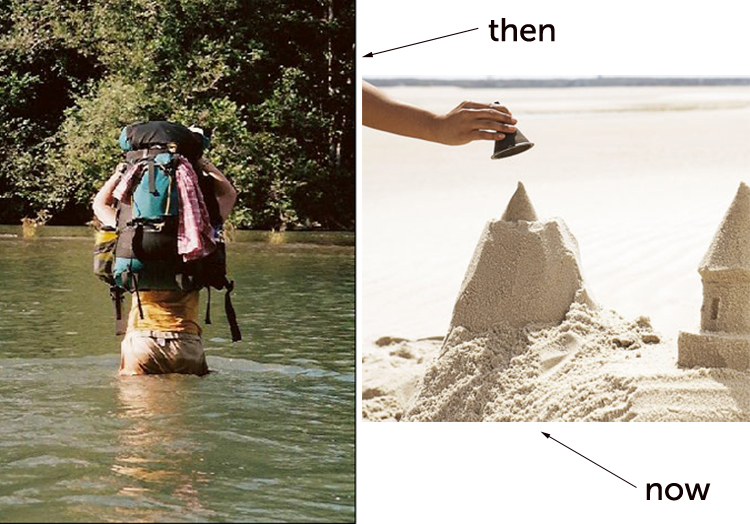 After my first year of college, I was uncertain about my career path, but I did know for sure that I wanted to learn to speak Spanish fluently. So, rather than return to school the second year, I took a semester off and headed to live in the small town of Nicoya, Costa Rica to attend a private Spanish Immersion program (something like this, though I'm not sure this is the exact same program I attended). It was a unique experience, living with a Costa Rican family, walking down the dusty back road to class, and spending the weekday afternoons exploring the town and eating a lot of ice cream.
I remember very clearly the morning that my "mamita" knocked on the door to my room, telling me that breakfast was ready, and for the first time I actually understood every word she said. It was about eight weeks into the intensive program, and the most thrilling moment! I had been studying and practicing a lot, but after that breakthrough, it was like a wall had been taken down and I was able to absorb the language like a sponge. I began speaking as well as understanding, and by the time I left I was confident in my ability to hold a full conversation with a native speaker.
My little brother Taylor and his two friends had come on the self-guided study abroad, too. They each lived in a different home stay from me, but we spent every weekend together. We rode the bus all over the country, checking out beaches, waterfalls, jungles, and karaoke bars along the way. Taylor bought a surfboard for $50 from a local, and we all tried our legs (unsuccessfully for the most part) at surfing the famous Costa Rican waves.
Every weekend brought a new adventure. One night, after being caught in the most insane downpour on the beach, with no planned housing for the night, we met an American who said we could use his mother's beach house. It had been unused for a year or two, and so it wouldn't be an imposition. Well, when we finally found the circuit board to flip the electricity on, we discovered the whole place was infested with huge jungle spiders! There was an audible skittering when the lights flipped on, and the walls and floor were literally crawling with long, spindly legs. After a (very) short debate about the ethics of refusing the kindness (that involved my brother bringing up the real possibility of not living through the night), we left a note and high-tailed on the dark roads to the nearest hotel, where we indulged in a late night dip in the pool and a huge, anxiety-calming pizza.
Another weekend we (I, rather) met some cool, local guys on the dance floor in a funky little beach town, and they agreed to take us to a secret waterfall the next day. In the morning, we hiked with them to the nearby waterfall that was crawling with tourists. Then followed as they cut off through the jungle and began climbing up the adjacent hill. A half-hour later, we were standing in front of the waterfall that fell above the well-known falls, and spent the afternoon by ourselves swimming in the pool and swinging from the twenty-foot rope swing that was tied to a tree overhanging the falls. This experience summed up the magic of the semester, and we all still remember it fondly as one of the best days we've spent.
The year after my semester in Costa Rica, I was itching to return. So, I found two willing friends and  planned a ten day backpacking trip. We traveled by bus, and spent most of our time hiking in nature reserves. The most intense adventure of the trip, by miles, was backpacking in to the Sirena Research Station in Corcovado National Park. We hitched a ride in the back of a truck to the trailhead, then paid our entrance fee and got advice from the ranger that added up to something like "When you lose the trail, look for the plastic bottles tied to the trees. You have to cross two rivers before the station. After the second river, you have about a kilometer left. Good luck." And we headed off.
No doubt the scenery and wildlife was incredible. In the first hour of the hike we spotted a bright yellow Eyelash Viper sunning on a rock right next to the trail, a group of Howler Monkeys hopping in the branches, and several colorful Scarlet Macaws dotted throughout the trees. It was incredible, but the day was hot, and as the hike continued on we ran lower and lower on energy…and water. We crossed the first river at low tide, and wound in and out of the jungle and beach, following the plastic bottles tied to trees as trail markers. There weren't any other hikers on the path, and after several hours we were out of water, rationing trail-mix, and getting desperate for our destination.
I remember trudging along the beach, not having the energy left to carry on a conversation. When I looked up to check for the next trail marker, I didn't spot a plastic bottle, but a huge American Crocodile lumbering down the sand about twenty yards in front of us. I stopped abruptly, causing my friends to stop and look at me, confused. I motioned ahead to the wild animal, and we all stared, wide-eyed, as it slipped into the waves.
We consulted, feeling fresh energy from the adrenaline of the encounter. Recalling our elementary educations, we agreed that crocodiles were fresh-water creatures, so the water he entered must be decidedly less salty, probably because of the nearness of the second river that we were to cross. This information both eased and added to our burdens, because although crossing the second river meant only one kilometer to food, water, and a place to rest for the night, it also meant crossing a crocodile infested river!!  With no water left, and hours of wild jungle between us and the ranger station, we really had no choice but to continue on.
About a hundred yards ahead, we ran into the second river. The plastic trail parkers led us up off the beach for a few minutes, to a spot in the river where crossing would be easier. The water was a murky brownish green, with no visiblity, and we had no idea how deep it might get in the fifty yards we needed to cross. When we again freaked ourselves out by remembering the crocodile, we agreed that we were in as much danger dehydrating as we were chancing a crocodile attack. I rolled up my skirt (yeah, I was hiking in a skirt…) and stepped into the river. The water came to my knees for the first few steps, then deepened until I was mid-thigh, and finally, in the center of the river I had to raise my pack above my head because the water was approaching my waist. At that point I started rising out again, and made it to the other side without incident (and with one well-timed, candid snapshot from my friend behind me to record the unbelievable experience.)
The research station was indeed just another half-hour past the river, and we welcomed the warm, purified water, tuna salad with crackers, cold showers, and warm sleeping bags. When we hiked out the next afternoon, re-crossing the river didn't cause the same level of anxiety. And when we were surrounded by a pack of growling coatis, we had the peace of mind to walk slowly and keep our cool, because after all, we had crossed a crocodile infested river. We all emerged at the ranger station tired, blistered, and ready for a cold orange soda. The experience had been beyond our expectations, and still tops my list as the most crazy adventure I've ever had.
Now, fast forward ten years, a husband, and two small children. I'm looking forward to making new Costa Rican memories that involve more sand castles (photo via) and less threat to life. I hope to be able to see the trip through my children's eyes and create some unforgettable adventures for them. I'm sure we'll dig for pirate's treasure (which reminds me I need to buy some chocolate coins before we leave…), spot monkeys on a (guided) walk through the jungle, and spend lots of much-anticipated time playing with cousins. In addition to fun with my kiddos, I'm so looking forward to spending ten whole days with my husband. Turns out working at a busy law firm is pretty time-consuming, and I can't wait to just hang out together.
Also, I can't wait to unplug. Ten days in my real life with my real family will be a good grounder. As much as I love the internet/social media/texting/blogging/instagram, it begins to control me if I don't take good care to keep it in control myself. When I leave the states, I'll be signing off of virtual reality until I return. Have a wonderful, wonderful couple weeks!