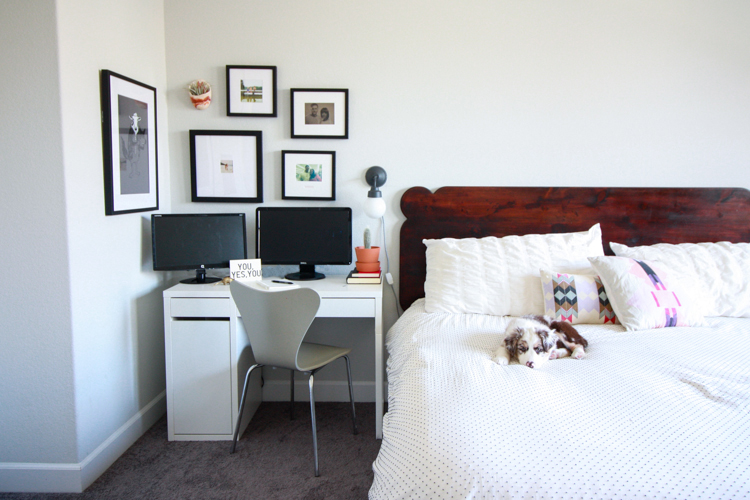 For Father's Day, I wanted to create a small office in the Master Bedroom for Dave, who often works from home. He previously had his computers set up in the laundry room (since we turned the home office into a playroom). But the laundry room is a small space, with no windows, and is generally piled with…well, dirty laundry.
So, even though I had been reluctant to have a work space in our bedroom (you know, keep it as a sanctuary for rest and relaxation, all of that.) This was a much better option than the laundry room. Also, it gave me a chance to think about our bedroom with some intention, and as it is usually one of the more neglected rooms because it's not often seen, I loved being able to focus on it, even just a corner at a time.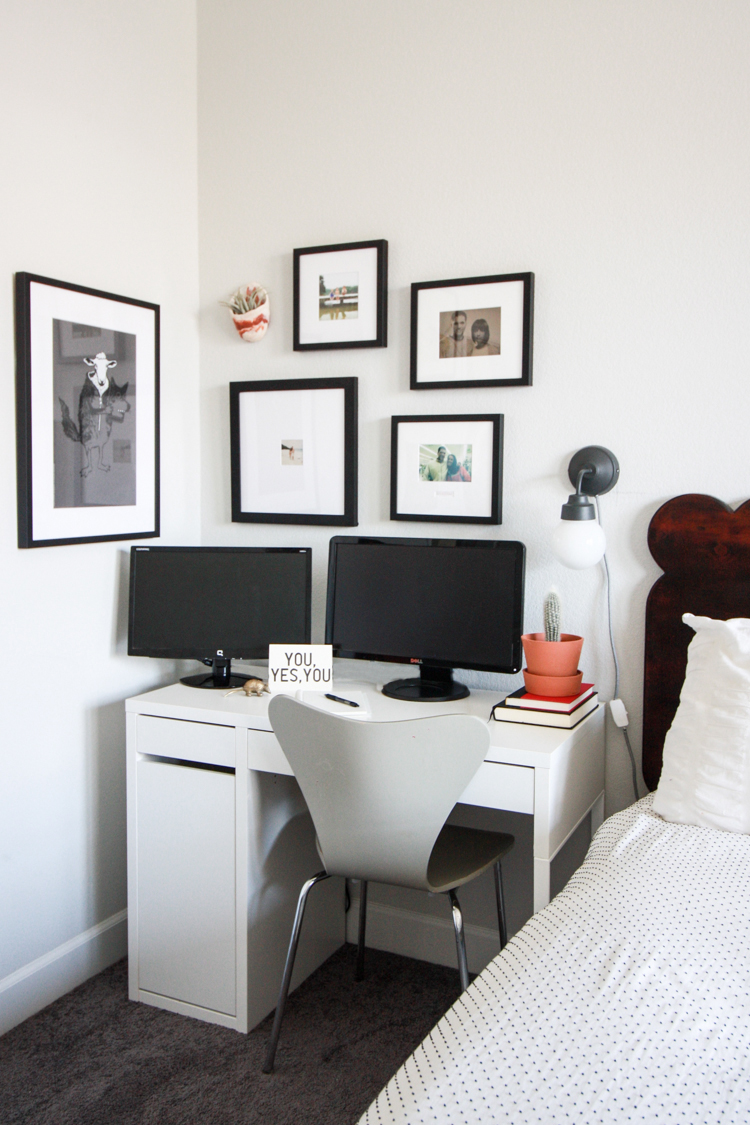 I was lucky to get the office all put together well before Father's Day, and the timing worked out beautifully, because with my surgery yesterday, Dave has been able to work right here next to the bed where I'm resting and recovering. It's already feels like a fun space to be able to enjoy together.
I replaced his bedside table with this simple desk, and the DIY bedside sconce works perfectly as a desk light. The chair was pulled from the other room, cactus repotted to match the marbled terra cotta planter I made a few months ago with my Crafter's Box kit, and the matching mini-gallery wall of frames all went up easy peasy.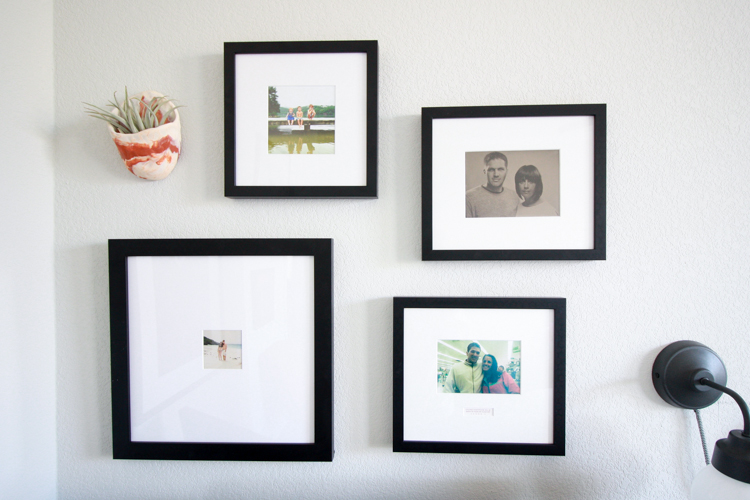 Because I partnered with Framebridge to have a grouping of cool old photographs, and special prints all framed for this office gallery wall ahead of time, I was able to organize, arrange, and decorate the whole space in just a few hours. They are such an awesome company and I've loved working with them before (they framed the huge Hermès scarf for Plum's nursery). I was thrilled to dig some old, sentimental, and unusual pieces out from drawers and cupboards to finally have framed for display.
Have you heard of Framebridge? They're an online custom frame shop where you can either ship your art and photographs for framing (free shipping both ways), or upload digital pieces directly to the site, or on their app. I love the look of custom framing, and this system makes it simple, and way more affordable than typical frame shops. And, you can use the code "OneLittleMinute15" to receive 15% off of your first order through 8/31/16!
Dave loves modern lines and clean designs, so I chose all black Mercer and Mercer Slim frames and white mattes to keep the artwork cohesive, even though the art and photography are so different. It also worked out because his computers are black (no pretty, artsy iMac's here!) so the black frames feel right at home.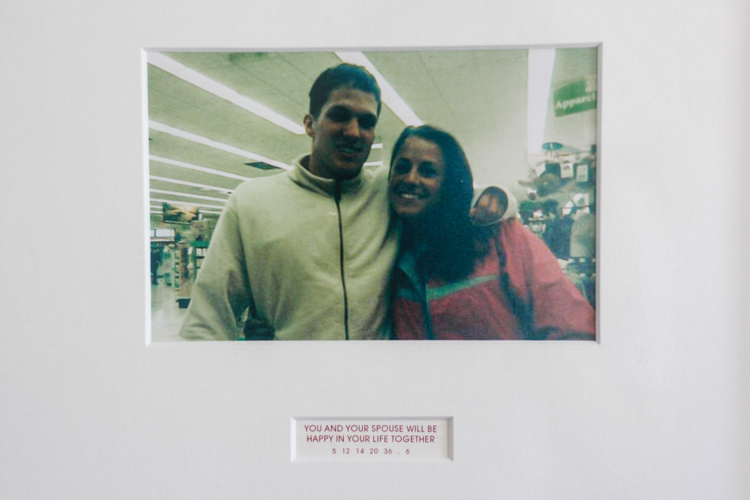 The first thing I thought of sending in to frame was this photograph and fortune from our very first date.
Dave had just returned from playing a rugby tournament in Hong Kong and we wanted to develop his photos–but we had to finish the disposable camera (since in 2 weeks he had taken 10 photos!) We had the woman at the photo center snap a couple before heading down for some Chinese food while we waited for the 1-hour developing. By this point, we had known each other for a couple months, and I was already head-over-heels for him. So when his fortune read "You and your spouse will be happy in your life together." I tucked it into my pocket, taped it in my journal with plans to one day frame it. And now, ten years later, it's done!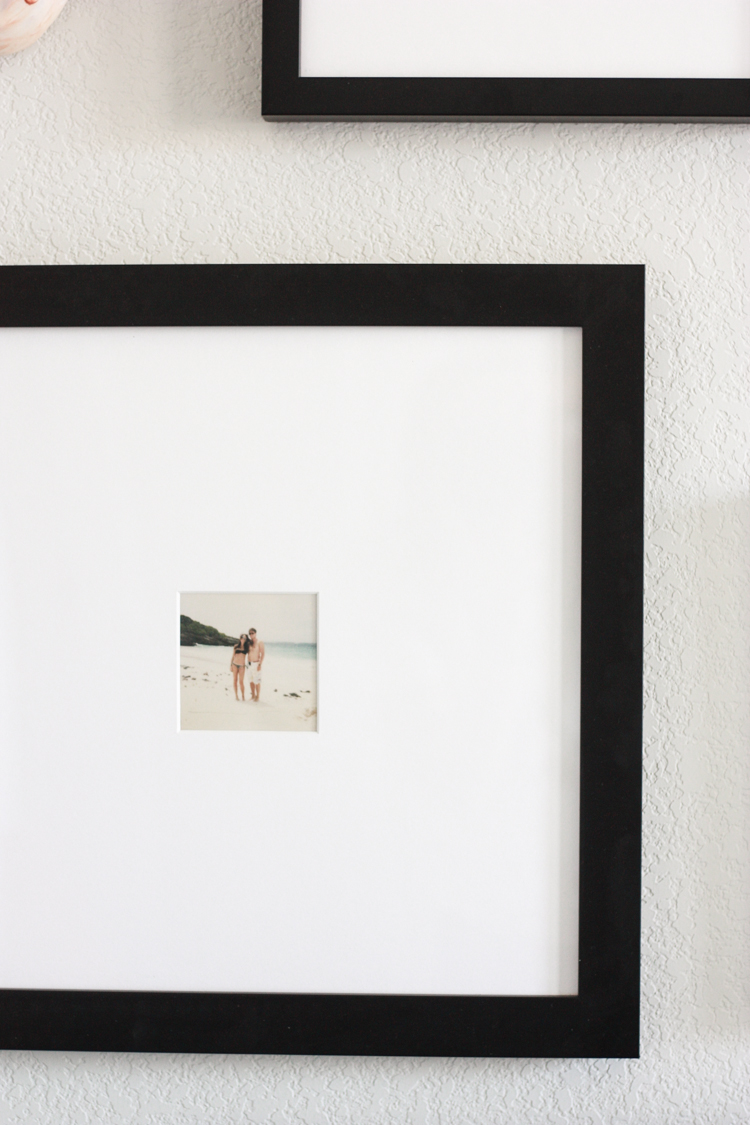 I also sent this polaroid from our summer living in Puerto Rico. It's been taped up on a wall in every one of the many homes we've lived in together, and I'm so happy to have it framed so dramatically, with this gorgeous wide matte. Something about this photo captures the sweetness and adventure of our young love, which is something I hope we maintain.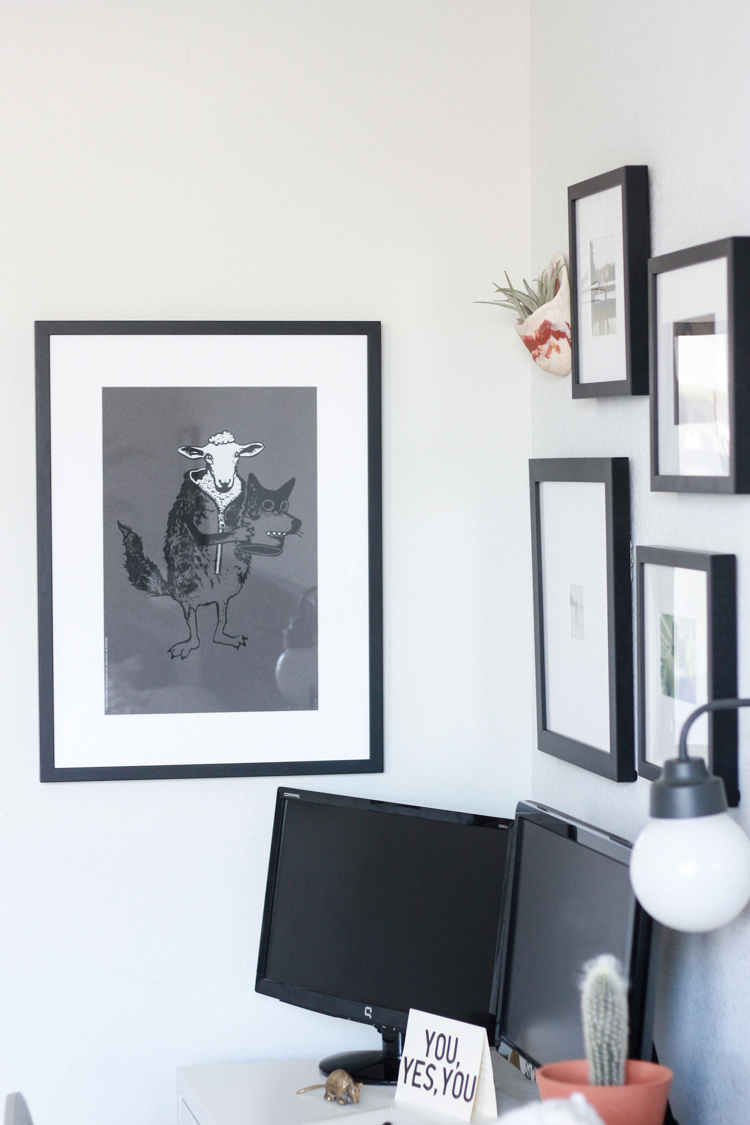 The Sheep in Wolf's Clothing screen print was a Christmas gift I gave Dave a couple years go that I'd been meaning to frame ever since. (Please tell me I'm not the only one who has piles of un-framed art sitting around?) This was a nice chance to get it all out and sent and taken care of. I love that print for him, because he's the best person I know. He is kind, honest, and soft-spoken…and an attorney! The contrast of his personality and the lawyer stereotype makes me smile.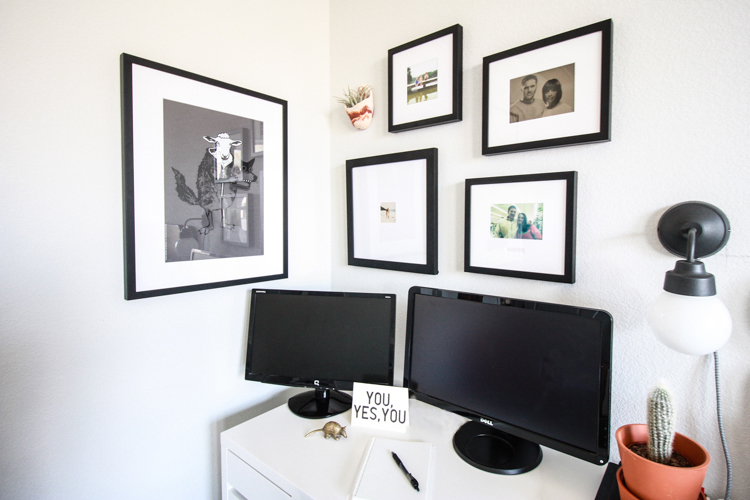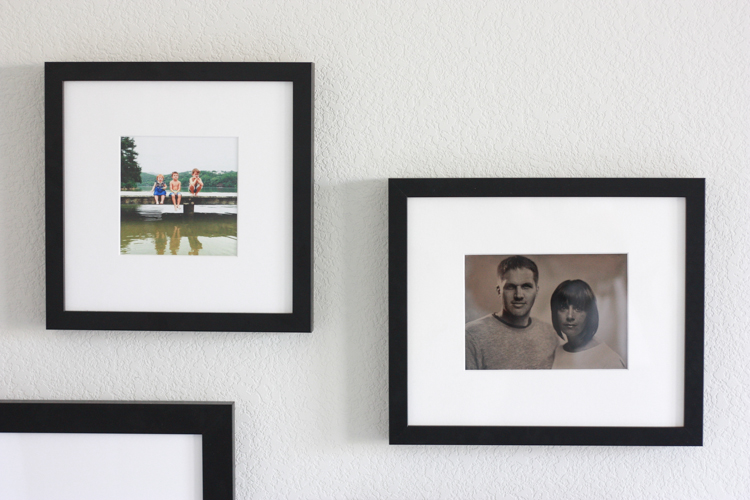 As the office was a Father's Day surprise, I thought I should maybe include a photo of our beautiful children! Using the Framebridge App, I uploaded this favorite from Instagram and uploaded it directly. It was printed, framed, and shipped back to me within days. I need to send about ten more!
The final photograph was one we had taken just months ago at Lumiere Tintype in downtown Austin. It's an actual tintype photograph–exposed onto a thin sheet of coated metal. The photographer takes one shot, and that's it! I love the grainy authenticity of the image, and how it captures us in a pretty raw way. I couldn't wait to have it framed and protected, and hung it where we can enjoy it daily.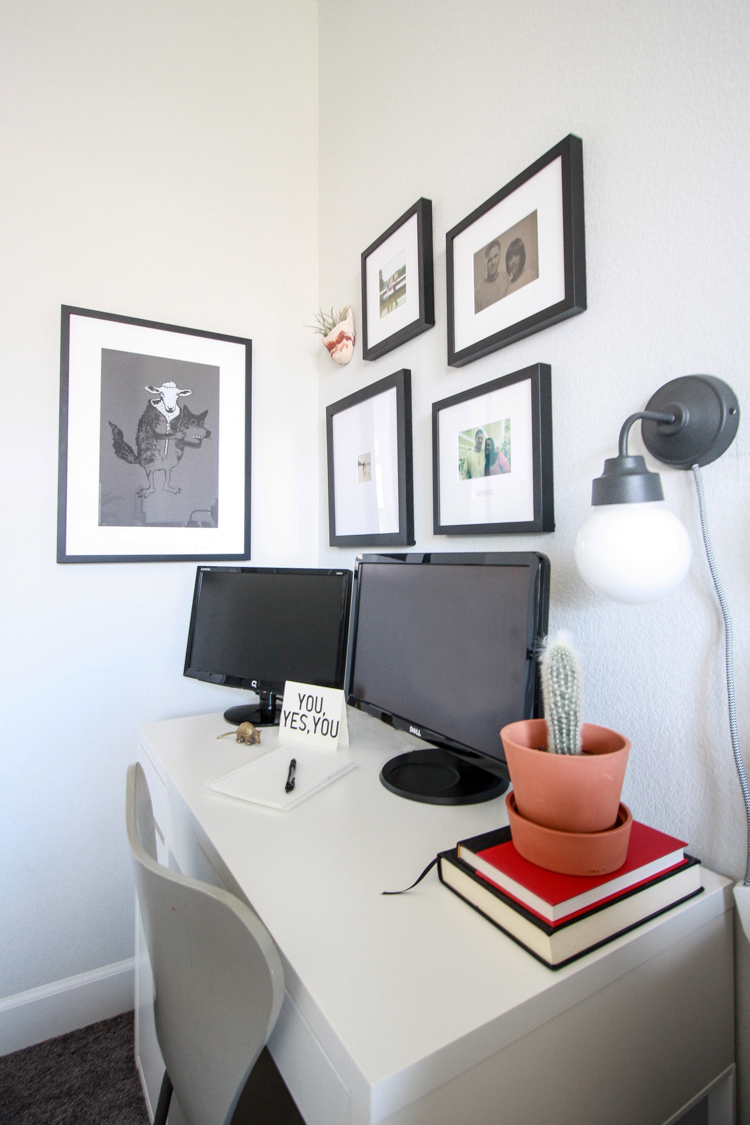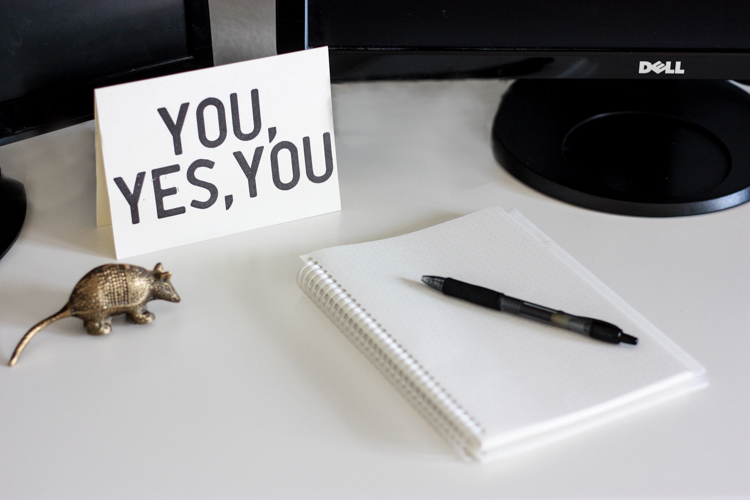 I've been collecting brass armadillo since we moved to Texas, so I added a little friend to Dave's new home office. I love the little hint of whimsy it adds. Also, this card I found four our 9th anniversary still is my favorite. Says it all.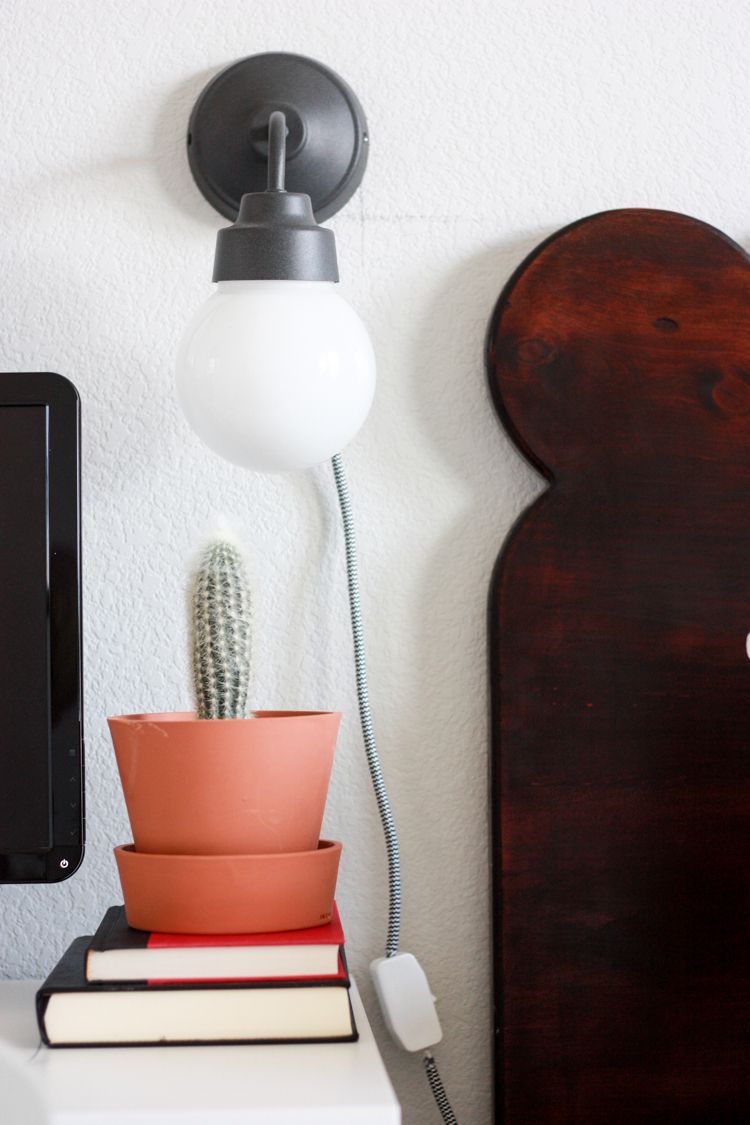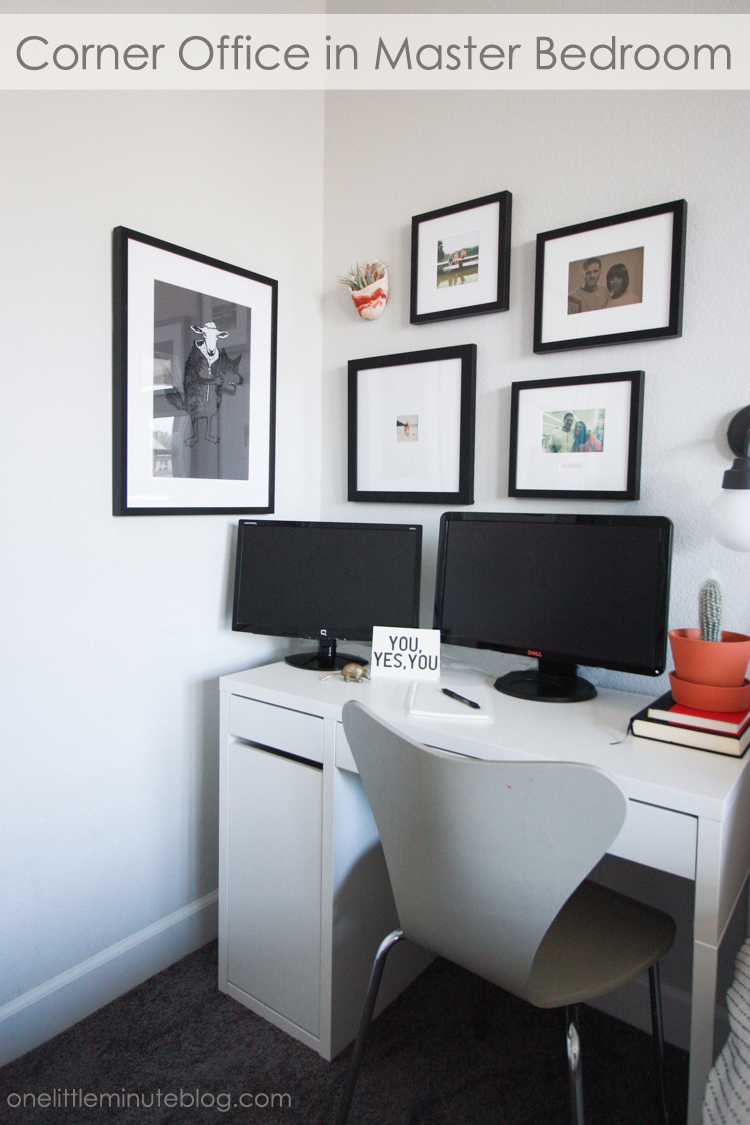 After wondering if an office in the master would throw off the bedroom chi, I'm already so happy with it! Dave has been comfortable working all day, with sunshine pouring through the windows, and his own corner set up just right. Whenever he can work at home, I'm happy to have him. So being able to set up with a nicer, functional, and beautiful space was a perfect gift for my hard-working man, father of my babies.
The post created in partnership with Framebridge.