This series is sponsored by Baby Lock.  For over 40 years, Baby Lock has been dedicated to the love of sewing by creating machines for sewing, embroidery, quilting and serging – all with ease-of-use, high quality and a touch of elegance.

I am so excited about this final review and giveaway. Ottobre Design is a huge European pattern magazine with editions available in six languages. They print four children's magazines and two women's magazines per year, each containing over forty patterns! I first heard about the company from Mim, and was intrigued by how much she seemed to love them. Actually getting a magazine in my hands and trying out a few patterns completely converted me, though. The designs are current yet classic, and I have enjoyed every one of the pieces I've made so far. In fact, yesterday I finished a cardigan for myself from their Women's edition, and it's my new favorite thing!
Ottobre has generously offered to give away an entire year subscription to both the women's and children's magazine (over $80 value!) Be sure to enter the giveaway today!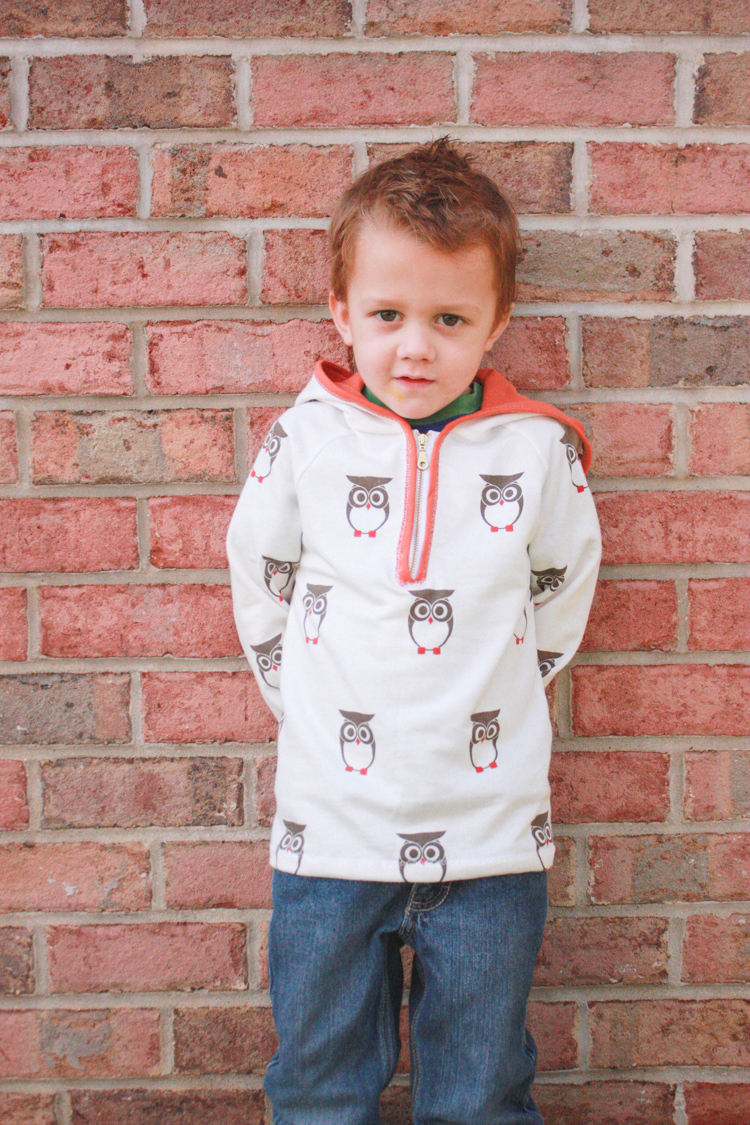 For this review, I chose to make the Be Careful Out There hoodie from the 4/12 Ottobre children's edition. I was challenging myself with the half-zip front, and the fully lined hood. I couldn't be more happy with how it turned out. Milo absolutely loves it and asks to wear it all the time, which makes me want to sew his whole wardrobe! Thanks to Ottobre, I have the huge pattern resource to sew almost anything for my boys. Now to find the time…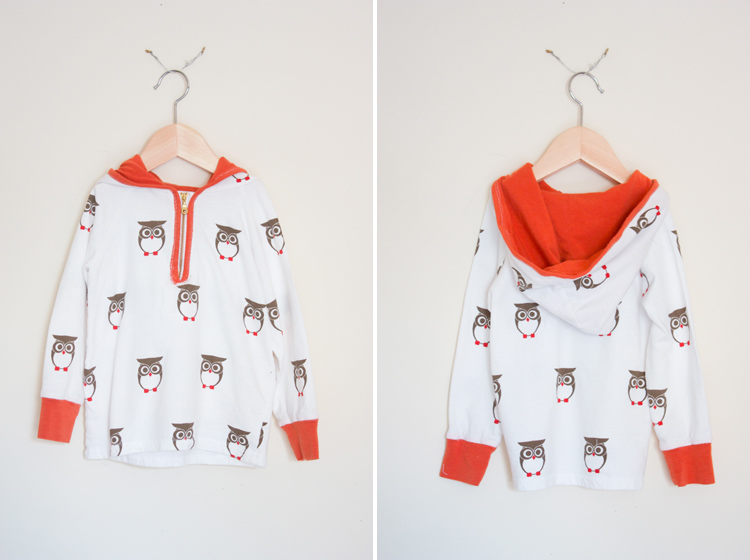 Ottobre patterns are laid out and packaged in a super innovative way. They have to be to fit forty patterns in several sizes into the centerfold of a magazine! Each edition comes with four fold-out, poster-sized printouts containing all of the patterns overlaid in different colors. Each pattern must be traced before using. This adds a step from regular printed patterns, but it also allows you to have a ton of patterns in the storage space of one, which is a huge plus for an apartment-dweller like me. I traced this particular pattern onto medical exam paper, but have also traced Ottobre patterns using taped-together printer paper and even tissue paper leftover (from a gift) in a pinch (ahem…whipping together Eliot's Dalmatian costume the night before Halloween.) Once you get the hang of it, the tracing is quite simple, and becomes an easy step.
The instructions for each design are similarly condensed into a short paragraphs within the magazine. It helps to have some idea of general clothing construction when approaching one of these projects, because except for more technical skills (like zipper insertion) the steps are simply described. I have successfully completed several items, and have only scratched my head a couple times. Everything has turned out alright, if a little wonky. The sleeve cuffs and binding are all top-stitched with a sewing machine embroidery stitch (you know, one of those ones you never use…) to make a faux flat-lock stitch, and I love the detail that creates. You can see it better in the following photos. It's really nice to be learning some new skills with these patterns! This one taught me the half-zip insertion with a binding (which I may have done a little wrong, but it looks great) and the proper order for lining just the hood of a hoodie, which will come in handy since Milo lives in hoods. I loved making this sweatshirt and have plans to make another just like it, with pockets!
Ottobre's overall design style is fantastic. The styling of each edition has been great and really inspired me to try some different styles. I knew the children's editions were fantastic just from the things I've seen Mim create, but I was also completely satisfied with the women's edition that I have received and have a sweater from the 5/12 edition on my to-sew list.
Basically, Ottobre is awesome. Be very excited about the chance to win a subscription (and if you don't win, I'd suggest subscribing!)
 Pattern: Ottobre Design Be Careful Out There Hoodie (4/12 children's edition)
Fabric: The Fabric Fairy Owl Sweatshirt Fleece
Don't miss Miriam's Ottobre Harem Pant Pattern Review today. They are so cute!
To enter the Ottobre Design year subscription giveaway, simply leave a comment below before Friday, January 26th. We will choose TWO winners that evening! Good Luck!
**WINNER: JOY** Thank you all for entering!