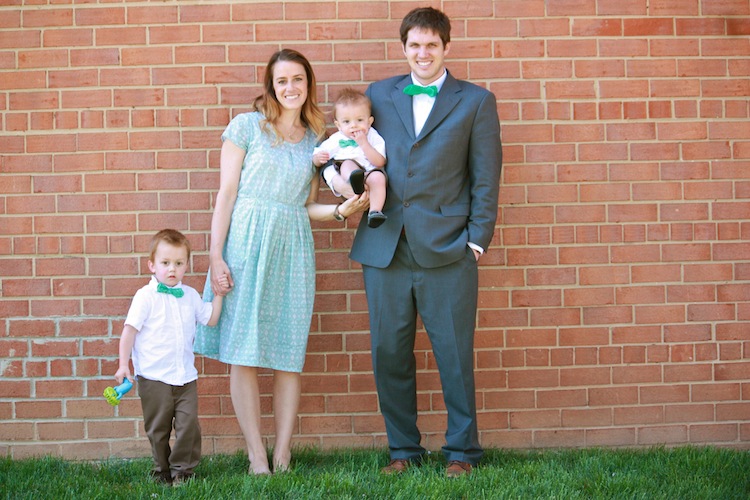 I hope you all had a wonderful Easter weekend. Mine was great. And a little busy. On Saturday afternoon I was planning on maybe spending the evening working on an Easter dress for myself while Dave put in a couple hours of work from home. When I got the mail, our cute mail carrier asked me about the packages I've been getting lately. I told her that I sew from home, and order most of my fabric online. When I told her I sew mostly little girls' dresses she was surprised. "Why don't you sew for your boys?" she asked. "Um, I don't know. They're too young to really care much I guess." Then she told me that she thought even though they are young they'll remember that their mother made things for them. Hmm. Guilted by the mail carrier.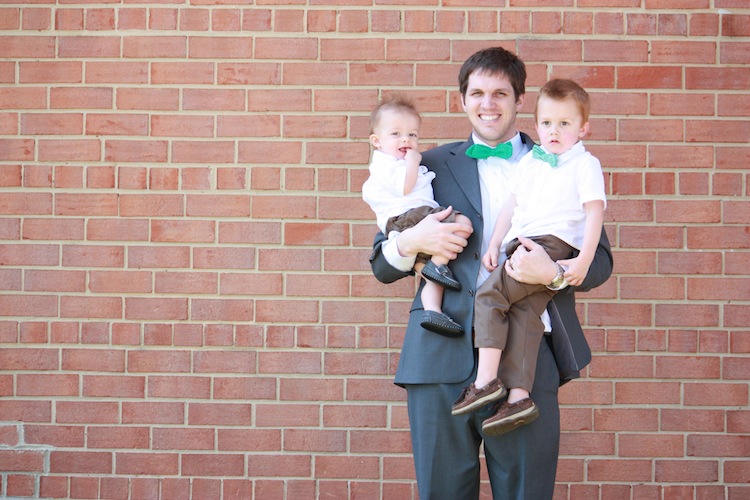 Maybe it's silly, but I decided she was right, I should put forth more effort to make things for my own brood. About a week ago I made matching bow ties for my boys, thinking that would be their Easter outfit. But now I wanted to do a little more. I had been hanging onto an old pair of Dave's slacks, thinking they would be cute for Milo, and so I finally pulled them out. Starting about 8:30 pm, I used this tutorial (that I bookmarked 2 years ago…) to refashion the men's slacks into boys'.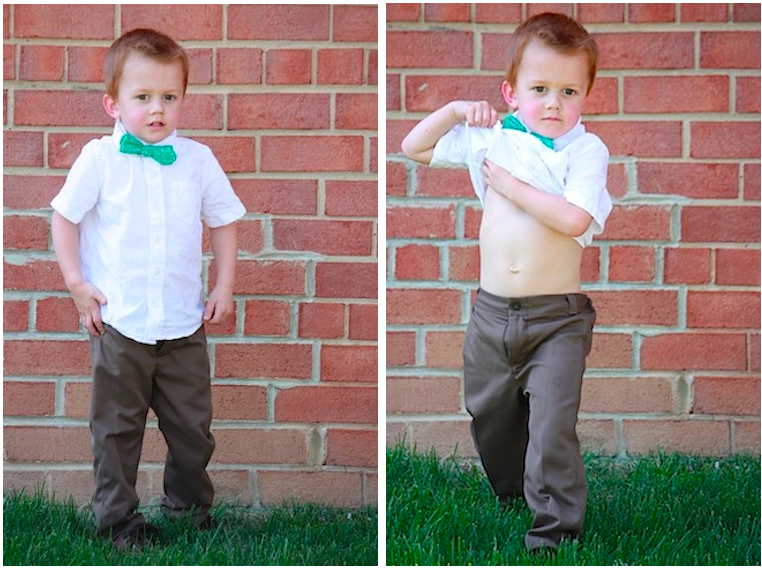 I had to adjust the pattern to a pair of Milo's cords to make sure they'd be big enough. It was a quick and relatively simple refashion. Of course as I read the instructions wrong and where it said to NOT cut up the front seam below the zipper, that was the first place I cut. I had to do a little inventing, but worked it out well enough, and Milo loves them (as evidenced by his showing them off for you:)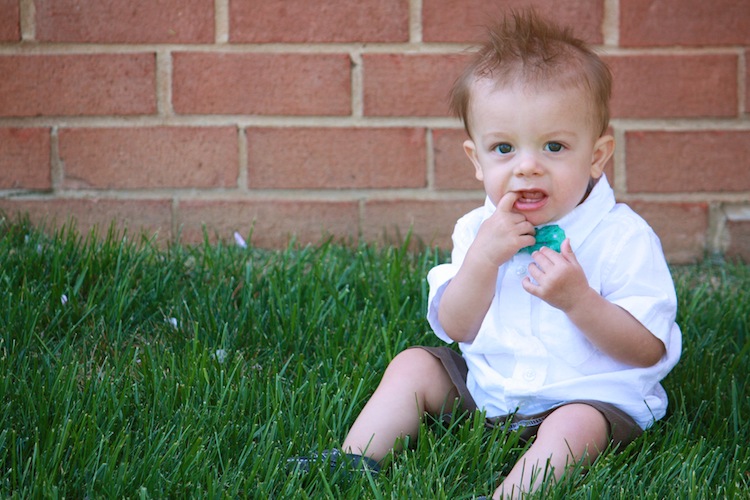 With the remaining bits and pieces of the same slacks, I winged a little pair of shorts for Eliot.  Since by then it was 10:30 pm, I decided against trying them on him. I was a little worried they'd fit super weird, you know, since I totally invented the pattern and they looked decidedly odd. Well, they fit. And were actually really cute on! I chose to put him in a disposable diaper to reduce the bum bulk a little, and that made a difference.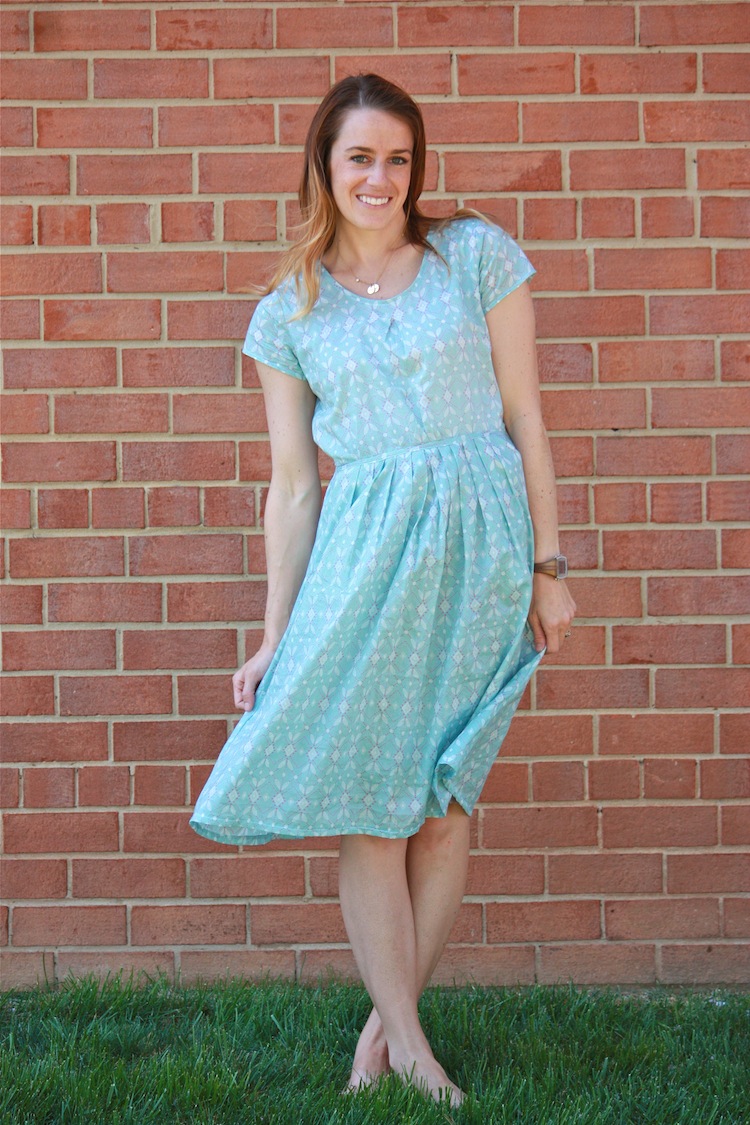 Next, I got to dive into making myself an Easter dress. I bought this fabric two years ago (at the same time as this fabric) and originally planned on using it for my bridesmaid dress for my little sister's wedding. Shortly after I bought it I was too sick with Eliot's pregnancy, to get out of bed, let alone make a dress.  It's probably lucky, because I am really happy with how it turned out.
My inspiration was this dress that I spotted at the J.Crew Factory store a couple months ago. I tried it on and loved it, but it was too short for me.  So, I did what any seamstress would do: snapped a couple photos of the internal construction with my phone to reference later. Totally normal, right? I loved the fit of the Scout Tee so much, I used that as a sloper for the bodice, then adjusted it to include the pleat at the bust. I added several additional pleats on the front of the skirt, because I wanted a more full skirt, and this voile is so lightweight the pleats don't add any bulk to the waist.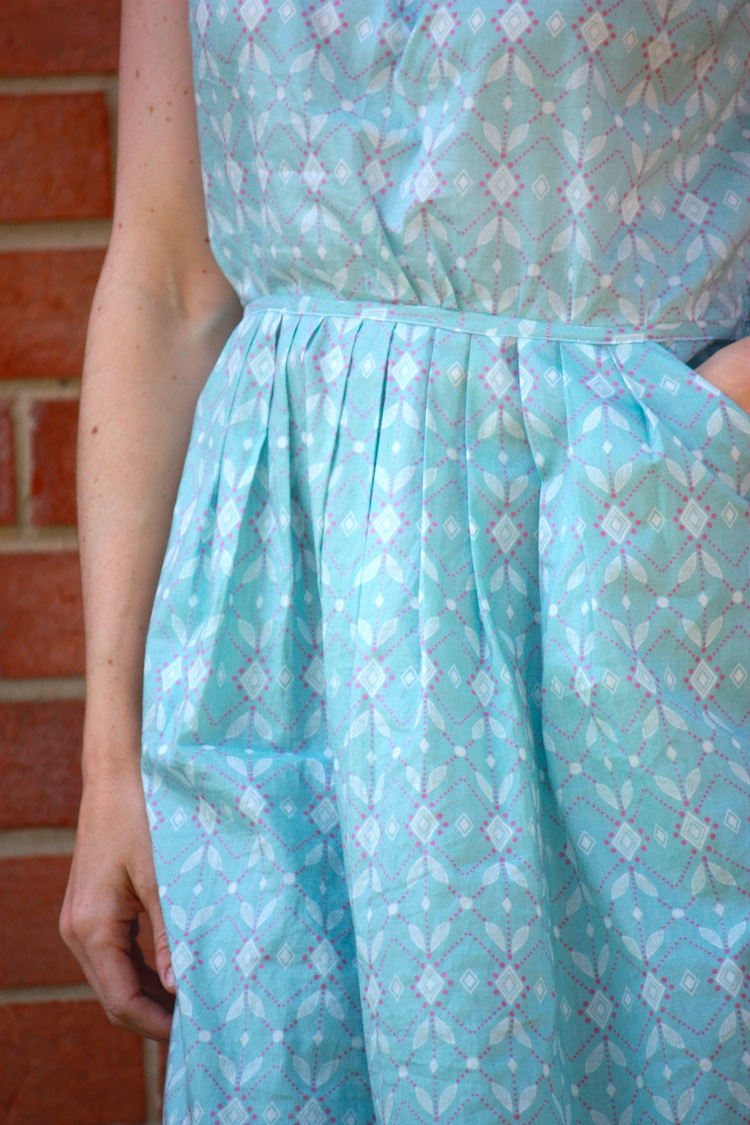 The slant pockets were new for me, but I figured them out without too much trouble (the phone photos helped;) On the back of the dress, I used a single cut of fabric by creating an a-line skirt off of the tee pattern. To keep the whole thing easy to pull on and off without a zipper, I added a 1/4″ elastic within the 1/2″ bias tape casing in the back. So, the bias tape in the front is just to cover the seam, and in the back it acts as the elastic casing. The result is a super light and airy feminine and easy-to-wear dress. If I hadn't repeatedly and accidentally sewn random pieces of the dress into odd seams, the process would have been a little quicker. But, as it went, I finished my dress up around 3:30 am. I don't recommend all-nighters, but sometimes they happen.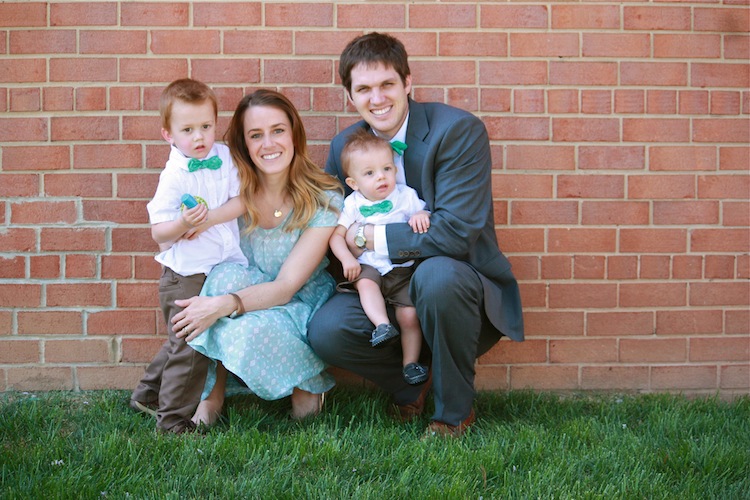 Since I was totally awake still, I figured I'd go ahead and make Dave a bow tie, too. I didn't want him to feel bad that I stayed up all night and he got zilch (although maybe he's thinking "You stayed up all night and all I got was this stinking bow tie?!) For all three of the boys' ties I used a new pattern that I made that rounds the ends of the bow. I think they looked pretty dashing.
I can't wait to tell the mail carrier that I made special duds for my whole family this year!
(Around 4 am I finished Dave's tie…and just then Milo woke up (probably because of the lights on and sewing machine whirring). We snuggled on the couch for a few minutes…then Eliot woke up (probably because of Milo's crying). I fed Eliot, sang to Milo, then finally crashed into my own bed at 5 am. At 7, Milo showed up at my bedside with chocolate covering his smile. He had found Dave and my Easter Basket and dug right into our filled eggs. Awesome. Well, at least we all looked good!)