Every new element I add to our renovation project becomes my very favorite. This perfect cactus wallpaper in the hallway is not exception. I am completely head over heels with the unexpected whimsy, touch of color, and the way it bridges the gap between my love of the desert and cactus with our historic, Southern Cape Cod style home.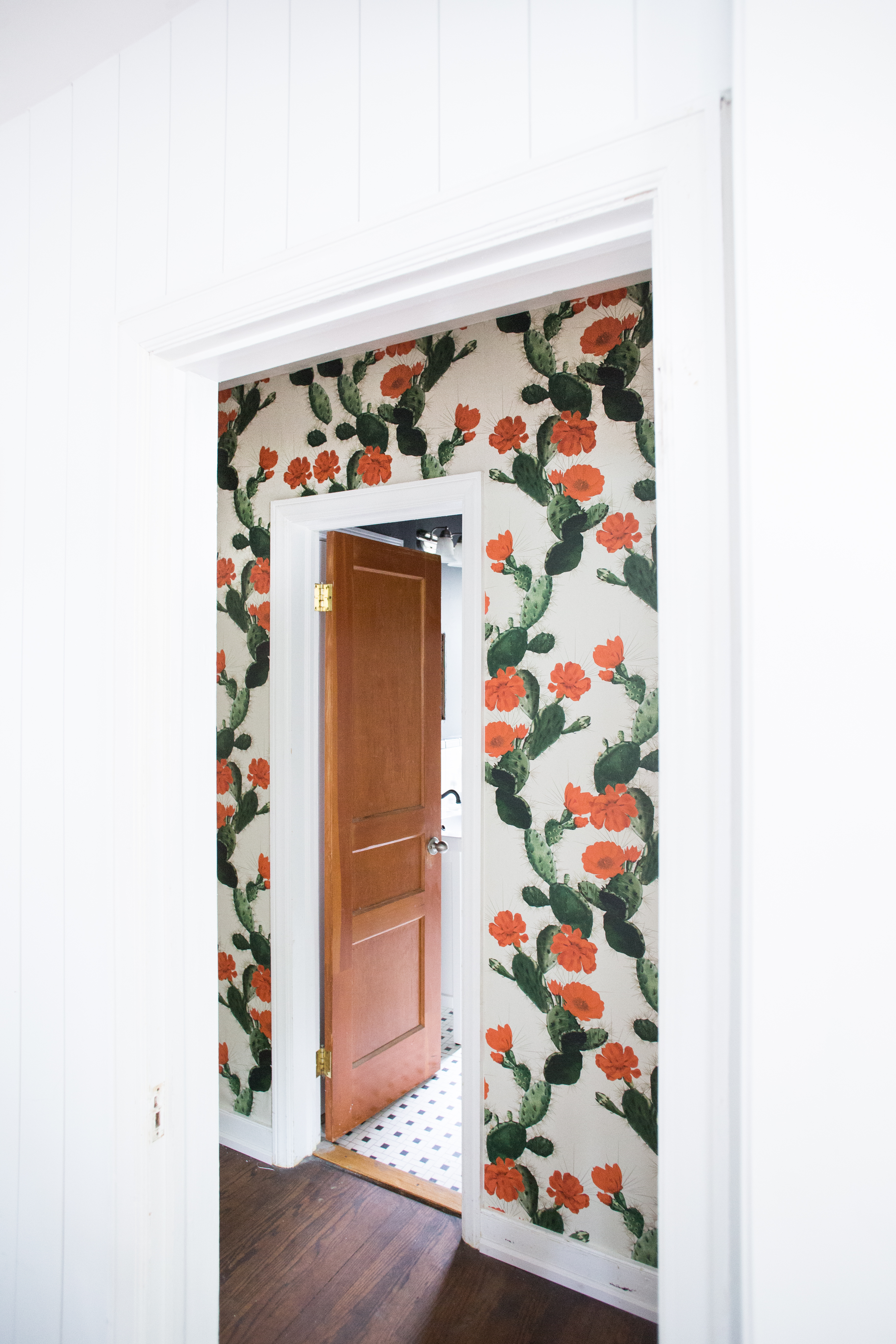 The origin story of the cactus wallpaper is funny. I was contacted around three years ago by the wallpaper company Milton and King, offering me a free roll of one of their beautiful wallpapers to try.
At the time, I was knee-deep in decorating our Austin Texas Abode, and had used some fun jackalope wallpaper in the front bathroom, painted the wall of the patio room black, and opted for bright lemons in a bedroom. I was no stranger to funky walls.
I browsed the website, and this cactus wallpaper jumped off the computer at me! I ordered a small sample to be sure of my obsession, and once confirmed, I ordered the roll. It came a few days later and I was gah gah over the perfect subdued bright colors, the vintage-style botanical print, and the linen-quality of the paper itself. The only problem was, I had no idea where to hang it!
I considered the master bathroom water closet, but it seemed like a waste of such a beautiful paper where no one but Dave or I would see it on the regular. (That, by the way, is very flawed thinking, but not part of this story.)
The big, empty wall in the laundry room also seemed a great option, but I hadn't done much in the way of finishing or thoughtful designing the laundry room yet, so the paper was tucked into a cabinet and left.
I thought about it from time to time, both because of how pretty it was, and because I felt a little guilty I had received this promotional roll of wallpaper and not used it. The gift had been no-strings-attached, so I needn't have felt guilty, but I did anyway.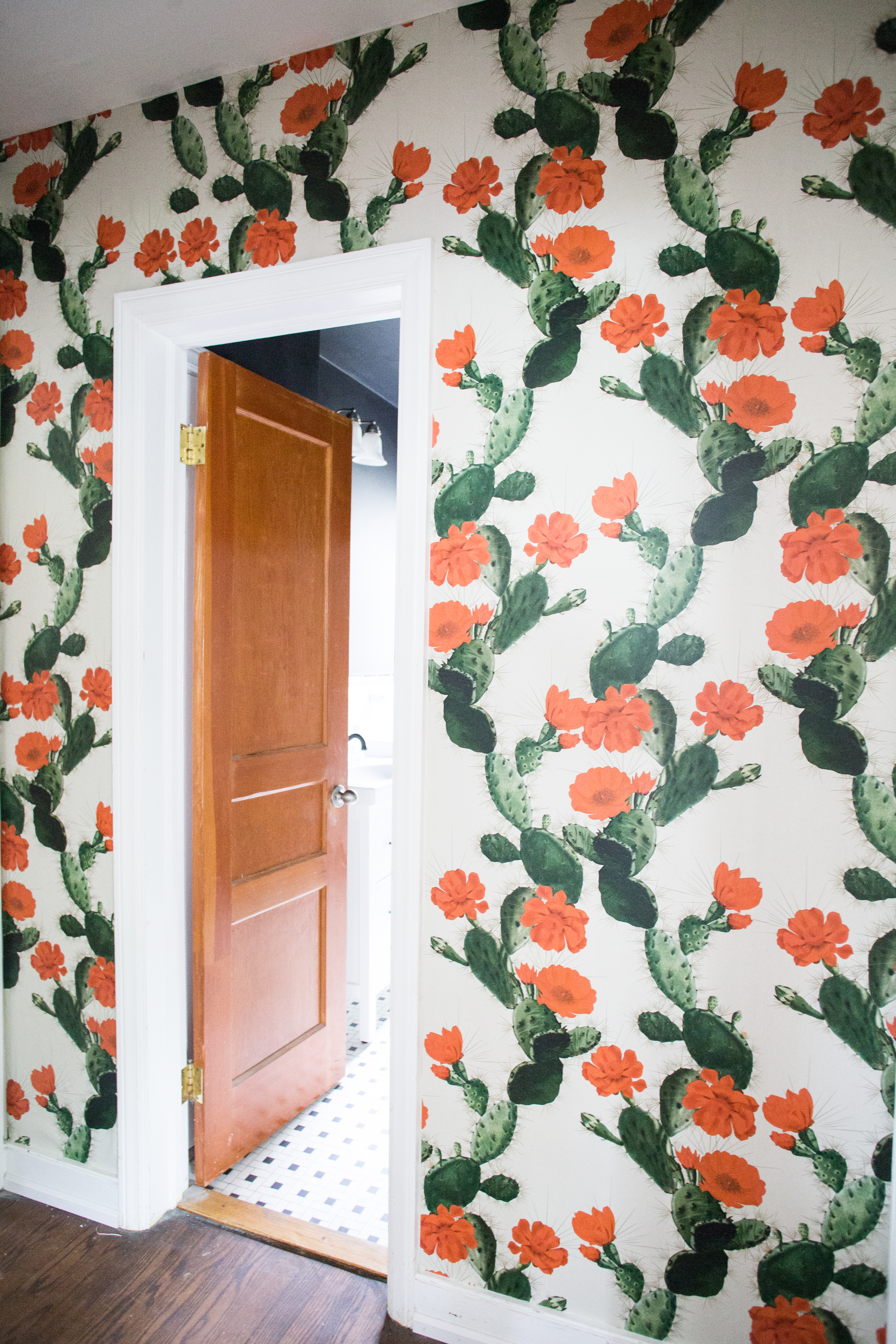 When we packed for our unexpected move to Richmond, VA, I tucked the cactus paper into a box, wondering how weird it would be to hang prickly pear in the land of magnolia trees and hydrangea. Richmond isn't exactly a desert (like, at all) and I knew our home wouldn't be the same southwestern style that we had loved in Texas.
And then, it was perfect.
After around 5 months of renovation in our Fixer Upper, I was unpacking something in the storage box and spotted the cactus wallpaper. By this time we had redone the entire kitchen, flooring, aded shiplap and painted most of the main level. This little hallway peeks out through a doorway (where I had permanently removed the door) and every time I passed by I thought its was calling for a little something fun.
On a whim, I hung the roll from the ceiling with a bit of painters tape, and proceeded to swoon with delight. Who knew this perfect cactus wallpaper had been meant to sit on a shelf and in a moving box for three years all leading up to this moment where it FOUND IT'S PLACE IN THE WORLD?!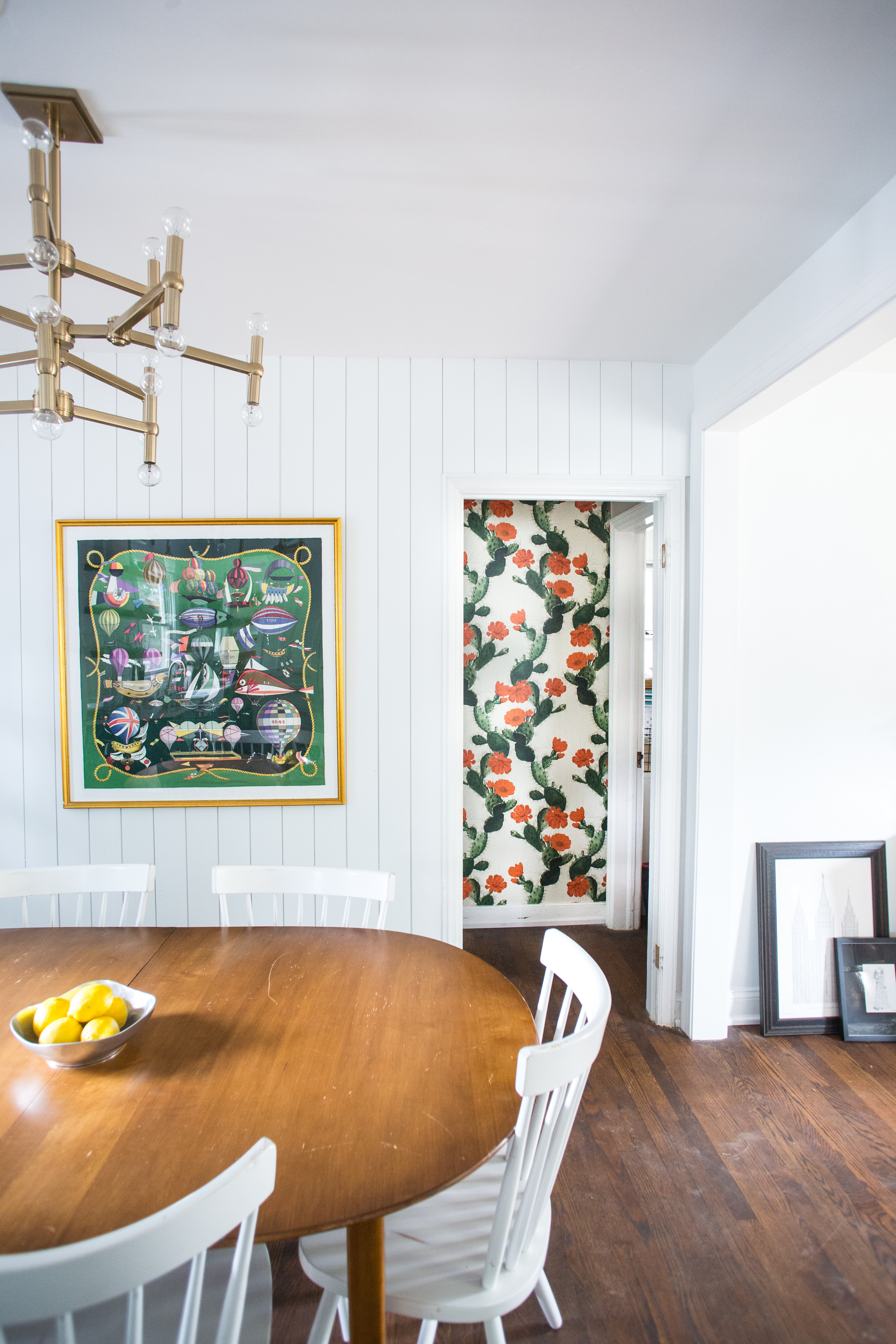 A little dramatic? Possibly, but there are so many elements of chance and luck that bring a home together it seems justifiable to celebrate a little. Each small detail plays with the other small details to create the feeling of home.
Of course, there was only one roll of cactus wallpaper…so I reached out to Milton and King and asked if they might be so kind as to send me one more roll to complete this hallway. And they were so kind.
So, the perfect cactus wallpaper hangs in our tiny, lovely hallway in our cozy Cape Cod in the heard of Richmond, VA. And this is how it came to be. I still haven't hung the second roll quite yet, but it's on my list to finish within the next three years.