Every once in a while I stumble across products so high quality, unique, and useful that I can't seem to get them out of my head. Today I'd love to introduce you to the coolest new-to-me company whose products, energy, and motivation blow me away.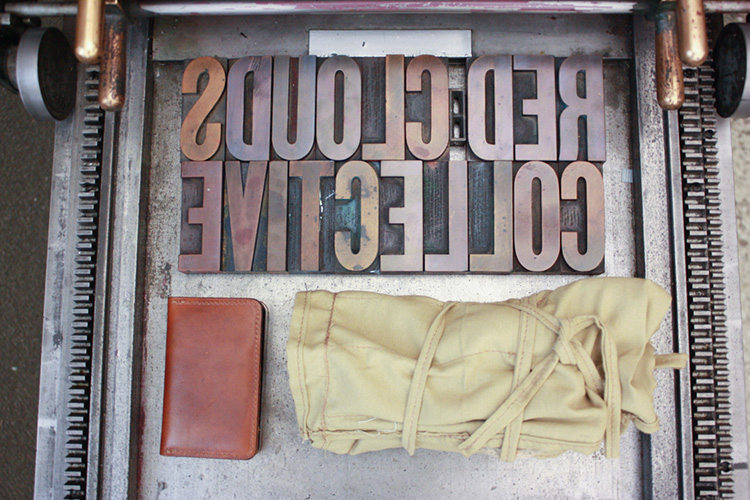 Red Clouds Collective is a Portland-based company founded and run by artists and craftsmen. I discovered it last summer when I noticed the hearty leather iPhone case my little brother Taylor was using. He told me that a bunch of his friends in Portland had started a leather-and-canvas goods company. These were the same good friends that had come together over eight years ago to bike around Portland, calling themselves "Red Clouds" after Taylor's beloved cat Chief Red Cloud, who had sadly passed away. The Red Clouds were creative people. A group of artists, photographers, sewists, and carpenters who lived the dream swimming in the river and rocking out in the garage.
Last year, they came together again to bring some of their dreams of real, useful, inventive, and enduring products to life.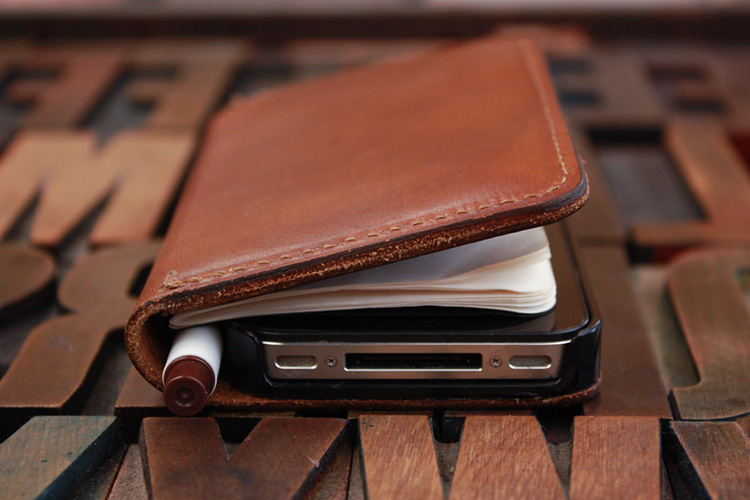 The iPhone case that first drew me in is called theGOODbook. Not only is it a phone case, but a wallet and sketchbook as well. I mean, what more could you ask for?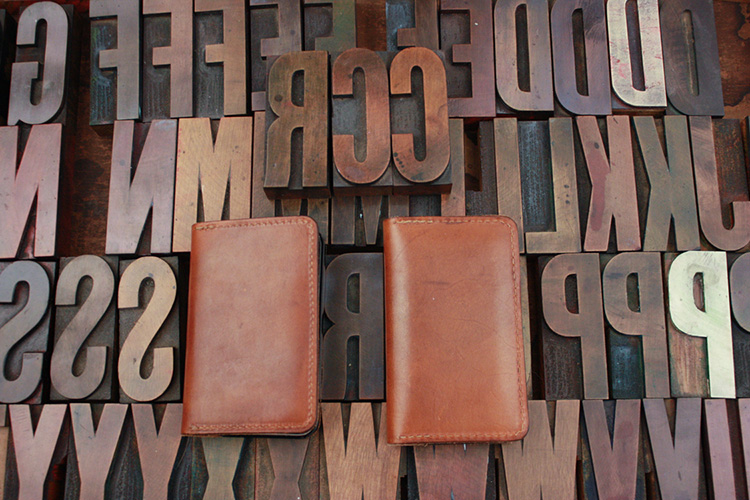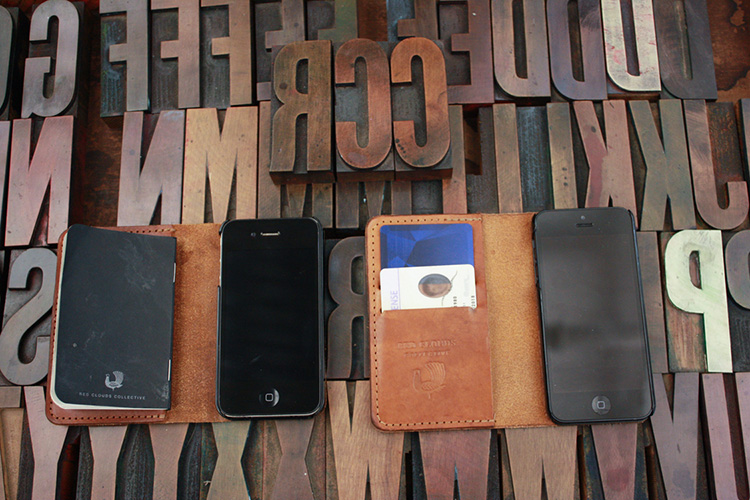 TheGOODbook comes in three colors, and brown leather is warm and classic. I love the feel and quality of real leather. I chose theGOODbook 4 for my iPhone 4 (remember when Dave gave me his?) and theGOODbook  for Dave's iPhone 5. Each case fits perfectly, and I am so happy about the added protection for our phones.
Dave was super excited about the wallet inclusion, because the less stuff he has to remember to keep with him, the better. I love the wallet, too, but was even more thrilled about the sketchbook feature. A few months ago I began really trying to sketch more in an effort to think through my projects before I jump in (which has gone really well!) and I much prefer writing on paper with a pen than trying to doodle in an app. With two kids, sometimes I also need to WRITE things down to remember them (rather then type them into my phone). It's been really nice to have paper and pen nearby all the time.
The thoughtful design of theGOODbook allows space for a pen to slide right in the fold. I've been on the lookout for a shorter pen, but am pretty picky about the type (must be extra-fine point and felt-tip) so thus far I'm using just a basic one I found. Surprisingly, I haven't minded it sticking out the end as much as I thought I might.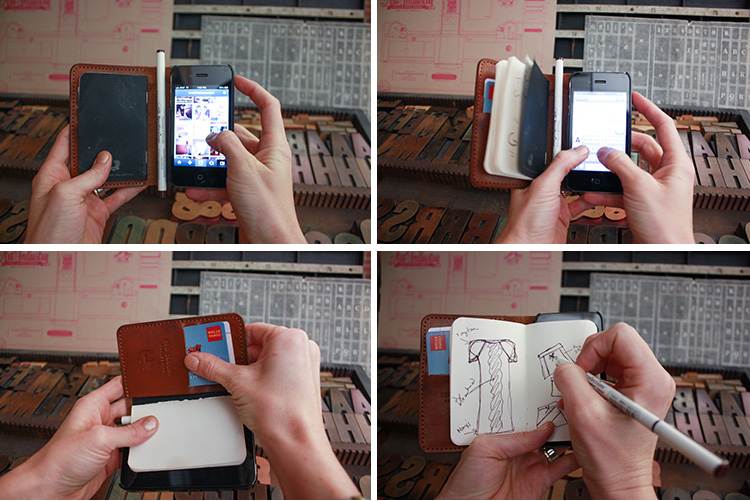 A notebook-type phone case is so different than the regular iPhone skin I had before, I wondered how easy it would be to get used to. The first couple days I fumbled a little bit trying to work my fingers around the front flap, but I soon figured out what worked for me, and now feel like a pro.
I thought you'd like a visual to give you an idea of how I do it: Scrolling through Instagram (where you can find me as @livefreemiranda) I hold the case like a book and use just one hand to scroll and select. When texting I hold the phone at the fold and use both thumbs to type. When I need to pay for something I hold the case sideways and slide my card out. (I still have a bigger wallet that I carry in my diaper bag, but I have found theGOODbook indispensable for shorter, solo trips. I just tuck it into my pocket and have everything I need!) When I sketch, I fold open the notebook and draw. It's easier to draw on the left page, because the phone sticks out under the paper on the right, but I've been successful sketching on either page. (I've also found that the book-type case works wonders as an impromptu tripod to take selfies with my boys.)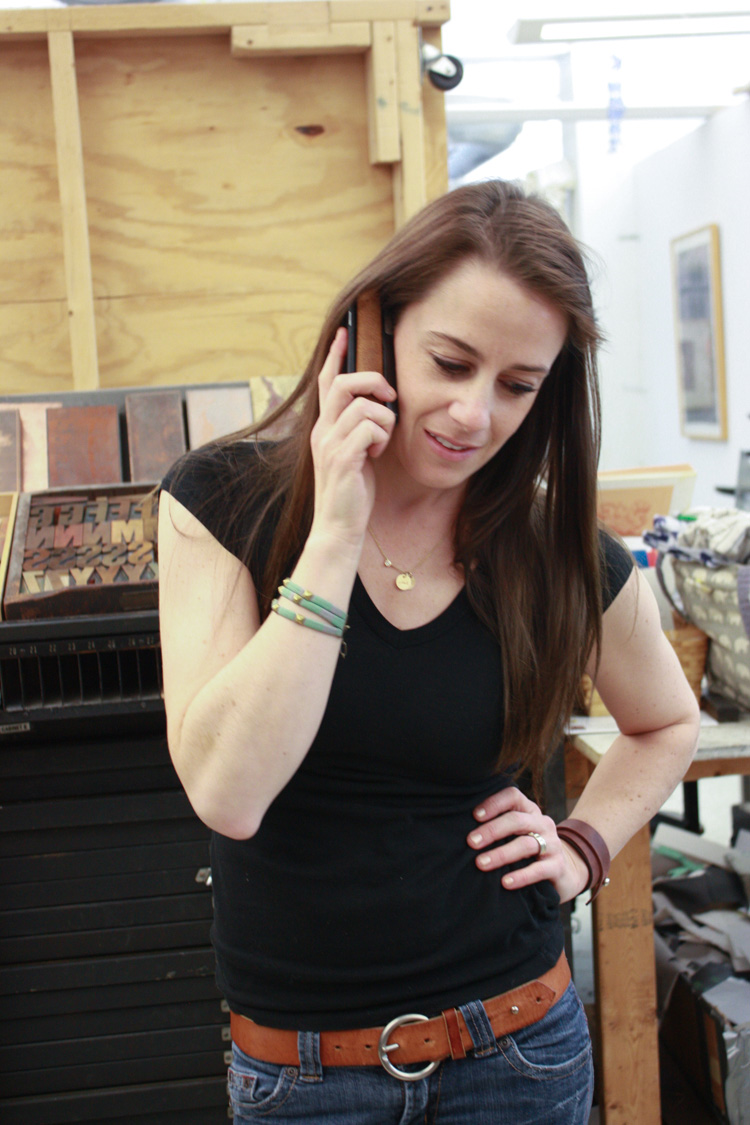 The other thing I do with my phone is…well, talk on the phone! After the leather loosened up a bit, I found I love holding the phone with the front flap folded behind. It makes the phone a little bit thicker, which helps it stay in my hand easily. The flap also makes this nice shoulder pad when I tuck the phone in between my ear and my shoulder to talk hands-free, like when I'm rounding up children or carrying groceries. It's super comfortable.
I've been using theGOODbook for about a month now and it has improved my day to day life. It's amazing how much we use and rely on our phones these days, and I really appreciate the thought and craftsmanship that went into theGOODbook.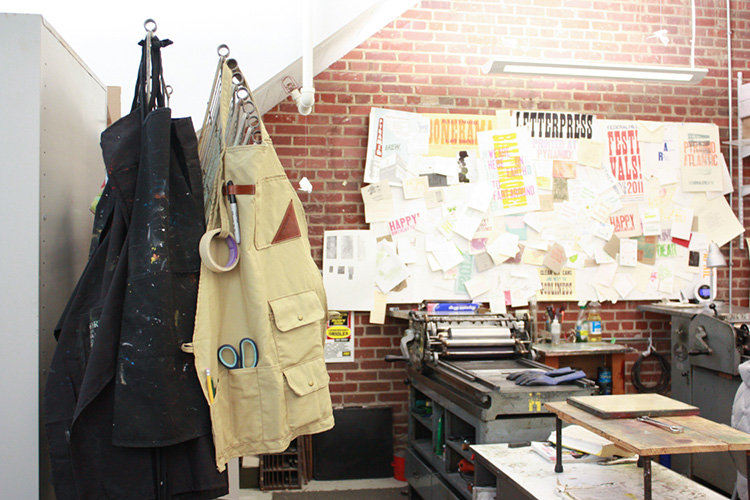 As I browsed the extensive collection at Red Clouds Collective, another product that caught my eye was the , Apron Tool Roll (since replaced with this Canvas Apron) which my brother designed as part of the Signature Series. In this series, Red Clouds Collective invites other crafters and designers to collaborate with them to designa and produce products useful in everyday life.
Taylor works on a vintage Harley Davidson (tons of cool pics here), which I imagine inspired his design of this canvas apron with pockets and pen-holders in abundance. Once finished, the apron can be folded down and tied up into a portable tool-roll, allowing you to keep everything you need in one useful location.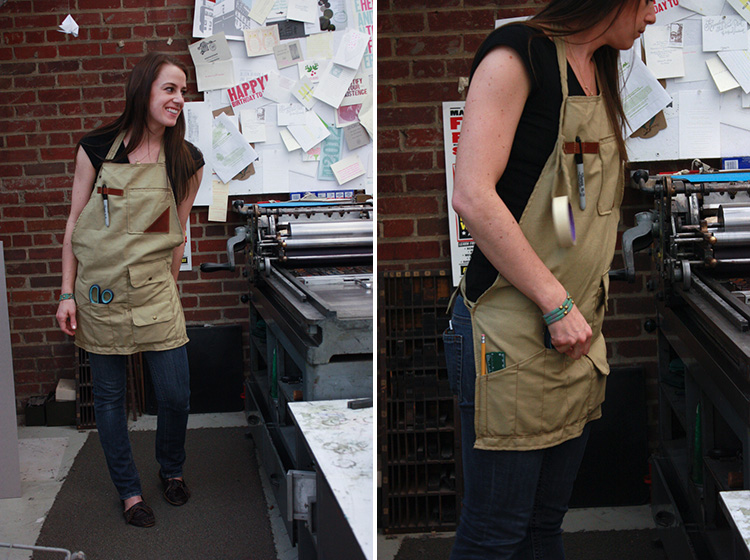 While I don't have any motorcycles in my own life right now, I immediately recognized the Apron-Tool Roll as a product that would be amazing for any creative person who hauls tools around. Can you imagine how fun and easy sewing-nights with friends would be if you could stash and store all of your sewing tools in those pockets and just tote them along? What about getting ready for a party or event and automatically having scissors, twine, tape, safety pins, pens, pencils, magnets, balloons, confetti, etc. all on hand and ready to go?
For me, the most clear and immediate use was for my letterpress and screen-printing hobbies. Because I rent space at a local studio to print, I have to travel with all of my tools. It was so nice to gather them all up, find pockets for them in my Apron-Tool Roll, and know that there they will stay. I always wear an apron to print, anyway, but now my apron also holds the pens, scissors, masking tape, and rulers that I am always scrounging around the studio to find!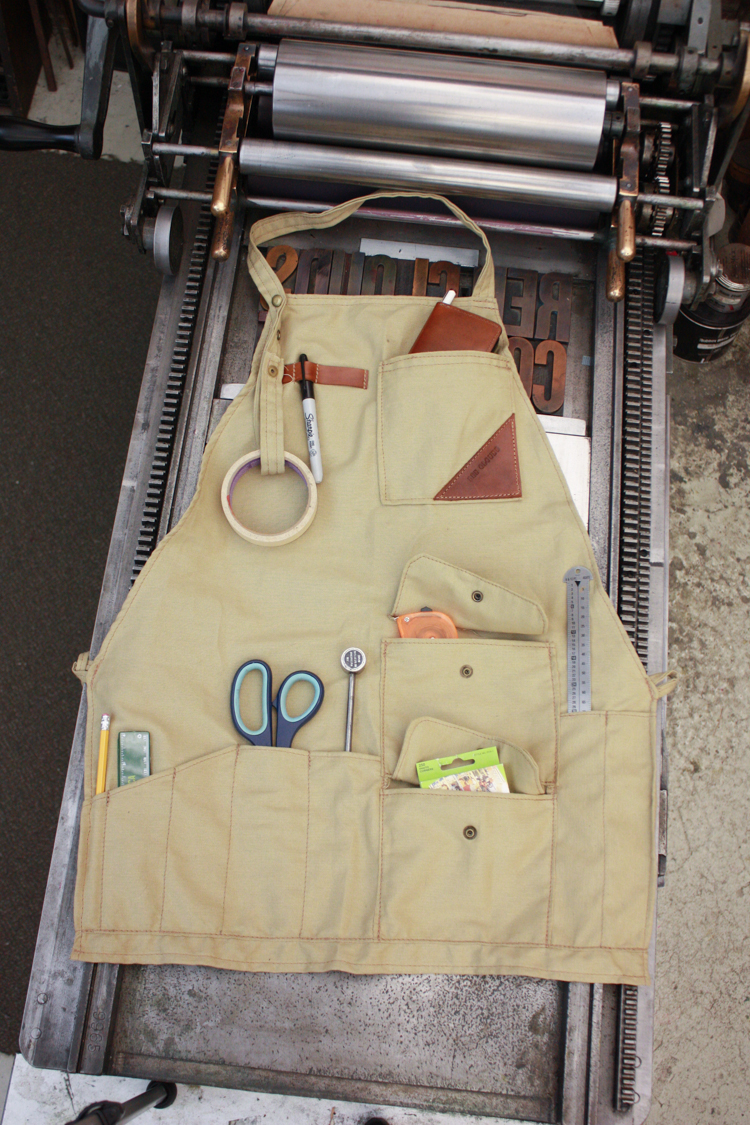 And, let's be honest. This is the best-looking apron I've ever seen. I love it.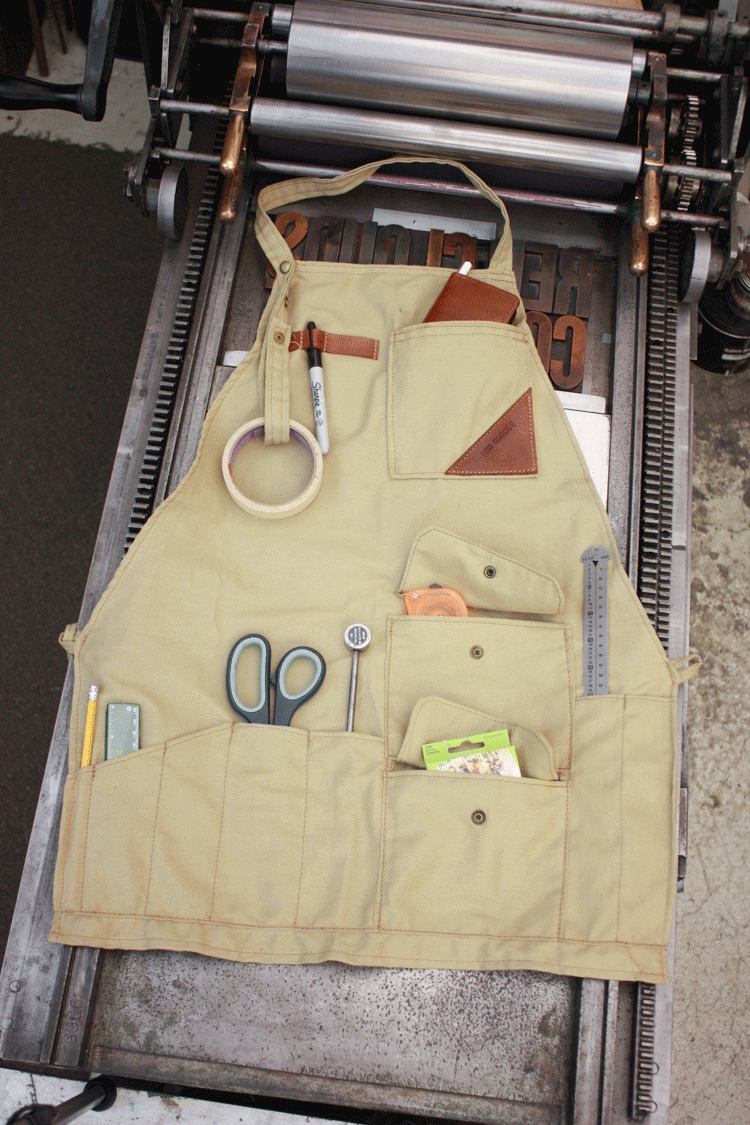 I am so impressed by not only theGOODbook and Apron-Tool Roll that I own, but the wide array of bags, leather goods, and even apparel that Red Clouds Collective offers. This leather travel case would be a perfect gift for a globe-trotter. This backpack makes me dream of an adventurous day-trip (summer, come already!) And, if I ever actually try to learn to play my guitar, I'm going to get this guitar strap to celebrate.
As a person who shops pretty seldom, and values quality and longevity of the things I buy, it is easy for me to support Red Clouds Collective. The products are thoughtfully designed and handmade. I can't wait to see what else this inspirational group of creators comes up with next.