It's great to be back in the sewing closet after a wonderful and busy holiday week! I'm also reading Breaking Dawn
(for the first time-inspired by
seeing Eclipse
)
, so nap time is divided. Also– yes, that's
another
also — I'm working on a project for
Gabrielle
of
Design Mom
(details later)
. So, that's nap time thrice divided!
This skirt has been calling out for repurposing for about six months. It fits well, even after maybe eight years…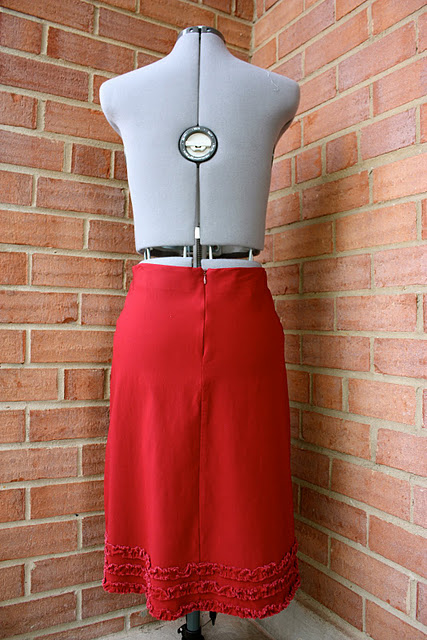 I love the stretchy fabric and the ruffles…so, what's the problem?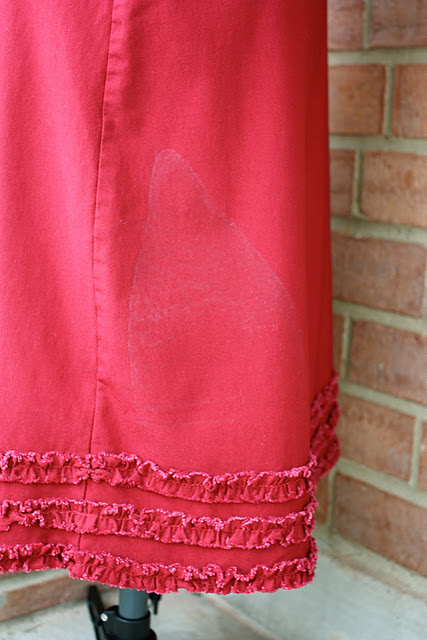 Me and my total disregard for clothing care instructions is the problem. Oh, and the iron deserves a little of the blame, too. Who knew that rayon/polyester/spandex would melt when subjected to more than one tiny second under a high-heat steam iron? Apparently not me.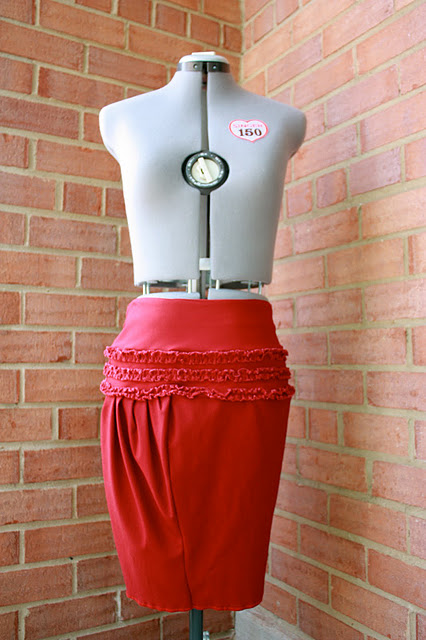 Well, I'll let bygones be bygones. Especially when wearing my new ruffly, pleated tulip skirt! I left the waistband and zipper intact, cut the six inch band of ruffles off, stitched it onto the hips, then turned the iron-ruined swatch of fabric inside out before sewing it back into place! Luckily there isn't really a right or wrong side to this particular blend, so no one
(but you!)
will ever know there is a mean, melted iron tattoo inside this beauty!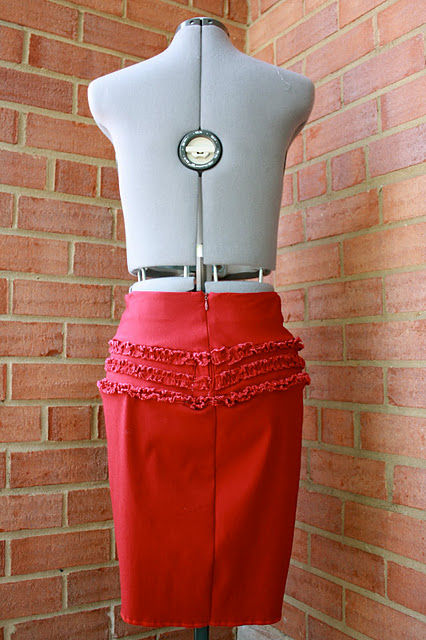 I fiddled and fiddled with the zipper section, and finally added back some ruffles right up to the zipper edge, and I like the continuity of them. It took some real motivation for lazy me to change my serger thread to red to finish the bottom, but I couldn't have justified a white edge…and I like it raw, rather than hemmed.
The best part, as usual, is that now I have a totally new and fun something to put on right after my shower and wear to work! No shopping, no spending.
"Use it up, wear it out, make it work, or do without."