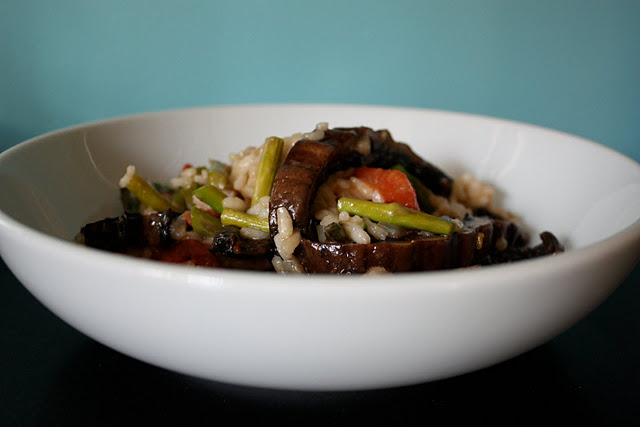 I love risotto. It is sort of a winter dish for me, though. All that magnificent creamy, buttery ooze. I thought I'd try a summer variety, keeping it lighter. I was not disappointed, it was delicious. I grilled the asparagus, portobello heads and roma tomatoes before mixing them in at the last second, so their textures remained nice and firm. If you've got the ingredients(and you could really substitute almost any veggies) this takes about 20 minutes, start to finish.
Grilled Summer Veggie Risotto
1-2 firm roma tomatoes, halved lengthwise
fresh ground salt & pepper to taste
3 1/2 cups water, heated to simmering in a small pan
1 teaspoon fresh minced garlic
1/2 small white onion, finely diced
Toss asparagus, portobello and tomato halves with olive oil, salt and pepper, then place on grill/panini grill/frying pan and let cook until slightly tender, about 5 minutes. Remove from grill and set aside.
Heat a large saucepan to medium-hot and add olive oil, garlic, onion and kosher salt. Toss gently with a spoon until coated and translucent. Add rice, moving quickly around in the bottom of the pan until slightly opaque, or 1 minute. Add one cup of heated water and stir. When the water is absorbed, add a second cup of water and stir until absorbed. Continue adding water until rice is slightly firm and mixture is creamy. You may not add all of the water. Remove pan from heat. Add cheese and mix until melted and well incorporated. Slice veggies into sections and gently mix into risotto. Serve warm.