In light of the impending summer, rising temperatures, and upcoming season of abundant produce, Dave and I have decided to go meatless for a few months becoming, ourselves, seasonal vegetarians! We began shortly after the
birthday extravaganzas
, and have thoroughly enjoyed the variety of meals that cooking outside the box has provided. We will be including vital proteins in the form of fish and seafood, legumes, eggs and nuts. Every week or so for the summer of seasonal veggies, I'll try to share some of our favorites meals for you to try. This a.m.a.z.i.n.g
(yet simple)
Mediterranean salad is up first: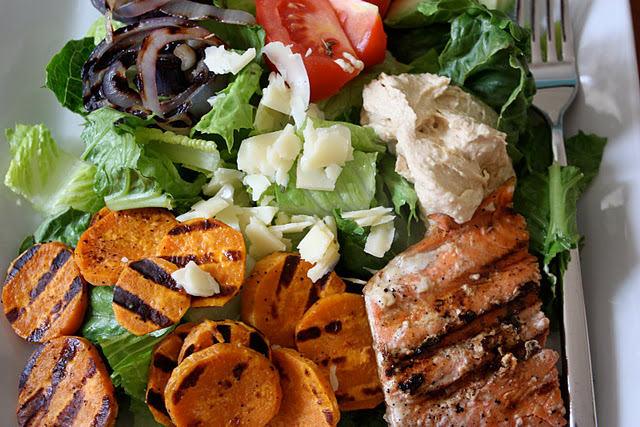 Mediterranean Salad with Grilled Salmon
(adapted from Oasis Cafe in SLC)
For 2 salads:
4 cups washed and chopped Romaine lettuce
1 medium sweet potato washed and peeled (may substitute yukon gold)
2 tablespoons olive oil
1 teaspoon kosher salt
1 small red onion
2 fresh roma tomatoes
1/2 cup feta cheese (asiago substituted above for lack of feta!)
4 tablespoons hummus
8 oz fresh wild salmon
1 lemon
fresh ground pepper 
Slice sweet potato into disks, toss in a bowl with olive oil, salt and fresh ground pepper to taste, then grill until cooked through. Slice red onion into rings, toss in remaining oil and grill until soft. Place salmon on medium hot grill and grind pepper lightly over the top. Squeeze the juice of 1/2 the lemon onto the salmon. After about 2-3 minutes, flip and let cook until medium rare, about 2 more minutes. Arrange 2 cups of lettuce on each plate. Top each with 1/2 of each ingredient. Finish with a drizzle of olive oil and the juice of the remaining 1/2 lemon. Enjoy.