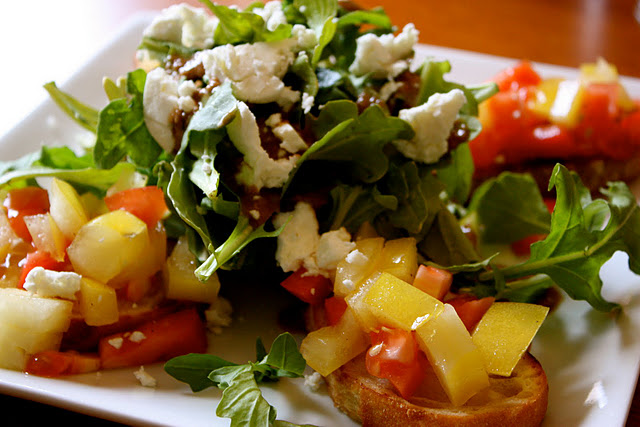 Do you remember that moment in Julie & Juliet when Julie is venting about her friends, and fiercely turnning browning slices of baguette in her fry pan? She then brings to the table the most amazing looking tomato-topped bruschetta…which her husband devours and then springs forth the idea for her to start a blog about food. I think that meal looks more amazing than most of the other dishes that she whips up as she cooks through The Art. It's the one I crave. So, I thought I'd try it out. Sliced asiago baguette+ butter+two types of heirloom tomatoes+olive oil +salt+pepper= deliciousness of a new level.The meal rounded out well with a simple wild arugula and goat cheese salad with red onion vinagarette. Give it a try. You will not be dissapointed.
Tomato Bruschetta
1″ slices of fresh baguette, buttered on both sides
fresh ground salt and pepper to taste
Heat frying pan to medium heat and arrange buttered bread in pan. Toast 1-2 minutes or until lightly browned. Turn fiercely. Dice tomatoes and add olive oil. Toss gently with salt and pepper to coat, and pile onto toast slices.
Red Onion Vinaigrette
1 tablesopoon dijon mustard
1/2 cup balsalmic vinegar
Puree red onion in a food processor. Add mustard and vinegar. Slowly add oil to the processor and whip until slightly creamy. Drizzle over Wild Arugula and crumbled goat cheese.