I love houses. They tell stories of lives, families, and adventures. They reflect values, culture, and taste. I have lived in large and small houses, apartments, and traveled all over the world, wide-eyed with wonder about how people live.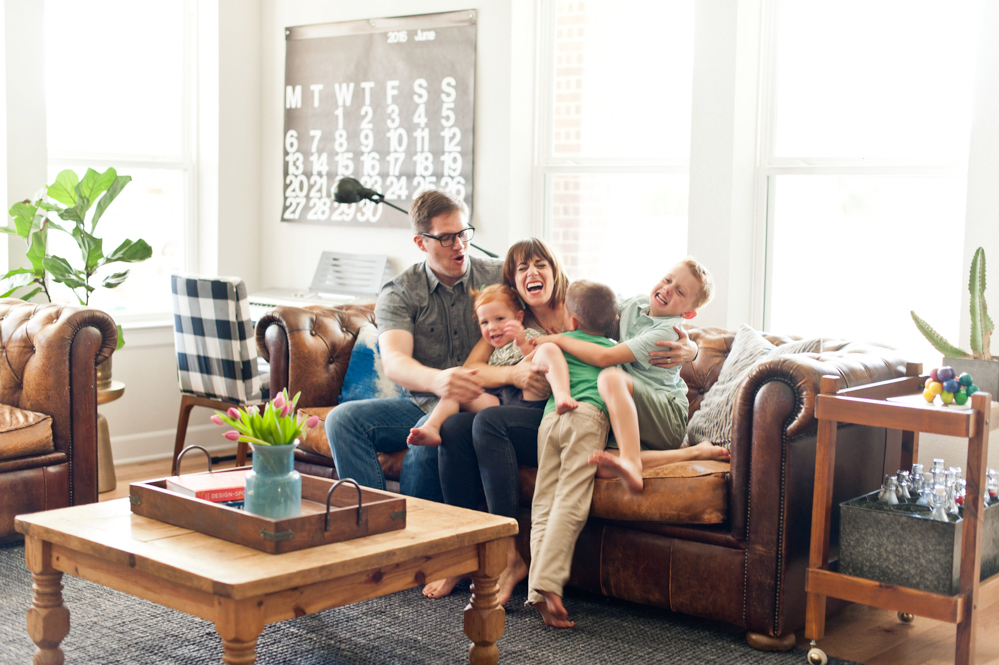 While large houses have their own list of benefits, I've realized that they're not really for me. I like using less space more creatively and feeling a little more connected to each room and the people inside.
My mother-in-law has said she likes to live in a home that she "can wrap her arms around" and I both love that visual and agree with the sentiment. Having a home where I know what is where, that I can thoughtfully decorate without overwhelming my energy or budget, and where all of my family spends most of our time together feels like the lifestyle I want.
Here are seven reasons I love living in small houses:
Lower Costs
As we experimented with smaller space living this past year (downsizing from 2400 sq ft to 1000 sq ft) we quickly realized what a positive financial impact it would have. Not only did the actual rent cost less than our mortgage (by more than half), the utilities costs are lower, the amount of furniture, art, and decor necessary is lower,  and general upkeep is lower.
In addition, with fewer walls, painting the whole house cost a fraction of what it had cost to paint our previous house. And when I went to replace the tile in the bathroom, it only needed a handle of square feet because of the smaller size.
Money saved on housing means money available for other activities, adventures, and experiences. I am all about the culture of "Less Stuff, More Adventure" and choosing a small yet sufficient house size aligns perfectly with that value.
Thoughtful Design
Smaller houses mean there are fewer walls and corners to decorate, so all of the same energy in design and investment in decor reach a little further. I love taking my house room by room, and really digging into the design, choosing colors and arranging furniture until the space feels just right.
It is easier to achieve  thoughtful and intentional design in each room when there are less of them.
I remember a friend after college moving into a spacious home and laughing that it would take years to be able to furnish every room, because they had spent all of their money on the house! Luckily, she was up for the challenge, and not overly anxious about having her new, large home feel empty.
I think I prefer a little smaller space that I can more easily and affordably design and decorate, and then live in the cozy result.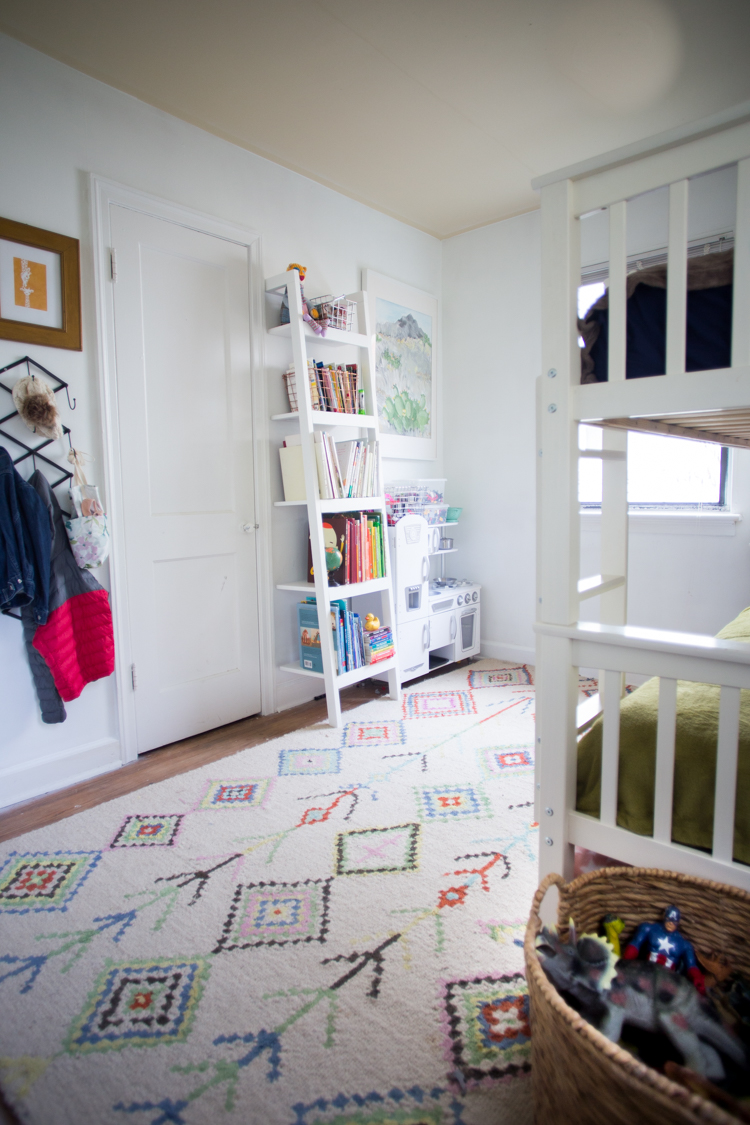 Creative Spaces
Along with the idea of being thoughtful about the design of a smaller home, I love the way that smaller spaces stretch my creativity. I get to creatively problem solve how to have the same room function both as a gathering place for the family, play area for the kids, and a space to entertain.
Without having a separate room for every activity, the main spaces are used more often for a wider variety of activities. I love pushing myself to consider how to make the rooms multifunctional and still really beautiful. Putting three kids into one small room, took a lot more intention than each having their own.
In smaller houses, I often find myself inspired by the way people have creatively used every space to its full potential, where in larger houses much space goes entirely unused. I enjoy the creative process of making a small house also efficient, functional, and cozy.
Easy to Clean
It is amazing how reducing square footage immediately decrease cleaning time. It is logical that with less spaces for mess, they would be easier to clean up. I was surprised when we downsized how quickly I was able to go from toy-strewn disaster area to spick and span.
Of course, with less space, we also downsized the quantity of things we own, which also greatly decreases the mess. My kids have one basket of toys in their room, in addition to a box of legos and a play kitchen. Their entire toy collection can be all across the floor and if they each pick up 10 things, everything is put away.
Having one bathroom has meant just one toilet and sink to scrub. The smaller kitchen can be wiped, vacuumed, and mopped in minutes.
I loved having a house cleaner come a couple times a month to help me keep up with deep cleaning in our old, larger home, and that extra help and expense is not at all necessary in a smaller space. (Although I did enjoy the occasional break, and will definitely consider using a cleaner again sometime in the future!)
Organization is Important
A smaller house is not only easier to organize than a bigger house (because of less stuff overall), but it is also more important to keep organized, and I like that! Moving to a smaller space forced me to make very clear homes for each of our items, or types of items, and it has been easier to maintain some sense because there isn't extra space to just put things down.
I appreciate the consistent nudge to put things away where they belong, and maintain organization in the rooms, closets, and shelves so that we are able to live easily within the space. We are more aware of the things that we have, and where they are.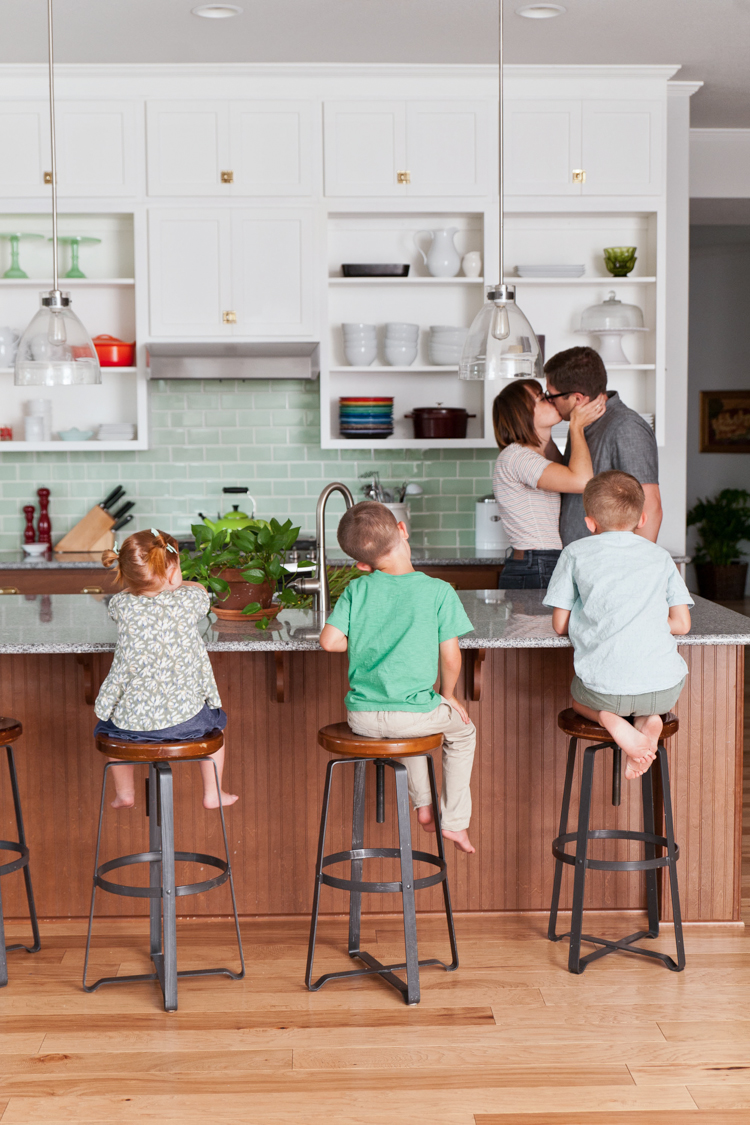 Spend More Time Together
Living in small houses with our kids has brought us closer together, literally and emotionally. We definitely spend more time with each other in the same few rooms than we did when we were more spread out in the house. I like seeing the kids gathered in their shared room, planning a game or building something with legos.
Being in closer proximity to each other in our daily, at-home interactions means we see more of each other's faces, have more conversations, and generally spend more time together.
Of course, everyone doesn't always get along perfectly, but when it is time to apologize and make up, we are all right there.
We do create space for people to be alone when they need to. One kid in the living room to read, one in the bedroom to play, and one playing outside or helping in the kitchen is a typical breakdown of having some down time.
And as I think about it, we have always loved to spend time with each other, and be close together. In our larger house, that just meant that we had more unused rooms and spaces than we needed, because the majority of our time at home was spent together in the kitchen, living room, or backyard anyway.
By choosing a smaller space, we have simply eliminated some of the unused, unnecessary square footage, and settled into what we really use as a family anyway.
Room to Grow
This last one may seem silly, as I discuss the reasons I love living in small houses. Having room to grow is an added benefit of smaller space living. I think it is much easier to bite off what you need right now, and move to a little larger space when it feels necessary, than it is to start off with an oversized home, with the idea that more space is better. You may actually discover that what you have is enough!
I think more and more, young families jump into large homes from the get-go with the idea that bigger is better, and that the quality of life increases with square footage. That simply isn't true!
Life can be happy and fulfilling no matter how many bedrooms and bathrooms you have. It may be smarter, easier, and more financially savvy to start small and take inventory as your family grows, changes, and life develops as to whether a larger space would actually be necessary.
We upsized from 900 sq ft with two kids, to 2400 sq ft with three kids (which was also not a huge house that we loved so much), and now are choosing 1500 sq ft with three kids and a dog, and we have been happy and fulfilled all along the way.
This article from Southern Living makes a case for 1500 sq ft being the perfect house size, and whether or not that is true for everyone, it feels great for us right now.
I also feel like the layout and quality of a home, as well as the location and neighborhood are as important or maybe more important factors than the size of the actual house.
Having done both, I can say it is easier to start small and move up in size, than to jump ahead and realize you actually want a little less.
We are excited to settle into our new house, creatively decided how to use each of the spaces, design the interior and exterior to match our daily lifestyle, and put down some roots into the community.
SaveSave