Once we had Milo, Dave and I decided we'd celebrate the New Year in style… but on New Year's Day, so the kid could join the fun. At midnight we snuggle in our pajamas at home, watch the ball drop, share a toast and a kiss while the boys are snug in bed (as they should be). Then on New Years Day, we party.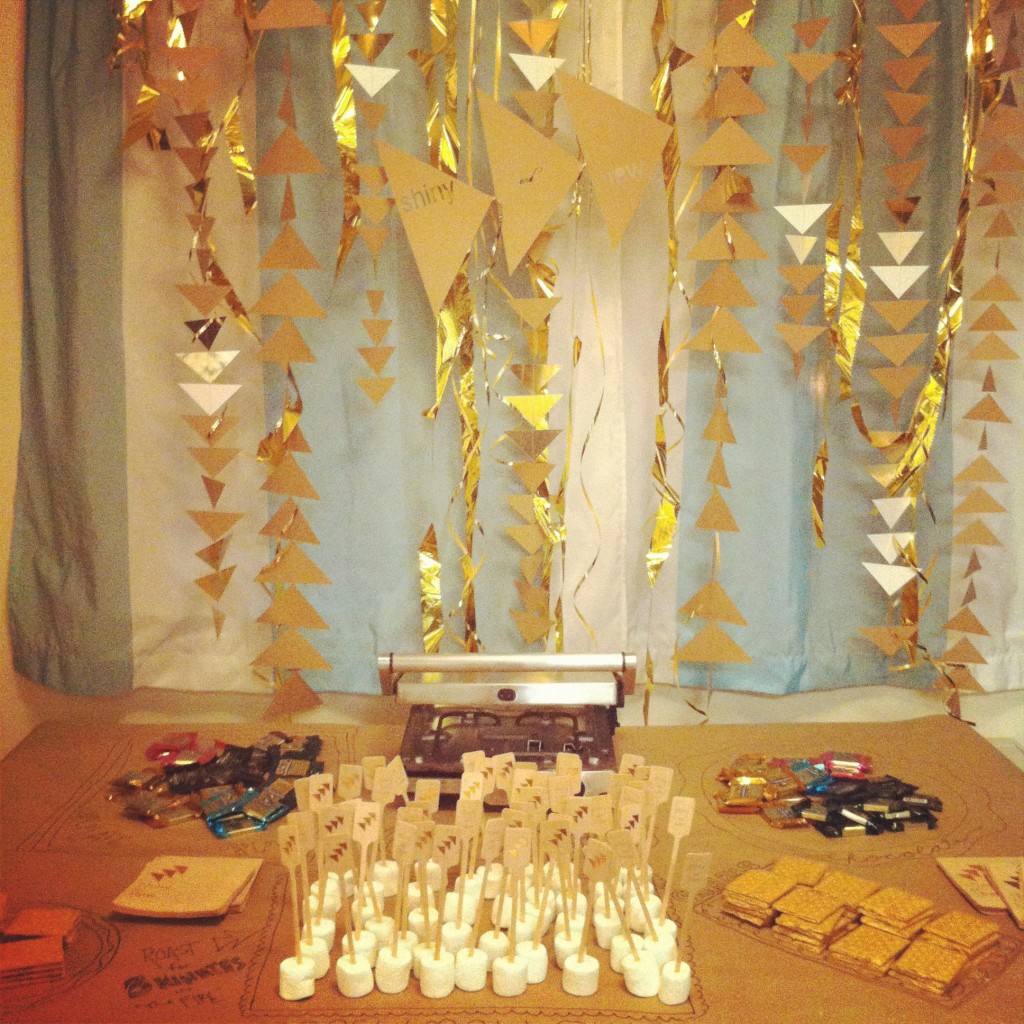 This year, our New Year's Day get together was more glitzy and glam than in years past.  I began thinking about it way back a couple months ago when I won a giveaway on Cupcakes & Cutlery for some custom party supplies from For Your Party. The only party I had on my horizon was the annual New Year's bash, and so I designed a simple triangle motif and added the words "Shiny and New" knowing that I'd be able to plan around that simple concept when the time came (post- Thanksgiving and Christmas rush.)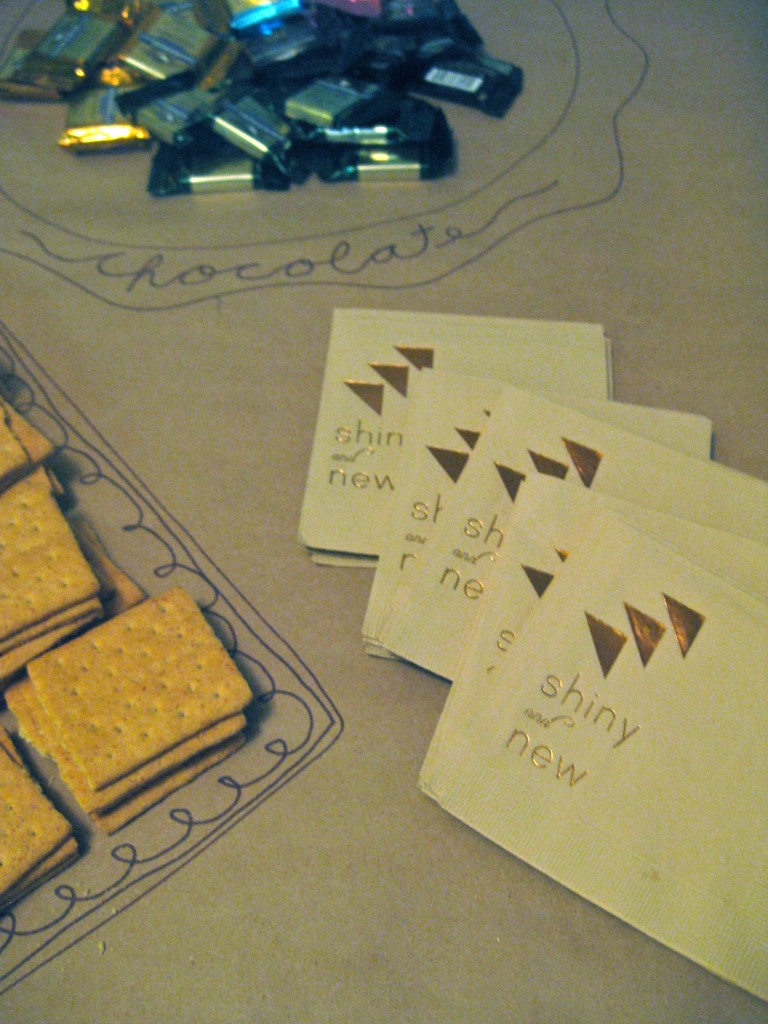 When my party supplies arrived at my door, I was giddy! The design was exactly as I had uploaded it, and the gold metallic foil stamps were funky and fun. The giveaway was for customized napkins, stir sticks, and coasters. Napkins, of course, were useful…but stir sticks and coasters?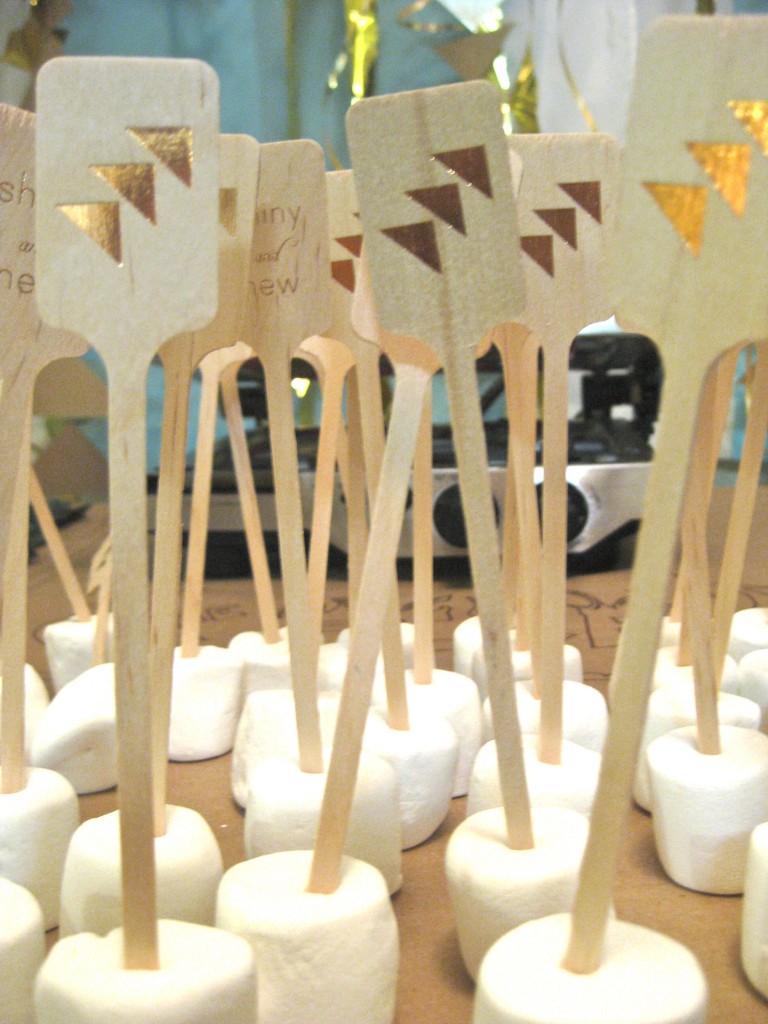 I didn't want to serve hot drinks, but when I pulled the stir sticks out of the bag I immediately thought they would make perfect marshmallow roasting sticks. So it was decided. We were having s'mores!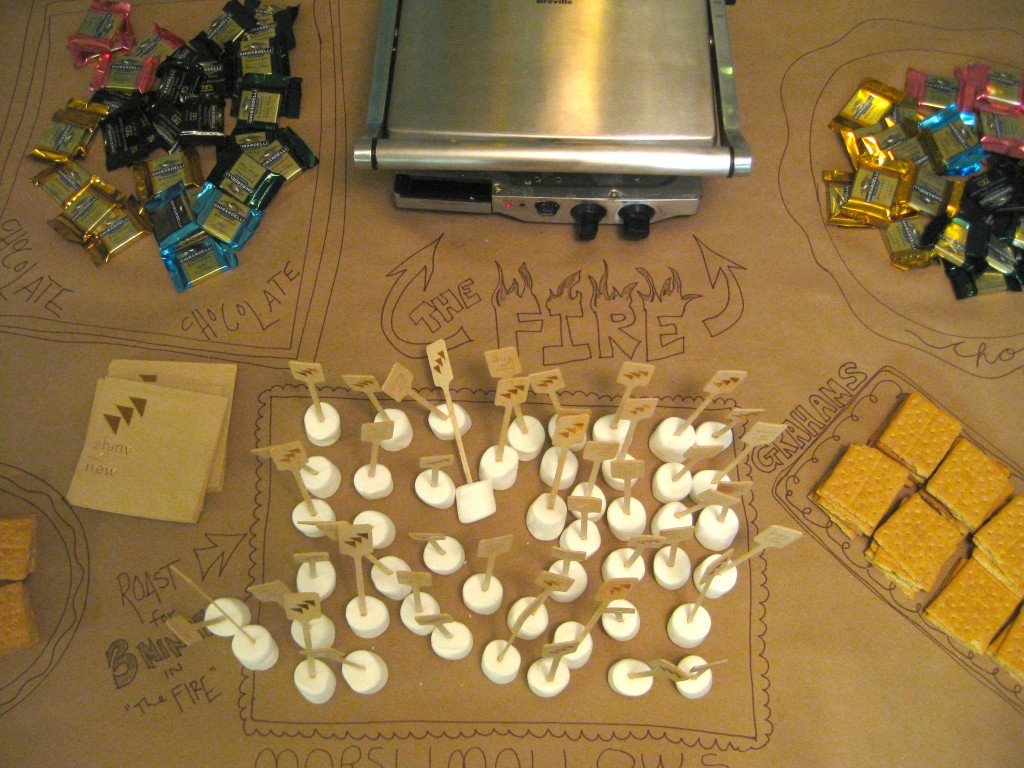 I set up the table very simply. A roll of brown kraft paper as the tablecloth allowed me to draw the serving dishes exactly as I wanted them. I also was able to add labels and instructions right to the table. I'll for sure be using this idea again.
Of course, for s'mores, you need fire. And even though the weather here has been beautiful, it hasn't been outdoor s'more weather. I spent two months thinking about and googling and researching indoor s'more bars, and the only things out there seem to be sterno cans or natural gas flames. Roasting my sugar over chemicals didn't seem safe or delicious. I finally gave our panini grill a try, and in 3 minutes, I had a perfectly browned marshmallow!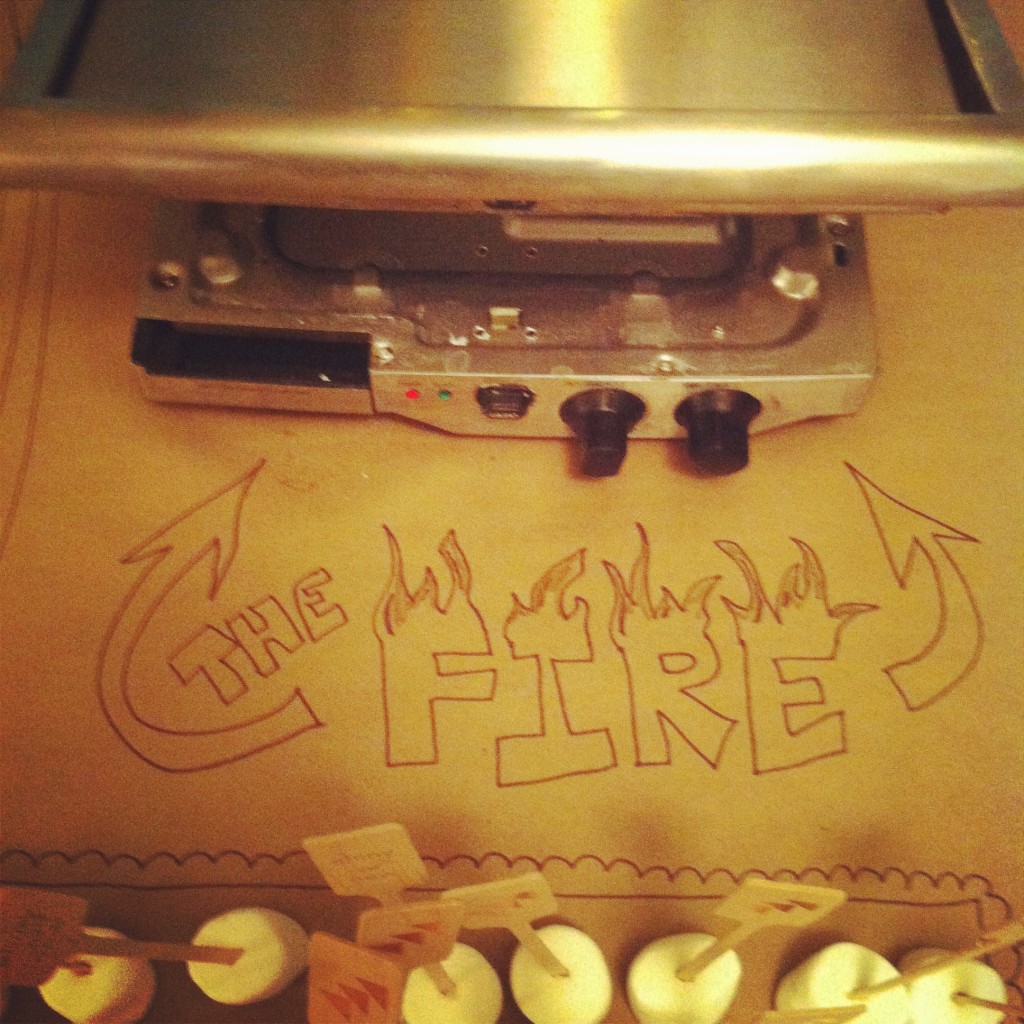 I think it could be used with the plates in place, but I found the electric coils to be nice and hot by themselves. With the door locked at 2″, there is a perfect slot for inserting and roasting the mallow.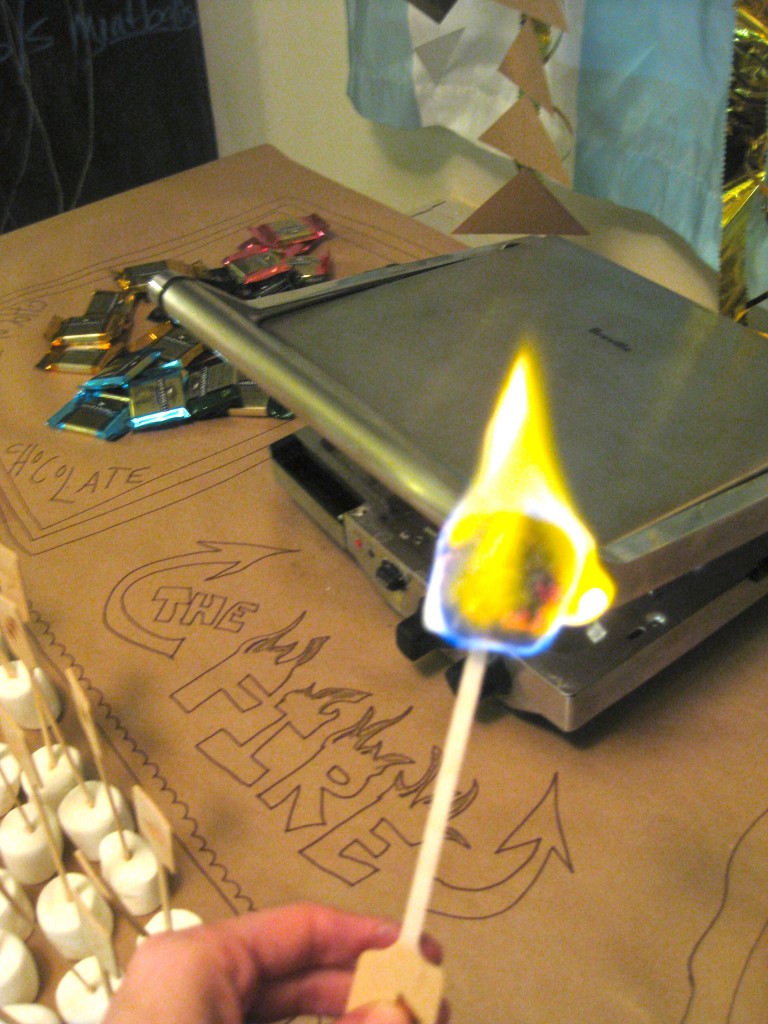 Of course, if you touch the coil directly, you get that wonderful flaming sugar that tastes so distinctly of summertime in the canyon. Mmmm. Just blow it out quick (and don't let my landlord spy this photo:)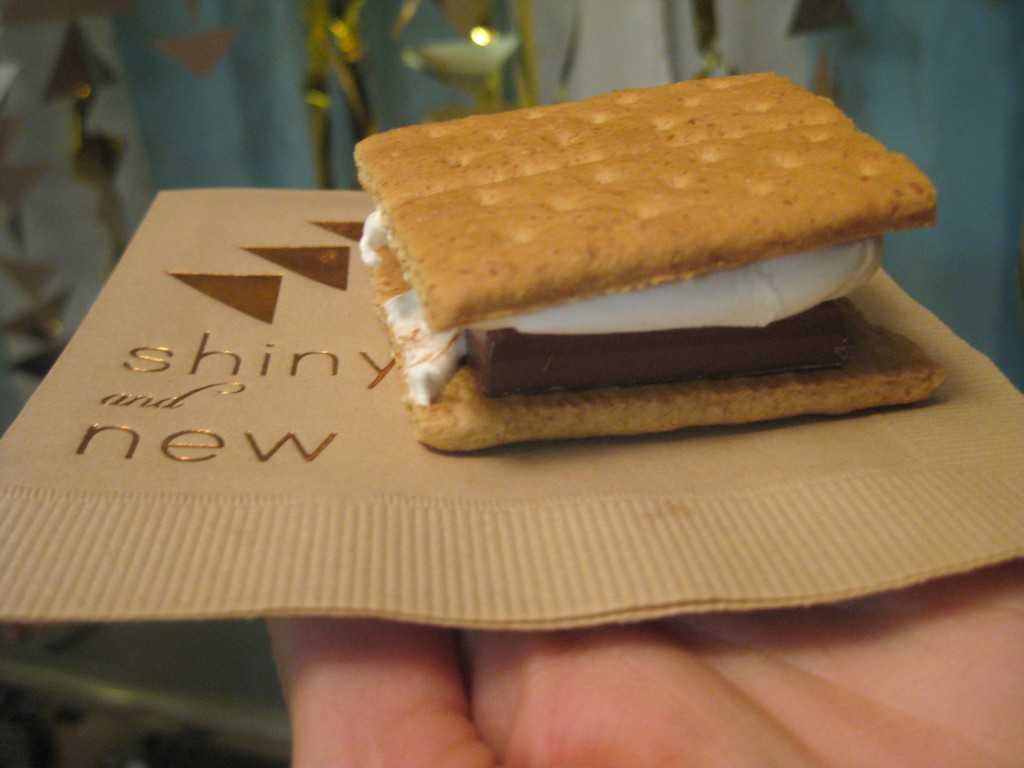 For variety and ease, I chose to use Ghiradelli chocolate squares for the chocolate. I found a variety pack at Costco and called it good. Of Raspberry, Mint, Milk, Dark and Caramel, my favorite was the Caramel. It was also the messiest. Lucky for me, I had some really cool napkins to use:)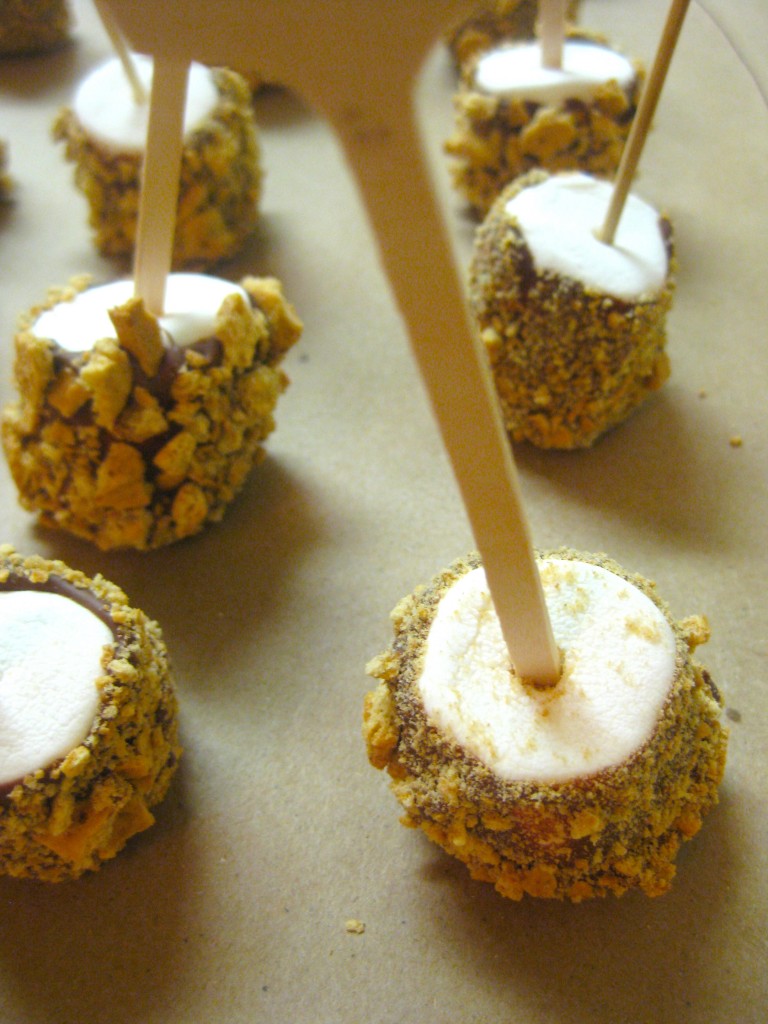 To keep the kids away from the heat of "the fire" I made a bunch of s'more pops by dipping a marshmallow into milk chocolate then rolling it in graham cracker crumbs.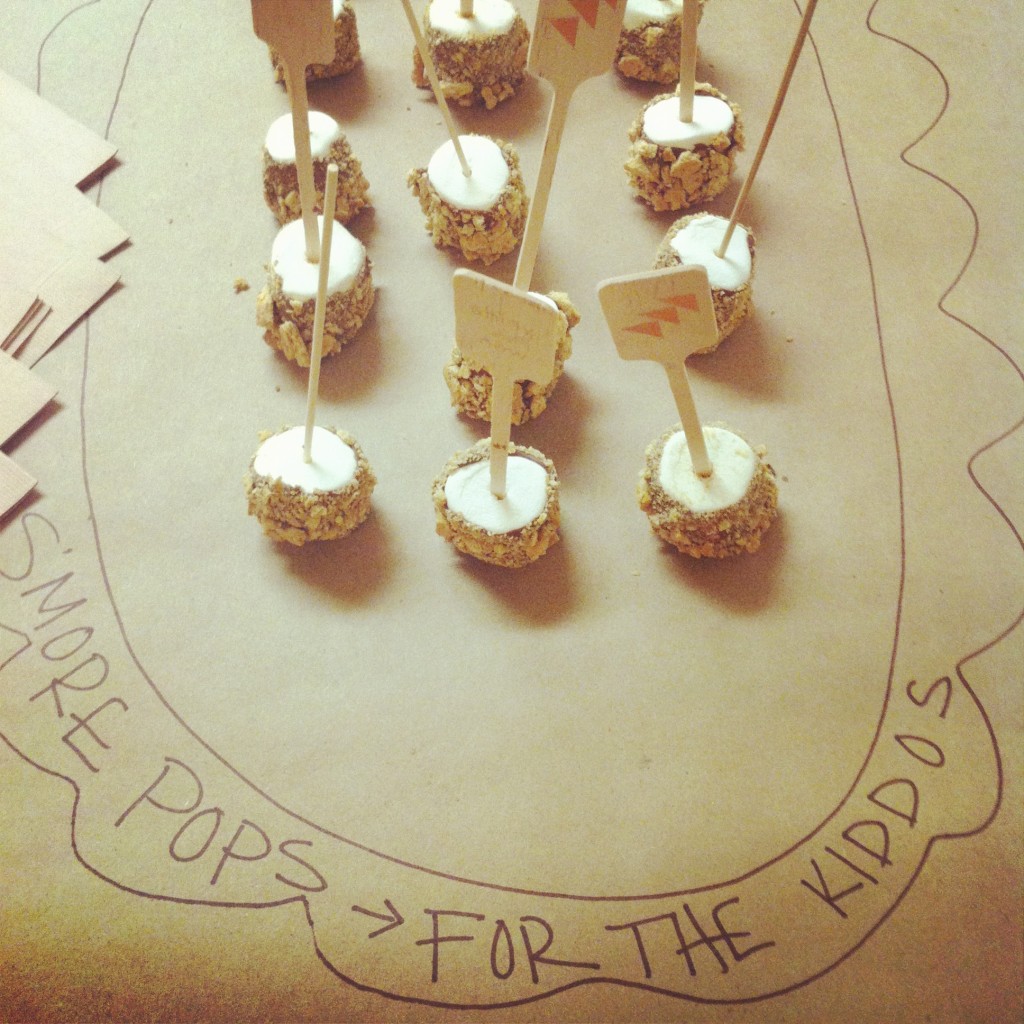 They were a hit, even with the adults.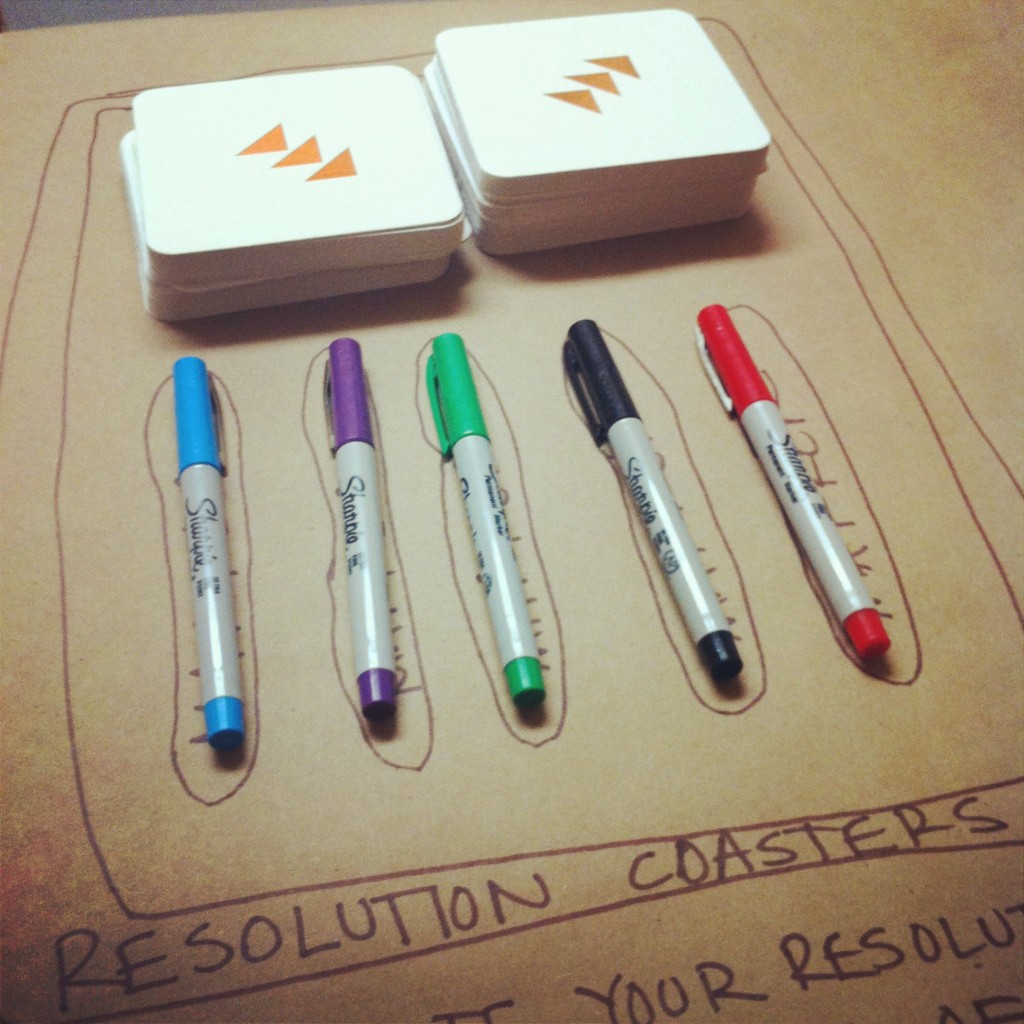 For the coasters, I created a little resolution station where folks could jot down a goal or two on the back of a coaster and then take it home and set it somewhere as a reminder. Since I was using plasticware, and don't worry about rings on my furniture, I wasn't totally sure what else to do with them.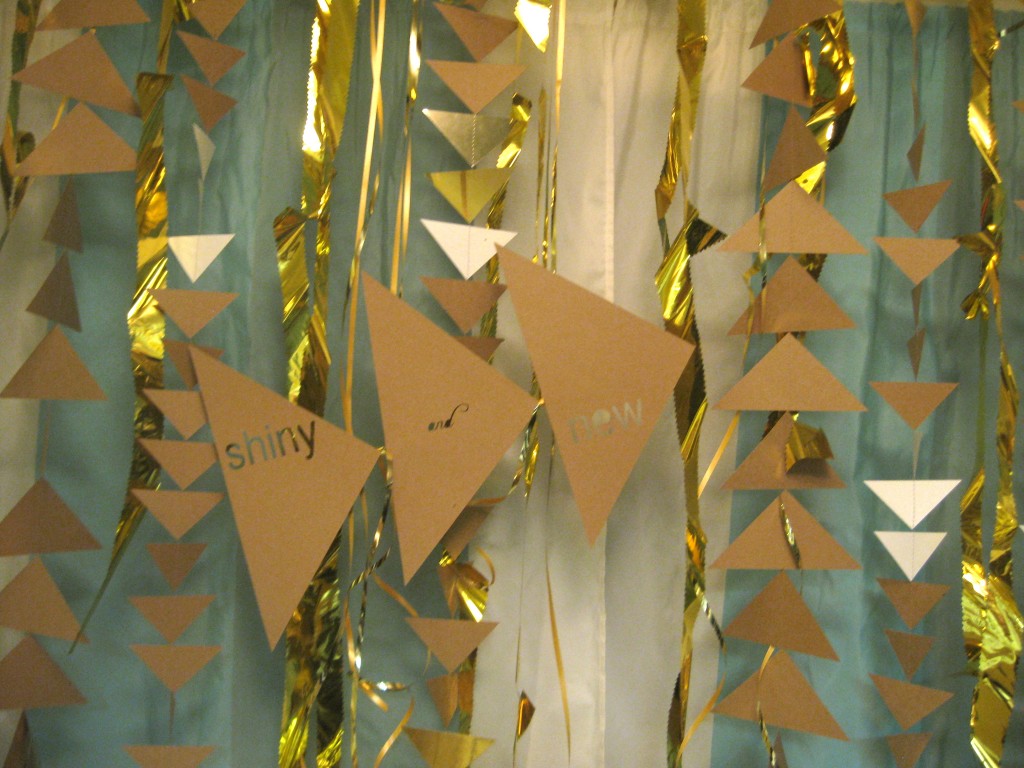 I initially planned on creating a pendant banner with the coasters, but then I got all crazy with my silhouette and decided to make a bunch of triangle decorations instead.
For these babies I simply designed a square cut into 8 triangles, let the machine do the cutting, then I zipped down the middle of them with my sewing machine, turning them into a cool sort of flying geese banner. I had to make some big ones with the party theme "Shiny and New" cut OUT of them, just because I can.
(You better believe there will be some fun paper projects forthcoming on One Little Minute, thanks to my parents and their perfect Christmas gift…)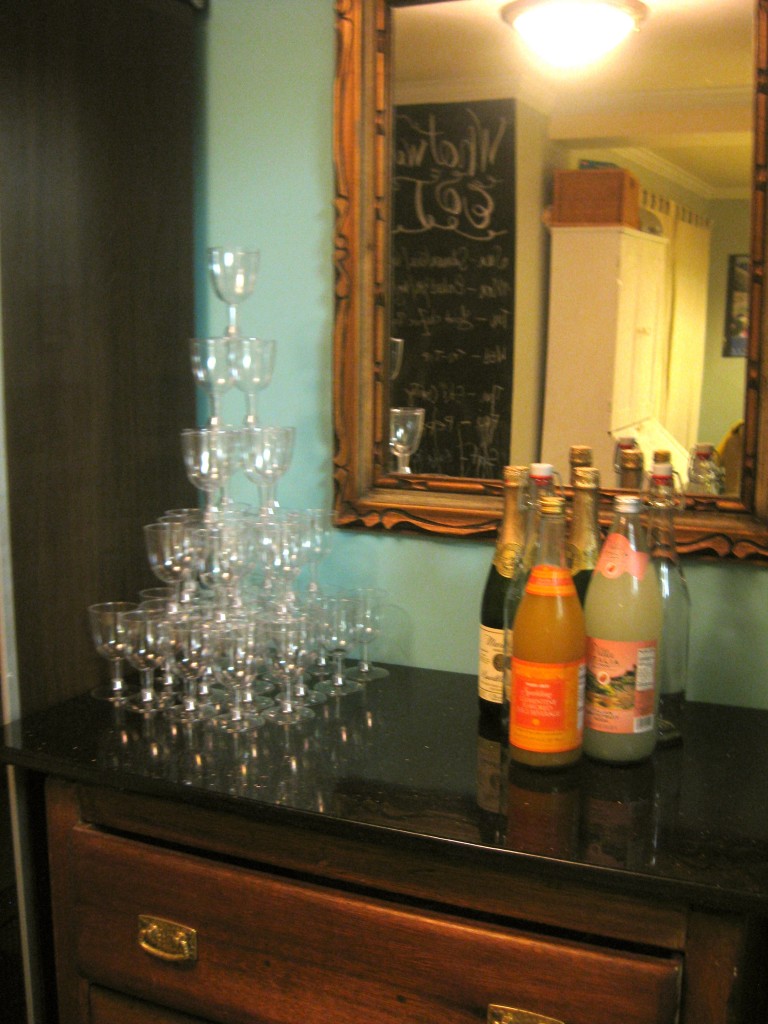 Back to the party. We served several kinds of "bubbly" in the most darling petite plastic wine glasses. It lent a fancy feel that even the toddlers could enjoy. My favorite beverage was the Trader Joe's sparkling clementine juice. Of course it was. TJ"s never lets me down.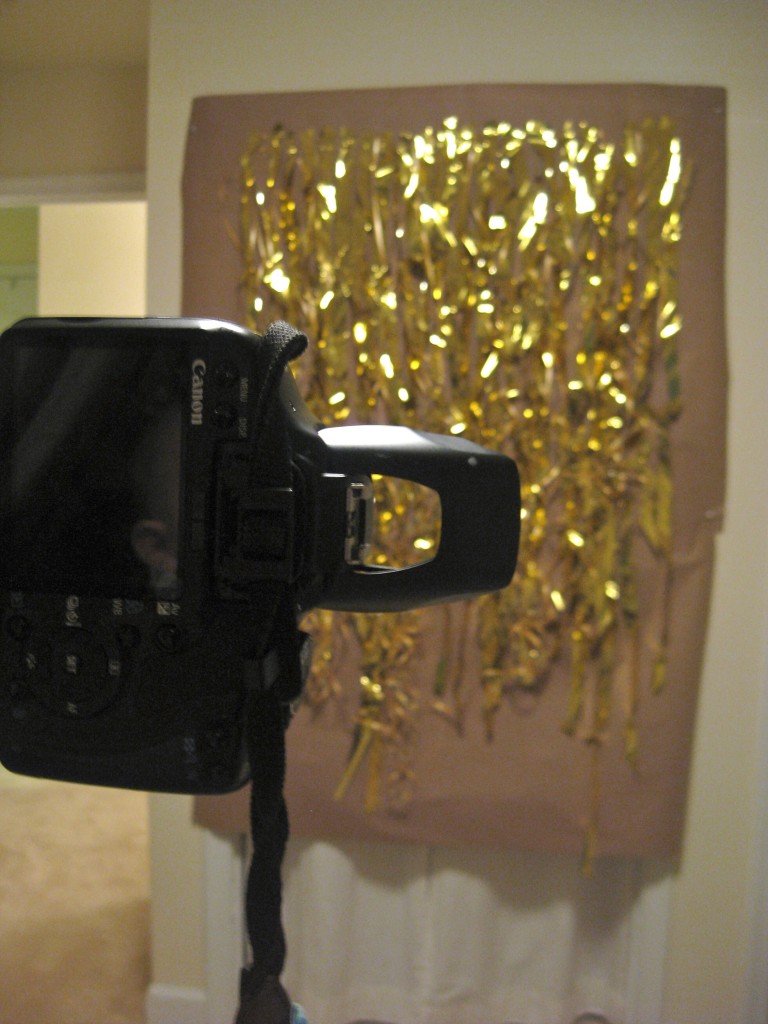 Along with the fun treats and great company, we were excited this year to set up a little photo booth in the boys room. I borrowed a tripod and set up my camera on self-timer. For the backdrop, I cut strips in metallic gold crepe paper then hot glued them to the kraft background. Then I added an entire roll of cheap metallic gold wrapping ribbon to fill in a little more. I just wanted a little glitz back there. People could grab a prop or two, press the button, then run over and smile!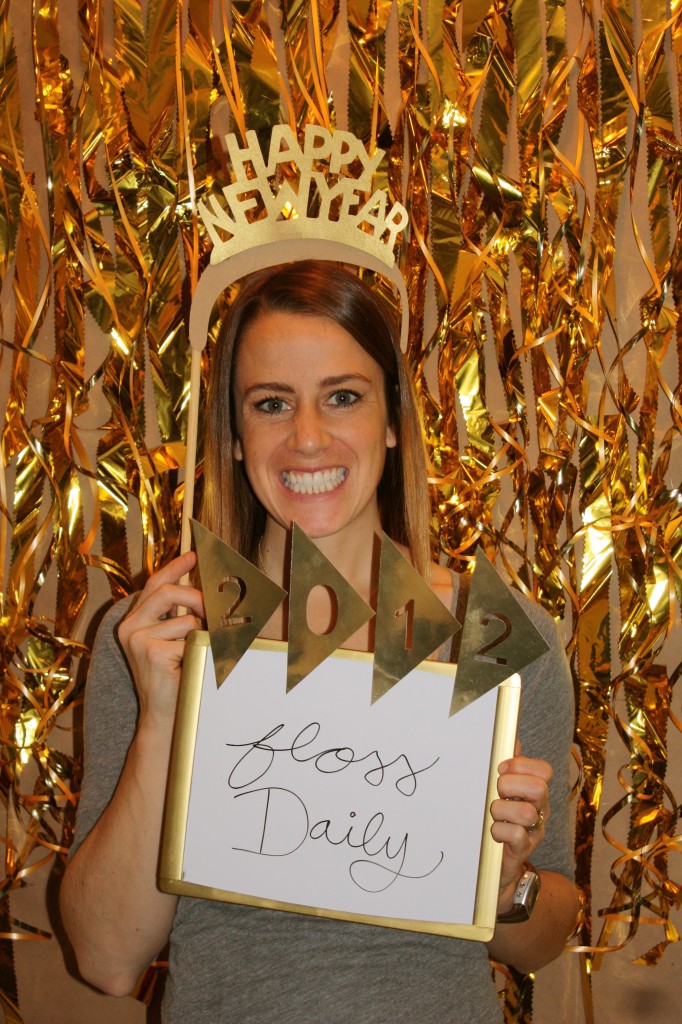 I also used the silhouette to create some fun photo booth props. I cut them out of kraft then spray painted them gold. Oh, and I also bought and quickly spray painted the border of a mini white board, so that guests could jot down a resolution for their mugshot, should they want to. Here's one of mine: floss daily. What? You remember that being my resolution last year? Oh, well, guess I'm still working on it. I'm great at brushing…(since buying these two months ago, I haven't missed a day flossing, either:)
My other resolutions include: reading the Book of Mormon every day (ahem…also familiar), sending birthday cards to all of my family members, and organizing my craft closet.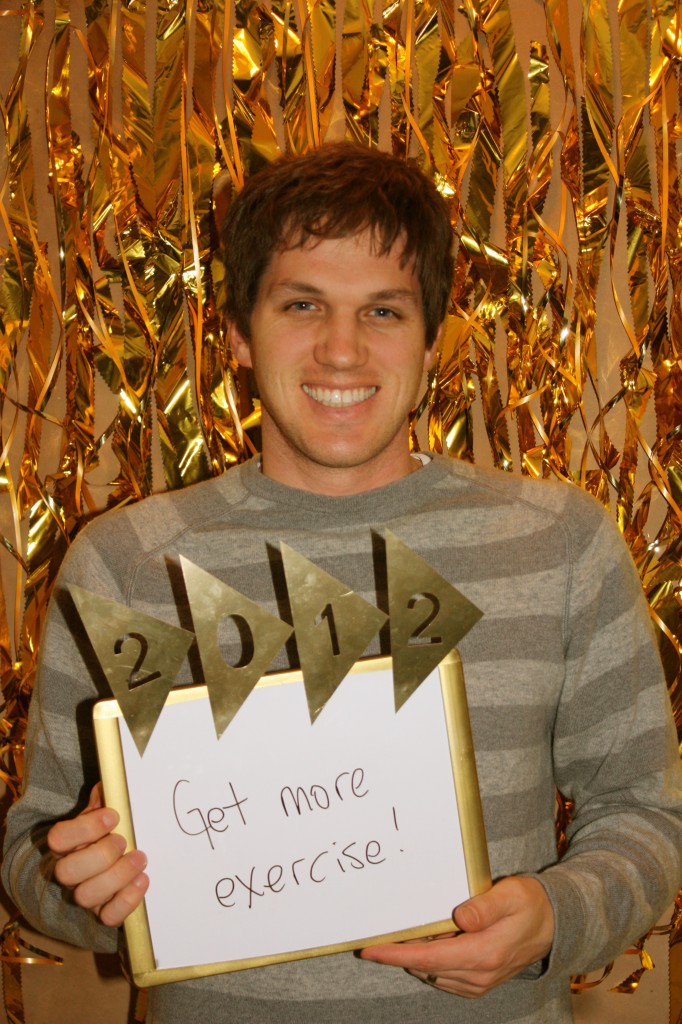 The goal for this stud? More exercise. I guess after three years of sitting at a desk in school, and now three months of, um…sitting at a desk at work, he's ready to move again. And we just got gym passes (on Jan 2nd, so predictable), so he will.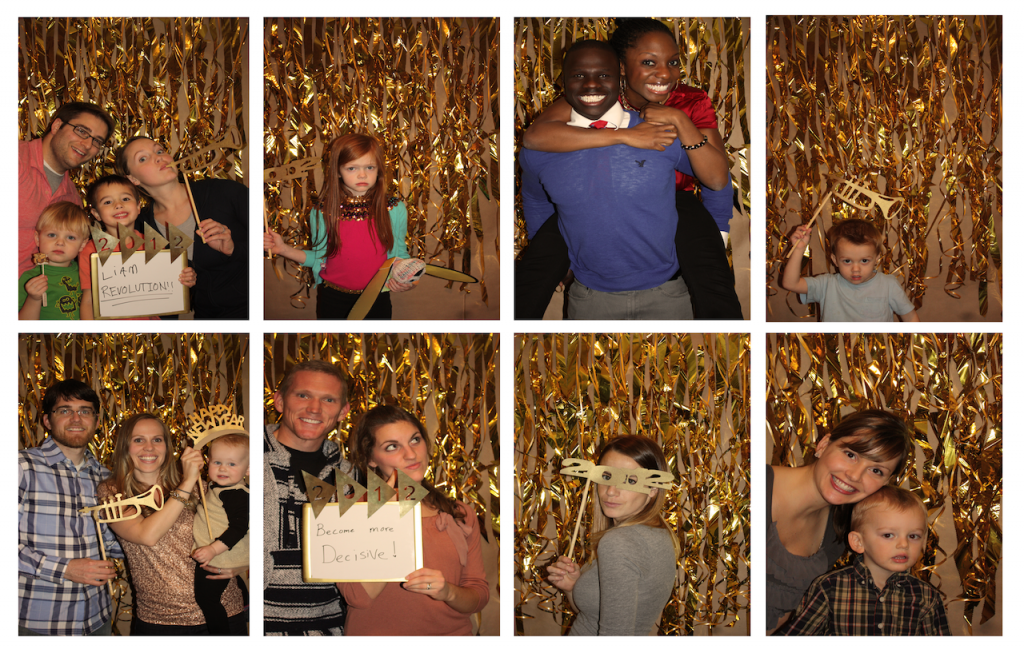 The photo booth was a hit. These are just a few of the awesome shots I had on my camera post-party. Tonight I'll email them all out with a little "thanks for coming" ("hope it's okay I posted your mug on my blog today…" tee hee hee)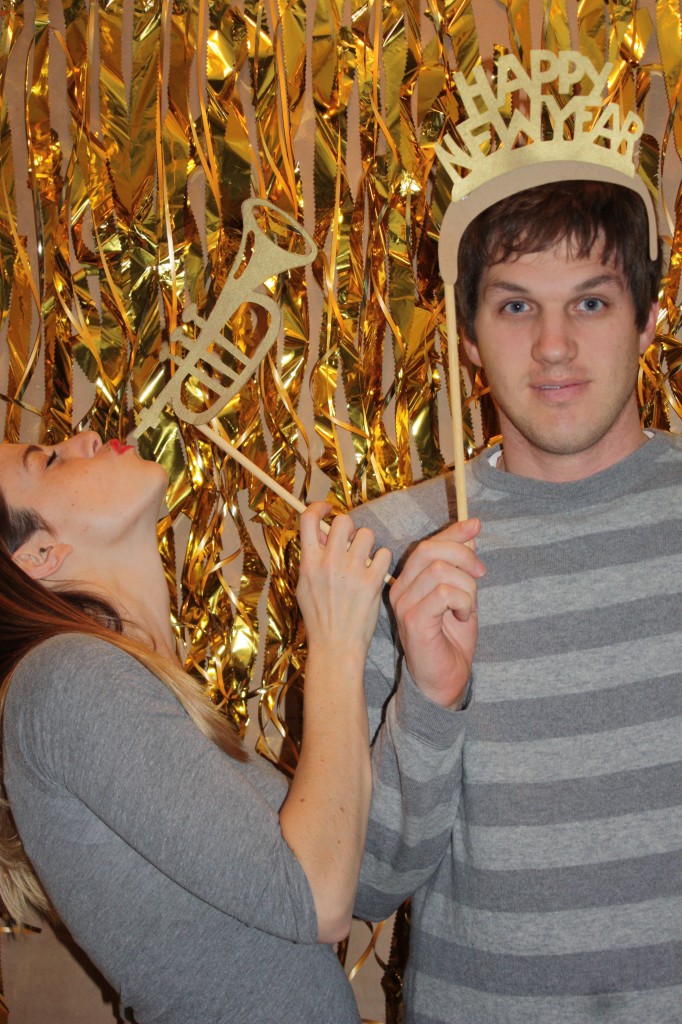 That's all. It was fantastic. I can't yet bring myself to take down the table backdrop because I just think it's fun. We're dining under gold streamers over here. Feels like a very happy new year already!
How was your New Year? Did you celebrate? What are you going to try to do this year?