For years I remember my parents talking about building a second home somewhere. I think they may have even signed on a contract or two along the way, deciding soon after the location, price, or timing wasn't right. About a year ago, they found a little plot of land outside of the a small Southern Utah town and everything seemed to fall into place.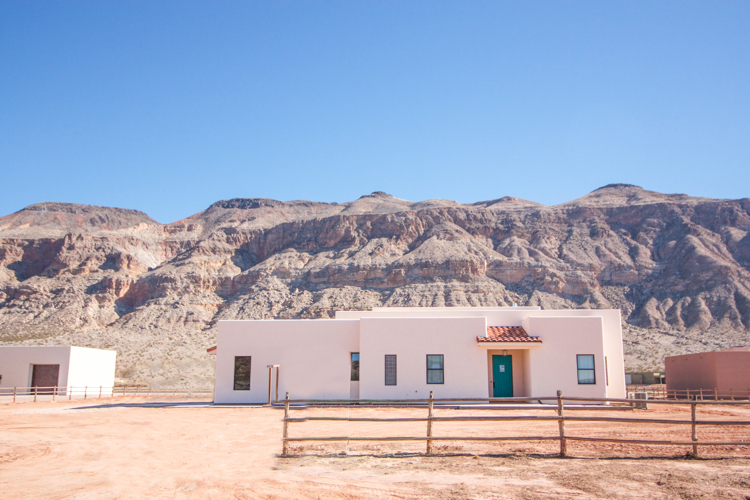 A few months later my mom was designing plans and searching for perfect finishes. My dad, a general contractor, was hiring subs and navigating building permits. After months of care, time, and investment in the new home, my family met there last week to celebrate Thanksgiving and enjoy the opening weekend of what is sure to be a big part of our future as a family, and a hub for making memories together.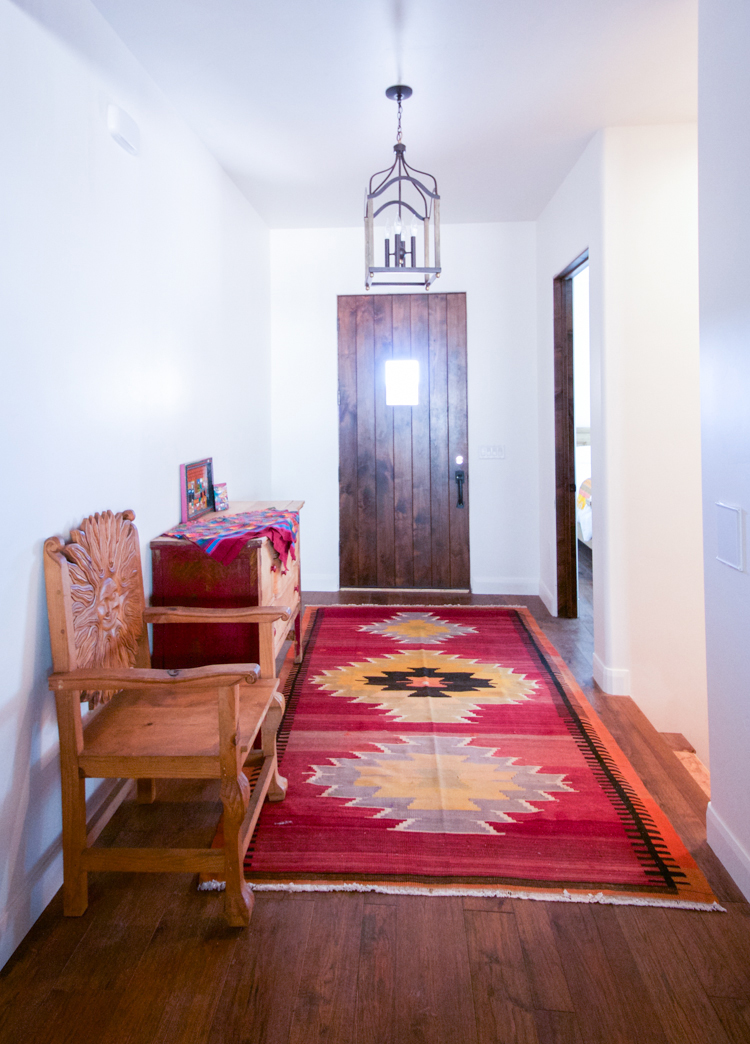 This home is incredible. My mom's eclectic modern bohemian style came out in the gorgeous, crisp white architecture, intricate tile, global textiles, and collection of interesting furniture. Being a second home, and one without small children living daily, it has an air of luxury and simplicity that is really hard to achieve in a home being lived in by a family all the time. The peace, cozy comfort, and gorgeous design was a real joy to spend time in. The house isn't all the way complete yet, and there were finishing touches being added the first few days of my visit (like the kitchen backsplash!) But since it may be a few months before I'm back up there, I wanted to take some photos to share. It's really too beautiful not to.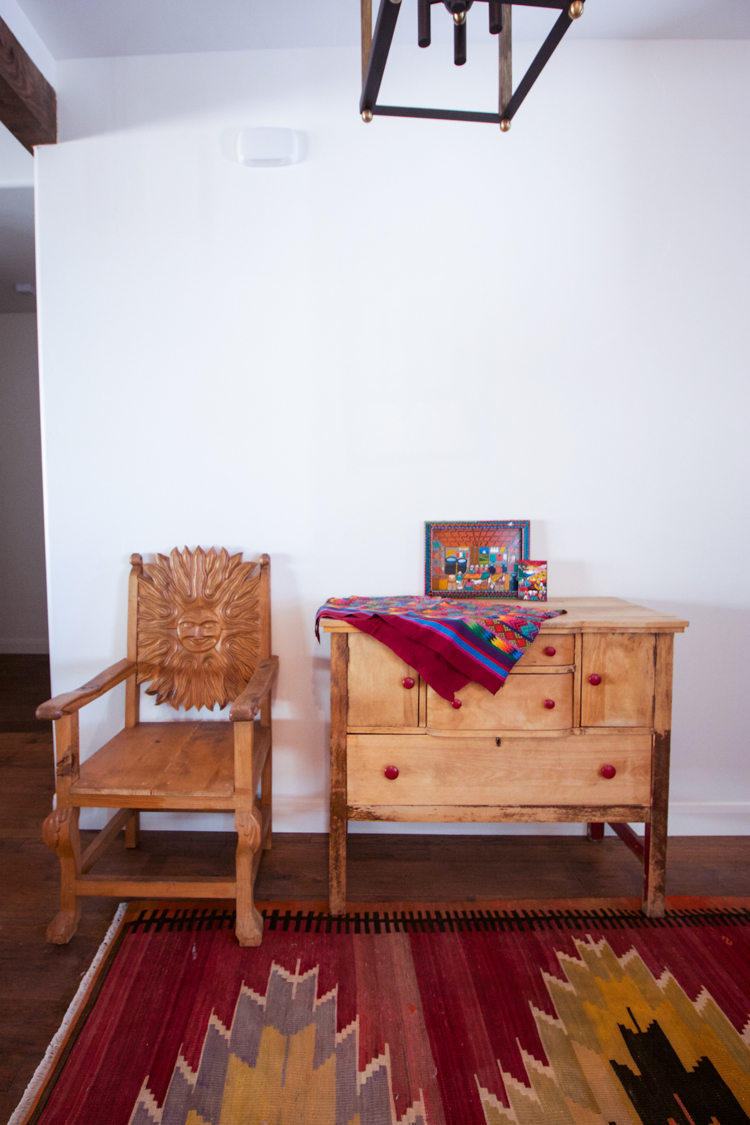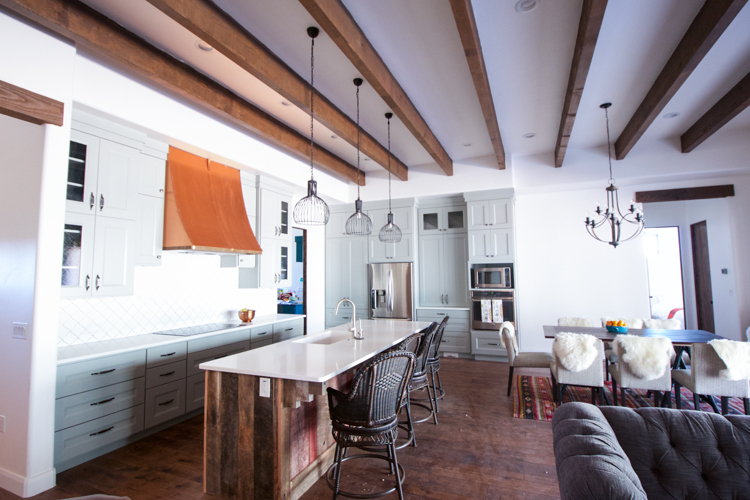 After you enter the house, the single level living space spans out on both sides from a central kitchen/living/dining room that all opens onto a covered porch facing the dessert plateaus. The twelve foot ceilings are accented with dark stained wood beams, spanning the room. My mom found this incredible copper hood being donated at a thrift shop, and she immediately bought it (and it's companion hood) for $150! At that point the kitchen was being drawn, so she designed all of the grey, shaker style cabinetry around the hood. It's quite a statement piece.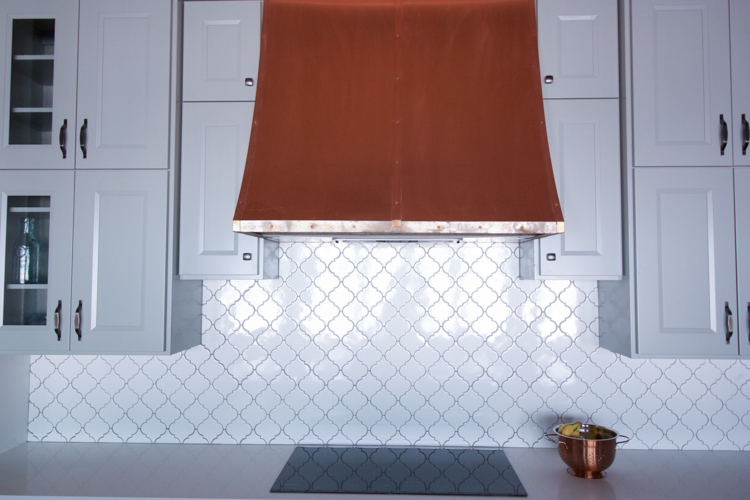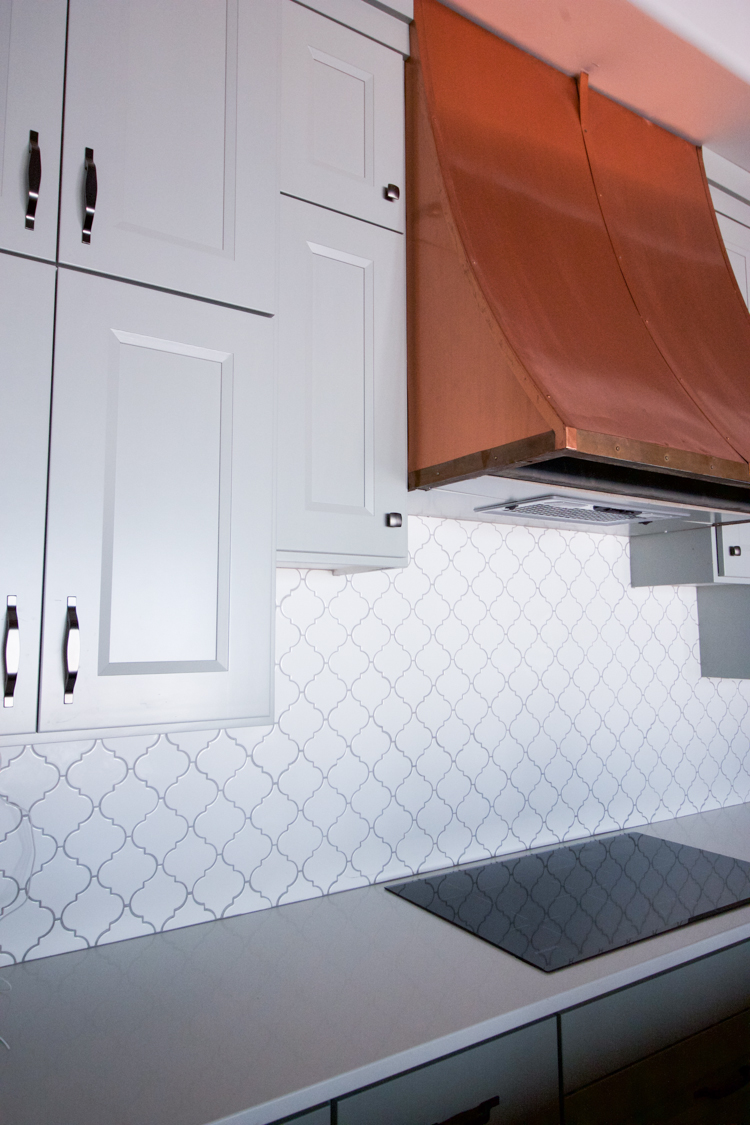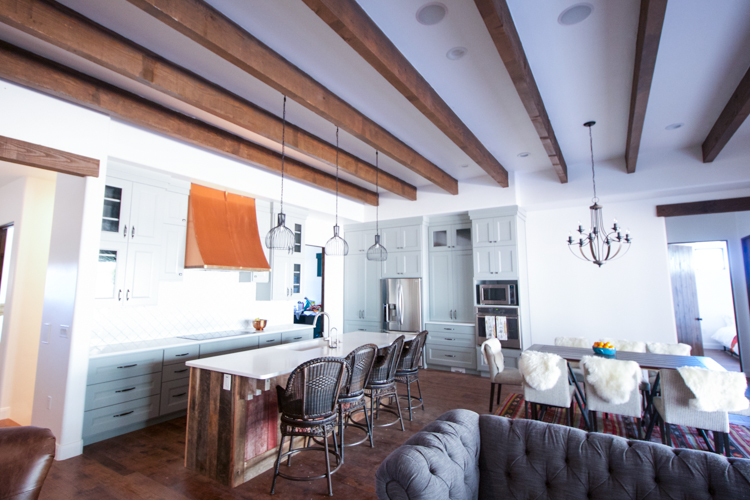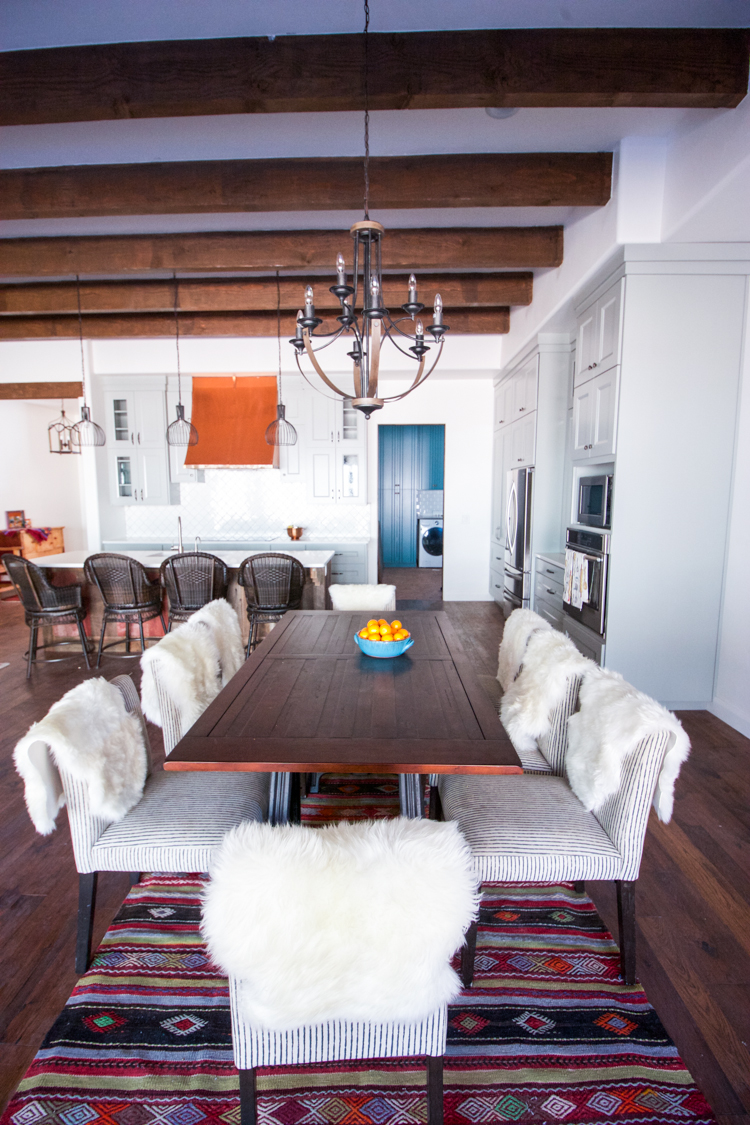 Behind the kitchen, leading into the garage, lies a mud room/laundry room with cool blue cabinets. There will eventually be a door between the spaces. The whole place is covered with incredible turkish rugs, sourced from around the internet. Most of the furniture was found at thrift and consignment stores, because my mom is hipster like that. She's always been great at finding special pieces to add to a room and make it feel just right.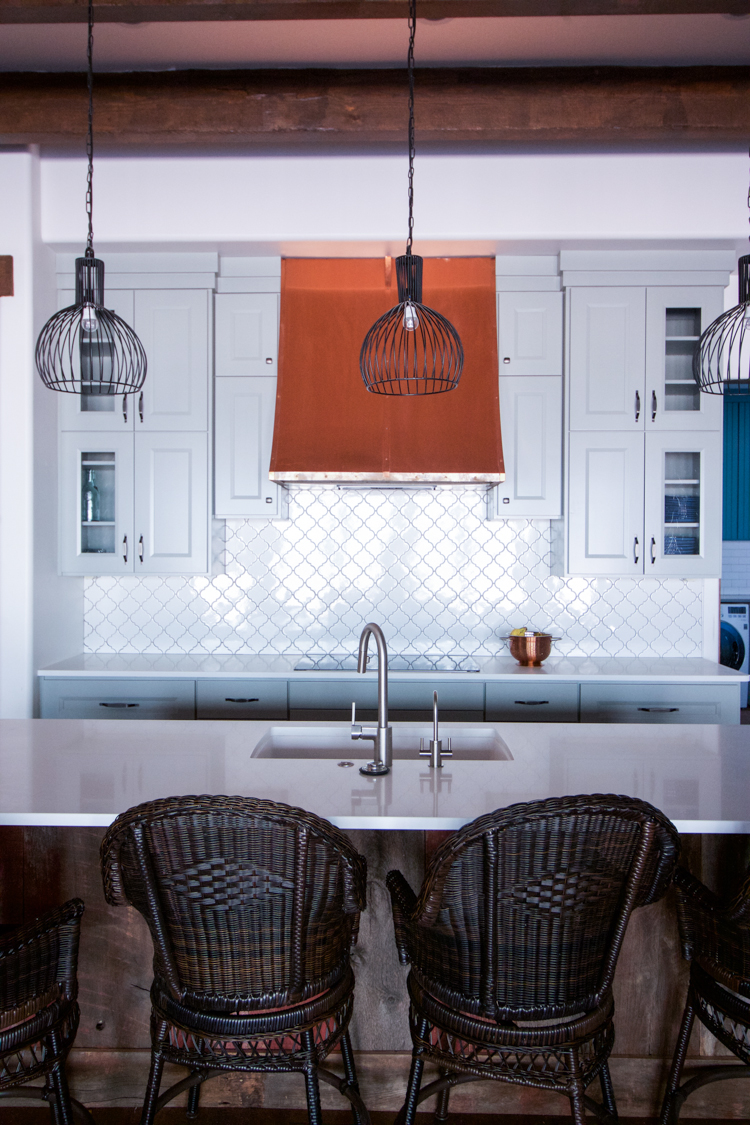 The island and several areas of open shelving in the house were built from reclaimed barn wood found by the cabinet makers. It's an interesting rustic touch in the more modern home, which makes it a bit more cozy.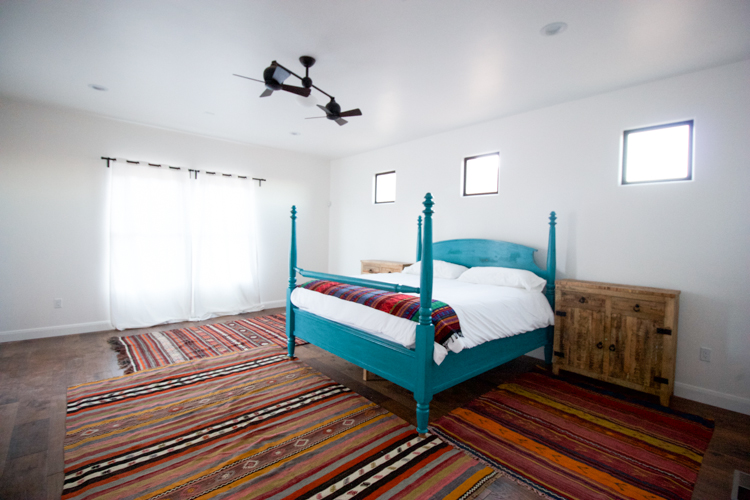 Each of the 3 bedrooms is intentionally minimally decorated. They have a sturdy, interesting bed, beautiful rug (or rugs, as the case may be!) and bedside tables. The linens area all crisp white, and the bed footer textiles were gifts brought home from Guatemala by my aunt and uncle. They finish off the designs perfectly. This room is the master, and has a big attached closet and bathroom.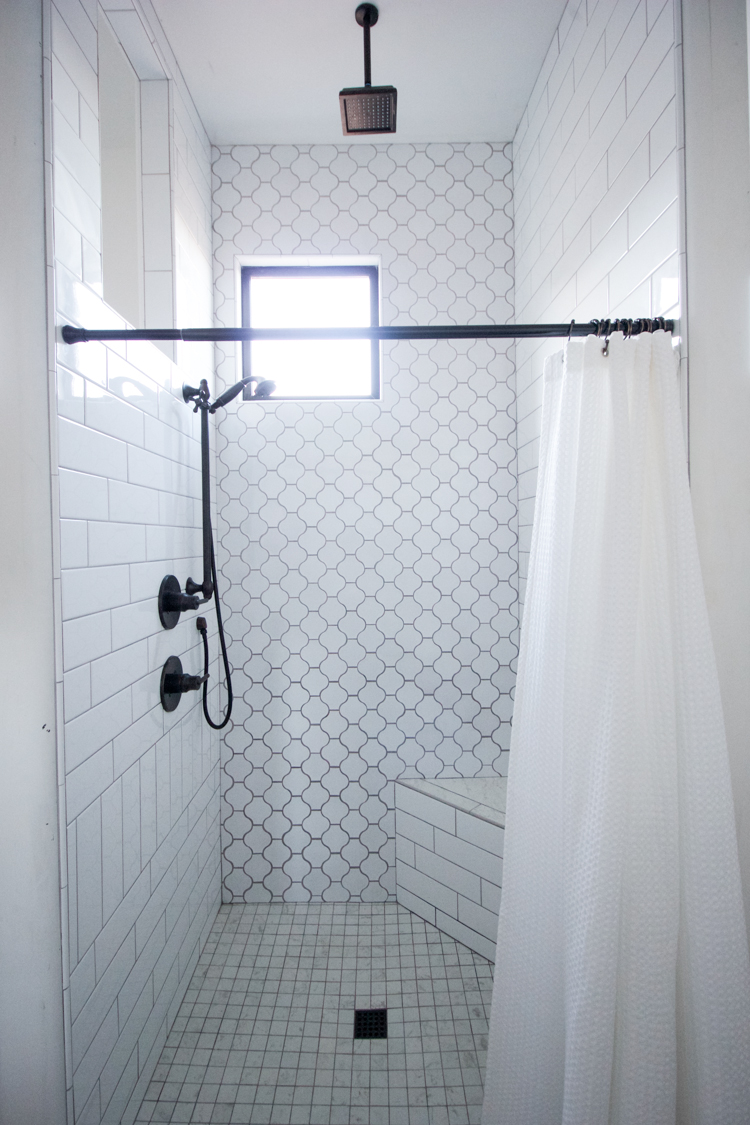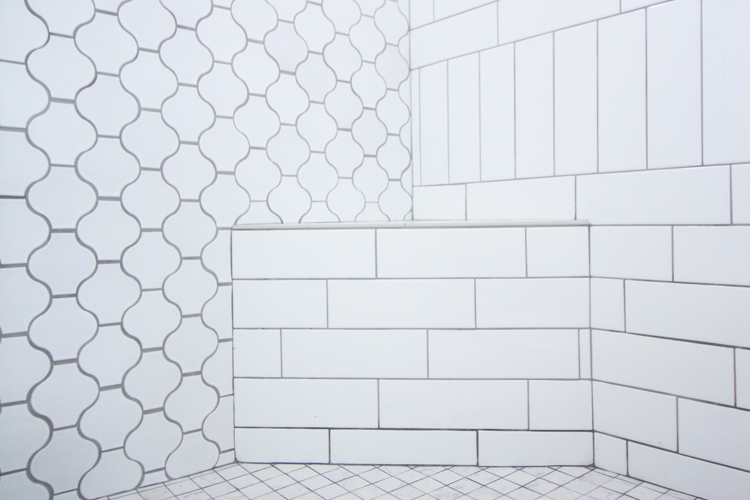 In each of the 4 bathrooms, my mom did a little something different. The master has all the white tile she liked, all together in a way that is so cool and different. I laughed thinking about her not being able to decide which to use, throwing up her hands and saying "Use them all!" It works.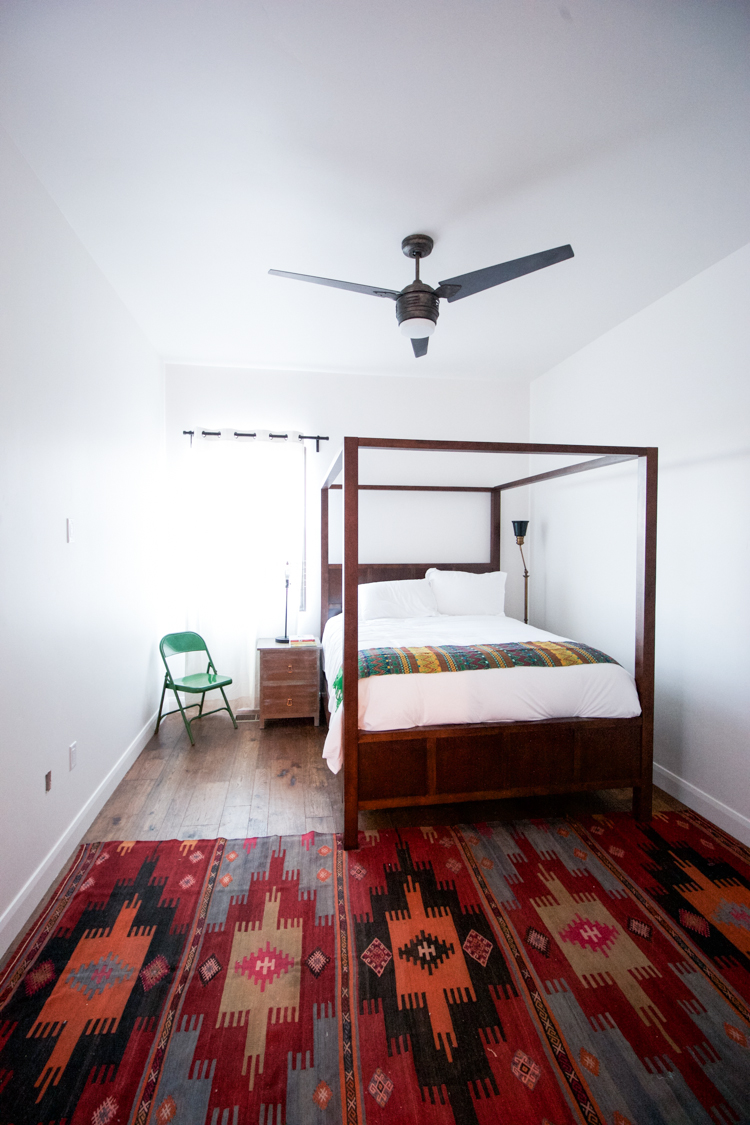 This is the room where my family stayed. That bed had be all heart eyes every time I walked in the room. I also love the modern fan (I need a couple of those for my own home.) And let's just have a moment of quiet to enjoy that rug, shall we?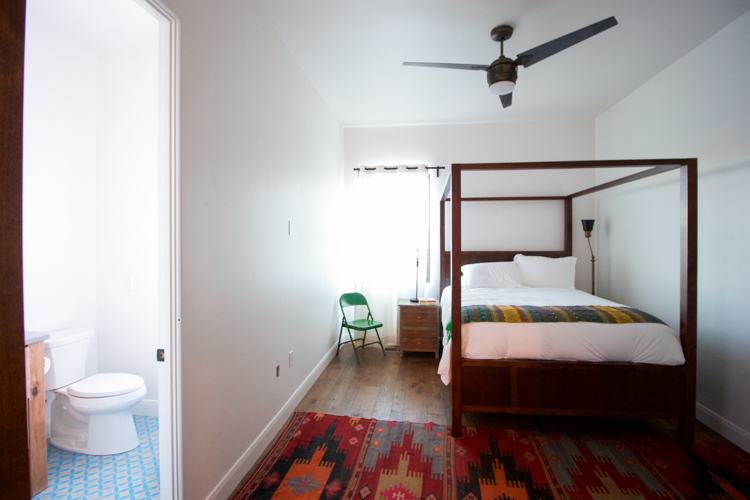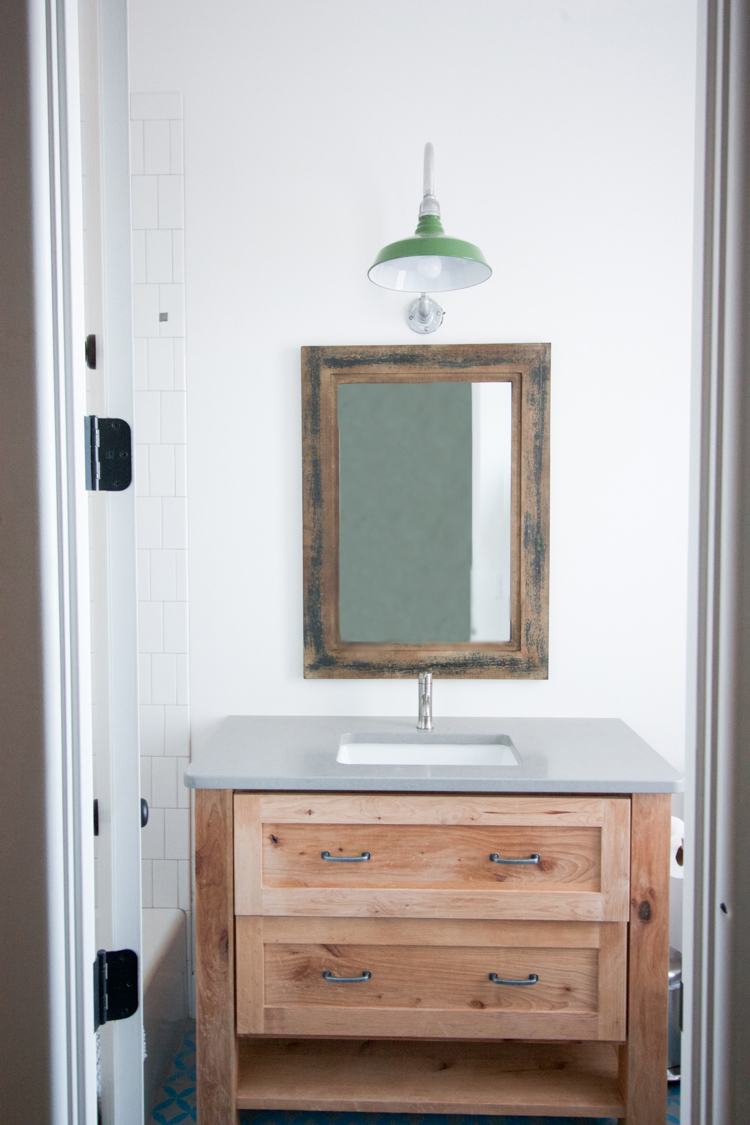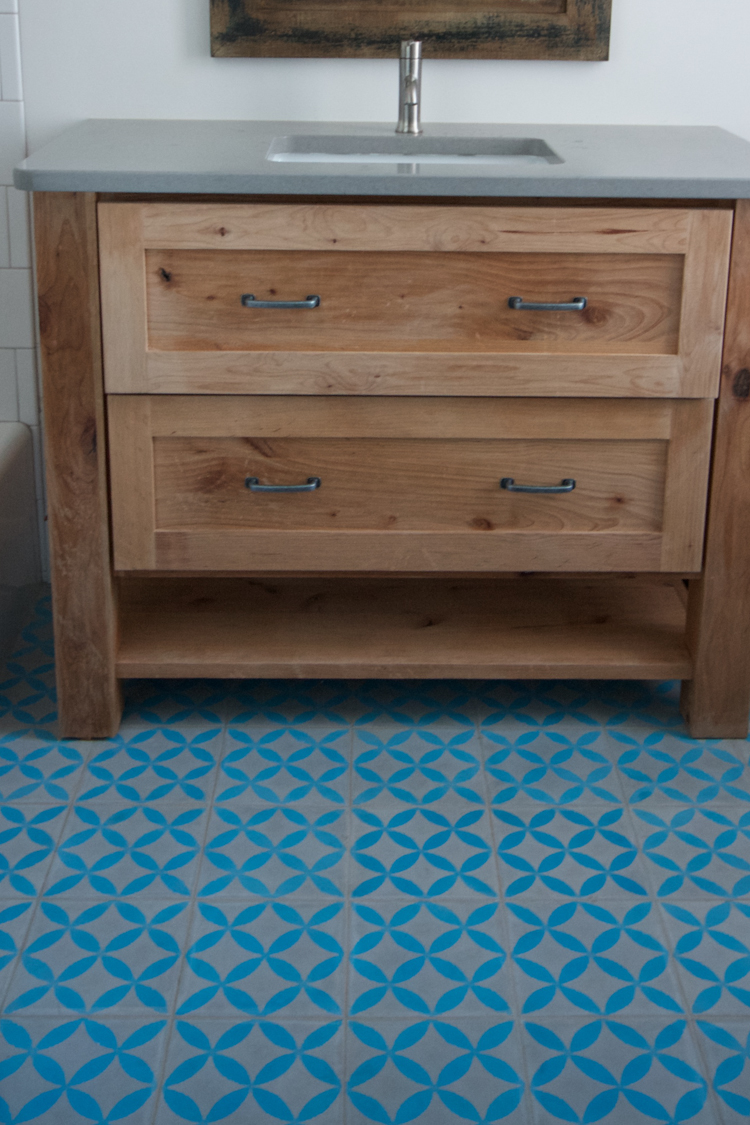 The bathroom attached to this room had great great and blue cement tile, and was always so bright from the window. The green industrial light is spot-on, and goes well with the rustic mirror and hand built vanity. The shower/tub in here has classic white subway, laid vertically rather than horizontally,  floor to ceiling.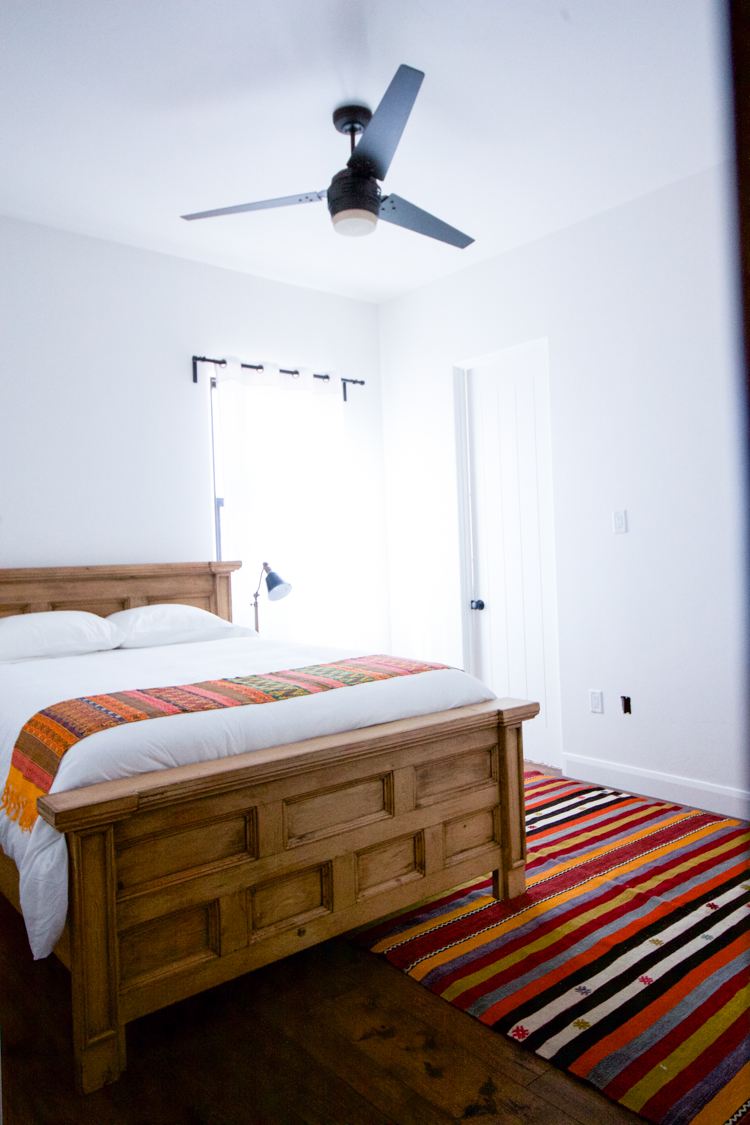 Another breathtaking bedroom, bed, rug, and bathroom. It's all just so good! I love the starburst cement tile and classic subway in this bathroom. I'm also a sucker for a big round mirror.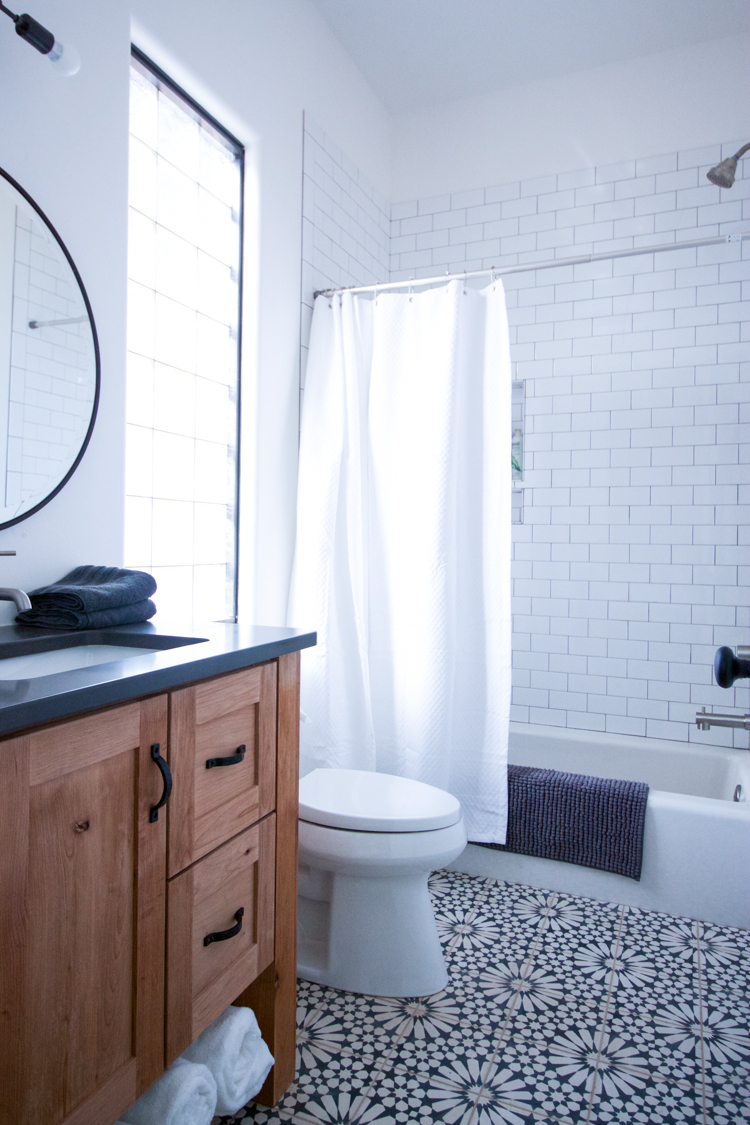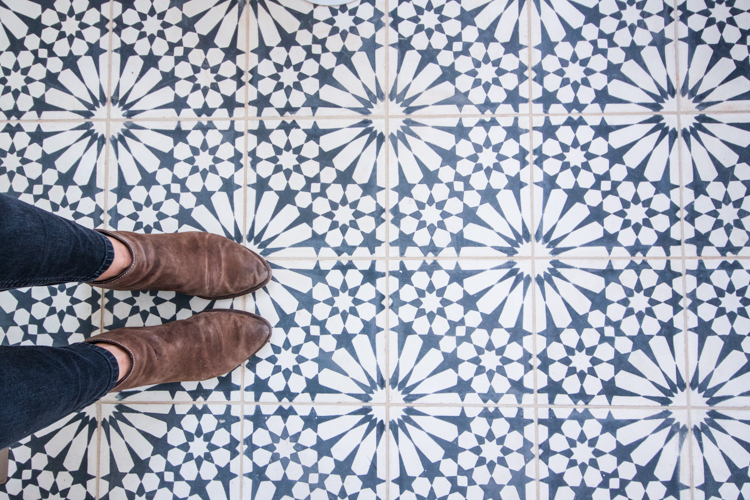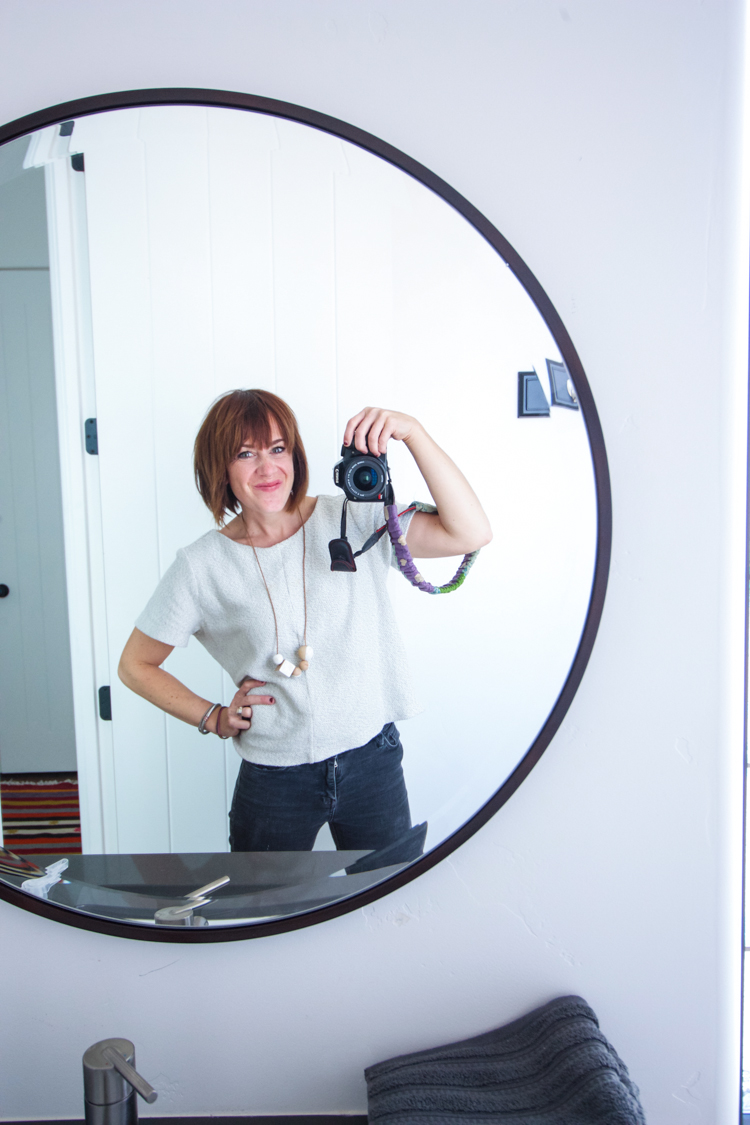 Oh, hi there! Aren't you having fun?!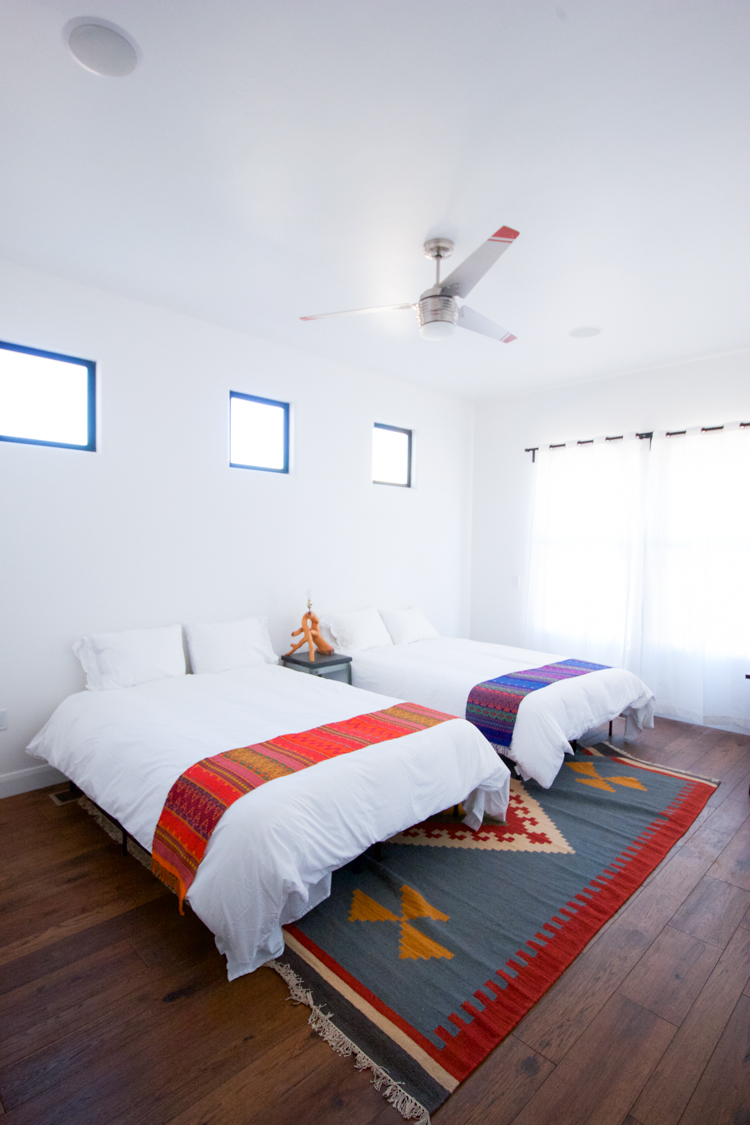 This last bedroom doubles as my dad's study, but his office furniture hadn't arrived, and the family needed to sleep. I kind of love it as a guest room with these awesome fold-out beds and that tree limb lamp my mom found.
All of the windows in the house have black interior and exterior casings, which adds such a great architectural detail, and has me wanting to paint all of my window casings black! 
This last bathroom has some fun details, like the terra cotta tile, and a listello of turquoise rock in the shower.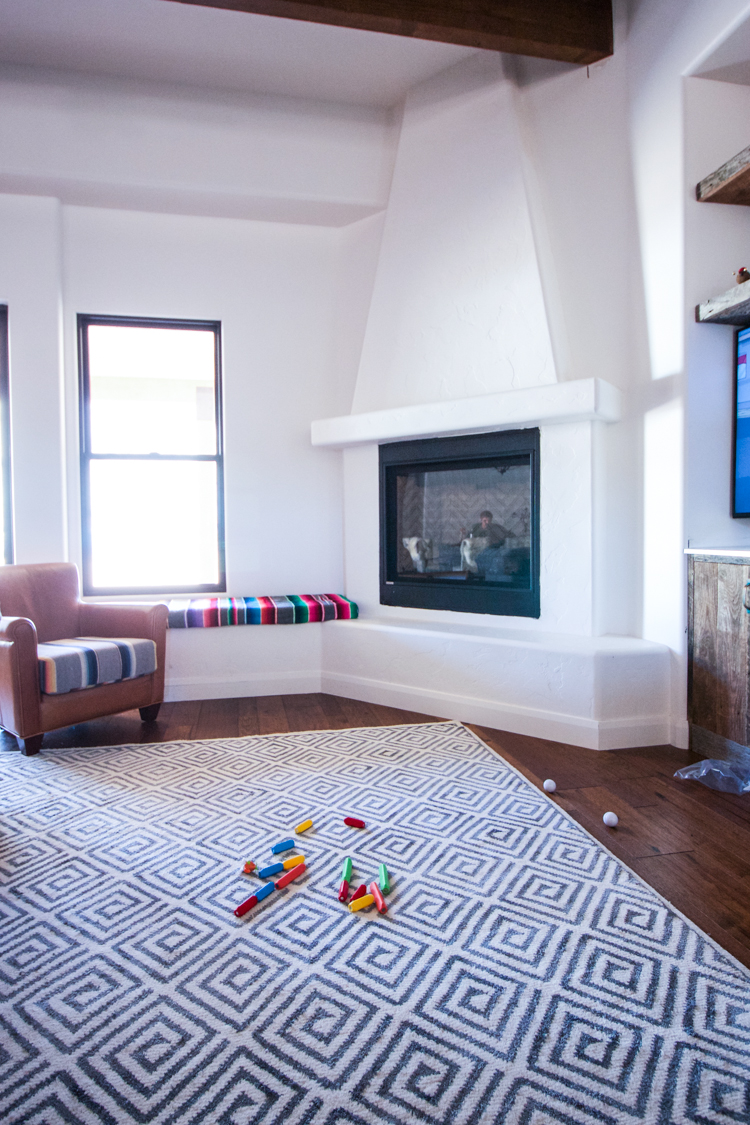 As a family, we spent most of our time all together in the living room, chatting and catching up while the kids played on the soft rug. My mom added some great nooks using Mexican Sarapes as upholstery, like the window seat here and reading area below. (I love this style, too and used it for the chair in my boys room. You rarely go wrong adding a Mexican blanket.)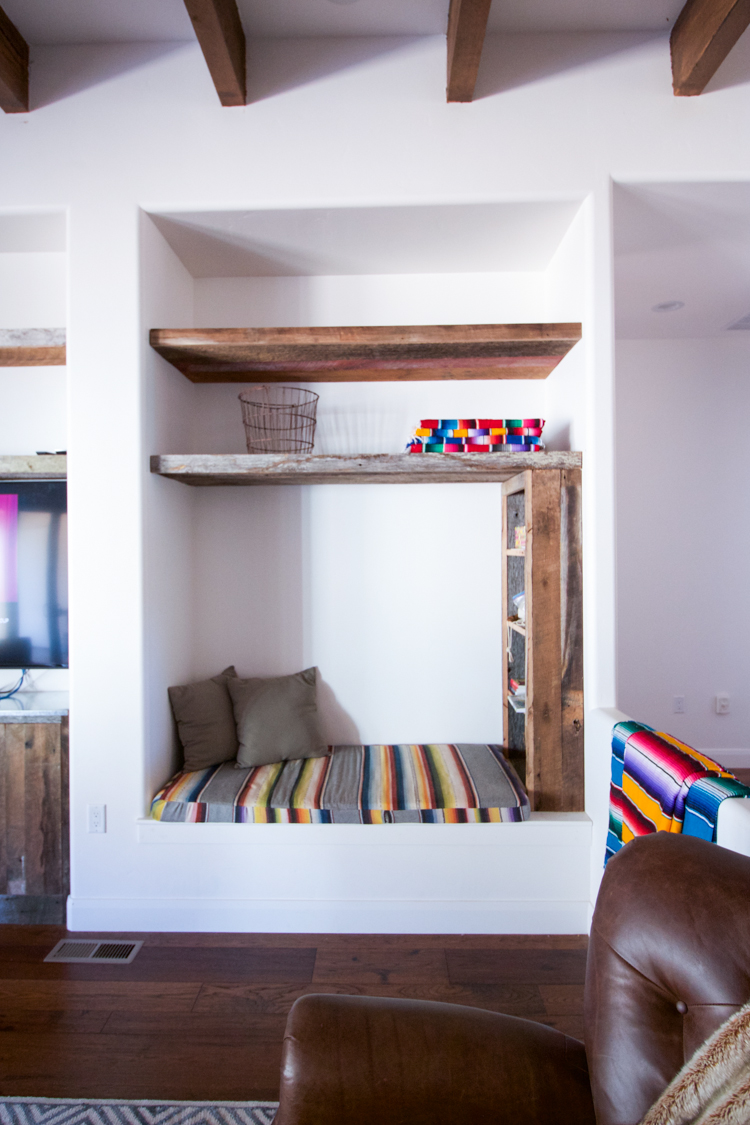 It's a ways out of town, but nearby some of the most beautiful pieces of land in the country. The remote location make it perfect for some quality time together, as well as fun outdoors sports like riding go karts, hiking, and boating on the nearby lake. We loved every minute of our time at what my dad is calling "Saint Tani Ranch," and can't wait to go back to this modern bohemian home again soon!