Although it's only March, it's felt like summer in Texas on and off for months. We moved into our new house just before Christmas (which also was just days after Plum was born), and a week later the boys were running through the sprinklers on the back lawn! No joke. Of course, the swimsuit weather has been interspersed bouts of icy rain, and even a six inch snowman, but overall it's been a very summery winter for us. Which is why, when I was invited to spread the word about the Perfect Pattern Parcel #1, I decided right away to sew up Dixie DIY's Summer Concert Tee.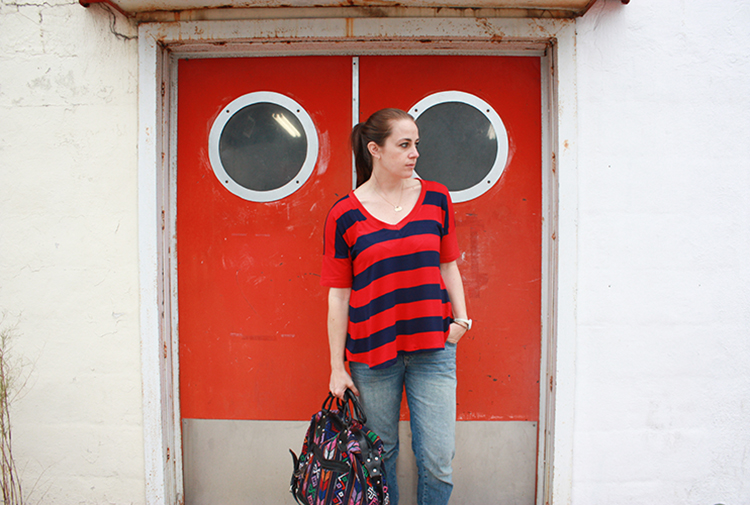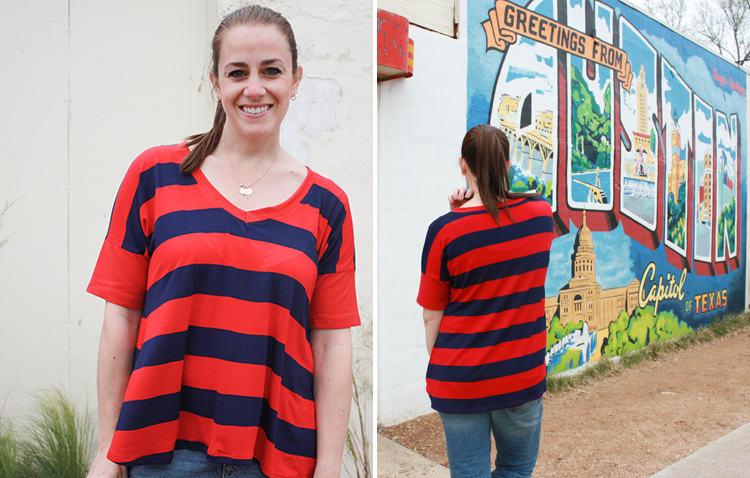 The swingy top is just fitted enough in the top to give it shape, and just loose enough at the hem to feel the best kind of summertime loungy and cool. I love the asymmetrical hemline (which I lengthened a couple inches in the front for my long torso.) And it turns out this is also a perfect top for effortlessly flattering my postpartum body. I loved trying it out, and loved even more that it only took about an hour to stitch together. It was a perfect project to complete during Plum's morning nap.
I've had these super lightweight polyester blend knits in my stash for as long as I can remember having a stash, and it felt so great to turn them into a wearable piece. What are the chances that my solid red would be the exact same color as the red in the stripe? I love the solid cuffs and neckline for adding visual interest. Oh, and I used my simple trick from this post to turn the round scoop neck of the pattern into a simple v-neck, which I tend to prefer on myself. All in all this was a fun, fantastic pattern!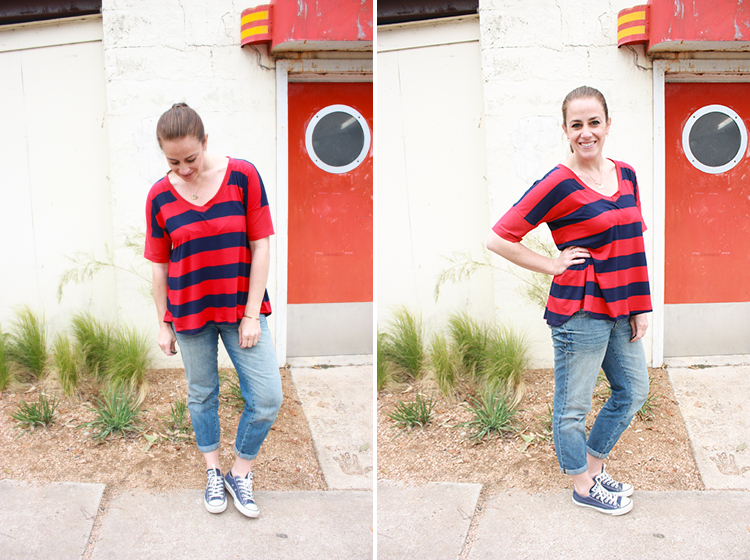 I'm not kidding that now I just want to keep making myself a stack of these! Having a baby is wonderful, but having a baby belly for a few months after the little one arrives can be disheartening. Not only is this tee super cool, but it makes me feel comfy and confident at the same time so I can try to be patient as I settle into being a mother of three. And as much as I love it now, I'm sure it will just get better as I get back into shape. Win-win-win.

So, let's talk about the Perfect Pattern Parcel. This is a new pattern bundle venture that will sell themed bundles of five PDF patterns by indie designers, available only for a two week window, on a semi-regular basis. This first bundle is themed for the modern woman and includes these five patterns:
Ava by Victory Patterns
The Skater Dress by Kitschycoo
Dandelion Dress & Top by Disparate Disciplines
Summer Concert Tee by Dixie DIY
Accordion Bag by Sew Sweetness
I've found that sewing from patterns made by independent designers has huge benefit. The pattern designs are innovative and current, the fits are tested by home sewists, and the designers are accessible for questions and interaction. In fact, cute Dixie who designed the Summer Concert Tee is a fellow Austinite who I see on occasion at sewing events in town!
The sale proceeds from the Parcel #1 sale will be donated to Donor's Choose, a charity that makes it easy to support classrooms and teachers in need. Public school teachers from every corner of America post classroom project requests on the Donor's Choose site, and donors can give any amount to the project that most inspires them.
So, you can buy yourself some new patterns and support indie pattern designers all while helping support children's education! Sounds good to me! How much you help is up to you, as the Parcel is available for you at the price that you choose. You read that correctly: name your own price for the bundle and it's yours! Visit Perfect Pattern Parcel for the details and to name the amount you're willing to support for these great designs!
I'm thrilled to have been invited to help spread the word about the first Perfect Pattern Parcel. Check out these other great blogs over the next couple weeks to see all five of the parcel's patterns in action:
Seamstress Erin Designs
One Girl Circus
casa crafty
the quirky peach
Kadiddlehopper
Sew Caroline
Groovybabyandmama
Fishsticks Designs
the Brodrick blog
verypurpleperson
sew a straight line
Adventures in Dressmaking
true bias
Idle Fancy
La Pantigana
Crafterhours
Boy, Oh Boy, Oh Boy Crafts
Max California
YoSaMi
la inglesita
Diary of a Chainstitcher
four square walls
Lauren Dahl
Sewbon
mingo & grace
Dandelion Drift
VeryShannon
Sanae Ishida
buzzmills
Sew Jereli
Figgy's
Froo & Boo
a happy stitch
Disaster in a Dress
Things for Boys
mama says sew
sew Amy sew
Sew Busy Lizzy
Made With Moxie
imagine gnats