You know it's there. All of that STUFF lurking around every corner. Does it bog you down occasionally? Do you look at magazine photos of clean lines and simple rooms and wonder why your house feels like it is bursting at the seams?
My sister
came up with a brilliant plan to
clear the space
, just in time for Spring! Before Spring Cleaning, this year, comes
SPRING FLINGING
!!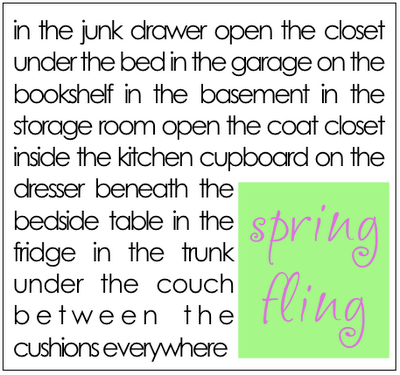 FLING 100 ITEMS BEFORE THE FIRST DAY OF SPRING, MARCH 21ST
ebay
, re-gift, donate,
craigslist
, give away,
freecycle
, recycle, trash…just about anything you can think of, but on March 21st, 2010 100 items must be GONE.
If you're up for the challenge
1.Leave a comment on this post, and let us know you are participating
2. Create a list on your sidebar and start tracking as you fling
3.Feel free to post a button as well to let your readers know what you're up to!!
Enjoy, and happy flinging!