The week before Eliot was born, my mom was in town to help with the baby. And, well, since he was taking his sweet time in arriving, we had a lot of time to hang out. I took her to my favorite local fabric store, G-Street (where I am teaching a class this month!!) to wander the huge selection of awesome materials. The place is a giant basement warehouse of fabrics and notions, with more apparel-specific fabric under one roof than anywhere else within reasonable driving distance (I'd guess the NYC garment district would be the next closest place?) All of the fabric is great quality, but also somewhat pricey, so if I don't have a specific project in mind, I often find myself at the $2.97/yard table, digging for something special.
That trip, I found this cotton shirting with a random tiger print, and I loved it. Something about the old-timey, random graphic, with the little '56's happening, as if I should understand the significance of tigers and 1956. I've searched for some meaning, without much luck. The Detroit Tigers played in 1956, but came in fifth in the American League. Not exactly fabric-worthy. And then there was the Baldwin Locomotive Company that released a new engine, the "Tiger" in 1856. I don't really see that history tied into this print. Regardless of the origin, I was drawn to the design. And it was $2.97/yard. No brainer.
(** Update** Due to a comment from a reader, I discovered the origin of this print! It was created for the Princeton Class of '56 Reunion! Apparently the reunions at Princeton are a really big deal, and the materials they use for their jackets are really special. This article says more. How this bit ended up on the table at G-Street is a mystery, but I'm pretty excited it did!)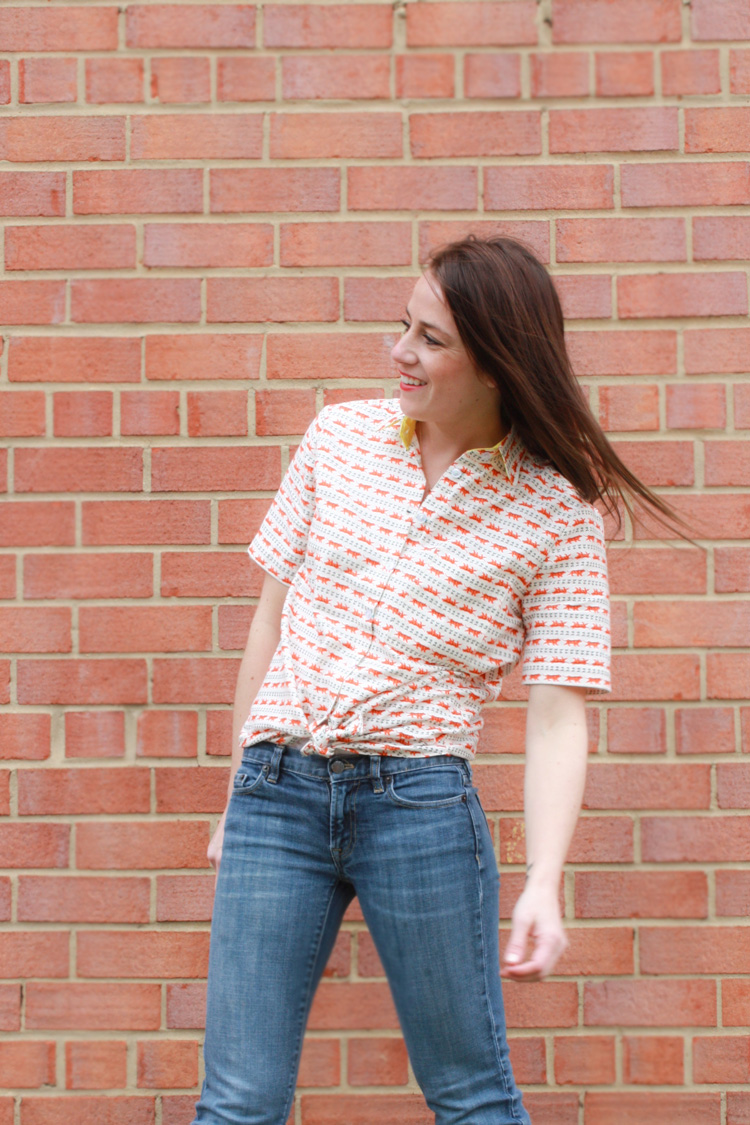 I snatched up the yard and a half that was left, thinking maybe I'd make the boys something with the cool, novelty print. Somehow, though, every time I tried to pull it out for a project it didn't quite fit! Either the project in question wasn't quite special enough for this awesome, random fabric (like pj pants for Milo) or the yardage requirement was way more than I had on hand (like a fun dress). It wasn't until I saw Jen start posting teasers of her newest pattern, the Archer Button Up Shirt, on instagram that I knew what this print would become.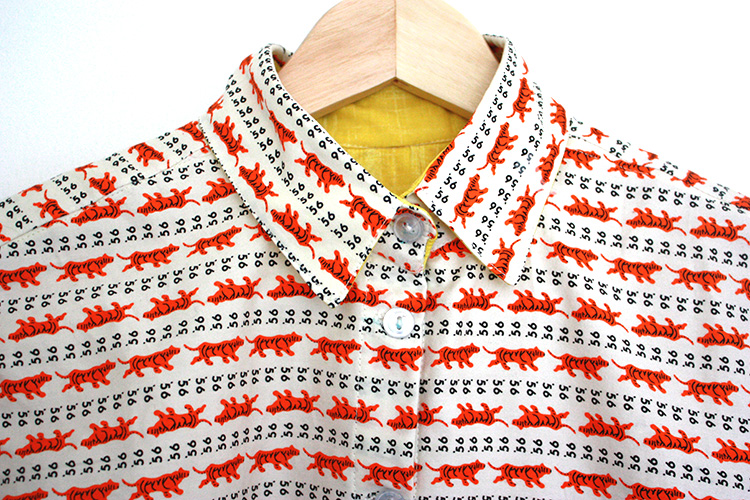 As soon as I saw the pattern was released, I snatched one up. Then I printed, taped, traced, cut and sewed this baby all in a few hours after bedtime. Because I was anticipating the release, I already had the fabric washed and ready! I barely barely sqeaked the pattern out of my short yardage, making concessions like short sleeves and contrast under collar, yolk and collar stand facings to make it work. Of course, those two things are some of my favorite details now that it's all done.  I used Laura Gunn's mustard Painters Canvas as contrast, and I was a little bit worried about the under collar and collar stand facings being too much, but now I really love the subtle brightness.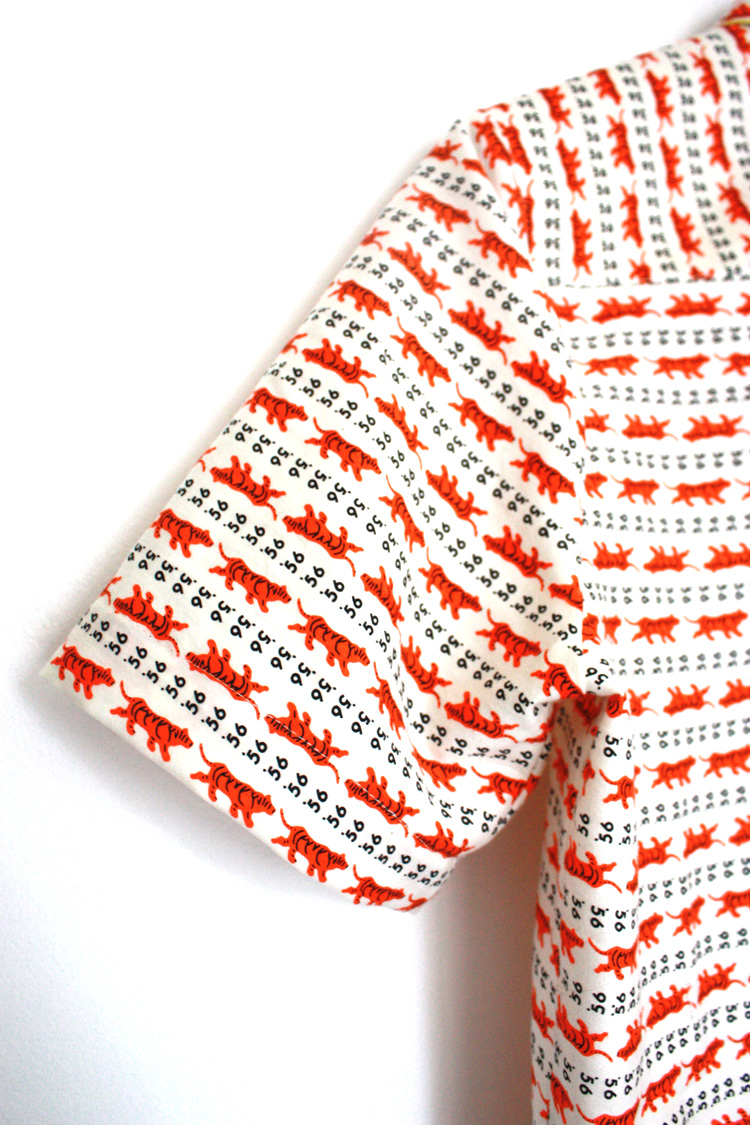 This was the first time that I've made a button-up, collared shirt. Jen made it pretty easy on me! I am a huge fan of Grainline Patterns  (here are some of my others: Scout Tee, Maritime Shorts, Moss Mini Skirt) so I am really comfortable with her style. It is really an intermediate pattern, because not every step is illustrated, and basic sewing terms are assumed to be understood. There were only a couple places that had me scratching my head a bit, but after a couple read-thoughs I think I got it. I mean, it looks like a button up to me! After finishing the top I did discover that the button holes were supposed to be sewn vertically, and all of mine are horizontal…but that's no biggie. Ahem.
I'm a little reckless when it comes to sewing, and if I can't figure out what the pattern means, sometimes I just make it up myself, so I had no problem just jumping right in with this one. But if you're a little more hesitant, make sure to check out Jen's Archer Sew Along happening later this month. I'll definitely be sewing along, since I want to make a few more of these and Jen's tutorials are impeccable.
I love a great button up and this one turned out just right. I made this one a size 8, which is a size larger than I measured, but I wanted it to be a nice, boyfriend-style top. The size was right on. Other than shortening the sleeves and omitting one pocket (by fabric shortage necessity) I didn't alter the pattern at all, and the length and fit are perfect for me.
I can see this tiger top going into high rotation. I made it on Friday and have worn it twice, if that's any indication of how I feel about it. I'm so happy I hung onto those tigers, because I needed them for this top! I can't wait to figure out what all of the other piles of beloved fabric in my stash are simple meant to become.