Can you believe it's already the weekend again? This time last weekend, Dave and I were en route to the Shenandoah Mountains to complete our first sprint triathlon. We asked Dave's sister Sarah to come down from Massachusetts to watch the boys while we spend a couple days away (for the first time, ever!) The trip was completely crazy. It seemed like for all of the preparations, every single thing that could go wrong, did. Have you ever had a day like that? I tried to keep a good attitude as we hit obstacle after obstacle on our way to get out of town, and think I did an okay job. It was a very conscious effort, though, to not just throw in the towel and cancel the trip. At one point Dave did mention he was tempted to just get a hotel in DC and pretend like we had gone away, but we managed to squeak through the troubles, and were actually quite rewarded for our diligence, however tough it had been.
Let me see if I can remember to share some of the mess: Thursday was the day before the trip. It was also Eliot's birthday and birthday party. Dave had an exceptionally busy work week (which means 18 hour days instead of his usual 12…) and so he wasn't able to help get ready for the trip or the party. I had stayed up all night on Wednesday finishing food, decorations and favors for the party, and was feeling a little bad that we hadn't gotten to spend any time with Dad on Eliot's birthday, so I decided to take the boys to meet him for lunch. The afternoon was hot, Dave was preoccupied with all of his work, and the boys were both severely hungry. We sort of hurried through lunch, not talking much, feeding the boys quickly, and trying to maintain some positive energy. I had stopped for cupcakes on the way to the office, but forgotten them in the car, so I ran back and grabbed them to try to have a little festivity at lunch. We ate them and the were good, but no one felt very festive.
We walked back to the car and Dave was helping me put the boys in when he noticed the front passenger tire was flat. Completely, totally flat, with a gouge in the sidewall. I told him to run inside, that I know how to fix a flat, and the boys would be fine strapped in with the A/C, but he wouldn't leave me alone with the flat. We pulled out the jack to begin a fix, and remembered that it's missing a piece. Then Dave looked at the spare and noticed that it was flat, too! I called the tire store, and they told me they could have another picked up and in stock in the morning. It was already 1pm, Dave had to head back into work, the boys needed naps, and I had to finish getting ready for the party at 5pm! Luckily, Dave has a car, too, so we transfered the car seats, put my car in the office garage, I took his, we found him a ride home from work to make it to the pool party on time, and I took off.
The boys napped well, and my friend Sheryl helped me move all of the party stuff over to the local pool to set up. That evening was really fun, and I was happy to be able to relax a little. Dave made it on time and was able to enjoy himself, too, as we celebrated little E. I'll post photos of the simple set-up soon. After the party, I put the boys to bed, and Dave went back to work. Around ten I left the monitor with my neighbors and picked Sarah up from the airport (we enjoy a sweet set-up) and we chatted then went to sleep. Dave finished working who-knows-when, then fixed the flat with a borrowed jack, stopped at a gas station to fill the spare with air, then made it home to get a couple hours of sleep.
Friday morning, we all hung out and I prepared to leave the boys in Sarah's care. I went over all of the the house stuff and our usual routine. They seemed happy and fine, so I was excited to get on the road around noon as planned. Neither Dave nor I own bikes suitable for triathloning (both serious mountain bikes) but we had arranged some borrowing. Dave planned on putting slick tires on my bike, and then borrowing a friend's cross-over bike. Well, the slicks didn't fit my bike. So, we thought I could borrow the bike he was going to use, and he would borrow a different one from a friend who had also offered. We loaded the first bike into the car just as we got the call that the tire was ready to be fixed. The second borrowed bike had a time-restraint because we had to get the storage key go get the bike, then return the key all during lunch hour. So, we headed out planning on getting the bike, then getting the tire fixed, and then getting on the road.
We got to the office okay, but our friend was out to lunch. So, we waited for him to get back, got the key and drove a couple miles to his house. The storage was easy enough to get to, and the bike was a beauty– but more of a collectors item than a racing machine. Seriously, all metal shifters…it was awesome. It would have been okay for the one race, but the clip pedals didn't fit, and it would be silly to pedal without them, so we were out a bike. We returned the bike to storage, and I called a local bike rental. The had one available for $120.00 for the weekend. That's about the cost of the new tire we were about to put on the car–which would effectively double the price of the entire trip! I remembered a sweet friend of mine had offered her bike to me a few days before, so I called her. Luckily, she was home and available, and the bike was still up for borrowing.
It was now around 1pm, and we had hoped to leave at noon, but we needed bikes for the tri. We were able to quickly swing by and grab her bike, which was awesome. Then it was on to the tire store. The lobby smells a bit like old, sticky coffee spills, and the tv was blasting a mid-afternoon home-improvement show. I nestled into my chair and read my google reader, while Dave caught up on ESPN online. Not exactly the meaningful conversation that I imagined we'd share on this weekend getaway, but we were already pretty spent, and were still less than a mile from home! The car took about an hour, and was ready to hit the highway. Unfortunately, 3pm on Friday is the peak of the DC area traffic.
The race was in Warm Springs, VA, about 4 hours from home. We hoped to get to the pre-race dinner we had registered for which ended at 8pm. I should have known from the beginning that there was no way we'd make it! The metro area was slow going for about two hours. After about three, we were finally sailing along nicely, and engaging in that meaningful conversation I had been looking forward to when I realized I had forgotten my breast pump. Uug. I am still nursing Eliot, and left plenty of milk at home for him, but totally spaced bringing the pump for me! I freaked out for a minute, googling what on earth I would do. Of course the search turned up all sorts of articles about how abrupt weaning would cause engorgement and infection in the mother and emotional disturbance in the baby. Man oh man! I settled down a bit as I realized I could probably hand-express some milk to relieve pressure and maintain supply for the two days of the trip. But seriously, how annoying.
We were following the GPS, and at some point about 60 miles from Warm Springs had been directed off of the highway and were driving along these country roads. We stopped at a little store to grab some lemonade, and asked the shop-keeper if this is how folks usually get to Warm Springs. He looked at us like we were crazy. He told us people usually stay on the highway then the exit that leads them straight into town! We were ready to chalk the misinformed GPS up as yet another thing that had gone wrong with our trip…and then we began to really look around. This is when the trip goes from the worst to the best.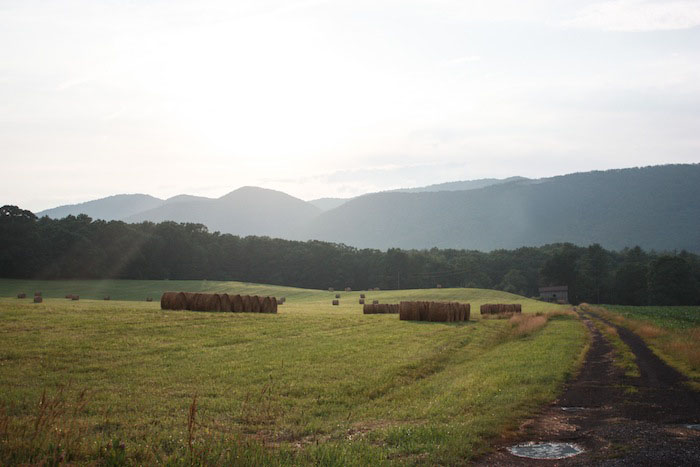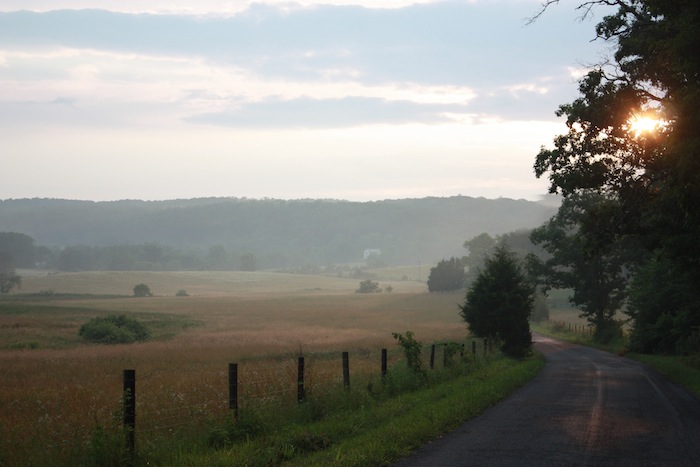 Instead of rumbling down the highway, we were meandering through some of the most unbelievable countryside. The sun was just getting ready to set behind the thickly-forested Shenandoah ridge, and there was a quiet mist hanging near the ground. We drove slowly, thanks to the tip from the shopkeeper that there were many deer about. We saw them, in groups of three and four scattered near the road. We also saw two huge vultures picking at a squirrel in the road. They lifted there huge wings and glided to a nearby branch to let us pass. Then, Dave spotted what looked like a super-weird cow in a field. As it approached, we realized it wasn't a cow, but a black bear!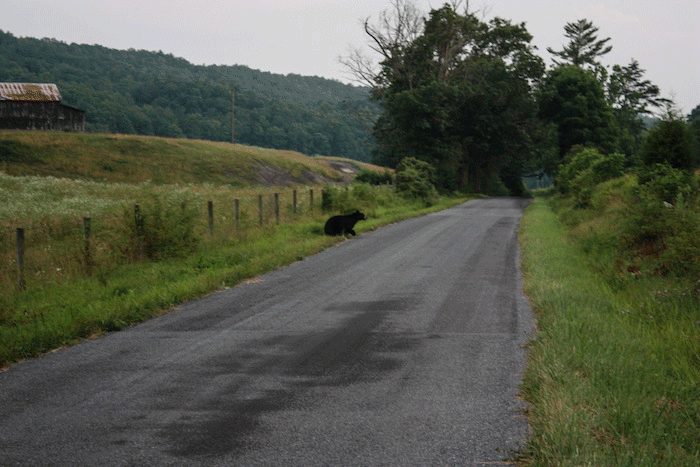 I hung out the window with my camera as the bear maneuvered gracefully through the fence, bounded across the road, and disappeared into the trees on the other side. It was incredible! My heart raced and I was so in awe of our unique encounter. I've seen bears before. When I worked on the river in Idaho we saw a brown bear in a distant meadow up on the canyon wall. When Dave and I visited Yellowstone we spotted one far off in the trees on our way out of the park. But this one came to us! All of the sudden it was totally okay that we were four hours behind schedule, on a middle-of-nowhere country road, with borrowed bikes in the back and an unexpected new tire on the front. It's all part of the journey. Every bit.
From that point on, the trip was completely wonderful. We made it into town, found a quiet table at the Gristmill Inn and ate some amazing smoked allegheny trout followed by pasta. Our bed and breakfast, Meadow Lane, was quaint and comfortable. We pulled up and paused at the car to watch the fireflies blink over the grounds, before heading inside to crash.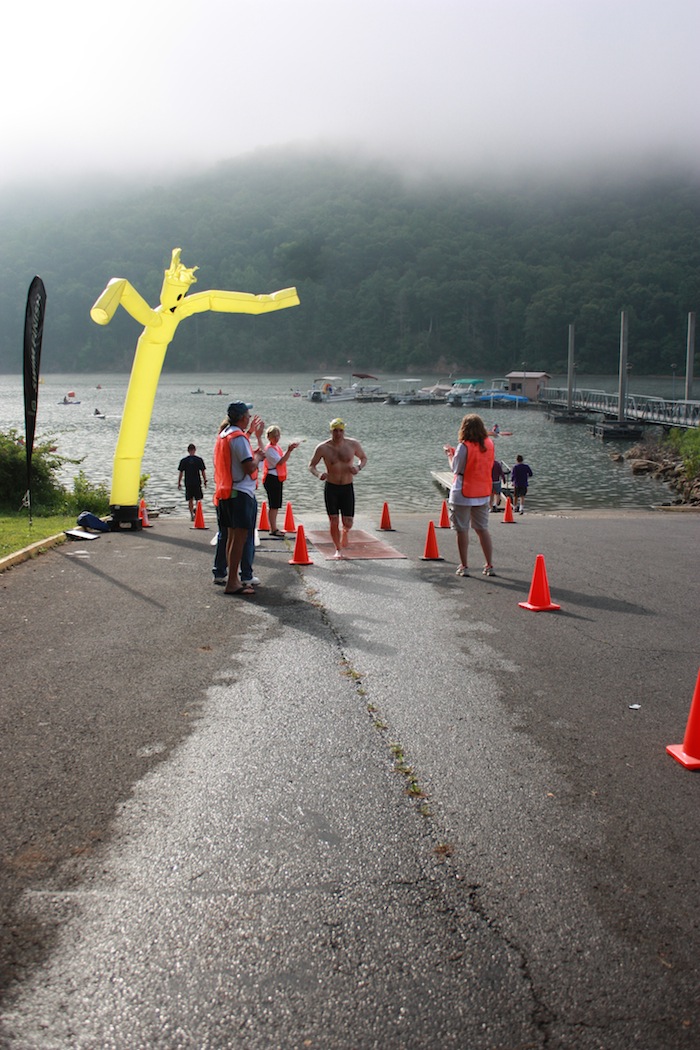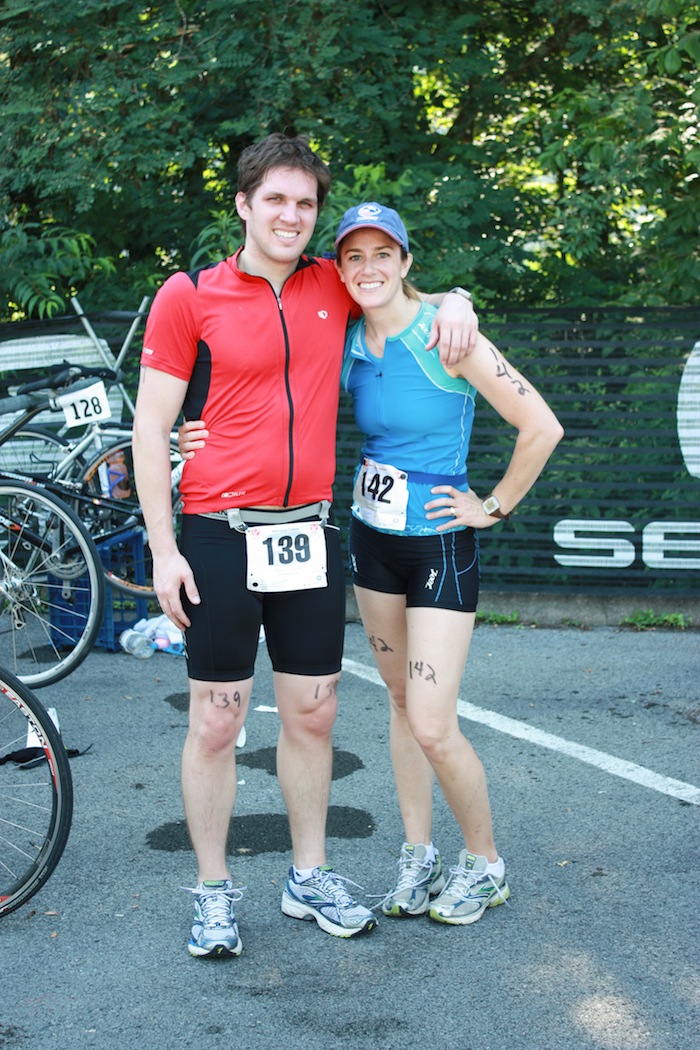 We both loved the triathlon. The swim was in Lake Mooma, which was the most incredible setting. The water was 79 degrees, which meant wetsuits were out, but the temperature actually felt really nice. I finished the 750 meter swim sort of middle of our heat, then changed into my bike shoes and helmet and ran out with the camera to catch Dave coming our of the water. He didn't get to train as much as he hoped (those dang work hours get in the way!) and I was so proud of him for finishing the long swim. We then hopped onto our bikes and pedaled the 12 mile hilly out-and-back. Biking is definitely my weakest leg, though I didn't realize that before! I rode the brakes on all of the down hills because it totally freaked me out to be going so fast! Not going to win any races that way, am I? A three-mile run on any other day would feel pretty comfortable, but after a swim and a bike, those steps hurt like crazy! We actually passed a few folks on the run–making the total of participants behind us about 10…with maybe 8 of those over 60 years old. Yep, we're pretty hard core. The finish was fun. The announcer noticed we were both "Anderson" last names and said "That's one way to do this thing: togetherness."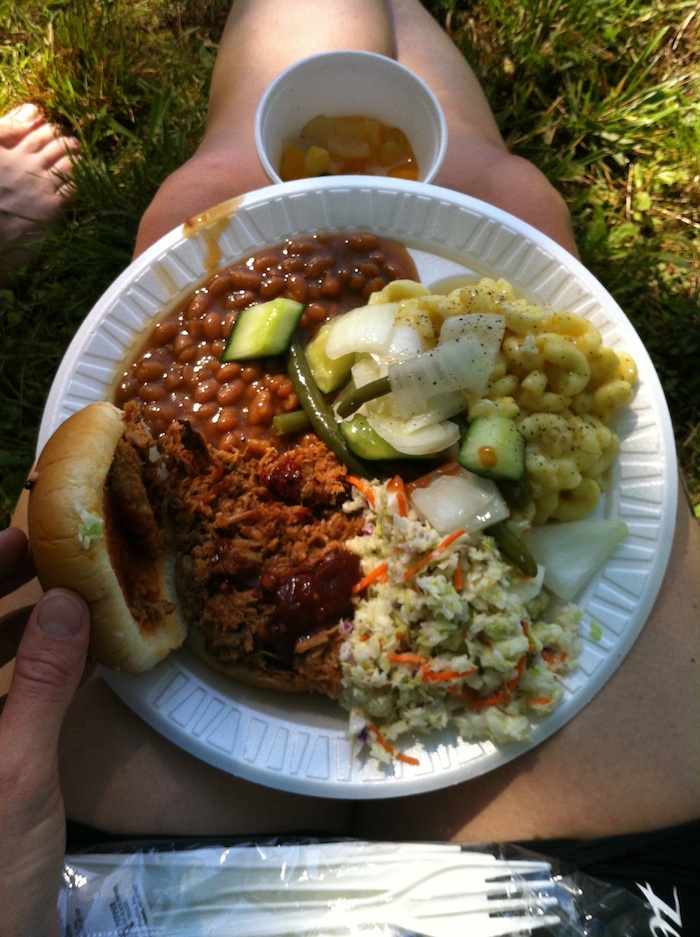 After the race, we loaded up on the post-finish meal, sat next to the water, and just relaxed. The food was delicious, and our tired bodies were happy. When we finally could pull ourselves together, we worked our way back to the car, went back to the cottage, and took a long nap. It felt like a Sunday afternoon before kids. It was awesome.
That afternoon and evening were spent wandering the beautiful grounds of the lodge, and visiting the tiny town of Hot Springs to get some cell service to check on the boys. Meadow Lane has a small farm with horses and goats that are darling. There is also a deck built overlooking the river and meadow with a couple adirondack chairs set out for lounging. We sat there for a nice long while, enjoying the view and the quiet. It was fun to call home and hear that Sarah and the boys were doing awesome. They had visited the pool, gone to the park, rented a movie, and eaten at "Old McDonalds." A perfect weekend for them, too! We got sandwiches to eat on the porch for dinner at the Milk House Market. They looked so good we grabbed a couple for our Sunday drive home, too.
Sunday morning we slept in as long as possible. That turned out to be around 8 am. But, oh, that one blessed hour felt like such a luxury! We packed up and ate breakfast at the lodge before hitting the road. This time, since we knew the GPS was off, we tried to program in a more direct route home. That turned out to just take us on an hour of windy, country roads in the other direction before setting us onto the freeway. This time, though, we appreciated the beauty.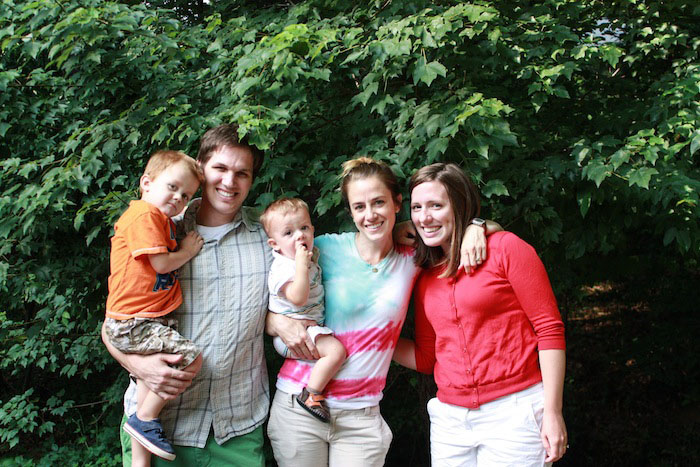 Seeing our family after two days without them was completely wonderful. I couldn't stop hugging and holding them. Milo was so excited to see us and asked all about the trip. He told us about the fun he had with Aunt Sarah, and told us he was happy we were home now. Eliot nursed and nursed and nursed. Though I had been able to hand-pump a little bit each day, it was so nice to be home to my baby and be reassured our nursing relationship can continue until we're ready to wean. Sarah was a total trooper with two little boys in a new city. She even took them both to church and stayed through all of the meetings! She will be a really wonderful mother someday.
So, it was the worst weekend, and then it was the best. There's something to that old "when life gives you lemons…make lemonade" saying. And I actually really like to
make lemonade
 (though real lemonade is much easier than this rhetorical stuff…) Dave and I both got a little triathlon itch, and are excited to do another one. You know, after he learns to swim faster and I learn to bike without braking. Oh, and maybe we'll be on the look out for some bikes, too!
This weekend should be much less eventful. This morning the boys and I joined friends for a picnic on the National Mall and some wandering through the
Smithsonian Folklife Festival
. The rest of the weekend you'll be able to find us at the pool. Hope yours is the best, full of all kinds of lemonade. xo
p.s. huge high five if you made it to the bottom of this monstrous post!