My obsession with second hand furniture began way back with my first apartment as a married woman. All of the sudden I had space to fill, but my budget wasn't extensive. Not to mention, I knew our first (second, third…) apartments would be "temporary" and I didn't want to buy expensive things we would just have to trade out later.
Back then, second hand furniture came mostly from thrift stores, as Craigslist was a baby and Facebook didn't yet exist. Over the years, I've gotten really really good at finding incredible second hand furniture, and also have some new reasons to feel dedicated to it ethically as well.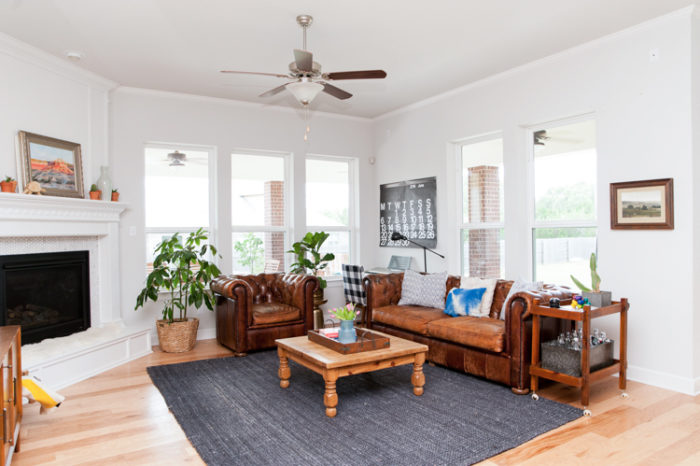 Three Reasons To Buy Second Hand Furniture
1. Second hand furniture is cost-effective.
Even if you have a huge budget, it sure stretches further when you can save. I love buying second hand, because the quality can still be amazing, the items can even be designer– without the fresh-off the floor price tag. I have many examples of beautiful second hand furniture I've scored for a deal, but my favorite is probably my vintage leather Chesterfield couch bought for $900 including a club chair. A similar set would have sold new for closet to $3500-4000.
2. Second hand furniture is pre-loved.
Once I had kids, I recognized how amazing it was to buy furniture that already had a little scratch or ding. It took all of the pressure off of my kids being perfectly well-behaved, careful, or treating it preciously. I want my kids to learn to be responsible, and I also want them to be comfortable actually living in our home. When something comes a little broken in, we all feel more free to love it more easily without attachment.
3. Second hand furniture is sustainable.
In the last few years, I have tried to become a more conscious consumer in all of my purchases, and furniture is no different. When I buy second hand, I forego the packaging, manufacturing, and transportation of yet another piece. Buying locally means the furniture stays in use, lives a longer life, and hopefully becomes more "used up" before eventually needing to be discarded or recycled. I buy second hand, I also pass my own pre-owned furniture on to others either selling or giving it away when we finish with it. Trends move much faster than the actual life-span of these items, and I love being able to feel like we play a small role in lowering the carbon footprint of our family.
This past weekend, when the urgent need arose to buy a new (to-us) couch for our living room arose, I put on my second hand furniture buying hat and went to work.
I have to admit, it feels easier to shop online and simply find something and order it. I wanted to find a second hand sofa, but I also wanted it to be the right size, style, and price point. I went browsing through multiple online storers, and narrowed the search down to what I wanted: light gray, durable, minimal, chaise or sectional, and between 86″-100″ for the wall space.
Once I knew what I wanted, I started browsing my local craigslist and Facebook marketplace, expanding the search to a little beyond my own city to see what was out there. In about an hour I had found an exact match to one of the sofas I had loved online, a couple hours away for half of retail price. I offered $150 less, and they accepted. By the evening the new sofa replaced the broken one (which we gave away for free on a local buy nothing page, and someone picked it up who planned to repair and use it!)
I once again realized how fun, simple, and wonderful second hand furniture shopping can be, and I want to share my top three tips to manifest exactly what you need!
Three Tips For Finding Amazing Second Hand Furniture Online
1. Do a little research.
In order to find what you want, you have to KNOW what you want. By doing a little research beforehand, you can figure out what styles, colors, sizes, fabrics, and brands you are interested in buying. Once you have a clear picture of what you are looking for, you will recognize when you find it. Also, know your measurements:)
When I was looking for my leather Chesterfield, I had to be patient. I knew exactly what I wanted and that I wanted it for under $1000. I looked online a couple times a week for about two months and the day it popped up I didn't hesitate. I responded I wanted to come pick it up and that was that! With this current sofa, I got super lucky. I found, bought, and set up the furniture within 6 hours of deciding we needed it! In both cases, a clear idea of what I wanted was the key.
2. Search multiple terms.
You call it a couch? Someone else may call it a sofa. Or a sectional. Or a chaise. Search by every term you can think of that may match the description of what you want. I also love searching by brand or designer. In the case of this beautiful sofa below, the listing didn't pop up until I searched by "West Elm". I hadn't thought to search "chaise" and it was listed as "West Elm Chaise." The better and more refined your search, the better your results.
3. Act quickly and don't be afraid to negotiate.
If you have done the above two, you will know you have found your item when you see it. That is the time to jump. Immediately respond and rather than asking if the item is available, tell the seller you are interested and want to go see it. I always offer a little less than asking price, knowing that most online sellers are willing to negotiate. Sometimes they state the "price is firm" but often there is wiggle room.
The sofa below was listed for "$899 or best offer" so I offered "$650 cash with pick-up today!" I let them know I wanted it, and would make it easy for them by being there asap. The seller responded by letting me know if I could get it before 3pm, they would accept that offer.
In most cases, when someone is selling online, they want the item out of their house, and are trying to recoup a little value. If you can find the balance of helping them get rid of it. (with quick and easy pickup) then a lower offer may work. That said, if they have had some interest and are firm on price, just being the easiest and quickest pickup can make the difference.
With the Chesterfield, the seller mentioned several people had asked about it, but no one had scheduled a pickup. I agreed to the asking price and said I would be there in an hour. Then, I figured out who to call to borrow a truck to pick it up! 😉
I am already head over heels for this new sofa, and also love that it was pre-loved, more sustainable to buy, less expensive than retail, and is perfect for our space and our family. All the wins.
I'd love to hear what your experience is with being furniture. Have you tried second hand? What are your own tips?