One of our family's favorite discoveries of the last year is Universal Yums snack box! I subscribed to the monthly snack box as part of our homeschool learning activities, and renewed even after homeschool ended because our monthly "Facts and Snacks" activity has become a family favorite.
Let me walk you through how we use the monthly Universal Yums snack box as a fun, connective, and educational family activity.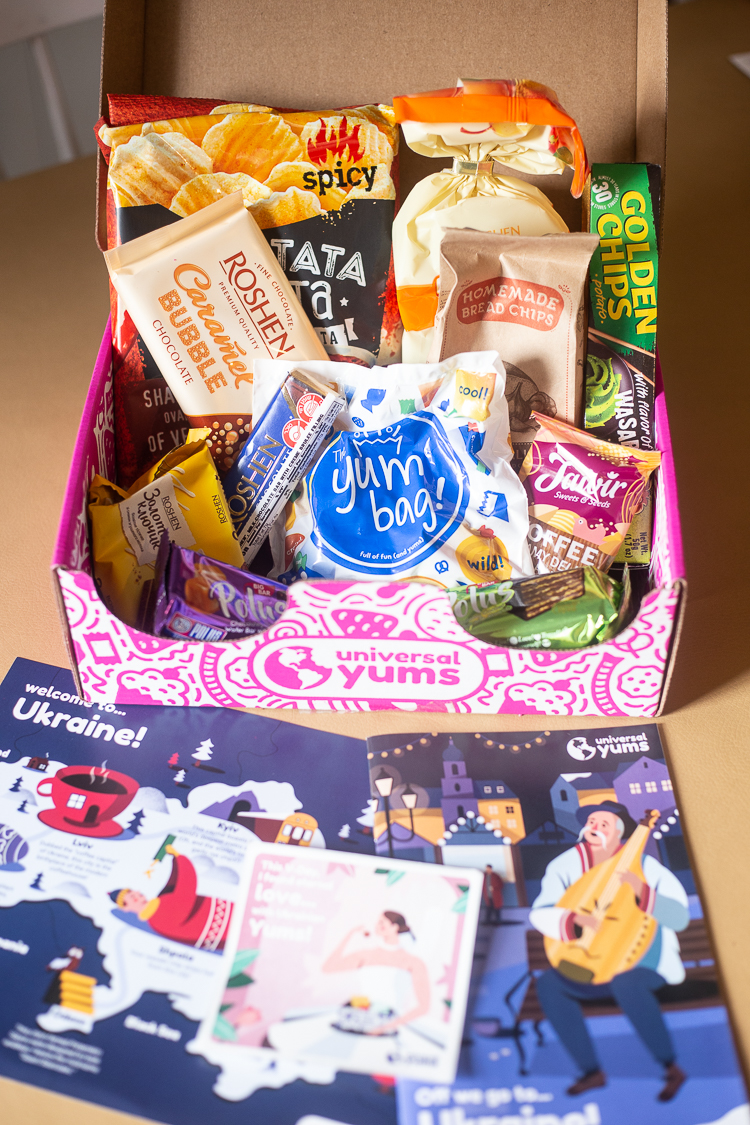 This monthly snack box curates sweet and savory snacks from a new country each month and delivers it to your door. In addition the the treats themselves, Universal Yums includes a cute illustrated map of the country, as well as a little magazine with trivia, recipes, interesting facts and nutrition information for the snacks. Hence our activity name "Facts and Snacks."
(The company offers several levels of subscription. We chose the middle, $25/month level and have been super happy with it!)

Using Universal Yums for Facts and Snacks
I'm sure many people get their box each month and just enjoy learning and eating. We have developed a simple formula that make the box a family activity and experience that we all look forward to! Here are the steps we use for Facts and Snacks:
1. Preparation
We like to do Facts and Snacks while we're gathered around our kitchen table. Each person gets a small plate and fork, and I have a cutting board and knife on hand for chopping treats up into sharable pieces. Once we're all gathered, we begin!

2. Country Introduction
Before we first open the box, we guess which country we think it might be from. Sometimes we are close, others we are continents away. When we discover the country theme, we locate it on the world globe and share all of the facts we already know about the place (sometimes there aren't many!)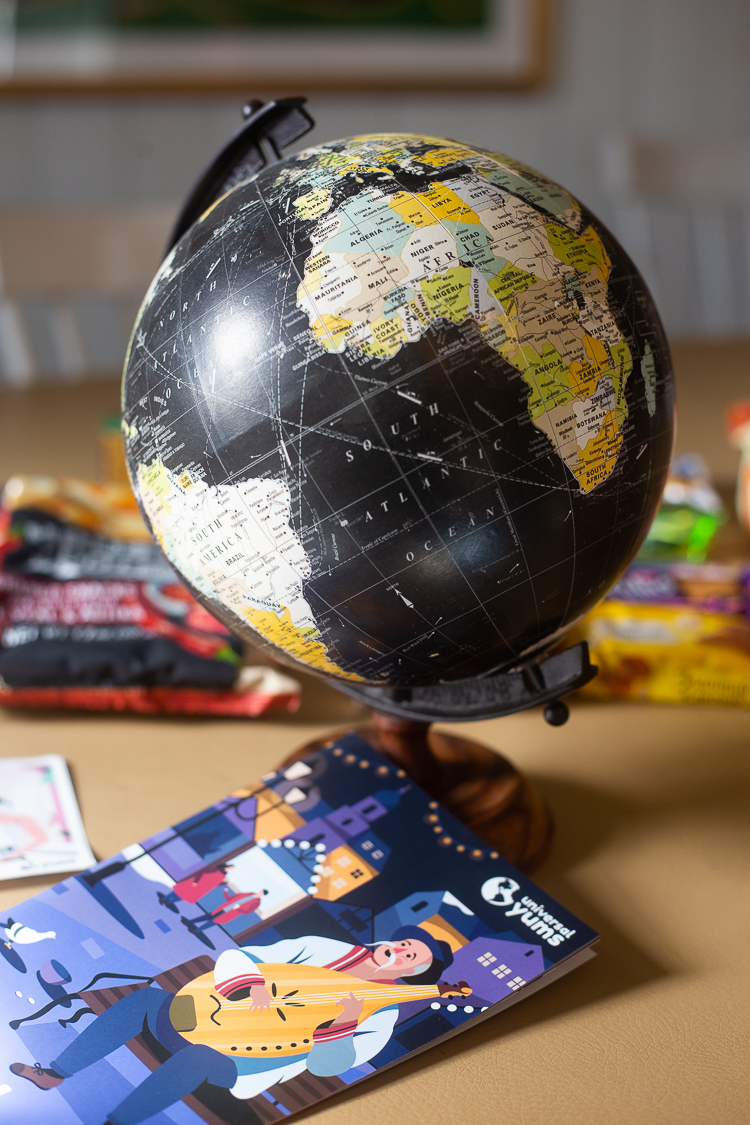 3. Snack Introduction
Next, I pull each of the snacks out one by one and share what they are. This is often a hilarious activity as I am guessing on the pronunciation of the snack names—and in some languages can't even read them! This overview helps everyone have an idea of what types of treats we will be sampling this month and helps us all feel excited! I lay each of the snacks out on the table as we introduce them, so the kids can see them as we learn.
4. Trivia Train
We use the trivia train as a way of choosing treats to sample. I read the question and answers and the first to raise their hand and guess the correct answer gets to choose a snack to sample. After we finish eating and learning about each snack, I read another trivia for the next snack choice. Once you have had a turn to chose, everyone else gets a turn before you chose again. We all love learning the answers to the trivia and sampling the snacks in a round robin style.

5. Snack Sample and Rating
When someone has chosen the snack for sampling, we chop it into pieces and pass them around so everyone gets a taste. As we taste each snack, I read the information about that particular treat from the brochure, and we all get to talk about what we think! We all have very different opinions about how much we like each snack, and we record our opinions on the back of the included map, on a scale of 1-3.


6. One Box, Many Activities
We normally have the stamina to make it through 4-5 snacks before we're ready to do something different, so each Universal Yums turns into about 2-3 Facts and Snacks activities. During the school year we make it a weekly activity that everyone looks forward to. During the summer, we take the box to the park or pool and enjoy it picnic-style.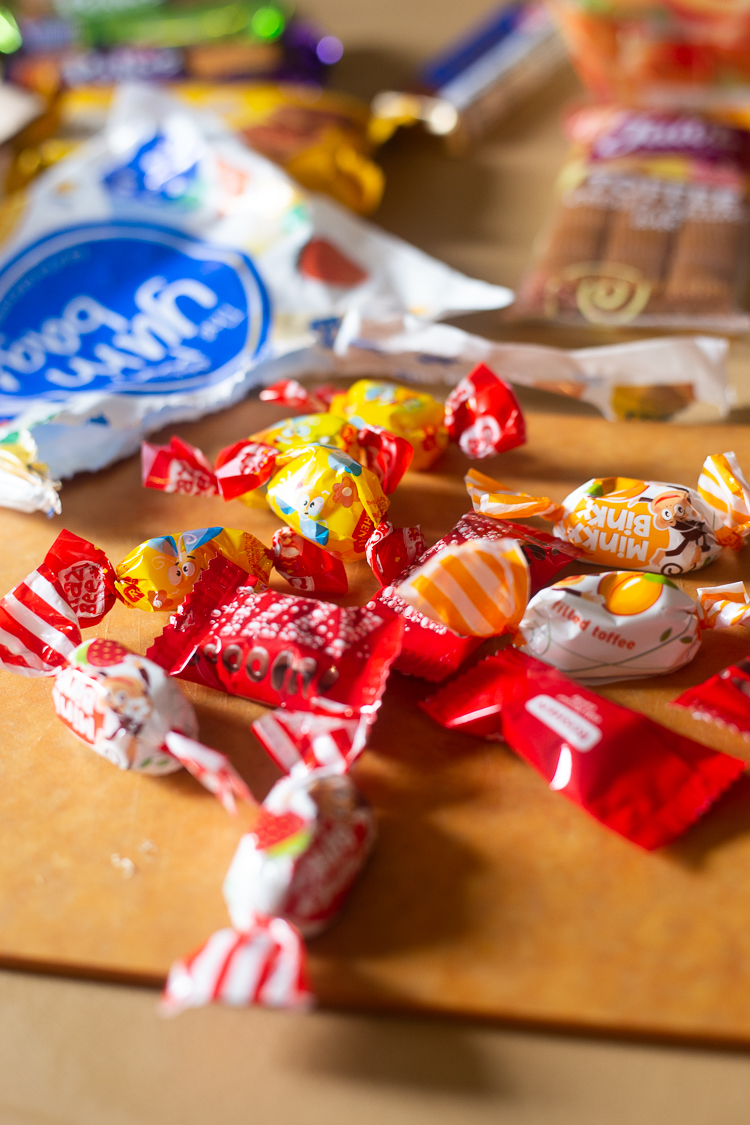 By the time we make it through enjoying and learning about one box, it is about time for the next month's box to arrive. We all cheer and the fun begins all over again.
I am a huge fan, and thrilled with the added learning, enthusiasm, and experiences that this fun subscription has added to our family life. Of course, the box of snacks could just as easily be enjoyed without the structure of the activity and trivia that we add to it, but it has been so much fun and created an activity that we all look forward to!
For the $25/month we pay for the snack box, we get so much togetherness, laughter, learning, and enjoyment, it feels well worth the investment.
Try out Universal Yums and host your own family Facts and Snacks!