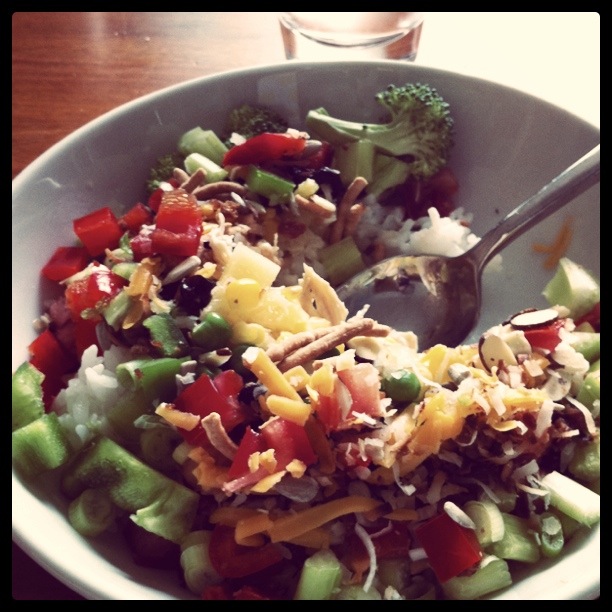 Last week, again, we ate mostly by the good love and kind service of friends. It makes life with a newborn a whole lot easier to not think about the family dinner, and I was touched by the amount of friends who didn't wait for a sign-up sheet to call and offer a meal. It was a good reminder for me to be on top of that in the future with my own friends and their new babies.
So, when we weren't receiving meals, we were basically eating left-overs. And at the end of the week, I finally got to the grocery store for the first time since Eliot was born (and we all survived the experience…)
Last week's meals for your inspiration:
Monday (made lovingly by Sarah): Sweet Corn Chowder (so good I ate it for breakfast the next day…), sourdough bread. And berry pie.
Tuesday (brought lovingly by Katie):
Cafe Rio
.
Wednesday (made lovingly by Wendi): Hawaiian Haystacks* with FIFTEEN different toppings: pineapple, toasted coconut, raisins, craisins, green bell pepper, red bell pepper, broccoli, tomato, chives, celery, peas, cheese, almond slivers, sunflower seeds, and chow mein crunchies(pictured above). And chocolate cream cheese brownies.
Thursday: Chowder and Haystacks…delicious once again.
Saturday: I have no idea. Weird.
*Wendi's Delicious Haystack Chicken Gravy:
1 can Swanson's chicken broth
1 can Campbell's cream of chicken soup
1 seasoning packet of Good Seasons Italian Dressing
1 package of Philadelphia cream cheese (I used the 1/3 less fat)
4-6 chicken breastsPlace all ingredients in a crockpot on low for 5-6 hours.  (I stir it up every once in a while).  Enjoy!