Welcome to Round Three of Sewvivor! I don't know about you, but I'm exhausted! These weekly projects have stretched me creatively, and I am proud of the results.
This week, the challenge was to sew something for someone else, or "Sew for Charity". Back when I first linked up my entry to the Sewvivor contest, I knew that should I make it this far, I wanted to sew something for my little sister Emmy.
Take a look at what I made for her, then be sure to head over to VOTE for me!!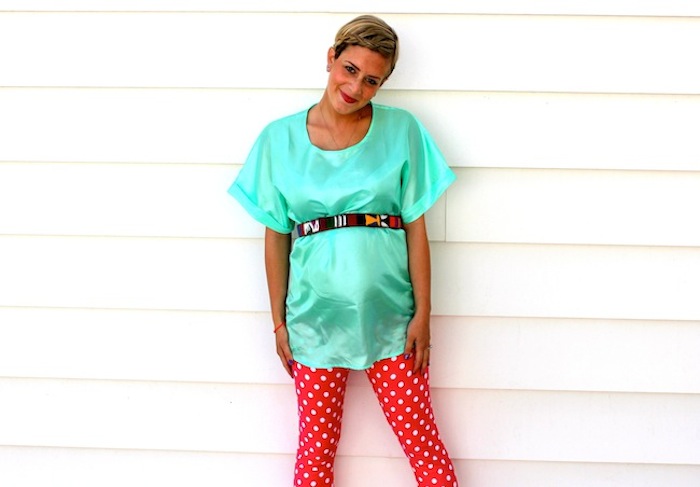 Not only do I love Emmy, and admire her awesome and completely natural sense of style, but I also feel especially kindred to her right now because she is expecting her first baby. What a special time to be a big sister, right?! I relied so much on the advice and support from my older sister during my first pregnancy (okay, and all the time, for everything:) I knew that I wanted to play some sort of role in Emmy's.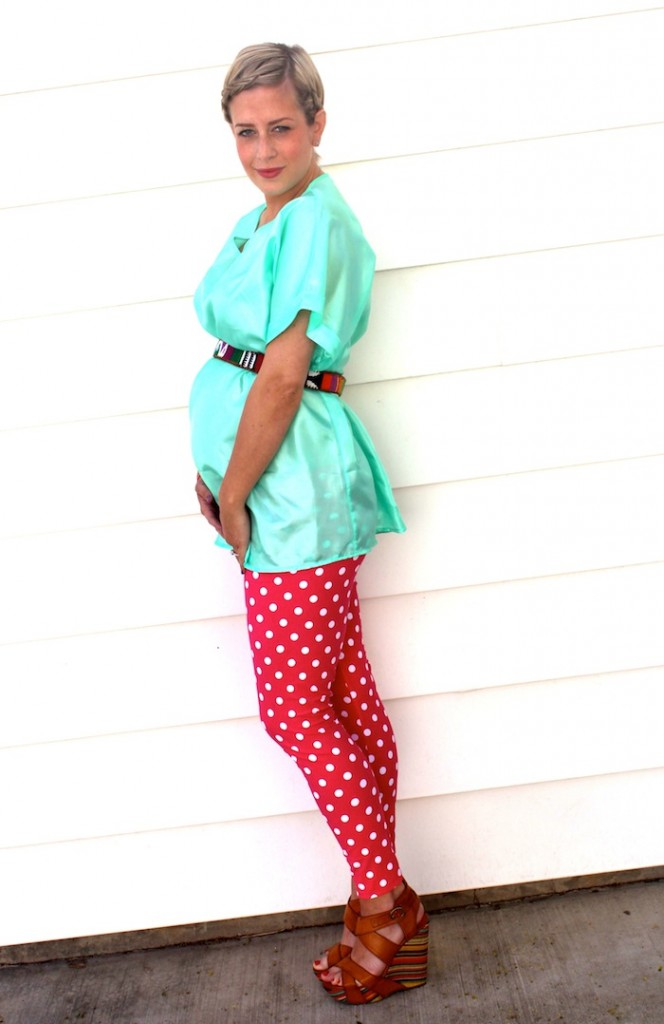 Let's face it, pregnancy is tough. Not only are you sick and hormonal, but you gain 30+ pounds and have to try to dress an ever-expanding body at the same time! Especially for a total fashionista like Emmy. Stylish and affordable maternity wear is almost impossible to find. The few gems that do exist are often simple basics without much creativity. That is where I came into the picture. I told Emmy to send me links and photos to all of the styles she's been liking lately, and that I would create her a totally custom maternity outfit to help boost her maternity wardrobe.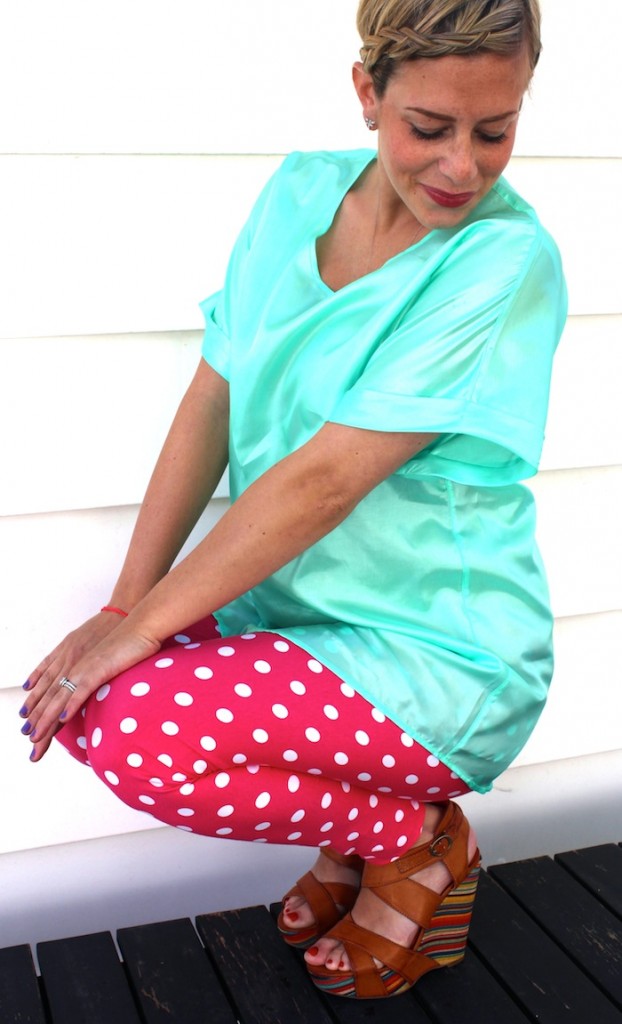 I looked through her style pinboard, and browsed current maternity lines. We decided on some bright coral polka dot leggings (inspired in part by these), and a mint green china silk top (inspired by this). I drafted the patterns according to her measurements, tried them on myself (with a pillow stuffed under my shirt:) and then sent them across the country to her with fingers crossed they would fit. They fit perfectly!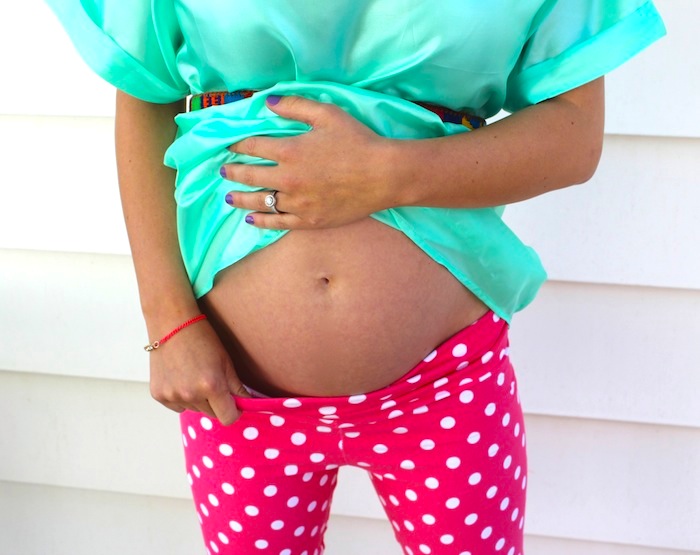 I made the leggings with a 6″ waistband so they sit comfortably below her belly without digging in. She can also fold it all the way down, like yoga pants, or pull it up around her middle.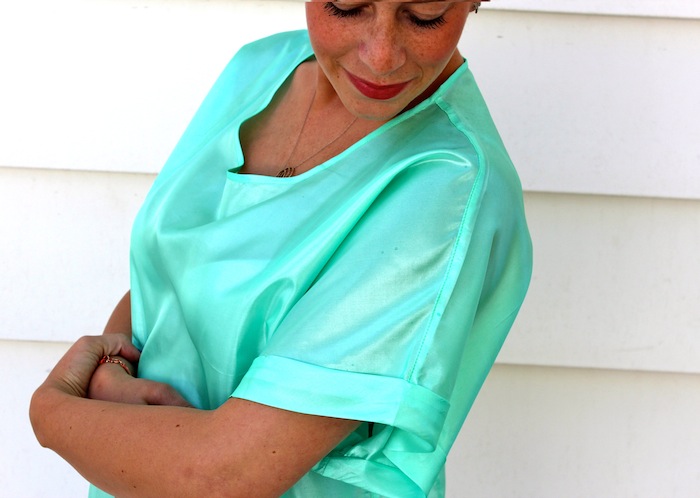 The top is super light weight and airy, with easy fitting dolman sleeves that have a crisp-pressed cuff. I top stitched all of the seams for a really polished look, and I love the effect.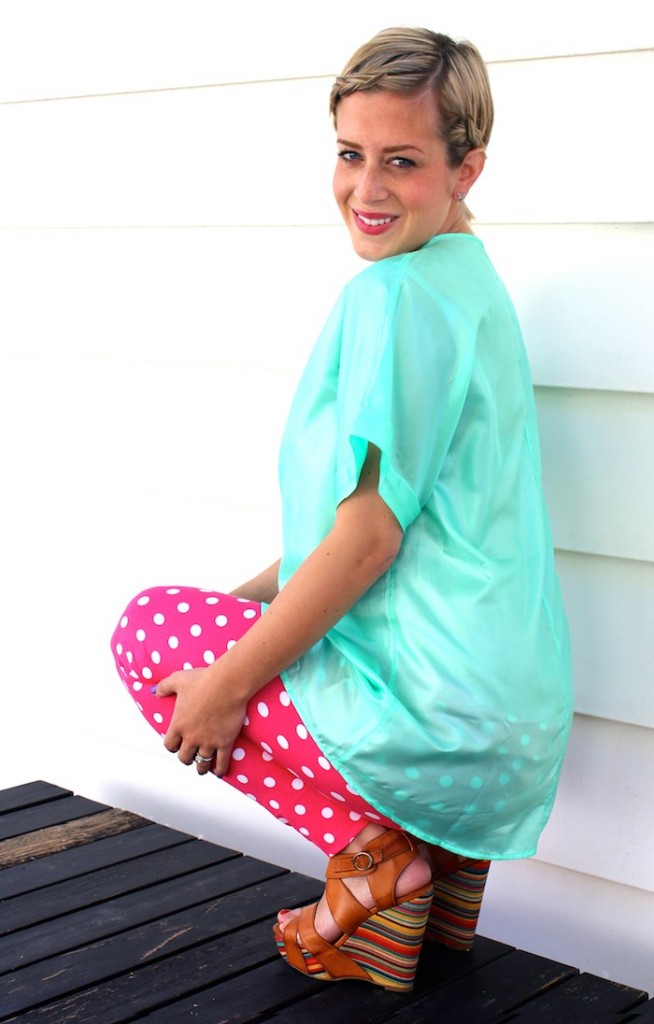 The shirt is only three pieces: the front, and two sides in the back that are joined with a center seam, for a fun detail. I based the pattern for the top off of the shirt I wore to the beach a few weeks ago that has become one of my summer favorites, and I think the Emmy will be able to wear this one through the end of her pregnancy and after, too! (I'm going to make one just like it for myself) (and the leggings, too.)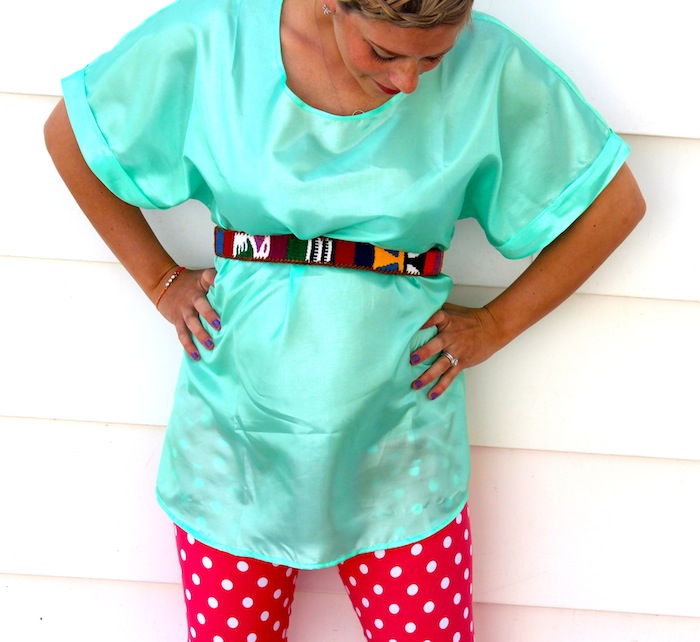 The final flattering detail on the top is a gently rounded hemline that will still look great even as that adorable baby bump grows, and grows, and grows….
I was so happy when Emmy got her package in the mail, put on her new duds, and totally rocked them! The two pieces go great together (especially styled with her awesome Mexican belt and those shoes. Oh, those shoes!) I also love the each piece stands on it's own and will be fun to mix and match with her current maternity clothes. This challenge was great, and I loved being able to make something special for my darling, pregnant little sister.
 Now, the voting is only open today, so please take a minute to go show your support and VOTE FOR ME!! Every vote counts, and I need YOURS:)
Five Days to Freedom: Tips for Choosing Less Stuff and More Adventure in your Daily Life
Five lessons with practical tips and exercises to help you feel more in control of your life!