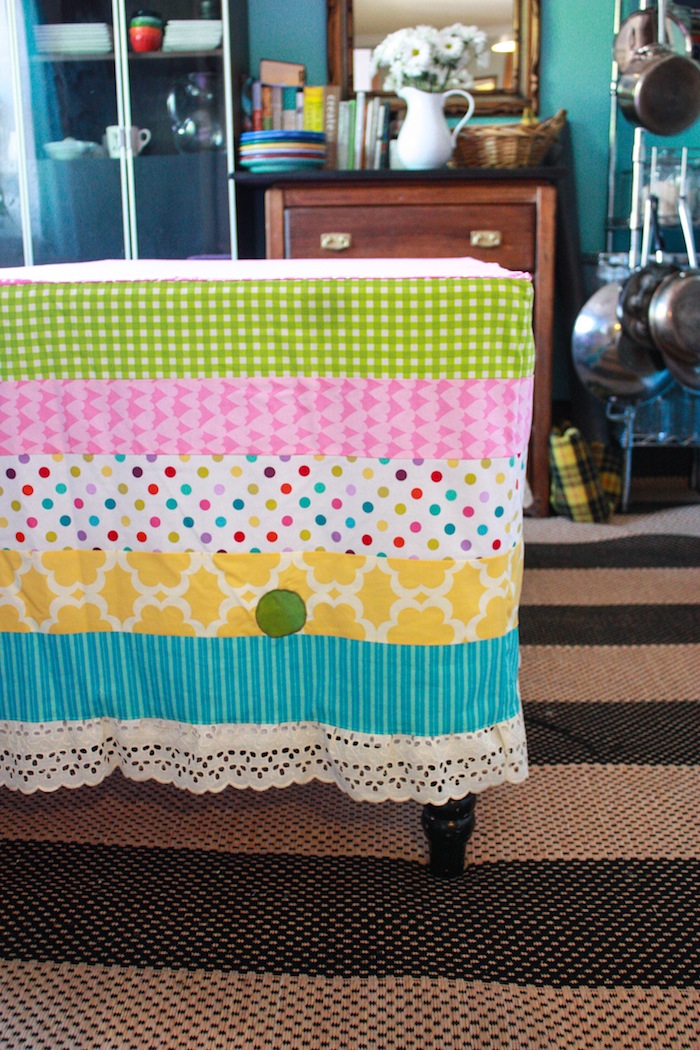 As I mentioned last week, I've been busy with custom sewing orders these last couple months. I love doing custom work, and it has been so fun to make things for others that I wouldn't have the chance to make for myself (especially little girl stuff!!) This cute customer sent me the pdf invitation of her daughter's third birthday party with a Princess and the Pea theme (inspired by this and this) and asked if I would make her a stacked mattress tablecloth. Seriously? So cute. I did my best to match the fabrics to the invite, shopping from five different online shops to get the prints right.
I was all set to begin the tablecloth, when I got an email asking if I might be able to also squeeze in a little outfit for the birthday girl to wear. I thought it would be fun to use some of the extra fabric scrap as a waistband for a soft knit nightie or something. As I got working on it, though, somehow I kept cutting off the knit and ruffling and layering the prints, until I ended up with this super adorable stacked mattress skirt! The materials and eyelet trim match the tablecloth (and invitation) exactly, and I think it turned out adorable. The sweet little birthday girl needed a top too, so I created a simple crown applique for a bright pink tee. Then I added some sparkles! Have you guys used this glitter ribbon before? I ordered some with my prize credit to The Ribbon Retreat and I want to add a little bit to everything! It's really cool. The sparkles are woven threads, so they don't fall off like actual glitter would. You've gotta try it. Okay tangent, now back to the P&P.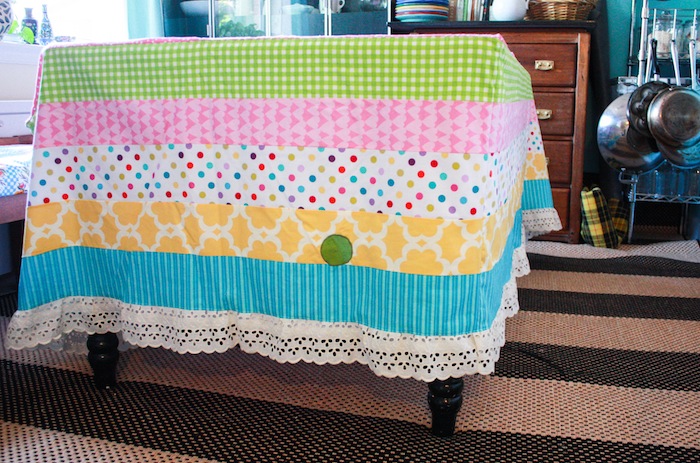 Making the tablecloth was almost exactly like making a strip quilt. I cut all the strips to size (4″, 5″ and 6″) then sewed the mattresses top to bottom until I had 6 stacks of 5 mattresses (each length of the table is 2 yards long, and I only bought 1 yard of each print, so I joined the strips in the center). Next I stitched the two stacks together for each long side of the table, trying to line up the seams as closely as possible. I then stitched each side of the table onto a single layer of white muslin to line it, and then put RST and stitched them to the top piece (which was cut exactly to her tabletop dimensions). After trimming the edges completely straight, I zipped down the corners to form the 3D mattresses. My new gathering foot made adding the eyelet trim super simple, and then I blanket-stitched a nice green pea to each side. I can't wait to see a photo of this on her huge farmhouse table!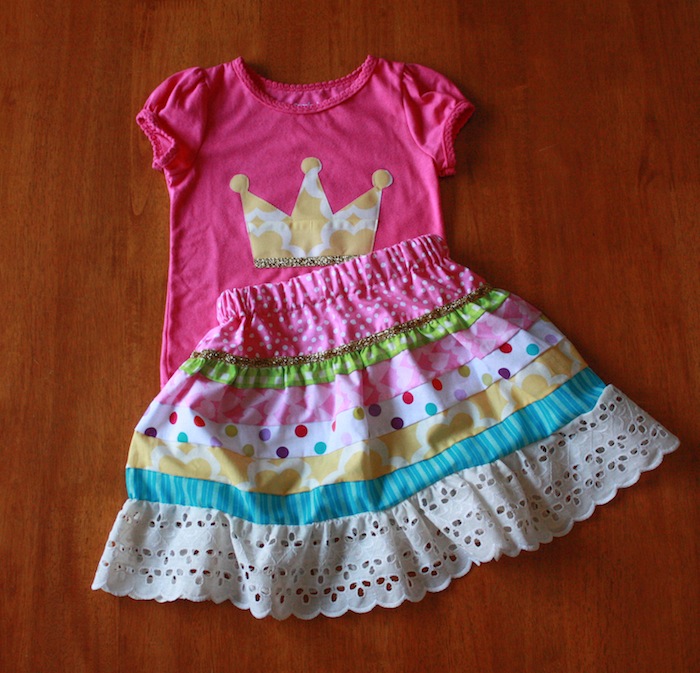 It's super fun to get all of my girlie ruffles and sparkles out somewhere.  I hope the little birthday girl loves her birthday outfit, and her mama loves her new tablecloth! Now that this order is in the mail, I'm on to making the bridesmaid attire for a late-June wedding. I'm doing 5 dresses and 3 skirts in the next two weeks. I'll share my process and progress here soon!