Sometime in our first year of marriage, Dave and I made some very clear decisions regarding anniversaries: we would follow the traditional anniversary gifts, and we would switch years planning the celebration. He plans one year (one and four), I plan the next (two and five), and the third year we plan together. (ps can you believe I've been blogging since before our first anniversary! That's crazy.) So far it has been a really wonderful way to celebrate each year. There are clear expectations, we each get to be creative and plan surprises for our year, but then get to enjoy some time off. Both of the years we have planned together have included weekend vacations with the whole family (our third we spent camping with baby Milo!) As our sixth anniversary approached, we checked the list for what the traditional gift was, and found we had a choice: iron or candy. Hmm. Tough one. Let's go with candy!
We had been wanting to visit Hershey, Pennsylvania, and decided this was the perfect occasion. We booked a two-night stay, Dave took Friday off of work, and we took the boys up to enjoy Chocolate World!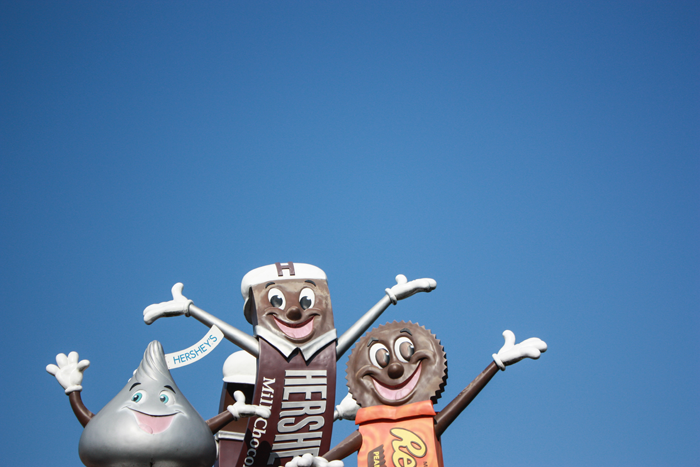 We planned the first day of our trip with the help of the Hershey website. The actual theme park was closed while we were there, but we had a great time in Chocolate World making our own chocolate bars (aka choosing fill-ins and watching the machines make chocolate bars), designing our own packaging, and learning about how Hershey chocolate is made. I'm a lover of great, artistan chocolate, but sometimes there is just nothing like a good old Hershey's Kiss.
It was fascinating to learn about how Milton Hershey saw chocolate as the candy of the future, when everyone was into caramel and hard candy. He developed a recipe and a system to make affordable chocolate available to all. Pretty cool. Also pretty cool? Milo's label. The touch-screen design system was actually really customizable, and he added a firework background, stuck a couple "Chocolate Avenue" lamp posts on there, then finished it off with a cow. I love it!
I mentioned that we had been taking it easy on the sweets for a couple months in preparation for this weekend. Boy, we really made up for it! I think the kids were in heaven, and also wondering why we were suddenly okay with treats at ten minute intervals! In addition to our custom chocolate bars, we had a stash of Hershey minis in the room, and I picked up a pack of the World's Longest Twizzlers while at the Park. They instantly became not only treats, but toys!
After a day of Chocolate World, and the Hershey Museum, we were ready to spend the second day cruising through the countryside of Lancaster County, which is just twenty minutes away. Lancaster is famous as the home of many Amish families, also known as Pennsylvania Dutch. I did some online searching to guide our visit, and we found some really cool things!
The Amish Farm turned out to be just a regular farm, but we like farms! Although we didn't see or learn about any Amish folks, we did get to meet a sweet baby goat, make a rope, and enjoy some beautiful old buildings. I think we could have taken a tour of a traditional Amish home, but tours+toddlers=disaster.
Okay, okay, you all know that the real highlight of any trip I take is the food! I made sure that we found the best hand-rolled soft pretzel, homemade root beer, shoo fly and whoppie pie around. Nothing disappointed  We also stopped in at a wood carver's shop and Milo choose out a sweet wooden truck to bring home. It came with six logs to haul, which are all currently lost. Classic, you know?
The Pennsylvania countryside was beautiful. It was a bit novel and fun to see the Amish kids riding around on their scooter-bikes and drive past fields being plowed with actual horse power. My favorite scenery included lines of freshly washed laundry, drying in the open air. It's sort of ironic that we used the technology of our iPhone maps to avoid the main drags and travel the scenic back-roads from town to town, but we were happy with the slow pace of life that we witnessed. Dave mentioned that it was a good reminder that we don't have to take full advantage of every single new technology that arrives. We can live our lives as fast or slow paced as we choose! That's sure a reminder that I need!
Happy six sweet years to our little family. We've got many, many more in store.
Five Days to Freedom: Tips for Choosing Less Stuff and More Adventure in your Daily Life
Five lessons with practical tips and exercises to help you feel more in control of your life!