For months leading up to Halloween, Milo talked all about being a superhero. He had even chosen super heros for each of the family, too! I decided to leave our costumes to make after I had finished all of my custom orders, and I'm glad I did because the week before Halloween Milo changed his mind and was dead set on being Fireman Sam! Fireman Sam is one of Milo's favorite shows to watch during quiet time, and I loved that he was so set on something a little different (not to mention that Dave had challenged me to make his Superman costume without using spandex, and I was stumped.)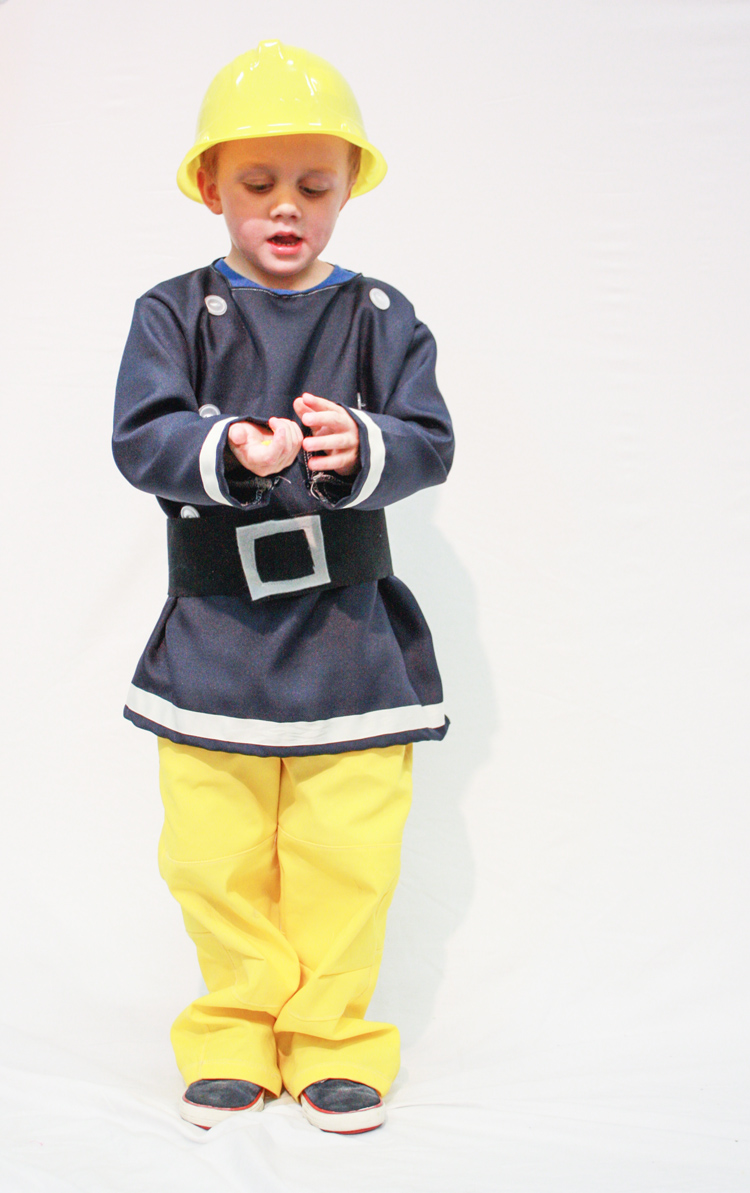 I thought I might get out easy, since Milo has a Melissa & Doug Fireman costume that he dresses up in all the time. He's too smart for that, though! I told me that "Fireman Sam doesn't wear a red coat. He wears a blue coat!" So, we headed to the fabric store to get blue fabric, plus some yellow for those fireman pants!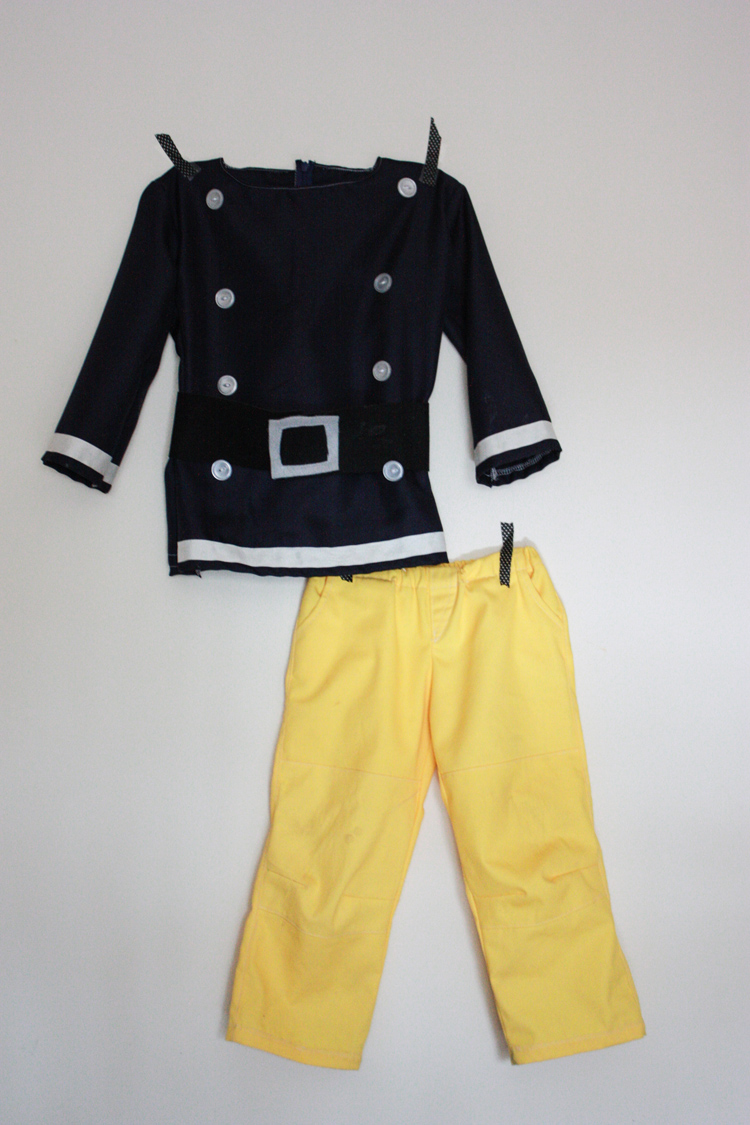 For the jacket, I actually should have bought a more royal blue material, but somehow I had navy in my head. I rubbed off a pattern from his current fireman jacket,  cutting the front on the fold and adding a zipper to the back. It was a little big the first time he wore it (pictured) so I slimmed it down for Trick or Treating. The white bands are strips of grosgrain ribbon that I topstitched on, and then I added the buttons. I lost one of my button cards, so at the first Halloween party, he only had six. When I found it the next morning, though, I added the two bottom ones, which adds a lot, I think.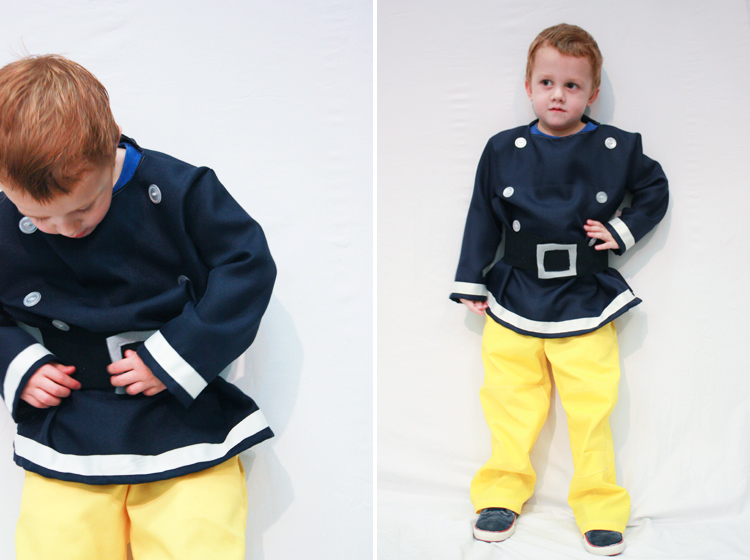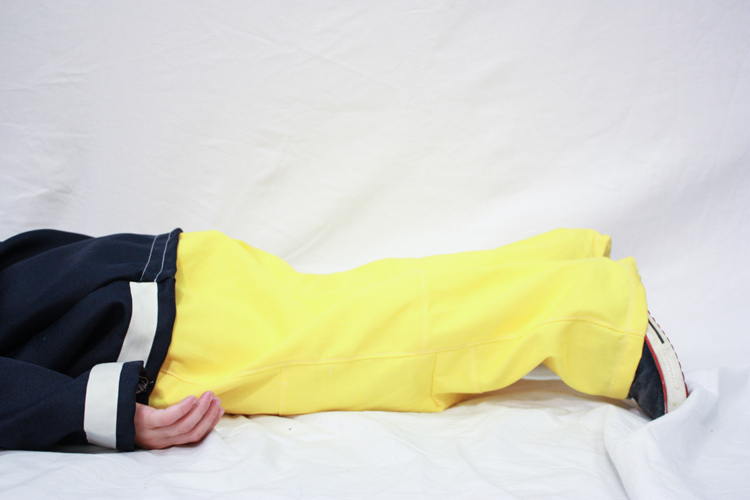 I used the Oliver + S Field Trip Cargo Pants pattern for the pants, and it was perfect. I kept it simple, since I started the costume about an hour before our party, and left off the cargo pockets. I'm definitely going to make some more of these from regular bottom weight for him. I love them! The belt was a quick felt creation. It did the trick. Lastly, I found his sweet yellow hat at the party store for 69 cents. Its a construction hat that we just turn around backwards.Milo was thrilled. He is hilarious when he's dressed in his firman garb. We hear a lot about the fires he's going to fight and see a lot of hands on hips. Kills me.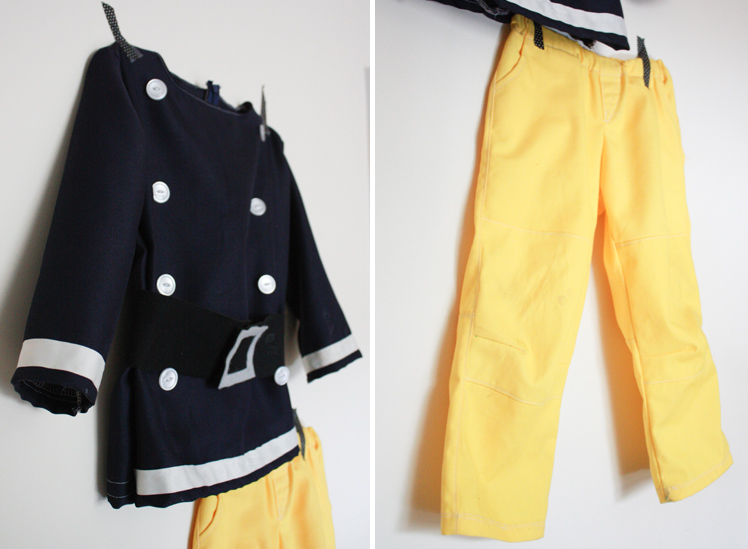 This one is a winner, and even though almost no one recognized him, Milo was proud as could be of his Fireman Sam outfit. I need to sew more often for him, because he definitely loves it!