I have a little weekend assignment for you today. Seriously, you'll love it. It involves brownies that will change your life. I was always a boxed-brownie girl, even though as an adult I've made most everything else from scratch. Homemade brownies were just never as good as Ghirardelli, until now. Okay ready? Click here for the best cocoa brownie recipe ever, make them (double the salt and sprinkle a little on top to hop on the sea-salt-everything-sweet bandwagon), and eat them. You're welcome.
A few months after we moved to DC in 2009, one of Dave's schoolmates recommended Smitten Kitchen to me. She said it was her favorite food blog, and that she thought I would love it, too. She was right. Deb (we're on a first name basis here) has the most warm and accessible stories, clear and well-defined instructions, and seriously–the best recipes ever. Smitten Kitchen is my number one go-to for a new dish, sweet, or snack. She cooks by season, which I love, because she's always whipping up exactly what I'm craving. It's not unusual that I drop my afternoon plans when I see a must-make-immediately recipe on SK, just so I can bake a bit. No one in the house complains.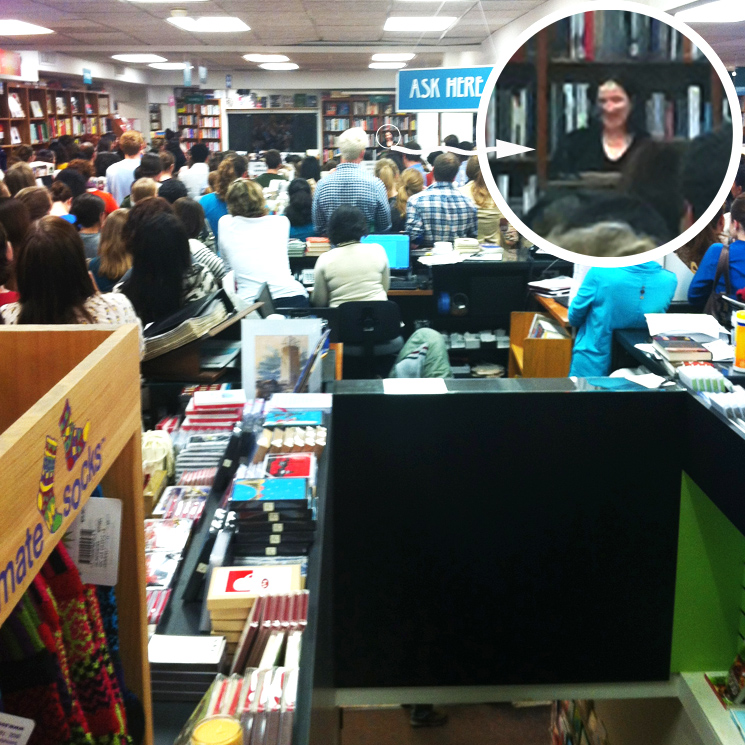 So, that brings me to this week, and the chance to meet this cooking inspiration whom I have long admired. You see, Deb just released her first cookbook, and is on a book tour, and stopped over in my neck of the woods. I had it marked on my calendar for weeks, Dave came home right on time, and I headed out solo. Even though I arrived to the hosting book-store 20 minutes ahead of schedule, there was already a line down the sidewalk. They had kindly suggested that if you were going to attend the book talk/signing, that you buy the book there, so I didn't yet have a copy. That was fine until they announced that they had sold out! Apparently 300-400 was more than their expected crowd! Well, no problem, I figured I could enjoy the talk, wait in line and snag a photo to tape inside my copy once I bought one somewhere else. The book talk was great. Deb was as charming and humble as I imagined she'd be. I was lucky to have made it in the doors (just barely!) and was standing on tip-toe to catch the occasional glimpse over the shoulder of the tall, bleached-bonde guy. Thanks to my iPhone, I got a great close-up:)
Deb chatted about starting her blog as a whim, thinking it would last 6 months, and finding herself on a book tour six years later. She mentioned that she didn't mind her shoebox kitchen, and actually didn't prefer a huge space where things could get too spread out and she'd lose focus. I loved hearing her talk about only buying one kitchen tool at a time, as you need them, rather than just raiding Williams-Sonoma. It's the actual cooking that will tell you what you need to buy, not the store. She also laughed about how she is motivated to cook because she is obsessive and picky about food. I relate.
After the chat, the crowd shuffled itself into a sort of line-ish mob, and I took my place in the middle/back where I seemed to fit without gaining any sideways stares. And then I waited. and waited. and waited. The line was moving about 6 feet an hour. I took advantage of my time to sketch some new sewing ideas, including a lace overlay dress to wear to Dave's work party in December (I need to get cracking!) I also meal planned for the week, organized my naptime tasks, listed the items I need to purchase in order to complete all of my handmade Christmas gifts, read blogs,  and caught up on a few emails. Then I moved another 3 feet.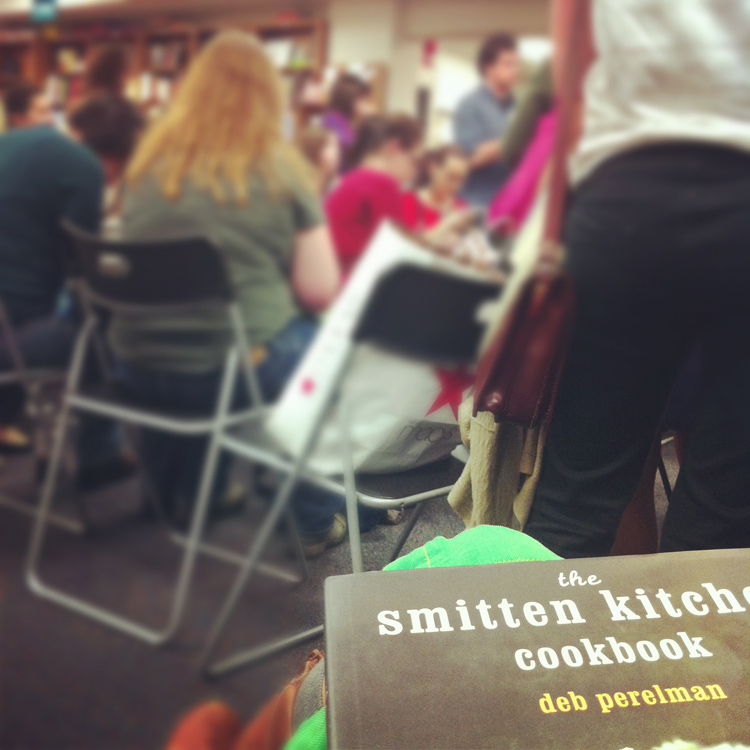 At some point, the crowd began to run out of things that could be accomplished with an iPhone, so we began talking to each other (imagine that! real life interaction!) One of the girls a few back in the line mentioned that she had bought her book at the local Barnes and Noble on her way in. Since the line was moving so so so slow (granted, because cute Deb was chatting with her fans) I decided to see if I could run out to the car, drive to B&N, buy a book, and make it back in time to have it signed. My new line friends cheered for me as I dashed out the door, through the sprinkling rain to my car, zipped the 15 minutes to the bookstore, picked up my copy at the front desk, repeat, repeat, repeat, and got back into line, about 6 feet from where I had left it! It was definitely a good choice. Now I was rejuvenated and almost giddy, even 3 hours after I had arrived to the signing.
At some point, people started setting out chairs to sit on in line, so the last 2 hours were sort of like a stop-and-go game of musical chairs. Every few minutes we'd all stand, shuffle forward, and wait to see which of the nearby chairs we could settle back into. It was pretty hilarious. Finally, after 3.5 hours in line, I was face to face with Deb!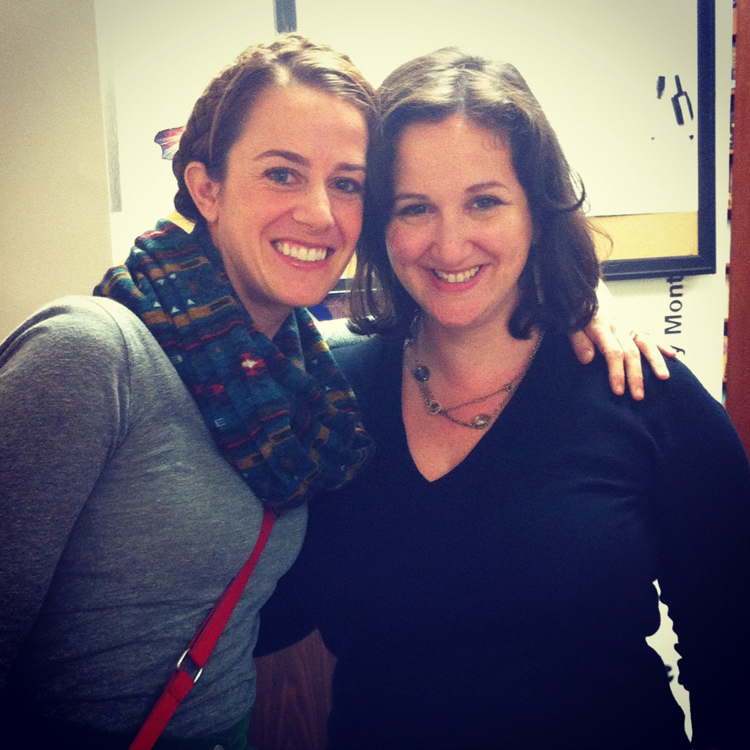 She is absolutely lovely. As much as I would have liked to be totally cool, I was completely star struck and I rambled on about loving her blog, admiring her so much, using her recipes as my go-to every time I wanted to make something new "…and they seriously turn out every time! I have never ever been disappointed in something that I've made from your site, and I feel like I'm actually an okay cook, and I seriously am just the biggest fan, and I have two little boys, one is the same age as Jacob, but I also have another one, both little boys, and I make Halloween costumes, so if you ever need a costume for Jacob, let me know, and seriously, I you are just awesome, oh and can I get a picture…" Er. Yep, I played it real cool. But it's okay that I'm a total dork, because I loved every one of my two and a half minutes blabbering my brains out to my favorite food blogger. It was totally worth the wait.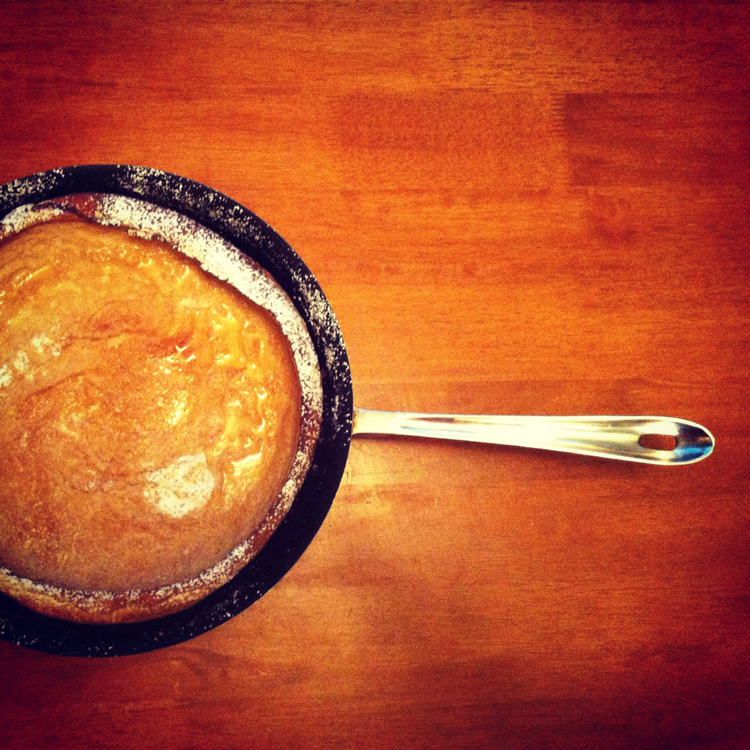 And then there is her book. I stayed up flipping through the pages, which are filled with the same candid stories, beautiful pictures, and mouth-watering-yet-still-totally-accessible food that drew me into her blog. Most of them are brand spankin' new, and I intend to work my way through them. I started with breakfast the morning after the signing with her new Gingerbread Spiced Dutch Baby. "It's like a warm slice of the Holidays for breakfast" (-@livefreemiranda, instagram). We will be eating it again soon. Oh, then for lunch I made myself the Broccoli Rabe and Mozzarella Panini, which went down all too easy (green veggies never tasted so good!) Aaaand then for dinner I made her Linguini with Cauliflower Pesto (except I used Capellini, and the dish suffered little). I may be a little book-signing happy, but Deb's recipes are exactly the kind of food that I want to eat AND cook: fresh, interesting, simple, and as far as I have experienced, totally fool-proof. It's food that is fun to make, because I know the effort will be worth it.
Is Smitten Kitchen new to you, or are you a long-time fan like me? Do you want to know a few of my favorites from Smitten Kitchen? Well, okay, I'll share.
After you make the best cocoa brownies, try Deb's black bean tacos with feta and slaw, milk punch, spaghetti with cheese and black pepper, blueberry crumb bars, southwestern pulled brisket, and Milo's favorite (that I let him eat for breakfast)  the best chocolate pudding.
I wish you a very delicious weekend. You know what I'll be up to!