The week after Alt Summit, I spent a couple days in Seattle with my mom and sisters on a girls' trip (for my 30th birthday!) One of the stops we made was to Seattle Fabrics, a huge warehouse filled with bolts upon bolts of high quality outerwear and marine fabrics! Swoon. Most of the fabrics were pretty pricey, so I wanted to makes sure I had a project in mind for what I bought. I dug around in the remnant bin and found this hearty mustard-yellow polartec fleece and immediately saw it as fleece vests for my boys.
I grew up in Utah, where fleece vests and jackets are second-skin in the winter. I remember my dad being especially fond of vests because , as he explained, he could wear just a tee shirt underneath, then layer with a jacket or shell if he needed one. I learned a lot from my dad, including the value of a fleece vest, and have always had one as part of my wardrobe! I bought an itty bitty Patagonia fleece vest for Milo when he was just months old, and he wore that until he grew out of it in toddlerhood. Then I bought him a new one at REI, and baby Eliot inherited the original. When I spotted that yellow fleece in Seattle I remembered that by now Eliot had almost outgrown the toddler-sized vest, and soon both boys would be vest-less. I couldn't let that happen!
I bought the remnant yard of fleece (along with some rip-stop nylon, and about 30 discount metal zippers) and planned on some vest-making. It was about a week later that I received an email from Dana about testing her newest pattern for…you guessed it: a fleece vest!! The Flip Vest was exactly what I needed.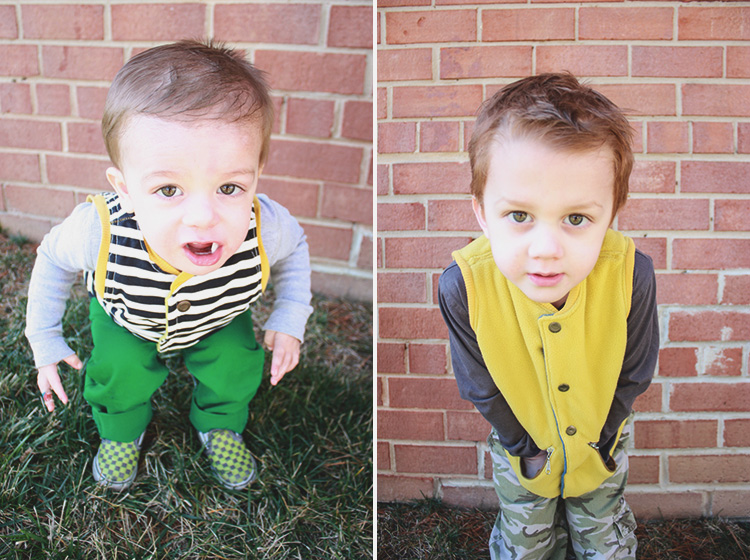 You know what's better than making each of my boys one fleece vest? Making them each two (in one)! The Flip Vest is fully reversible, which means twice the fun for the same amount of work. That's my kind of pattern. Above, check out one side of the vests I made (along with some pretty great faces). Then flip…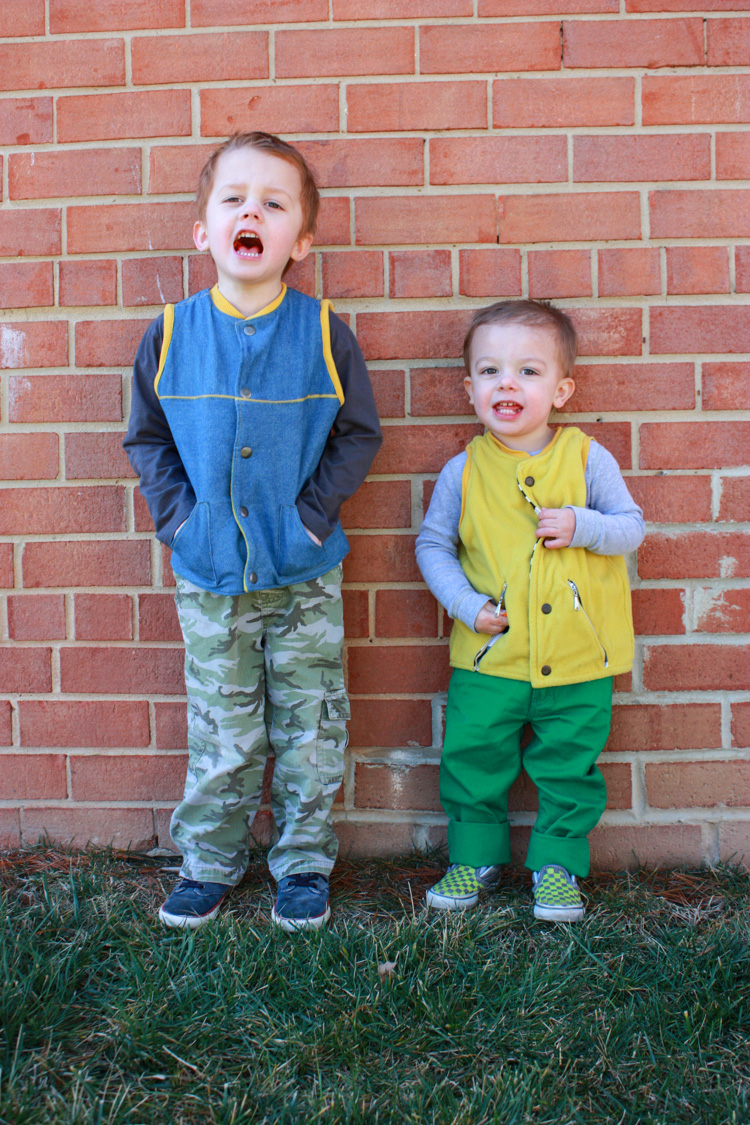 …and check out the second side!
Along with their basic fleece vest, now Milo and Eliot both each have a second addition to their wardrobes, chosen just for their personalities. I thought the black and white Ikea stripes would fit in will with Eliot's young wardrobe. Toddlers can pull off anything, and the stripe has the added benefit of being really easy to spot in a crowd or on the playground, so he won't get too far without me knowing where he is. For Milo I chose a dark denim. It feels a little western and also channels an outdoorsy vibe that fits Milo's adventurous personality. I also love that the denim is durable and stain resistant, and it will only look better and better with wear.
One thing I really loved about the Flip Vest pattern is that it is a perfect base for fun customizations. Not only can you choose different fabrics, ribbing, and closures, but because of the simplicity of the pattern, you can play around with details. On the denim side of Milo's vest I added some cool reflective piping across the chest. The pattern blocking  and piping was sort of a happy accident because I didn't have enough of this denim on hand to cut all of the size 4-5 pattern pieces as designed. But, if I chopped the front pieces in half and added seam allowance, I could squeak the whole vest out. Milo's only 3.5 years old, but I wanted some room to grow and I think the fit will be great for a long time. Gotta love creating frankenclothing from fabric remnants (I seem to do it often…)
My boys have both inherited my love of pockets, and I couldn't wait to double the fun by adding pockets on both sides of their vests. For both vests I added patch pockets to the cotton sides. Milo's are diagonal, and Eliot's are square. On the fleece sides, I tried my hand at the inset zipper pockets that I learned to make at Sewing Summit last year. They are so cool! Some of the discount zippers I picked up in Seattle were actual "pocket zippers," which I had never seen before. They are closed on both ends. The boys can unzip and zip them by themselves, and use them to store all types of treasures (aka the candy bribe I gave them for taking pictures….ya know.) I totally eyeballed the placements, so they aren't completely perfect, but I'm not a perfectionist.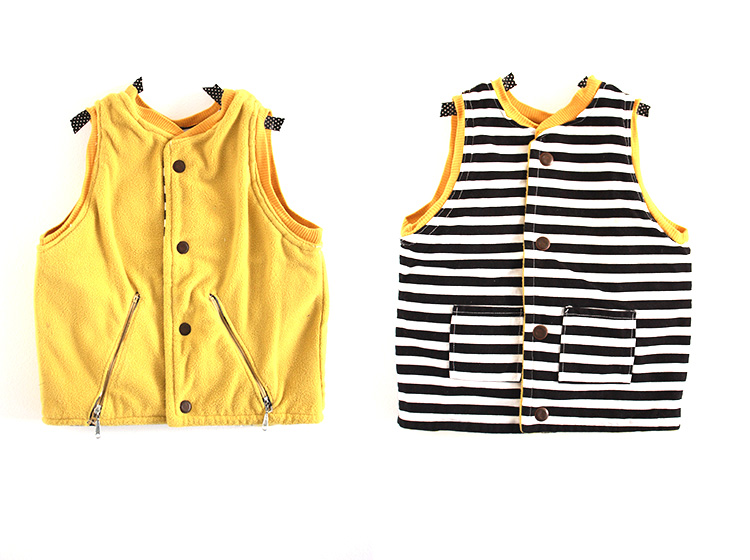 I thought the stripes would be cute on Eliot, and I was right. They are completely heart-melting. He's such a funny little munchkin, always making me laugh with the silly and random things he does, somehow this print fit him perfectly. He's only 20 months, but I made him the 2-3T size and just like Milo's vest, it has some room to grow, but doesn't look too big right now.
You can see that the pocket placement on Eliot's vest was a little low. The bottom just barely sits inside the hem. I made this vest first, and corrected the alignment by raising the pockets up a bit on Milo's vest. Also, After making Eliot's vest I re-learned a lesson I learn all. the.time. PRE-WASH! The cotton shrunk just slightly and the fleece did not, creating just enough size difference between the two that the fleece doesn't lay perfectly flat. I don't mind, especially since Eliot never stays in one place long enough to notice, but I will remember to prewash everything in the future. (Or I'll just keep rushing to start and finish projects that shrink.)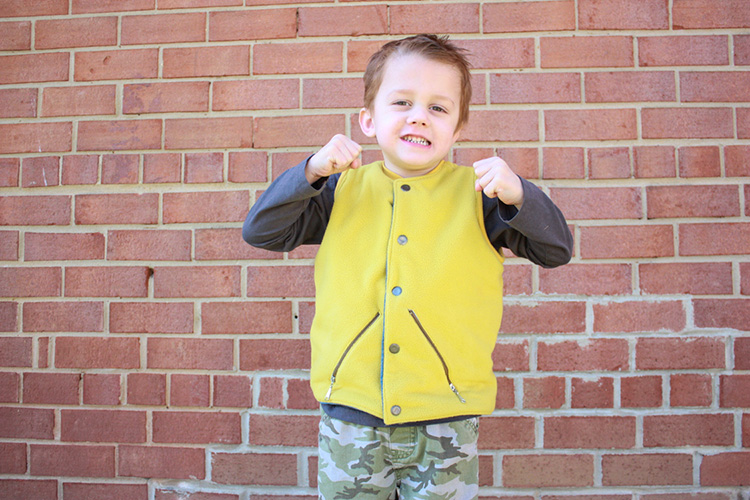 On both vests I chose to use heavy-duty snaps as closure. The pattern teaches the technique for both buttons and velcro, but I avoid buttons at all cost and wanted the vest to have the technical look of hardware. In order to make them totally reversible, I just used the brushed-metal caps for both sides of the snap (Eliot's are bronze and Milo's are silver). The size #24 snaps actually went in quite easily, even through the layers of fleece and denim/canvas. I kind of love snaps.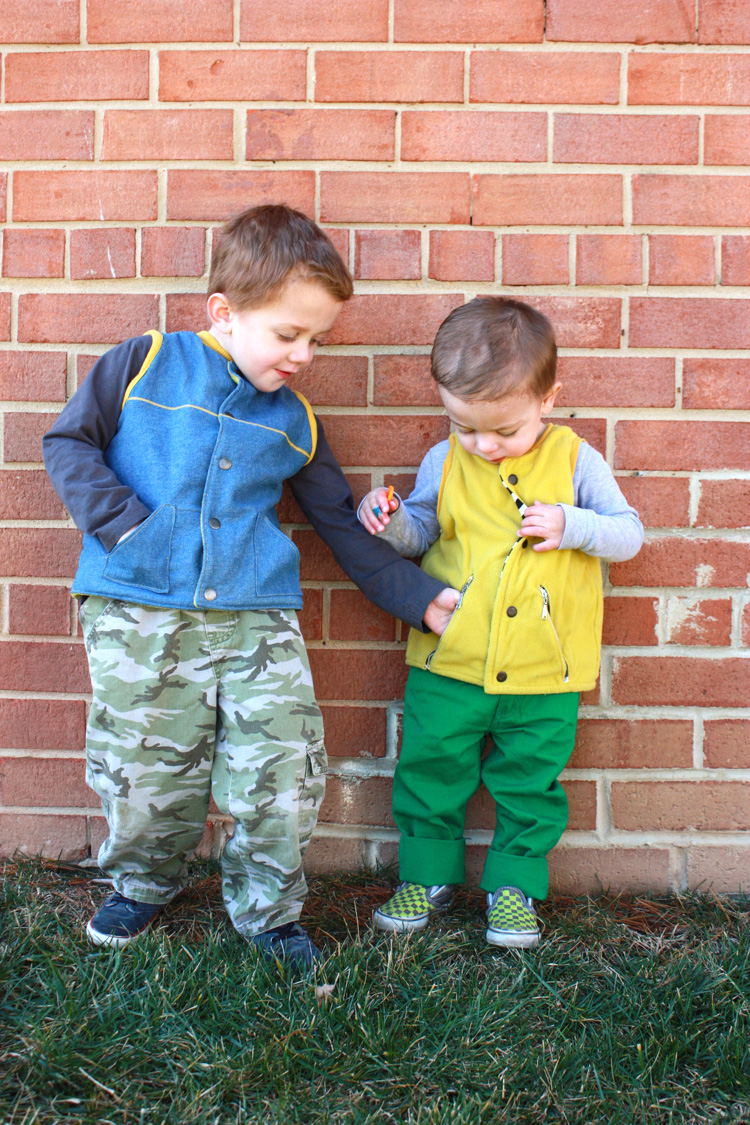 I had such a great time with this pattern. Both Milo and Eliot love their vests (Milo prefers the fleece side, and I put Eliot in stripes more so far.) I learned a couple new techniques making these, but the pattern was still simple enough I could finish them each in one sitting. I can rest easy now knowing that everyone in the family has a fleece vest to his/her name. The DC area seems to just be flirting with the idea of spring, so being able to layer a tee with a vest, and then a jacket (if needed) is a perfect system. My dad sure knew what he was talking about!
I'm so excited that Dana has offered to give away a copy of The Flip Vest pattern to THREE of you wonderful readers! For a chance to win, just leave a comment below before Friday. I'll randomly pick the three winners then, and Dana will email over the prizes. Good luck!