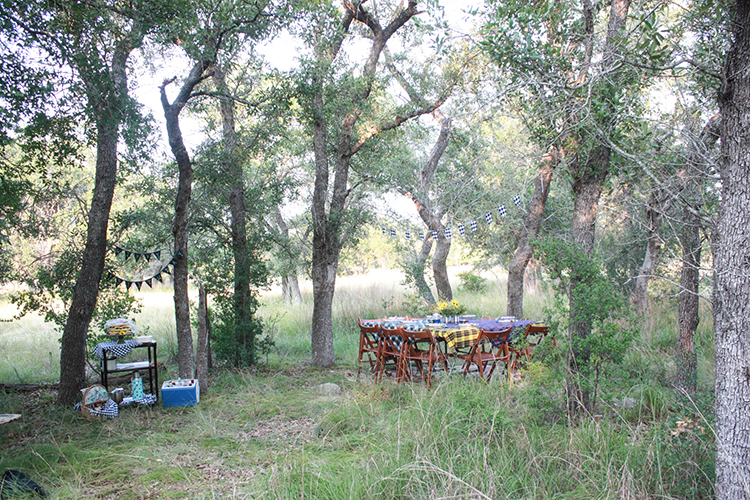 Ever since Jordan Ferney started posting about her outdoor dinners, I've dreamed of hosting a dinner party in the wild. Not the wild of my yard (although after six months of neglect it is pretty much a complete prairie back there…) but a fully out-of-the-way location, with all the magic, intrigue, and charm that unexpected events tend to hold. As the birthday of my dear friend Rachel approached, I decided now was the time, and went to work planning.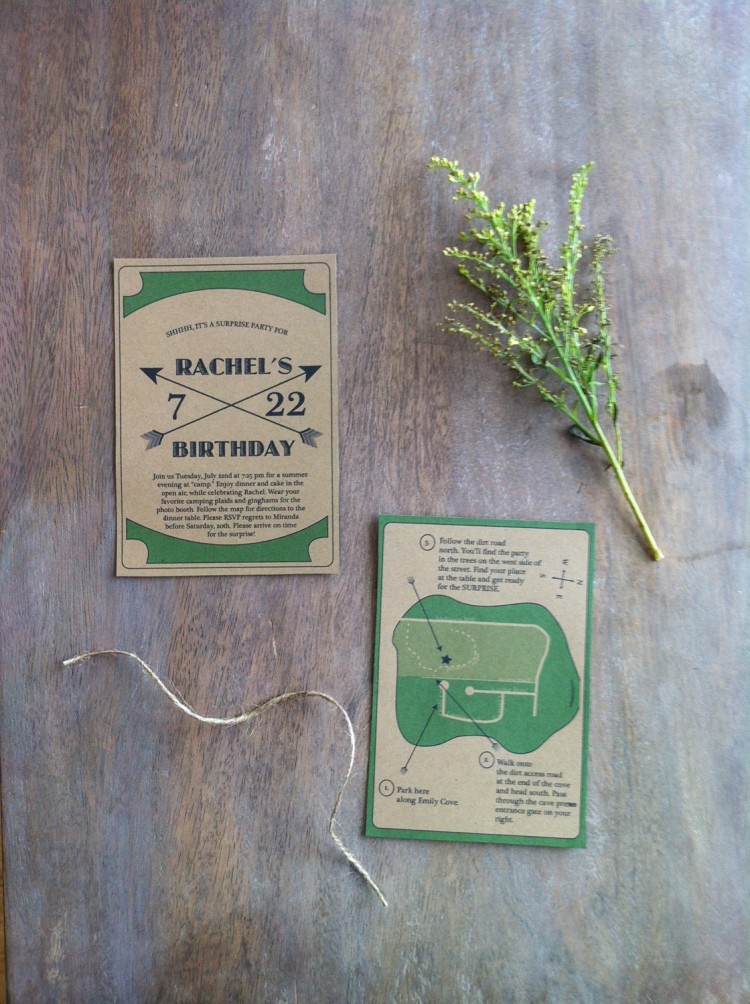 I recruited another good friend, Lori, to  pull it off with me. I wanted to host it out in the big nature preserve behind my house, which is a beautiful, rugged, section of Texas Hill Country, and we settled on a "Vintage Camping" or "Glamping" theme to guide choices. I designed the invitations based on these  incredible wedding invites. Ours were a simplified version (read–made with my limited illustrator skills) but turned out perfectly for this event. I printed them at home, tied each invite with it's accompanying map to the table location, and hand delivered them to friends.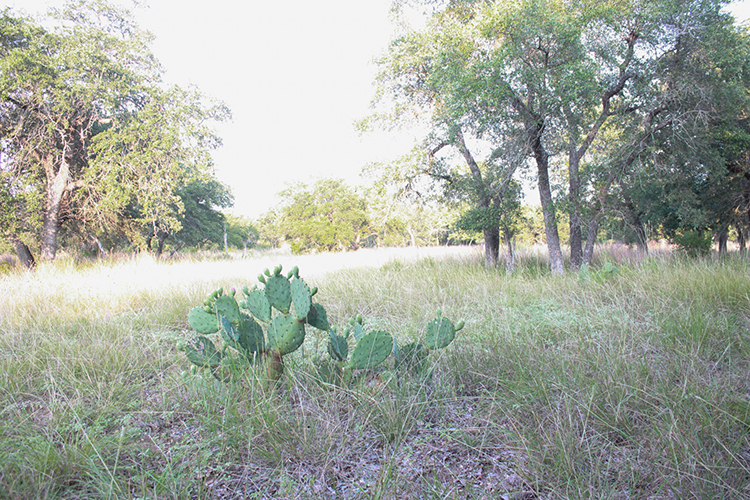 The event was set in in the trees on the left along this cave-access road in the local nature preserve. When we built our house last year, we were told about an endanger beetle that lives in the small, underground caves in this area. Since their discovery here, about eight acres have been set aside as preserve land. It's amazing, because the land is beautiful, diverse, and readily accessible for trail running, hiking, and mountain biking, but it will never be developed further. And it's right out our back door! I occasionally run along the trails here, and the location turned out to be ideal. It only took about six trips along the five-minute walk from my house to get out to this spot, but it felt like we were in the middle of the wilderness all evening.
We wanted maximum impact with minimal effort, so kept things relatively simple with a few fun details. We threw an assortment of fun, bottled sodas from World Market into a cooler, and attached the bottle opener with twine to the handle for easy access. The favors went into a mini picnic basket. The chalkboard fabric pendant was a gift from Rach of Family Ever After, and looked so fun here. This thrifted bar caddie was a lightweight, perfect display for the assortment of camping accouterments we pulled together, as well as the gorgeous layered lemon berry birthday cake, which Lori made.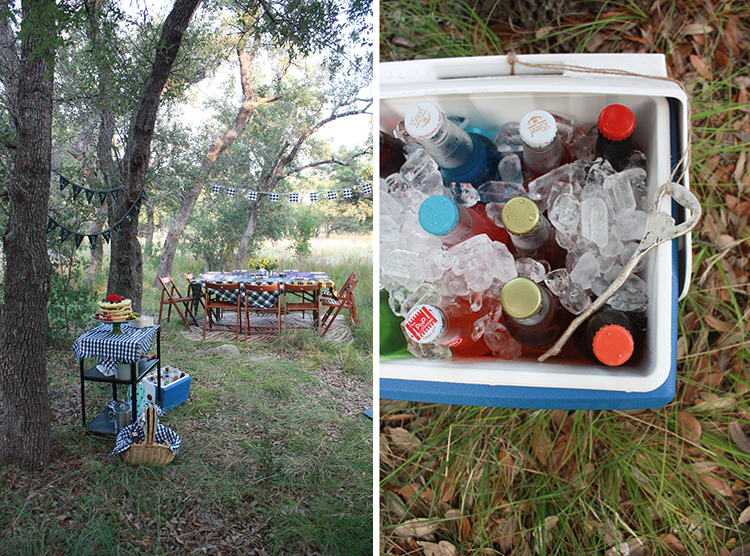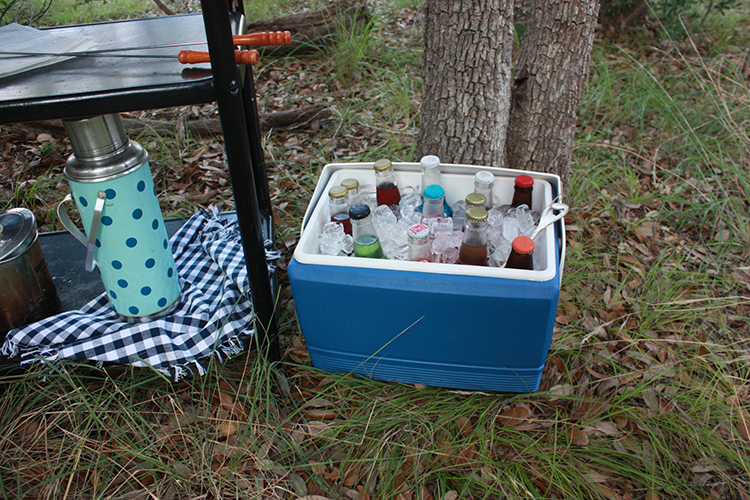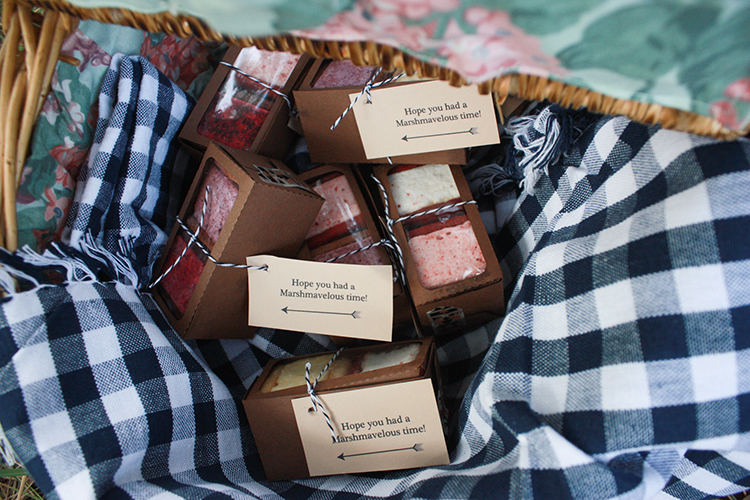 Have you heard of Malvi Marshmallows? I discovered them on Instagram, and knew we had to have them at this party! They are different, delicious, and simply adorable. An open fire for s'mores was out of the question in the nature preserve, but these brought in the classic camping+marshmallow fun, without the illegal fire! I ordered the summer variety pack, then used my Silhouette to design and cut little paper boxes that fit two marshmallow sandwiches exactly, but with a window so the awesomeness was still visible. Then added a little "Hope you had a Marshmavelous time!" which has cracked me up for days. Ha!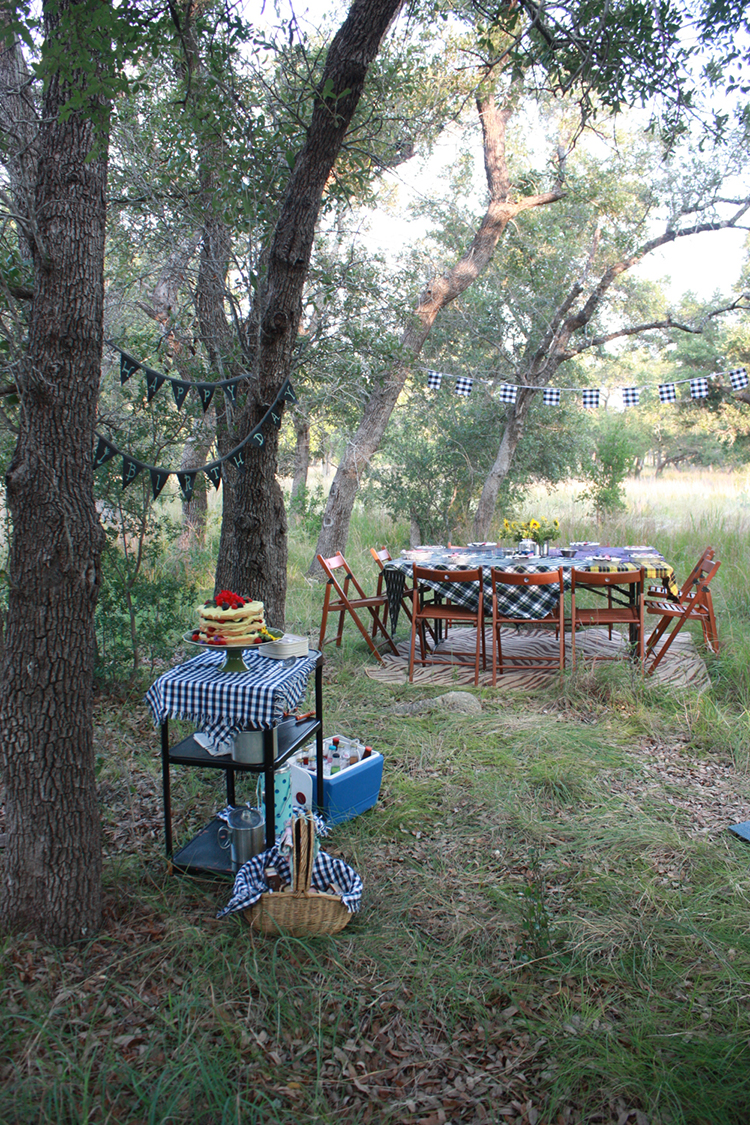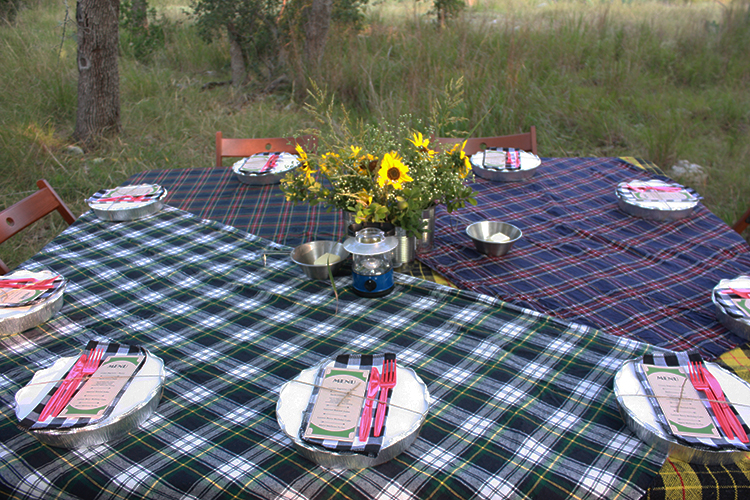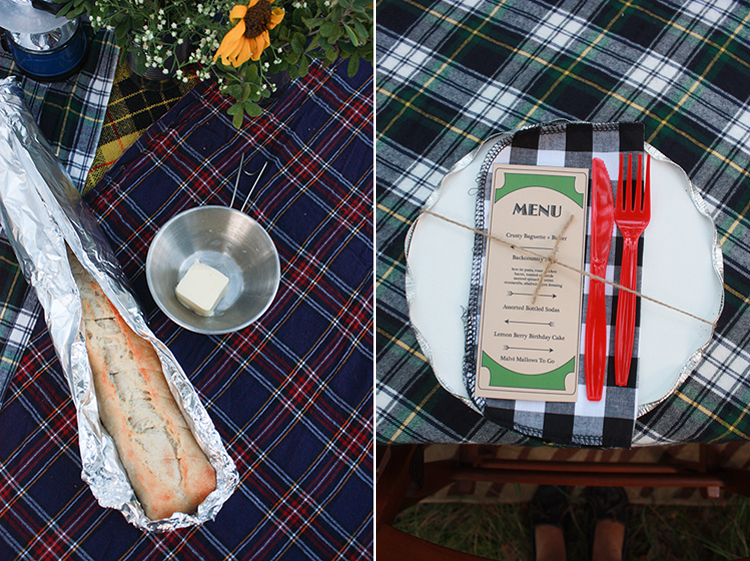 We used two six-foot folding tables pushed together to make the square, and surrounded it with these awesome wooden folding chairs which we borrowed from a friend. We threw a variety of plaid fabric on as a table cloth, and added clumps of wildflowers (all cut from my backyard…total wilderness, I tell you!) as centerpieces. For dinner, I made one of my favorite pasta dishes from the Favorite's Cookbook. It's chicken, bacon, spinach, onions, cheese, pasta, and a dijon balsamic dressing with toasted almonds. The whole thing is delightful hot, warm, or room temperature, which made it a great option for pre packing into tin-foil dishes to set at the table. I renamed it "Backcountry Pasta" for the menu, and served it with foil-wrapped warm ciabatta baguette with butter. At dusk, in the wild, everything hit the spot.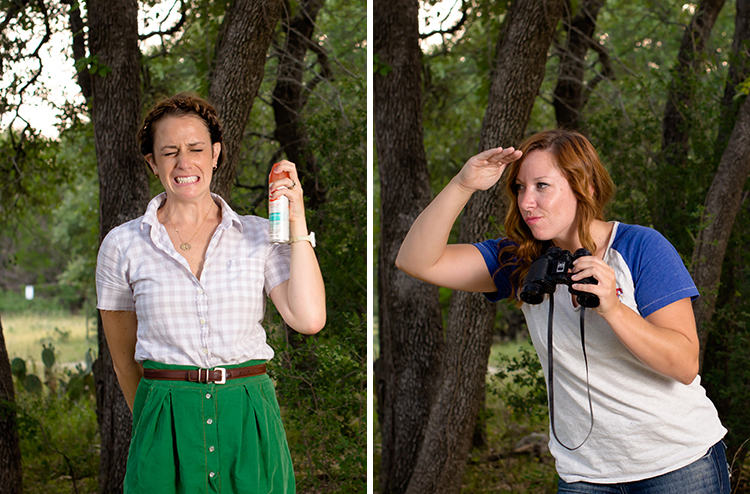 Of course, of course we had a Photo Booth. Because what camping party would be complete without one? Melisa hauled her setup into the wild, and we took turns taking some fun shots and poking each other with roasting sticks. Even got a perfect portrait of the birthday girl!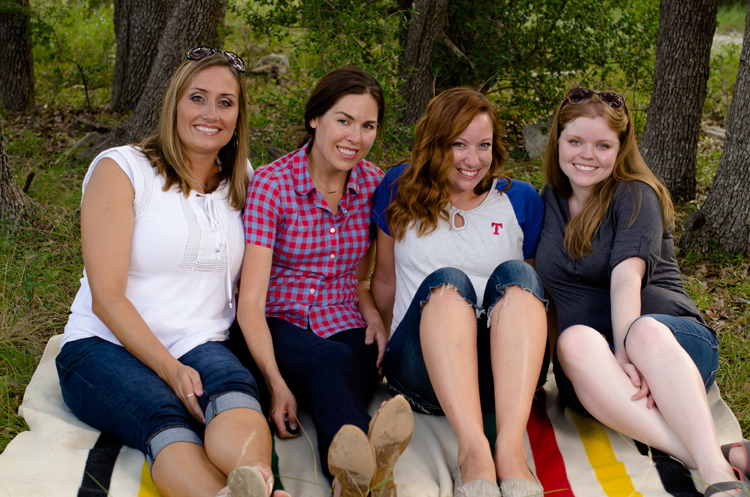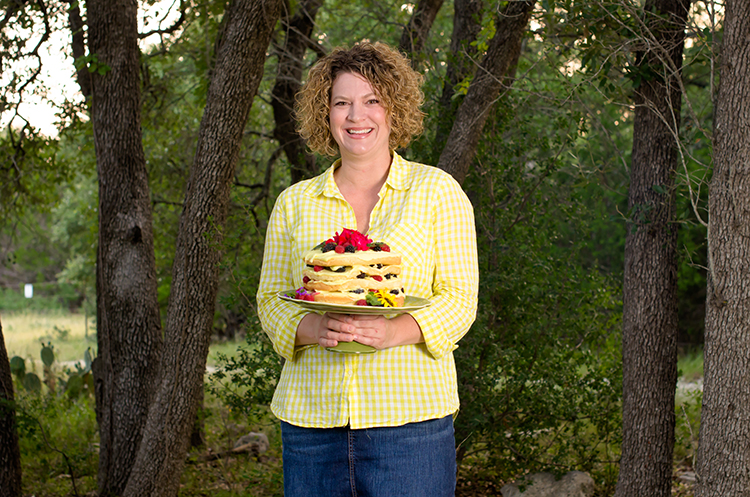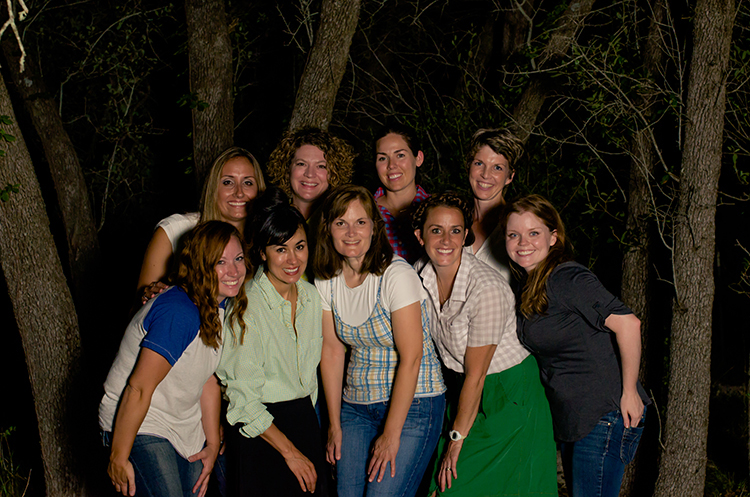 When the sun went down, I turned out the little battery-powered camping lantern and hung it from the pendant banner, then we stayed out chatting and laughing until long after dark. When we were ready to go, everyone filled their arms and we cleared out our entire little party spot and everything made it home to my house in one trip!
The experience was incredible. I think everyone had a good time, and most importantly, I know the birthday girl felt celebrated and loved, which she is.
Phew! Now I can stop myself from posting every single one of these photos on my instagram feed, and get back to sharing my normal, everyday life and photos of my darling babies.