This post has been sponsored by American Greetings. All thoughts and opinions are my own.
My favorite gifts to give and receive have always been gifts of experience. And this year especially, with our Less Stuff, More Adventure mindset and the #morethanenoughstuff challenge, we are planning to have every single gift we give this year either be handmade, or an experience, or a little of both. It has already been so fun to brainstorm not only what fun gifts of experience we can offer, but also how we can turn any gift into a gift of experience.
I want to share a little bit about this idea, then at the end of the post I'll share 50 ideas for gifts of experiences you could give this year (for any holiday!)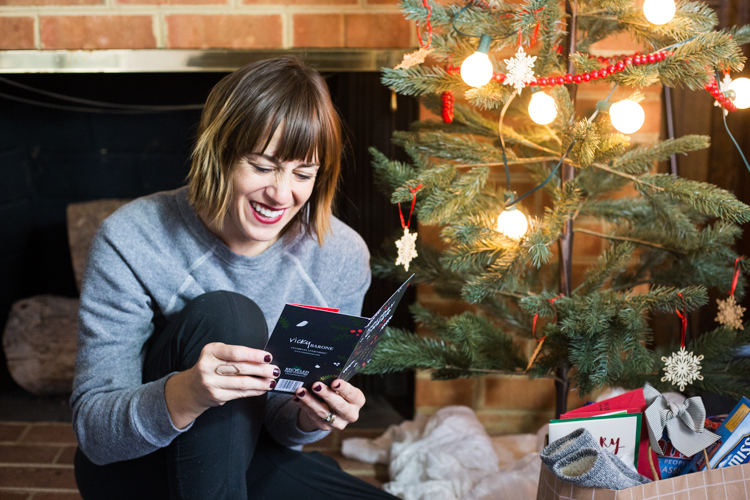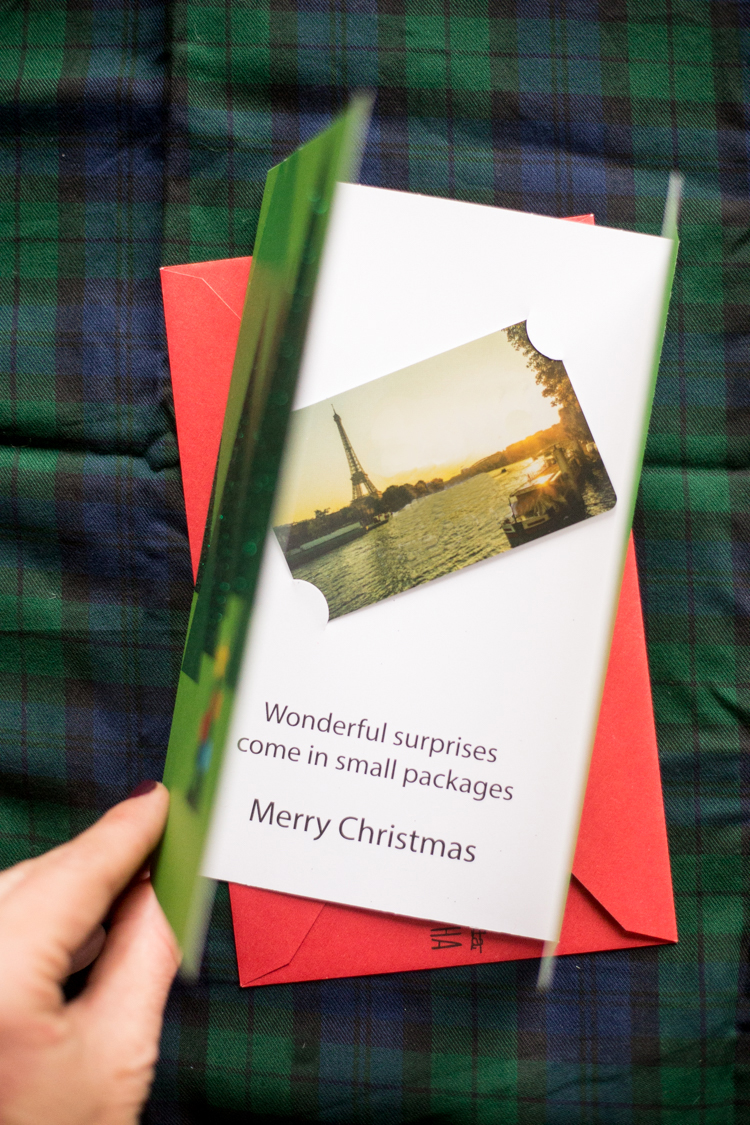 The first half of ideas I'm sharing today are actual experiences that can be captured in a gift card or certificate, tucked into a thoughtful greeting card, and explained and expounded with a personlized message. I really believe the key to creating experience gifts is to consider HOW you hope the gift will be EXPERIENCED, and share that with the recipient!
For example, when giving a gift card for a hotel stay or airline ticket, you could mention the hope for a "cozy weekend getaway to kick up your feet and relax." Or for a pass to a local museum, you could share how you've "been so inspired by art, and hope for many hours of inspiration for you in this coming year."
Adding a specific, thoughtful note inside the perfect gift-card holding greeting card makes the gift feel so much more meaningful, and creates this lovely anticipation for the experiences to come. I was so excited when I browsed the card section at Target and found  a huge variety of thoughtful, funny, and creative gift card specific greeting cards. Not to mention the entire carousel of gift cards available, many of them for experiences. It was a great place to build up my idea bank of creative, interesting, and thoughtful but still super simple gift of experiences ideas.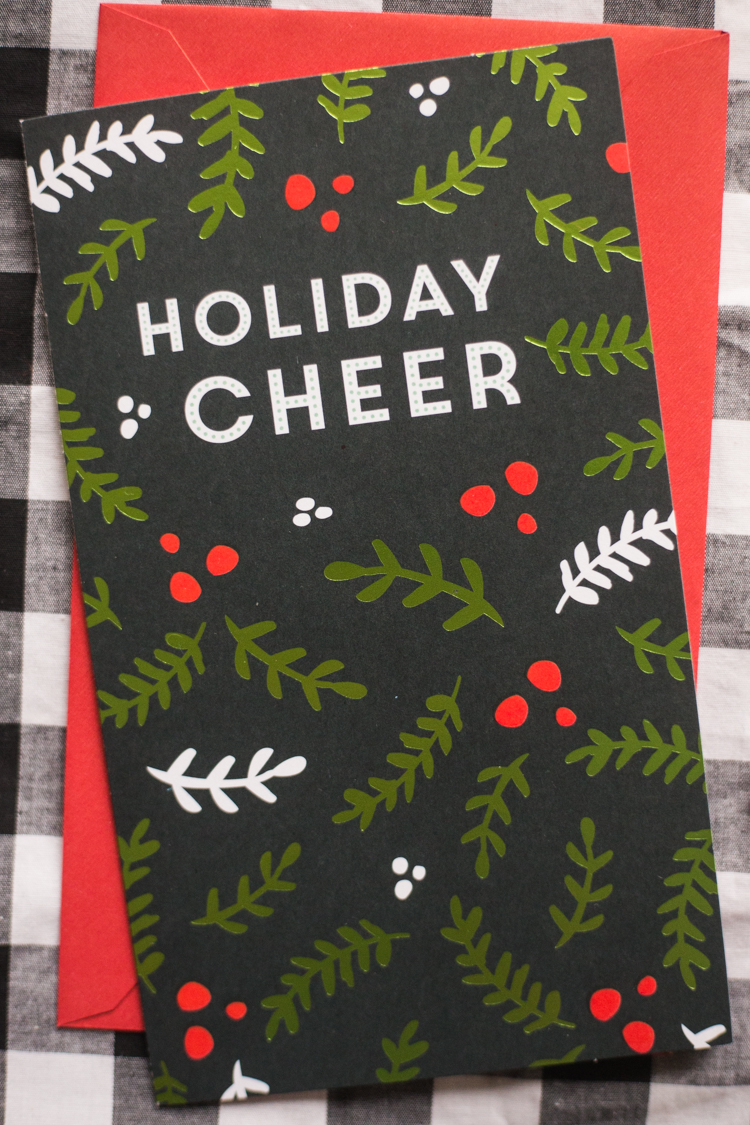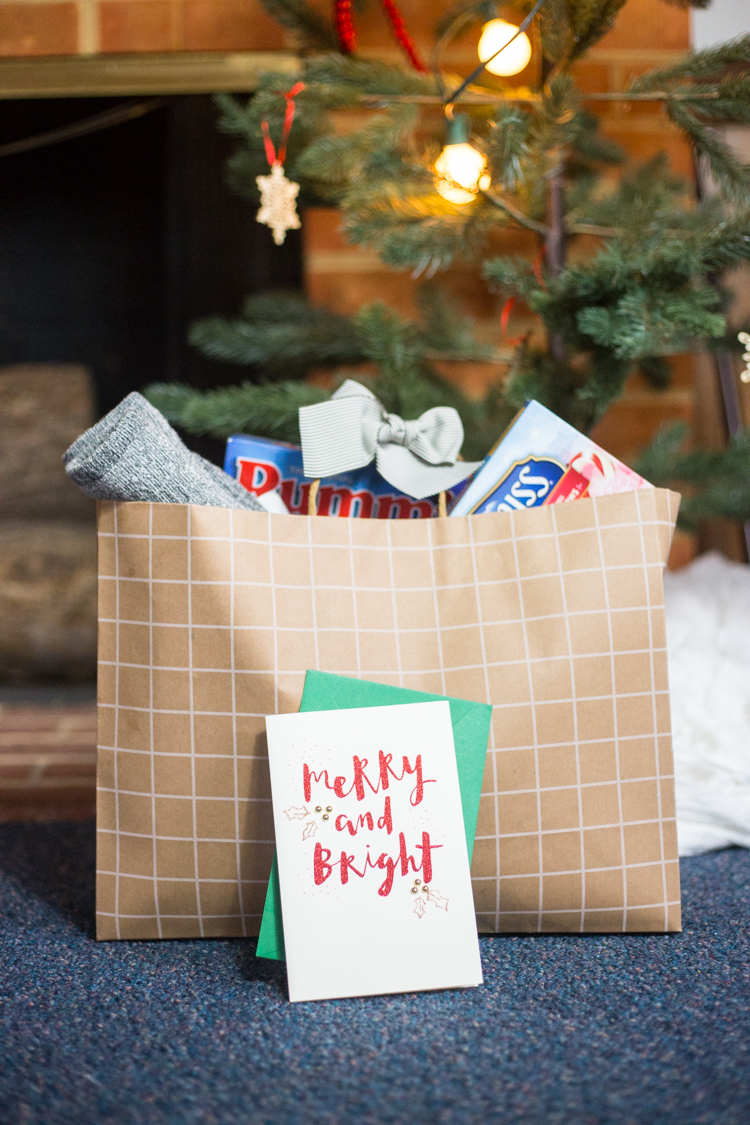 The second half of my gifts of experience are gifts that contain products and treats, but turns them into an experience with a little creativity.
Sometimes it feels more substantial to give gifts with some "stuff" included. Maybe because it's tradition, or it is fun to watch someone open a gift rather than a card. I prefer the former, because then we are not adding to someone else clutter. However, when this type of gift are done very intentionally, I think it is really fun to create the experience around whatever the gift might be. That story is included as a thoughtful message inside the greeting card, to convey all of the experience with the gift!
One example is a family game night gift, that includes a favorite board game, a treat like hot cocoa or popcorn, and some pairs of cozy socks for the family. Then, in the card include how much you love this game, and hope that the family will enjoy a fun night together with the gift.
I was talking to my sister about this, and she asked, "What about a shirt?" Which is a great gift, and also takes a little more creativity to turn into an experience. One way might be to add something: a gift card for a hot cocoa, or a movie pass. Another is to simply think about HOW you hope the gift will be enjoyed, and share that in the greeting card. For example, " I saw this ruffled button up and immediately thought of how much you love the ballet. I think it would be so pretty in the theater, and hope you enjoy wearing it at to a show, or anywhere!"
See how a basic gift can be easily elevated into an experience with a little thought and love?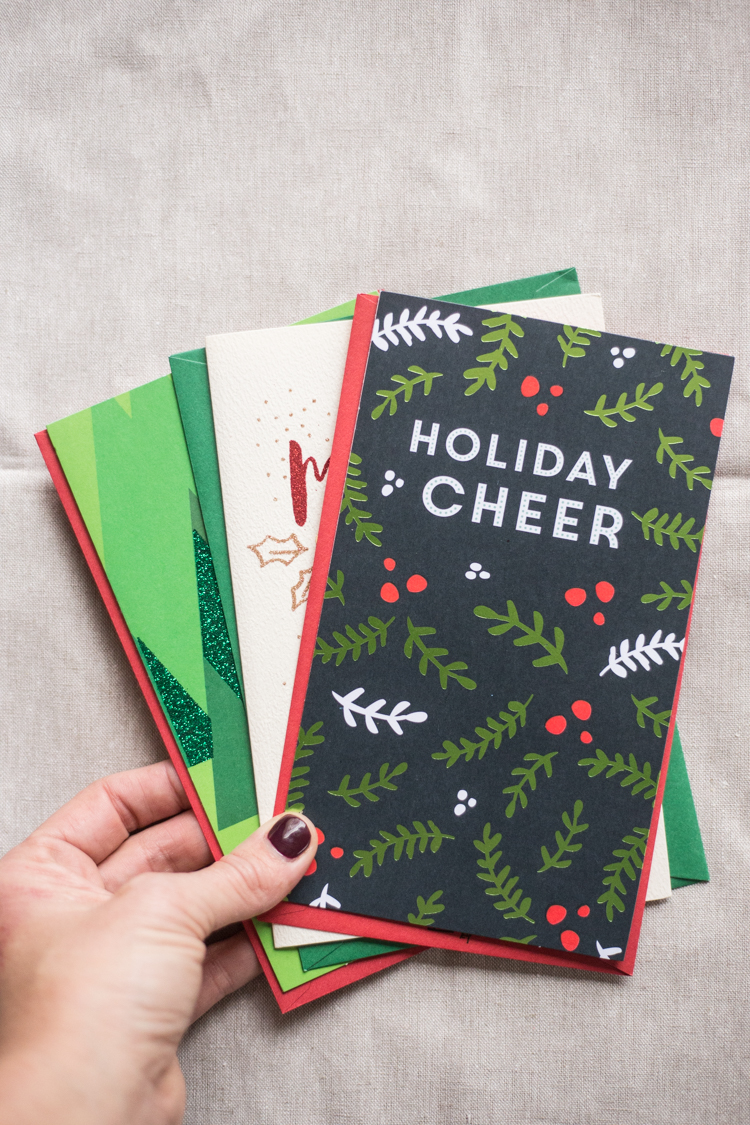 The key is in the message, or the story that you tell surrounding the gift of experience.
I think sometimes we get so wrapped up in the stuff of the gifts, we forget about the message with which we give it, and that really makes all the difference. Having a thoughtful greeting card with an intentional message to include with your gifts will not only elevate the experience for the recipient, it will also add so much depth, value and meaning to your experience as the giver.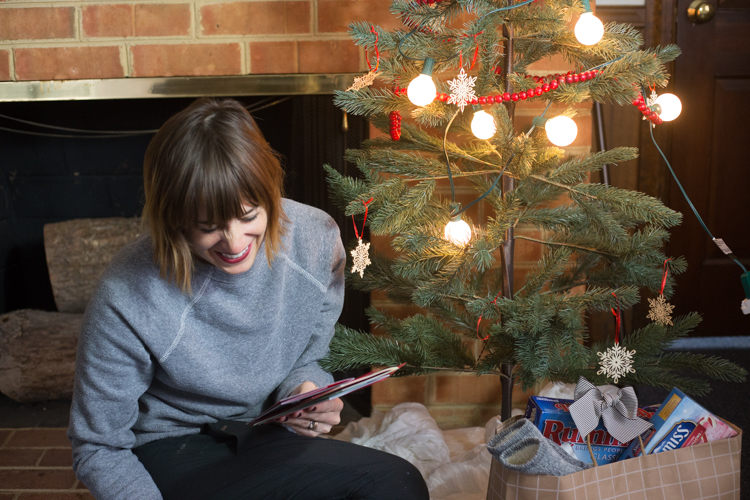 So, to get you started, here are 50 Gifts of Experiences you can give this year. Remember you can turn anything you love into a gift of experience with a little thought and creativity.
LOCAL MUSEUM PASS with a message of exploration and living local.
MOVIE TICKETS with a message of a night out.
HOTEL VOUCHER a message of relaxation.
AIRLINE VOUCHER with a message of a getaway.
CONCERT TICKET with a message of music appreciation.
THEATRE TICKET with a message of enjoying the arts.
NEW RESTAURANT VOUCHER with a message of local foodie vibes.
OLD FAVORITE RESTRAUNT VOUCHER with a message of tradition.
THEME PARK PASS with a message of staying young.
MASSAGE CERTIFICATE with a message of self-care.
RENTAL CAR PASS with a message of a day of adventure.
CERTIFICATE FOR A CLEANING SERVICE with a message of taking a break.
NAIL SALON VOUCHER with a message of pampering.
COMEDY SHOW TICKET with a message of shared humor.
KAYAK/CANOE RENTAL PASS with a message of adventure.
COOKING CLASS TICKET with a message of learning and love of food.
SEGWAY TOUR PASS with a message of discovering the city.
ART STUDIO CLASS PASS with a message of constant learning and creativity.
PHOTOGRAPHY CLASS PASS with a message of capturing those memories.
CAFE GIFT CARD with a message of cozy mornings.
LOCAL SPORTING EVENT TICKET with a message of cheering together.
FLOWER SHOP VOUCHER with a message of enjoying beauty at home.
GOLF ROUND PASS with a message of enjoying a nice day.
LOCAL CHEESE TASTING VOUCHER with a message of learning together.
CLIMBING GYM PASS with a message of adventure.
FAMILY GAME NIGHT, with a board game, treats, and socks.
FAMILY MOVIE NIGHT, with a DVD rental, popcorn, and a blanket.
FAMILY PICNIC, with a blanket, and grocery gift card.
FAMILY HIKE ADVENTURE, with water bottles, granola bars and a favorite hike recommendation.
FAMILY ART DAY, with fun craft supplies and an organizer.
HOME SPA, with favorite lotion, bath bomb, and a scented candle.
BOOK LOVER COZY KIT, with a favorite book, snack, and slippers.
HOME HYGGE KIT, with a candle, notebook, and fresh plant.
BAKING DAY, with a fun apron, new whisk, and a brownie mix.
NEIGHBORHOOD EXPLORER, with a notebook, gloves, and a map of the neighborhood.
CHRISTMAS MORNING KIT, with waffle mix, syrup, and a set of pretty napkins.
CELEBRATION IN A BOX, with a candle, balloon, confetti, and a pretty cake stand.
NEW YEAR KIT, with a bottle of bubbly, and a 2018 planner.
HOME MEDITATION MOMENT, with a salt lamp, candle, and a pretty throw.
DATE NIGHT KIT, with a new lipstick or tie, a scent, gum, and a pair of earrings or a watch.
GARDEN EXPERIENCE, with a pair of garden gloves and a gift card to a nursery.
TAKE THE DAY OFF, with a certificate for take-out with paper plates, cups, and cutlery.
ROAD TRIP KIT, with favorite snacks, coloring books and crayons, and a battery powered vacuum.
HOME SODA SHOP, with ice cream, whipped cream, root beer, striped straws, and float cups.
CLASS PASS, with a voucher for a local class and all of the supplies needed.
GAME DAY KIT, with a logo wear tee, chips and salsa, and a six pack.
LEGO BUILDING HOUR, with a new lego set and the commitment to build it with the child.
HOME ORGANIZATION KIT, with a few plastic bins, and a commitment to help organize.
INDOOR CAMPING KIT, with a new thermos, sleeping bag, and a constellation guide.
FAMILY FORT KIT, with a couple flat sheets, c clamps, a string of lights, and a flashlight.
Okay. That will get you started with both the gifts of experience that don't involve any extra stuff, as well as some creative ways to turn a gift into an experience.
When shopping for your holiday cards this year, be sure to check out the fun and festive options offered by American Greetings at Target!
Happy Holidays!
SaveSave
SaveSave
SaveSave
SaveSave
Five Days to Freedom: Tips for Choosing Less Stuff and More Adventure in your Daily Life
Five lessons with practical tips and exercises to help you feel more in control of your life!