Episode 59: Less Stuff Equals More Focus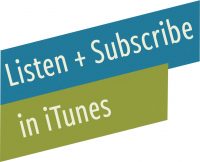 Introduction
Hello. Hello. I hope you're having a fantastic day. Week, month, year. You guys, can you handle? It's almost the end of the year. What is even happening?
I'm Miranda Anderson, the host of this show and this is Episode 59: Less Stuff Equals More Focus. I've talked about less stuff before and I've talked about focus before and this is actually a special episode because I'm sharing the audio from chapter eight of my recently published book, More Than Enough. There is a story in this chapter that I shared this past week.
Speaking In Temecula, California
I went to San Diego to speak at a conference called Hatched Collective and it was incredible, so powerful to get together with 150 like-minded women who are interested in building businesses and also interested in building beautiful lives. And it was just empowering to be around people with such good energy. San Diego is gorgeous and delicious. We actually spent the retreat time up in Temecula, which is wine country.
And every morning, because I was on East coast time, I woke up at like three or four in the morning. I would lay in bed, sort of resting, meditating, and like daydreaming almost. And then as soon as I saw that the sun was starting to come up, I would hop out of bed, usually around like five forty-five or six and pull on my running shoes and go for a run to watch the sunrise over the vineyards.
This is an experience that I did not expect as I went to this retreat. I had no idea what Temecula was like or I just didn't have any expectations. Going into the event weekend and I was blown away by how beautiful and how powerful everything was.
In my talk, which was about The Power of Enough. I shared a story that comes from this chapter of the book and of course the story comes from our year of practical minimalism. The More Than Enough Stuff Challenge, which if you're unsure what that is, you can go back to the beginning of the podcast and listen to the episode. I believe it's episode four about our year of not shopping.
A relatable story
I loved, as I shared this story about cleaning out my kids' toy room. How many people understood I was looking around the audience and eyes were on me and people are nodding in agreement. Understanding that this is a, that when you are actually removing things that it can create the benefit of increased focus, increased engagement, increased imagination, and increased creativity. That is what this chapter of the book is about and this is a fun sneak peek.
For those of you who haven't read the book yet or who haven't listened to it on audio, it's available on Amazon as a hard copy or as a Kindle book and if you aren't audio person, which I know you are at least a little bit, you're listening to a podcast, you can find the full book on Audible. I recorded the audio book myself and it's kind of fun to hear me actually read my book, which is what you're going to get a sneak peek of today.
If you've been listening to the podcast for a long time. I have shared a few other chapters from the book on the show and so you can go back and listen to those if you need some more context or if you want to. There's an introduction and the prologue and also chapter four is available about the idea of more versus enough, which actually was the other piece of my talk kind of goes hand in hand. So before I get started today when I have a really, really quick segment peaks of the week and then we'll dive right into the chapter.
Segment: Peaks of the Week / Sustainable Fashion
Today my peeks of the week are surrounding the idea of ethical fashion or slow fashion or sustainably sourced fashion. I have talked a lot about how I have a capsule wardrobe and I don't buy a lot of clothes. I also have realized that sort of the next phase in maybe my progression regarding minimalism and it's sort of, this is like an incubator here.
I have thought that because I buy so little in regards to clothing and I do care that the things that I buy last a long time and that I loved them…I thought it could be just nice for me to take it one step further than just buying things that I love and that fit well and that look nice into also being intentional about where those things are coming from and how they're being made. I know this could be an entire podcast episode.
And in fact, just as I'm talking about it, I'm like, yeah, let's go there sometime soon.
But for today, I was so lucky at this conference to be introduced to a couple new brands, new to me, brands who are sustainably sourced, who are supporting communities around the world, and who also have really beautiful, really incredible pieces. And so today I want to share three specific companies that I want to support and that I believe in their mission.
And I, I think that if we do have a choice and we do about being more intentional about our clothing purchases or shoes, what have you, that we can maybe, I think one thing that's difficult for people is that they don't exactly know where to begin. And so I want to share a couple companies that I came across this week that are doing just this. So that being a little bit more intentional about the things that you choose to wear is not difficult than it actually can be easy. And it can be beautiful and it can be a fantastic way to take your intentional living one step further.
Okay. So number one is a company called Mar Y Lana in Spanish. That means sea and wool.
This company creates really beautiful all WOL ponchos. So I had one actually rolled up in my gift bag. I was a speaker at the event and so I got this beautiful gift bag and inside it had what I, what I thought when I first looked at it was a woven blanket and I felt it like I reached in the bag and was Ooh, that's so cozy. Like it was really soft and delicious. And then I pulled it out, it got colder at night and Temecula and we were hanging out outside having a little mingle and I had my bag with me and I was like that. I just, you know, they just given me.
And so I opened up the bag and thought I'm going to wrap myself in this blanket. And I pulled it out and it had, it was the size of a blanket almost, but it has that line up the middle from the neck line down the front so that can wrap over you like a poncho. If you don't know what a poncho is, Google you'll, you'll get it. It's like a wearable blanket, basically kind of a cross between a blanket and a scarf and it, this company is incredible.
Joanna, who owns Mar Y Lana is Colombian by birth, but she grew up in the United States and felt disconnected from her Colombian heritage. And so she connected with some artisans who are traditional weavers in Columbia and her company now supports these communities of traditional leaving, keeping it this art, this, you know, thousands year old art of weaving from wool alive through also providing gorgeous, long-lasting, handmade ponchos that are super cozy, incredibly beautiful and something that you could wear over and over and over again.
I can see this just being a staple in my wardrobe, which is actually all that I'm looking for when I'm considering my wardrobe. I just want staples. I just want things that I love and that I can wear in a lot of different settings and that will last for a long time and this is what Mar Y Lana is.
Please go to the show notes and check them out if you're in the market for some warmer weather gear as we're going into the fall season. A beautiful handmade wool poncho that's also sustaining a community and supporting a global tradition is something that you may want to check out.
Second is The Flourish Market. This is an incredibly curated boutique, both online and a brick and mortar shop in Raleigh, North Carolina where the owner Em Sexton has created relationships with vulnerable communities around the world in order to provide micro economy opportunities and also fair wages so they can support their families and their communities.
For example, handmade leather bags from Ethiopia where they're not just manufactured in Ethiopia. She knows the women who design and create the bags and ensures that they are being paid living wages so that they can not only survive, but that they can thrive and continue to build and help in their communities as well.
One of the incredible things about The Flourish Market is that you might stumble onto their website and feel like you're just shopping a really cool boutique. So if you're looking for a couple pieces to add into your fall wardrobe or a new pair of boots or like one really beautiful leather handbag, it is non specific, they have, it's just so well curated with a lot of different beautiful clothes that are all made fair trade in the USA. And then a percentage of the sales goes directly to a charity that impacts the greater good worldwide handbags made in Ethiopia, boots made in Peru.
All of these things that are curated so that the communities who create the goods not only survive, but that they thrive and are able to continue to give back and even prosper in their own homes. I love The Flourish Market.
I, this is new to me and like I said, I don't buy a lot of clothes, but The Flourish Market makes it really easy that the next time I do need a new long-sleeved t-shirt or a pair of black ankle booties for the fall to kind of complete my capsule wardrobe so that I can, you know, and you know, I wear things on repeat, repeat, repeat, but it takes a lot of the guesswork out because I can go to their site.
Kind of like when I shop at Trader Joe's and I feel like I know that there's no weird chemicals and all of this food. Like I just feel like I can walk in and confidently shop knowing that I'm going to buy things that I love that also are healthy or healthier. That's how I feel looking at The Flourish Market website. That I can be confident that when I spend my money with them that it is doing good in the world and supporting communities that really need it.
The last one I want to share today, and this has gotten me so pumped up that I am really excited to record an entire episode about just deeper diving into some sustainable lifestyle choices and maybe providing a longer list of resources for people who like me are interested. And like sometimes it's confusing to know where to start. So we just shop on Amazon and go to Target when there are better options available. So I'm going to work on that. But in the meantime, let me share number three with you.
Shop Kamili this is a bracelet company. That's all they sell. Beautiful beaded bracelets made right here in Richmond by some incredible women who are also refugees from The Democratic Republic of Congo. I learned about Shop Kamili when I was invited to one of their events here in town and heard their whole story about how the owner of the company got involved with a local refugee connection and support service. She realized really quickly that there was kind of a difficult thing because the refugees were provided with some basic necessities, but they didn't speak the language. They had families to take care of. It was really difficult to figure out how to integrate quickly in a way that they could again, thrive, not just survive but thrive.
And so Shop Kamili was born out of this problem. Now a whole community of refugees is able to earn above living wages and share all profits from the company working from home as they create these beautiful, simple, a little bit boho beaded bracelets that are super fun to stack and layer and are also fun to give as gifts.
I have a little stack that I wear super often that just interacts well with things and it's fun when I have such a basic wardrobe to throw on a little accessory and feel like I am not only upping my outfit a little bit, but I'm also supporting a local community and that I feel connected. Not only do I am I able to feel beautiful and put together, but I'm able to feel connected like I'm making an impact with something as small as buying a bracelet.
Sustainable Fashion Peaks Of The Week:
I'm going to have links to in the show notes to all of those shops. And especially as we're like, I don't know, it's kinda funny.
I will right up front say that it's really difficult sometimes to walk the line of there are really cool things that I want to share with you. And at the same time I also want to share the message continually that you do not need more things, that you don't need to buy stuff all the time that you can probably do without.
And my message from my Peaks of the Week today is that if you are looking for something that you do want to add to your life, maybe we could be a little more intentional about how we do that and where we buy it. And so here's some very beginner resources for you to be able to do that. So the irony and the paradox is not lost on me, but I am doing my best to encourage you and myself to make small, reasonable changes so that when we do need things that we can also be thoughtful, but with the way that we add those things to our life. Okay. That's all for the peaks of the week. Enjoy the episode. I'll catch up with you on the flip side.
Main Topic: Miranda Reads Chapter Eight of "More Than Enough"
Chapter Eight
Less Stuff Equals More Focus
I held my breath and waited for a fall-out as the kids ran into the playroom for quiet time. While they were at school I had systematically organized their toys and books, eliminating well over half of the stuffed animals, action figures, trucks, and blocks from the bins beneath the window. I was careful to only remove those toys that never seemed to be played with. The ones they tossed onto the floor as they dug for what they were really looking for. But I was curious to see if they would notice, or if they would simply play with their favorites without feeling the loss.
Toys had always been a complicated dance for me as a mom. I loved a few simple toys. My very favorites were the artsy wooden variety that cost way more than expected and looked prettier than they might have actually been fun. I found a few affordably priced wooden blocks, cars, and rattles at flea markets and a couple special ones at museum art shops and posh baby boutiques. I also had a thing for small, plastic animal figures. We had a whole set of really amazing plastic dinosaurs, and enough other animals to fill a tiny zoo.
These types of toys felt to me like the kind that inspired imagination. They didn't presuppose a certain type of play, instead invited the child to create new worlds and invent new games. They were also much more exciting for me than my kids, who seemed to flock to anything with lights and stickers, and if it made sounds it was a surefire hit. So I compromised. I would keep the artsy toys I loved as decoration, if nothing else. They would live on shelves and night stands. The other toys would live in bins or baskets, out of sight when not being actively played with. Only the errant (and disconcerting) "beep" or "boop" coming from the bins in the middle of the night to remind us of their presence.
In the years since we first began collecting toys, I had tried several different systems to keep them stored, organized, and accessible without taking over the whole house. I rarely bought toys myself, yet between birthday parties, Christmas gifts, and grandparent visits, we amassed healthy a pile in a few short years. I found myself cursing the seemingly bottomless bins of toys. We had baby dolls and race cars, Lego sets and army men, remote control cars and electronic action figures. The playroom was meant to be a place to play, but so often the floor was covered entirely in toys and, because of the mess, the kids would bring their chosen play thing into the kitchen or living room to have space to actually play. Something had to give.
It was our year of letting go of stuff in exchange for gratitude, patience, and abundance. So, while the kids were at school, I had systematically reduced the excess to create room for "enough."
In some ways, the toy purge had been emotional for me. At seven, five, and three, my kids weren't babies anymore, and even though they had developmentally passed beyond needing stacking rings and sensory balls, actually donating them felt like acceptance of a new chapter in my life as a mom.
I comforted myself by conjuring up an image of another young mom hitting the jackpot as she stumbled upon a whole bag of almost-new baby toys at the thrift store. Deep breath. This was good for me … and for her.
Five minutes into quiet time, I peeked through the doorway of the room and saw the boys happily building with Lego, their current favorite activity. Plum was giggling as she pulled books off of the shelf, which was her favorite activity. No one seemed to notice that the toy bins were lighter and the room a bit emptier—except for me. And I was thrilled!
…..
Deciding to not buy non-consumable goods for a year didn't only impact Dave and me, but our children as well. The morning after our decision to undergo The Challenge, we sat together around the breakfast table and presented our plan. The boys, being a bit older, understood that we were saying no new toys or clothes until next year. They seemed unconcerned about clothes, but curious about the toys. What would happen if they wanted a new toy?
Until that point, although I wasn't buying toys and games weekly, it was not unusual for us to motivate good behavior or household chores with a trip to the toy aisle for an inexpensive addition. I always wondered how worth it that really was, as they seemed to misplace and break their toys as often as we bought new ones.
I explained that if we needed something new to play with, we could be creative! We could use craft supplies to make something, or go outside and find some sticks and rocks to use as toys (a game they played all the time, anyway). We talked about how we could make a list of special toys they wanted and consider buying them after the year was over. If they happened to get a toy in a happy meal or at a birthday party, we wouldn't take them away. We just wouldn't buy them any ourselves. As the year went on, I slowly and intentionally pared down our toy collection. Every time I removed a few things, I wondered how it would affect the kids' play time. Not at all, it turned out!
The kids simply played with what was there, without worrying about what wasn't. Not only that, but they seemed to play happier and longer with fewer toys to decide between. They no longer had to make big decisions or big messes before getting into an imaginary scenario with their tiny Lego men or baby dolls.
I shouldn't have been surprised. I knew full well that kids adapt easily to playing with less. On vacation, they make up games with travel-size soap containers. On the beach they play for hours with seaweed and sticks. They never complain about not bringing all their toys on family camping trips. Why would it be any different at home?
My first experience with toys as a mom had been years before, in a small apartment in the Washington DC area. We had moved there for Dave's graduate studies when Milo was just four months old, and settled into a 900 square foot apartment easily. Since there wasn't a proper playroom, I stored the bins of fresh-smelling baby toys in baskets in the living room where they could both be easily accessed and easily hidden.
During the day, I would lay out a blanket, put little Milo down on the floor, and surround him with brightly colored toys to grab and toss. We rolled balls together, built block towers, and shook that little geometric wood and elastic bell rattle until our ears rang. The toys were easy to toss back into the basket at the end of play time, and after bedtime the living room felt like a relaxing place to hang out with friends and enjoy some cozy conversation.
A couple years and another baby later, the apartment was feeling a little smaller, and two small toy baskets no longer accommodated our collection. Rather than give any away, I started to rotate them. One box of toys went into our small storage closet in the basement while a few lived in the living room bins. Every few months I would switch the toys out, and it was as if the kids had a whole new set, even though they weren't truly new.
It seemed like a good system. My boys were happy, and the apartment wasn't quite as overrun with toys as it could have been. Interestingly, as I look back on this time, the toy rotation was more for me than for the kids. I was attached to the toys we had chosen, so rather than whittle down to the space we had, I created a system where we could store the excess and enjoy them from time to time.
Truth be told, even though I felt like I was rotating them often, I probably realistically only switched them out once or twice. The toys in the storage room were out of sight, out of mind to me until I needed to retrieve holiday decor or something else from the basement locker. I likely would not have noticed if they had altogether disappeared.
When our third baby was on the way, we moved to Austin, Texas for Dave's new job. We bought land in a suburban neighborhood and began to build a house. Unpacking all the way into a temporary apartment didn't seem smart, especially as I was very pregnant, so we kept most of our boxes in storage and lived with a minimum level of everything for the interim. One plate and fork for each of us.
Again, the boys seemed happy as could be with the small handful of three or four toys that we had out for them to play with during the six months we lived in the apartment. We spent most of our time outside, where they were always entertained. On rainy days they played pretend, ran around with towel capes tied to their backs, and invented games with some tiny plastic army men that had made the toy cut. I don't know if they noticed that the majority of their toys were gone, but if they did it didn't bother them.
Plum was born two weeks before Christmas, the same week the house was finished. We moved in on December 23rd. Rather than buying any new toys for the kids, Dave and I had hatched a plan to create a real playroom for them in the room the floor plan listed as "the office." We would decorate and fill it with all of their old toys. After six months, we figured they wouldn't remember most of them, and we needed to unpack anyway. It seemed like the perfect plan.
Christmas morning, the boys found the French doors to the playroom wrapped with paper and tied with a bow. They pushed them open to reveal a simply decorated room with a new soft rug, bookshelf filled with their old books, a couple comfy floor cushions, and two toy bins filled up with their old toys.
They were beside themselves! They happily dug through the bins, oohing and aahing as if this was the first time they had seen these things. They were once again so easy to please. Another few years later we had another big move. Midway through The Challenge, we again packed up everything we owned and headed east, back to Virginia. Our next house would be less than half the square footage and several rooms smaller than the one we left in Texas, and I was equal parts nervous and curious how the smaller space would work with our now bigger family.
All three kids moved into the same room that also doubled as the toy room, using a bunk bed with a trundle to fit comfortably. The small room also accommodated one skinny bookshelf, the mini kitchen where Plum cooked all of her pretend meals, and a dresser for their clothes. The multiple boxes of toys we had brought from Texas once again needed some attention, and we sat down to sort them.
The toys we definitely wanted to keep went into a small basket, and everything else went into a donation bag. I moderated, helping the kids decide which toys they not only liked the idea of, but also played with often. The two small boxes of Lego stayed, as did Plum's favorite Cabbage Patch baby doll, a set of small plastic animals, one favorite Iron Man action figure, and an Etch A Sketch game.
Once again, I realized how adaptable kids can be. Their ability to play only seemed to increase even as our toy collection decreased. All three kids were happy playing with what we had, whatever that happened to be.
Through a whole year of not buying new toys, the only time I heard them complain about toys was occasionally when we were actually in a store passing the toy aisle or when they saw an ad for something new on TV. They loved the idea of having more or different toys, but it didn't actually impact them at all to not act on that desire.
This ability to focus more with less stuff doesn't only affect young kids. Teenagers and adults benefit from less stuff the same way kids do. The more clutter in our homes, the more mental energy we spend maintaining it.The things we own have to be cleaned, organized, stored, and sometimes even used. The Pareto principle says that only 20% of our things are used 80% of the time. As we reduce the other 80% of our stuff, we only gain time, energy, and focus.
Most adults don't have bins of toys to sort through, but we all have our equivalents. Mine is a craft room full of colorful supplies ready for my next project. The problem with a full room of supplies is that I often feel distracted by it all. Where do I even begin with so many possibilities?
As I organize, donate, and reduce my craft supplies, my focus and excitement for creating increases exponentially. Just like the kids, I will use what is there so much better if what I keep is only the very best. Rather than feeling the stress of all of these unfinished projects, piles of unmet potential and undiscovered possibilities, I realize it is very freeing to simply let them go! Donate the fabric I had bought for that baby quilt and was never going to make. The baby is now in second grade, and I'd rather reserve my energy for new, exciting projects than feel the pressure of past projects not yet begun.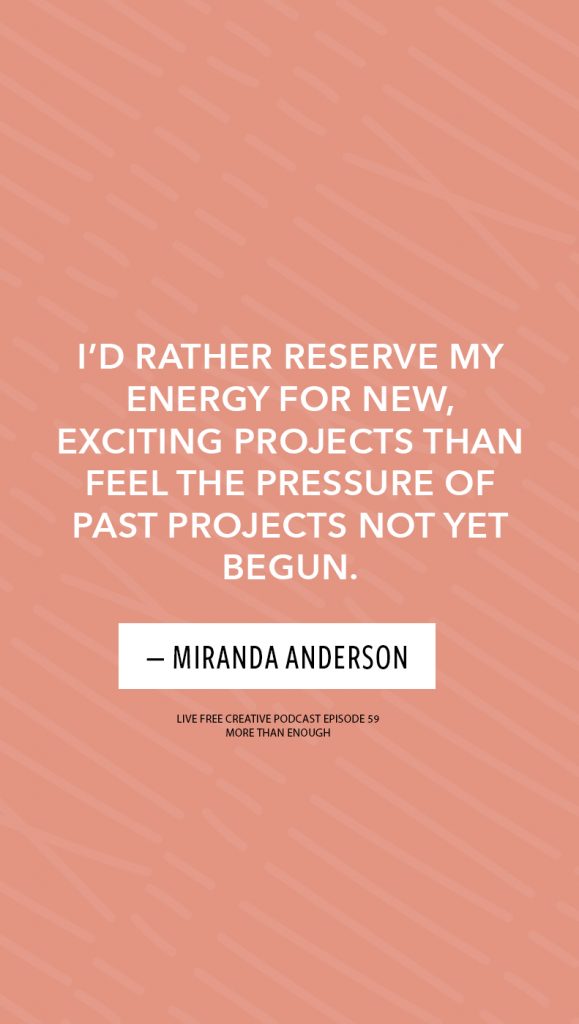 …..
What is your hypothetical toy bin? What area of your life could benefit from more focus as you organize and reduce the stuff? As you begin making decisions about what to keep and what to let go, be aware of all of the many benefits of the latter. Letting go means freedom to live presently, meaningfully today. You will gain focus and clarity as you cut out the fringe excess and keep only what matters most and brings the most joy and value to your lives. Choose something, and give less a try. Start with a temporary solution, and put a pile of things away in the garage or the attic for a time. See what you miss, if anything.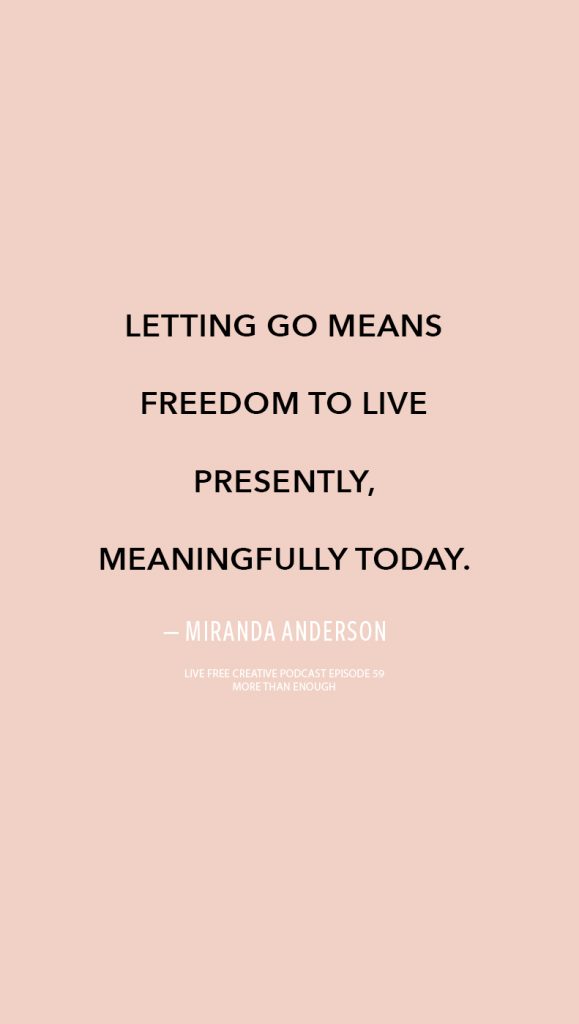 Life will go on happily as ever and you'll be able to breathe easier with less clutter and more focus in your home and life. That's a good feeling.
Conclusion
I hope you enjoyed this chapter of my new book, More Than Enough. It is available on Amazon, Kindle and Audible. You can also request a copy at your local library so that you and others in your community can read it for free and without taking up any of your bookshelf space.
There are three main ways to support the podcast. If you're loving this show and you want to share it with others, that is always so appreciated.
You can subscribe, share the show with your friends or on Instagram and leave a review.
Also, last month I launched a Patreon so you can become a patron of the podcast at a couple of different membership levels. If you go to the show notes or just head straight to patreon.com/livefreecreative, you'll be able to check out all the details and decide what types of bonuses you're super into. I hope you enjoyed listening to a little sneak peek of the book and I can't wait for next week's episode, episode 60 I'm recording with my husband. He's coming back on the show and we're going to record a little bit about marriage to celebrate our anniversary. Have a great week. Until next time, bye!