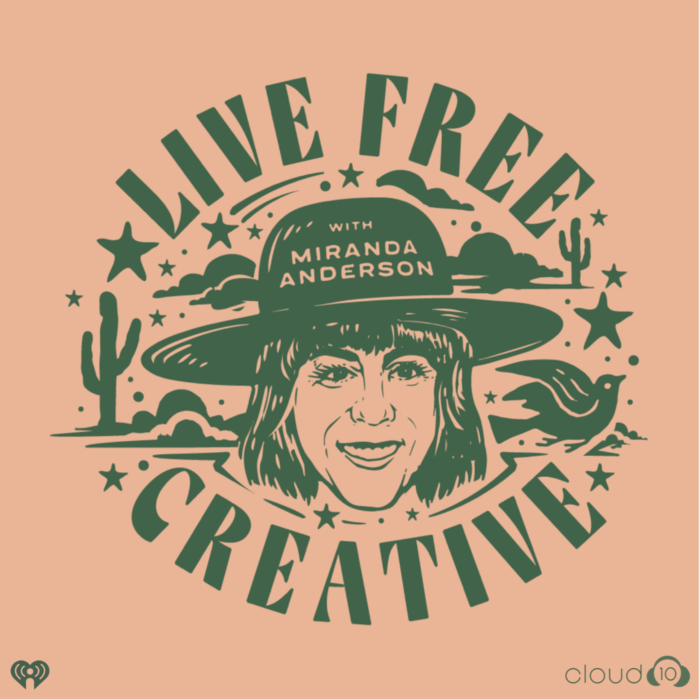 Episode 200: 20 Ways to Feel Better Right Now

Introduction
You're listening to Live Free Creative, an intentional podcast with practical tips for living your life on purpose. I'm your host Miranda Anderson. And I believe in creativity, adventure, curiosity, and the magic of small moments. I hope that every time you listen, you feel empowered and free to live the life that you want.
Welcome back to this show. You're listening to Live Free Creative podcast, episode 200.
You made it. You're here. I love celebrating milestones, small and big. This is a fun one.
The last time we celebrated a hundredth episode was two years ago and the show just continues to roll along. I hope you continue to love it as much as I do.
I have a special episode for you today. I did a poll on Instagram with my community about which episode between a couple choices people were interested in hearing and the episode topic that won was '20 ways to feel better right now.' That is the episode that I'm gonna share with you today.
I'm going to give 20 interventions–research-backed interventions to help you feel just a little bit better right now. Hopefully it'll be just some tools in your pocket for when you're having a rough day or things are spiraling a little bit mentally or physically that you can feel a little bit better.
And I'm pulling out all the stops for this episode.
So I have a free PDF download that includes all of these tips. You can print them out. You could tape it on the inside of a cabinet as just like a reminder. You could fold it up and put it in your planner so you can refer back to it.
When you're having a hard time or just maybe when you're neutral and you're like, gosh, I'd like to feel a little better–this is what you could pull out and look at and try one of these things out.
They only work when you do them. So just hearing about them isn't going to help a whole lot. They are all interventions to be applied to your life. And I can't wait to share those with.
Along with the episode and the free download, I have a 200th episode giveaway and some fun podcast products that are dropping for the first time. Let me tell you a little bit about both of those things.
So the giveaway, the 200th episode giveaway, is being hosted on my website livefreecreative.co/giveaway. If you head there, you can see there's a few different options for how to enter, including: subscribing to the podcast; sharing it on Instagram; texting it to a friend; leaving a written review and rating.
Those are things that matter a whole lot in the podcasting world. And if you haven't done that yet, it's a huge way to earn yourself some entries into the giveaway.
Let me tell you a little bit about the prizes. I have four prizes for the 200th episode giveaway. Some of these were suggested by the community over on Instagram, and I appreciate the suggestions and some of them are going hand in hand with the product release.
1. Ticket to Summer Camp
So the first grand prize giveaway is a ticket to Summer Camp 2023. I told you all about summer camp a couple episodes ago. The second annual summer camp was this year in Virginia. It was an incredible summer camp.
Summer Camp 2023 is in the works for July in Montana. I am solidifying details and venue and chef and all of those things right now behind the scenes.
And the grand prize winner of the 200th episode giveaway will get a ticket for free. It's about a $1200 to $1500 value. I can't wait to meet the winner, whoever you might be, at Grownup Summer Camp next year in Montana.
2. Camp Swag Bag
The second place prize is a camp swag bag. I take great care to put together really cool and sustainable and beautiful and valuable products into my welcome bags for my retreats.
And I had several people suggest that I give away one of these welcome bags to a giveaway winner. So if you weren't able to make it to camp this year, and you don't know if you're gonna make it next year, let me give you a camp experience in a bag.
This includes some of the products that I mentioned a few weeks ago in the peaks of the week on the show.
That's a Cotopaxi Fanny pack, a Wild Wander bandana, a Nomadix towel, a Stanley water bottle, a flashlight, a sticker, a field notes notebook with a Muji pen, and a few camp treats thrown inside.
So it's about $150 value and a really fun, beautiful, and very useful, welcome bag full of camp supplies.
3&4. New Sweatshirt & T-shirt Designs
The third place and fourth place winners are going to get products from the brand new Live Free Creative podcast product drop.
I have a sweatshirt and a t-shirt both that are really cool Live Free Creative podcast designs. You'll have to head over to the show notes, to check those out at shop.livefreecreative.co.
The third place winner will win a sweatshirt and the fourth place winner will win a t-shirt.
I will reach out to you for your sizes. Those will be ordered. They're specially made for each individual when they're ordered.
I love that I don't have to stock inventory of these. It's a more sustainable model where they are print on demand. So when you order a sweatshirt or a t-shirt, it's printed and sent directly to you. So there's not a bunch of them sitting in a warehouse somewhere.
I love these t-shirts and the sweatshirt. I ordered some for myself as samples, just to make sure that they were good to go. And they're really cool.
The sweatshirt comes in either a mauve or a dark green with light peachy pink print. And it's this really cool kind of bandana design. Again, you're going to have to check it out on the show notes.
And then the t-shirt comes in a navy blue with a great mustard yellow design with a cactus and some birds on the front, and then Live Free Creative podcast on the back.
These are all designs that have come with kind of the new branding that happened at the beginning of the fourth season. And if you don't happen to win one of the prizes, you can go grab yourself a sweatshirt or a t-shirt to show your support of the podcast.
You can sport your Live Free Creative podcast swag around town. When people ask you about it, you can let them know about this show. If you're a longtime listener, I'm thrilled to give you this option to wear your loyalty to the show right on your back. And the products are really beautifully made and really high quality.
So happy 200th episode! Head to livefreereative.co/giveaway, or check it out in the show notes so that you can enter to win one of those four amazing 200th episode prizes. I am so thrilled to celebrate with you. And I appreciate all of your support.
Now let's jump into a quick Life Lately segment.
Life Lately
As this episode airs, we are in the middle of August. I know some of you have kids that have gone back to school. Mine still have a week and a half before they begin. We are soaking up these last few days of summertime, of that slow schedule.
We've had a really easy going summer. We didn't travel much. We stayed close to home, did a lot of walks to the ice cream shop and sitting by the pool.
We did a readathon, which is really fun. Spent a whole day reading library books at home with treats and have just settled into what felt like a really slow simple pace. And I appreciated that a lot.
After my episode about slow productivity a couple weeks ago, it was ironic that I got the bug to paint the house.
So I had mentioned in that episode that it had taken me six months to finish one room in our new house. And I went and got some paint and just painted a little bit every day for about a week.
I'm Painting The House
And so now our dining room and our kitchen are fully painted. They're not fully decorated yet. Not everything's installed the way that I hope that it will be at some point in the future, but at least I got some paint on the walls and trim so that it feels a little bit more finished.
Before that, for about the last two months, three months, there were paint samples up on the wall, meaning that I got a brush and just slapped some paint on a quarter of the wall, brush strokes and everything.
I know a couple of my neighbors wondered if this was a new, modern-art aesthetic that we were pulling off in the house. And no, in fact it was just me getting a little bit of paint on the walls to determine whether or not I like the color.
That project is done for the most part right now. And I'm feeling good about it.
School Begins in September!
Another big piece of life lately is that I have been working on summer homework. I'm starting graduate school in a couple weeks. September 7th is my first official day of school.
And for the last three weeks or so, I've been working on summer assignments. That includes reading articles, reading books, chapters of books, and submitting both assessments online, as well as actual written papers.
It has been quite eye-opening. I don't think that I remembered or maybe had a handle on exactly the quantity of work that would be involved for this degree.
I'm really excited about it. The lucky thing about graduate school and particularly this program for me–the Master of Applied Positive Psychology at Penn.
The beauty of it is that I am super interested in every single thing that we're learning: the science of wellbeing, positive interventions, research methodology.
These are all things that I'm super excited about and interested in. So the work hasn't at all felt tedious or felt like busy work. I'm super engrossed in it.
I also didn't realize that it's going to take as much time as it actually is taking. And I haven't even officially begun. So I am just giving myself grace and recognizing that I need to set time apart specifically for working on school every single week for the next year as I work on this program.
And I am going to do some bonus episodes throughout the year. In addition to the weekly episodes that I post here on Thursdays, I'm going to throw in some bonus episodes, maybe even weekly, just quick updates on what's happening in the program and what I'm learning about so that I can take you along for an inside track. And I hope that you enjoy those. They will begin when I begin next month.
Finally, I want to give you a little update on life lately as far as Live Free Creative the business goes.
Upcoming Live Free Creative Events:
I have a couple upcoming events that I think some of you may be interested in and some for the future that I want to get on your radar in case you're interested.
Creative Camp
The first event that I have coming up, the final retreat of 2022, is Creative Camp, November 9th through 13th. It will be at Isle of Palm, South Carolina.
Creative camp is a deep work weekend with a small group of 12 women, both creative entrepreneurs, writers, general creatives, and women who are hoping to just take a little bit of time apart from regular life in order to focus on something different.
Sometimes that something different looks like writing a manuscript or working on the back end of a business. Sometimes it looks like taking a nap and reading poetry and catching up on family journaling.
We've had women from all different aspects of life attend creative camp, and every single one comes away feeling like they are renewed, replenished, and that they have this special kind of inspired productivity that is really unique to the camp experience.
There are only a couple spots left for Fall Creative Camp. If you are either burned out or worn out and feel like you could use a little bit of space to focus on yourself and get to some of those things that you've wanted to do for yourself. This could be the right place for you.
Also, if you are an entrepreneur or a writer or a painter or a creative in some other methodology, there's a project or an idea that you haven't had the bandwidth to work on along with all the other things that you're doing in your regular life, this is space and time set apart where you can really leave behind everything from home and come work on something specific for four days.
It's an all-inclusive experience with daily mindful movement, yoga meditation, all the meals are prepared on site by a chef. We have a massage therapist come on site for massages.
We do an outdoor adventure. We have lots of deep work focused uninterrupted time, as well as some community peer reviews and hot seats and some one-on-one coaching as well.
It's a really incredible unique experience. And if you feel a tug to join us, visit livefreecreative.co/camp to get all of the details.
If you want to come to camp and fall, doesn't work for you, there are already seats available for spring camp, that's in the end of March, 2023. It will be hosted at a beautiful venue in Southern Utah. All of the details for that camp as well as an early bird discount are also available at livefreecreative.co/camp.
I already briefly mentioned that Summer Camp 2023 is in the works. And I have an email list for people who are interested in all of the details of Summer Camp 2023. That's going to be happening in Montana in July of next summer.
There will be tickets available for registration this winter ahead of the holiday season, just in case you want to add it to your wishlist for Christmas or for Hanukkah or for the holiday season.
I will have all of the tickets and the information for that available soon. So visit the show notes for where you can enter your email. If you're interested in grown up summer camp for next year, and I'm just gonna sneak peek a little drop right now.
Shhhhhh… a Couples Adventure and Connection Retreat, 2023!!!
Not all of the details are settled yet, but fall of 2023 next year–early November–I am going to be hosting a couple's adventure and connection retreat in combination with Kristen Hodson.
You heard it here first. I didn't even tell her that I was gonna mention it. There is going to be very limited number of couples who will join us for a week long adventure and connection retreat in Costa Rica.
It's going to be amazing. So just keep it penciled in your calendar for next November. If you are at all interested in joining us for a couple's adventure and connection retreat in Costa Rica.
Okay. Those are all of their retreats coming up. I've got fall. I've got spring. I've got summer. I've got next fall.
The last life lately that I need to update you on is that Decluttered, the course, is open for registration right now. Decluttered is my six week signature decluttering course. It's an intentional living master class where we go through your head, heart and home creating space for the things that matter most that includes some actual physical decluttering and organization tips.
We talk about discovering and defining your personal values so that you can align your behaviors and your actions with them. We talk about decluttering, your schedule, and your belief system about managing your energy, and about creating the life that you really want to live.
This is only open twice a year.
Decluttered is a really fun group guided program. So the door is open. We all begin the program together on September 19th.
If you are a person who loves coming to group calls, there is a live call once a week as a group, that's a group coaching session and lesson.
If you are not a person who wants to join a live call and you wanna do it on your own, that is also available to you because all of the calls are recorded. You can listen to them at your leisure.
In addition to the live call, there's also a weekly lesson with a workbook assignment every week. Six weeks of focusing in on your head, heart, and home, getting rid of what doesn't serve you anymore. And opening up to the things that do.
I have guided close to 300 women through this course over the last couple years. And the testimonials are that people feel like they are getting to know themselves. And finally living out the way that they want to live for the first time maybe ever.
I have heard that it's a really fantastic reset, and that's why I do it in January and September, because I think those are the times of year that we're all a little bit ready for a reset.
I notice myself even going through doing a little bit of decluttering and organizing and trying to get back to a routine as this beginning of the school year's happening. We're heading into the fall season. It's a perfect time to just take inventory of what your current habits are and make the necessary changes so that you're living aligned with your intentions moving forward through the end of the year.
All of the information for Decluttered is available in the show notes. You can join me for this six week course. Registration is open now and we begin on September 19th.
That my friends is life lately.
Main Topic: 20 Ways To Feel Better
Are you ready to feel better now? I've divided today's '20 ways to feel better now' into four different categories, with five interventions in each of these categories. So five simple tips to help you feel better in each of four separate areas. I'm gonna go through these one by one. And remember there's a PDF worksheet that has all of the notes for all of these on it, in case you want to stick it somewhere and not forget about it.
Physical
The first area I'm gonna cover is physical our bodies. What can we do with our bodies in order to feel a little bit better right now? Do you use your body in order to feel better? Do you notice how your body is very connected to the way that you feel? The way that you're thinking about things? The way that you're processing through emotions?
I've often heard that emotions are actually energy in motion. It's different types of energy frequencies bouncing around inside of us. So it makes sense that we could use our body, our physicality to manage or change some of the frequency of that energy.
Here are the five tips for feeling a little bit better by using your body.
Box Breathing
Number one is box breathing. Have you heard of box breathing? It became really popular, I don't know when, but the big kind of famous thing that I've heard about it is that it's used by the Navy seals in order to control anxiety when they're out in the field on a dangerous mission.
It's something that I've also heard when I've been in the therapist office with my children. It's a tool that we've been taught in order to control and manage some of the anxiety that some of my kids experience.
Box breathing is a pretty simple practice and it's really powerful. It can regulate our heart rate and bring down our stress level.
The skill is breathing and counting. So it's called box breathing because you can imagine a box with its four sides. As you're doing this type of breathing box breathing is in for four counts. So inhale 1, 2, 3, 4, and then hold. 1, 2, 3, 4, exhale, 1, 2, 3, 4, and then hold 1, 2, 3, 4.
You can visualize your inhale being the box. One side of the box drawing up the holding at the top as the box moves over the ex exhale is that dissent of the box. And then the holding at the bottom is the final line to complete that box.
Doing some box breathing. Inhale, hold. Exhale, hold. Over and over as you can actually feel your heart rate decline. You can feel all of that heightened energy dissipate and feel a little bit better as you come back into your body. Whether you've been experiencing grief or sadness or frustration or stress, this won't erase those emotions, but it will settle you in and allow you to feel them so you can also release them.
Number one, box breathing.
Walking
Number two is to go on a walk. I have an entire episode about the benefits of going on a walk every day. The research over and over shows that going outside on a walk increases so many different wellbeing statistics and decreases a lot of negative things that can happen.
Get outside on a walk, even if you're in the office and you just need to get out and walk around the office. If you're at school, you need to go get outside and walk around the school.
I think it matters that you're outside. I think that makes a difference in the quality of the benefit that you're gonna get from going on a walk.
I like my walks to be 15 to 30 minutes, sometimes longer. And even a five minute walk will give you the reset that you need to feel a little bit better.
Dancing
Number three is also physical. This is dancing it out. Turning on your favorite song and just allowing yourself the freedom to bust a move.
You can be in your kitchen. You can be in your bedroom. You can be in your office. You can be on the bus or the subway.
Turn on those headphones and let yourself just dance. I actually just saw a really funny video on Instagram of this great big, strong man writing a motorcycle. He was like quite a presence. And he had Taylor Swift's Shake It Off blasting on the motorcycle and he was jamming to it. And then as he rode away, raised his hand up in the air, was bump, bumping along to the song.
Sometimes just turning on a song with a great beat and allowing the beat to move through our bodies and to dance it out and to shake it out. Dancing it out is always a good idea.
Mindful Stretching
Number four. A slower process. Doing yoga or some sort of mindful stretching has been shown to help your overall sense of wellbeing and presence.
So it doesn't have to be an hour long yoga session. You don't even have to put on the cute outfit and go to your local yoga studio. You can simply do some stretches.
Touch your toes, reach up to the sky, reach over and bend to the side. There's also some really great free stretches available on YouTube.
Sometimes I forget about how many things are available at my fingertips. I overcomplicate thinking I need to sign up for a new thing or I need to buy cute outfit, or I need to go to the particular place and have my mat out and do everything just right.
Just a little bit of stretching, a little bit of mindfulness as we're using our body and extending it and feeling where we reach our limits, that will bring us back into our physicality.
It brings us back into the present moment in a really important way.
Eating an Apple
The fifth and final tip for the physical arena to help you feel a little bit better right now is to eat an apple.
Stay with me here.
I love Michael Pollan and Michael Pollan has this saying that says if you're hungry, eat an apple. I think that–again, like the overthinking, the yoga–sometimes I also overthink if I'm a little bit hungry or a little grumpy, I need something over the top or I need some specific thing.
And the truth is eating a good apple always makes me feel good. The crunch and the sweetness and the fiber is good for you. And the way that you just feel a little bit connected when you're eating right off the core. I love just biting an apple right off the core.
There's a reason that there's a saying an apple a day keeps the doctor away. Even though it might not keep the doctor away, it's a good, relatively healthy, whole food that you can eat at almost any time.
It packs well. I love to throw an apple in my work bag because it's not going to–it's not like an orange or a peach or something–that'll get smashed in the bottom of my bag. It just holds itself and is great. It's a reminder to just keep it simple and to try to get back to some wholeness in our nutrition.
An apple is going to make you feel better than a lot of things, unless you're allergic to apples, which I actually haven't heard of anyone that I know allergic to apples, but I'm sure there's someone out there.
Don't eat an apple if you're allergic. Other than that, I bet an apple will make you feel good.
Social
Let's move into the second realm of feeling good. The second category of interventions that I have for you today is social humans are inherently social creatures. We thrive in a setting where we belong. In our modern society, we have lost a lot of that inherent sociability that existed in earlier times when we were dependent on each other for food, for hunting and gathering, for child rearing.
We did so much together historically that these days we don't even have to do. You can order almost anything you need directly from your phone without ever having physical contact with anyone.
And while it seems like that makes life really convenient, it actually takes away a huge part of our wellbeing, which is our social lives and our connection to other humans. The five tips for this area are all simple and all things that you can do very easily.
An Act of Kindness
The first one is a small act of kindness. I remember growing up there was this phrase, random acts of kindness. I don't know, is that a movement that still exists?
We would have random act of kindness week at school, and we would try to look for simple ways that we could help out someone's day anonymously, and then we'd write them down and stick 'em up on the school walls. And the whole school would be covered with these colored papers, with random acts of kindness, written all over them.
When was the last time you reached out with just a simple act of kindness for someone. Volunteered to help someone with something, dropped off a small gift for someone just because you noticed it and you were thinking of them, made a donation of something that you're no longer using that that someone else could use.
Small acts of kindness help us feel connected. And they help us feel valuable. Like we have something to offer to the world, to humanity.
And they're so simple. In fact, sometimes we forget about how much of a difference we can make with these simple acts of kindness.
I was recently reading a book and it struck me. One of the main character would always pick up two cups of coffee in the morning. She lived in New York. I don't even remember the name of the book.
But she would come down from her apartment on her way to work and she would buy two cups of coffee and then she'd hail a cab and she would give one cup of coffee to the cabby, whoever it was.
She didn't know who it was. She didn't even know if they drank coffee or what they liked in their coffee. And yet this was a random act of kindness. Every day it was just part of her routine to give a cup of coffee to someone in need. Every day.
I loved that extension of herself feeling like she could not only do something for herself that she needed and focus on her day, but that she was always thinking about the next person she would encounter and what they might need.
So think of a small act of kindness that you could do to help yourself feel a little bit better.
Call A Friend
Number two is to call a friend. I am going to put a caveat that you can also Marco Polo, a friend. You could text a friend.
I think that there is something really special about the lost art of talking on the telephone with people. I loved talking on the telephone as a kid back before texting and all of these other things were even available. I live far away from my family, and so I routinely talk on the phone with my mom and my sisters. I call friends.
Reaching out and connecting to someone and sharing our voices and having a conversation is something that we miss out on in the world of technology.
And so while I will say reaching out on Marco Polo is great, reaching out on Voxer or sending a text message, a kind text message, just to connect to someone those all work as well.
I think the most powerful way to feel a little bit better is to call a friend and sometimes that's what the other person needs right then too.
Have you ever had a friend call you just for fun? Like in the last couple years, have you had a time where someone called you and just said, Hey, I just was thinking about you. How are you doing? I wanted to catch up.
It means a lot to be thinking of someone and to be thought of. So number two is to call a friend.
Visit A Local Shop
Number three is to visit a local restaurant or market. You don't even have to buy anything, but being connected to people in your community who are the owners of local businesses helps you feel like part of that community going to a local coffee shop.
Going into a local bookstore, going to a local family owned restaurant, these things help you feel like part of the fabric of the area in which you live.
And again, because of the way that our culture and society has developed, so many of those little things are being erased.
We can click and buy from Amazon. We can drive through a Starbucks and yet we miss, with those things convenient as they may be, we miss the connection that's available through visiting and becoming patrons of our local businesses.
Play A Game
Number four is to bust out a game to play with your family or friends. This one solves two things. One is the connection, the human connection. The other one is play.
Play is almost always social. Fun is almost always social. The connection that we have in sharing unique, engaging experience with other people is part of what makes it fun and what makes it feel like play.
Something even as simple as tic tac toe can help you feel a little bit better right now, unless you're a sore loser.
So you need to keep your competition in check when you're playing a game. Remember that it's lighthearted and that it's supposed to be fun.
Playing with someone else will often make you feel a little bit better.
Donate
The final invitation to feel a little bit better socially is less about social, like friends and more about social as far as our community itself.
The final tip is to donate, even a small amount, to a cause that you feel strongly about. Make a monetary donation to a charity that you appreciate the work that they're doing.
There is great research that shows that simple even anonymous donations boost the wellbeing of the donor, at least for the end of the day. And sometimes even for longer.
Giving a little bit, even if it's just a little bit, even $5, to a cause that you believe in helps you feel connected. Even though it's not in-person connection, you feel like you have something to give and you are being supportive of something that aligns with your values, and that will help you feel a little bit better.
Mental
The next two categories are gonna feel a little bit similar, mental and emotional. I tried to tease out a little bit of difference between these two. That one tends to be a little more cognitive and one a little bit more sensation, emotion. They're all interwoven, intertwined, but let's start with mental.
So the five tips that you can use your mind to help feel a little bit better are these.
Assuming Optimism
Number one, the optimism assumption. With this practice. The idea is that you take whatever situation you find yourself in right now, whatever circumstance it is, nd you assume that it is positive. You assume that there is something going right in it for you, even if your mind wants to tell you that everything's going wrong.
The truth is that usually, almost never is everything going wrong. Usually at least something is going right.
In this mental practice, and I actually want to invite you if you do this, to write it down, I want you to write down what are the things that are going well right now.
What are the strengths? You don't have to pretend that everything's going well but in the optimism assumption, you are assuming that there are some things that are going right, and you're choosing to focus your attention on those.
This doesn't equate to toxic positivity. It doesn't equate to forgetting about or brushing under the rug the things that are wrong, that you want to change.
Instead, it helps you focus your mind on the things that are going well, on the strengths of the situation and on your personal strengths that you bring to the circumstance.
And that will always make you feel a little bit better.
Be The Main Character
The second tip in this area is to reframe and to bring main character energy to your circumstance.
Reframing is just an idea that you take whatever is happening, and you think about it in a new way. And the way I want to invite you to think about it in this tip is as yourself as the main character in a movie or a novel.
And imagine what energy, if you were writing this novel, or if you were in charge of this movie and that main character is going to prevail in the end, this is the hero story of that main character.
What energy would that character be bringing to his or her current situation?
This is you in your situation, but when you separate yourself out from it and reframe and refocus, allowing yourself to recreate the scenario with main character hero energy. You're gonna feel a little bit different about it. I guarantee you're gonna feel a little bit better.
It will also help inform what actions you might want to take next from a place, not of a victim, but of a hero. This is your story. It's your life. What does that person want to do?
And from that situation, you can move into positive motion, taking steps towards solutions and towards your own benefit.
Focus on Strengths
Number three is another mental exercise, focusing on your strengths. And I want to again, invite you with this tip to get a piece of paper and a pencil out and write down some of your personal character strengths.
What are some things that you are good at? Sometimes this is a really hard exercise. Some people have a harder time coming up with strengths of their own than others.
I want you to dig deep, to think about compliments people have given you, to think about what you were good at in school. What you used to enjoy.
Write down some of your strengths and then allow yourself to feel those and to appreciate the strengths that you have and ask yourself how you can move forward in your life, in your current situation, focusing on and capitalizing on your strengths, despite your weaknesses.
We all have weaknesses. We all have things that we're not good at, or that, we wish we were better at, but what are the things that you are already pretty good at? And how can you use those for your benefit?
Process Disappointment
Number four might sound a little counterintuitive, but it's a really powerful evidence based intervention.
In this practice, you are going to set aside some time to process disappointment.
I love the definition that I heard a couple weeks ago of disappointment as being the space between your expectation and reality. Where what you hoped would happen and where you actually are in between there, that's the level of disappointment that you may be feeling.
And sometimes it's expectation of yourself. Sometimes it's expectation of the world, of someone else, of a particular product or program of a relationship. Often when we have very clear expectations. We also have to process through some disappointment because the reality doesn't always match those expectations.
In this intervention I want to invite you to create some space to process your disappointment. And I'm going to give you an acronym for how to do this.
The acronym is RAIN. It was coined about 20 years ago by Michelle McDonald. And it has four simple steps.
R is to recognize what's going on.
A is to allow the situation to be as it is, to just allow the emotions and maybe the disappointment and all of the other emotions that may be coming along with your situation.
I is to investigate and get curious about the experience that you're having, the things that you're thinking about. And investigate with kindness, use kind words in your investigation, in your head, be gentle with yourself as you investigate the way you're feeling.
And finally N stands for natural loving awareness or nurture, nurture yourself through this experience.
Give yourself the love that you might need as you're processing through some of these emotions. That is the simple acronym of RAIN for processing some disappointment and negative emotions.
Savor The Present Moment
And the number five tip is to savor the present moment through a grounding meditation. Savoring is what happens when you allow yourself to blissfully enjoy to its fullest a moment of pleasure.
This can be a taste. It can be a song. It can be a feeling like luxury in the soft Minky blanket that you have, or to let that chocolate slowly melt in your mouth and just savor every bit of it.
Oftentimes for me, savoring involves closing my eyes so that I can really zone in on the sensation of that experience.
This may feel like a combination between a mental–it's everything, it's a mental and emotional and physical. Oftentimes the savoring we're doing is with our body, but the way that we're thinking about it and allowing ourselves to be grounded in the presence of that moment is something we're going to do with our mind savor and experience of pleasure. And you will feel a little bit better right now.
How are you feeling so far? All of these simple interventions to feel a little bit better right now we've gotten through 15. Are you ready for the next five?
Emotional
The final category of tips to feel a little bit better right now is emotional.
Gratitude
The first one is something that I love and that I talk about all the time that is to exercise gratitude.
And specifically, I want you to write what went well today or yesterday and how it went well. What were some of the contributing factors to things going well?
Even if a lot of things went wrong today or yesterday, some things went well. And being able to focus on those and express and feel gratitude for those can be a positive and powerful buffer against the negative emotions that tend to take over when we focus on what did not go well.
So write down and appreciate what went well.
Forgiveness
Number two is a forgiveness exercise. If you're someone who is struggling in some relationships right now, you're feeling some tension or frustration with people in your lives, or with yourself, maybe with your past self, with some choices that your past self made that you are living with, the consequences of this exercise can be beneficial for you.
The idea is that you write down the person and the wrong that was committed and that you take a moment to close your eyes and breathe in and exhale forgiveness for that person and that circumstance.
It can be your parents. It can be your coworker, the principal at your school. And like I mentioned, it can be yourself.
Allowing forgiveness so that you can feel a little bit better. Not because whatever happened you are okay with, or that you're gonna forgive and forget.
Forgiveness allows us to be a little bit more free to feel a little bit better. It benefits us as a forgiver. So this process and this exercise can be helpful for you to release some of that negative emotion that comes with holding some of those grudges and feel a little bit better.
Positive Affirmations
Number three, tip number three in the emotion category is positive affirmations. Do you know why you hear so much about positive affirmations right now? They're buzzy in the wellness world because they are shown to work. That's why. Because evidence shows that when you actually verbalize, vocalize things that you want in a positive way, that you recognize those things, that you are more likely to feel a little bit closer to them.
So an affirmation like: I am strong. I am capable. I am joyful. I am kind. I am worthy.
These affirmations actually start to change the way that you think about yourself and change the way that you feel using positive affirmations. Even if you might feel like it's a little hokey, sometimes it can actually help you feel a little bit better.
Gamify the Situation
Number four is something that I read about that I think is really an interesting idea that involves getting yourself into micro flows throughout the day. When you might otherwise just be tramping through a mundane task. You can actually gamify the situation, the task at hand, in order to be in a micro flow.
So I don't know if we've talked a lot on the podcast about the idea of flow. I think that it's fairly ubiquitous out there that you would've heard of the idea of flow, where you are in a state of a challenging experience that you also have the skill to match it. And you forget about time.
You're in a flow state where you almost don't recognize as time is passing because you are so engrossed and present in your activity. It's a really good feeling process.
This is like a basketball player in the middle of a game. That's their best game or if you're a painter or a writer. Or you like to go on a long run and you get in into a flow where you don't even recognize time anymore, that's a flow state.
And this is an invitation into micro flows throughout the day.
The best way to do this in as far as the article that I read was to gamify something. So one idea might be, if you're waiting in traffic, that you tap out a percussion that goes along with the sound of the music on your steering wheel so that you're listening to some music and you're tapping along according to the beat and you are able to get lost in that moment of the music and the tapping and the beat, instead of being focused on and frustrated by the waiting in traffic.
This also could be like doing the dishes and you use a good smelling soap and warm water, and you allow yourself to be really engrossed into the process of scrubbing the dishes.
Now, this sounds silly, right? But allowing yourself to get in moments of deep presence even throughout the day in Monday and tasks helps you feel a little bit better rather than trying to escape the task and ignore it to dive a little bit deeper into it and experience it even more fully can help you feel a little bit better.
Big Picture Thinking
And the final intervention that I wanna share with you today, number 20, is big picture thinking. And the way that you use this tip is simply to ask yourself a couple questions.
Will this thing that I'm worried about right now, will it matter next week? Will it matter in a month? Will it matter in a year?
Will the thing that's frustrating me right now be something that I need to think about far into the future?
And if not, maybe I can let it go a little bit. If not, maybe I can release my grip on the way I think it should be.
Allowing ourselves to take that wide angle perspective on our lives. And a lot of the things that tend to bring up negative emotion in our lives are small things. They're simple things.
They're minor annoyances that if we allow to overtake the rest of our day, if we pay attention and give our energy to those small things, we're going to feel not great most of the time.
And yet when we can step aside and let the small things fall and allow ourselves to just focus our main attitudes and energy on the things that matter a lot to us and the things that we have a level of control over so that our impact towards those things actually makes a difference.
We're gonna feel a lot better, not just a little bit better, but a lot better.
Recap
I'm going to go through these 20 tips again, and then remember that you can download a PDF with all of these listed on them on the show notes, livefreecreative.co/podcast, or just find the link like in the podcast player notes, you can find it there as well.
Number one, box breathing.
Number two, go on a walk.
Number three, dance it out.
Number four, yoga or stretching.
Number five, eat an apple.
Number six, do a small act of kindness.
Number seven, call a friend.
Number eight, visit a local shop or restaurant.
Number nine, play a game.
Number 10, donate to a charity that you believe in.
Number 11, assume optimism.
Number 12, reframe the situation.
Number 13, write out your strengths.
Number 14, process your disappointment withRAIN.
Number 15, savor the present moment.
Number 16, write a gratitude note about what went well.
Number 17, do the forgiveness exercise.
Number 18, recite some positive affirmations.
Number 19, allow yourself into some micro flows in your day.
And number 20, look at the big picture.
Here is the truth, small things make a huge impact on the way we feel in our everyday lives. It's only through the actual application of these tips that you are going to reap the benefits, not just listening to them, but actually choosing one or two and doing them.
Print off the worksheet and stick it up in your cabinet, so that the next time you're feeling a little down, you can practice some of these tips to feel a little better.
Conclusion
I want to thank you for tuning in to Live Free Creative podcast on this, the 200th episode of the show. We are nearly four years of weekly episodes with Live Free Creative, and I hope that you have felt a little bit better as you've listened along the way.
My goal from the beginning with this show has been to help you feel a little bit more free, to give you ideas for feeling creative and adventurous and intentional in your life so that you can live aligned with the things that matter to you. So you can wake up excited about the life that you get to lead.
I hope that these 20 tips will be useful right now and in the future.
And you can teach them to your kids, teach them to your friends, allow the goodness and the happiness that you feel to extend beyond yourself, to fill yourself up and then spill over into your family and in your community and into the world, making it a better place for all of us.
If you enjoy the podcast, I want to invite you to leave a rating and a written review on apple iTunes.
It always is beneficial. And this week it actually also gets you an entry into the 200th episode giveaway.
So if you haven't yet left a rating or review, or you haven't in a while, you can go leave another one, update it and let others know what you like about the show. As a reminder, all of the notes are always available.
A full transcription of the show at livefreecreative.co/podcast. This is episode 200. You can enter the giveaway there.
You can also sign up for one of my retreats. Register now to join us in the six week intentional living masterclass starting September 19th.
And if you'd like to work one on one with me, I have a couple spots available right now in my creative mentorship coaching program. You can find the details for that at patreon.com/livefreecreative.
Happy 200th episode. I will be back next week. Same time, same place. Catch you then. Bye bye.