Episode 53: Letting Go When Things Don't Work

Introduction
Hello, hello. Another week, another show. So happy to be here. That sounded a little bit like a Dr. Seuss rhyme there for a minute.
You're listening to Episode 53 of Live Free Creative, and I am your host, Miranda Anderson. Today's show is all about knowing when to let go when something just isn't working, despite all your best effort.
I'm excited to share this episode today. It has caused me a lot of reflection over the last month–and, in fact, because of some of the things that I have realized pondering this concept of when to know if something isn't working, I'm making some big shifts in my own business. So I hope that you are able to find some. It's insight for your own life as well.
Before I get started, today's segment is going to be a beautiful Magical Adventure Moment.
Segment: Magical Adventure Moment
Today I was reading in the backyard with my daughter, Plum.
We were laying in the hammock looking up at the trees. It's cooling down a little bit in Richmond, so it was probably only 85 degrees instead of 95 degrees. There was a little breeze blowing through and it was just so relaxing.
It reminded me of a time close to a dozen years ago when I had that same feeling of just floating, laying on my back, but instead of being on a hammock in my backyard, I was lying on a pool flotation device.
Railay, Thailand
I don't know what those things are called. I call it a floaty, not very romantic name. I'm sure there's some name for them, but one of those blow up floating devices, kind of like a lounge, a pool lounge chair that floats on the water and I was floating on a pool at the base of these incredible cliffs in a little town in Thailand called Railay.
Dave and I had gone to Thailand to celebrate my graduation from nursing school, and we spent over three weeks backpacking through Singapore, Malaysia, and Thailand. And close to the end of our trip, we decided to go to Railay, which is a small place that is only accessible by boat and it's very well known for its rock climbing because of these huge cliffs, that tower right over the beaches, sheer cliffs that dropped down right to the water.
It was really funny that after spending close to $5 a day total during our time backpacking–that included all of our food transportation and our hotels. Each day was about $5 total for the both of us. We found this guest house, the guest house cost us about $3 to stay in and it was a cool little hut and it had a shared shower that was outside, but a really beautiful pool that was like this tropical getaway paradise.
Vivid Memory
And I have this really vivid memory that I have used actually several times. I used it during my labors and deliveries when I did visualization. This is the scene that came to up back to my mind. I'm lying on this pool floaty on this, just small but beautiful swimming pool looking up at the sky and I can just barely see the sky because of these giant towering sheer cliff faces that go straight up from the jungle skyward.
The sun was beating down so I felt warm. I felt relaxed, I was just floating and it was as if everything paused for this moment and my mind just captured it like a snapshot. It's one of the most peaceful and relaxing and magical memories that I have of that trip and also of many, many trips that I've been on. My mind goes back to that moment as just one of presence and mindfulness and gratitude and clarity.
All of my life had led me up to that point, just floating on the pool in Railay, Thailand with my husband. He was reading outside of the pool and I just had this moment of peace. That's so fun to remember and I find myself in my life now seeking out those small moments of peace where I feel like I can just float for a minute where I'm not needed and I'm not asking a lot of myself and I'm just allowing myself to be, feel the sunshine on my face and the breeze rustling through the towering beautiful cliffs leading up skyward.
Just focusing on the moment that I'm in and the incredible beauty of that.
Main Topic: Letting Go When Things Don't Work
Of course that magical adventure moment was all about a time that felt like everything was going right. Have you had those, think about for a minute, the last time that you felt like everything was just flowing, like you were just right at home in your life, in the present moment.
Isn't that a wonderful feeling when you feel like things are just going right?
I will be honest. That feeling is sometimes hard to capture with our ever changing fast paced world. We often have a list, a mile long of things that we want to be doing next and things that we're looking forward to and things that we didn't do quite right that we're worried about.
Sometimes Things Feel A Bit Off
And often things in our life don't seem to be working just right.
Things sometimes feel a little bit off like you know on a bicycle where the chain is supposed to loop right around all of the cogs. Like I'm just imagining my dad listening to the podcast, I don't know if he listens to the show, but if he did he would be disgraced by me not knowing what the thing is called.
The bicycle chain goes on, but you know how all of those little teeth, they're supposed to catch on a chain hole and sometimes it gets a little bit off and then the whole chain falls off because something just wasn't quite right. One little thing isn't working and then the whole thing can start to fall apart.
A Shared Grocery List
Well, today I want to talk about when things don't work, how to let go, how to recognize what is not working, when it's not working and how to feel okay about that.
This whole topic came up particularly because I was having a conversation with a friend. She was telling me about how she and her husband share a virtual grocery list. They both can add things to the grocery list that they both can access to make it easier so that if one person happens to go to a particular store that they can get things that both of them need.
In theory, this sounded like a really great idea. I didn't even know that shared shopping lists existed, but when she told me about it, it was not with like a, "Oh, you should try this. This is going so well." It was more like, this isn't really working. It causes more friction than it's worth really.
She explained that it was a point of frustration because they put something on the list and someone might go to the store, they would expect that those things had been picked up, but then when they hadn't, sometimes things got missed and it was more like things were actually falling through the cracks more often than they were actually being accommodated by this shared grocery list.
Maybe It's Not Working
And as an outsider, I'm listening to the story and I said, well why don't you just stop using it then if it's not working, like it sounds like it's just not working. It sounds like maybe you should just each do your own shopping or you know, maybe communicated in a different way.
And she kind of sat on that and said, "Oh, like yeah, maybe, maybe it isn't working." She hadn't even really stopped to consider the idea that maybe they didn't have to use this system that they had created.
And I related so much to that idea because we spend a lot of time in our lives creating systems that we expect to be helpful for us. We plan and prepare and carry out things in a in a specific way hoping that we're going to be more efficient or more effective or save more time or save more energy and we want our systems to work and sometimes when the things that we create don't work, we don't recognize that they're not working because we are so committed to the thing that we created.
Creatures of Habit
We're committed to the system we create, we're committed to the process, and I think that not all systems are gonna work and not all processes are worth keeping around for the long term.
The problem is as creatures of habit, we would almost always rather continue to do something familiar even if it's not working, then stretch outside of that routine and try something new that might work even better. We love familiarity and so even if something isn't yielding a super positive result but we're familiar with it, we will often continue down that path.
As humans, it becomes really hard for us to let things go. This is true not only for systems and processes but for business ventures and for ideas that we have. It is definitely a problem when it comes to our belongings.
We've talked about that in several episodes. How people hang on to things because they own them. They wouldn't buy them again, but because they have them, they have so much added emotional value that they keep them far beyond when is necessary. It's hard to let go.
The Formula To Letting Go
As I was talking to my friend about this system, I recognized that there is a truth in this idea that when something produces more negative than positive results, that is a sign that it is not working. When an idea that you have or a partnership that you form creates more friction contention and issues than it does solutions and ease. That is a tell tale sign that it should be reevaluated and likely abandoned for something that is more effective.
Can you think of anything like this in your own life? Are there systems that you've created and put into place that actually feel like an inconvenience to you, but because you created the system and you're kind of rolling with it, you just keep doing it anyway?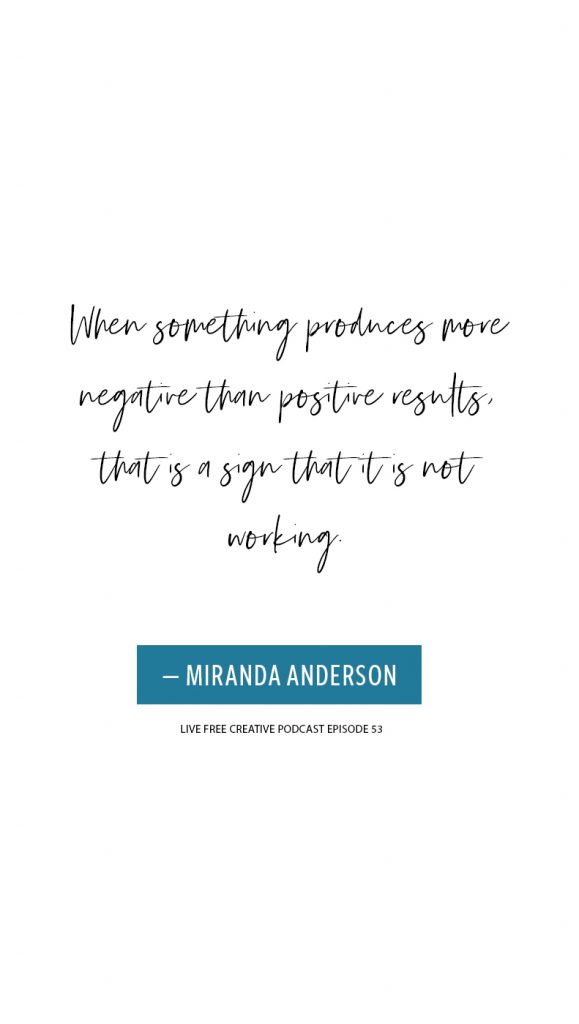 Chore Charts
An example in our life has been several different chore charts. As a mom of three and now my kids are all old enough to have responsibilities around the house and be doing things. I have tried a lot of different chore charts and I will get all the supplies. I'll get all the stickers in the stuff and print things and design them and have them laminated and I get going. For whatever reason, these systems just so far have not worked for us, but it takes me so much hassle and strife.
Strife is a very dramatic word, but my goodness, I will spend so much time trying to remember to check off the boxes and then I forget and so then I go back and check off all the boxes for the days before and then I feel bad that we're not doing the Chore Charts The way that they're meant to be done and I feel like all of the effort is actually causing me more problems.
Then the thing itself, the result that I want is to have children who are competent, who are responsible and who are able to handle parts of the household duties as part of a team and a family, and that is the result that I seek. And guess what? That result should not be sacrificed on the altar of the system itself.
Find Something You Can Let Go Of
Right now for the summertime, we abandoned all charts. In fact, I actually threw away the most recent chore Charts that had been laminated. I felt so proud of myself. I like printed them, laminated them, hung them on clipboards inside the locker in our kitchen and I took them down today.
I threw them away because they did not work and, rather than feel bad about it, every time I opened the locker I just decided because of this process that I've been thinking of, that was something that I could let go of.
The way that chores have been working really well at our house right now is that I asked my kids to do things and they do them and if they don't do them then I take away a privilege or two until they do do them. It's like not really a system. It's just sort of like normal parenting I think and so far we are getting the result of our kids feeling more responsible, taking out the garbage, helping clean up their rooms, make their beds in the morning. They all read, they play outside, they practiced the piano.
We've sort of created our own system that doesn't involve any extra charts and it doesn't actually involve any money or economy or stickers or anything and what is working is that we are getting the results and that is what matters the most.
Don't Sacrifice The Result You Want
I want you to think in your life if you can discover one or two areas where maybe you have a system that is sacrificing the actual result, you focus so much on following through with the system itself that you might be losing sight of the results that you're looking for with the system.
With my friend in the grocery list, the hope was that they would be able to easily pick up the things that they needed, but instead everyone just felt frustrated that the groceries weren't being accommodated for both parties. So when she just went to the store and got what she needed and her husband went to the store and got what he needed, that was the result and the system itself was unnecessary.
So don't commit to the system at the expense of the result. I want to acknowledge that we receive advice about systems and guidelines all the time. We receive it about work habits, about exercise, habits, about eating, habits, about parenting, about sleep. We receive advice all the time. I give you advice. This podcast is full of advice of ideas for things that may or may not work for you, but what I want you to be really conscious of is recognizing that not all things will work for you.
Letting Go Is Progress
That every suggestion that's made in books and on shows and by your favorite Instagrammers and podcasters and blogs and everywhere you turn those suggestions may or may not work and it's okay either way. The most important thing is that you figure out what the results are that you're looking for in your life and that you find the systems that lead there but don't get wrapped up in the system itself.
Nothing is one size fits all. We all really are just experimenting and I think it's great to take advice. I think it's great to live with guidelines and to do so with the mentality of trying something on and holding it lightly because it's when we get so committed to the system or to the idea or to the process that we can lose sight of what the purpose was in the first place and then we feel like letting go is failure.
This is the reason that we don't let things go in our life because we think that letting go is bad. We think the letting go means that we're giving up or that we didn't do it well enough. And in fact, letting go of something that isn't working for us is a step in the right direction. Letting go of something that isn't working is progress. That is the definition of progress.
Moving in the direction of your dreams and if you're holding onto something that is in fact keeping you from them, the letting go is what enables you to move forward. Failure itself is so subjective isn't it? I try to think about failure as simply a step in the process of development and that takes out some of the sting imposed by society and by culture that we should be good at everything immediately.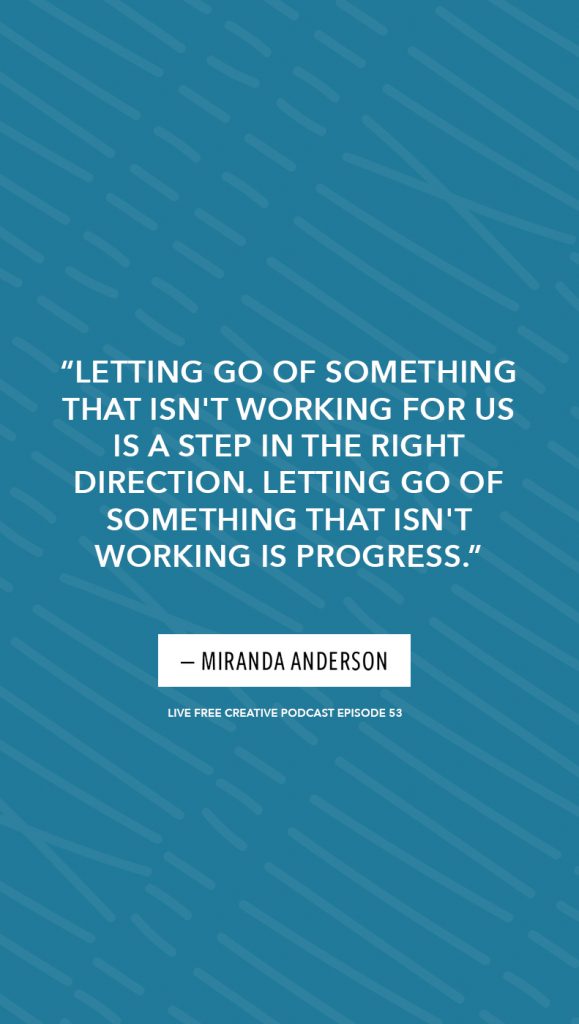 Not Everything Is Going To Work
This, I guess calls back a little bit to my podcast about being a beginner and to my podcast about having an adventure mindset.
Not everything is gonna work all the time and that's okay. And even things that we decide that we want to do and we move forward doing them. In my experience, sometimes we move forward and and do them and in that process discover that it's not actually what we want to do.
Has this ever happened to you? That you say yes to something and you invest in it and you go for it and you do it and as you're doing it you think, actually that's not what I wanted to do at all.
Nursing School
You want to know what a big example is from my life? Nursing School, you've guys, this is my degree. I decided I wanted to go to nursing school. In fact, I didn't only decide, I felt very strongly impressed.
The Universe, God, higher power, whatever you believe that source energy defined for me that this was correct for me. It was my path. So I moved forward and I went to nursing school. I applied and I got accepted right off. I started attending. I love learning and so I loved going to classes and I loved being involved with it all and I loved learning about people and being in the community. And being in the hospital and giving care and finding empathy and there was so much to love about the humanity of nursing.
But I graduated and I told Dave like a week after we graduated, I don't really want to be a nurse and this is after having just finished the program and graduated with my degree and passed the nursing exam and being, you know, I was at an RN and I realized I didn't really love it.
It Wasn't Really What I Wanted To Do
It wasn't really what I wanted to do, but here I was like in the middle of it. Luckily nursing is really, really versatile and so I was able to discover the things that I loved the most about it and that was teaching and I moved into the role of a nurse educator where I was teaching.
I was a diabetes educator for five years and I was able to teach patients about nutrition and exercise and I did do some medication adjustment and I helped patients implement these lifestyle changes.
At the end of the day though, what I loved about that job was the teaching. It wasn't the nursing, it was the engagement with people. And helping them make positive changes in their lifestyle for a healthier, more wholesome life. And I feel like that is something that I've been able to carry through all of the things that I've done with blogging and with my podcasts and also with my book, with my speaking engagements and all of the things that I am doing now are also teaching and helping people live their best, fullest life.
The Thread That Connects It All
That has been the thread that connected at all, but it was a little bit odd and maybe a little bit embarrassing to finish nursing school and realize that I didn't really want to be a nurse. It didn't really feel like failure. It just felt like a big, huge pivot. Like maybe I had wasted a lot of time and money and investment and resources, but I never have really thought about it that way.
I've thought about it more as the pathway that has led me to where I am now.
Some other examples of things that have not worked in my life that I've had to let go of are my custom sewing business. I talked about that in the last episode. I spent about 10 years on and off sewing custom orders from tee shirts and I had a custom clothing shop on Etsy to Halloween costumes to even household items and wedding dresses.
I spent years and years as a side hustle making custom sewing projects for people. And there were things about it that I really loved and at the end of the day it wasn't something that I was able to sustain and it wasn't because I didn't like it, but it was just that it was draining more resources than it was enhancing not only financial, it wasn't sustainable financially, but it also the net worth of the investment of time, energy and finances was not positive. It was neutral.
I enjoyed it a certain amount and I was able to reap the benefit of the certain amount. But the amount of energy that I poured into it at the end of the day made it something that I needed to let go of and not out of failure or feeling like I didn't do a good job at it, but just that it wasn't really working. And it's not what I wanted to do anymore.
Maternity Countdown Tee
Another thing, I don't know how many of you have followed me on the blog for a long time or Instagram. Even the Maternity Countdown tee shirt was another great idea that I followed through with and manufactured and I spent a couple of years screen printing them myself. If you're not familiar with the Maternity Countdown, it was this photo prop that I used with my pregnancy, uh, for Eliot.
I had this idea to put the numbers one through 40 on a long tunic style tee shirt and take a picture every week during the pregnancy as my pregnancy, as my belly grew and I crossed off the weeks as they went at the time in 2010 11. This had never been done before. It was novel on the Internet.
And I know it's crazy to say that because you know, everyone thinks that their idea is the first, but truly it had not been seen on the Internet before I shared about it. So I received so much feedback. It was in several magazines and it was featured all over and I created a video on YouTube that went viral. And so I started receiving requests for this tee shirt and I started to manufacture the tee shirts and then I ended up hiring a screenprint shop and I stocked them for years. I don't know how many years, maybe four or years.
Just A Side Hustle
It was just the side hustle and it was working okay. I could have gone all in. There was actually a time where my brother, my older brother called me and said, "Hey, I want to invest in this company and I want to go big with it and we could do all different styles and like make it this whole big thing." And I was like, "I don't really think that's my calling. Like that's not really what I want to do."
So I just sort of did it at neutral for a long time. And then one day I had to decide that like it wasn't really, it wasn't really working. It was working fine, it was sort of neutral, it wasn't negative. I was selling tee shirts fairly frequently, but it also just wasn't, it wasn't exactly working. Does that make sense?
I wouldn't have considered it a failure, but it also wasn't a huge success except for that it was lessons learned and it was a really fun ride and there are times when rides need to end and they naturally can come to to a close. How many more personal things can I go through of things that I have personally started and stopped and started and stopped at different projects, different ideas.
The Process of Understanding
I think that one of the best ways to know if something is right or not is to try it, but when you try lots of different things, that also means that you're going to be letting a lot of different things go and we have to get used to that process of understanding when something isn't quite working and when it's time to let it go without shame, without judgment or without guilt.
Knowing that we were hugely benefited by the experience of starting and trying and investing and working out the details and experimenting and that it's okay if it doesn't work forever. It's okay right now.
Aha Moment
One of the big "aha" moments I've had in the last few weeks surrounding thinking about this idea. I'm always ruminating on the next couple ideas, the next couple shows, and I'm making big changes in my life based on the ideas that I'm sharing with you. I hope that it is helpful for you to to have some of these ideas and values and ideas brought to your mind as you listen to the shows and think about how you can apply them to your life, to make changes that might be necessary for you to begin to expand and grow and progress in new ways yourself.
One of the things that I realized is that my current shop offerings are not really working and it's not that they're a failure because we're selling t-shirts, we're selling luggage tags, we're selling digital download art prints, and those were all so fun to create and so fun to make and so fun to offer, but I think that they were more fun to get going than to continue.
I feel like as I'm narrowing my branding, my messaging, I'm really focused on the podcast. I'm really excited about the book, about speaking about the podcast-plus membership that's coming up, about some possible courses we're working on another book, maybe some coaching in the future.
They're really maybe isn't necessary space for the amount of resources that we put into managing and maintaining the current shop the way that it is. Everything right now with my shop feels a little bit neutral, meaning that it's going fine, it's going fine, but do I want the things in my life that I'm dedicating time, energy, investment marketing, my assistant works on them and manages them? Do I want those things to be going fine or is it better to just chop off that section that isn't working? Let it go with gratitude and love and peace and divert.
Saving Resources For Priorities
All of those resources, the energy, the management, the marketing, the ideas, the time we spend thinking about and working on that area, divert all of those resources into something that is working into something that is not only fine, but something that feels amazing. Something that is growing, that is expanding, that feels like it's affecting change in people's lives.
And that doesn't have to be from an entrepreneurial standpoint. That can be personally for you. What are the things in your life that feel sort of fine, but they're not great, but you're spending time and energy and resources managing certain areas of your life that just sort of are neutral.
Neutral is a red flag. Fine usually means that there's an overall net negative to what's happening in that area. Why would you pour resources even just a few, into something that produces a fine slash neutral outcome?
When To Let Go
Here's a key question I want you to ask yourself as you're considering, are there areas in your life where you need to let some things go, some systems and processes? Maybe it's a hobby, maybe it's a side hustle. Maybe it's a relationship. To be honest, there are so many things that we need to weigh from this standpoint.
Are the resources going into this project worth the outcome? Are the resources that I'm pouring into this project producing results? Now the results don't always have to be financial. If you're a business person and you're thinking strictly business entrepreneurship, then you do want to see some results in your bottom line for the things that you're putting resources into.
But on a personal level, what about joy? What about inspiration? What about confidence and creativity as you pour resources into certain areas of your life, what are the results?
Are the results neutral? Does it feel sort of man? Are the results negative like my friend and the shopping list where it feels like some contention and maybe some friction that it's actually not working in, you're banging your head against the wall to do this thing or are the results even just emotional results, positive?
Is it producing something worthwhile? Sometimes I like to think if my friend came to me and asked me about this situation, what do you think about this hobby? This is how it makes me feel. This is what I'm doing. This is how much time I'm spending on it. Is it worthwhile?
What would someone with a little bit of perspective or objectivity say? Like I said to my friend, it sounds like that's not really working. Maybe you should just not do it anymore. Or would they say, I can see that it's lighting you up and that even though it's not really working right now, maybe we could figure out a way to make it work because you really love it. I can see you really want to do it.
New Life, New Energy
Letting things go creates space for new, wonderful, vibrant things to come into our life. And I believe that's true for business opportunities, for hobbies, for side Hustles, for relationships, for belongings, for systems and processes. When we are able to objectively look at our lives and recognize the things that are draining resources rather than replenishing them.
And if we objectively can ask ourselves, are the resources going into that producing positive results, whether financial, emotional, uh, you know, or, or otherwise, and recognize if they are not that we can let it go and the letting go is not failing. The letting go is opening a door wide for something new and wonderful and different to step into our lives and fill that space up.
We would all be so much more likely to ruthlessly cull our lives of the things that are not working. If we could see the truth of the idea that that space that's created, breathes new life and new energy into whatever we decide to do next and sometimes you don't need to decide.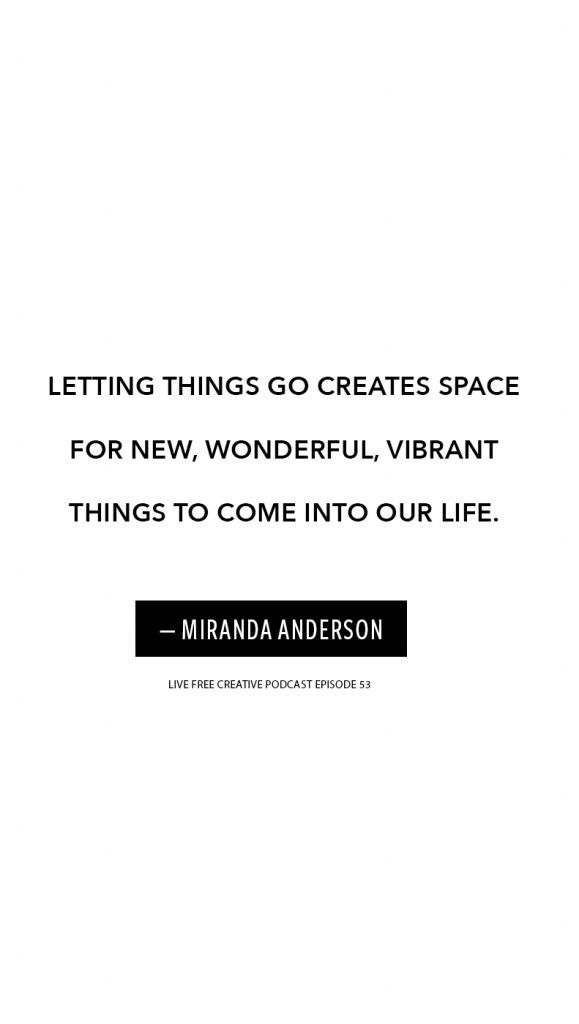 Sometimes something is waiting for you to have the space and the energy and the resources available to it.
I am not going to say that this is always easy because change is difficult. Change is uncomfortable. It really is uncomfortable and sometimes as you let something go, you feel the loss and you might have to grieve it a little bit.
I know that I've shared this before, but when I decided that I wanted to work on my book and just fully invest in that and focus on it this year, what I let go of were every single sponsored opportunity that came my way for months on end and I saw I would look around on Instagram and on the Internet and with my friends who are bloggers.
I've been a blogger for so long and I have lots of good friends that do it and I saw all of these wonderful projects they were working on and these really fun sponsorships and at times I felt that discomfort like I had opted out of this thing that was working for everyone else and I was working on something entirely new and different that wasn't yet producing visible results.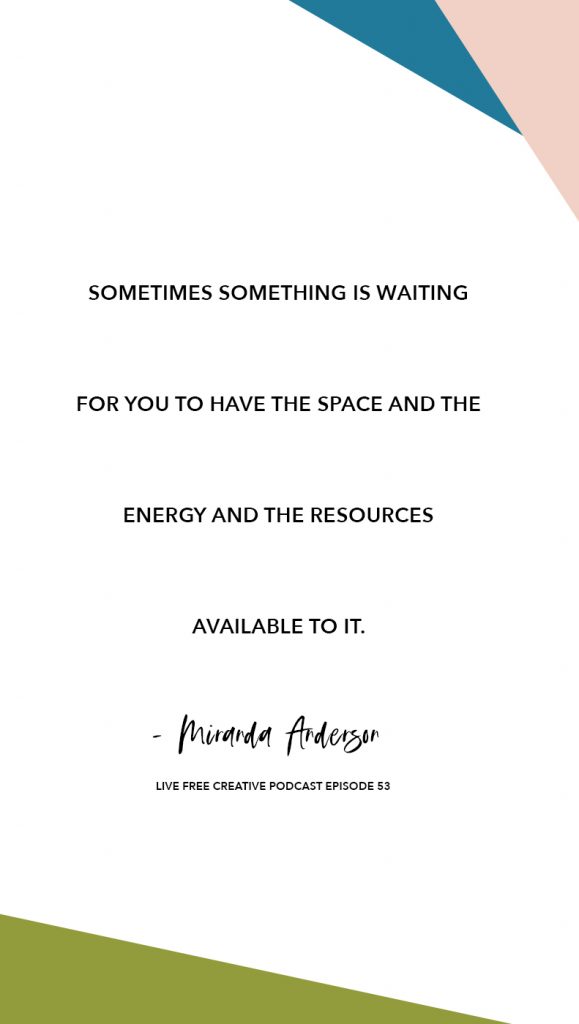 You Get To Choose
But all along the way, as I created space by letting go of the sponsored opportunities that had been coming to me, I found that even the process of working on the book yielded positive results in every moment. The entire process. I was lit on fire with creativity, with inspiration. I felt buoyed up.
The fact that I wasn't making any money right then was beside the point because I felt so invested in the positive daily results that happened. As I aligned my actions with the value that I had of deciding I wanted to create this book and send it off into the world, I could have felt like a failure every time that I saw someone else land, a great sponsorship that I had been offered that I could have participated in as well.
And knowing that the paycheck was coming to them and it wasn't coming to me anytime soon, but knowing that I was investing personally in my own life, in something that felt worthwhile for me, sometimes you might have to let go of things that it seems like everyone else is doing and then turn your eyes inward and recognize that what matters right now is your life, the way that you live it because you're the only one that lives at.
No one else can step in and feel all those feelings of the day to day that you live and you can't step into someone else's life and know exactly what it's like to be them.
So it's up to you to use some of these ideas, these questions and these guidelines to reflect on your own life right now. And consider are there things that are not working in your life right now that you can let go of to make space for things that are going to be brilliant?
Conclusion
I hope that this message has resonated with you and the idea is something that you can really spend a little bit of time applying to your life. It's one thing to listen and to hear the things that I say and it's a whole other thing to actually consider how it can affect change for good in your own life. I want to thank you for being here.
There were a couple of ways that you can support the show:
If you haven't already suggested it to a friend or a family member, take a screenshot of what you're listening to and add it to Instagram. Tag me so that I can see what you're enjoying.
You can leave a review on iTunes.
You can also buy my book if you haven't bought it already. More Than Enough is available on Amazon as a hard copy at Kendall and an audible version. It has over 70 5-star reviews and people are loving it. So if you haven't yet grabbed your copy, what are you waiting for? I hope that you enjoy it.
Also get really excited because Podcast-Plus is coming in just a couple of weeks. We're finalizing the details and I will let you know when it is available for you to login and support the show through a donation, whether as a base member or as a Podcast-Plus member.
I'll talk to you next week, same time, same place. Bye.