Episode 55: Why Now Is Still The Right Time, Year One Later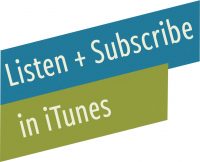 SUPPORT LIVE FREE CREATIVE AS A PATRON! BECOME A PODCAST PLUS MEMBER HERE!
Introduction
Welcome to Live Free Creative, the podcast that provides inspiration and ideas for living a creative, adventurous, and intentional lifestyle. I'm your host Miranda Anderson, and I hope that each time you listen, you feel a little bit more free to live your life exactly the way you want to live it.
Live Free Creative Turns 1 Year Old!
Guess what, friends we have made it. You and I together on this podcast journey for one entire year. Welcome to Episode 55: Why Now Is Still The Right Time. I'm your host, Miranda Anderson and I have been here every Thursday morning since September 2018 until now, September 2019, excited to share a little bit of insight, a little bit of wisdom, maybe a little inspiration, maybe just some good questions for you to begin living an even more creative, adventurous, and intentional lifestyle.
This has been so much fun and will continue to be so much fun–because I'm just getting started and I have so many things that we can look forward to coming up in the coming year.
Support Live Free Creative On Patreon
And for those of you who have loved the podcast, I have something really special for you today. The Live Free Creative Patreon site is live, where you can go become a patron of the show.
What that means is that to show your support for the weekly free podcast–or to give additional support and receive some additional bonuses, like a bonus episode every month and a behind the scenes digital book club, or even some one on one personal creative coaching–you can head to the link in the show notes or to patreon.com/livefreecreative.
If you hang out until the end of the episode, I am going to go into detail and tell you about each of the three patron levels that I've created for you to support at, and there is a big giveaway happening right now on Instagram. Head over to @livefreemiranda and check it out. The only thing that you have to do in order to be entered in the big one year anniversary celebration bonanza of the Live Free Creative Podcast and the Patreon membership is to become a patron of the podcast at any level.
There are three membership levels and the first one starts at just a dollar a month. I'm really excited to be able to provide some more value through additional bonuses. And also, so many of you have loved the podcast and expressed your support. I've even had people send me random Starbucks gift cards or local coffee shop gift cards to say Thank you! for an episode that really spoke to them.
This is really fun to be able to create a space where you can offer that support monetarily for the value that this show gives you every single week in your own life. And for those of you at the other levels, there's some additional really great bonuses. All you have to do to enter the giveaway is to join and become a patron of the podcast. I'm so excited to hang out with you over there as well.
But Let's Get Started On Today's Episode
I'm of course going to start with a segment. The segments have been some of my favorite parts of this show, and I hope they've served their purpose in you getting to know me as a person a little bit better, and also offering some additional insight into different aspects of my life.
And today in honor of the one year anniversary, I'm going to introduce a new segment. Now I love reading and I especially love poetry and because I'm a busy mom with three kids and a job and all sorts of things going on in my life, I have not given as much time or energy to the reading and a relishing of poetry in the last several years that I did earlier in my life. And so I just started to pick it up again.
I realize this is something that I love. And so for this new segment, I'm going to share a poem, something that I have come across in my poetry readings that I'm doing on my own, just exploring the medium and finding things that I love. They'll generally be very short and things that impacted me in one way or another. So I'll share the poem and the poet and in the show notes you'll be able to find a link to where it was found, whether it was a book or an article or something similar. So here we go with a new segment, pause for a poem.
Segment: Pause For A Poem
It's exhausting to be locked in your head with all these thoughts that tie you down. Just for one moment, try with all your might to let go of all the things that stop you from being you.
– Courtney Pepper
Now, I know it might feel a little bit woo woo to go there with the poetry but I can not express how fun it has been. To dive back into some of these readings and the other week–I'll share more about this in a future episode–I was having kind of a funky week and I opened up this book of poems called Pillow Thoughts by Courtney Pepper.
The poem in the very front of the book–it's like the introduction–was almost like an answer to prayer. It was exactly what I needed to read and because it came at me not through self-help book, not through a podcast, not through even a song. It was the format that I needed for it to break through the sort of wall of funkiness that I had created. Because of circumstances and the thoughts that I was having, it went straight through that and told me what I needed to hear in the way I needed to hear it.
And I think that's the power of poetry. And so I hope that you'll bear with me and enjoy these poetry moments that I'm going to share every so often. You know my segments come and go. I have about five or six right now that I rotate through. So get excited to hear a new poem every once in awhile.
Main Topic: Why Now Is Still The Right Time, Year One Review
Now, friends, what are we doing here? What are we doing? Life is so awesome and we have so much control over this things that we choose to do. Sometimes it doesn't feel like it. Sometimes it feels like our life is full of shoulds and musts and responsibilities given to us by other people or circumstances or situations beyond our control.
But I have found that if we allow ourselves a little bit of freedom to actually begin trying and experimenting with the things that pique our interests or that hold our curiosity, that we will discover a life beyond our wildest dreams–from Charlie and The Chocolate Factory a little bit there.
My Year In Review
I have had a crazy year and I'm going to review it a little bit with you as we go through the show and at the same time most bizarre of all, I have had a phenomenal year.
At the same time that the situation and circumstance outside of my control in my life was so wild that I had people telling me they thought that we might be cursed, our family might be cursed, one thing after another, after another after another situations beyond our control hit like a hurricane. At the same time there was a little spark inside me that I allowed to grow and that I experimented with actually using to put forth a little something here and a little something there and to try the things that I had been wanting to try and what has emerged over the last year is the life that I want.
I feel like I'm living my dreams and the things that have not yet manifest are in progress and in progress is far better than not yet begun. Right? The very first episode that I started with when I started Live Free Creative Podcast was called, Why Now Is The Right Time. The reason–if you go back and listen to Episode 1–you will hear why I started with that episode.
Starting The Podcast
Starting the podcast had been really hard for me to do for whatever reason. I had thought about it and talked about it and dreamed about it and discussed it with other people and my husband had even bought me the equipment and I had brainstormed ideas and all that was left was to just sit down and start. All that was left was to stop waiting for what felt like a lightning bolt to strike me and tell me today is the day you need to start right now.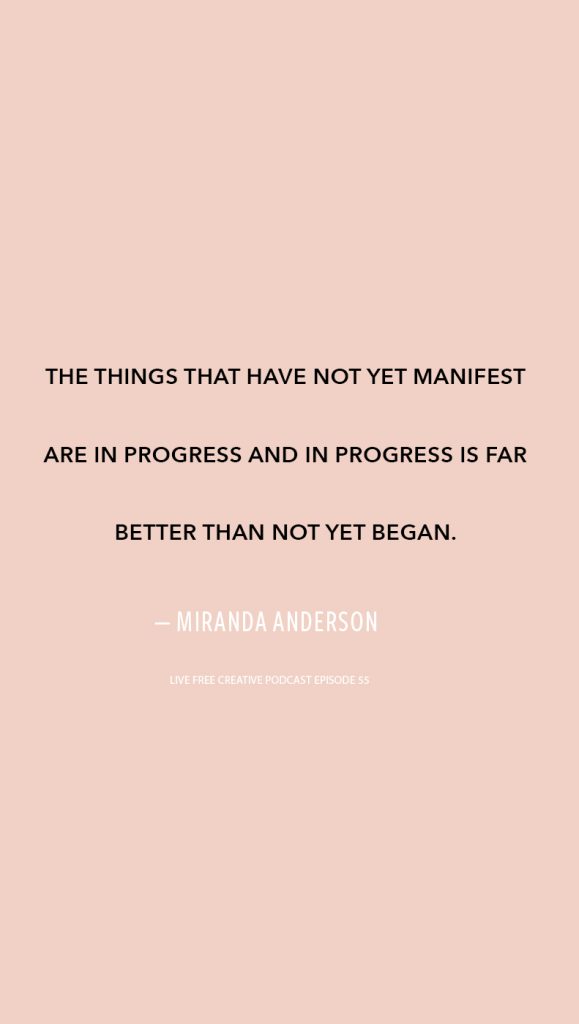 I got to choose when I started and when I decided to start. I pulled open the microphone. I looked at the instructions to see how to plug it into my computer. I sat down on the floor of my childhood bedroom–I was on vacation in Utah and my parents house–and I sat down on the floor and I unwrapped the mic and plugged it into the computer and figured out how to use Garage Band for the very first time and I pressed record and I began.
I just needed to begin. It was a random day in July that I just overcame my fear, my doubt, and my personal excuses about why I needed to wait and it became the right time because I decided that it was. Now I look back at 52 weeks ago, one year ago this week, and see how much joy, how much connection, how much wonder and peace and progress recording and sharing Live Free Creative Podcast has brought into my life.
It is so cliche, but I wonder why didn't I start sooner? If I had known so much goodness was waiting on the other side of me just plugging in that microphone and getting started, I would have started sooner.
How Do You Define Success?
And the show has seen a lot of success. I define success by me loving the work and by it impacting other people. And so am I loving it still? Yes. I get giddy when I get to sit down and record because I love to share the podcast with you. Is it impacting other people? Yes. Every time I see people at book events or out on the town or at conferences, people that are meeting me for the first time who have listened to the podcast, it is what they want to talk about here.
I've been a blogger for 12 years, over 12 years, and I did that consistently for so long and what people want to talk to me about is not any of the 1500 blog posts that I've written. It's that they love listening to the show and I think it's simply because there's a little something in here that resonates that you can hear yourself in some of the things that I go through or that I teach or I explain and it's making an impact in people's lives in my life. Absolutely.
As far as global success, the day that I launched, we did hit the iTunes top 10 chart and since then we've seen over 200,000 downloads, which feels like a really big number to me. But you line that up against the world's worth of podcasters. We're not in the millions or trillions like some people are, but does that matter? No, because success looks like the show bringing me joy and bringing you joy.
We have over 500 5-star reviews on iTunes and many of those also have a written review, which I ask for every single week. That's over 500 people who took 30 seconds to 2 minutes out of their day and dedicated it to going and looking up that little part down where you can write a review. They took the time to do that because this show meant something to them.
Will I continue to ask for reviews? Absolutely, because the more people that the show reaches, the greater that impact and maybe there's someone else out there who needs these messages and maybe your review or your rating or you inviting them to listen or sharing the show on your Instagram. Maybe that will reach the right person. And so yes, absolutely. I'm going to continue to ask for your help in increasing the growth of the show, but today it's just right. Today, everything is perfect.
The Podcast Travels With Me
Of the 55 episodes that I have recorded, at least five of them have been recorded in hotel rooms, in hotel bedrooms. One of them was recorded inside a rental car.
I have taken my microphone around the world literally and every time I go through TSA they think that it's a bomb. They make me take it all the way out of the box to show this like metal cylinder is not a bomb. It is indeed a podcast microphone. Even though I tell them that it is, I take it out every time.
I have gotten ideas for the show as I have gone on picnics with my kids, as I have walked around museums, as I've driven in the car on road trips and had my kids bicker in the back, as I've gone throughout my daily routine, as I've listened to your questions, as I have interacted on a regular basis with friends and family members and coworkers.
Having the podcast as kind of a background to my daily life has heightened my overall awareness and knowing that I'm going to be sharing something new every week has created this incredible funnel where I observe and then I experiment and I try things on and I think about them and I researched them and I discussed them in my own head and then with Dave and sometimes with friends and then they spill out into the show where you get a more distilled, sometimes fairly candid version of whatever the topic is that I want to share.
Maybe Someone Needs This Podcast
So many people have commented in the reviews on iTunes that the show one particular show or all of the shows are exactly what they need to hear at exactly the right time. And now there's this huge library, so people who are just discovering Live Free Creative Podcast can look back through.
Maybe right now they're struggling with making friends. You can go find an episode about making friends.
Maybe you have a little bit of a hard time wrapping your head around a money mindset. You feel some scarcity surrounding money. There's an episode about that.
Maybe you really want to organize your life, but you don't know how to get rid of things or how to start organizing couple episodes about that.
Are you having a hard time finding yourself within your role of a mom but also like an individual person? I have several episodes about that as well.
Do you compare yourself to others and always feel like you're behind? Like you should be farther along in your journey than you are? I've got a great episode about that.
I find myself living and breathing the podcast and I'm so happy that it has resonated with so many of you as well. Can I tell you the reason that the show has reached you? There's one main reason that you get to listen to this show every week:
It's simply that I began.
It's simply that I stopped questioning when the right time was and I stopped doubting that I had everything that I needed and I stopped waiting until I had the perfect knowledge or the perfect setup or the perfect understanding. I just began and the power of just beginning is, 55 episodes later, I feel like this is one of the most wonderful projects that I've ever done and I'm very much in the middle of it. I would not have known if I hadn't started.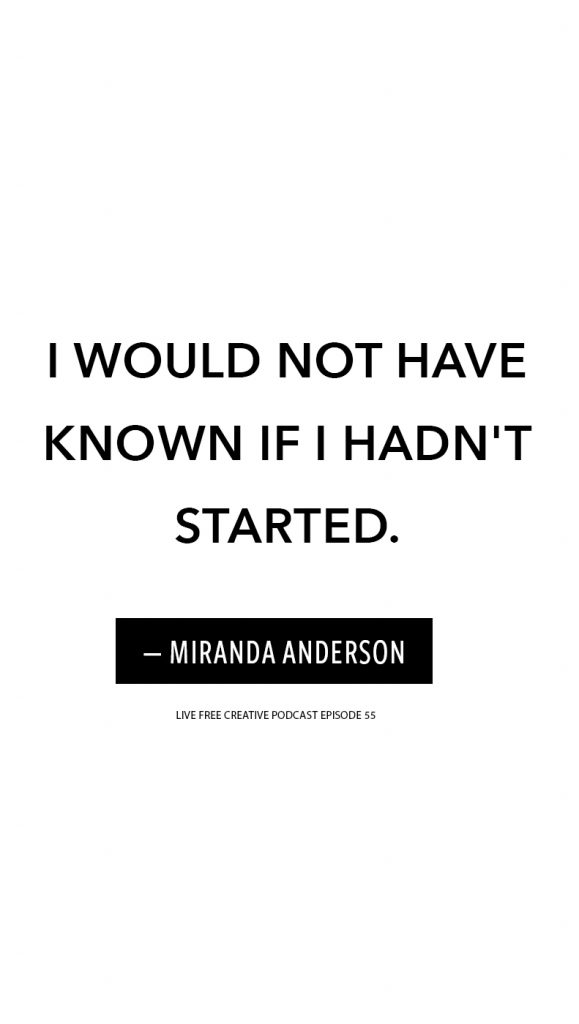 Reason 1: You Don't Know Until You Start
That is the first of three reasons that I want to share with you today. Why now is still the right time. Number one, you never know until you begin.
Now, does this mean that every single thing you try is going to become your life calling that you feel this nagging to do something and you do it and then you realize the angels are singing above and like, this is it. This is the thing. No, of course that's not true.
Do you know how many things I've started that have not been? I start things all the time that are not my life calling, but you never know until you begin. So the sooner you get started trying things, the sooner you can rule out the ones that aren't going to work for you.
I have an entire segment called Odd Jobs. I'm just going to briefly go over some of the things that I've spent time in my life doing. I was a nanny. I was a dog sitter. I was a barista. I was a snowboard instructor. I was a river guide. I was a wilderness counselor. I worked on construction sites. I did Spanish interpreting both for police departments and in hospitals. I worked at Williams-Sonoma. I was a CNA at a Rehab Clinic. I was a registered nurse, diabetes educator. I was a blogger. I was an Etsy shop owner. I was a pattern maker. I've sewn custom costumes and wedding gowns and now my friends, I am an author, a speaker, and a podcaster.
You Have To Try Something At Least Once
I have tried so many different things and gained incredible experiences from them. And what I learn each time I try something new is that that is the way that you know whether you want to continue or not. You can't decide that you don't like something before you even give it a try. How many of you sit down if you have kids, you sit down at the dinner table and you put something new on the table and your kids say, "Ooh, I don't like that." And you're like, "You've never even tried this." This is like brand new, a brand new recipe or a brand new vegetable that you've never introduced. They decide they don't like it.
And my house, we have a rule that you have to try something at least once. You have to take one bite. It can be a little tiny bite, but just one little bite before you decide.
Don't make the decision that starting that shop is not gonna work out or that writing that book is a bad idea or that learning to knit is something that you definitely shouldn't do or that it probably wouldn't work to ride your bike to school because it just seems like a lot of extra logistics in the morning or that it probably wouldn't work to join a local book club or running group because you don't know anyone or that it's probably not a good idea to get a membership at that new gym. Even though it looks really amazing. You just are a little bit embarrassed about how you might feel going there every day.
A Hearty Yes!
There are so many things that might pique your interest, but how do you know whether it's something that you want to do unless you try it? I love Joseph Campbell, who was an American mythologist and his writings and works influenced the creation of Star Wars. One of his quotes that I just adore is this: "The big question is whether you are going to be able to say a hearty yes to adventure." A hearty Yes! Don't you like the idea of a hearty yes?
An adventure is something that if you've listened to the podcast for any length of time or you know me at all, I am up for it. The answer to that big question for me is yes, I will say a hearty yes to adventure because as you try, as you decide now is the right time and you try, you learn through the trying that even if it doesn't work out, you're better off than you were before. That understanding and knowledge and experience that comes through actually trying is the benefit.
We often think that with this, you know, preconceived idea of an expectation of what the benefit will be for us getting started on the new project and sometimes it looks like fame and glory in fortune and some, it just looks like a finished project and really either way, whether it ends in just being done or in the fame and glory that you hope for the millions of dollars that we're all waiting on.
The real benefit is the progress of knowing and understanding something new both about yourself and about the world. I think because I got started on the podcast and I just decided I was going to do it and I just sort of committed to it and I found in doing it that I really enjoyed it and I also loved from the beginning my expectation was not really on outcomes.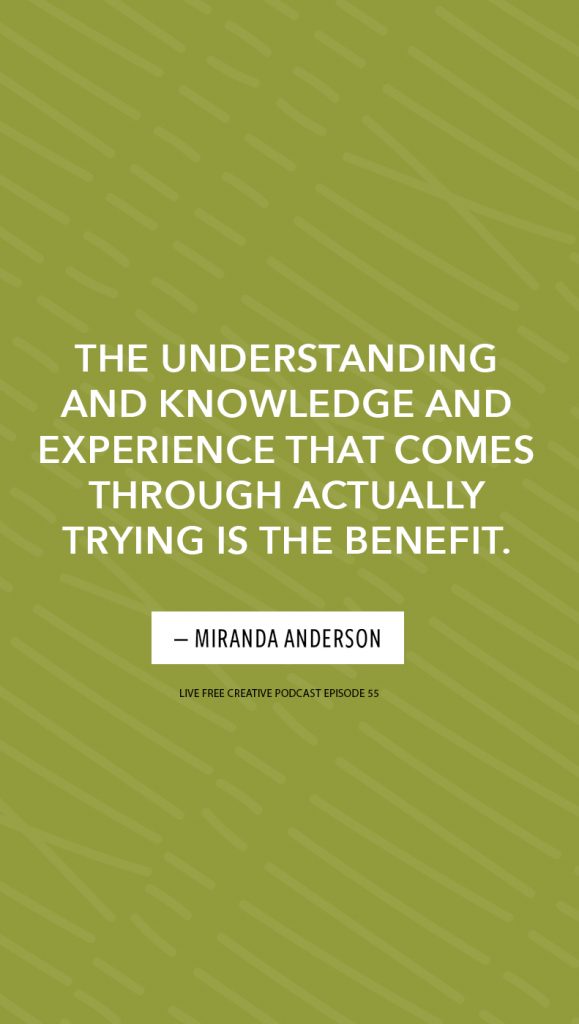 My expectation was only on what I could control and that's really an incredible way to begin things. My expectation of the podcast was that I would sit and record it and release it every week. I didn't create a results-based expectation. My expectation was not that I would have a certain number of subscribers of listeners of reviews. Those are all things that I've been tracking to see the growth and to measure the range of the show. But my expectation for the podcast is that I show up and record it and edit it and release it.
You know why that's a really good place to start with my expectation because those are things that I can control and then I don't get disappointed because I'm the one who gets to do that. Sometimes we create expectations surrounding the results of the thing that we want to start rather than the expectations being things that we can control. We have a much better success rate following through when we are relying on our own commitment and when our expectations do not involve things that are outside of our control.
Part of why I want to review is just to give a context to the crazy year that we've had to maybe help you recognize that there is space and there is ability and there is time and you have the resources now that you need to do the thing that's been pulling on your heart or if you don't know what it is you want to do something that you don't know what to just get started with something simple, something that you know you like, just spend a little more time doing something that you already enjoy.
Let's Back Up To Last Year
So let's back up to last year, September my kids start school. I released the podcast. Things are going great. We're feeling like settled. We had just renovated our home for six months. And so we were in our house feeling really good. And September and October went beautifully. And then in November, the first week of November, you will remember that we had an unexpected accidental catastrophic flood.
Our cleaning lady accidentally broke a pipe upstairs that resulted in over 80% of the integrity of our house–the walls and ceilings and flooring–being damaged. The extent of the damage was so great that we needed to move out of the house. And so we moved out for about six months. We moved out from December until May.
During that time I continued to record the podcast because of the power of having started and the commitment that I had that I would show up every week no matter what. And so I recorded the podcast in a hotel, in an Airbnb, as I traveled around for conferences, I recorded the podcast and shared the things that I was learning through this incredibly tragic, you know, sort of difficult in some ways, event that had happened in our lives now for reason simultaneously.
The Power Of Beginning
So November the house floods, everything's crazy. We move out and at the same time I got an email from a book designer asking me whether or not I had someone to help with my book that lit the fire that had been already ignited. It was a little tiny flame, a little spark inside me, and I decided now was the right time to write my book.
Now, does that make any sense at all? No. And looking back, I'm like, what was I thinking? I wasn't even living in my house. I was hauling my kids from across the city to go to school. We spent the holidays like in a cabin that we had to rent because we didn't have an actual house that felt cozy for Christmas and it was so bizarre.
But this is the power of just beginning. I decided, I made the decision, life is never going to be just right and maybe that's what the flood taught me right then was that I could keep waiting and waiting, but there were going to be things out of my control like that and my whole world turning upside down. So why was I waiting?
I could simply decide the things that I was going to be in control up, the things that I was going to choose because ultimately I'm the one who decides how I spend my time and how I spend my energy and my resources and so even though my life situation may be completely out of my control, I get to choose what I do in reaction to the circumstance, but also despite the unpleasant, unwanted, or unplanned circumstances, I get to choose that now is the right time.
Life Won't Give You The Perfect Time
Even if from all outside sources it would seem like the absolute worst time, but what that looked like was similar to with the podcast. I decided that I was going to commit to myself showing up. It didn't matter what anyone else's reaction to what I created would be. I was going to be in control of what I created and so I was recording the podcast every week and I also started writing.
I started writing a little bit every day and I did a couple big weekends that I talk about. I have an episode all about writing a book and the process that I used. So if you're interested in that and look up that episode. It's a few episodes ago and in January I finished my first draft of the book. I still hadn't moved back into my house and in February I got the first edited draft back and in May we sent it in to the printer and in May we also moved back into our house, so my entire manuscript, editing and publishing happened while I was bouncing around between hotels, airbnbs, cabins, friends' basements and otherwise not in any sort of normal schedule.
I did not wait for life to give me a regular schedule, a regular circumstance and a comfortable cushy moment to moment existence. I just decided that now was going to be the right time and now I'm a published author. My book released in July and it has been so wonderful and I'm getting ready to do it again this fall.
I'm going to do a couple talks at conferences, book talks where I get to share more about the lessons that we learned during our year of not shopping. More Than Enough has almost 80 5-star reviews on Amazon. Thousands of copies have gone out to people all over the world, and if you still don't have your copy, please be my guest and pick one up for yourself or request it at your local library. This book is like a piece of my heart and soul and if you love the podcast and you love the things that I share here, you'll definitely love the book as well.
So Don't Wait For The Perfect Time
That all happened because I decided that now was the right time. I could have decided to wait until I had moved back into my house and I could have decided to wait until I felt more inspired or I could have decided to wait until work slowed down a little bit. Instead, I decided not to wait. I decided that now was the right time in the middle of the total chaos of wild living because I think that I recognize and I am learning.
I continue to learn that life is not going to wait for us, so why should we wait for it? We get to choose the things that we are in control of and so I want to choose what I want to do. I want to give you another example because I think that it's so powerful to recognize. If you just get started then you could be done. Like some of your big goals could have been accomplished if you just decided.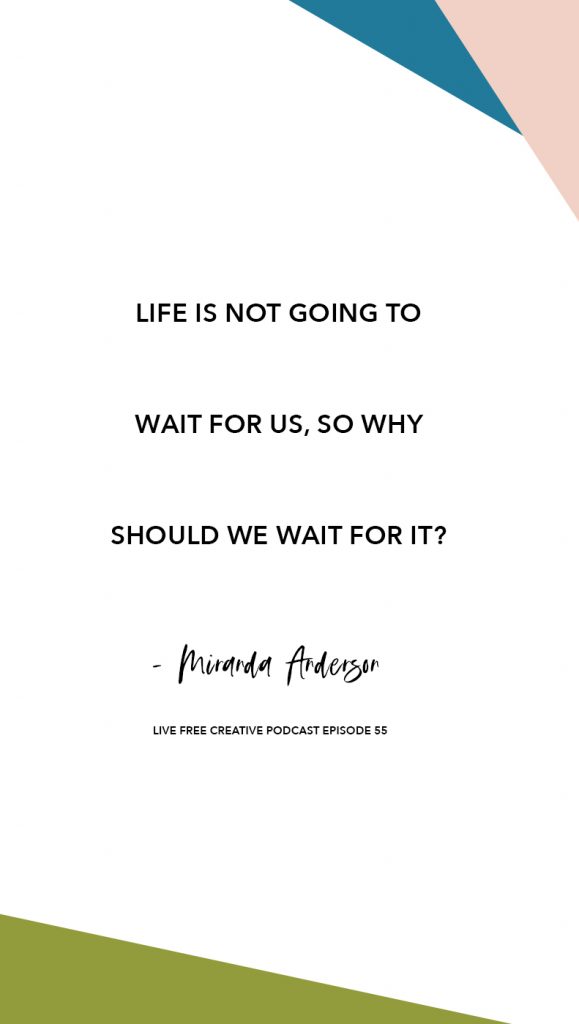 And likewise, if you start now, if you decide today is the right time, then soon enough those things that you long for will have happened because you created them. The other thing that I thought of at the beginning of this year, in January, I finished the draft of the book and I started the process to getting that published. And I also decided just around January, and you'll know if you read my book More Than Enough, that I have this–I mean, I think all of us do, right?–in January we want to make changes and we want to do something we like want the year to be different in good ways than all the years that have come before.
Running A Half-Marathon
And so at the beginning of this year I wrote down a bunch of goals and dreams and ambitions and some of them feel bigger than others and some of them just required some decision and dedication. And one of those was to run a half-marathon. It had been several years since I did one. I've run now three. There wasn't a reason that I hadn't run one recently except for that. I just hadn't decided to do it.
I thought about it from time to time when I had friends signing up or I would start exercising in kind of a new routine and decide like, "Oh, maybe I should get ready for a race." It always snaps me into focus when I sign up for a race like that because a half-marathon requires a little bit of training to be comfortable. You could probably go out and do it without actually dying, but if you want to finish and be able to like walk the next day or even a couple days later, then it's good to do a little training. And it's also not so intensive like a marathon.
I actually don't really have the desire to run a full marathon ever, but I really like running a half-marathon. And so I decided that I was going to do it sometime this year, but I didn't choose when. And a couple months went by and I thought, "Gosh, if I want to do that, I just need to decide to do it. Now is always going to be the right time." And so I looked up some spring half-marathons and I found one that looked nice. It was about eight weeks away and I signed up and it was as easy as that.
Just Decide Now Is The Time
I just decided "I'm gonna do this and I'm going to do it now." There was no reason to wait. Yet there was every reason to wait. We weren't living in our house. My kids have busy schedules. I was meeting with contractors all the time. I was literally in the middle of the process of writing, publishing, and designing a book and selling a book, I was recording the weekly podcast, I was running my business.
There was every single reason why it was not a good time. And at the same time, I understand that there is never a good time and what that means is that it is always the right time. So I decided to do it and I made myself a detailed plan and I just started. I just got started. I woke up early some days I went on runs in the late afternoon, some days I made time by sacrificing other things that weren't very important and to be honest, I don't even remember what I wasn't doing because what I remember is that I ran consistently for eight weeks to train for a half marathon and then I ran the half marathon and I ran it in my own personal record time and I loved every bit of the process.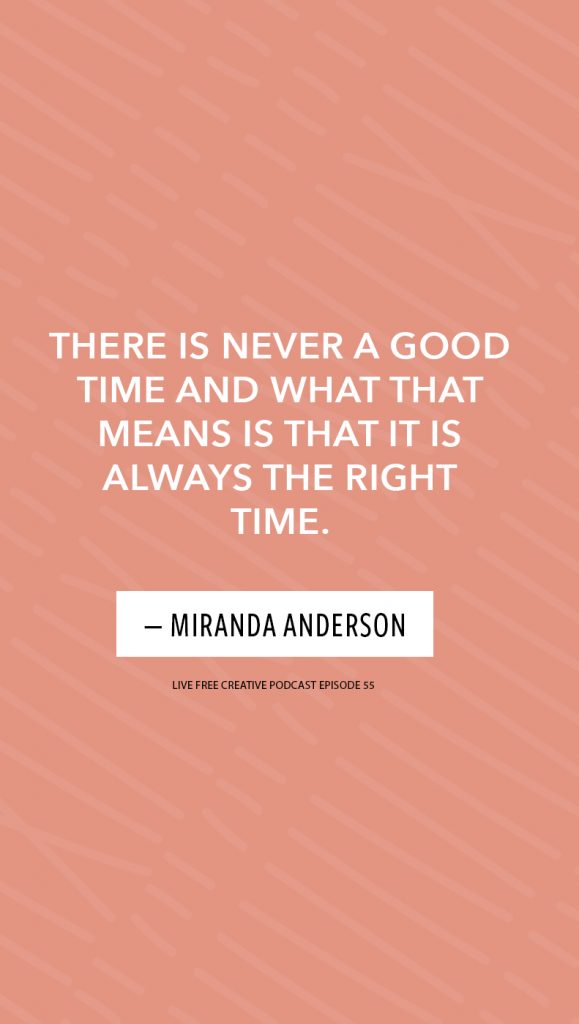 Did every single run I go on feel like wonderful light shining and rainbows coming out from behind the clouds? No, there were lots and lots of terrible runs. There were days that I would come home just like hot and sweaty and tired and uncomfortable and complained to Dave that like, wow, that was really a bad run. And he would tell me, "That's okay. It's okay. Runs can be bad. You can have a bad run. You also will probably have some good runs, but not every run has to be a good run." And it would remind me that you're right. It's okay. Not every run has to be a good run.
What matters is that I'm getting out and doing it that I decided that I didn't have to wait for anything. There was no reason to wait. There was every reason to just get started.
Reason 2: There Is Nothing To Lose
This brings me to Reason 2: Why now is still the right time. This reason is there is nothing to lose. There's nothing to lose. Think about what it is that you want to get started on and what will happen if you don't do it.
If you don't do it, then nothing will happen. Right? That is what sits on one side of the balance when you're deciding whether or not to get started on on something new, what what sits on one side of the balance is nothing because if you don't try, nothing will change. If you don't try, you will never know. There is absolutely nothing to lose because there is nothing to gain by not doing the thing that you want to do.
Now, what's on the other side? If you do give it a try, what is there to lose? Nothing. What is there to gain at the very, very least, and this is if you deem whatever it is, you start this project, you deem it an utter failure. You have still gained more than if you did not start because at the very least you have knowledge understanding you have progressed because you tried and even if you fail, you learn.
And what if you don't fail? What if like this podcast you decide to start and a year later you find yourself having discovered something that made all the difference in your life and maybe in other people's lives as well. And maybe it doesn't reach everyone. Maybe you do something that touches one person or two people.
Maybe the only person that really needs to change from you living the life that you want to live is you. Maybe you are the one that changes as you learn and grow and create and try. You exercise that everyday courage like we talked about in the last episode and you do something that might be a little scary, but on the other side of that you gained that confidence that you're going to be okay.
Reason 3: Life Is Found In The Living
The third reason that now is still the right time is this life, your life and my life, it is found in the living. Actually living and doing and, unfortunately, I think that sometimes we get confused about this one because of the state of just technology and society, it's so easy for us to spend our time–to spend our actual life–not living in real life, like in our physical bodies.
We spend so much of our life living virtually–consuming media, scrolling online and even just thinking about things. We think about things. We see things. So we think about them some more and we daydream and we plan and we hope and we look at some more and we come in, we become inspired and sometimes that inspiration gives us a lot of good feelings and so we consume some more.
Make Something In Real Life
At the beginning of each of my craft classes–I teach craft and dying and hands on DIY classes from time to time; it's been a little while, but I might jump into some again later this fall. At the beginning of my classes I like to acknowledge that the students have come to make something in real life with their real bodies and their real hands.
And I joke with them about how so often we go on Pinterest and we like look at all the cool things that we want to make. Or maybe you're looking through a magazine or you're looking through Instagram and you see all these beautiful things and it makes you feel so satisfied. Like, "Oh look at all those beautiful things I could make" or you save them all–all those projects–you think about them and save them and plant them.
And you almost convince yourself that you've done something because of all of the whirlwind of emotions that surround the consumption of media and art and even things like this, books and podcasts. We convince ourselves that we've done something with our lives because we have absorbed so many things that other people have created.
I want to just check that because your life is found in the living of it, your living of it, your creation, the things that you do with your hands and with your pencil and with your mouth and with your computer and with your camera and with your kids and the adventures that you go on and the places that you see and the times you go to the gym and the walks that you go on and the dancing in the kitchen and the cookies that you make at night, the writing stories in your journal, and the playing notes on the piano, and the picnics assembled in the park or eaten next to the river, the sunshine on your real face.
That is where life is found and now is always the right time for you to have more of that, to put down the phone and to put down the magazine and to even put down the book. I love to read, but I will put down the book if it means me experiencing and creating things in my life that my story exists in what I live, not what I read or even what I watch, but what I create, my words, my hugs. This is my life. That is the reason that now is always going to be the right time because my friends that is not guaranteed.
Spend More Time On What You Want To Be Doing
What we do with our precious time should probably be the things that we really want to do. And so what is it that's been nagging on your heart? What do you want to spend a little bit more of your one wild and precious life like Mary Oliver says, what do you want to do with it? Because now is the time to do that.
One year ago I sat down with my microphone and I pressed record and I sent this message often to the world and now all of these weeks later I can tell you through personal experience that now is the right time for you to get started and whether you get started and a year later you find yourself immersed in that thing that you started, that you love or whether you get started and you quickly realize that this is not it for you and you move on to something else.
Either way you are progressing, you are learning and my friends you are living and that is the most wonderful, beautiful thing that we can do.
Recap: Reasons Why Now Is Still The Right Time
Here are my three reasons why now is still the right time:
You never know until you begin.
There is literally nothing to lose. There is only gains to be made as you get started.
Your real life is found in the living of it.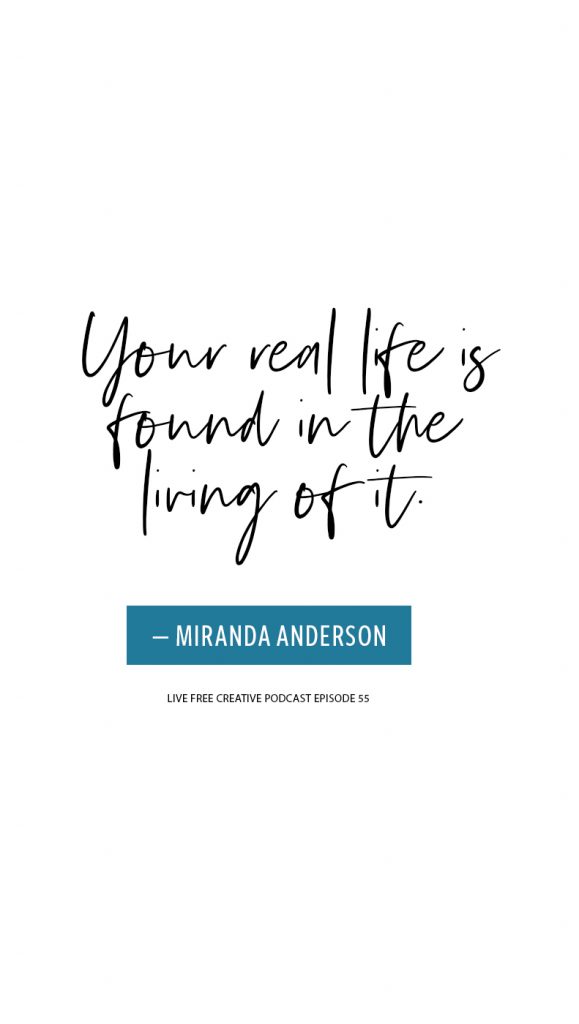 I have been saying, I think I said in a podcast several weeks ago that I would put together a list of things 101 things to get started on. If you can't think of what you want to do, you know you want to do more living but you just don't know what it is, you don't feel called to a specific thing and so as a gift to you for the one year birthday of the podcast that is going to be available as a free download on the show notes.
You'll have to enter your email so that we can send you the PDF. When you do that, it will come straight to you: 101 Things To Begin or To Try. That's somewhere to get started and if you do have something that's been nagging on your heart and you can think of a very specific reason why now is not the right time, then I want you to consider backing up a little bit and asking yourself what is the very first step? What is the very first thing that I could do to be ready to start to get started?
Even if everything isn't as lined up as you hope that it might be, I guarantee that there is something that doesn't cost any money. That just requires a little bit of commitment and a little bit of time, a little bit of creativity. I guarantee that you can get started on something even if you don't think that everything is lined up the way that it's supposed to be.
There's always a way to move forward in the direction of our dreams. I know that that's true.
Conclusion
I need to just give a hearty, heartfelt, sincere thank you to all of you who show up here, whether this is the 1st episode you've listened to or the 55th I am so happy that you decided to turn Live Free Creative Podcast on your app and listen and learn along with me and this community of people who are experimenting with the idea that we can live a life a little bit better, a little more intentional, a little more adventurous, and a little more creatively than we have done up until this point. So thank you for being here.
Every single week I ask you to do a couple things and if you've done them: Amen. Thank you friend.
Share The Podcast, Leave A Written Review
If you have not, consider that now might be the right time for you to share the podcast on your Instagram story or feed or share it with a friend. Invite them to listen to one of your favorite episodes or did this episode.
Also take the couple minutes that it requires to scroll down in iTunes and leave a rating and a written review. You have no idea how far those go in sharing the show with others and also encouraging others that this might be something that they're looking for. And if it's not, they can read through their reviews and decide that it's not something that they're looking for. I also don't want to waste anyone's time, so I hugely appreciate that.
More Than Enough Is Available On Amazon
Of course, my book is available on Amazon. It's called More Than Enough: How One Family Cultivated A More Abundant Life Through A Year Of Practical Minimalism. And I would love for you to read it, whether on kindle listen to it on Audible (which if you like the podcast, I read the whole book for the audiobook and it's so fun that I know people are out there listening to me read my own book through Audible).
You can also get a hard copy from Amazon if you live internationally. Head to shop.livefreecreative.co where the books ship globally.
Patreon
Okay, friends. Now let's talk about Patreon for just a few minutes.
I want to introduce what the membership is, what it's gonna look like, and why I think it's a good fit for this audience.
So I first heard of Patreon when my friend Izzy Harris, who was a YouTube video creator, she's an incredible videographer. She launched a Patreon for her community and I looked it up and I recognized this is a model of community supported funding for content or ideas or shows that the people really love. It's a way to keep the show unencumbered by regular sponsorships so that the creator has full creative license to talk about whatever she wants.
The reason that I decided Patreon was a good fit for this show is for a couple of reasons. One, that I have an incredible community who have asked for more. I have people who listen to this show every single week who have emailed me and DM'd me and said, I love your podcast. I wish that there was more than one episode per week. I wish that they were longer. I wish I could listen more because I really loved them.
I also love the idea of being able to bring a couple additional features to people who are more invested in the podcast itself. So for everyone who's listening, the weekly show will continue for free as it has for this year. If you are a regular listener and you want to simply say thank you for the episodes, support the show because it's supporting an independent creator like me, I am the independent creator right here.
Patreon Level: Monthly Donation
You can leave a donation, a monthly donation at any level, so it starts at $1 a month. That is like buying me a soda if we lived nearby and saying thank you for a show that really inspired you, that is available to anyone at any time. You can log on to Patreon and sign up to become a patron of the show. That means that you're a show supporter and as a thank you to the people who support the show this week, if you join this week, you will be entered in a big giveaway.
Anyone who joins at any level becomes a patron of the show, on any membership level, will be entered in to a giveaway and you can find the details of that on Instagram if it's beyond this week. The way that I will thank the patrons at a basic membership level is by sharing a thank you on the podcast itself. So you will get a live shout out saying thank you for supporting as a patron on the basic membership level, that's $1 to $5.
Patreon Level: Podcast Plus
If you join at $6 or more, you are automatically put in the podcast plus membership club. Now this is really the level where you get some additional features. There will be one bonus episode per month that always will have an accompanying PDF worksheet. These are going to be very thoughtful episodes. I mean I think about all of the episodes that I share, but the bonus episodes for the patrons at the podcast plus membership level are going to be things that I hope you will apply to your life.
So it will be an episode to listen to and also an accompanying worksheet like some that I've done on the show before that will be automatically available to you so that you can really dig in and continue applying the things that we're learning through the episodes. All of this understanding and the inspiration and the knowledge only really affects you if it inspires some sort of change and application in your real life.
So for the podcast plus members, that will be the intention, invitations to use the things that you're learning in your everyday life. It's like a $6 membership instead of t0 a spa or a health club. This is a membership for your mind, your mental state, and for your creativity. This is a membership to help you feel like your best self. It's like a very, very, very small investment in a coaching practice, group coaching, where each month there will be something that we dive into creativity, adventure or intention on so many different levels and then we'll be able to have a worksheet where you can apply it to your everyday life.
In addition to that bonus episode at the podcast plus membership level, you will be a part of, you can choose, if you want to be part of it or not, the virtual book club. This is going to be a virtual self-development book club. I read a ton of nonfiction self-help books that are really inspiring and I use a lot of that information as I learn and share topics in the show.
This'll be a place where I choose a book each month. I'll post it to a private Facebook group for the podcast plus members. We will read independently and then we'll come together for a virtual book club discussion on the Facebook page once a month. I'm super excited about this and a lot of you have expressed in's interest as well. It will just be really fun to have a support group of people to ask and answer questions to kick around ideas and to really come to a higher understanding of some of the principles that we want to learn to become better in our everyday lives.
Now that is the podcast plus membership level. $6 a month is about the price of a Torchy's quest or an order of tacos. So if you can go without one of those per month and re-dedicate that fund to bettering yourself, to learning more about yourself and to becoming more creative, adventurous, and intentional in your everyday life, then I would love to have you as a podcast plus member.
Patreon Level: One-On-One Creative Mentorship
Now the final Patreon membership level for Live Free Creative Podcast is a super stretch level. This is a one-on-one personal creative mentorship level. The price is $150 a month and with that you receive a 60-minute one-on-one Skype coaching call during the month and also weekly email followups to bounce ideas, ask and answer questions and for me to really keep you on track towards the goals that we establish for you as a creative, as a mom, as an entrepreneur or someone trying to just live a more intentional life.
Now this membership level is not meant to be ongoing forever. There is a minimum commitment of three months and if the coaching is going well and there's more things to work on, then we can extend it to six months. However, I don't expect that you'll sign up at $150 a month and continue doing one-on-one coaching for years and years and years. This can be a limited investment.
You think of it in your head as a certain amount of dedicated time and space that you will have to receive some very personalized coaching from me to help you achieve and feel the way that you want to feel doing the things you want to do in your everyday life right now.
After the three- or six-month commitment, if you really love it and there's a lot to work on and you're seeing the fruits of it in your life, then we will continue. I'm not going to kick anyone out, but I just don't want you to think, "Oh no, I don't know if I can indefinitely pay $150" But you could do a limited time investment.
There's only five spaces for this available and it will be first come, first served and after three or six months you can just downgrade to the podcast plus membership level and still be part of the community and other people can move up and take those seats.
I have really been excited about the idea of doing some creative coaching and personal mentorship and so this is the way that I'm going to put my foot in the door for that and create just these five spots and dig in deep with a few of you as part of the Patreon membership. At some point, the coaching may be pulled out of Patreon and it may be something that I offer independently through my website shop instead.
But for now, I'm really, really excited to dig in with some of you creative inspired people who are looking to progress individually in your life as a creative, a with some intention as an entrepreneur, possibly, or maybe just in your personal life. This is something that you can use to invest in yourself and in your future.
And as I have shared through this whole episode, now is probably the right time. If you feel a pull to join this community and especially to join a personal mentorship with me, that that feels like something that sparks your interest in, that is a little bit nagging for you. I want you to consider that now might be the right time for you to get started and to invest in yourself in that way. And so I can help you continue along this incredible life that you're living right now.
All Of The Patreon Details
All of the details for everything related to Patreon is available at Patreon.com/livefreecreative. I will also have a swipe up all day in my Instagram stories and in a highlight. So if you, if it's easier for you to just hop over to Instagram and get there that way, feel free to do that.
I'm so excited to grow this community on Patreon and I appreciate your support so much. The money earned on Patreon will allow me to continue to create time for the podcast in my life. The way that I have dedicated time to it every week over the last year. I want to be able to do that with intention and with freedom and with creativity. Allowing the community of patrons to be one of my major monetary supports takes the pressure off me needing to approach companies for sponsorships on a regular basis, which also takes so much away from the independence that I have in creating a show that I feel is just right for you.
So I appreciate your consideration so much, whether it's $1 or $150 a month that you feel like you can donate to the show. It matters. It makes a difference.
See You Next Week
Happy Birthday, Live Free Creative Podcast listeners. This first year has been so much fun knowing that you're listening along as I record and share these episodes every week, and I can't wait for many, many more.
Have a really wonderful week. I'll talk to you again next time. See you later.