Ahhh, you know that feeling when you finally finish a big project and your shoulders straighten, your breathing slows, and you can't stop smiling? That's how I feel today. Our indoor patio room has been months in the making. Most of that time it actually sat empty while I worked on the skim-coated walls little by little (in and around doing other projects like wallpapering the guest bathroom and redesigning our bedroom.) The whole space turned out just as I imagined and is a really wonderful addition to our home. Let me tell you more about it!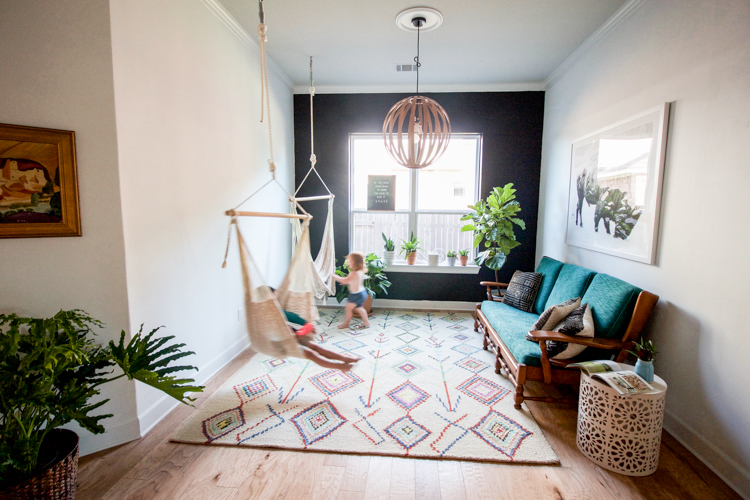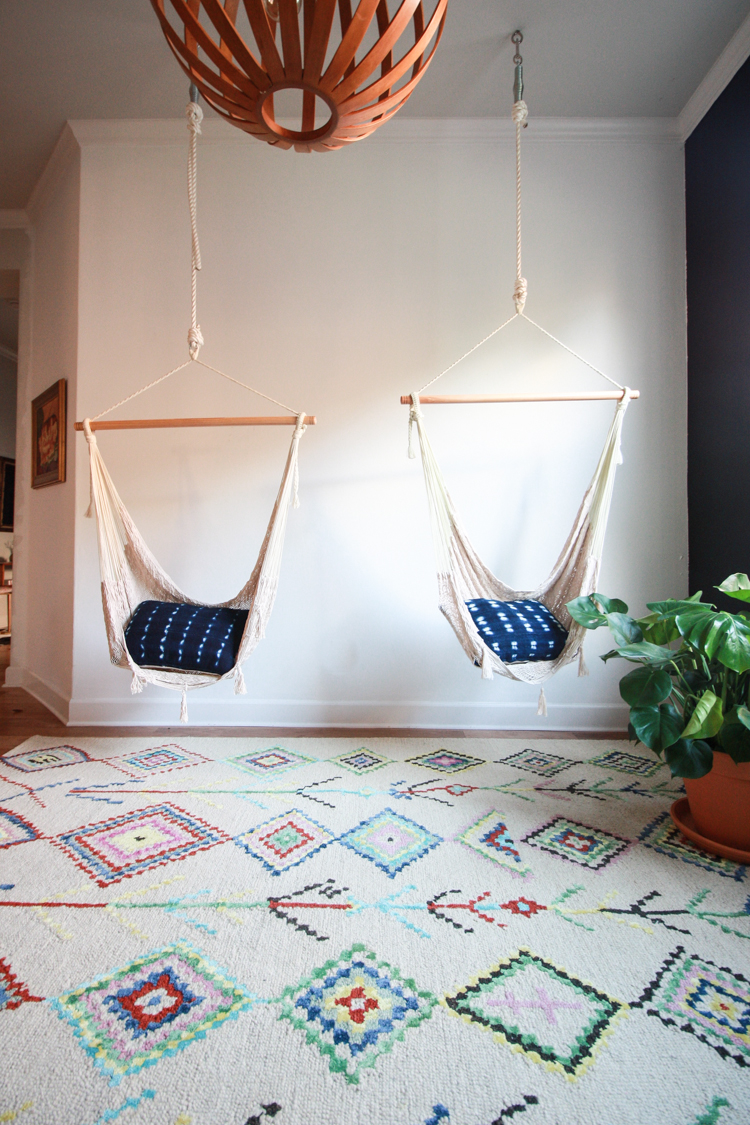 When we built this house, this room–a little awkwardly placed off of the main hallway, around the corner from the kitchen– was sold listed as the dining room on the floor plan. We started with a table in here, but it felt just far enough away from the kitchen and the main eating and hanging out space in the house to not work for us. Combined with the more casual nature of our family, and the really wonderful dining area we created on the covered back patio, it was an easy decision to do away with the dining room and create something else.
As I was browsing the internet, I came across this costal house feature and instantly fell in love with the indoor patio room! The hammock, plant-lined walls, and breezy feeling all felt so easy and lovely for a home. It was just what our house needed.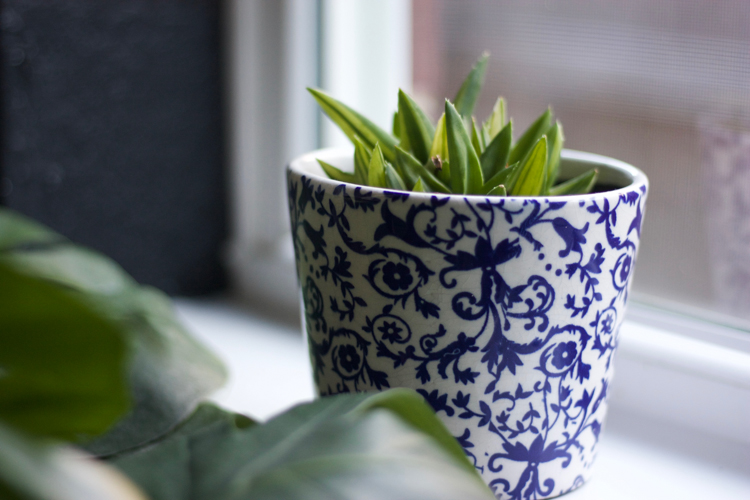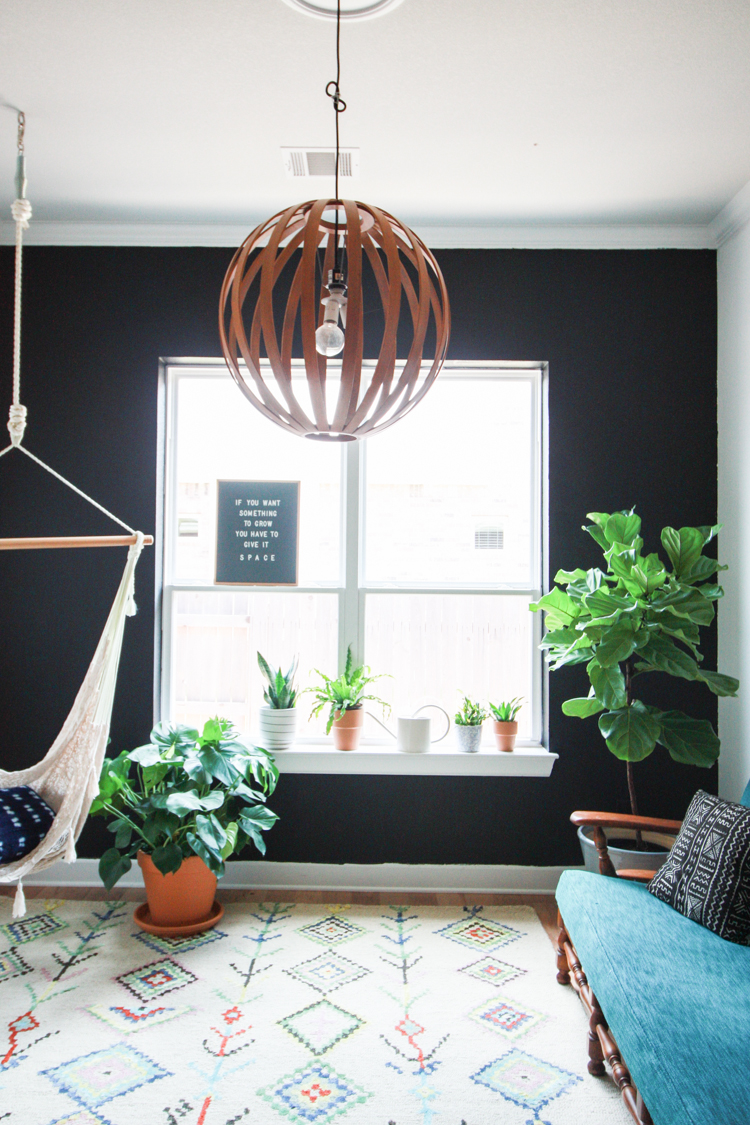 Because the front door is a long way from the back of the house, where our family room and kitchen are located, having a sitting area that is mid-way into the house also helps with having company in for a few minutes. We've also loved having a couch in a room without the tv, so we can sit, chat, and relax without that distraction.
I decided on a black wall to anchor the room, and make it feel intentional. It works really well on the wall with the window, because the light is still able to come in and bounce around on the freshly painted white side walls, keeping the mood bright and fresh. I worked with Sherwin Williams, who I adore, to choose paint colors and types, and they generously provided the paint. We went with Tricorn Black in their cool Emerald paint with flat sheen, which has all the washability of a glossier sheen, but with a gorgeous suede-like flat texture. For the walls I went with Extra White, also in  Emerald paint and flat. It was trickier than I expected choosing the perfect white, but this one is bright, but still warm feeling.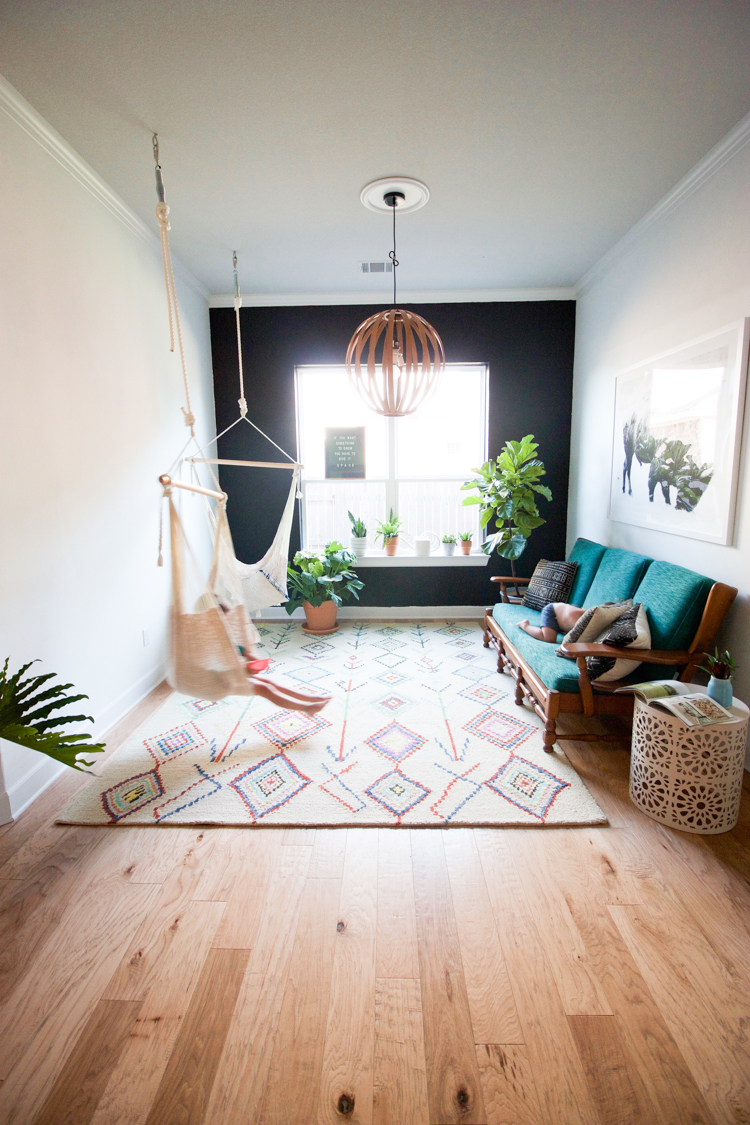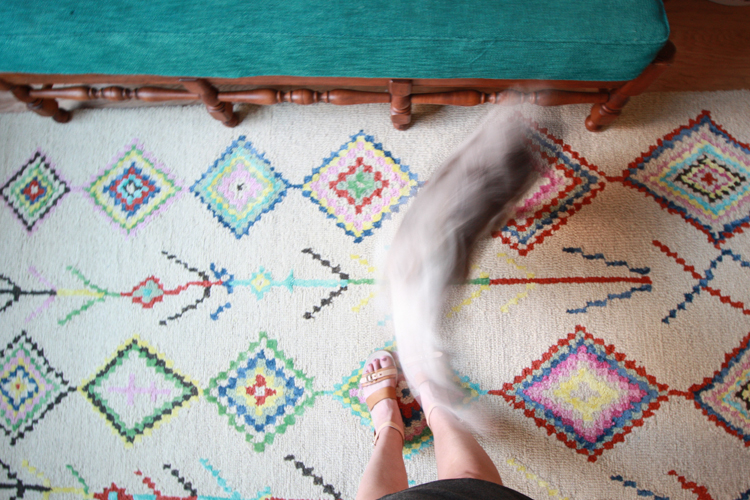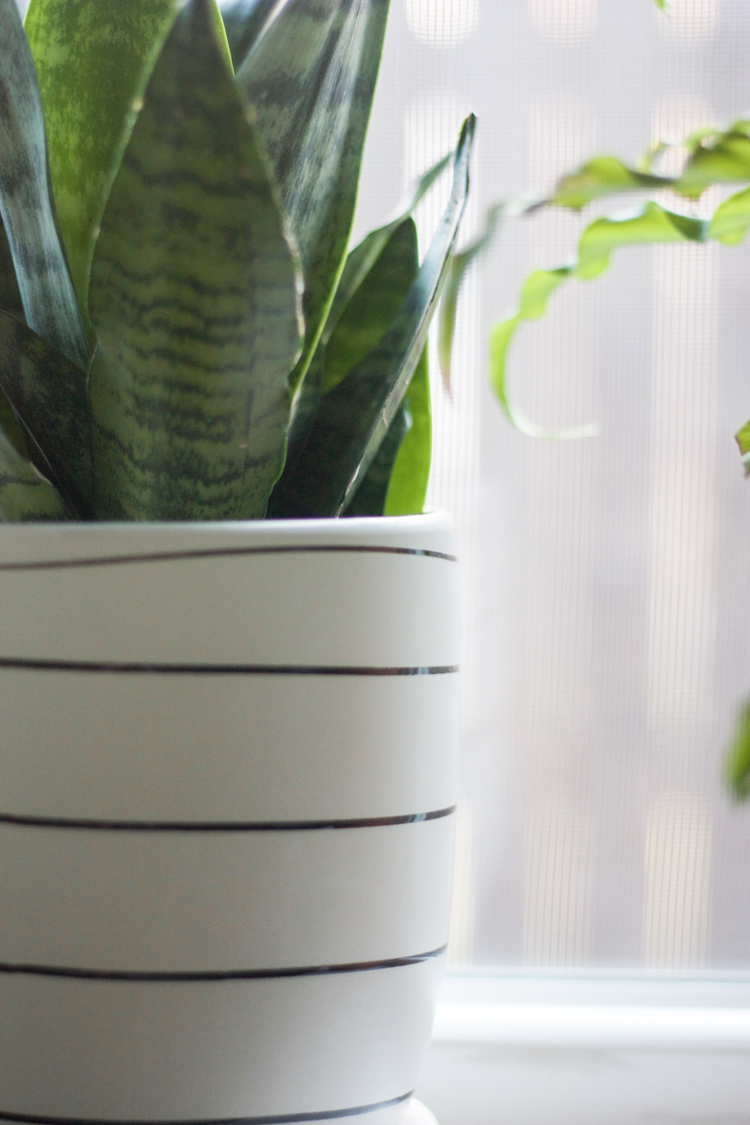 I already had the couch, which I found at a thrift store and had reupholstered with a great local shop, Economy Upholstery. We also already had the  bent wood pendant and one of the two hanging hammock chairs in the room previously (you can see the before here.)
That was a great place to start, and I was excited to build upon it.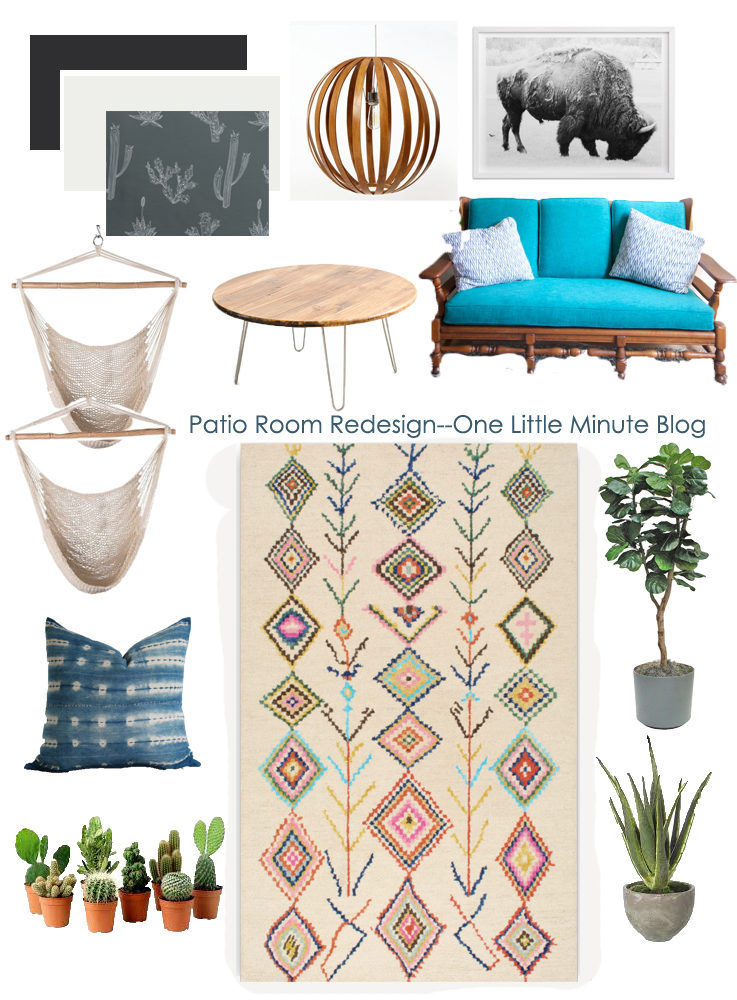 I've gotten in the habit lately of creating digital style boards as I intentionally redesign rooms, and it make such a difference to be able to see what elements I'm putting in as I go! I went through a couple different pieces of oversized art for the wall above the couch and seeing it was able to confidently settle on the buffalo print. It's now one of my favorite things in my house.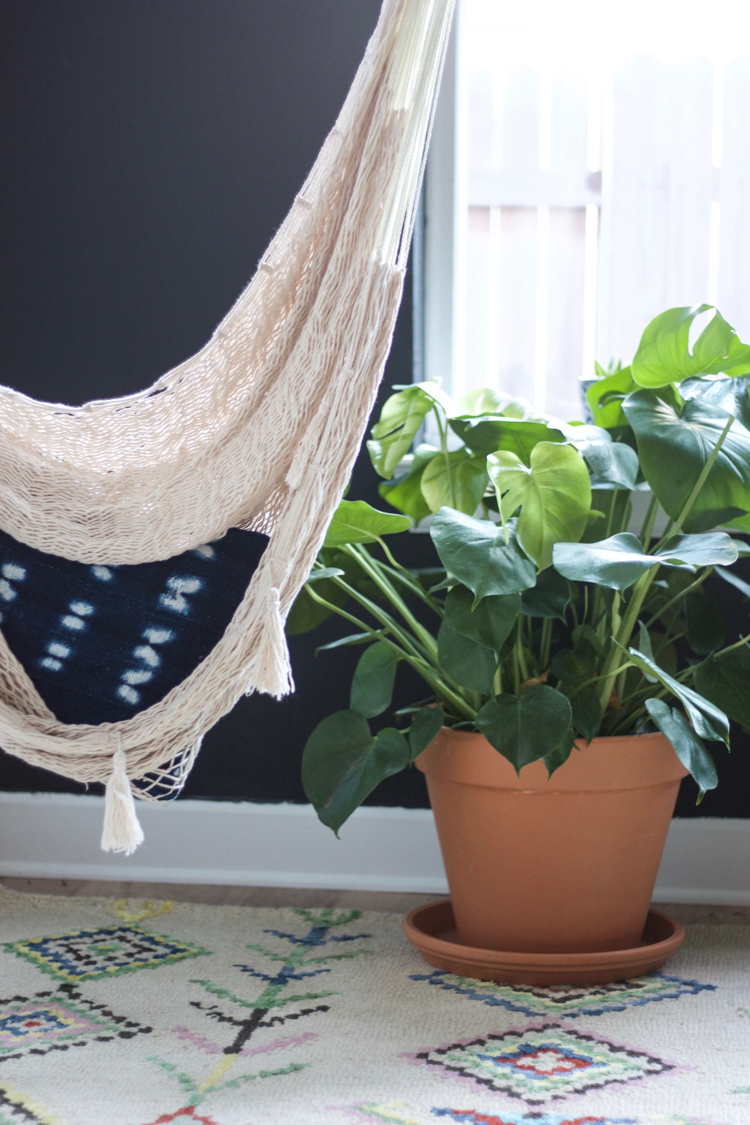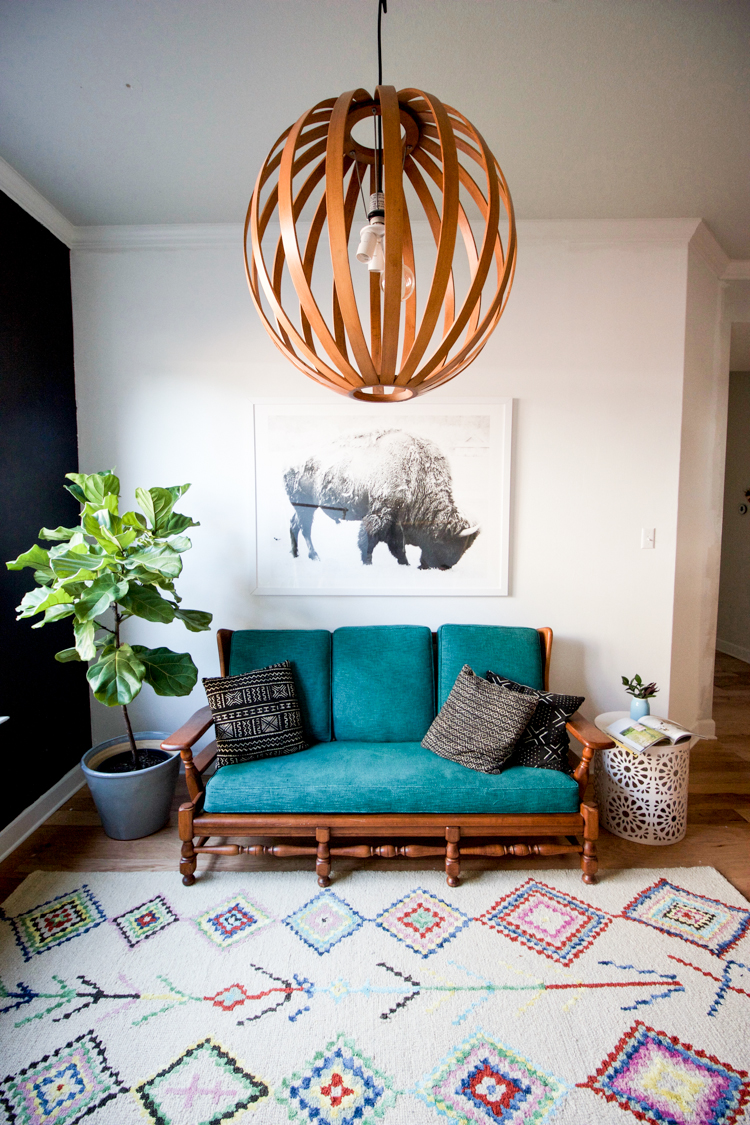 I also was able to envision this amazing bohemian rug from Rugs USA, and it came to life so beautifully in the room. I love the way it adds a bit of color, ties in the teal couch, dark wall, all the greenery, and still keeps the southwestern vibe of our home. Plus, its super cozy, thick, and is going to last forever.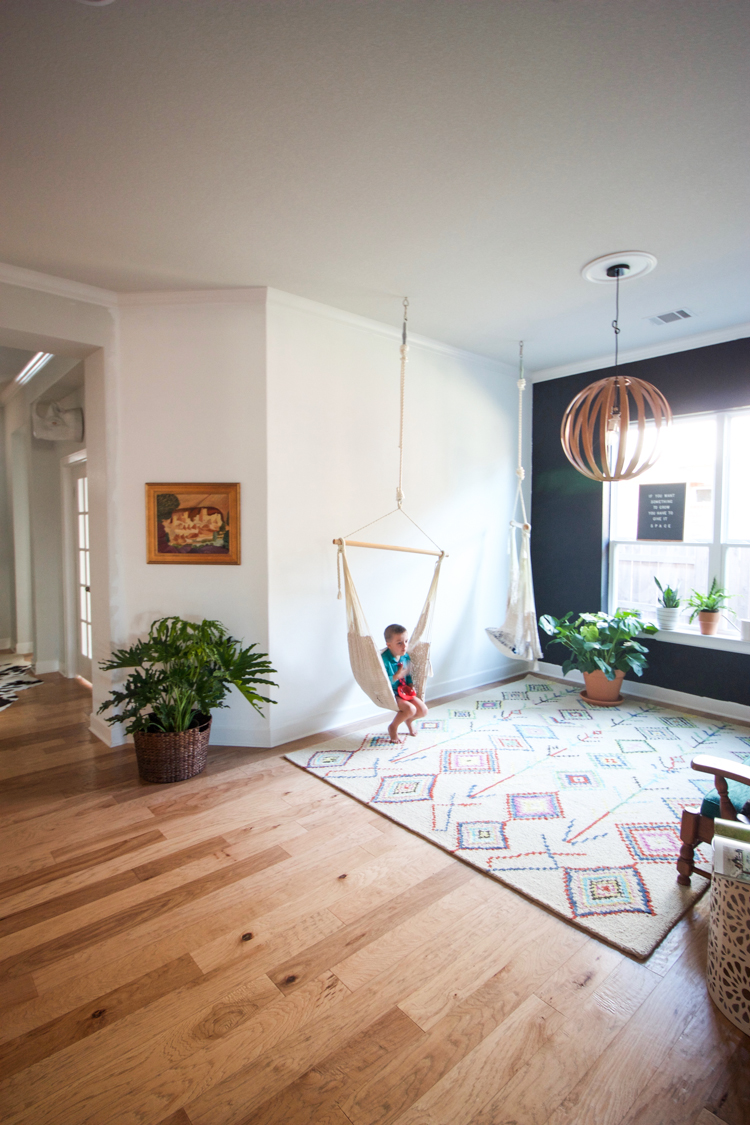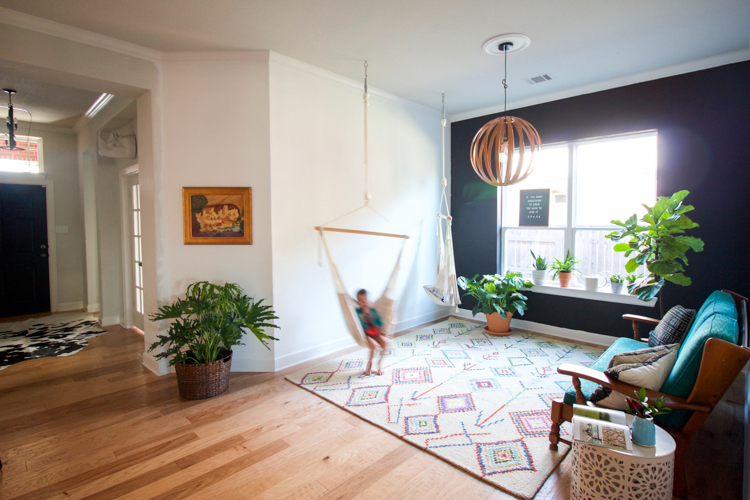 You can see how open this room is to the hallway and the rest of the house. The laid back vibe of the indoor patio room adds calm, casual feeling to the heart of our home, which is just what this crazy family needs!
I picked up that punched metal side table on a whim, and love how it works. I had planned on putting a hairpin coffee table (like this DIYed version) in here as well, but for now I really like the open space to play, swing, and hang out. I've been saving the monthly issues of the Austin-based lifestyle magazine Tribeza, and this one happened to have an article about bison. Fitting.
The Letterfolk board is sitting on the window, although I plan to hang it on the black wall next to the hammocks. For now I really love it with the light shining through.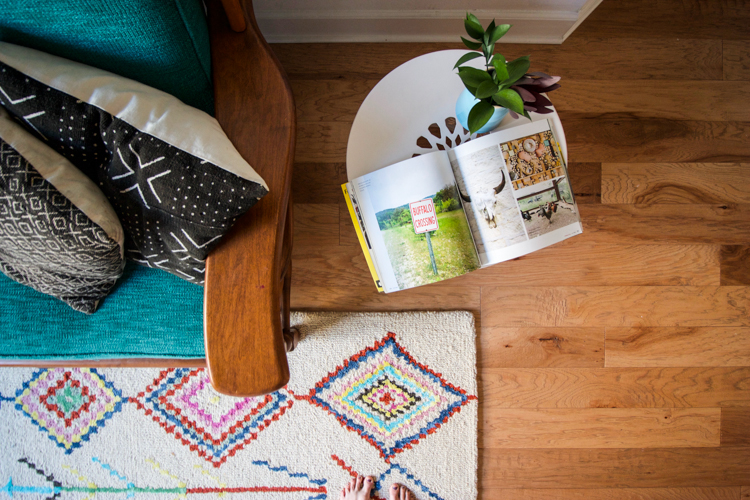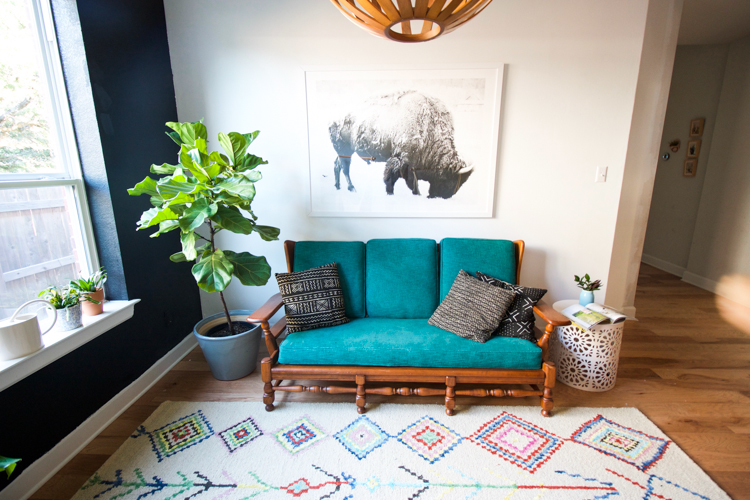 All of the plants make me happy, and really drive home the inside-outide nature of the room. You can find all of my tips for caring for houseplants in this post. I also found all of my planter pots and baskets for this space at At Home, whose selection continually surprises me.
Ever since my little sister opened her shop, I've been collecting both African mud cloth and vintage indigo pillows from her (in addition to turkish towels and woven baskets!) I love the way both work in the room so nicely.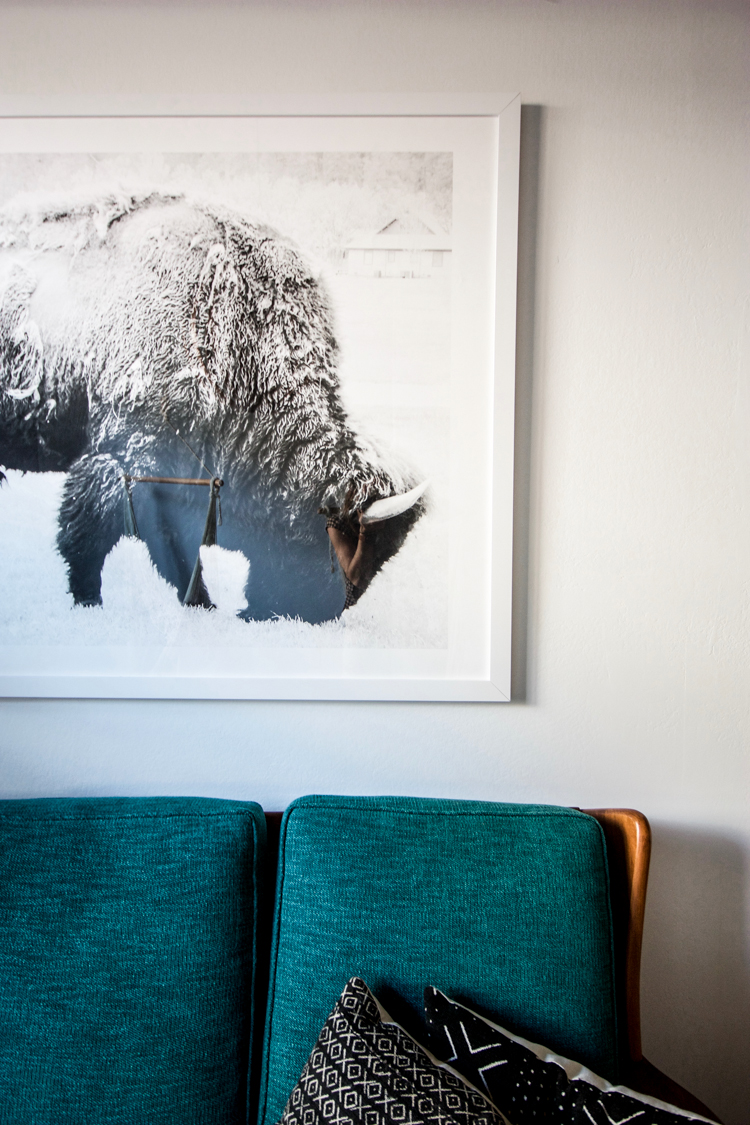 Basically, it feels like home. I couldn't be happier with the way the whole space has come together, and after three years of tweaking it I think we'll keep it just like this for awhile.
Room Sources:
Wall Paint  Tricorn Black and Extra White Emerald Flat // Sherwin Williams
Couch // thrifted
Upholstery // Economy Upholstery
Mudcloth + Vintage Indigo Pillows // Mae Woven
Buffalo Print // Minted
Bohemian Rug // Rugs USA
Letter Board // Letterfolk Co.
Hammock Chairs // Amazon
Planter Pots // At Home
Side Table // World Market
Bent Wood Pendant // West Elm