Instant Pot Green Chile Chicken Enchiladas
I began making Honey Lime Chicken Enchiladas ten years ago, when the recipe blew up all over the internet! I've since slowly adapted the original recipe to work in my instant pot and feel more easily put together for my mom-schedule. The result is these amazing, delicious, and super simple instant pot green chile chicken enchiladas!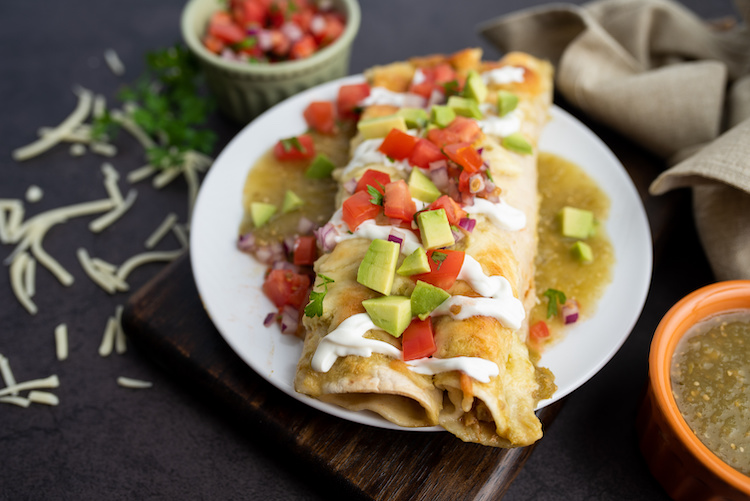 Minimal Meal Planning
These enchiladas are part of our weekly rotation of minimal meals. We started setting-and-forgetting our weekly meal plan several years ago and haven't turned back! We choose 7 dinners to repeat weekly for 3-4 months or one season, then swap them for 7 new meals. I shared all about the minimal meal planning method in this blog post, this podcast episode, and even have a super inexpensive course to walk you through the process!
In addition to the seven, simple meals, I also have started batching some of the recipes that lend themselves to make-ahead. These instant pot green chile chicken enchiladas are perfect for making in double and setting half aside to freeze for the following week.
This way, I make enchiladas only every two weeks, even though we eat them every week! Such a great time-saving hack.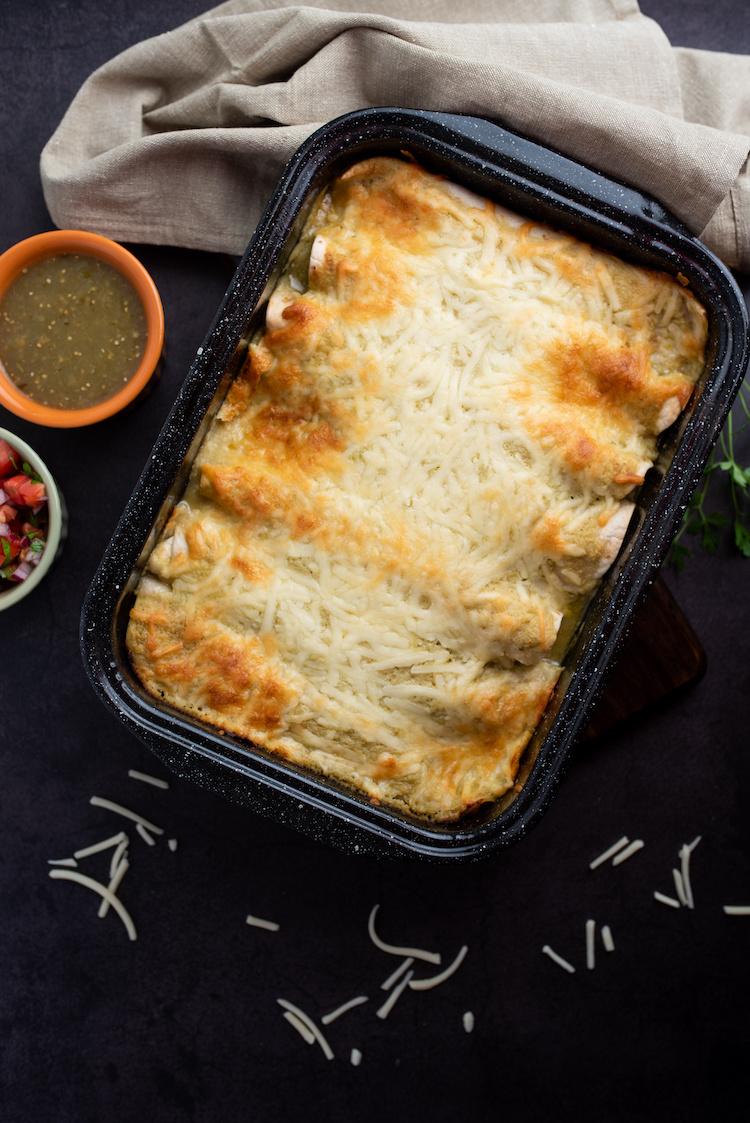 Family Friendly Meal
Even the pickier of my three children devours these enchiladas. All three kids look forward to eating them on Tuesday nights, and cheer when the realize enchilada day has rolled back around.
I add lettuce, tomato, onion, and cilantro to top my own plate of enchiladas. The kids opt out of all of the veggies except for the lettuce, which is better than nothing!
In addition to feeding this delightful meal to my own family weekly, it is also one of my go-to meals to make for friends who have recently had babies, are recovering from illness or loss, or any other time I want to drop a delicious, heartwarming meal on someones doorstep. Once assembled, everything is fully cooked, so it can be dropped off even before baking and re-heated quickly and easily.

Instant Pot Green Chile Chicken Enchiladas
Ingredients
1 lb chicken thighs
12-16 oz salsa verde green chile sauce
juice from 1 lime
3 Tablespoons honey
2 teaspoons cumin
1 teaspoon chili powder
1 teaspoon salt
1/2 cup heavy cream
12 flour tortillas
8 oz shredded Mexican Cheese
Takes ,
serves 2.
Instructions
Put chicken thighs, salsa verde, lime juice, honey, and spices into the instant pot. Set to the "poultry" setting and let cook for the 20 minutes. Total unattended time including heat up and cool down is around 60 minutes.
If using fresh, raw tortillas, cook until blistered, and set aside.
Shred the cooked chicken with tongs and pour the remaining juice from the pot into a bowl. Add the cream to the sauce and mix. Add additional salt or spices to taste if needed.
Pour the sauce into the bottom of a 9×13 casserole dish. Lay a tortilla into the sauce, then flip, moistening both sides. Add 1/12 of the chicken to the tortilla, as well as 1 tablespoon of cheese. Roll and set against one side of the pan. Repeat until all 12 enchiladas are rolled. Sprinkle remaining cheese on top.
Bake at 350 for 30 minutes to melt cheese. If baking from frozen, bake for 45-60 minutes to reheat completely.
Serve with shredded lettuce, tomato, onion, cilantro, and whatever else you like!