As much as I try to hold on tightly to my baby girl being a baby, she is growing up. Along with speaking in full sentences, dressing herself (multiple times per day), and potty training, in the last couple months we also said goodbye to her beautiful crib. Of course, a big girl bed meant some rearranging and redecorating in her room, which I wanted to feel more grown up but still whimsical and fun. She needed a room she would both love now and grow into in the next few years. Lemon wallpaper seemed like a fun place to begin.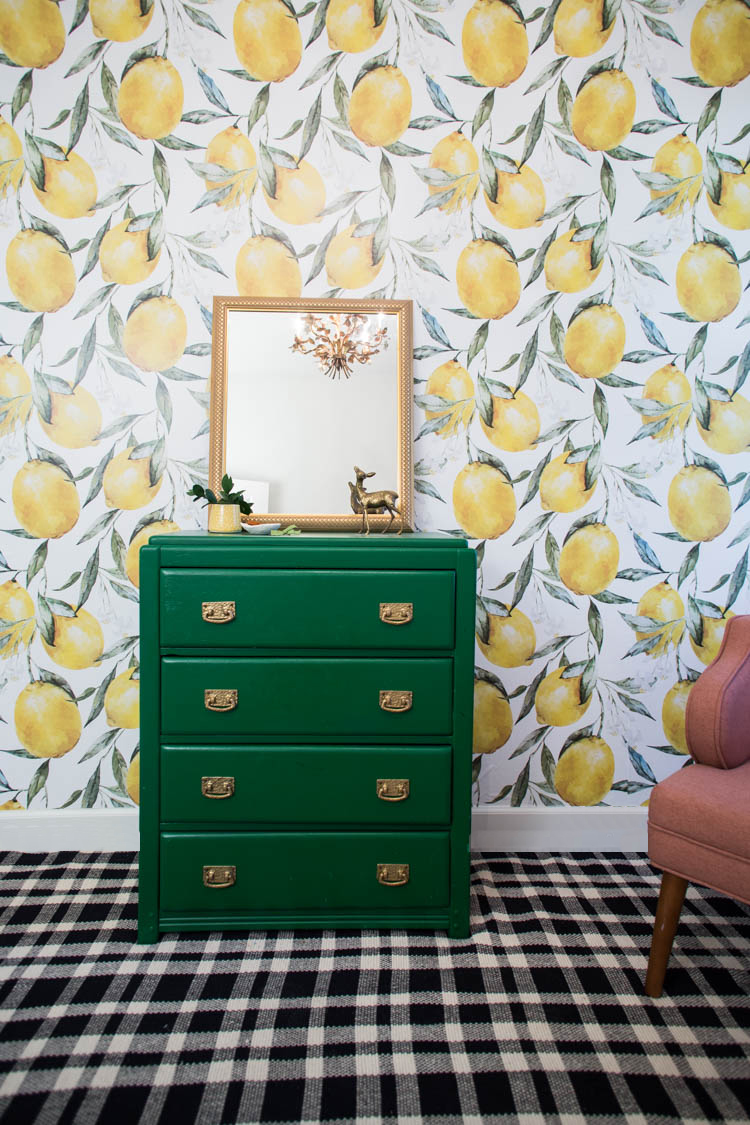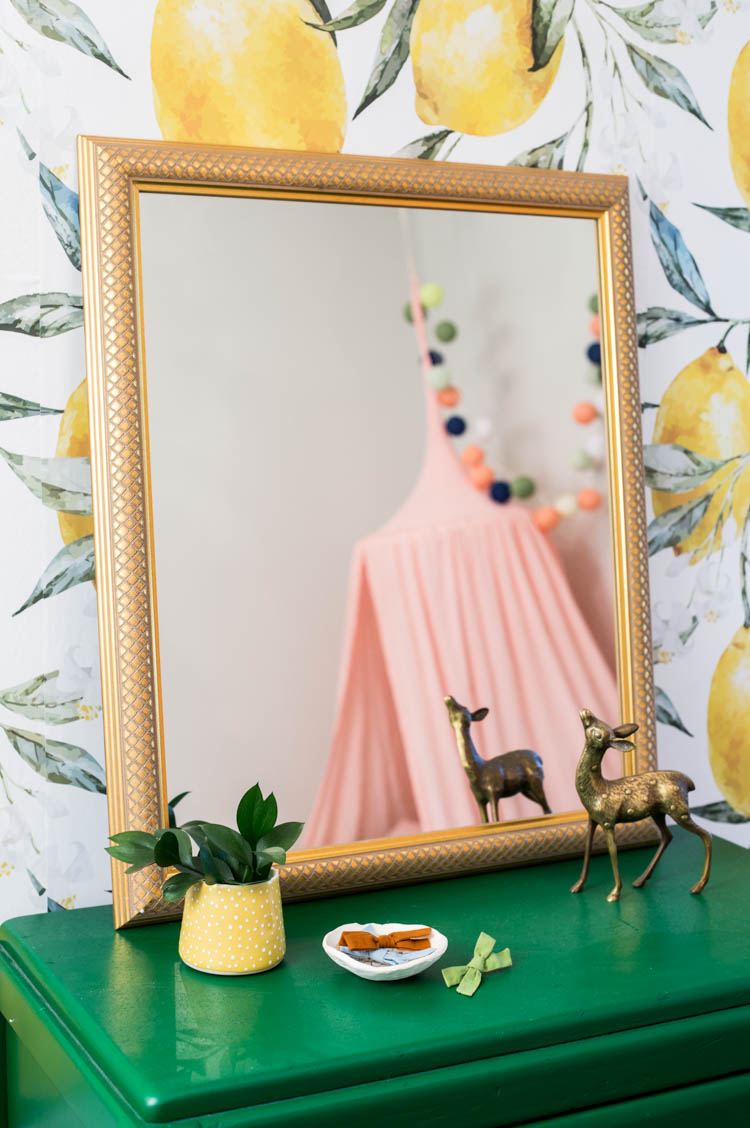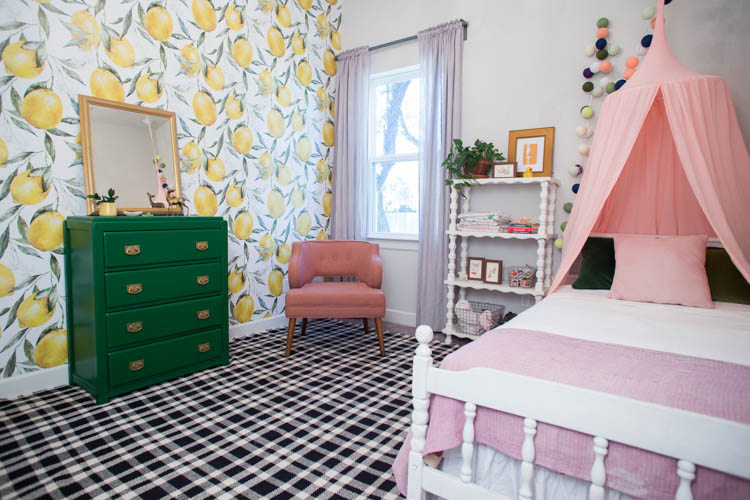 I used Walls Need Love wallpaper when I was redesigning our guest bathroom, which has since become a favorite room in our house. The selection is wide, the peel-and-stick feature super easy to put up, and the company really great to work with, so I was excited to partner with them again as I prepared to add something special to Plum's big girl room.
This one big wall where the crib used to sit seemed like a perfect place to add a feature wallpaper. As I scrolled through the designs, I kept coming back to the idea of these big, beautiful, painterly lemons. Lemon wallpaper for my Plum seemed like such a good idea! I don't have any fear of large prints or making a statement, and since I wanted to continue using her vintage green dresser, and the other furniture was all solid and pretty neutral, it felt like it could work.
The process of hanging the paper took about an hour, start-to-finish. I made a time-lapse video to record the project and love the way it turned out; a hyper speed illustration of how simple the hanging process is, especially on a big flat wall like this one. If the first line is straight, theoretically the others will follow. There were a couple tricky spots where I couldn't figure out why my line wasn't matching up with the perfect amount of overlap, but one step away from the wall the little imperfections were no longer noticeable.
Last time I used removable wallpaper, I flattened the walls before applying it. This time, I applied it right over the orange peel texture of the wall, and it turned out great! You can see a subtle texture to the wallpaper when you are looking closely, but the wall looks amazing and it was a lot less work.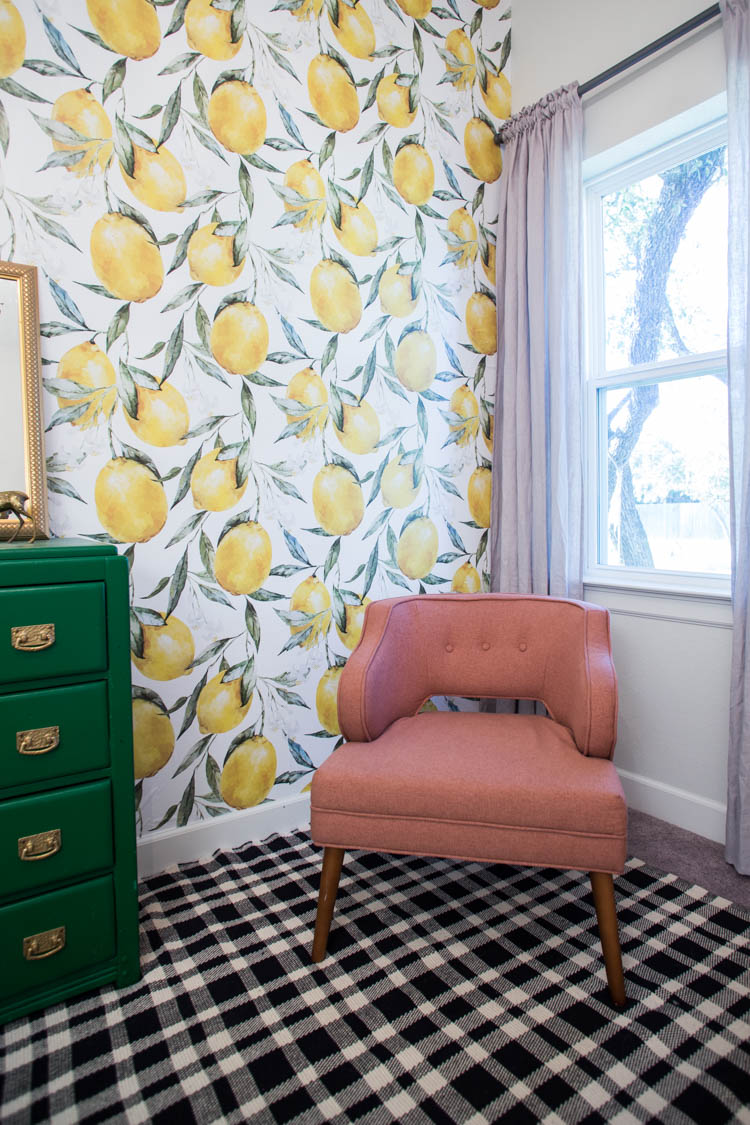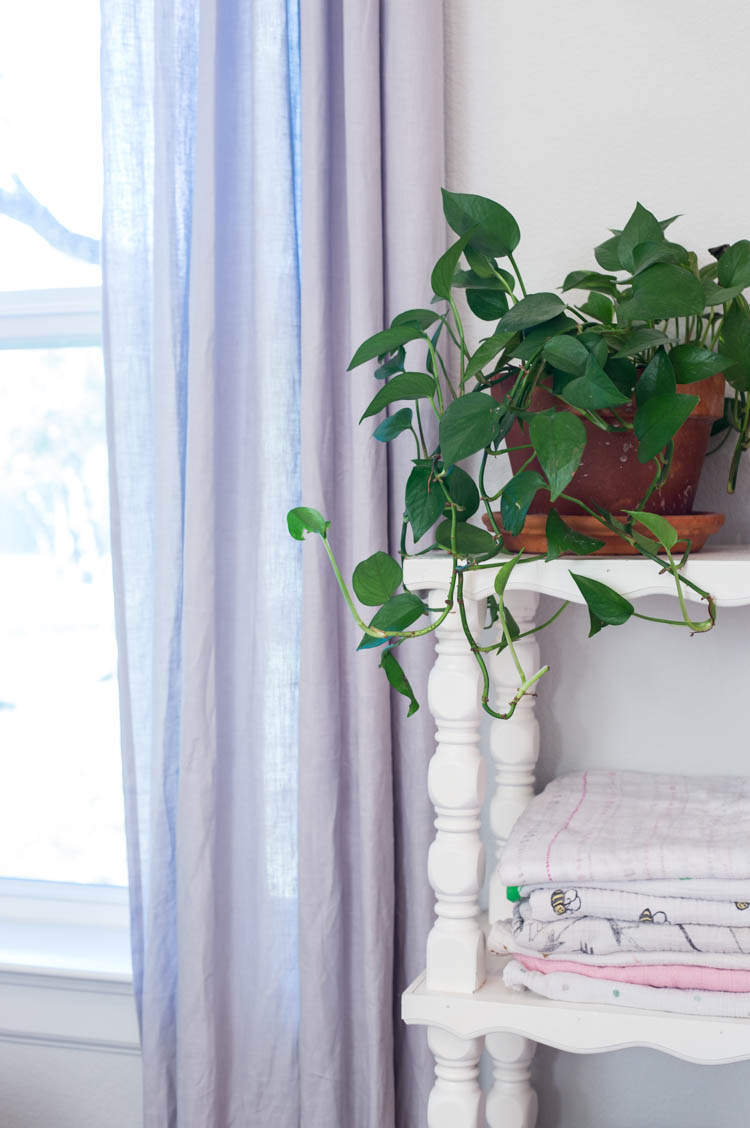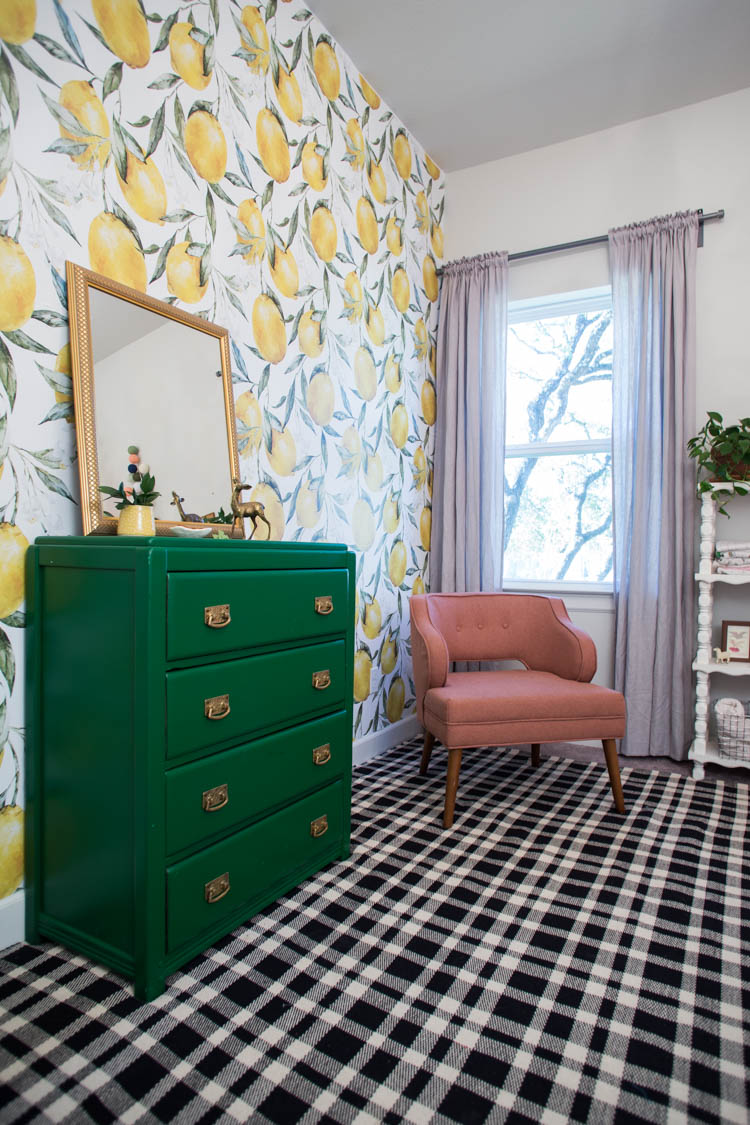 Aside from the statement lemon wallpaper, the other major change to Plum's big girl room was this huge, gorgeous, Tattersall Black and Ecru plaid rug by Annie Selke's Dash and Albert. It is a lightweight cotton weave, which lays easily over the carpet in this room, and adds such impact. I don't know if most people add rugs over carpet, but every room in my house with carpet also has a rug. I think I'm just a rug lover, and this one is a definite favorite. (When I was worried a little bit about the scale, I noticed the same rug in Emily Henderson's office, which confirmed completely that it was the perfect one.)
The bold black and white plaid here feels vintage-inspired along with the wallpaper and the mostly vintage furniture. Now that it is all put together, I love how the larger scale mirrors the large scale of the print on the wall.
Working from the ground up on a room design like this one can help make other decisions easy. Once I had the wallpaper and the rug decided, the rest of the room fell into place with pretty solid colors, pretty shapes, and neutral furniture and bedding, all things that we already had on hand.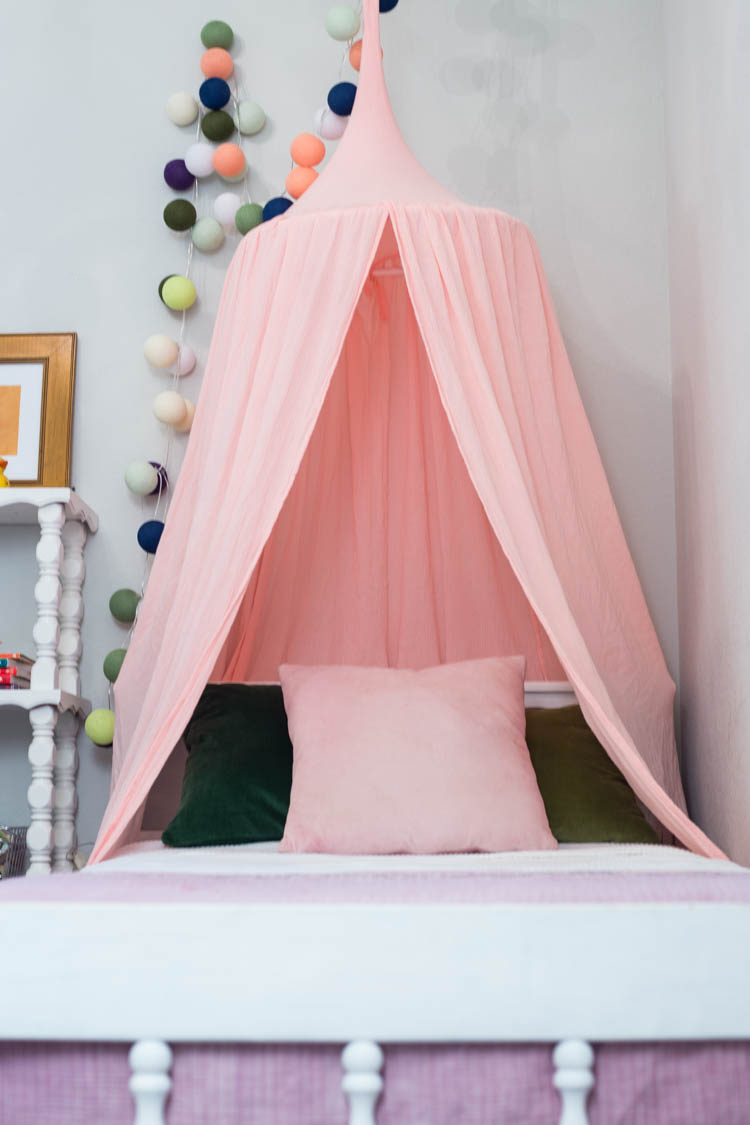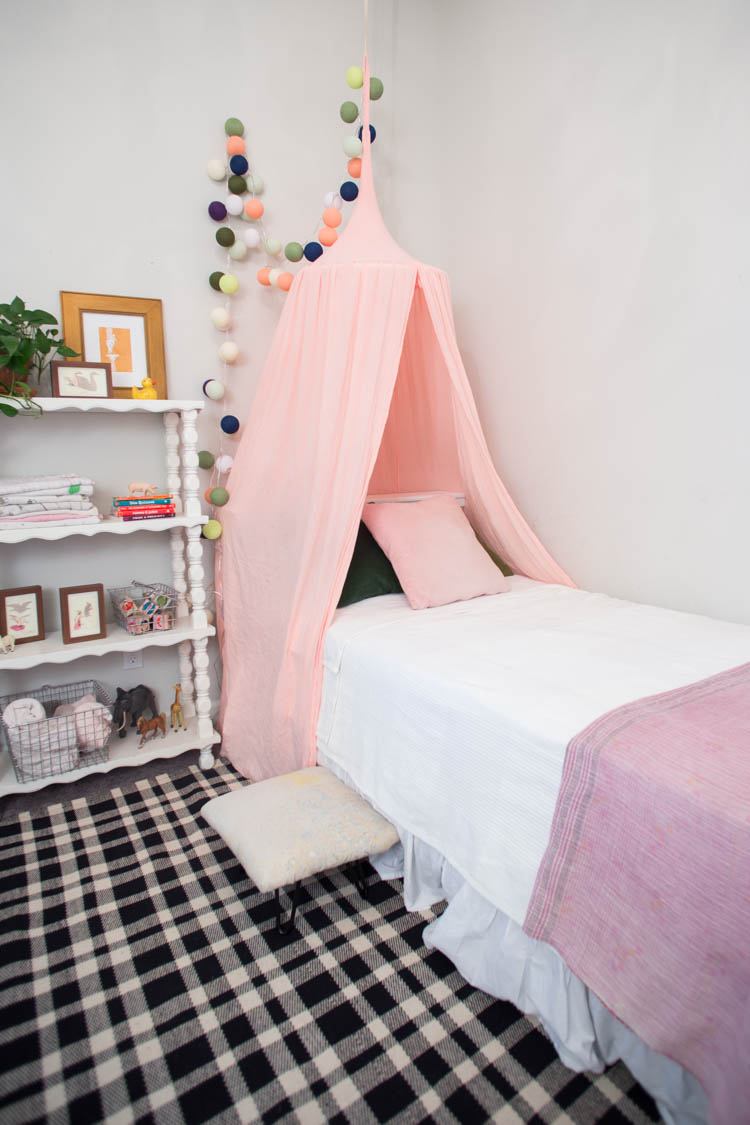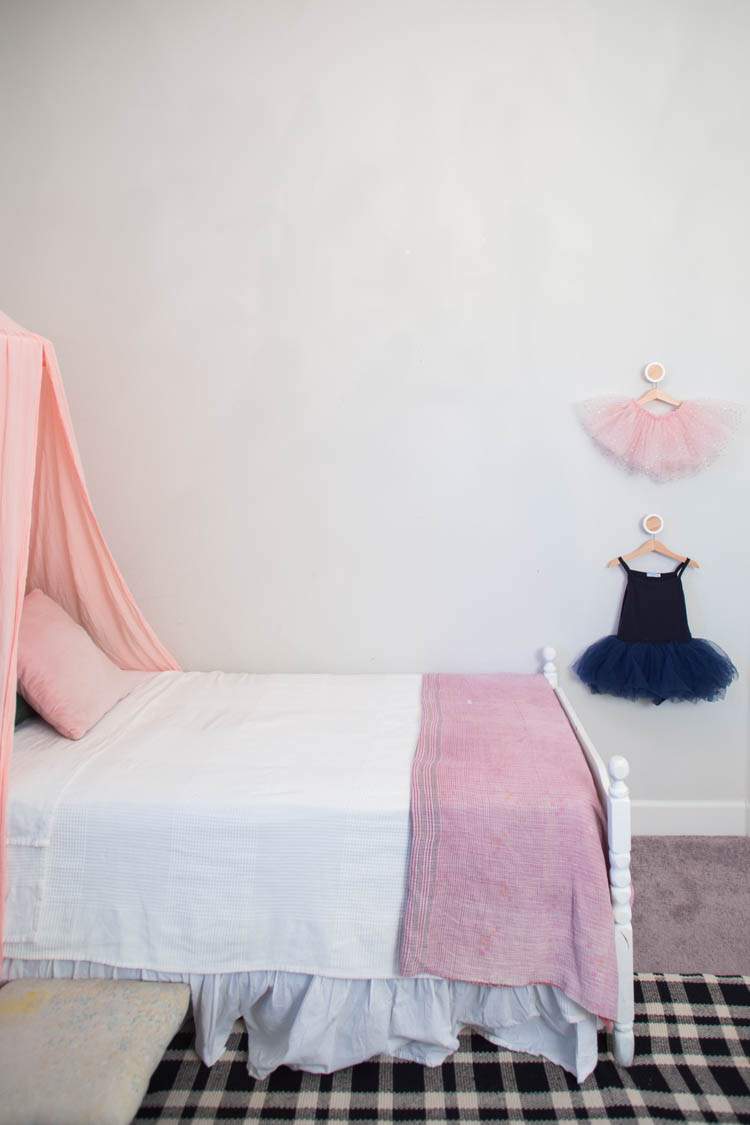 The bed itself is a vintage bookcase bed that a friend donated to us last year. I had it sitting in the garage, waiting for Plum's transition out of the crib. It was a warm wooden stain, and pretty well-loved when it arrived. I added a couple layers of Waverly white chalk paint and wax straight over the sealed stain to match the darling white vintage bookcase. I found the bookcase itself at Round Top Flea Market a couple years back, and it is one of my favorite pieces of furniture; simple and feminine.
I don't love the bookcase-style of the headboard for Plum at this age. When she is a bit older she may want to store books and knick knacks in the little shelf, but for now I thought she would have fun with a beautiful, blush pink canopy hung above her bed, like a princess. This lovely gauze version is made by my friend Terri of Blue House Joys, and I have had it in the closet for months, waiting to hang.
I love the way the canopy adds some youth and whimsy to the room, without making it feel too novelty. And Plum adores not only falling asleep beneath the drapes, but also playing under there in her own secret play space. It's pretty special.
The Bright Lab Lights not only are cute (and I must have had some foresight on colors when I chose those pinks and greens a couple years back), they also double-duty as the nightlight above the bed. They give off enough light for me to read stories, and are also dim enough that she falls and stays asleep beneath them all night long.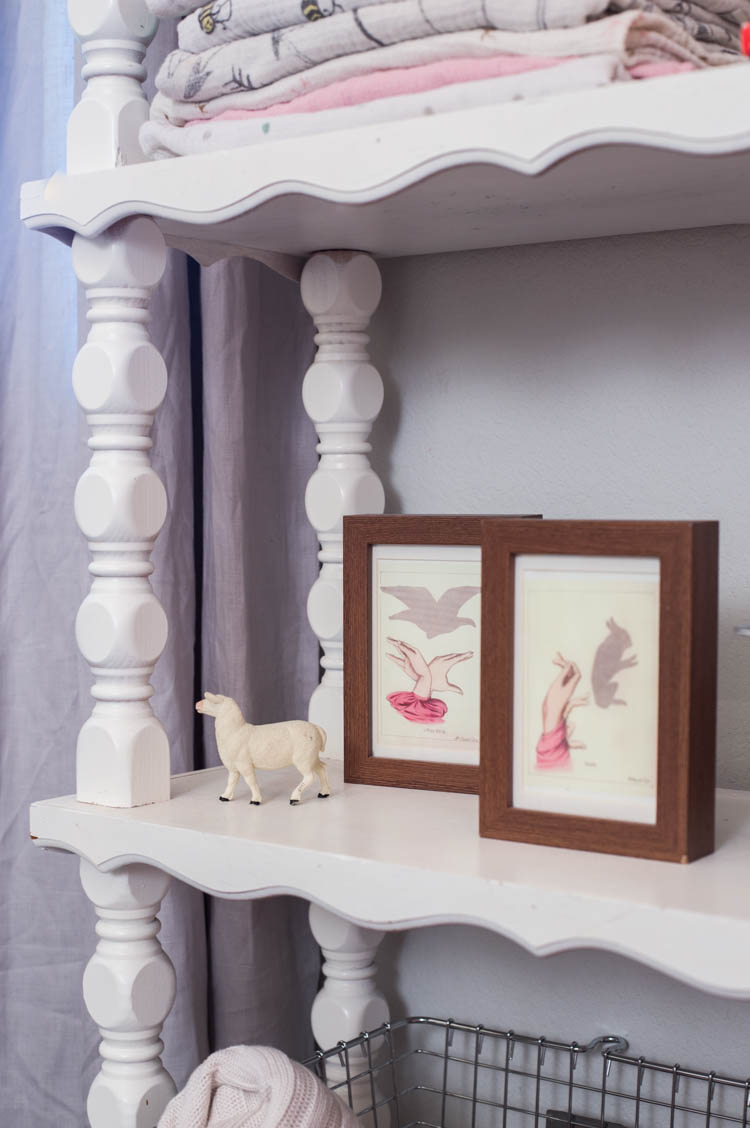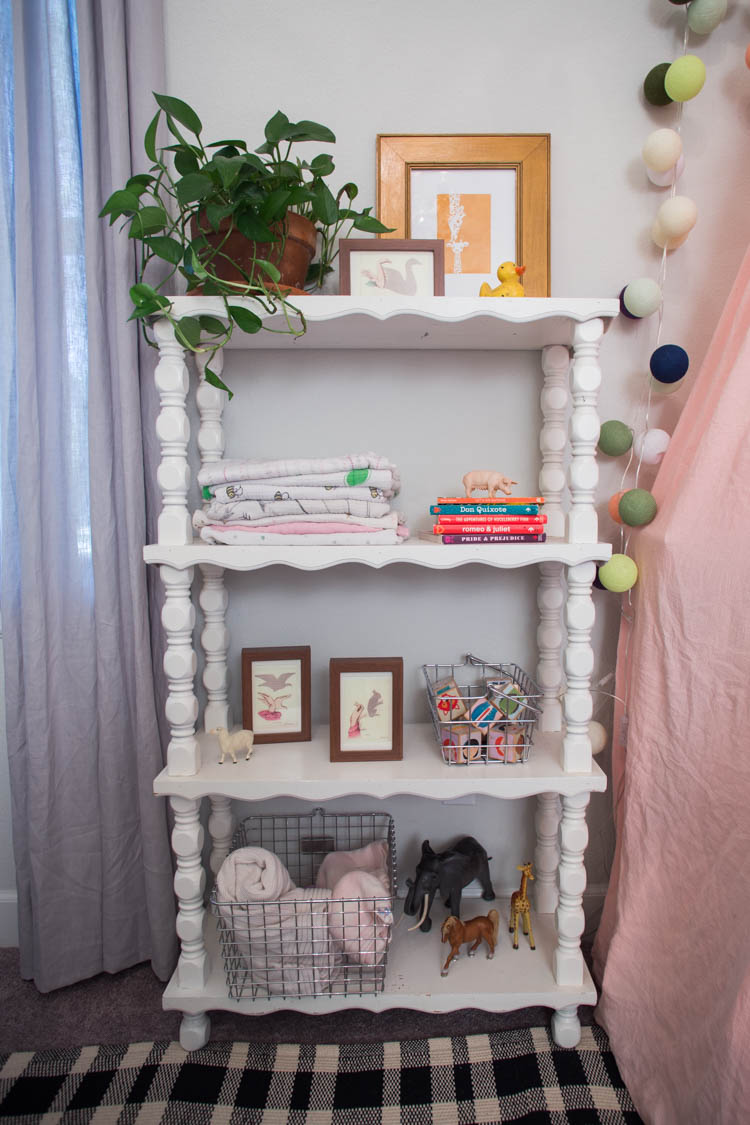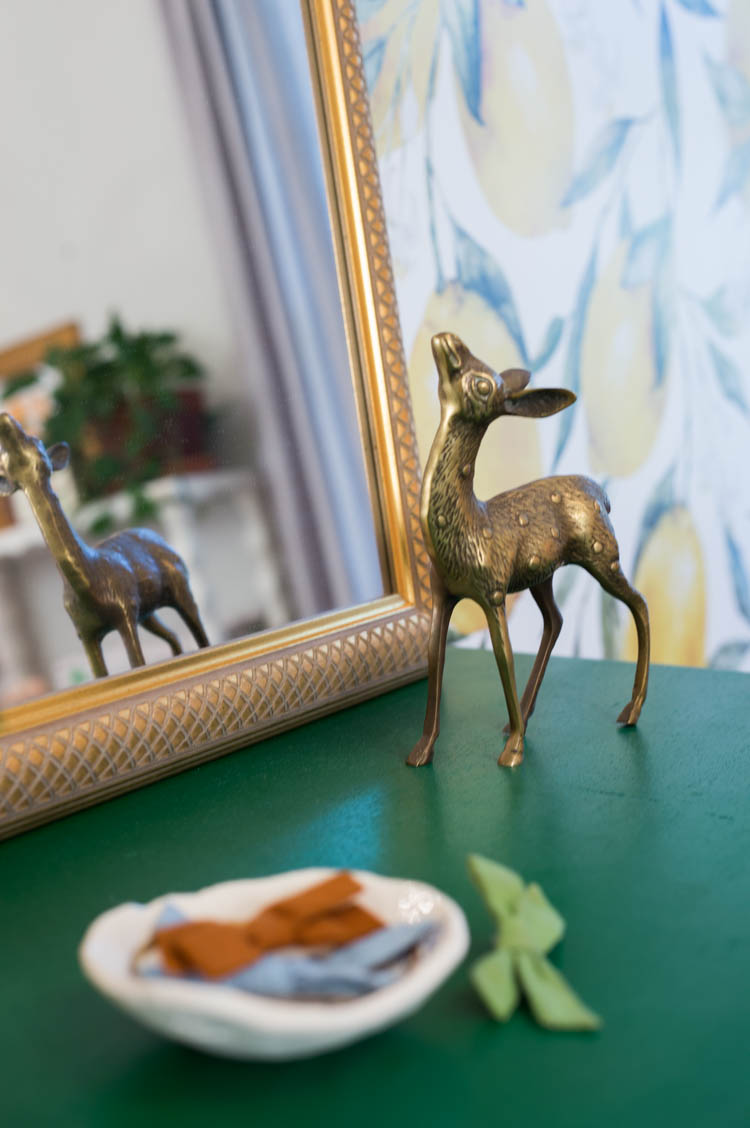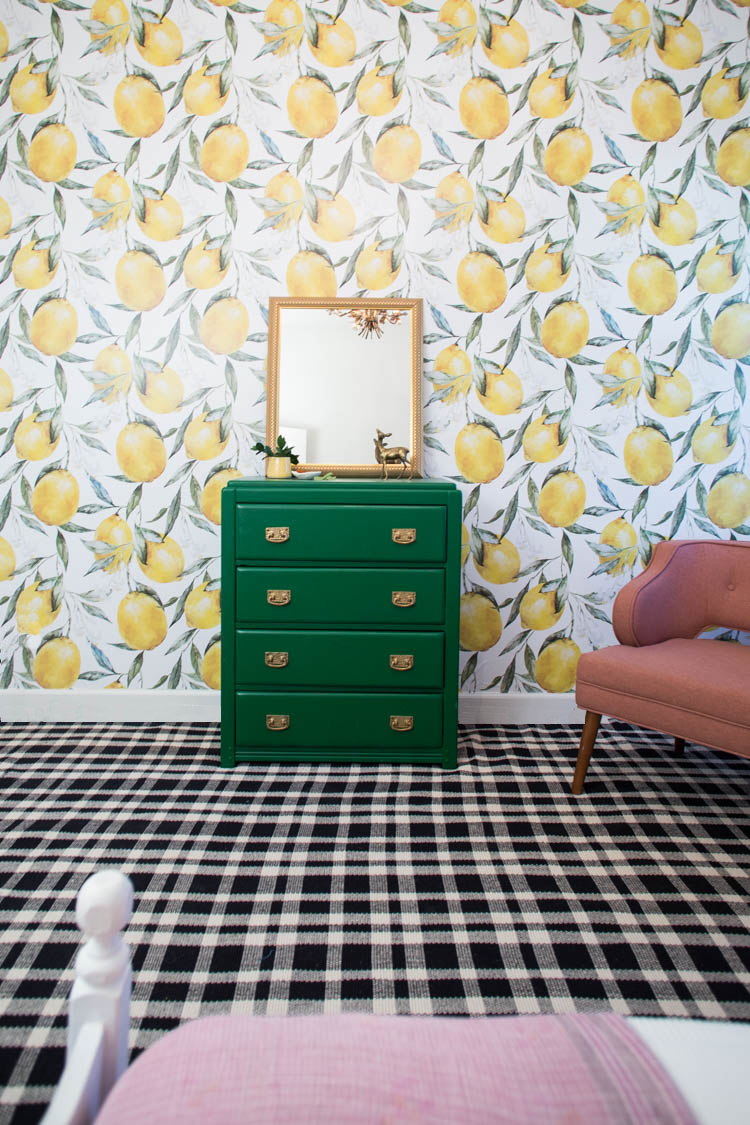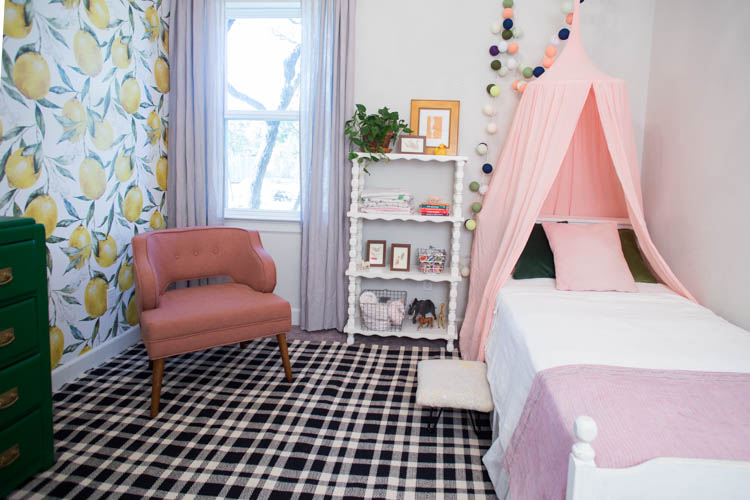 That pink mid-century inspired chair is one of my favorite pieces from my collaborations with World Market last year. I love the lines, the buttons, the color, and the fact that it is legitimately super comfortable. In this room it replaces the leather rocker-recliner that was a nursery staple for the last eight years (that I sold on craigslist to a sweet couple expecting their first baby.)
I kept the bedding all solid and neutral, because there is enough pattern on the wall and floor. The sheets and basic blanket are from Ikea, the green and blush pink velvet pillows are some of my other favorite World Market finds, and the pink vintage kantha blanket was from West Elm years ago. The little upholstered footstool was a simple DIY I put together last month, and we use it every day!
All of the small accessories, toys, books, and art prints are all things we already had and have been loving in this room. They tell a story and make it feel like home.
There are vintage shadow puppet post cards that I bought in a little boutique in Berkley when I was pregnant with Plum. An antique floral chandelier that I bought on a girl's trip to San Diego and had shipped home to install in this nursery. The handprinted mother and baby giraffe made and given to me by my good friend Miriam Tribe makes my heart swell when I notice it. We have small Wunderkind Co bows stashed in most drawers, diaper bag pockets, and the glove compartment for quick hairdos.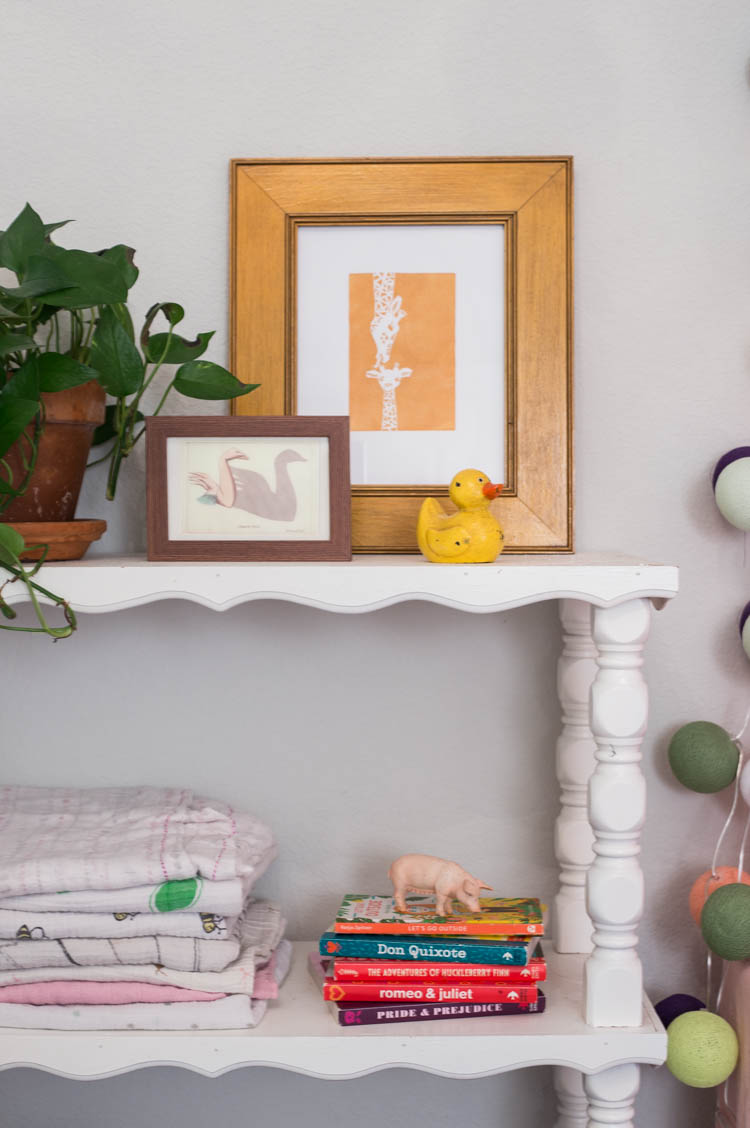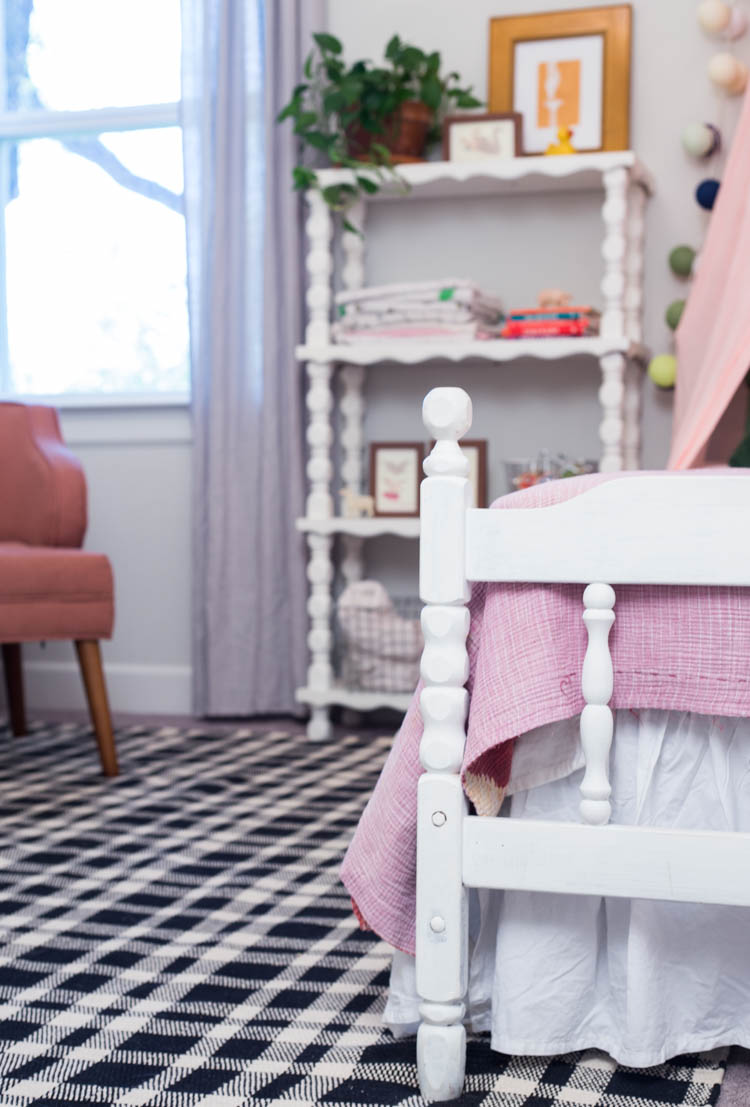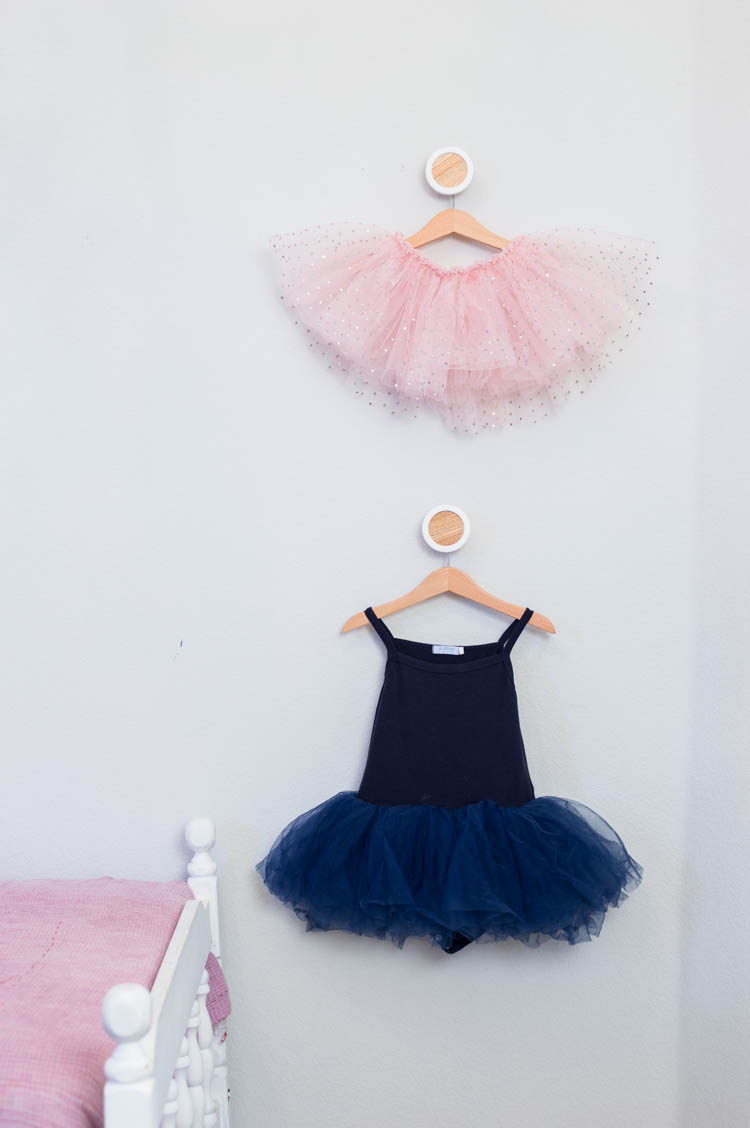 These minimal Umbra wall hooks screw right into the wall and are the perfect place to hang a couple of Plum's favorite tutus. The dresses are often peeled from the hangers and tossed on for an afternoon of twirling down the hallway. Creating a space for Plum to have fun, play, and enjoy was a main goal of the redesign, and one that I'm happy to have accomplished.
Lemon wallpaper for Plum was a good idea. She loves it, and I love that she loves it. And I love it.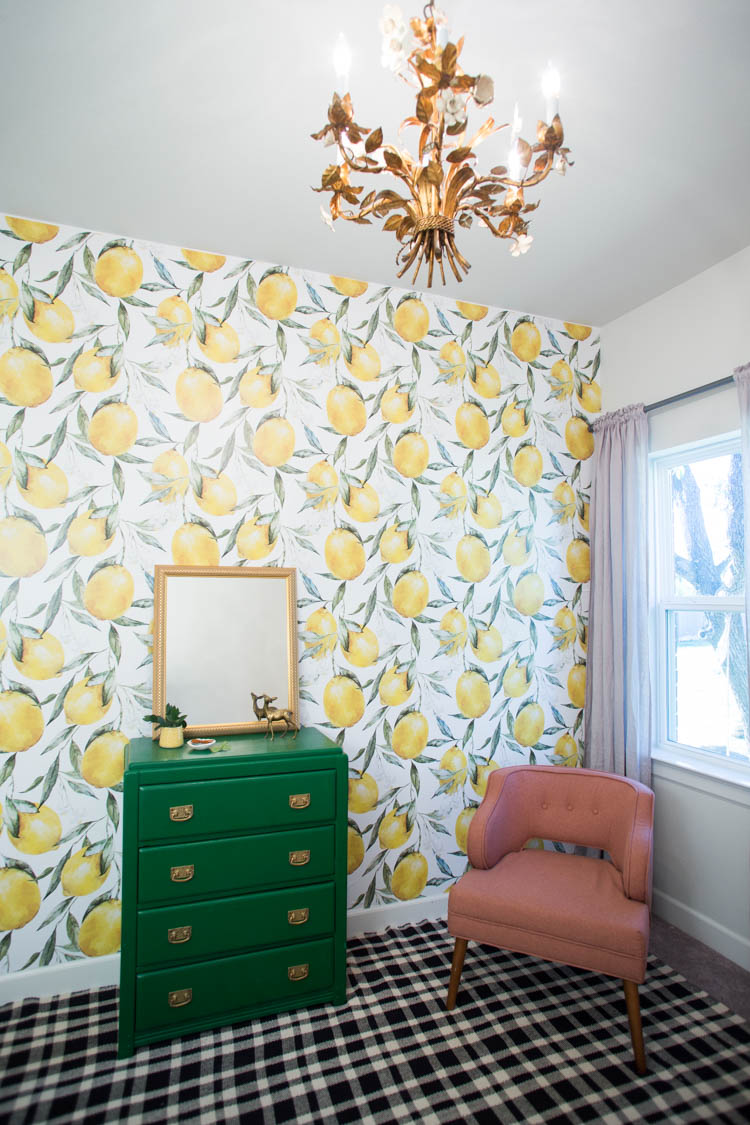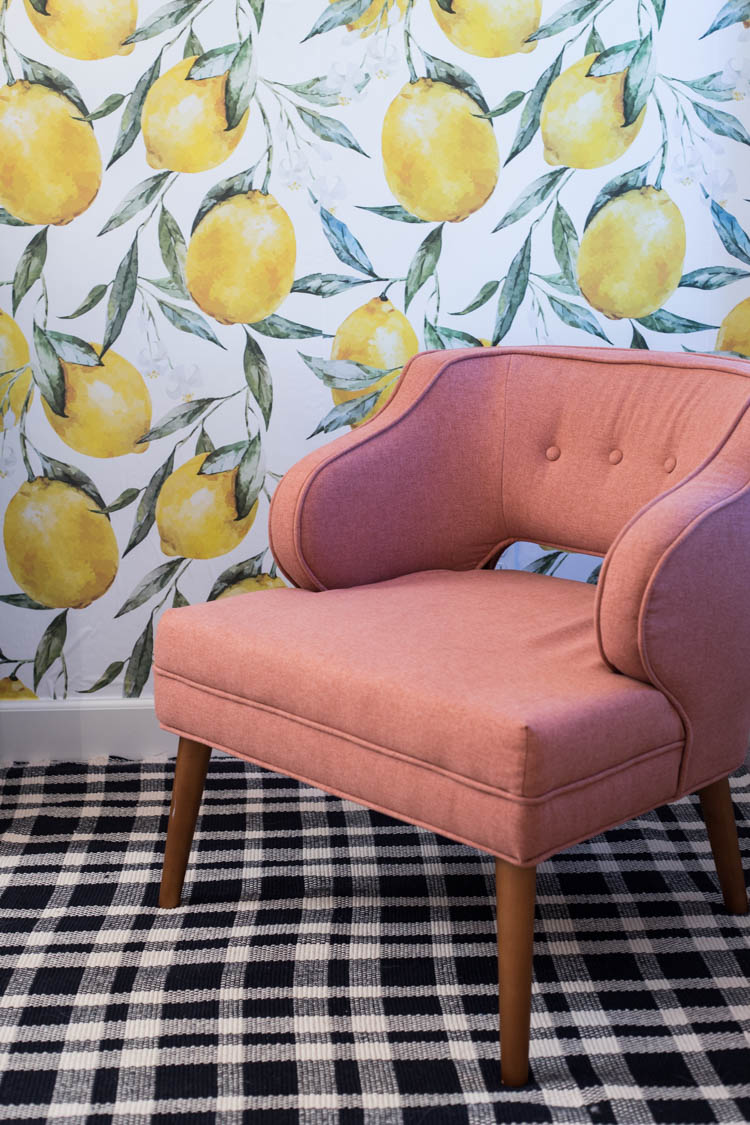 This room, and our whole home, is about beautiful, uplifting design, and mostly about life, love, and the experiences that we share here. It is the stage we set for the wonderful story of our lives.

Created in partnership with Walls Need Love.