We have lived in rentals most of our married life, and one thing that always made them feel like our own home was for me to paint the walls. With the exception of the very short-term rentals we lived in while building our house in Austin, TX, I painted at least a few walls in every rental we had lived in. Every time I had permission from the landlord, and every time it made our home experience more positive.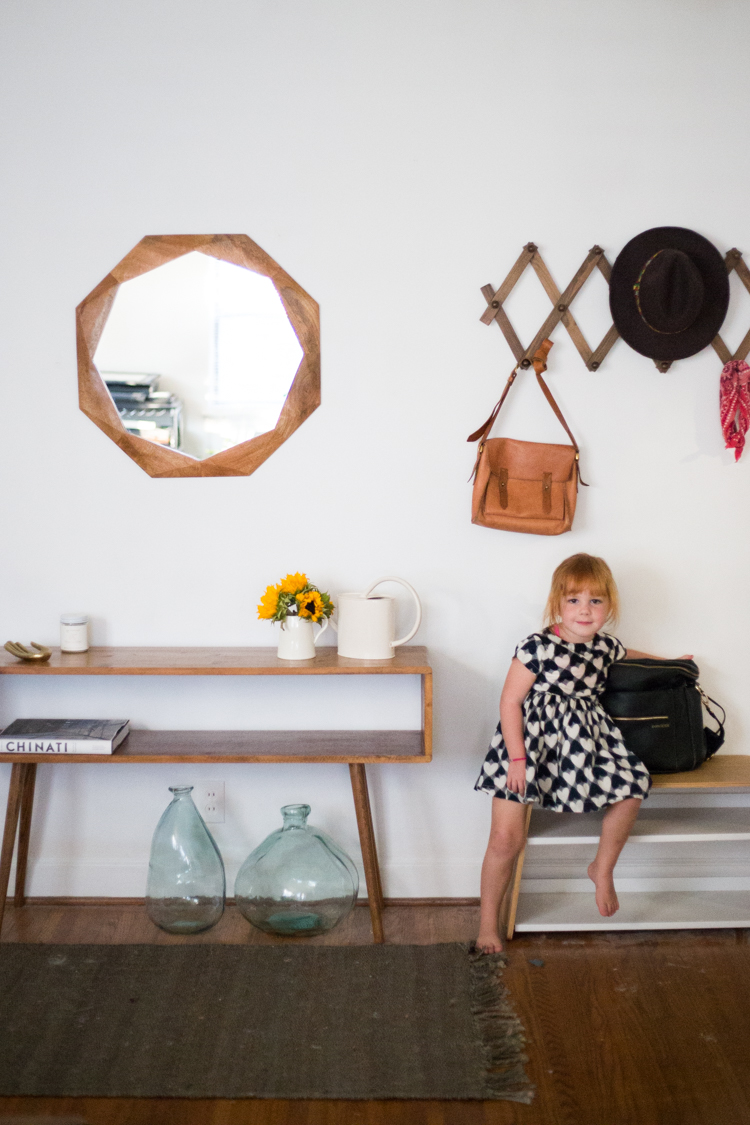 Now that we're back renting for this year while we house hunt in Virginia, I jumped right into painting a rental house once again! This time, I knew when we signed the lease that upon moving in I would immediately paint all of the walls white, to give the small (1000 square foot) space a fresh, clean, bright look. This particular rental was in pretty terrible condition, and had not been very well maintained. The entire thing had been sprayed a yellow-y beige over the ceilings and walls, even over the hardware and outlet covers. It was very clear that no one was paying too much attention to detail with the paint job.
Knowing the bar was set pretty low made it easier than ever to jump into painting with both feet, and my newly acquired paint sprayer. I used  the HomeRight Finish Max last year to paint a dresser, and it went well. So, when they sent me their newest sprayer, the Finish Max Super, I was ready to go. This sprayer makes it especially simple to tackle larger scale projects because it has a nozzle where no paint thinning is required. You can simply pour paint from the can into the sprayer and start painting.
I shared a YouTube Video with the whole process I use to prep and paint a room using the Finish Max Super and my very favorite Sherwin Williams Emerald Interior paint that they have generously sponsored. It is really thorough, so if you want to get a good feel for what it looks like to paint with it, check that out.
One of the questions I keep getting about the sprayer is about coverage and how many coats it takes. I think that really depends on the quality of paint you use, which is why I love Emerald paint from Sherwin Williams! It has a primer and paint in one, goes on smoothly and I can finish  job so much quicker using it. Plus, the durability and washability are so important with our kids. It has been my go-to paint for years. On occasion they sponsor some of my paint projects, and when they don't, it is the paint that I buy! (I just noticed that all paints and stains are 30% off through December, so if you have a project in mind, now is a great time to buy!)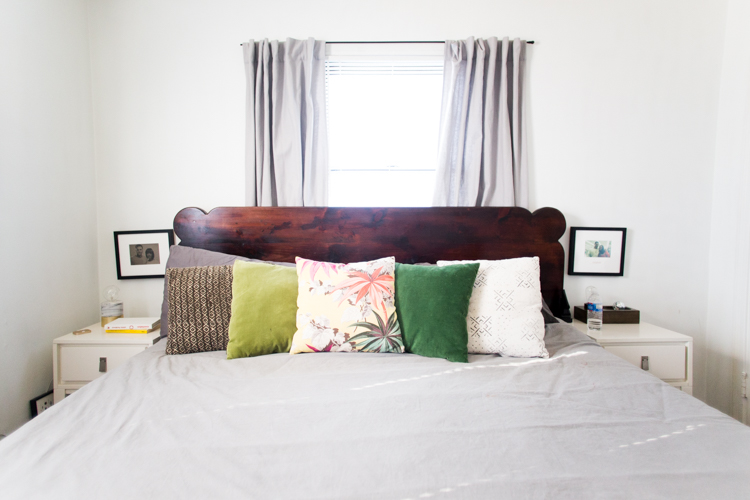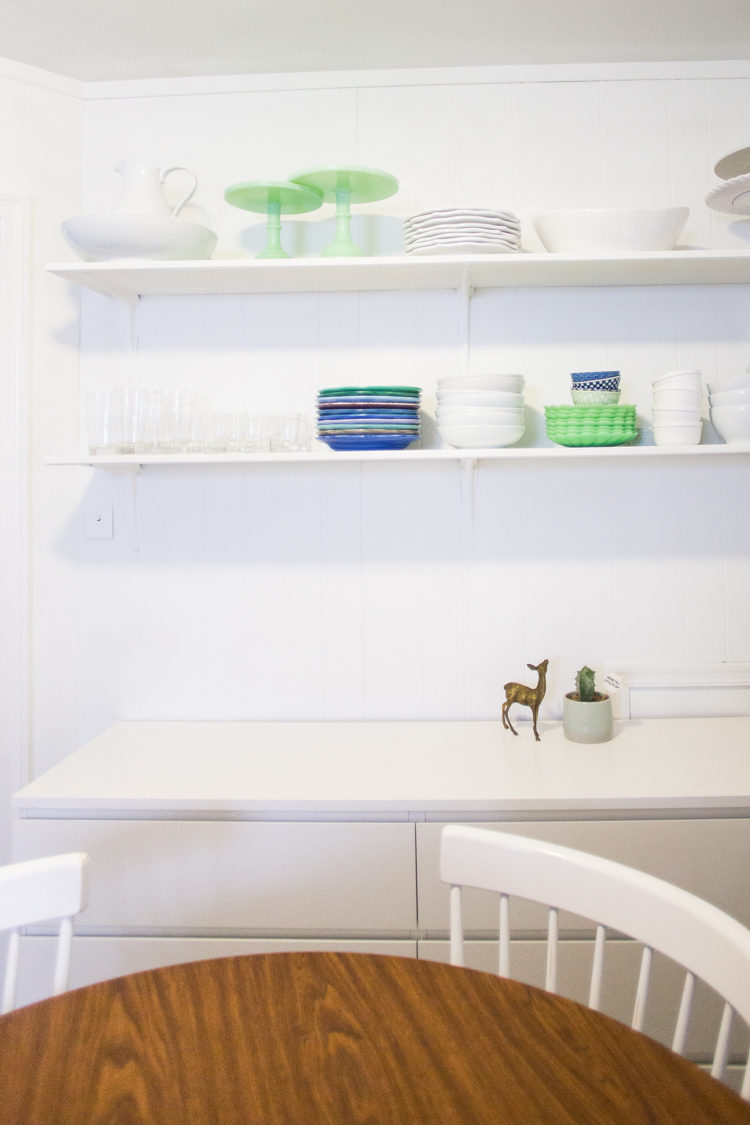 Over the last 3 months I've painted every wall in our 1000 square foot rental. I used Sherwin-Williams Extra White paint for the walls everwhere, and the ceilings in the bathroom and kitchens. The other ceilings felt like too much work for the 1 year we'll be here.
In the back living room, I also painted the fireplace and back door black using Sherwin-Williams Tricorn Black. The black corner faux brick fireplace really added depth and dimension to the room, and I love how it turned out. 
As I've been sharing all about painting this rental house on my Instagram Story, I've been surprised how many people are renting and have never painted. Or even asked about painting! Even in houses where they don't love the colors, it doesn't occur to them because, after all, they are renters.
I thought I'd share some of our experiences with paining in our rentals, and also an email template that you could use if you're thinking about approaching your landlord and don't know where to begin! Let's get started:
In our first house, we rented the basement from an older woman who lived above us. The walls were all beige, and the space was so tiny and dark it felt a little like a dungeon. She was super nice, and we had a good relationship with her, so when I asked if we could paint a few walls with brighter colors to liven the place up, she agreed. She said we could paint, but she would not pay for the paint or supplies.
We got right to it and painted a wall in the living room dark orange, which makes me laugh now, but it was cool. We added a little yellow in the tiny kitchen, robin's egg blue to the bedroom, and a plum color in the study. The colors all felt vibrant without being too overwhelming, and we only did accent walls in each room to add interest. When the landlady saw the apartment, she told us we had made such a positive impact she wanted to reimburse us for the paint and supplies! Several years later, after moving away, we went to visit and she told us that that was the best paint job the place ever had. Ha! Needless to say, that was a great first painting a rental experience.
Next, we moved into an apartment complex in Alexandria, Virginia. The lease situation there was a lot more formal, as it wasn't a single owner but a management company issuing leases and doing maintenance. We asked upfront about the painting policy, and the manager said that they repainted every apartment between tenants. If we painted darker than the current cream color, we would have to paint it back to light as a primer before we moved out. If, however, we painted the walls lighter than the current color, we could leave them when we moved.
Knowing we would be in the same apartment for at least two year, maybe more (it turned out to be four) I got right to work when we moved in. I think I had painted most of the apartment within a month of moving in. Milo was only 4 months old at the time, and I took advantage of nap time to bust it out.
I can't say much about my color choices except that it was pre-pinterst, and color still ruled the world more than the sleek, white, Scandinavian inspired design we see so often these days. Actually, I feel like one huge benefit of really decorating all out everywhere I have lived is that I have worked out my style pretty well. I can easily tell what I like and what I don't like. Some of that comes with experience.
Initially, I painted the master bedroom this weird brown color that I pulled from our bedspread. Then, after a couple years I decided to switch it up and painted it white with new bedding and a much more refined feel. That was a good decision, and also helped be begin slowly painting everything back to light for moving out.
In Texas, we built our house and moved in when it was finished and lovely. And the painting bug persisted! I painted the boys room to go with their outdoors inspired design, I painted the patio room wall black, and we also installed some friendly wall paper here and there. Basically, I'm no stranger to digging in and making my house a home, whether I own it or not.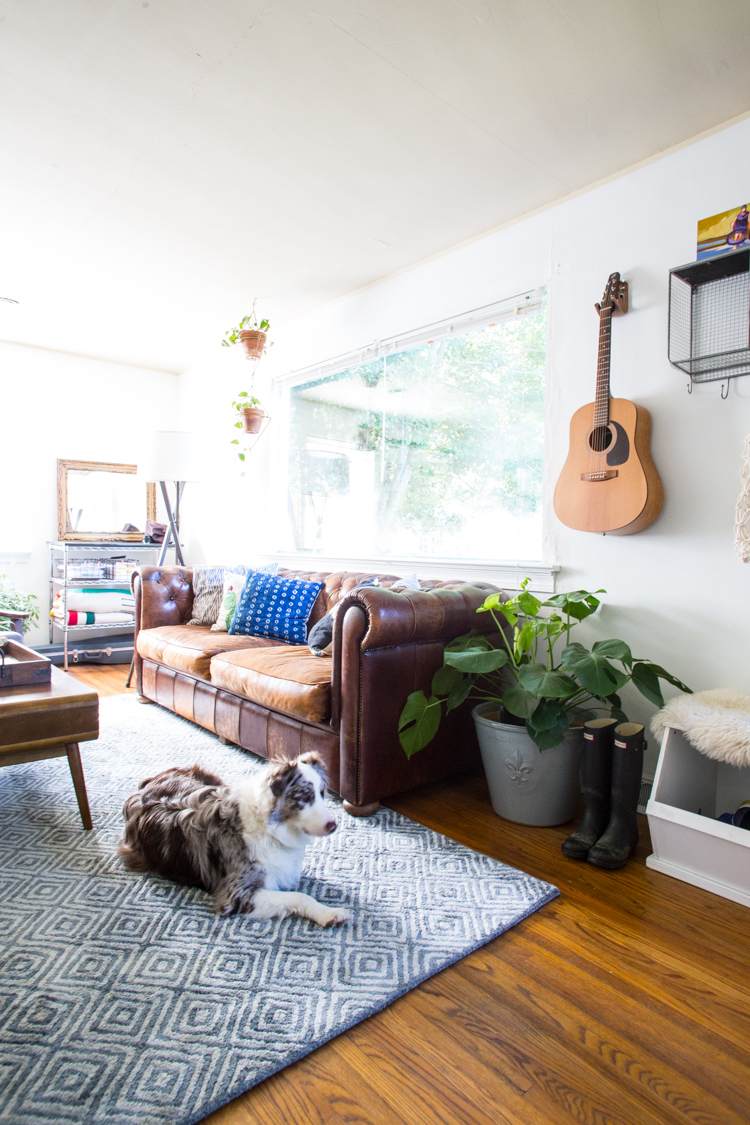 Some factors you may want to consider as you think about painting in your rental are:
Does your lease already talk about painting/modifications?

If so, familiarize yourself with the rules and guidelines so you can see if what you want to do falls within them, or if your email will be proposing an adjustment to the lease guidelines. If your lease says you're free to paint as long as you paint it back, then get yourself a paint sprayer and get going!

How long will you stay?

Signing a lease for at least a year or more may help the landlord know you're an investment.

What type of colors are you imagining?

I think our landlady was pretty unusual in letting us have free reign of color choices for her very neutral apartment. If you are hoping to paint a beige or cream white, I think there will be less issue than if you are hoping to paint the cream green or orange.

Is your landlord cool?

I mean, really. Some landlords just might not be willing to allow modifications because they are being responsible about their property and want to maintain ultimate control. Maybe they think you'll do a bad job. Maybe they like the colors they chose. Maybe they are unconcerned but it feels easier to say no.

Are you willing to invest YOUR money, time, and energy into THEIR property?

For me, this has always been an easy yes. It might not be for you, though. Paint and supplies cost money. I'd say time is even more valuable than money. Do you want the change enough that you're wiling to buy in?
If you think you're ready to ask the landlord, I would suggest a few tips:
Have everything worked out before hand.

Present a proposal that includes which walls you want to paint, what color, what type of paint you plant to use, how you will prep the room to avoid paint stains/splatters, how you will care for the paint once up, and whether or not you are willing to paint the walls back when you have finished.

Share the Vision.

Pull up a couple inspiration images from Pinterest to give the landlord an idea of the style/look you are going for. Many people don't have a vision of what painting walls can do to a space, so give them the vision!

Consider Hiring Professionals

Include whether or not you are willing to pay for it to be professionally painted, if they don't want you to DIY. It is a more major investment at that point, but if your landlord definitely doesn't want you do DIY, maybe this is an alternative to make the space feel more like your own.
We have been lucky to live in some amazing apartments and houses that have ALL felt like home with a little love and thought. I hope this post helps inspire you to make your own space feel just right.
SaveSave
SaveSave
SaveSave
SaveSave