With summertime in full swing, we finally got a chance to bust out our swimsuits this year. Even before now, however, I had been thinking about bringing more sustainable swimwear into our family's closets. New swimsuits are one of our Easter basket traditions, and with our efforts to only buy second hand or sustainable clothing, I went to work looking for some sustainable swimwear brands for the whole family. Here's what I found: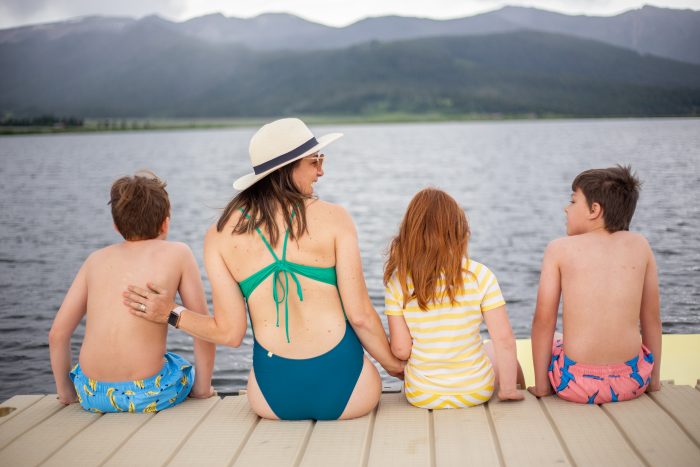 Sustainable Swimwear For Kids
We have been long-time fans of this eco-friendly and global-inspired company. Even when my older sister was sending me hand-me-downs, I recognized Tea as one of the most high quality and long-wearing brands. As I've tuned in a little further to company practices, I also admire their commitment to sustainability. And the patterns are so dang cute! We all love them.
This new-to-me brand is a beautiful example of environmental awareness and bold style. The bright, adventure-inspired pieces are designed in Australia and made in Bali of recycled fabrics and organic cotton. I especially love the long-sleeved "bashies" for little girls.
For the littlest littles (0-5) this Australian company nails minimal and eco-friendly design. The excellent in basics, and have a great collection of sun hats, too. There are a couple options for women, as well, but the baby gear is swoon-worthy.
As a big, well-known company, Boden is committed to sustainability and transparent about their efforts. They have a line of planet-friendly swimwear that is 100% recycled materials and are moving toward the whole line being sustainable by 2025.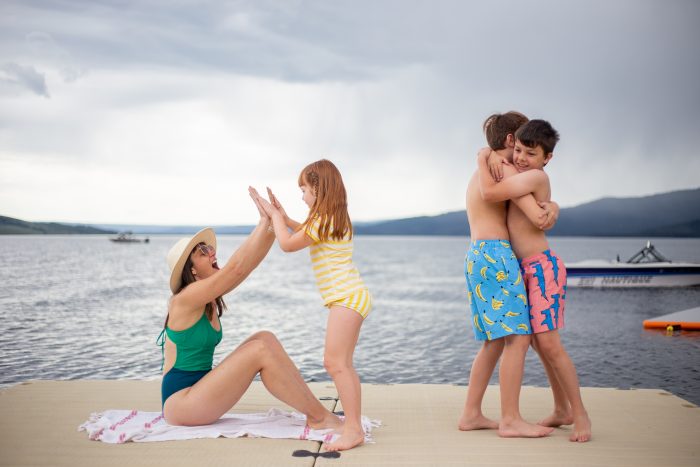 Sustainable Swimwear for Mom
I had seen a million IG ads for this company, and finally decided to try it. And I'm in love. The suits are well-made, fit amazingly well, and are created from recycled and vegan materials. I ordered the Swan Dive and the Lace Up Backflip and love them both. (Get $10 off your order with this link.)
Beyond swim, reformation is dedicated to eco-friendly practices across their collections. The swimwear has a little something for everyone: teeny bikinis to solid one-piece basics.
Made entirely in LA from environmentally sound fabrics, this line of bold and nostalgic swimwear is thoughtful and elevated. The swimwear is a bit of an investment, but designed and made to last for years.
Designed and made in America, these beautiful basics are limited run made from locally produced fabrics to reduce fashion waste. The company has also started offering a re-homing for their pieces, extending the lifespan of the clothing even further!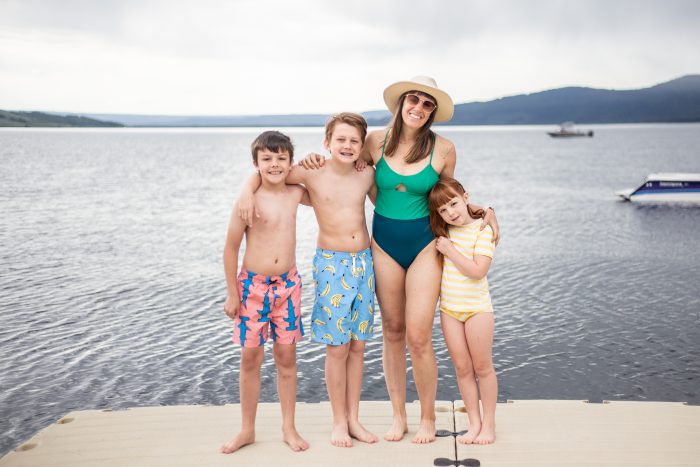 Sustainable Swimwear for Dad
This cool company, in partnership with pro surfer, Kelly Slater, has been dedicated to sustainability without sacrificing accessibility in price point and style. They are dedicated to fair trade practices and using organic or recycled materials in the clothing they sell.
One of the OG eco companies, Patagonia consistently delivers on their dedication to quality, sustainability, and style. Swimwear for the whole family is made with recycled fabrics, organic cotton, and long-term environmental activism.
There are hundreds of other eco-friendly companies making and selling sustainable swimwear, but these are just a few to get you started. I'm continually surprised by how many beautiful, accessible options there are when you simply take a moment to LOOK for them. While we will continue to shop less and buy second-hand wherever possible, swimwear for the family is one category when new makes the most sense, and sustainable allows us to live aligned with our values.
Have you tried any other sustainable swimwear brands that you love? Do share!