Blogging as a viable career has been around for a little while, so I figured that everyone knew the answer to the question "What is a sponsored post?" When I brought up the issue on my Instagram stories a couple weeks ago, however, I was surprised to discover that many of my followers and friends had no idea what was really happening behind the curtain with the partnerships made between bloggers and brands.
In an effort to be more transparent, and because I feel strongly about encouraging support in authentic social media marketing, I wanted to share some basic information and some thoughts on the topic today.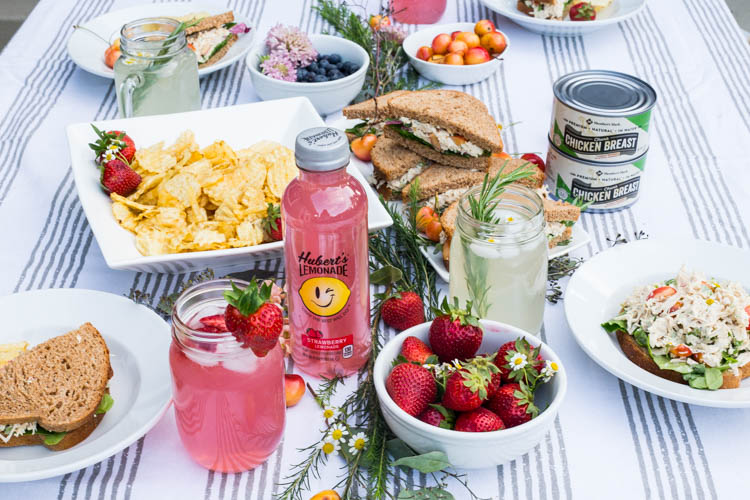 What is a sponsored post?
A "sponsored post" is a blog or other social media post where the influencer has partnered formally with a business to promote a product or service. These are not always paid promotions, sometimes the post is done in exchange for the product being featured, or some other type of benefit (like maybe being featured on the brand's social media pages.)
The FTC has strict guidelines for how these partnerships must be disclosed, so that the consumer knows that there was some sort of arrangement between both parties. These disclosure guidelines can lend a very abrupt and often insincere feel to the posts, as they often contain specific approved messaging and hashtags. Two examples are the line "This post is sponsored by________" at the beginning of a blog post, and #ad or #sponsored in the beginning of an instagram post. (Most of my contracts specify the first two lines of text, so it appears above the "see more")
The disclosure is meant simply to clarify the partnership, not to dissuade readers and followers from enjoying and engaging with the post, although it is misunderstood by those outside the social-media-as-work field and often can come across as forced or insincere.
Sponsored content–both blog posts and social media posts–are how I make a living as a blogger. They allow me the enjoyment of partnerships with companies that I love, to share products I use and am excited to promote. I am also able to create a ton of unpaid content because of the companies supporting me through paid work, so I always appreciate the chance to share my own sponsored posts with you all!
What types of guidelines do you have when taking a sponsored post?
Every blogger and influencer has their own set of guidelines regarding the types of partnerships they take. My personal guidelines include making sure the company is one I trust, love, or am excited to try. I also ensure the products and service I promote are things I either already use, would be sure to use on occasion, or think are so cool even if I don't use them personally often, I want to share about them so someone else could discover them!
I turn down more partnerships than I take, by a lot. Often, I am on the leading end of seeking out partnerships by creating relationships with companies, then pitching them my own partnership ideas. It is a TON of time, work, and energy, and I always have my readers and followers in mind as I create partnerships that can bring some inspiration or knowledge into their lives, too.
I also always write sponsored posts with the question "What VALUE does this add to my reader?" whether or not it is sponsored. So, even if you never buy that herbal tea, dress, or new rug, I have shared something else of importance in the post for you to enjoy.
I think we forget, in watching influencers promote products, that we all often use multiple brands of different types of products in our everyday life. We shouldn't fault a blogger for sharing about one type of cleaning product this week and a different type she loves in a couple months. How many different brands of cleaner (or shoes, or clothing, or furniture, or food) do you have in your life? Probably more than one.
Social media tends to flatten people's real lives into very small boxes. So, you see me exercising like a maniac one week and vegging out like a maniac the next and think I'm being inauthentic when in reality personalities are always multifaceted AND contradictory. I can eat healthy most of the time and still love cookies and soda. I can love to travel abroad and still feel really, happy sharing about a slow night in. I can be a minimalist and still have a new shoe partnership that I am excited to tell you about.
When it comes to what partnerships influencers decide to make, we should try to  trust that they are being honest with their opinions and reviews. I like to give the benefit of the doubt to people, especially when their review of a new product shouldn't offend or affect me at all. If I am interested, I can check it out. If not, I can easily scroll on by without needing to feel judgmental or negative.
How can we encourage and support our favorite influencers?
Sponsored posts are rarely all that an influencer is sharing with his/her followers. I personally write several blog posts to every sponsored blog post, all of which are done for free as a simple act of sharing information, inspiration, and value to my community of readers and followers.
I know there can be some stigmas of bloggers and influencers "selling out" with sponsorships, and I would like to flip the conversation a bit. How can we encourage and support our favorite influencers with their sponsored posts, rather than supporting everything else they do and ignoring the ads?
I invite you to consider your favorite social media influencers as artists. Pretend as you scroll through her feed, you are looking at her gallery show at a hip, new art museum. You walk along, admiring the pieces, and come to one with a "SOLD" sticker on the side. Your reaction in that situation is most likely to be EXCITED FOR HER!
Here, she has done all of this hard work to create these amazing things, and taken the time and energy to get her art into a place where she can display it in a gallery where it can be offered for sale, and she had a buyer! Hooray!
Now, is that how you currently see an #ad post? Or does that hashtag make you feel jealous, annoyed, bored, or bothered? Try to flip you perspective to see sponsored content as a place to really encourage an influencer. LIKE and COMMENT on the post. Share your experience or excitement about that product. DON'T share negative comments about the company in the same post (the same way you would tactfully not tell someone you don't like their shirt while they're wearing it.) If you have questions or comments about the behind the scenes of a particular partnership, feel free to email the influencer and ask! We're generally happy to help. 

What have been your favorite sponsored posts so far?
I have been blogging as a job since 2013, and have written a ton of sponsored posts for companies that I adore. Some of them have turned into great, ongoing relationships (like with Sherwin-Williams and Walls Need Love) and others were great one-time experiences.
I can divide my favorites into a couple categories:
Fun to Style and Shoot
These are posts that I loved the products, and I also loved the creative process of styling and shooting really beautiful images for the posts.
Summertime Cherry Chicken Salad Sandwiches (Product featured were canned chicken and lemonade. Added value was the recipe and styling inspiration)
Caramel Apple Pie (Products featured were boots. Added value was recipe)
Rest + Recharge Outdoors (Product featured was slippers. Added value was conversation about slowing down.)
Great Ideas Content
Freezer Meal Exchange Party (Brand featured was Costco. Added value was recipe + party planning info.)
50 Gifts of Experience (Brand featured was American Greetings. Added value was a list of experience ideas.)
Fruit Joke Stickers (Brand featured was Cuties. Added value was printable sticker sheets.)
Inspirational DIY
Green Dresser (Brand featured was Sherwin-Williams. Added value was furniture painting tips.)
Jackalope Wall Paper (Brand Featured was Walls Need Love. Added value was how to smooth textured walls.)
Practical Garage Organization (Products featured were Rubbermaid. Added value was organization tips.)
Some of the most exciting sponsored posts for me are still forthcoming. I have signed onto some fun content with The Home Depot that will be rolling out the next couple months. I also have more work in the pipeline with JoAnn, Mixbook, and (fingers crossed) All Modern!
How much work goes into a sponsored post?
A lot. A lot of work goes into all of my posts, and sponsored posts get the deluxe treatment because they're involving an additional element and relationship. A regular post is between me and the reader. A sponsored post adds the third partner, and then I am working to add value to two sides of the stick, not just one.
I pitch specific ideas to a brand or agency, and after being accepted to a campaign receive guidelines regarding the brand messaging and photos. I usually have a specific set of requirements to work with and it can be as specific as "include 2 vertical images with the logo in focus" to as loose as "influencer has creative freedom." Of course, the latter looks and feels less like an ad, and more like a natural mention, but from the brand perspective if I was paying someone to promote a product, I would want the logo visible in at least one or two photos, too!
Often there is at least one round of draft and editing with the company before I post on a designated date or within a specific period of time. The campaign almost always has a specific hashtag associated with it, in addition to #ad or #sponsored, which are required by the FTC. Sometimes I hire a photographer (paid out of my own pocket) so that I can focus on the styling and the content rather than the photography itself.
Payment, if part of the campaign, normally is on a net 60-90 day plan, so I often won't see any money from a partnership until months later. Needless to say, creating sponsored posts is work! It is fun, brilliant, wonderful, creative work, and still work.
How do readers and followers feel about sponsored posts?
Now it is your turn! I shared a lot about how I felt about encouraging and supporting each other in our individual businesses and lives, including sponsored posts, on my Instagram story a few weeks ago (the story is still saved as a highlight.) I received some amazing feedback. You can click on any of the images below to see some of the comments, questions, and my responses.
I would love for you to continue the conversation in the comments, if you have more insight.
I am grateful for your support and encouragement as readers, and hope that we can all continue to learn and understand this crazy social media world together. My goal is always connection, inspiration, and uplift for you, through every post I share.
xo Miranda