Episode 13: Tis Gifting Season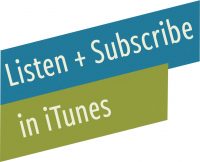 Segment: Peaks of the Week
Beauty Products:  Juice Beauty, Stem Cellular CC Cream + Exfoliating Peel Spray
If you're looking for a very lightweight, this actually does have a 30 SPF sunscreen in it and it's just like the most light color correction, tiny bit of tint, very moisturizing. It actually works as a primer as well if you want to go on and lay our foundation over it. I really have loved the way that it just gives me like this very, very lightweight instagram filter, so that's juice beauty, stem, cellular cc cream.
Another thing I picked up while I was in there was from same line is called stem cellular exfoliating peel spray. Now I am like a huge, huge fan of exfoliation. One of my other peaks of the week in a different episode was this diamond exfoliator that you use in the shower on my face. It's like super gritty and just takes off all the dead skin.
Well, this one is amazing because it is a spray and it's like an enzyme peel so you spray it on and rub with your fingers and the dead skin layers just roll off the top of your skin and it's a little weird but so good and I love the way that it leaves my skin looking and feeling. I have been super impressed with it and I really liked the way that that works.
Treat: Trader Joe's Dark Chocolate Peanut Butter Cups
They're thick, dark chocolate with that little peanut butter center. I keep them in my cupboard and they're rich enough that I only eat one or two at a time. I just feel like they're the perfect snack. I feel good about them because the peanut butter means that there's some protein in there, so I feel like they're on the fence of health food.
I think they're delicious and I've just been daydreaming about them so I may have to go grab some as a snack.
Music: Les Misérables soundtrack
I know this is old, old news. For some reason the other day I turned it on. I just had google turn it on on spotify and I remembered that I know all of the songs. They're super nostalgic. I listened to it all growing up and I happened to Google because I was just thinking about it and I saw that the touring Broadway company was in Richmond that exact weekend and so I got some tickets and Dave and I went and watched the play again. We'd both seen it before. It's so good. It's so emotional and just this raw humanity.
If you haven't listened to Les Mis or you haven't listened to it in a while, it's a really, really great soundtrack.
Clothing Item: Free People Vegan Leather Jacket
I don't often talk about clothes, but when I do it's because I love them very much. I needed a new jacket this year to kind of manage the inbetween seasons. I had some really cold weather gear from when I lived in Utah and so medium weather gear from when I lived in Texas, but sort of that in between fall lightweight but still warm jacket was missing from my capsule wardrobe, so I did some looking and I found a vegan leather jacket from Free People.
It's kind of has the look of a moto jacket and it has a removable hood that comes out the back that dresses it down just a little bit. It's super comfortable. It almost wears like a sweatshirt a lot. Oftentimes when I'm wearing it, I will push this leaves up so they're like three quarter length and um, it's just easy fitting enough for that. There's something great about a really well fitting, easy to wear everyday jacket for the following winter. And this one has been my very favorite.
Book: To Shake The Sleeping Self, Jedadiah Jenkins
This is a memory slash memoir of this man who decides when he turns 30 that he's going to ride a bicycle from Oregon into Patagonia. That's over 10,000 miles and it takes him over a year. His writing is beautiful. The storyline is so interesting and the musings that he has as he's going throughout this experience really have struck me as things that I have thought of. They kind of echo a lot of the ideas about living our best lives and finding ourselves.
Striking out on adventure and the discovery that comes when we put ourselves in new places with new people and new situations. I highly, highly recommend it.
I've been reading out loud to Dave and we went on a road trip last weekend and I just read all the way for three hours in the car down and three hours in the car back, so it probably would be a fantastic one to listen to as well if you're more into that. I love it and I hope that you do too.
The Season Of Gifts
Let's jump into talking about gifts. Tis the season of giving all of the gifts, receiving the gifts, wrapping the gifts, thinking about the gifts, writing less full of people to whom we need to give the guests coming up with gifts for our neighbors, gifts for our friends, gifts for our mother-in-law, gifts for our coworker. It's time. It is gifting time.
I love gifts. In fact, when I first read the five love languages at the beginning of my marriage, I immediately recognized myself as someone who appreciated gifts as a love language. I have always loved to give gifts, to create special moments for people and wrap things up and write notes. It felt like a way for me to acknowledge people when they weren't there and to have them know that I was thinking about them even when they weren't present. Likewise, when I received a gift, unexpected or expected, that's what it told me, told me that that person had been thinking about me when I wasn't present and acknowledging me as an important part of their life.
Not everyone feels the same way about gifts. Some people love them and recognize them and think they're a big deal and they make a huge emotional impact on them and for some people, gifts are sort of a tangential part of relationships. There's something that could happen or not happen and they wouldn't necessarily feel differently either way. There is a lot of expectations around a gifts as we approach the holidays though, there's just so many things I could talk about today.
I want to just share three different ideas about giving gifts, things that you may not have thought of before or things that might inspire you to think about the gifts that you give this year in a little different way.
Three Ideas About Giving Gifts To Consider
1. We Give Gifts To Express An Emotion
The first thing I want to share is the reason that we give gifts. Gift giving is one of those customs that goes back to the beginning of time and gifts were given for all sorts of different reasons.
One of the primary reasons that gifts were given were to express gratitude and love. Even just thinking about that may sometimes change the way that we think about the gift that we give.
Gifting Season Can Be Overwhelming
Gifts sometimes get a bad rap, especially around the holiday season as being just mindless consumption or encouraging capitalism and consumerism and could the commercialism of the holidays, but I want you to remember and think about gifts as an exchange of emotion that we give love and we give gratitude and that the gift itself, whatever that might be, is independent of the emotion that is behind it.
"We can give the same amount of love in a note that we can in a $400 pair of boots from Nordstrom."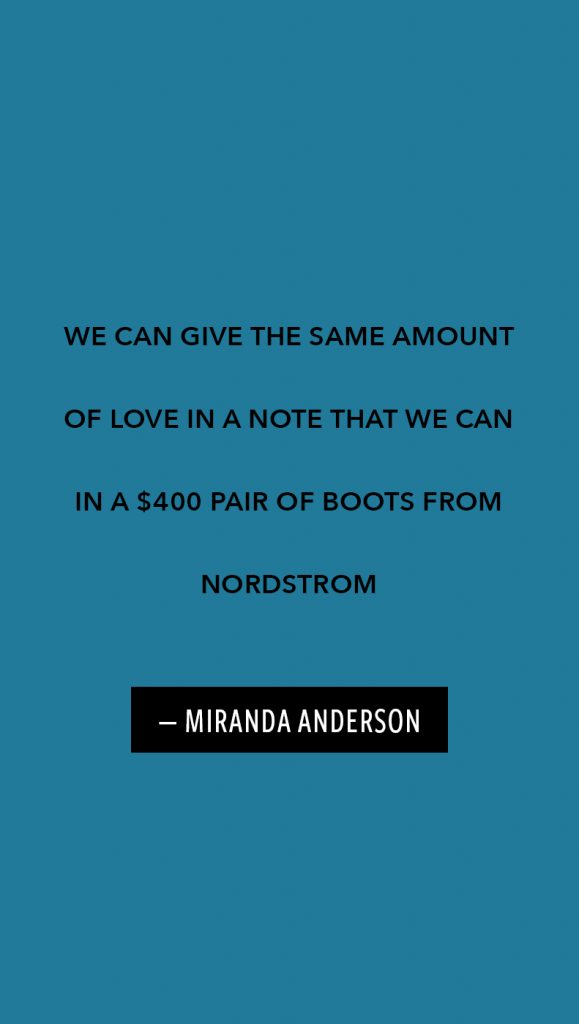 The emotion and the gift are separate, but we combine them to have a tangible expression of what we're trying to say.
The Psychology of Gifts
Gifts psychologically are really good for us because they encourage empathy and the social exchange and interaction. So when you are thinking about giving someone a gift, you have to think about them even if just for a moment. So for people, a lot of us who spend a lot of time thinking about ourselves because that's naturally what we do as humans. (We think a lot about ourselves and our needs and how we're going to get all of our stuff done and we spend a lot of time focused inside.)
When we are going to give a gift, even if for a brief moment we are thinking about the other person. We think about what they might like, how old they are, what their size is, if they have any specific passions. Thinking about giving someone a gift encourages us to think about them and that is really positive.
What Emotion Are You Giving?
So this first point is really, really basic and really simple and it's also really important. The point is this. We give gifts to express an emotion, to express gratitude, to express love, to express friendship, and it's important to remember that the gift that we give does not necessarily correlate directly to the emotion that we give.
For example, a small gift doesn't indicate small love and a large gift does not indicate large love. Backing up and being able to recognize that the emotion behind the gift that we give is the important part, can help us sort through all of the feelings that we have about wanting to give someone a really, really wonderful gift feeling. Sometimes the pressure that that really wonderful gift has to be really expensive, really new, really big, really surprising or any of those other things.
The other interesting part about that is the feeling that we are giving the gift with is what we get to feel so we feel grateful when we give the gift, we feel love when we think about that other person and she was something for them and give it to them. Those are the emotions that we feel.
2. We Can Not Control How Our Gifts Are Received
This rolls into my point number two, when we're talking about gift giving and that is that we cannot control how our gifts are received. In fact, when you look up giving online on Wikipedia, it says that a gift is something that's given without expectation payment or anything in return. That means that when we give a gift, we are responsible for the feelings up until the moment the gift is given and how we feel about the gift.
We are not responsible for the recipient's emotions about our gift.
We are not responsible and have really no control at all over how the recipient feels about the gift that we choose. They may love it. They may hate it. They may think it's the coolest thing that's ever come into their life. They may totally disregard it. They may feel like it's super useful and something they will use every single day. They may feel like they already have something kind of like it and it will probably be re gifted or go out with the next goodwill donation pile and none of those things have anything to do with us or with the gift that we gave.
We cannot control anything about the receipt of our gift. This idea can be really tricky and can be really hard for people because we want to base how we feel on the way that other people react to us and that's not only in gift giving.  I mean that's like life, right? We want to a lot of times decide our emotions based on how we are received, how we as people are received, how are gifts, not only physical gifts, but what we are trying to do with our lives.
Other people's acceptance of us has nothing to do with us.
We base how we feel on how other people feel about us, and that can never lead to the type of fulfillment and satisfaction that we want because we can't choose that, but we can choose how we feel and we can choose the gift that we give.
If we feel good about the gift that we've chosen, then we get to feel good and we can release all expectation that may be attached to the receipt of that gift by the person to whom we're giving it.
Give the gift of no expectations.
Dave and I talked a lot about that earlier in our marriage and I don't remember why or what brought it up, but I remember a specific conversation that we had. We were driving in a car and we weren't talking about gifts we had given each other. We were talking maybe about either a gift that we had received, a gift that we had given that didn't land the way that we expected.
We both came to the conclusion that part of the gift that we want to give when we're giving gifts is the complete release of expectations attached to that gift. It feels a little bit less like a thoughtful, grateful, loving gift if someone gives it to you and then expects you to love it, to use it and to keep it there might actually be some strings attached to this gift. I'm giving you this wonderful thing because I love you and I expect you to treat it and to take care of it and to keep it and to talk about it and to express appreciation to me in the way that I want you to know it.
Doesn't that seem ridiculous when I say it that like that? It sounds so obvious yet we do that often. We give someone a gift and then we feel badly or angry or frustrated when they don't react to it the way that we would like them to.
Point number two, we cannot control how our gifts are received and I want to just go a step further.
"Part of the gift that you can give during the holiday season is the complete release of expectations attached to the gift itself."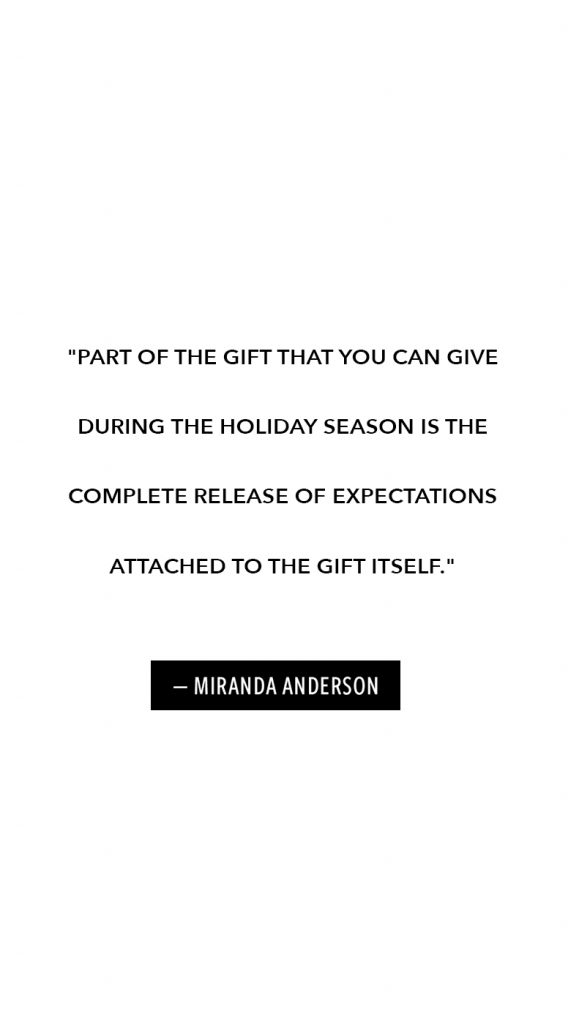 You give a gift with love and gratitude and you leave the gift in their hands and in their life to do with or think about whatever they wish that feels like freedom, doesn't it? To not have to follow around the gifts that we give to people, taking note of whether or not they've been received or used in the way that we hope it feels so much better to stay on the side of love and gratitude and thoughtfulness and not expect anything in return. Not even emotion, not even gratitude.
We can also feel free from other's expectations of us.
One more note I have about that is the same goes for us. When someone gives us a gift. We're only responsible for how we want to feel about it and I would like to suggest that the best way to feel about any gift that's given is to feel gratitude. Beyond that what you do with the gift really depends on you and your life and the things that you have going on.
"I know lots and lots of people who keep cupboards and cabinets full of things that they were given because they think that they have to keep it because it was a gift. I can receive a gift with gratitude and still not have to keep it forever."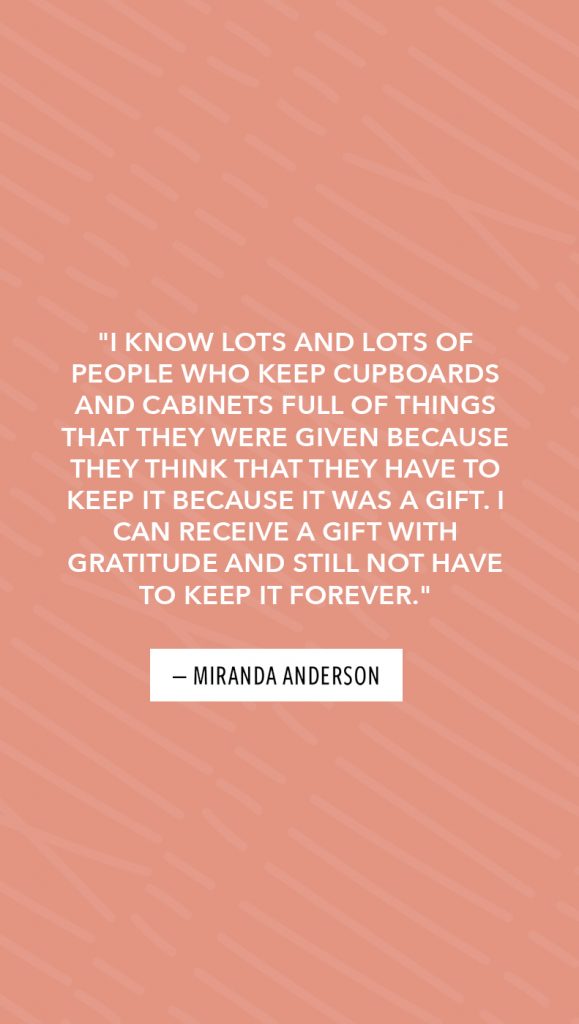 I can enjoy it. I can use it. I can think it's beautiful and when the time comes, I can release it back. I don't have to keep every single thing that is given me and I can still feel grateful and love and return gratitude for the gifts even if they don't necessarily have a place in my life forever.
I know some of you may be thinking, "But my mother in law would have a heart attack if I gave away or donated the crystal vase that she gave us for our wedding!" or something like that. We all have those people in our lives, those relationships where the other person does very much attach expectation to the gifts that are given and that we could really hurt their feelings if we were blatant about disregarding them and so I'm going to not make a full blanket statement here, but I want to just invite you to think about how you might be able to maintain relationships without feeling responsible for all of the things that other people give you.
3. Gifts Of Experience Are My Favorite
My favorite gifts to give and receive our gifts of experience, and I will tell you why.
"Gifts of experience create space for quality time, relationship building, and further meaningful interaction."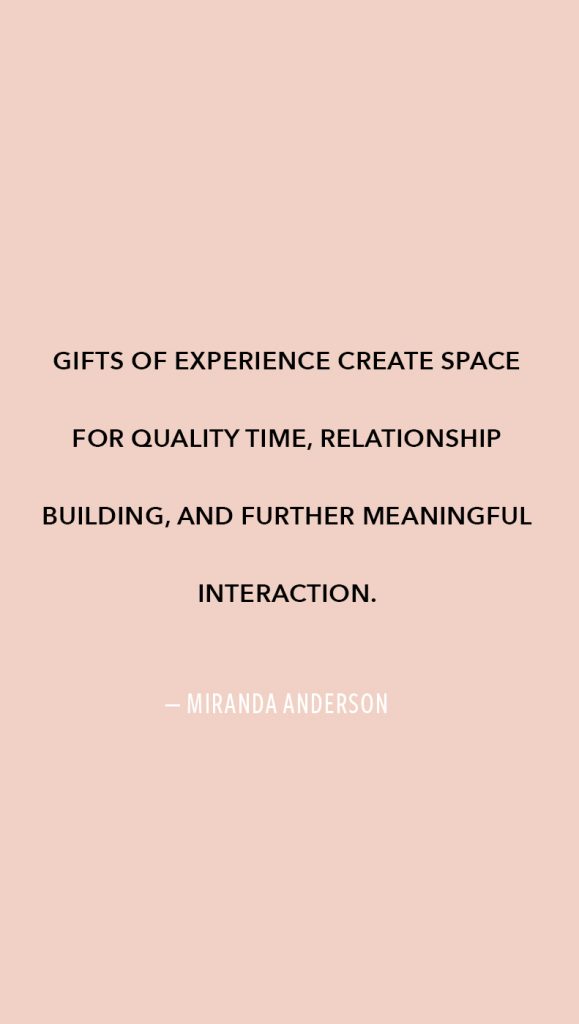 I like to think about gifts is creating this intention and relationships and when you give a gift that includes experience, that also can bring us together and build up those relationships. They include often some other sort of time, time for us to spend doing things that we love or new things that are interesting or different things that we may not have thought of before.
How our family handles Christmas Gifts.
I want to tell you a little bit about how Dave and I have approached the holiday season in our house with regards to gift giving. Here is a blog post that I did talking all about our family traditions because we have lots of family traditions surrounding gift giving and you may be interested in the different types of things that we do. As we're approaching the holidays, I want to just share the way that we think about holiday gifts for our own family.
When we were very first married, we were approaching Christmas and thinking about how we wanted to handle Christmas, not only as a couple but as a, as a family in the future. Our own families, our families that we grew up in had very different styles for Christmas. We did stockings differently. Santa handled things differently, the way the traditions surrounding gifting in the holiday season and our families was different and we realized very early on that we got to choose the way that the Christmas season would be handled in our own family and what we came up with were a couple simple rules or guidelines.
Santa brings Family-Themed Gifts
One was that the gifts that our family received on Christmas morning from Santa would be gifts that always brought us together as a family essentially like a family themed gift. An example of this was one year we all got new sleeping bags and some camping gear so that we could enjoy camping altogether as a family.
Another year Santa brought a Madsen Bicycle so that we could ride the bicycle together. It's a bucket bike where actually our entire family at the time could fit on the bike. Dave could drive and me and all three kids could sit in the back in the bucket. As the kids have grown up, they have learned to ride their own bikes and so now mostly when I ride the Madsen, I'm writing with Plum in the back and the two boys are writing on their own bikes and Dave is on his own bike.
Those are examples of a gifts that we would spend time together using rather than waking up on Christmas morning and have one person getting a new pair of skis and another person getting an ipod and another person getting a camera and everyone getting something that they love individually but that they couldn't really use together.
We decided that for our family, our Christmas morning would be a time when the gifts, the big gifts that were received were something that would bring us all together. Last year our big family gift was a trip to Italy for spring break and we planned it for months. Here is the blog post that explains all about how we actually gifted it and counted down as a family and had all of these other fun experiences in the months between Christmas and Easter when we actually left on our trip.
You can see just from these couple of examples what I'm talking about, that our Christmas gifts as a family are a family themed gift. Something that brings us all together.
In addition to that, the kids each get one gift from mom and dad. They draw names to give gifts for each other and then the stockings are filled with useful consumable things, so treats coloring books and crayons. Maybe saw things like that that will be used up and that we don't have to store, but that are also really fun and exciting.
Birthdays are for celebrating an individual. 
Of course, we also at times want to give our gifts, individual gifts, things that they love and they want for themselves and we've chosen to use birthdays as the time when our kids are really, really celebrated for themselves and that they get gifts that are really tailored to them. We realized that their birthdays are when we're really celebrating them. It's their day.
On all of the other holidays that we're celebrating, there's something else that is the purpose of the holiday. So we want to be able to focus on the purpose of the holidays and bringing our family together, which is always a purpose of any holiday in our book.
Ask yourself "What does our family love to do together?"
If you like the idea of a family themed gift at Christmas, but you can't figure out what exactly that would look like for your family. I would invite you to think about what are the things that your family either likes to do together right now or has talked about wanting to try to do together in the future.
Maybe a family themed gift would be stocking the game cabinet for family game nights, so each person would get a couple really cool games, but they are all meant to be played together. Maybe a family themed gift would be trying a new sport. Maybe everyone gets a new tennis racket and you get a pass to the local tennis courts and you plan on spending some time together learning how to play tennis. There are so many different ways that we can come together as a family and spend more quality, intentional time together.
So just with a little thought and maybe discussion with your partner. Maybe even discussion with your kids about some of the things that you would like to do as a family that can help guide you as you think about if you love this idea of doing a more family themed holiday.
Gifts of experience can include physical gifts as well.
I think about our family themed holiday gifts as being gifts of experience, even when they are attached to some sort of physical gift like a sleeping bag. The purpose and the intention behind the gift is for an experience to happen. I like to think about a lot of gifts of experience. Maybe you're putting together a family game night and so you have board games and treats and socks. Maybe you are wanting to give your sister the experience of a family picnic. And you do that with a really cool picnic blanket and a grocery gift card. Maybe you want to give someone a home spa gift and you do that with a bath bomb and a scented candle and your favorite lotion. And a note that talks about how you really want this person to be able to take some time for themselves.
Gifts of experience can be just experiences: movie passes, theater tickets, restaurant vouchers, hotel vouchers, a cooking class, art studio class, a cafe gift card, tickets to a local sporting event.
Here are 50 gifts of experience to give you some examples and sort of get your juices flowing as you think about what types of experiential gifts you could give.
Gifts of experience are really fun because we get to experience ourselves all of the excitement and joy and anticipation of thinking about and planning it.
This time of year can become so hurried that we simply want to run through them all. Check all of the boxes on our gift giving list, wrap them up and get them out the door. I want to encourage you to just add a layer of intention to your gift giving this year.
Conclusion
Remember these three takeaways.
One, that giving a gift is actually giving emotion. You're giving love. You're giving gratitude. As you're doing that, make sure that you allow yourself to feel it, to really feel those things and remember that your gift does not have to correlate in monetary value to the amount of emotion that you want to attach to it.
Two, you really can't control how your gifts are received, so along with your gift, give the complete release of expectations that come with giving. Allow your gifts to be received in whatever way they will and don't let that take away from the love and the gratitude that you feel in the giving of it.
Three, consider some ways that you might give gifts of experience this year. Not only does that allow your relationship to grow and to develop also, it really helps the other person sometimes to not have a pile of stuff they have to figure out what they're going to do with after the holidays are over. So you can think about the added gift that you're giving when you decide to give someone movie tickets or a game night because you're preserving space in their home and their lives for them to choose the things that they actually love as well.
Who is pumped up and excited about the upcoming holiday season. I love the magic of the holidays and I think that thinking about gifts as emotion and experience allows me to enjoy them more fully because I don't get so wrapped up in the gift guides and the sales and the mania of the constant bombardment of what is the best gift for him or her or them this season.
I get to take the time to be thoughtful and intentional and share my love in the best way that I know how.
I hope that this podcast has inspired you in some way and helped you feel some of that same freedom that you can reclaim. Your ability to choose with thought and love the gifts that you share this year and the way that you can release the expectation attached with them.
Five Days To Freedom Email Course
I haven't yet shared with you about my free email course, Five Days to Freedom! It takes all of the things that we've been talking about on this podcast and delivers them directly to your inbox in these short, succinct and powerful lessons.
Each day for five days, you get one email with a topic of principal and then some homework and exercise that I invite you to do to reflect upon how to apply that principle in your life. The emails include things like recognizing abundance, basic organization skills, eliminating unnecessary decisions and other principles that will help you feel more in control and more capable of making decisions that are right for you in your life, to encourage the freedom to live the best life for you.
That's what this is all about. That's why I share this podcast. That's what write on my blog. That's what my upcoming book is about, how to feel free to live the best life that you can that's different and individual from anyone else's life.
SIGN UP FOR FIVE DAYS TO FREEDOM RIGHT HERE
I've had hundreds of people go through this course and the feedback that I've gotten is that it has made changes in people's lives. Check it out and let me know what you think about it. It's a really great time of year to kind of jumpstart all of those thoughts as we prepare for the whirlwind of festivities that awaits us in December and January.
Thank you so much for being here. I love recording this podcast every week. I love hearing about what you're doing and what you're thinking when you listen, all of you that are listening and then screenshotting and sharing thoughts and posting it to your instagram stories and tagging me live free Miranda. That helps me know what is resonating with you.
I also appreciate those of you who've left reviews on itunes. We are almost a 300 reviews on itunes and I can't thank you enough. If you haven't left a review yet on itunes, it's really easy. You just pop over, you can put in your star rating and also just write a quick review to let other people know that live free creative might be something that they want to check out as well. Have a really wonderful week. I'll catch you next time.