Episode 29: Growth and Engagement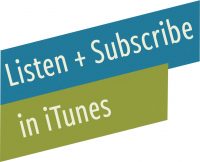 Introduction
Hey there friends, welcome back to Live Free Creative. I'm Miranda Anderson and I am thrilled to be here with you this week. As always for the podcast today we are on episode number 29 growth and engagement and this is an extra special episode because I'm sharing with you the live audio recording of a presentation that I gave at the Thrive Blogger Conference in Austin, Texas last week.
Now, I don't want you to worry if you're not a blogger or a social media influencer or a business person of any type because the ideas that I shared during my talk on growth and engagement are ideas that will be applicable to you in your everyday life. Even if you don't run a business, even if you don't have an Instagram handle, even if you don't know anything about social media or blogging, there are lessons that you will be able to pull from the things that I shared that may impact you in your life and I hope that there are, I hope that you find those.
Slide Presentation Notes
I did use a slide presentation as I was giving this talk and so there will be a couple times that you hear me reference something that you won't be able to see. In most cases, they won't affect your ability to understand what I'm talking about.
There's one point where I talk about how growth isn't a straight line and so the slide for that section had a way the up and down line with a plateau right in the middle and you'll hear me talk about that plateau of course on the other side of the plateau, the way the up and down line continues to the top corner of the slide.
There's another point where you will hear me reference a photograph and this is a photograph of Dave and my engagement at the top of Mount Timpanogos during the sunrise. All of the slides including those two that I just mentioned will be available in the podcast show notes for today's episode, so if you want to see and follow along with the visuals that I used during the talk, you can go to live free creative.co/podcast look for episode 29 and they will all be right there for you to follow along.
If you've been listening for a while, you know that I normally start each episode with a short segment, but I'm going to forego that today because that my talk includes a couple of really fun personal experiences, especially our engagement. I give a rather detailed account of Dave and my engagement and I'm going to consider that are magical adventure moment segment for the day. So you can sit back, relax, or continue running hard on your run or enjoy washing those dishes. Whatever you happen to be doing right now while you're listening. I'm so glad that you're here and I hope that you enjoy today's show.
Growth and Engagement, Presented at Thrive Blogger Conference
I'm Miranda Anderson and I'm so excited to be here. Who else? Be Honest? Who else belted Lady Gaga on their way here this morning in the car? Shallow. Anyone? Anyone? Just me?
Okay, well, I definitely did my pump up song getting me here. Excited to be here today. It's really a unique experience to be able to kick off a conference as the first speaker. And I'm going to take that opportunity before I begin my actual presentation to just invite you to keep your hearts and your minds open today and to remind you that you are the one in control of the experience that you have, that what you put into the conference today by way of attention and energy and investment is what you're going to take away from it. And if you walk out those doors later today and feel like I'm going to say that that was on you.
You Get Back What You Put In
And if you walk out those doors today and you feel like, "Wow, I have some things that I can do that I can change. I feel good about what I'm doing and I, I know that I can, I can progress." That's also on you.
So take a moment to acknowledge that you have this incredible amount of control over the experience that you have both today in this conference and also in your everyday life that your thoughts and your actions and your ability to be open to what's happening really contributes and plays in so well to the experience that you, that you have, that you take away. That's what I'm going to start.
It's Not About The Numbers
Today I'm going to talk about growth and engagement. This is a blogging conference, right? So when you hear these words, growth and engagement, what comes to mind?
Numbers.
Yes, exactly. You hear growth and engagement and you think, okay, I'm, we're talking about page views, we're talking about Instagram followers, we're talking about percentage rates, right? And we're, we're going to move beyond that today and hopefully that will be helpful for all of you the way that it is for me to take a little bit of a wider view.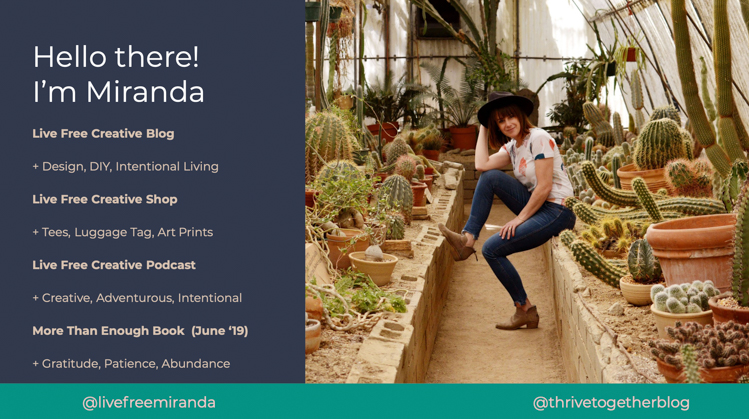 Who I Am
Blog
To start, I just want to give a little bit more of an introduction to who I am. My blog, like Bree mentioned, is called Live Free Creative Company. It's a DIY and creative lifestyle blog that focuses on intentional living. We're renovating a house in Richmond, so I share a lot of those projects. And DIY is some design tips, uh, lots of ideas for how to make the life that you have right now. The very best that it can be without always needing more, more stuff, more acknowledgement or power, more money that I believe that we can really live well within what we have, and that what we have is enough.
Shop
My shop is called Live Free Creative, we sell intentional living t-shirts, sweatshirts and luggage tags, "Less Stuff, More Adventure" is the mantra of my life and of my blog, my family. I also have a whole bunch, like over a hundred digital download art prints. This stemmed out of both my love of traveling, that I love to see the world and I take these pictures. And then also that there are so many people who in designing their homes and wanting to create beautiful spaces and interiors, don't really know where to go for affordable, beautiful art. And so these are all inexpensive digital download art prints that can be printed up to you know, giant, large format pieces,, that can be used in their homes. So that answered kind of two problems.
Podcast
Live Free Creative podcast launched in September. The podcast is dedicated to inspiring a creative, adventurous and intentional lifestyle in the listeners. So it comes out every Thursday morning at 6:00 AM eastern time. This week it was episode 28. It's been amazing.
It's been such a fun project. It really leans towards self-development. It's a self-development podcast to help you recognize some things that you are doing great and things that you can improve on. And, I've just found immense enjoyment and creating that podcast.
Book
And then the book More Than Enough comes out in June. It is a book that shares the lessons that our family learned during a year of not shopping. So in 2017, myself, my husband and our three kids decided to take a year off of shopping for non-consumable goods, no clothes, shoes, furniture, anything at the dollar spot was off limits, like no shopping.
And, and it, as you can imagine, was an incredibly pivotal experience in my perspective, in our culture of our family and just really the way that I now see the world. So that book chronicles and shares the lessons that we learned in kind of an interesting workbook format, which will be really fun. And I'm really looking forward to that.
I just saw the cover designs, the first round of cover designs. I got in an email yesterday and I was like, okay, it's real, this is happening. So that was really fun.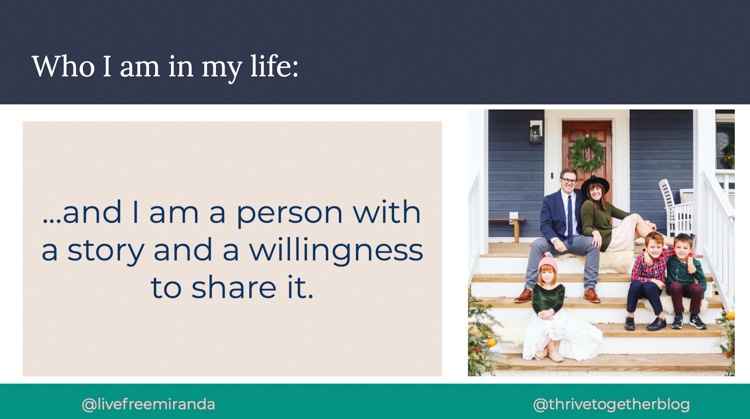 Also, I'm A Bunch Of Other Things
I'm also a wife. That's my dear husband Dave and my three kids. I have two boys and a girl and I have a dog and I have four chickens. They're laying eggs and they're incredible. It's really fun. I also love cactus and I love the desert and I love Tacos and I love Torchy's queso in my soul. I'm going to figure out how to freeze some so that I can take it, carry on on the airplane home when I go home tomorrow because it's just not available where I live right now.
I mean all of the things like I have all of the things like you do that I could say that I love that I am a runner. I'm a reader. I love to travel. I love to camp, and at the end of an underneath all of that, I'm a person, just a regular person with value inherent to who I am and my story is different than anyone else's and have this willingness to share it.
I believe that it's that underneath all of the acknowledgments, all of the accolades, all of the labels that we put upon ourselves, that you do put upon yourself, that I do, that all of us have inherent value and worth and that our stories, however different from each others or from anyone else's that we see have value.
If there's nothing else that you take home today, I hope that you can feel that a little more deeply, that what you're doing right now in your life matters simply because you matter.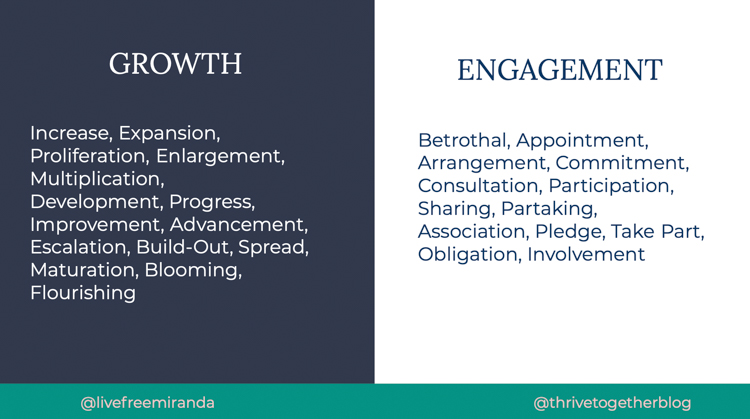 Redefining Growth And Engagement
So, let's talk about growth and engagement. Like I mentioned at the beginning, we think about growth and engagement in the terms of numbers. Today we're going to step back, take a couple step backs and get this kind of long range view on what growth and engagement actually are. So I went to the dictionary. That's what you do when you want to find out what something actually is.
Growth is increase expansion, proliferation, enlargement, multiplication development, progress improvement, advancement, escalation, build out spread maturation (which makes me think about that program I did in fifth grade. Did anyone else call it maturation? And you're like, Eh, I don't like that word very much, but like, okay, becoming mature, I can get on board of that.) Blooming, flourishing.
I love those last two to think about growth as a blooming and flourishing. What a refreshing perspective on growth, right?
And then engagement: Betrothal. Imagine talking about engagement and thinking of betrothal. That's, you know, what it was for lots of years. Appointments, arrangement, commitment, consultation, participation, sharing and partaking, association, pledge, to take part, obligation and involvement.
When I look at the multiple and very definitions of growth and engagement, it helps me get a little bit better perspective and view on what they actually might mean for myself and my business.

Diving Into Growth
We're going to start with growth today and then we're going to move on to engagement a little bit later. When I hear growth, one of the phrases that comes to mind, it's just like a colloquial term that we use, is that "You're Either Growing Or You're Dying." Have you heard that phrase?
"Death Is Inevitable. Growth Is Not."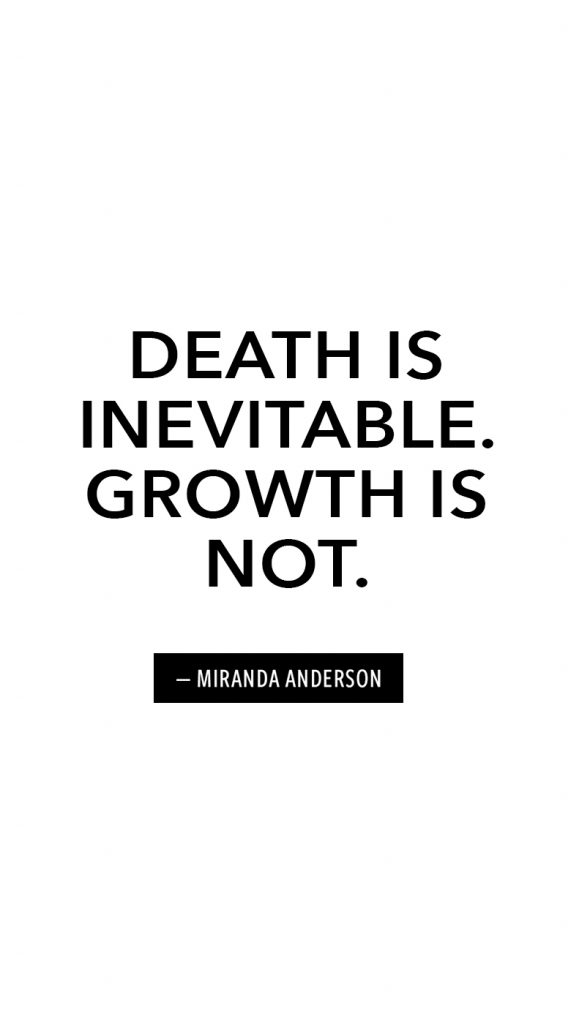 You're either growing or you're dying. And while this may seem kind of morbid, a couple of years ago, I was thinking about that and I thought, "I don't think that that's true. I think that we're all dying all the time because you know, you start your life and you are headed towards that. Like that's, that's it, right?"
So we're all on this trajectory of like getting towards dying. But I don't think growth is inevitable. I don't think you're either growing or you're dying. I think you're always dying, but that you might not be growing. And to prove my point, I want to share about these two cacti that I have. Does, does anyone else love and kill plants on a regular basis? Yeah, me too.
The Tale Of Two Cacti
So I have these two cacti and one of them I bought them both at about, you know, they were like these cute three inch little things and one of them.
I planted them in pots. I like did my thing and asked like how much do I not water them? And they said just try to ignore them and they'll be fine. I was like, okay, we'll try. So one of them I ignored really well and it started to grow and like one day I had this little sprout, like a little arm. I was like, oh my gosh, it's actually growing it.
And then it got another little arm and this other little arm and like fast forward five years, this three inch cactus, I don't even know what kind it is, like a candlestick something. But, I bought at Ikea so it wasn't like this posh Cactus, right? It's just like a regular like Ikea cactus. It is, I'm not kidding. It's two and a half feet tall. It has like multiple arms and legs.
It is the most beautiful thing. And I had to actually like report it several times and I kept thinking, oh my gosh, it's like big enough that I have to put it in a new pot. Like I am succeeding in life because this thing is growing. It's, it's awesome. It's the best cactus.
And then the other little cactus for whatever reason is just content and it's still alive. But it looks like it did the day that I bought it. It's in the same little pot. It's just got the same couple little spines. In fact, I stuck, I have a friend in Arizona that makes these really cool plant like signs that you can stick in your plants. And this one says #thirsty and that stuck it in there since it's like this little baby cactus and it's little pot with a little like thirsty, no growth.
Eventually these cactuses are both going to die. I mean that is what they're destined for. But this one, gosh, I lived a better life than that one.
Luckily they're both still alive. So you know, he, maybe he's just a late bloomer and maybe he has some potential still in there. But I think this is so interesting growing.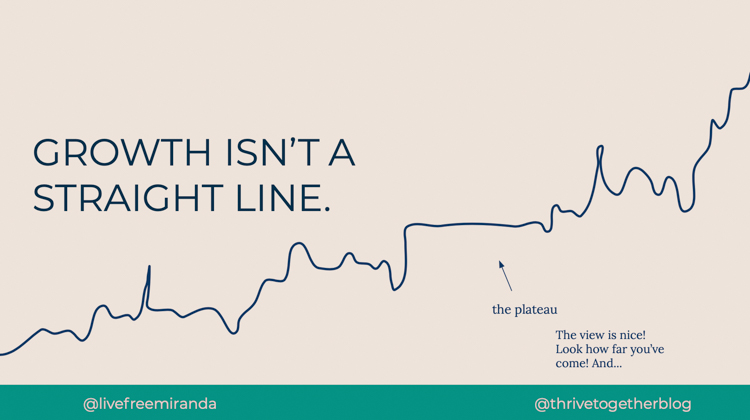 Growth Is Not A Straight Line
Something that I also know about growth is that growth is not a straight line, right? So we will all want it to be, and we all in fact think that it should be. Sometimes we start a project right and we're like, my trajectory is up and I'm just going to go up. And then you start going down and you feel a little bit disappointed.
Does anyone relate to this idea of like, wait, it was all going so well when I was, when I was feeling successful, but why did I start going down? And it's nice to get a pullback view.
This line goes up and down and up and down and up and down. And this right here, this was a really good day. This is a day that like lots of people bought your thing or like someone else big on Instagram talked about you and you gained like 400 followers in one day and you were like, Gosh, you know, and then you post your neck picture and they're like, I didn't actually like you that much.
We know that feeling. But at the end of all that, you're still, you're still higher than you were back there. You're still moving up to, I mean can go down and then you can go up and you can go down and you can go up and this is the way that growth happens. It does not happen in a straight line. It happens with the ups and the downs and the ups to me are indication of some discomfort and that we're like trying something new that we're kind of stretching ourselves.
And then that also leads to the down. Sometimes.
The Plateau
The part that I'm really interested in is this part the plateau. I grew up in Utah where there are mountains, big huge mountains and there are valleys and then there are plateaus. Does anyone know what a plateau is? The plateau was the place at the top of the cliff where the landscape evens out and it gets flat and it goes flat for a long time, and so the plateau is where you get to this point where you're kind of doing okay, you've gotten there and it feels really good.
It's comfortable. You've got your groove, the view is nice. You look this way and you can come. My Gosh, look how far I've come. I overcame all of those ups and downs and I'm just like, I'm doing well, and sometimes the plateau is so comfortable that we never look this way and think, where else do I have to go?
We think I'm just doing it. I'm just doing fine. And some people get to the plateau of their lives. Don't name anyone, but just acknowledge. If you know someone that you kind of can think might be like this, that gets to the plateau of his or her life, they've done the things, they're feeling good, they're comfortable and they're just gonna. They're just going to walk in a straight line until the end. That is they have, they've made it and that there's nothing wrong with that.
There really isn't. That's it's great. It is great to live a life of comfort, but when you do, you should leave a lot on the table because I'm guessing that the view from here is a lot more interesting than the view from here that when you keep challenging yourself and you keep pushing yourself and you keep asking the question, "What more could I do that would be interesting or exciting or add value to people's lives or my life?"
Where else could I stretch a little bit?
My Own Plateau
That's the point where you get yourself back into motion and I want to tell you, for me in my business, I rode the plateau for a few years feeling really good. I started blogging in 2007 as a hobby. Like a lot of people, you know, it's like pretty Oji for blogging if we're being honest. Right. So, in about 2013 I turned my blog into a business.
I started using sponsors and did some revenue streams and I quit my job and I became a blogger as my job. And I felt like, I mean that was that. Like I, I was, I was doing the thing I was posting. I was, you know, sharing things that I was interested in and I was working on my Instagram and I was just sort of doing it.
I was going to conferences, I was speaking, I was teaching and I kind of was like, you know, 2015, 2016, 2017. It was at that point that I felt like, Gosh, what more could I be doing? Because things are all fine and good, but I feel like I'm not growing. I'm not changing, I'm not different.
Then, A Change. A Challenge
And so that's when we decided to take this big random challenge to not shop for a year, which is kind of a big thing. And it was this very uncomfortable decision that pushed me and propelled me forward into being okay with not knowing what came next. I didn't know exactly how it was going to go.
I was sharing it on, on my blog as part of, you know what my story, I was sharing it on social media and immediately we made this decision. We jumped into this uncomfortable place and immediately people started responding in a way that I hadn't seen in a couple of years.
People were immediately interested, more interested. They were curious, they were confused. Just the way that choosing to do something a little bit different or new that would push myself towards growth gave me permission to feel uncomfortable and be okay with it. The idea of watching me do that gave all of my friends and followers permission to maybe feel a little bit uncomfortable in their lives and to think maybe there's something that I could do a little bit different or to grow.
That kind of started let's just do something a little different. And then, you know, we finished the year during the year we moved across the country. We downsized by over half. We started renovating this house and I, I got the, I had this kind of like growth itch, like, gosh, it feels so fun.
Growth Feels Good
Even though there's a lot of bad days and a lot of failures and it's kind of hard sometimes it feels good to be moving forward. And so I thought, well, what else have I really wanted to do? And I've been talking about a podcast for years. It sounded fun, but I had all these other things I was doing. Do you ever do this? Like you have this really great, really exciting idea and you're like, you talk yourself out of it, it's your good idea and you talk yourself out of it.
Like what? I'm self sabotage at its best. Right? So my husband, after hearing me talk about it, finally gave me a microphone. He bought a microphone, like a podcast mic. And he gave it to me and he was like, here you go, you can do it, you know, so busted out the mic. I mean it was just that I just needed that. I busted out the microphone, sat down.
I mean, first I googled "How to record podcasts" and then I sat down and I started recording it. It's like doing this new thing that's kind of different and that's reaching people in a different way and it's pushing me in a different way and there's so much buzzy energy around it and it just feels good. Is it uncomfortable? Absolutely. Is it kind of hard to find the, to find the extra time and to learn how to edit?
And then like someone sent me a message, like I think your last episode was only recorded on one on one side. Like I can only hear it in my right ear of the headphones and I'm like, I don't even know what that means. Like are there two sides? Like how am I supposed to rectify this? Like I have no idea what she's talking about.
I think it was her headphone actually because I went back and I'm like, I'm pretty sure it's fine. So you might want to get your headphones checked. But what I want to say is that growth tends to be a little bit addictive as well. And it can be really fun.
So I launched the podcast and then I thought, what else can I do that I've really wanted to do? What else can help push me in the way that I want to be growing?
"What else can I do that I've really wanted to do?"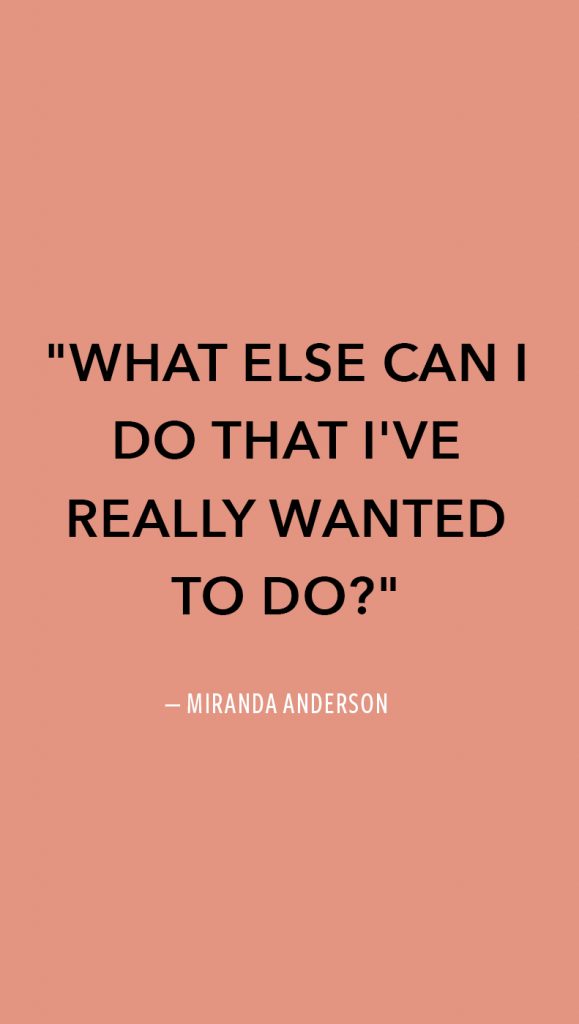 The Book Is New And Scary
And it was the book, the book was something that I started writing in January of 2018 and I decided after, you know, in like November, I'm going to finish it by January of 2019. And I did and I finished it and I turned it in. And now we're like in the process and it'll come out in June.
Is it scary and uncomfortable? You have no idea. I've never done that before. I don't know if people are going to like it or hate it. I don't know if anyone will even know about it. Like, is anyone even going to buy it? I don't know. But it doesn't really matter. None of that really matters because, because it mattered to me and because I'm growing and because I'm doing the things that are propelling me forward along my journey.
"Growth is uncomfortable. I want to ask you today, are you uncomfortable?"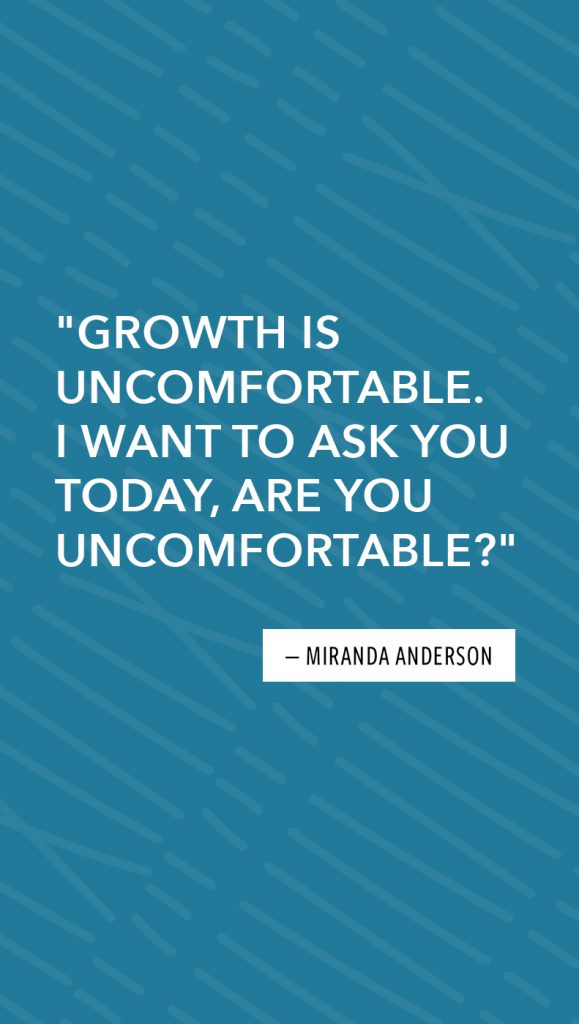 I mean, probably not. Like right now in your chair, like maybe like I want you, we want you to be comfortable here right now that there's water and like, you know, but are you uncomfortable?
If you're not, then I want to invite you to consider what are some things that could make you uncomfortable in a good way. Push yourself. And if you answer yes, yes, I am uncomfortable right now in my life or in my business, I want you to consider why.

Two Types Of Discomfort
Because there are two types of discomfort.
Positive Discomfort Moves You Forward
One of them is positive and self and propelling and one of them is negative. It's not a good discomfort. So the first one is a discomfort that moves you forward. You feel, do you feel nervous? You feel like you're stretching yourself.
You might have a little mini panic attack and need to talk to someone about it, but at the end of all of that, you have set a big goal and you, even if it all fails, you will have moved forward because of the thing that you're doing that's making you uncomfortable. That's positive discomfort, that's natural to growth.
Negative Discomfort Spins You In Circles
The other kind of discomfort is the discomfort that happens when you beat yourself up about the place that you are. It's uncomfortable to tell yourself, I'm not doing very well. Look at how all of these other people are growing and I'm not growing. You know, I wish I had more success. I wish I could hire someone. I wish I had more revenue. I wish I had more followers. That picture didn't do as well as I thought that it would. I must be a terrible blogger.
Is it uncomfortable to feel those things? Yes. Do those feelings push you forward and propel you towards a better future? No, they do not. That little pink card in front of you all have that inner self critic that is unnecessary discomfort. That is discomfort. That is moving you backward in your business. That is getting in your way.
So when I say growth is uncomfortable and I want you to be uncomfortable, I really want you to make the distinction that the discomfort that you're experiencing is okay if it's moving you forward and that it's not serving you if it's not. So be clear about that as you feel discomfort.
Because sometimes we all do this. I did this too. Sometimes we think, oh, things are so hard. I feel, you know, like so stressed out, I'm really overwhelmed and we feel all of these feelings and it's like, but you're not even doing anything. Like you're like, why you're, you're actually not doing anything that's moving you forward. So why do you, you know, this is me wallowing. That's what that is. I like moving back and forth like, don't do that. You know, let's, let's make sure that if we're just this, if we're uncomfortable, it's for, it's for a valid reason, for something that's actually moving us forward.

Growth Is Not Always Visible
Another point that I just think is really fascinating and I love growth is not always visible.
Guess what? In social media and in blogging, we consider growth as things that you can see. We think growth is in our Google analytics and it's on our Twitter feed and it's, I mean, but is it really, does anyone care about Twitter? No. Okay, so scratch that one. It's not on our Twitter feed. It's on our Instagram account. It's on our Pinterest, right.
Growth to us is seeing those numbers move up and that's kind of where we, where we stop. But that's not the only way that we can grow. This is a Joshua tree, kind of a funky little tree. It looks like Dr. Seuss to me, this tree and most trees grow visibly, right? They start as these little things like my active and they stretch out and they get branches and they get leads and they get big and they expand and they get taller.
Expansion Is Visible
And we think, look how beautiful and big that tree is. Look how much it's grown. And that's one type of growth. And that type of growth is, is good. It can be good, but there's a whole lot happening underneath.
What about depth underneath that? You know, maybe fifteen foot big Joshua tree. There shouldn't be rules up to thirty feet deep and those roots sustain the tree. They gather nourishment, they anchor it to the ground and guess what happens if you have the expansion without the depth first wind that blows that tree falls over.
Depth Is Invisible
Have there been times in your life when you, for whatever reason, a season, maybe you had a baby, maybe you were sick, maybe you just weren't feeling it for a little while. Has there been a season when you, for whatever reason could not expand visibly, but you felt like there was some depth happening?
Maybe because you had to take six months off, you got back to taking care of yourself. Maybe you read some books, maybe you've got healthy, maybe you connected and reconnected to some real life friends. The depth is increased capacity, its understanding its richness and fulfillment.
The depth is not visible, so maybe you hit a thousand Instagram followers and you've stayed at a thousand for a year and everyone around you, I mean, I don't know who's actually looking at your numbers and separate you, but everyone around you might say, Huh? She doesn't seem to be growing very, very well very quickly, but what they don't know is that you are making intense personal, incredible connections with each of those followers that these thousand people would buy, whatever you sold, that they would fly across the country to meet you, that their lives are being changed by the things that you are sharing with them.
That kind of depth is growth. That's even more important than the expansion.
Does that make sense? We all feel in that. Okay, so I wanna I want you to consider for yourself and your business, how are you measuring your growth? What does that look like to you? Have you considered that there might be something beyond the numbers to measure or to think about? I want to tell you a quick story.

Meeting Melissa In Munich
I was in Germany a couple of weeks ago. My husband was going for work and I invited myself along, has a good wife shed. Right. And so I posted on my Instagram story that I was going to be in Munich for a couple days and like, does anyone have any idea what to do there? Because I didn't. And I had a girl named Melissa at reach out to me and say, "Oh my gosh, I can't believe you're coming to Munich. I live here and I would, you probably won't have any time, but I would love to meet you if you have a chance. You know, I grew up here and I can show you around."
I was like, oh yeah, girl, I don't have any plans. Like I would love to meet you and I would love for you to take me around the city. So thank you. And yes, and so we planned it and we met at the train station and she spent the day with me. She took me around. We, we probably walked ten miles because in Europe they just walk everywhere and it's awesome and exhausting.
And so we walked and we talked and we went to breakfast at this cool place. And she showed me like all of these things that like a tour guide would never have known because you grew up there and we're like, you know, learning, wandering through these cool alleys. And she's like, "Oh my gosh, you would love this shop!" and shows me this shop. It's all this cool stuff that like, I feel like I could have owned that shop. Like she knows me well enough that like, she knew where to take me to places that I would love.
And as we're talking now, this was not an Instagram follower that I recognized her, her handle, you know how you have those people that you don't know but that feel like your Instagram friends because they comment a lot or they like send you lots of dms and, and so they're like, oh yeah, she's like my Instagram friend. But you don't actually know them. Her, anyone. Yeah. Right. So this was not one of those people. This was a person that was not like regularly. I'm like, I was maybe I'm weird that I was like, yeah, take me around the city for a day.
I don't know. But, I thought, gosh, this is awesome. So as we're walking and talking, one of the things she said to me, she said, I know this is weird. You probably all get this deal. This is kind of weird, but I like know everything about you. I'm like, I don't know I put that other, but she brought gifts for my kids.
I have three kids and she made these personalized name things from like with my kids names spelled correctly. Like we were talking about when I lived in DC, which was five years prior. And I'm thinking this, this girl has followed me for a long time and she's knows what I'm up to and she's enjoying it. And she said she listens to the podcast every week. And we talked about a couple of things that we had talked about in that I had shared in the podcast and we were having this conversation.
And then at one point she said something about how, you know, Instagram in and of itself can be kind of overwhelming for people. Right. And like she sometimes feels like she needs to take a break. And she said, I took Facebook off my phone because I'm just like sick of hearing all of that. And I, I sometimes want to take off Instagram. But then I realized that if I take Instagram off my phone, then I won't see your posts. And I love seeing your posts every day.
And I thought, this is not a person that I would have thought is going to miss me because I didn't even know how much she was engaged or how much she was interested or committed. This is a person who spent an entire day planning a tour for me around her city.
"Is there a better measurement of growth than having one person who feels like their life has changed because of what you're doing?"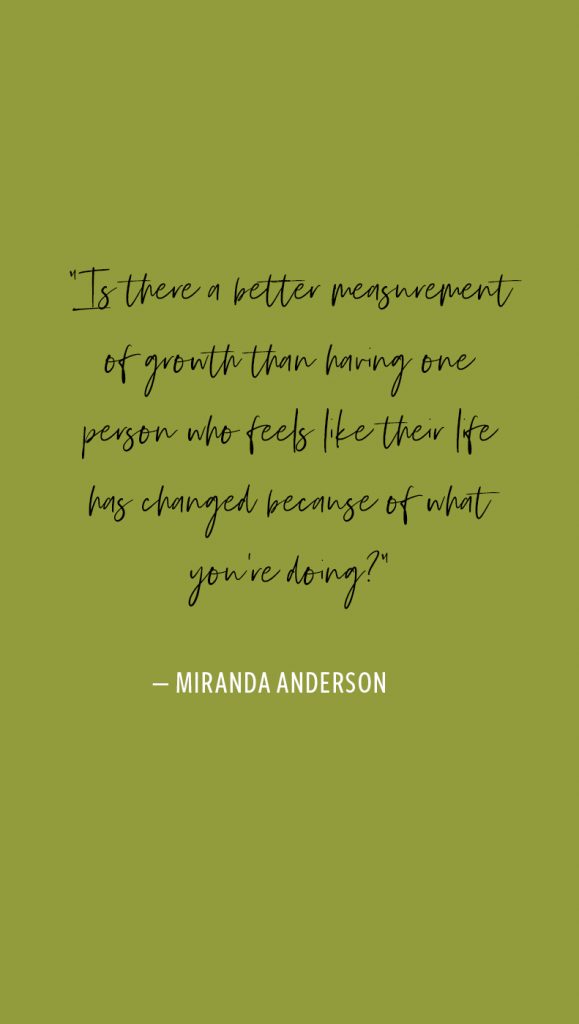 And I thought, "If I never gain another Instagram follower, but I have people like Melissa showing up for me the way I'm showing up for them than I have made it. Everything that I do every single day is success. And no one can tell me that if I don't hit that next mark, that next milestone that I didn't ever do enough."
No, no. If you're showing up and you've got people who were showing up for you, then you're doing enough.
Thank you Melissa.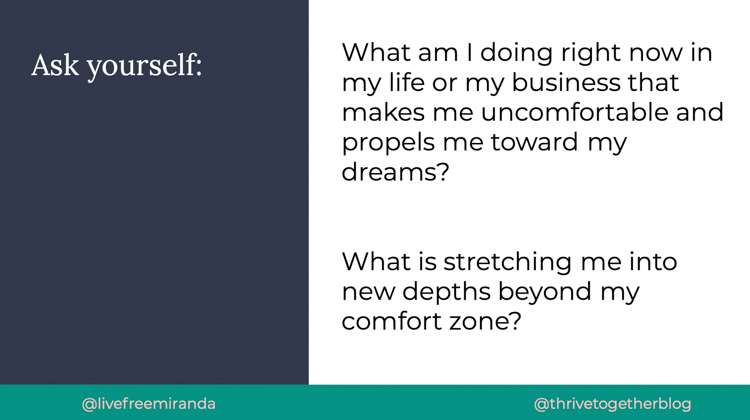 How Are You Growing Right Now In Your Life?
So just to wrap up this part about growth, I want you to ask yourself, and you've got notebooks and you've got stuff to write all this down.
What am I doing right now in my life or my business that makes me uncomfortable and propels me toward my dreams? What are you doing?
What is stretching me into new depths beyond my comfort zone?
Those are both really important questions and you may not be able to answer right away. Maybe you're going to need to take some time to think about this and reflect on it. How can you push yourself a little bit?Acknowledge that what you're doing is great and see if there's, if there's somewhere that you can move forward.

Let's Talk About Engagement
Okay. So let's talk about engagement. This is my engagement circa 2006. Hashtag no filter Hashtag probably not a digital camera.
Just kidding. I think about the digital camera. So this is my husband Dave. I want to tell you a little bit about our engagement.
Dave and My Engagement Story
So like I said, this is 2006. We had been dating for a while, knew we wanted to get married, we were in love are in love, we planned to go on a hike, we like to hike. And so we planned this hike up Mount Timpanogos in Utah. It's a big tall mountain about over 11,000 feet.
And you, usually hike it the day before if you want to be at the top for the sunrise, which is a pretty cool thing, right? Being on top of the mountain for a sunrise. And so, uh, we pack up our stuff and we start hiking the night before and we get to the saddle, which is kind of right before the peak and we are going to spend the night there.
Just as a random side note, I was in charge of packing like our sleeping bags and Dave is in charge of packing our food and I brought one sleeping bag thinking like, oh well we're going to like snuggle and it's going to be cozy. And it was freezing.
It was August. But like at 10,000 feet it's like zero degrees. So this very, what I thought was, is going to be like this romantic like cuddle, oh was like frozen icicle death on the top of the mountain.
He brought dinner. So that was nice of him. He actually did his card. So then we wake up at three in the morning, we start hiking towards the top, you know, we were going to come back down through the saddle and so there was no reason to bring all our stuff. So I'm like, oh, I'll just get like stash the sleeping bag under a bush.
And like, this was normal. This is what people do, right? They like stash their staff, hike up, see the sunrise, and then on your way down you pick up your gear to continue down the mountain. Dave was like insistent upon carrying his giant backpack.
And I was like, you can leave it here and it'll be easier to hike up. And he's like, no, I've got to bring it. We're talking like a backpack, you know, like this is like, you know, like the zipper on the bottom, like all the stuff. And I was like, okay. And he was,, he's like pretty fit and I'm thinking, oh, he's just gonna like get next to workout with that big bag, like going up to the top, you know, whatever, whatever you want to do. So we get, we get 'em up to close to the peak in the beginning.
There was like lighting a line of people. It was not a novel idea to hike for the sunrise like us and 500 other people had thought this was a good idea. So we're like walking with our headlamps like in a row, like boy scout troop ahead of us. I'm like, this is not as romantic as we thought. We stepped off the trail and we're sitting down because I just wanted to like be present for the sunrise.
And so we're sitting there and the sun just like to, the rays are just starting to peak, you know? It's like just that moment right before.
Have any of you seen a sunrise? If you haven't, please rectify that. Like in the next couple of weeks. Like it's just this incredible moment, like right when the sun last flashes right over the hill. So we're sitting there and I've got a blanket and I'm like, he's sitting with me and then right before the sunrise he gets up and goes over to the shovel around with the backpack and was like, oh, I just need to get my vest.
And I'm like, well, you're going to miss it after we just hiked all night and froze to death. The sunrise is happening now. I'm going to enjoy the sunrise on the top of the mountain, whether you come over or not and you're, you know, doing something with the backpack. Looking for his vest supposedly.
Suddenly, I hear music playing. He's turned on Louis Armstrong, "What A Wonderful World."
And so I was sitting on the top, I'm at 11,000 feet looking out over this valley as the sun is rising and he comes over with this like sheepish grin on his face, you know, he's got a box and he tells me "I want to start every sunrise with you."
And I say yes. And I put on the rings and we're like, we're so excited.
And I'm like, where is the music coming from? He has packed a full on CD player with batteries in the backpack because this is 2006 and there was no iPhone to play the music on! So he's over there right before the sunrise, like unzipping the bottom and trying to fight. He'd flipped the CD so it wouldn't automatic bounce. And starts.
So he's like flipping the CD to get the music going and all the for, you know, it was picture perfect. I mean ridiculous and wonderful and lovely and, and just this incredible moment that we begin our lives together and that we commit that this is something that we're in for the long run.
How We Think About Engagement Now Is Incorrect
When I think about engagement and the way that we've twisted that word to make us feel badly about ourselves, it makes me really sad because this is engagement, commitment, and absolute love for what you're doing and feeling like you want to do this thing all the way, recognizing the beauty in what you're creating with your audience. That's engagement.
We use engagement as a Buzzword, right? And right now in social media really, I mean this is only a phenomenon in the last couple of years, right? The engagement is something that we are even talking about, but we use engagement as a buzzword for like, how are your people? How much do your people like you? I mean, that's kind of like the way that we use it, right?
But that's not the way that I want you to think about it anymore because do you get to control anything about how much your people like you? Do you get to control anything about how people respond to what you create? No, you did not get to control any of that. While you do get to control is how engaged you are in what you create. So let's talk about engagement from that side, right?

Measure YOUR OWN Engagement In What You Are Doing
How engaged are you in the content that you are sharing, how engaged are you in the projects that you're pursuing?
How engaged are you on the social media platforms that you share?
Do you kind of hate Instagram? Because if you kind of hate Instagram, don't expect it to love you back, right?
I mean, can we, can we be really honest? If you love what you're putting out there and you love the people that you're sharing with, even if there's not as many of them as you wished there were, then you are engaged, right?
How engaged are you in your local community and your online community with your current followers and friends? I want to make this big distinction when we're talking about growth and engagement, especially engagement has to do with the people who already follow you, who already listened to you.
How often are you thinking about them compared to how often you're thinking about all the other people that you would like to impact?
You already have people who have clicked a button and who have opted in and said, I want to, I want what you're giving. I want to be reading and to be following and to be laughing along and to be studying and to be, you know, all of the things with what you're doing. How much do you care about them? How engaged are you with your current community?
They matter. They already like you, so like give them some love, right? How much enthusiasm, excitement, enterprise and energy do you invest into the existing relationships that you have in your life and your business? Those are all really important things to consider when we're talking about engagement.
"What would you be doing if no one was watching you and no one was paying you?"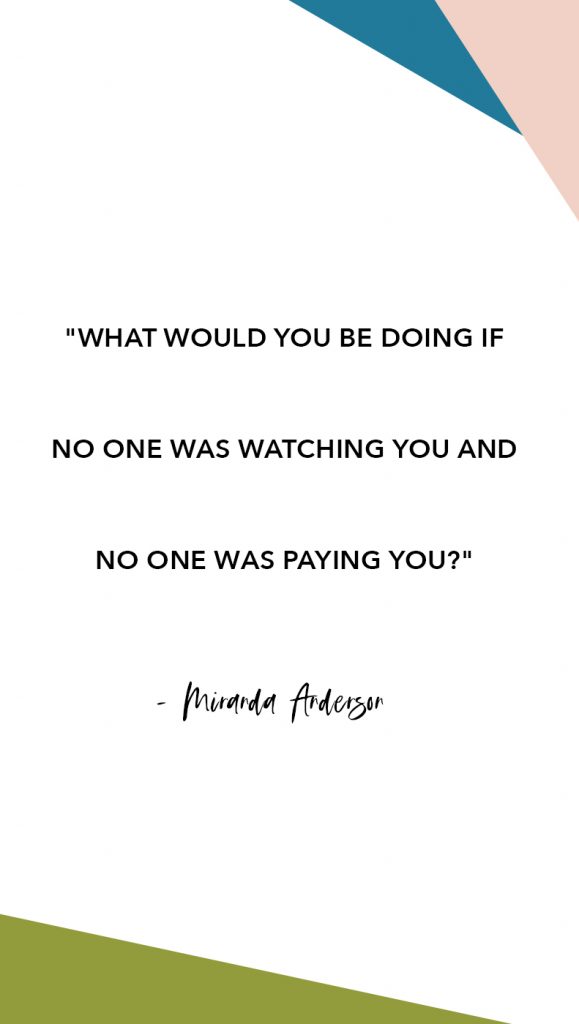 Is it vastly different than what you're doing right now? Because if it is, you might want to examine that. You might want to think about that. Who has to live your life?
You do.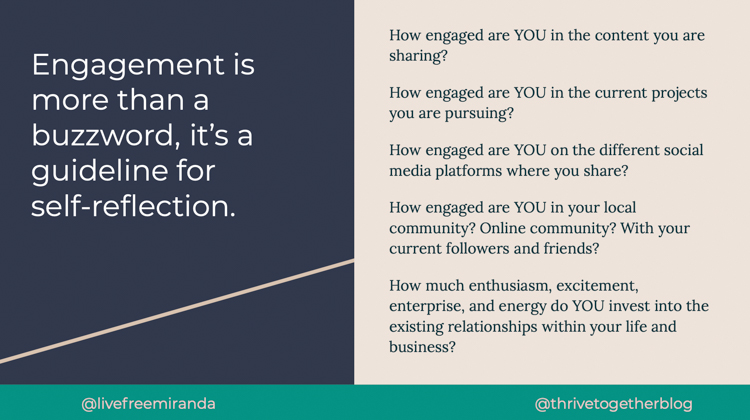 "You're the one who gets up every day and who does your thing. Make sure that you like it."

The Things I Am Engaged In Right Now
So I'm going to tell you about some the things that I do and how I feel about them.
Live Free Creative Podcast
I love my podcasts so much. I wouldn't do it if no one listened. Yeah, I would do it if no one paid me. (No one's paying me.) I love it so much. I think about it like all the time.
In fact, when I was in Germany, I spent a day in a museum. If you start listening to the podcast, which you're all invited to, I saw this display and it was a display about clocks and like all of the sudden I had this epiphany about a podcast episode about this clock display and I've been working on it now for two weeks. I am obsessed with this understanding that I got about the clocks. I mean just wait.
It's going to be a good one come down a couple weeks. But when you're thinking about something, when you're not even like in it, like I'm walking through a museum in, in Germany thinking about my podcast, that's when you know that you're engaged. Right?
More Than Enough Book
My book, I is like a baby. I mean people say that like your book is like a baby. And I was like, I don't know. It's kind of a weird like analogy cause I've had some babies and they just don't imagine how it would, you can be the same but I, even if no one reads it, I am so happy that I wrote it and I'm so excited about working through the cover and working through the edits and figuring it all out and then launching it out into the world. And guess what?
"It doesn't really matter how my book is received because all of the work and all of the growth and all of the joy I need has already happened in my life during it's creation."
That's an incredible thing. That is engagement.
@livefreemiranda Instagram
I love my Instagram account and I think about it as how much value can I add to the people who were there? I think about my account is how can I share with you things that will impact your life. I don't want to share things so that people like me more. I want to share things so that they like themselves more. That's engagement.
I love my shop, I love my blog. But these, I mean I'm like love, love, love, and then I'm kind of like, hey, these are the things that I do as well.
I started a YouTube channel two years ago and then I kind of stopped. Am I engaged there? No, I do not post on youtube anymore. Once in a while. And they kind of be a bit good video and then I'm like, yeah, but I don't, I don't feel like doing it. That's not engaged. Right. Am I mad that people aren't following me in droves on this channel that I created and do not post on? No. Why would they? Why would, why would I expect anyone to be engaged with me in a project that I'm not engaged in?
We need to make sure that we are in it and then other people can be in it. But don't expect people to be excited about things that you're doing that you're not even that excited about yourself.
Right? So here's the question.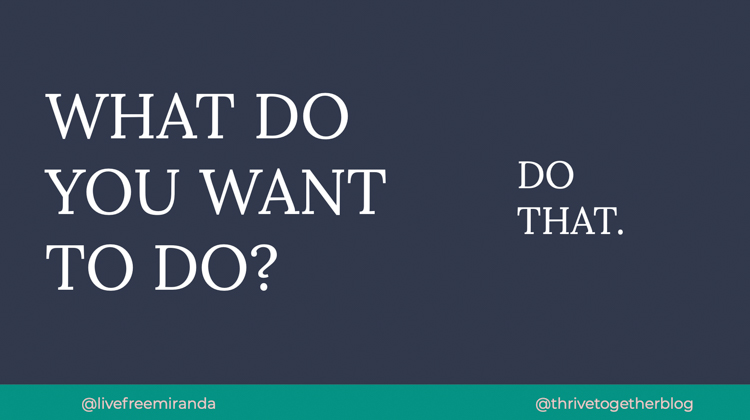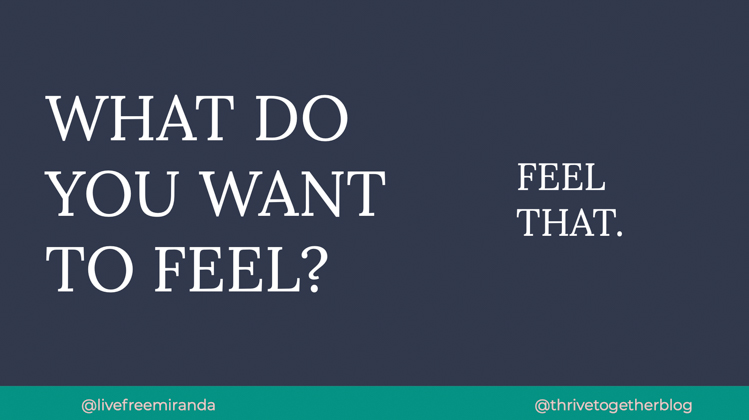 What do you want to do? Do that.
What do you want to feel? Feel that.
Both growth and engagement, especially in our field, can be falsified, right? Do you know people who grow inorganically, he'll create engagement inorganically? Yeah, that's a real thing. Does it feel unfair sometimes? Yeah. It kind of feels unfair.
Sometimes. But guess what? Growth and engagement are not meaningful at all unless they mean real progress and real fulfillment in your life as the human person. They're not meaningful for their own sake. They're only meaningful in the way that they impact you in your daily life.
So here's my last question. How does your life, your big, beautiful, unique, only yours and no one else's life show up as a reflection in your business? Okay. If you don't see a lot of that life showing up in the way that you run your business, then you might want to take some things back to the drawing board and think: "What am I excited about? What can I be engaged in? What would I hike to the top of a mountain carrying a CD player to do? What are those projects that will bring you life at the same time that they bring life to those who follow you and engage with you?"
That is the question. So here's the last slide. The major takeaways. I like to wrap it up at the end. You know, we've gone a lot of places.

The Major Takeaways
Growth means pushing yourself beyond your comfort level towards progress. It will be uncomfortable and exciting.
Growth can be deep or wide, but the deep needs to come first and it's always going to be the most important.
Measure engagement by the value that you add and the level of commitment that you have to your projects.
Get clear about what it is that you want to do, okay?
If you're not clear, experiment with lots of different things, go on that roller coaster ride and see what lights you up. Try a bunch of stuff. Throw Spaghetti at the wall, see what sticks, right? That's the way you figure it out. You don't figure it out by sitting thinking, "I don't know what I want to do." You're not going to know by sitting thinking that get out there and try something.
Your life has to be the priority when you are filled. Show up in the world and make a real impact.

Conclusion
Friends, there you have it. That was my talk on growth and engagement at the thrive blogger conference in Austin, Texas. I hope it was fun for you to get a little bit of a different experience today listening to the show, pretending that you were sitting in the audience with your eyes closed, listening to the reactions and to other people's experience and to me being a little bit off the cuff as I shared the things that were in my heart with all of these incredible women attending the conference that day.
You heard me proclaim it over and over again during my talk, but man, I love this podcast so much and I love my podcast listeners. I feel so grateful that you are showing up for me and that you're listening and that you're giving me a little bit of your precious attention. If you have enjoyed the show or you enjoyed this episode, I would love to invite you to take two minutes and hopping to iTunes and leave an actual review for the show. Leaving a rating those stars is really wonderful and leaving a review allows other people to know what your experience has been with listening and let them know that they might love to listen as well. That's all for today. I will be here next week. Same time, same place. I can't wait for you to be there to have a great week. See you later.