Episode 72: Word Of The Year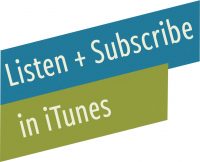 Introduction
M: Hello. Hello, happy 2020! We are back with Episode 72 of Live Free Creative.
I'm your host Miranda Anderson and I have a special guest here with me today. Welcome to my husband David Anderson. Say hello.
D: Hello. Happy new year!
M: We were trying to remember what episodes Dave has been on. I know he was on Episode 10 because that was our anniversary and then we think Episode 24 I could look this up and then I don't know, I feel like there was another one but I don't know. So I'm going to have to do a little digging and I'll put it in the show notes so you can catch all of his wisdom over the last year and a half of the show.
But today we are going to share just a sweet episode about choosing a word of the year and how that can be really impactful, but before we dive in, I want to share a quick segment. This is called pause for a poem.
Segment: Pause for a Poem
"This morning
the beautiful white Heron
was floating along above the water
and then into the sky of this
the one world
we all belong to
where everything
sooner or later
is part of everything else
which thought made me feel
for a little while
quite beautiful myself"
poem of the one world by Mary Oliver
How was your year?
M: Okay. Nothing like a little Mary Oliver to kick off the new year.
How are you doing? How were your holidays?
I feel like it's been a little while. Even though I had an episode release last week, it's feels like Christmas and the new year and everything has been kind of a whirlwind. How do you feel hun?
D: I feel pretty good. I feel pretty energized by the new year.
M: It's a fun, fun time. There is a buzzing bubbly energy and I hope that you've been able to capture that and feel it as a positive wave rather than feeling overwhelmed or confused or frustrated or behind. Because I know that with so many messages of you know this, especially this year it's been kind of wild because it's the end of the decade and it's like all of this pressure on what have you done these last 10 years?
Like did you do it and what are you doing for the next 10 and you know, is your life where you thought it would be?
And for some people they feel like, yes, absolutely. And I know there's a lot of people who probably feel like I don't really know what I'm doing and you know, maybe you aren't exactly where you thought you would be or, or you haven't taken the time to, you know, reflect enough to really feel super confident about what happened and what is happening.
Wherever you are today is exactly where you are supposed to be
M: And so all of that, just to say that wherever you are right now is okay. Wherever you are today is exactly where you are supposed to be. This is not a race. There are no milestones that you have to meet in order to reach some level of success. All of that is arbitrary. Every goal that you set and every thing that you think that you should do in order to feel differently is arbitrary. And the only thing is, is how you feel and how you interpret the world around you and how you love the people close to you and how you love yourself.
So we hope that you feel a dose of a grace for yourself as you head into this new year and allow yourself some time.
So we're going to talk today about the idea of choosing a word of the year and it's already 2020 like today is the second of the year. So if you have not chosen a word yet or you've never even heard of this concept, you may already be thinking, Oh my goodness, I am behind because I didn't, you know, like write it on a chalkboard and take a picture of it yesterday. That's okay. We have time.
I like to think of January, the entire month of January as my preparation for the upcoming year. Kind of getting things in order and spending some time to reflect.
And this is kind of random, but I was noticing I have some accounts that pay out, for example, the books that sell on Amazon. I don't find out how many books have sold during the month until the beginning of the next month because you, you can't track something until it's over.
And so in a lot of ways it's silly to assume that you should be all the way ready for the new year before it has begun because the last year hasn't ended yet. So we are just barely beginning.
You have plenty of time and just consider that there is, there's no like perfect time or right time to do all of this. Like at any moment you can change, you can begin again. And if you want to choose a word of the year at today or tomorrow, that's great. And if you decide that you want to choose one later or you choose one and it doesn't fit, that's all. Okay too. You can change. This is your life, right? That's right. You get to choose, you get to choose.
What is a Word of the Year?
So I wanted to just share the idea of the a Word of the Year.
I think that it's common enough that you've probably heard of it or you have people that you follow on Instagram or Facebook who have been announcing their words of the year and maybe you've wondered a little bit about it.
Maybe you already have one in your and you're excited about it and maybe you have no idea what we're talking about. I just thought it would be fun. It's kind of a lighthearted episode to kick off the new year to share what this idea is and how it has been helpful for me in my life.
And Dave is a word of the year newbie.
D: That's right. I love words, but I haven't ever done a word of the year.
M: So we're going to try one on for him and we are not, he is going to try on his own word of the year that he chose independently and we're going to see how it goes.
Just to kind of give some framework, I don't remember exactly where I saw this idea for the first time, but it's been a number of years. And the basic idea behind choosing a word of the year is that you choose an idea, a word or a phrase that is sort of your theme for the year. It helps you to narrow down your decisions.
A Word of the Year is like a theme
It helps you to kind of filter out what you really want to focus on and just creates a theme. One of the examples that I thought of as I was preparing for this episode is how when you plan a birthday party for one of your children or yourself a party, it doesn't have to be a birthday party, but let's go with a birthday party. You decide on a theme, you immediately are able to make decisions easier. Like you choose a birthday party, a princess theme.
So then you're going to, you know, maybe choose some princess colors. Maybe if you're buying a paper plates and cups, you'll choose sparkly ones or princess style ones. Maybe you're going to go so far as to have the food be related along a princessy line. And when you go to the cake you can choose, you know, a princess cake. And so you've kind of, you've set yourself up for narrowing down your decisions from every available option to the options that kind of run along the theme.
I think of this as being really powerful for the word of the year as well because I talk a lot in this show in general about the, the power of narrowing down your decisions of eliminating all of the unnecessary options so that you have this decision making power and this energy that you can use on the things that you really want to choose rather than choosing between everything.
Your Word of the Year Helps to Narrow Options
And so allowing yourself a theme for the year does the same thing, but for your life in general.
For example, you choose the word "explore" for the year, then you automatically are narrowing down on the types of experiences and opportunities that will allow you to "explore". So maybe rather than sticking to a familiar routine, you are open to the opportunities and experiences that might be a little different or that are helpful.
All of the things that feel, you know, if you choose to "explore" as your word, you're probably hoping for some fresh perspective and some, some new experiences. And so you will be able to kind of set aside things that are more familiar or comfortable and push yourself out of those boundaries so you can kind of disregard the things that feel really common and be looking for things that are new opportunities and kind of taking advantage of those. So you just, rather than having all of the options, you're narrowing down your available options in, in a positive way, like in a, in a really intentional way.
D: Yeah. And I also think that metaphor of the birthday party kind of expands to other people as well. When you set your theme, other people know better, how to engage with you and how to help you and how to participate with you in your, um, in your efforts. So as you have this word, I think it's also important to let other people know kind of the things that you're looking for and they can help you along the way too.
Your Word of the Year creates support
M: Yeah, I love that idea. And maybe that's a piece of why people feel really, you know, a lot of people feel really open about sharing their word of the year because it almost holds them accountable too. Hey, this is what I'm aiming for this year. This is what I hope for.
And so, you know, help me, help me along the way if I need it.
Another thing that can be really helpful about a word of the year is that it can create momentum. So I'm going to share the example from last year for me, but a lot of times we're hoping for something like we really would like something to happen or we're hoping for a certain types of experience or accomplishment to kind of come to fruition. In our lives. If you choose a word of the year that will align you to the actions that you need to take in order to make that happen.
Your Word of the Year builds momentum
It's kind of this added push that not only do you have a goal set, but you have set up the way in which you're going to do that with your word of the year.
Finally another kind of benefit that Dave and I thought of was how you, when you choose something like this, to focus on, Dave, used the example as we were talking about, when you decide that you, you know, want a red car, that automatically you start to see red cars everywhere you go. And this is just our brain's way of making available to us the things that we want. When you decide something or you kind of create a desire within yourself for something, your brain wants to give it to you like you create. Say, I'm looking for a explore. If we're saying that again, you know, I use that as a word.
I've decided that I'm going to explore this year. You're going to see more available opportunities for exploration than if you had chosen a different word because your, your brain wants to give you the things that you want. And I would expand that as well to say that your community and the universe wants to get behind you in the things that you want for your life as well. So as you define, there's just something really kind of cool and important about defining something for yourself as you define things, things that you hope for, things that you want you desire, then there is something to support it.
D: Right. I think the clearer your picture in your mind is of what you want, the more, um, the better your brain is, the better your community is and the better the universe is at providing that to you.
M: Yeah, it's so true. And that's so helpful to remember that like everything is looking out for your good.
And I know that sometimes, especially if you're in the middle of something hard that you think, no, that can't be happening because my life sucks right now. But I, you know, and I promise we've been there like I in some ways the last year and a half for us has been just absolutely unexpected.
It calmed down the latter half of 2019, but it was kind of a crazy ride and yet I look back and see how every single thing was supporting us and the things that we really hoped for. And you know, it all, it all ends up okay. It all works out and, and a lot of times you end up far ahead of where you expected to be because of the unexpected circumstances that, that surround you.
We just are truly living in a universe that supports us and loves us and you know, it's up to us whether we choose to see that or not. But the more, the more clearly we define what we're hoping for, the easier it is for everything to work together for our good.
My 2019 Word of the Year was FOCUS
So I want to share a quick example from 2019. my word for 2019 was focus. Dave was telling me that that was a little redundant because I wanted to focus on focus. I think I've shared that before. I also did a podcast episode all about the idea of focus and what that looks like for me.
What was really helpful for me in choosing the word focus was that I decided in choosing focus that if I only accomplished one single thing this year and that was writing my book, that that would be enough.
In previous years I went into a year with dozens of goals and a lot of them were realistic, but I was so spread out of I want to do this once a month and I want to do this and I want to do that. And all, you know, my efforts were really divided and when you divide your efforts, everything gets a smaller amount.
When you focus your effort you are putting a ton of effort and energy into one project or you know, or two projects, whatever, whatever it is. In my case, I chose to focus on one and what happened was that that one project flew. It came to pass and in July my book was finished, it was written, it was edited, it was published, it was printed and it was shipped into the world.
Now if I had gone with traditional publishing instead of self publishing, it would have been a much longer process and that was one of the choices that I made as I was choosing to self-publish.
And if you're curious about that whole process, I have a podcast episode, I'll link it in the show notes where you can learn all about, you know, what writing and publishing a book look like for me.
But it was really important for me as a multi-passionate entrepreneur to decide that there was going to be one thing that mattered the most within the realm of my business this year. And despite so many obstacles in my personal life, I was able to focus over and over and over again.
When I had to make the choice between doing something else that felt like immediate gratification or I had a financial opportunity that was more immediate, I could say no with surety. Because I knew that the one thing that I really wanted to do was this and I worked really hard with focus until until it happened and that was a really amazing experience for me.
It was a huge learning experience and I really attribute that like every single day.
How I use my Word of the Year
So let me tell you a little bit about how I use my word of the year.
I've shown you if you follow along on Instagram and Instagram stories, I've shown you my golden coil planner a hundred times. I love it. And you, you don't have to use a Golden Coil.
You can use any planner or any sheet of paper or the back of a receipt if you want. But I find, I found myself every single day. I have a little box in the planner layout that I chose that is just an empty box and I think that it's meant for like putting a sticky note on it. It's the same exact size as like a traditional post it note. But I never have done that. I just write "focus" at the top of it.
Last year, every single week I wrote "focus" and I would write one thing that I wanted to focus on and I focused on that one thing until it was done. And then I would add another thing.
I only always had one single thing that I was working on. And in the early part of the year, that one thing was always related to the book. It was the chapter that I was working on. It was a page count that I was going to get to. It was edits that I needed to return to the editor.
By defining that one thing, it made it so much more manageable and I was able to return to it every single week. I not only chose a word, but I was able to return to it and truly use it as a touchstone throughout the year. And I came out of 2019, you know, yesterday feeling like I had been so much more focused than I ever remember being in my whole life. And that was a really cool feeling.
D: It was great from, from my perspective to watch this happen because I, I knew from the beginning of the year that the book was your focus and at the time there wasn't a whole lot. Like at the beginning of the year, there wasn't a whole lot to, to show for that goal.
It was pretty much just a Google doc with a bunch of words on it. But it was almost inevitable that it was going to happen. The the way that you focused on, on the way that you, um, made sure that was your number one priority. And I also, from my perspective, I knew how to help you. I knew how to, um, to push you along and where, where I could, you know, fill in to make sure that this happened for you.
M: Yeah, it was a pretty powerful experience and, and such a simple thing cause that just simple thing to just choose. I mean, and that goes back to decision making, right?
Because some of you are probably thinking like, "Yeah, but what if I don't know what word I want or what if nothing seems to fit or like how do I know which one is right?" I would recommend that you go back and listen to my podcast about becoming a better decision maker because so much of that is arbitrary.
There are so many good focuses. There are so many good words or so many good themes. It really comes down to what you feel like you need. I'll share a few ways to choose a word in a little bit. So Dave did not have a word last year because this is new for him, but I asked him if you thought back, like just reflecting on the year, what would you say was your, you know, undefined word of the year for 2019 just by what actually happened.
Choose a Word for the Past Year
D: Yeah. And that's an interesting way to think of your year is like, what did my theme turn out to be for the year? And I think it was probably something like proactivity or initiation, something with the idea of kind of taking advantage of your, your own personal power to decide and, and your agency to make a difference in your life.
M: Yeah. I love that. And you're such a lawyer because of words like "proactivity"and "initiation". I would boil those words down to something like "start" or "begin", because what we were saying is that there were a few different aspects of your life projects or habits that you had been thinking on and kind of wanting to begin, but this was the year that you actually moved forward with them, that you took those steps. You, you began or you started.
D: That's right. You're a very good editor. Begin is much more to the point…
M: just basic, basic. I mean, initiation is great too. You could take that a lot of different ways.
D: I tend to use way too many syllables.
Dave's Word of the Year
M: I love it. So, uh, let's talk about 2020. What is your word? Your first word of the year for 2020 new decade.
D: I know. I feel the weight of this important decision. No, I, so to give a little background, I, you mentioned that I had several things that I was thinking about that I wanted to initiate and it was really truly only one aspect of my life that I really wanted to initiate things with. I wanted to start, start some new stuff, but it was really just one aspect of my life that I really wanted to focus on and to start doing things that I've, I've wanted to do for a really long time, but have been putting off for various reasons.
And I realized that…
M: That area of your life is…? You're the kind of leaving everyone hanging. You can be transparent. It's a safe space.
D: Well, this area of my life was my physical fitness. It seems a little bit vain. Maybe.
M: No, no health. We, I believe we believe in health and wellness…
D: …but it's been something that I've been putting off for a long time. But at one point it was a big part of my life and I want it to be a big part of my life again.
So I started this this last year focusing on, you know, working out, eating healthy and just starting some of the things I've been wanting to start for a long time. And I noticed that my real success came from not just starting but being consistent with the goal and not necessarily being perfect at it, but continuing to chip away at it and not letting small distractions or small failures pushed me off the course Just be consistent with what my plans were and doing my best to fulfill them.
So for this next year I kind of want to expand that into other areas of my life and just have a general idea that I'm going to be consistent with the things that I want to accomplish. Um, so my word is consistency.
M: I love it. I think that it's really important.
Something that you've taught me this last year when I was training for the half marathon. You told me a couple of times when I came back from runs and I was like, "Oh, that was such a slog. Like I was super slow. It was a terrible run."
You said it's okay to have a bad run. It just, it's been matters that you've go. So it doesn't matter if the run is bad or the workout is bad or even if you get a little bit off course with your healthy meal that you planned, it just matters that your intention is there and that you're doing your best and that you're trying.
And so the, the idea of consistency of just doing, even if it's the very minimum, but you're just doing something you're just trying, that will always benefit you more than giving up or then not doing it or deciding that because you are imperfect, that it no longer matters. And I think that's been really inspiring too to watch you, you know, kind of relearn that, that like I'm going to get up and go, even if I'm tired, even if it's bad weather, you know, I'm going to eat more chicken and broccoli, even if I'm sick of it, add a little more hot sauce.
D: Yeah, and I thought, I've heard people talk about it as just shoveling dirt and some days you're able to shovel a lot of dirt and some time, some days you're only able to shovel a little bit, but the most important thing is that you're moving the dirt and you're moving that pile and just making sure that you're consistently getting at it.
M: I'm so curious about this metaphor though. Like why are we shoveling dirt? What is the pile about? Like are we building a house? Are we planting a garden? I don't really want to just shovel dirt.
D: Don't dig into this too deeply. Don't focus on the details of that metaphor, but the idea is that there's a task to be done. The idea is that there's a task to be done and it can be divided into very small pieces and you don't have to move the whole pile of dirt all at once, that you can divide it into smaller pieces and just do what you can do today.
M: Yeah. Yeah. Totally. Little bits, little chips that um, consistency is so important. And I will link in the show notes, the episode from just a month or two ago about consistency and the power of little, tiny, small actions all layering together to create what you were hoping for in the first place. But if you don't do those small things, you don't get there. So that's an awesome one.
Good job. I'm excited to see how consistency in 2020 gets you even further along your goals.
Miranda's Word of the Year
My word of the year as a C-word as well. My word for 2020 is "Connection" and it's really kind of a fun shift from a focus, which feels really, I dunno, almost like outcome oriented, but it isn't. I mean focus was, was just doing the same thing and eliminating distractions. But where I feel like the idea of connection came to me almost immediately as I was considering what do I want, what do I want out of 2020, this is how I, how I kind of come up with my words of the year and I've done this for several years now, probably five.
So I, this is the question I asked myself, what do I hope to feel in 2020 or is, what is it that I'm hoping to get out of the year?
And immediately I felt like I have been working really hard on like creating content and having output in terms of, you know, producing a show every single week and getting my book published and out into the world. And I have, you know, Live Free From Clutter that begins on Monday and I'm so excited. (And by the way, you can still sign up until Saturday. January 4th is the cutoff date.)
But, my goal instead of launching an online course that was self-guided and you could just buy it at any time and you could just finish it on your own terms. As I was considering how I wanted to feel this year, I realized that I wanted to be connected and for me that looks like creating this course that has real involvement and like for me to act as a true guide and teacher. That I don't just like give you some information but they actually in some ways hold your hand through the experience of making some changes in your intentional living and that course would have looked really different with a different focus or with a different kind of theme heading into 2020.
I also think that I've mentioned maybe just briefly because it's not a all the way available yet, but that I'm hosting a couple creative retreats this year for creative entrepreneurs, writers, artists, photographers, people who want to, or business owners in general who want to dig into some deep work.
All the things that you really wish you just had like a big chunk of time for that you don't. This is where I'm creating space for people to come get that, get that deep work done. And it, the whole thing is built around the idea of connection. People being able to connect to themselves, be able to connect to other people, be able to connect to um, even like their food. And I have the nutritionist coming in and um, hosting in person events in a very online world is something that we just all need.
Like we as a people, we all need connection. And beyond business connection for me feels like spending personal quality time with each of my kids and making sure that Dave and I are staying on the same page, which we, we do a fairly good job of doing that because we have a habit of going on a weekly date night, but just making sure that our date nights are places where we're actually talking about things other than the kids that we continue to get to know each other on a personal basis as we grow and change as individuals within this marriage relationship.
How I'm using my Word of the Year in 2020
I was writing down, so it's like the first week of the year, and I had my, my new planner open and I, that little box that I used to use for focus this year, I'm going to use for connection. And I wrote, connect at the top of it, connect.
And then I thought, okay, so what, what is something that will, you know, add connection into my life this week? And the first thing that I thought to write down was to email my grandpa.
And I don't mean to get emotional, but my, my sweet grandpa's turning 102 in March. And we sent him a Christmas card and he sent back a handwritten note telling us how much it meant to him and you know, asking how things were.
And I thought, you know, he, he's healthy mostly, but he doesn't hear very well anymore. And, uh, I, and of course I live, uh, you know, a thousand miles away or however long it is from Virginia to Utah and I'm not there to go visit him on a regular basis. And I thought something that he can do and that he's good at is writing and reading. And so, uh, I am excited to just send him an email to reconnect and I hope to make that a regular practice this year to just to keep up with him even though I'm far away.
And the same thing with our actual, you know, with my kids' grandparents, with my parents and Dave's parents, we did a family exercise.
If you didn't do the reflect and project exercise from a couple of weeks ago, this the next couple of weeks is a great time to do that. That's episode 70, I believe. Um, there's a principle that you can download and we did this with our kids and one of the things that our kids wanted to do was to FaceTime the grandparents more.
You know, we live far away from family and, and being able to have it as a priority and something that we actually think about. We do it every once in a while, but it's definitely not a regular thing for us. And Milo said, "we should FaceTime the grandparents once a week." And we were like, okay, let's see if we can do it, you know, at least once a month is what we're gonna aim for.
So these are just examples of the way that choosing a word can then open your eyes to the ways that you can actually incorporate that feeling, that emotion, or theme into your life in a really tangible way. So you can choose a word and then create the way that you live around that. And that becomes really powerful.
As we were talking earlier, you said you use this phrase M O.
D: So "M.O." means mode of operation. I was thinking about our words that we chose, like you shows connection and I chose consistency and those aren't necessarily goals or achievements that we want to attain, but the way we want to achieve them, the way we want to operate, the way we want to do the things that will get us to those fulfilling achievements.
M: Yeah. So, you know, we both have goals for this year. Um, specific goals surrounding, you know, our, our family, the way that we interact as a family, some business goals, lifestyle goals. Like we, we do all of that.
And so for Dave, consistency is the way that he gets to those goals. And for me connection is something that I need to make sure is intact the whole way that you know, if I have a choice between pursuing an activity that, that invites connection into my home life and to my family life or into my business life, then that is likely going to be the choice that I make instead of if there's one that detracts from that connection.
Because there are definitely things that disengage us and even personal goals, like making sure that my phone is, you know, often put away for a majority of the day when I am with my kids that you know, my personality, I think that I talked about this maybe with my Patreon group, but my, my morning routine involves my phone being off until nine in the morning, which is when my kids go to school and then it being off from the time they get home until after bedtime. So I am able to really be connected when I'm with them.
Use your Word of the Year to shape HOW you do things
That is just another example of using this idea or this word to shape the way that we do things. Not only what we do, but how we do them and why we do them. That having an underlying purpose is so important as you're setting goals at the beginning of this year. Because it really is that base purpose and the why behind the things that we do that create the feelings of fulfillment and success that we have.
So even if you don't always hit the end mark, if there has been a reason that you're doing the goal in the first place, then you feel fulfilled all along the way. That's one way that choosing a word of the year can help you because it gives you this sort of touchstone for the, the way that you want to interact throughout the year.
D: Yeah. I think I heard somebody say that we often overestimate the number of things we can do within a year and underestimate the number of things we can do within 10 years. And choosing a word that's more of a mode of operation in a way you do things kind of sets you up to achieve longterm goals that may not necessarily fit within the 12 months of the calendar year, but, but prepare you for bigger things that you're going to get done, um, over time.
M: Yeah, I really liked the way that that also kind of allows us to, to be invested in the continuity of time.
I love this, you know, the, the changeover of the year feels really fun and there's a lot of energy surrounding this time. And time is continuous. It's not like your completely different from the 31st to the first. It's not like all of your goals have to be achieved within this 12 month period.
We are cyclical beings and there's going to be seasons where we feel like we have lots of energy and can bring forth a lot of things and there will be seasons that we feel like we just need to hibernate and feel cozy and, and nestle in. And all of that is correct. All of it is right. And so no matter the season you're in, I think that choosing sort of an idea of the way in which you'd like to live this year can be really, it can be really fun and helpful.
How to choose a Word of the Year
So just to finish up today, we wanted to give you a couple ideas of how to choose a word of the year. So if you already have one, that's amazing and I'd love to hear it. So if you have a word of the year, share it on Instagram and tag me.
I'd love to share some of those and give other people ideas. If you don't have a word of the year, here are three ways to choose one.
The first: Close your eyes, take a deep breath and think how do I want to feel this year? I think the first thing that pops in your mind will give you a really good example of, of a word that might be meaningful for you this year if nothing comes to mind or you have 10 different things that come to mind.
My second suggestion for choosing a word of the year is to consider on your weaknesses. We're all very brutally aware of a lot of our weaknesses and things that we feel like we're not good at.
And in my experience, choosing a word that really aims at strengthening one of my weaknesses. It was really powerful. I mentioned that I tend to focus on lots of different things. I tend to choose lots of options. I tend to say, I'll have this and that, this and this. And last year in choosing the word focus, I really strengthened my ability to do less and do it with more power.
And so choose a weakness that you want to work on and choose a word that will help set you up for strengthening that.
And the last one, Oh, do you want to say something?
D: Well I just think that to put it in a little plug for your last podcast, I think the project and reflect worksheet was really helpful for me too to prepare for this kind of figuring out what I want my theme to be cause I could see some of those successes and some of the experiences that I learned from and how I want that to carry over into the next year.
Yeah. So head to episode 70, download the reflect and project worksheet and fill it out.
There is power. I will just say this. So many of my podcasts have downloadable PDFs, worksheets that you can actually work through and write down on paper.
And there is research that shows over and over and over again. The power of doing that. Actually printing out and writing down these things, read these reflections, gratitude practices, scheduling, all of those things that I have created printables for.
I do that with purpose because there the research shows that as you do that you act, you don't just think in your head, but you put it down on paper. You're able to actually gain more insight than you would if it was just floating around in your head. So episode 70 has a great worksheet for reflecting and projecting. Uh, okay.
So the last suggestion that we have is really great. This is, this is just like a breakthrough for the word of the year choosing.
We want you to write down five words that come to mind or five words you can think of and then put them in a bowl, swirl it around and pull one out.
This, just to say that it almost doesn't matter so much.
If you don't feel like this really big conviction to one particular word, then it doesn't matter that much.
But it, it will impact you to choose a word.
You will gain all of the benefits of having a theme and having a focus and having a touchstone. As long as it's something positive.
Like I wouldn't choose a negative word of the year. I wouldn't say stress should be your word of 2020. I wouldn't, you know, say that like a destruction should be in your fishbowl.
You know, words like hope. I've seen flourish, I've seen focus, I've seen fulfill. I've seen manifest, I've seen hustle, I've seen rest, I've seen sleep, I've seen consistency, I've seen peace, I've seen energy, I've seen enthusiasm, I've seen travel, I've seen adventure, I have seen magic. There are so many fantastic, wonderful words out there available to you.
So just grab one that, that sounds interesting and try it on.
You can try a Word of the Year and change it!
And I guess our final sort of thoughts today are these, you can try one on, you can choose a word and just feel it out and see how it goes. Run with it for a little while and if it doesn't fit or you don't really like it that much, then you can change.
You get to choose. This goes along with the idea that you know the whole year isn't just like one tidy package, like time is time and we are evolving and we are moving through time and so you don't feel boxed in by the twelve months of 2020 allow yourself to feel the expanse of, of who you are beyond the frames, the framework of, of time. And so it's okay to change. This can be your year, this can be your day.
This is the only one that you have right now.
And this moment is really the only thing that truly exists right now.
Everything that you hope for is available to you and everything that you need in order to take the first step on your way is available in your life right now.
Every single resource, every connection, every relationship that you need in order to get to where you hope to go is available to you right now. As you choose a theme and, and bring a little bit of intention to this year, you will see the way that that is true.
You will start to notice and recognize that abundance.
Like we said, as you, you know, you decide you want a white minivan, you will start to see them everywhere because you tell your brain and you tell the universe what it is that you hope for and everything will start to align in order to create that pathway for you. So you can take the steps on the way there.
Share your Word of the Year with us on Instagram
So cheers to 2020 happy new year. I would love to see your word of the year. If this is new for you or if you're an old hat with word of the year, uh, please share your word of the year on Instagram and tag me. I'd love to share some of those as we go throughout the next couple days and next couple of weeks of this year. And we hope that you have a fantastic week.
Thank you so much, honey, for being here and sharing your insights with us and your experience.
D: Thanks for having me. It's always fun to be a part of this.
M: I'll try to make it less than 50 episodes before if you want again, and if you're new to this show or if you're a longtime listener, make sure that you subscribe, see that you don't miss anything.
We have some really amazing, when I say we, I mean Dave and I because we're a team, but also mostly me because I'm the one who does the show by myself most of the time.
Subscribe and Listen Weekly!
I have some incredible episodes planned for you this year. I'm starting next week I'm going to be doing a back to the basics of intentional wellness. I'm so excited for this series.
We're going to talk about sleep. We're going to talk about nutrition. We're going to talk about a healthy physical exercise and we're going to talk about spiritual connection. These are four foundational principles for whole whole living, for wellness and for intentional living.
And I can't wait to dive in with some really cool research and statistics and insights for you over the next four weeks. So make sure you subscribe so you don't miss any of those shows. And I will catch you back here next Thursday. Have a wonderful weekend.