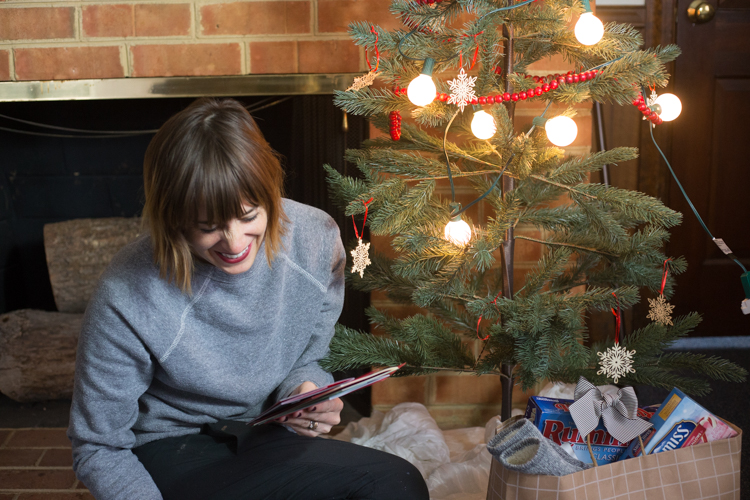 Hierarchy of Gifts
It's the holiday season, once again! The time that everyone scrambles to gather gifts big and small, to fill stockings, to pile beneath the tree, to send across the country, and to deliver to friends and neighbors.
Over the past few years, my ideas about gifts and gift giving have shifted and settled into a place of gratitude and intention. I've realized that the holiday season, while filled with love and joy, has spiraled well beyond "The Most Wonderful Time of The Year" into "The Most Stressful, Expensive, Consumer-Driven, Materialistic Time Of The Year!"
Rather than a traditional gift guide, I thought this year I could offer a simple hierarchy of intentional gifts, with some examples for each category. There is no better time to embrace simple, meaningful, and intentional gifts than this season.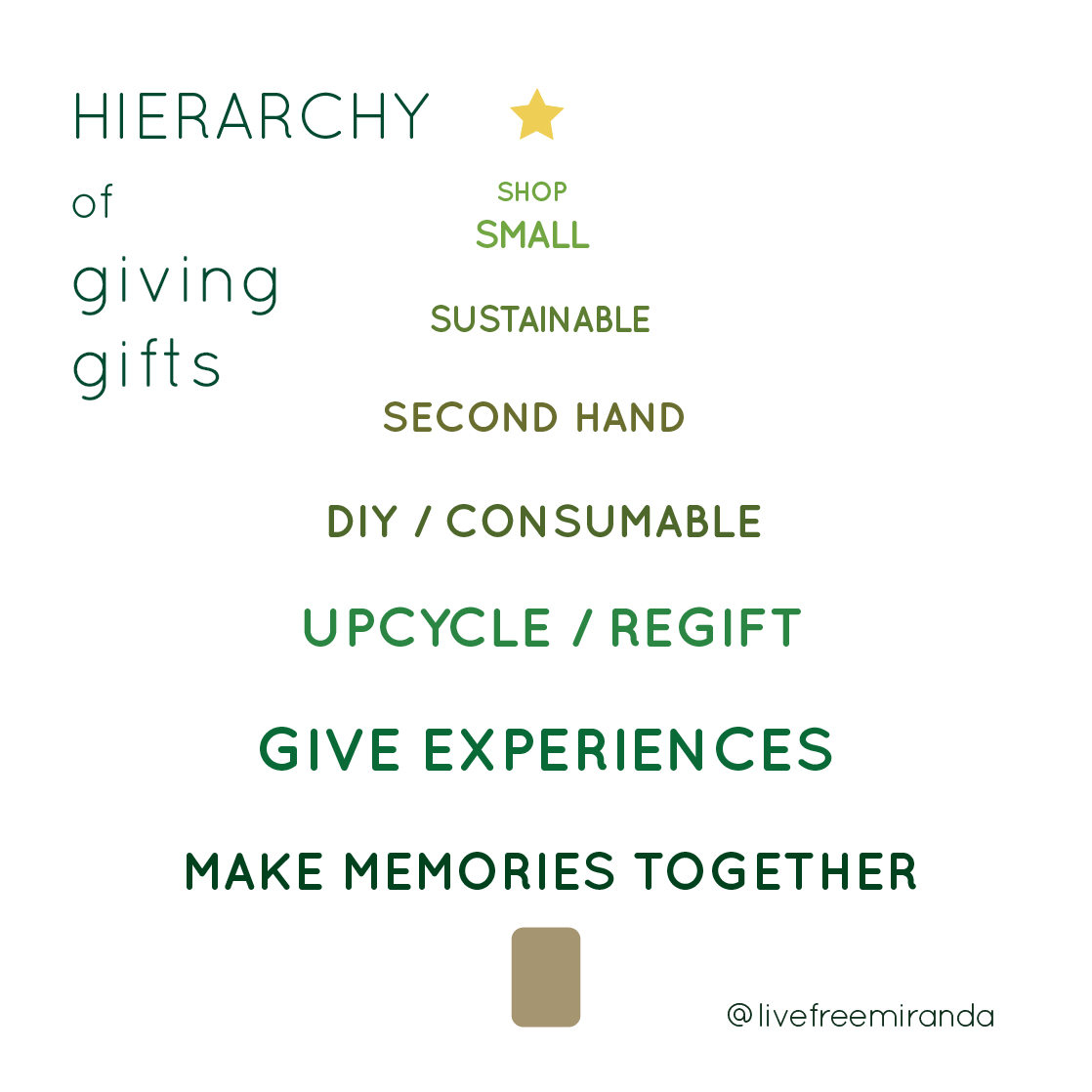 Make Memories Together
A hierarchy begins with a base level where you would choose to focus your initial efforts. So on my hierarchy of intentional gifts, I recommend starting with a focus on making memories together. This might look like setting time aside for games, baking, reading, and watching holiday movies together. It might look like less shopping and more snuggling, less wrapping and more walking, less hustling and more helping.
Beginning with Making Memories as a GIFT helps me intentionally create space in my holiday schedule to spend time with my people. This is the gift we all really want anyway. It is subtle, intangible and, when it comes down to it, the most meaningful of all.
One way we love to make memories is by playing family games together. Here is a list of our favorites!
Give Experiences
Everyone loves a gift of experience. It goes well beyond the moment the gift is opened and becomes a long-lasting offering of relationship, discovery, lesson, and memory. I shared 50 Gifts of Experience a few years ago, and the list still holds as relevant today. Some additional experiences we are loving this year that could be additional gift ideas include:
Indigo Dye Kit + Online Workshop
Kiwi Co. Subscription (30% off first month)
Airbnb Staycation (Up to $40 off your first stay)
Online Watercolor Class (LIVEFREE15 for 15% off)
Upcycle / Regift
Next, we can use what we have in creative and new ways. At first glance, re-gifting may seem tacky or weird. But look what happens when you reframe it as allowing someone else to love and adore something you no longer need or want. (Or never needed or wanted?) Add to that the sustainability and environmentally responsible aspect of such gifts; using what you already have means less that will be bought, manufactured, shipped, packaged, and stored on your behalf.
Some fun examples of upcycling and regifting in meaningful ways might be:
Make a denim picnic quilt
Make Fashion New Again (a bunch of upcycle ideas)
Avocado Dye some Kitchen Towels
Pull those unused lotions, candles, and perfumes out from the back of the closet and package them sweetly with a little chocolate and ribbon.
Consider some of your nice "things you don't use but are too attached to to give away" and re-gift them with love this season. (Last year I gave my sister-in-law a beautiful leather diaper bag I had used and had a hard time donating randomly– passing it along to her was a perfect solution!)
DIY / Consumable Gifts
Making things yourself can also be a fun way to be creative and express more meaning. We have also loved the idea that consumable gifts will help keep the holiday clutter at bay. Use it all up and you're set! Some of the following are ideas I have had regarding DIY and consumable gifts this year:
Digital Indigo Workshop (This works well as a gift itself, or to use yourself to MAKE gifts for others on your list! Win-win!)
Universal Yums Treat Box (our very favorite treat subscription ever!)
This Clay Beaded Necklace is cool and so simple
Handmade Bath Bombs are the bomb
Turn Holiday Dish Towels into Kids Aprons
Perk Energy and Chill are lovely consumable gifts (Use LIVEFREE15 FOR 15% off any order)
Second Hand
If you have a particular idea of exactly what you might like to give as a gift, ask if maybe you could find it second hand before buying it new. Is someone selling something like it on eBay, Poshmark, Facebook Marketplace, or Craigslist? Many, many items that are new in boxes and new with tags are sold through second-hand markets every day, which keeps them out of landfills and shipping containers. I have had such great luck shopping second hand at my local thrift stores, but if you feel more comfortable with online, try these resellers:
PoshMark (Look for individual sellers. Many sellers are manufacturing to sell specifically on the platform, which then is no longer second hand.)
Sustainable Products
Once you've sorted through all of the other categories in the Hierarchy of Gifts, and you still have things you'd like to buy, tune into sustainably-sourced, ethically-produced companies with heart and mission. The impact of these gifts goes well beyond the giver and recipient, and does real good for the planet and its inhabitants. I created a Master List of Conscious Companies for you to reference as needed.
Some of my personal very favorite conscious products are:
Everlane French Terry Tee Shirt
Shop Small
Now we've made it to the tiptop of the tree! There are so, so, so many wonderful, lovely, hard-working people running small shops and businesses where our investment will make a huge impact. Before you order down your whole list on Amazon or Target.com (MASSIVE COMPANIES where your $$ doesn't make a dent in the life of the employees), consider seeking out some small, maybe local-to-you, maybe BIPOC or women (or both)-owned companies. These purchases will make the owner's day, and the products will be more thoughtful, meaningful, and special. Here are a few of my favorite small shops you might consider ordering from this season:
Sustainable Home Goods (home goods, gifts, jewelry)
Emily Warden Designs (handmade jewelry)
Slow North Candle Company (handmade candles, home goods)
The Paper + Craft Pantry (stationary, pens, paper, candles)
Live Free Creative Company (indigo dye kits, adventure apparel, downloadable art prints)
Dear Neighbor (intimates, personal care, home and beauty)
BraveryMag (women-focused kid's magazine)
Some Intention is Better Than None
You might feel overwhelmed by trying to fit every single gift you give this year into this meaningful hierarchy of gifts. That's okay! If you order 90% from Amazon and choose just a few gifts to make a more minimal, intentional, and impactful decision, you're still doing a really good job. Plan ahead a little bit and try to clarify what your friends and family REALLY want and need (time, love, rest, connection), then try to align your gifts with those needs.
I'd love to hear your thoughts on gifts and giving in the comments! Happy Holidays!