How To Plan Your Ideal Life
This month on the Live Free Creative Podcast, each of the four episodes has been part of a miniseries on Planning Your Ideal Life, supported by Golden Coil. Maybe sometimes you feel like your life is operating on autopilot. Maybe you have an idea of what you'd like your life to look like and feel like, but don't know how to get started!
This post is like the cliff's notes for the podcast miniseries, and if you take a little bit of time to reflect, dream, and then turn those dreams into plans, you'll end up getting so much closer to where you want to be.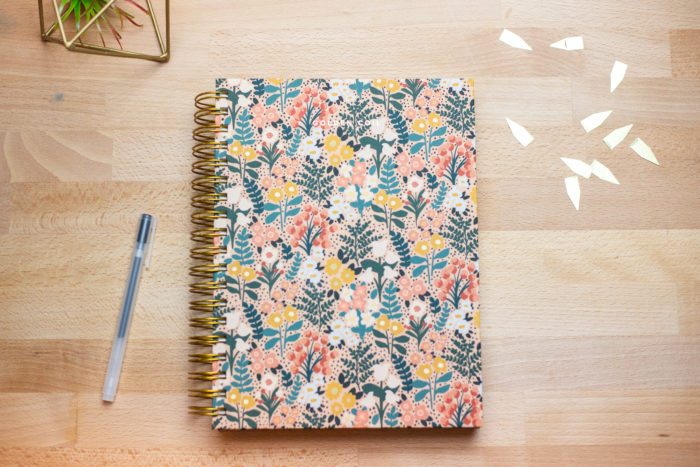 In most everything, it is a good idea to begin with a wide perspective. At the end of one year, I like to take a little time to dream big for the year ahead, and put those plans onto paper. Using the Golden Coil "Year At A Glance" page, I'm able to jot down major holidays and make plans, look at school and work schedules, and also get a full overview for my business projects.
I also use this annual planning to decide if there are any fun trips, festivals, or projects I want to be prepared for. By looking far ahead, I can budget, make reservations, and be ready mentally, physically, and financially to bring my plans to life!
Write down all major holidays and how you want to celebrate (travel? visiting family?)
Write down time off of school or work and some ideas for how to spend that time
Consider some projects, family activities, or vacations you have wanted to take and see where they might fit on the annual overview
Make reservations early for good airfare, hard-to-book campsites, festivals, and other highly sought after activities
Consider any annual goals for fitness, business, family life, or personal development and write down your big dreams and plans
Once you have a general outline of the major bird's eye view on the year, break it into seasons. Depending on where you live, the weather might be dramatically different between winter, spring, summer, and fall. The seasons can dictate not only the types of outdoor activities that we do, but also the whole feeling of the months it covers.
Winter: a stillness, slowing down, hibernating, getting cozy, reflection, and preparation
Spring: a renewal, warming up, blossoming and growing, bringing forth new ideas and inspiration
Summer: a climax, heat and frantic energy, a time of production, extending outside of ourselves, and adventure
Fall: a transformation, cooling and letting go, adjusting for what is no longer working, winding down and going inward
Based on the natural rhythms of the seasons, I like to plan some of our family and my business activities accordingly. I try to concentrate my bigger projects in the spring and late, keeping early summer open for the adventuring with family over school breaks, and winter for reflection, planning, and stillness.
In this episode, I also invite my female readers and listeners to consider the seasons of each monthly hormonal cycle. The weeks of our menstrual cycle mirror the natural seasons of the year, and becoming aware of those changes will help us better plan for how we feel. Episode 86 with April Davis goes into a lot of detail about Flowing With Our Seasons.
My 2021 planner includes this amazing mood tracker, which I am excited to use to keep tabs on my emotions during the year. I already expect to see some predictable patterns based on my hormonal cycle.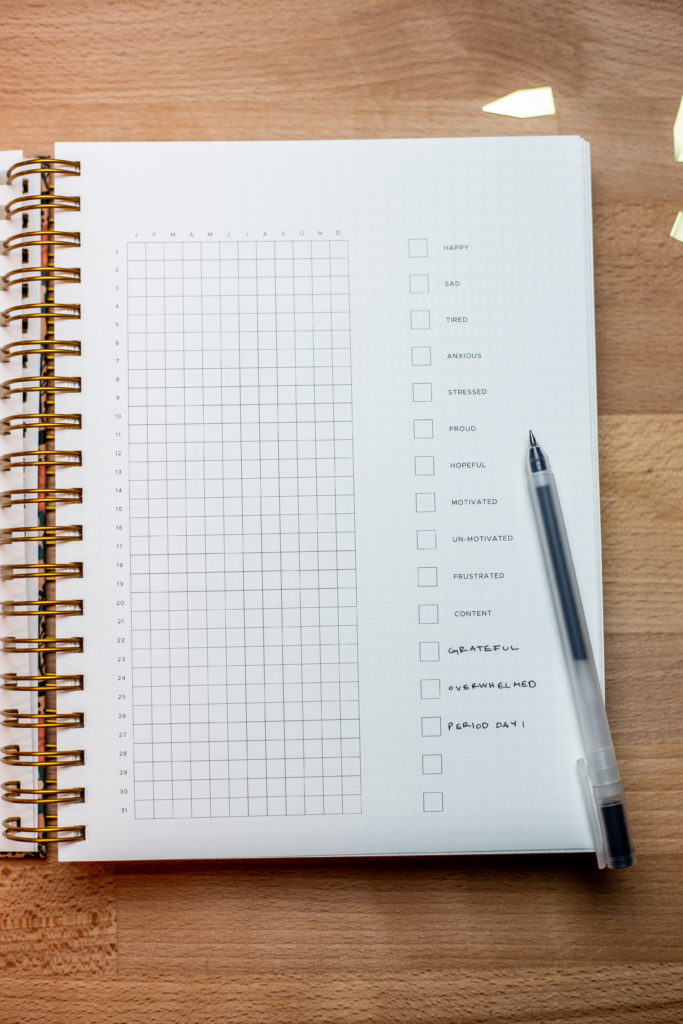 One of my biggest breakthroughs in how I schedule my life lately has been adopting a block schedule based on my own idea of an ideal week. I walk step-by-step through this process in Episode 56 It has really been so freeing to recognize how much control I do have over my own schedule. I am an adult! Why would I fill my days and weeks with tasks and projects, appointments and commitments that I don't love?
When building your own weekly framework, begin by writing down all of the things you would LIKE to do in a week. If you could imagine the best week ever, what would it look like? Now, let's aim for that as we plan!
List all of the different activities you would LIKE to do each week
List all of the current commitments you have each week
Go through and cross off any commitments that don't bring you and your family joy or move you closer to the type of lifestyle you want to live
Categorize your activities and commitments by type, for example, "work" "errands" "household" "motherhood"
Divide your days into blocks of time, separated by natural breaks like breakfast, lunch, work, or nap time
Each block should be between 2-4 hours long
Assign each block a category from number 4. Some categories will be daily, some only once or twice a week.
Once you have assigned every block of time a category, you have a general framework of when all of you commitments and activities will happen within the weekly timeframe
You will add specific tasks each week, as they come. For example, if you need to make a doctors appointment, book it during one of your "errand" blocks, not during a "work" block. This way, you streamline your different types of tasks in a really efficient and meaningful way
Be flexible as you incorporate your weekly schedule. It will take a little while to get in the rhythm, and you will definitely need to change things from time to time as life happens! Go with the flow, and try to release everything except for the one category or block of time that you are working in at a time.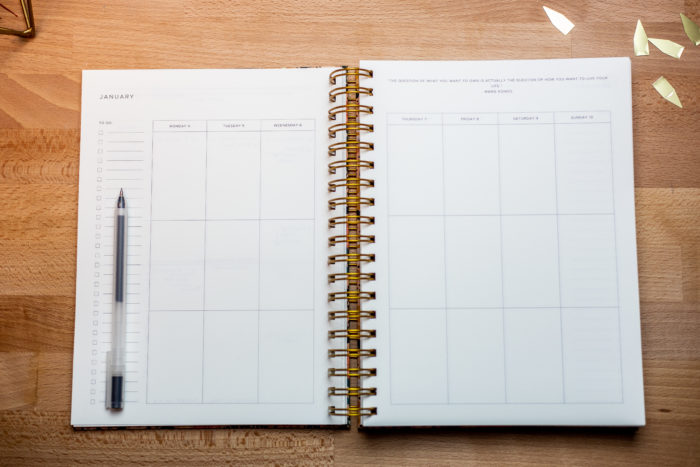 "How we spend our days is how we spend our lives."
The final step in planning for your ideal life is to zoom in all the way to each individual day. No matter what type of high-level overview planning we do, if we don't implement it in a daily routine, we won't be living the life we want.
I like to plan for each day beginning the night before. I sit down with my planner and go over what tasks, appointments, commitments, and goals I have for the upcoming day. I also try to get to bed early most nights, knowing that my morning routine actually begins in the evening the night before.
As I look over the day, I like to choose between ONE and THREE main goals or tasks to accomplish. This is my "If nothing else happens today, it will have been a total success!" list. Elise Cripe shared more about her idea of The Three Things in Episode 91.
Beyond the one or three things, I thrive having some sort of basic rhythm to my morning routine and evening routine. It helps me to think of my day with the following major vibes:
1. Morning Routine: nourish, prepare, center
2. Afternoon routine: transition, flex, and execute
3. Evening routine: reflect, connect, nurture
As I choose how to spend my days, I want to make sure I am continually making real connections with myself, my family and friends. I want to be mindful and present in the moment so I can both focus on what I am doing, and enjoy it more fully. I try to begin my days with meditation and stillness, and end with reflection and coziness. The afternoons I dig in deep to whatever I am working on, and I try to maintain perspective if I need to stop before a project is all the way complete.
More than anything else, I want my days to feel good. I welcome the natural ups and downs of life, and also choose to seek out the positive, leave space for rest, and maintain perspective about what really matters.
Putting It All Into Practice
It is one thing to know what to do, it is another thing entirely to do it. One of the reasons I am such an advocate of making plans and writing them down on paper is that the simple act of writing down plans and goals increases the likelihood of their completion by over 70%!! That is a huge benefit from such a simple act.
While any paper or planner is better than nothing, being able to customize my Golden Coil to fit my own lifestyle, with the page layouts, note pages, habit trackers and beautiful, durable design has made planning my own life more enjoyable these past four years.
If you could use some help getting your ideal life down on paper so you have a better chance of getting out there and living it, visit Golden Coil to build a planner for your own, unique life.