Episode 20: 2018 Year in Review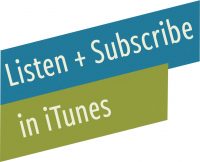 Introduction
It's 2019. How do you guys feel about that? My goodness. This last year was crazy and a whirlwind and wonderful and I'm excited today to jump into sharing some of my thoughts about my year in hopes that you will take some time even though the actual New Year's Eve and New Year's Day has passed. I think we give ourselves a couple grace weeks, right?
To look back and take some time to reflect and think about the year that just passed. We're often so caught up in what's happening in the day to day or in our plans for the future that we don't take just a minute to reflect on what worked, what didn't, and what we could use, what lessons we can use from the past year as we move forward in our lives. So today for episode 20, I want to share a 2018 year in review with my wins and my needs for improvement and also an overview of all of the insane things that happened.
Segment: Magical Adventure Moment
As I get started on this episode. I want to share a magical adventure moment that happened over the Christmas break. Now, if you're new to the show and magical adventure moment is a segment where I do where I just share a couple minutes of one specific moment in time. They usually happened when we were traveling or off on an adventure that encompasses all of the wonder and excitement and all of those good feelings that you can feel if you want to, when you're out adventuring near or far. I share these moments from my experience in hopes that you will be able to look for and be aware of magical adventure moments as they happen in your own life.
Skiing In Wintergreen
Dave and I decided to spend our Christmas holiday with the kids at a nearby ski resort. We had not planned on going all the way home to visit family and you taught this year, but we did, especially because of the flood that happened in November in our house. We wanted to get out of the house and make sure that we had somewhere special to spend Christmas eve and Christmas morning. We had never been to wintergreen before and it's a fantastic place. We were over joyed by how awesome it was. We had a great little condo.
This magical adventure moment happened after a full day of skiing. We dropped the kids off at ski school, which is basically like lessons and childcare all wrapped up in Dave and I got to spend the afternoon skiing together, which we hadn't done in years and it was really, really fun to be back on the mountain back on skis.
We both grew up skiing, so this was really fun and after the day we went to pick up the kids from ski school. Luckily all three kids had had a fantastic experience and I know that might not always be the case, but they had a great time and they were interested in continuing to ski with us even though they'd been skiing all day with their instructors. They decided that they wanted to do a couple runs with mom and dad.
Plum is only five. She just turned five a couple of weeks ago and so I put her on her little skis in between my legs and we held onto my poles together in front of us, like holding out a bar in front of us. The boys didn't have poles, they were just doing their pizza down the hill and I started making big wide turns and Dave was making big wide turns and the little boys were following behind us like ducklings, skiing down the mountain.
Now, this is the first time that any of my kids had skied. Maybe we put skis on Milo, for like half an hour when he was two years old on a trip to Utah, but this was the first time that any of them as actual children had done this before. I had no expectation that we would be able to, all five of us go down the mountain together and it was so incredible to turn around and watch my boys skiing down this mountain.
The very best part of the whole thing was when we got to the very bottom of the beginner hill, there's a high speed lift that fits six people and so we went every other person, you know, I had Eliot on one side, Plum in the middle. Then Dave and then Eilo, the end, and we all got onto the lift together and we had, you know, these five minutes of writing up the lift, just laughing and the sun was shining and I just felt so filled up.
You know, those moments as a person, as a mom, that you are so proud of your people. You're so proud of this thing that you have created and these relationships. And that all five of us could sit together on the lift after a whole day of skiing and no one in that particular moment, no one was having a breakdown. Everyone was excited. We were all so happy to be together and just looking around me. I had this intense moment of gratitude of feeling so fulfilled that if I got to live any more moments on the earth, they are just added blessings because what an incredible time to be able to spend with my kids and with my husband.
Maybe you have to be a skier to fill all filled up by writing a lift. All of your children. It's this moment that I didn't when I was in the throes of early motherhood with babies and feeling like it was hard to get out of the house sometimes and it was hard to really do anything. It's that moment that you don't really realize it's going to come and to get to this point, this chapter where my kids are all a little bit older, they're all able to do some things for and by themselves and still love doing those things with us. It was a really special moment and I treasure it so much.
I reached out my hand. I was able to get a selfie with all five of us in it on the ski lift, so I'm feeling really good about that memory. I'm definitely going to print it out and frame it to remember all of the feelings. It really wasn't so much what we were doing, although that was so fun. It was just the feeling of getting to this point that I didn't even know that I was hoping for and realizing it as a family. It was a really wonderful, magical adventure moment.
2018 Year In Review
Okay. Now let's jump into a year in review. First, I'm just going to share kind of an overview of 2018 through my lens. And wow, was this a doozy of a year? I didn't even realize that. This is why it's so important to take a moment.
Take A Moment To Look Back
I want you to do this. Take some time. It might take you 15 minutes, 20 minutes, a half hour to sit down. I had to open up instagram to actually remember what happened when a little bit or like your photo app or your planner, do an audit of your calendar, take some time to look through and reflect on all the things that happened in your year. I didn't remember half of these things because it feels like a blur. I think 2018 went as fast as any of the years of my life ever have. It was very full, full of all sorts of unexpected things and exciting things as well.
"There are years of questions and years of answers."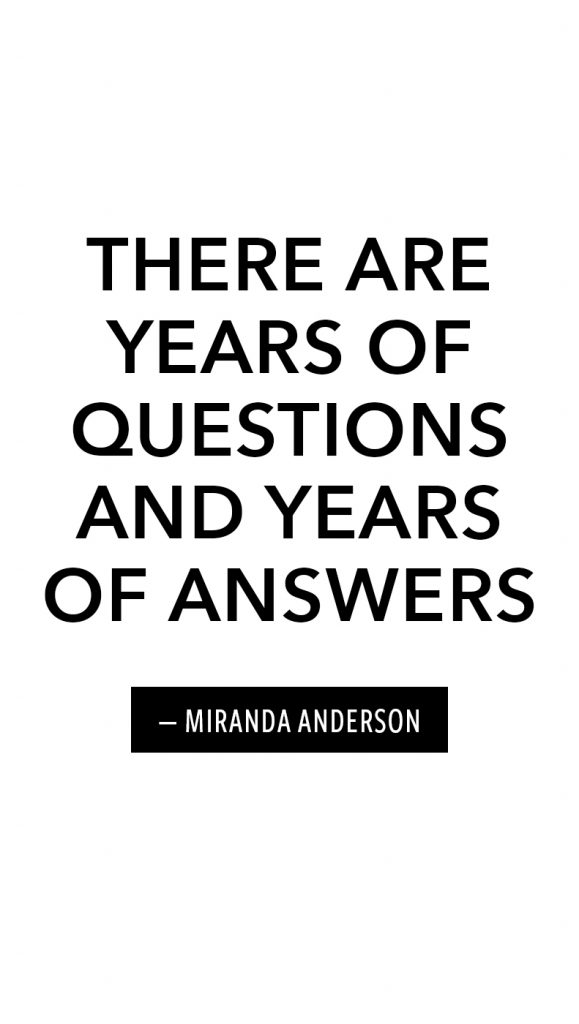 At one point in my life, and I don't remember when I heard someone tell me that there are years of questions and there are years of answers and I really loved that and when I heard it at the time that I heard it, I was definitely in a year of questions. I felt like every time I turned around there were options placed before me and I wasn't exactly sure which pathway to take. I wasn't exactly sure where these different things would lead. I felt very much like the traveler in Robert Frost poem diverged with these two roads ahead of me and just not knowing exactly which would lead to the life that I hoped for. Two thousand 18 for me was not a year of questions. It was definitely a year of answers. Not that I felt so sure about everything that I was doing. Although I definitely have felt more sure about the things that I was doing this year than maybe ever before. Because so many things unfolded before me, even if in unexpected ways, in ways that I could clearly see the lessons that I was to learn from it.
That may be by virtue of all of the work that I've been doing in the last couple of years of being more intentional and living more intentionally. I feel like I avoided a lot of unnecessary suffering through obstacles and challenges this year. Simply because of focusing on the good. At focusing on the things I could control and of making choices to do the things that I care about and that love and to ignore things that I don't.
If you haven't listened to other episodes in this podcast and some of the things that I was just sharing resonate with you as things that could be helpful for you, all of those things are things I've touched on in one episode or another. In the last 19 episodes. I have talked about energy management. I've talked about making decisions, how to make things happen in your life. I've talked about relationships. I've talked about thinking about things you can control and things you can't control. I have shared so much of what I've been learning in my own life through the show and I hope that you're finding those things valuable and if you haven't listened to some of those episodes, you could go to livefreecreative.co/podcast and find a list of all of the podcast episodes that have happened so far and find one that resonates with you.
Looking Back On 2018, Month-By-Month
January
Okay, so 2018. On January 5th, 2018. We bought our house. We had looked at it before. I think we looked at it for the first time in October, November, but with the holidays and everything, we closed on our house on January fifth, so that's crazy that it's been one entire year since we closed on our house. If you remember, if you've been following along through the journey.
Our house was quite a fixer upper. It hadn't been touched and so most of the year has been dedicated in part to fixing up this cute Cape Cod style house in Richmond, Virginia. The weekend after we bought it, we started demoing it as a family. We went in with sledgehammers and just like went crazy and took out the whole kitchen. My kids loved it.
We did a youtube video called Demo Day. Oh my gosh. It's so funny. It's one of my favorite youtube videos that we've done and I will link it in the show notes for you so you can go back and see my little kids hammering the walls with hammers. They thought that they had hit the jackpot when we gave them a hammer and told him to hit the wall. Luckily they haven't done it very much since.
February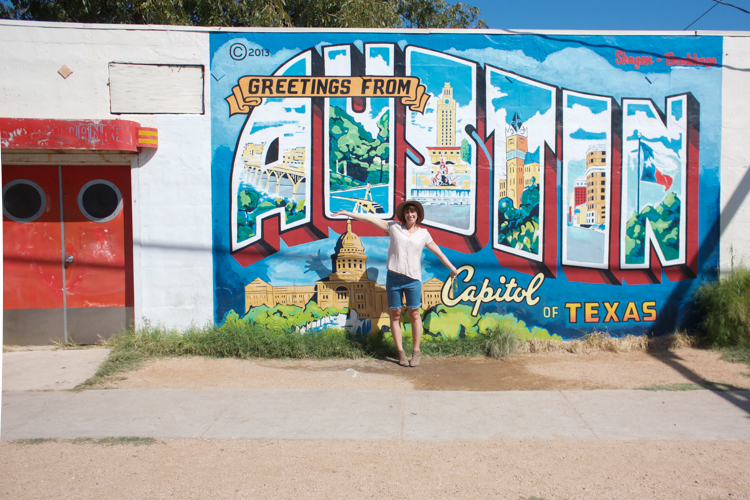 I turned 35, which is really fun. It's been a great year. I felt like it was a nice looking number. Thirty five is a nice looking number, but I didn't feel like it made a whole lot of impacts. I guess the older I get, I also realized that I am so much the same person day after day and that something like a birthday isn't going to change a whole lot.
Although, I did have a great birthday and I went to Austin, Texas to teach workshops. We had moved away last summer and so going back, that was the first time I had gone back, went to the Paper Craft Pantry where I like to teach and taught some Shibori workshops. It was really fun.
March
Most of March I spent working on the house coordinating contractors. Continuing at the demo. The floors were refinished. I really spent probably 40 or 50 or 60 hours in March painting my kitchen cabinets. I spent all night multiple nights in a row in a hazmat suit. Basically a big painter suit in the house. We hadn't moved in. We bought the house and then we didn't move in until July. I spent the whole month painting cabinets and there are. I will link the blog posts about that and how to paint your kitchen cabinets. It's not for the faint of heart. It is. It's a great doable diy project. It just does take a lot of time and a lot of dedication to the task.
April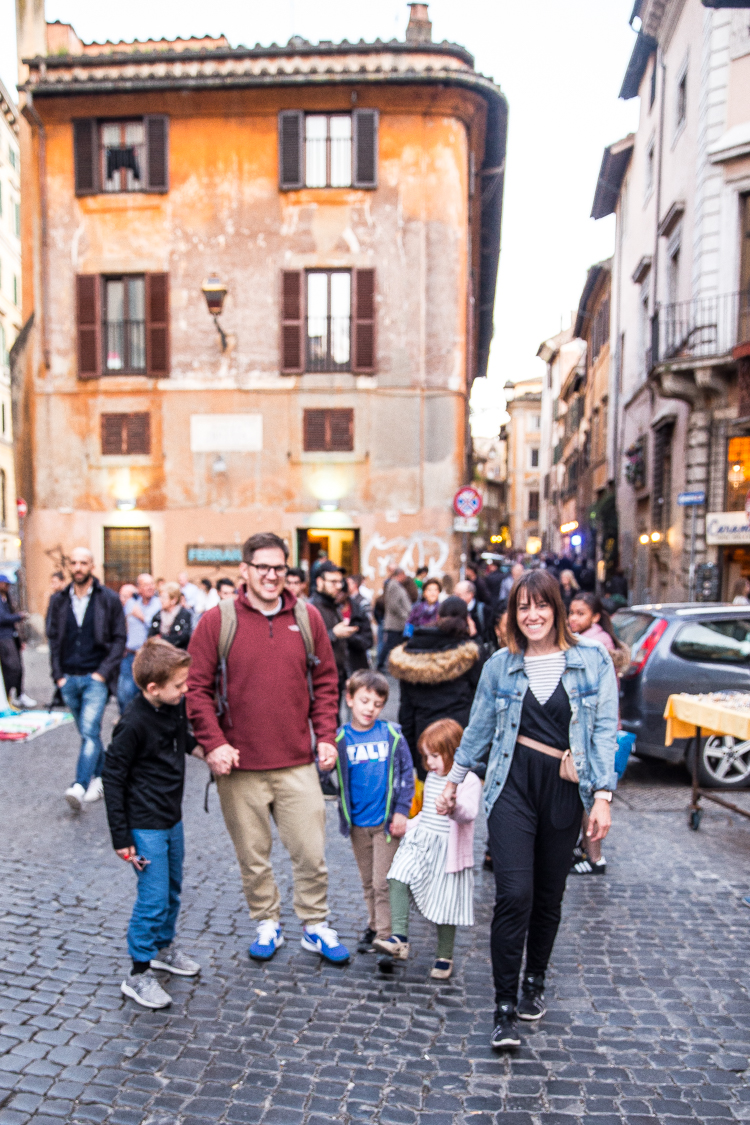 April our family went on our family trip to Italy. That was our Christmas gift in 2017 our year of not buying things. We gifted ourselves the children a gift of travel to Italy and in April we got to spend that trip together. It was so incredible. The first time we had taken all of our kids abroad. It was definitely a trip to remember.
May
In May I went to New York City with my sisters for a quick last minute girls trip. Luckily, New York City isn't that far away from me, so I just took the train up and we spent a few days hanging out together, which was really fun. I have three sisters and my mom and we like to travel together, so we do that quite often.
I also finished the patio, the back patio on the house completely.
June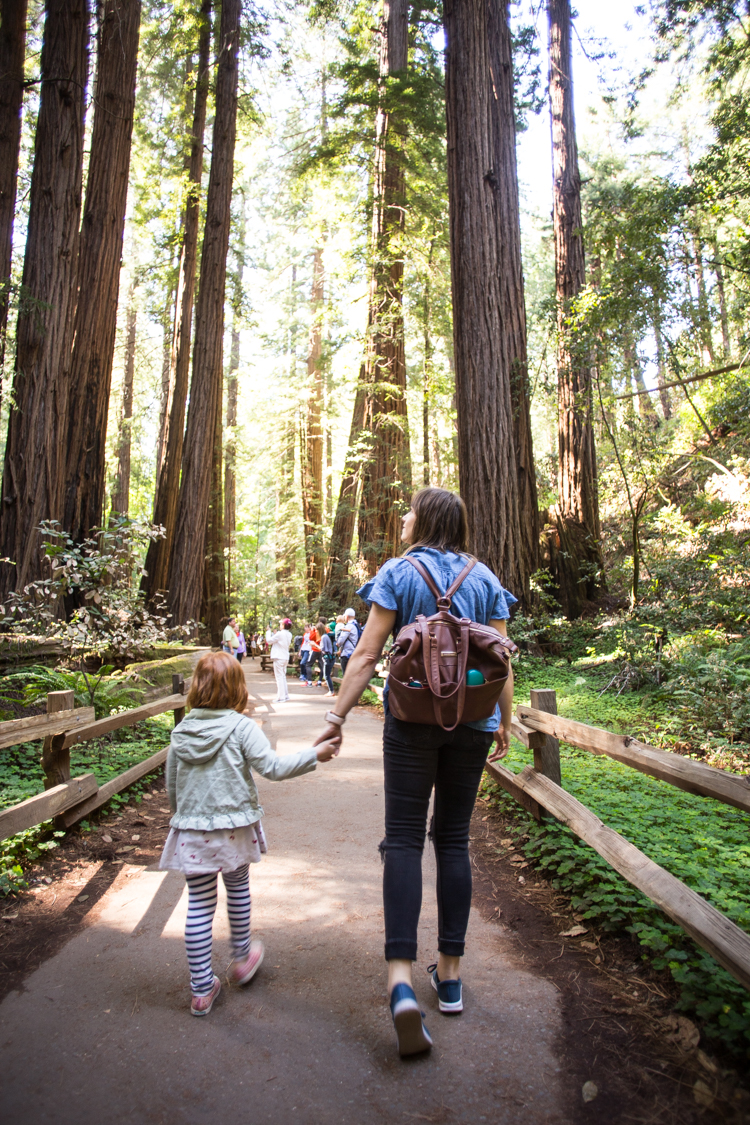 In June the whole family went to San Francisco for 10 days. It was so fun. We did that in partnership with Alaska Airlines and we got to see family and also lots of old friends. We did a great job of reaching out to people who we love, who lived far away and making sure that we spend time with them.
I also spent a weekend in St Louis with baby lock at a conference. I got to speak at their conference, which was really fun and in June we moved into our house, so after six months of renovation we were ready to move in.
July
As soon as we moved in, we turned around and left again for spending our July on the road almost every summer. We love to do a big road trip and this year we drove from Virginia to Utah. Then down through Arizona we went all the way to Texas and came back through New Orleans and then back up to Virginia. So, we spent about a month on the road day, flew out a couple times to spend time with us. He wasn't with us the whole time, but it was a really incredible trip and all along the way I taught my summer workshop series. So I taught indigo, dying in all of those different cities.
August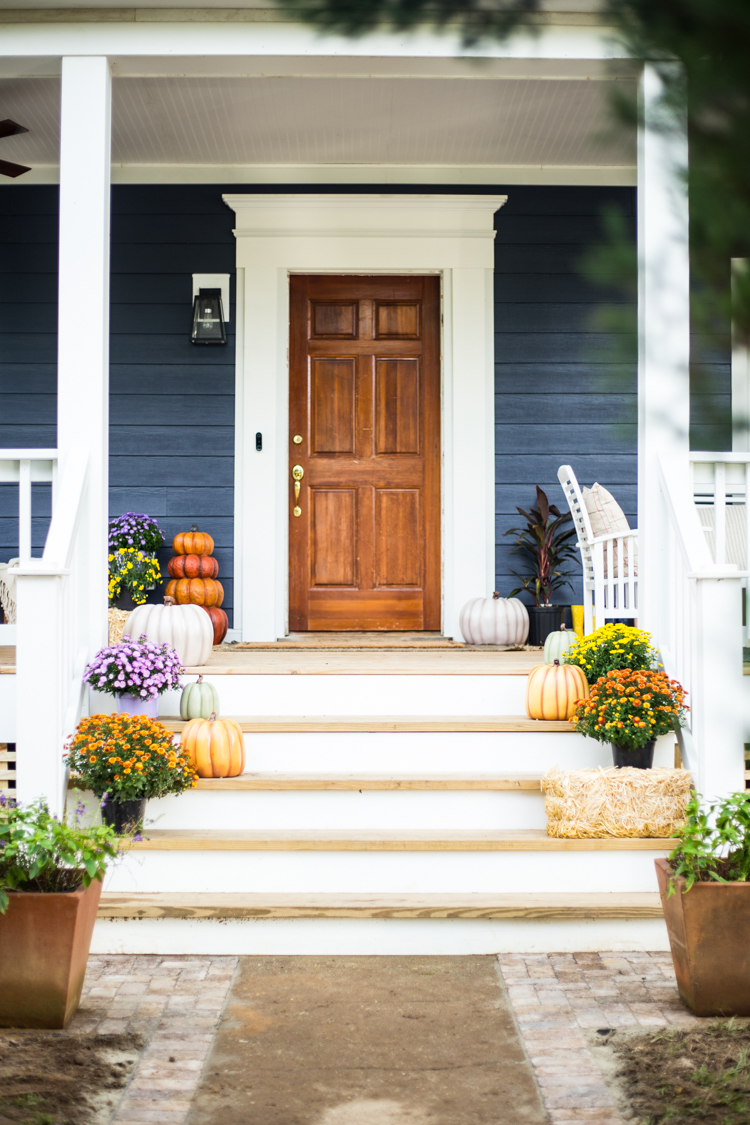 In August Dave and I got to spend a weekend with EZGO in Dallas and it was really fun to have a chance to get away just the two of us and learn all about their vehicles. And then also we were able to design one which now lives at our house in Virginia that we love so much. It's been really fun to play with.
The other really cool thing that happened in August was the siding on our outside of the house. So after gutting and working on the interior, doing the room by room challenge and getting the back patio and the back porch, I'll figure it out. And the front porch added on in August and September, all of the sighting came down and the new dark blue siding went up.
September
In September the kids went back to school. We also enjoyed those weekends just getting into fall. We went to the state fair, we picked apples, we went to Monticello. September is also when the podcast launched!! I started recording it in July actually, but we launched it the first week of September.
I also was able to spend a quick weekend in Austin, with my high school girlfriends. It was really fun to keep up with them and finally make the girls trip that we had talked about for years and years actually happened. Here are some of my favorite ideas for a girl's trip in Austin.
October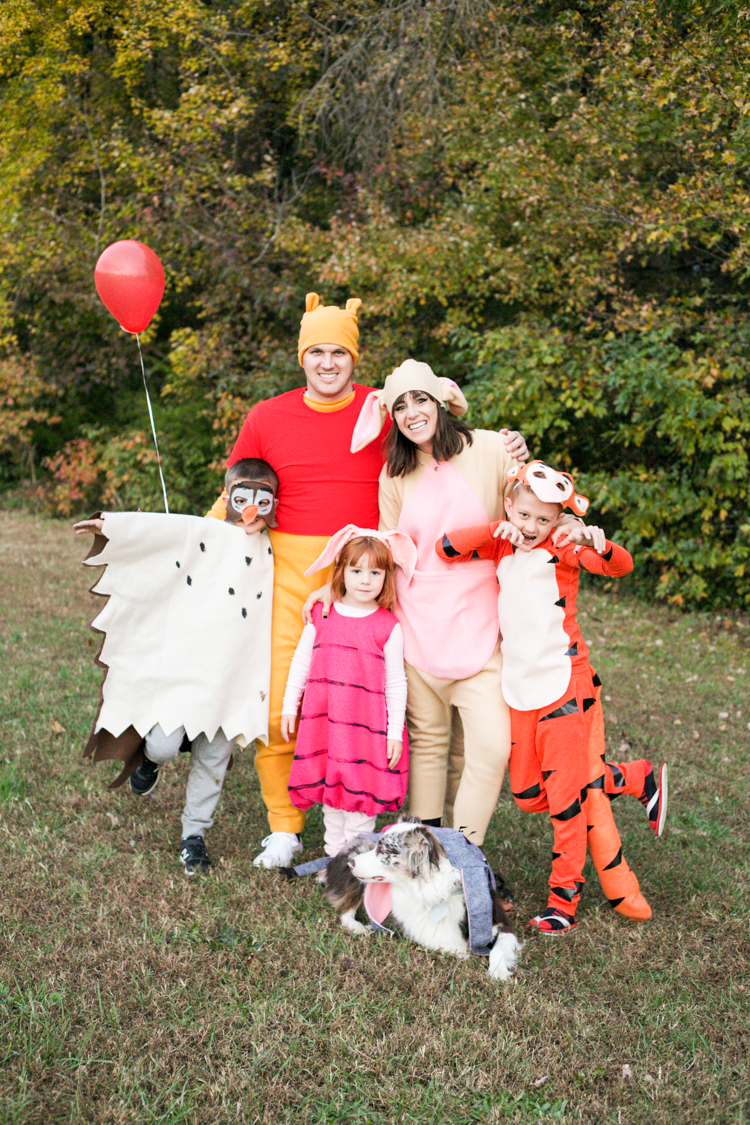 The beginning of October Dave and I spent a weekend in New York City with his family. That was a Christmas gift that his parents had given to us for Christmas 2017. The trip was for all of the adult children and spouses. We left the kids home with a babysitter and were able to explore the city together. We also took the kids down to hang out with some new friends in North Carolina and that was a wonderful couple of days.
And I decided that the very last minute that I did want to sew Halloween costumes. I kind of went back and forth on this because there are so many other things going on, but at the last minute I decided, yes, I'm going to do it and I am so glad that I did. I spent about two days sewing all of our Winnie the Pooh Halloween costumes. I will put a picture of that in the show notes if you didn't catch it on instagram and it was so much fun to dress up as a family like we have for years.
November
November happened. November 7th our house flooded. Man, after all of this year of like lots of things. I was finishing the house, getting everything just right, and then we had about two months where I felt like we were on a regular routine.
Our house flooded and we were so lucky that we had already planned a trip to Florida as a family over thanksgiving. We met with a bunch of our Texas friends in Florida, spent the week on the beach. It was incredible, and we went to Ookaloosa Island, which is right outside of Destin. Totally. Somewhere we will go back to.
And we got to spend a little bit of time away from the construction zone demo zone that was our house in November.
I also launched the Adventure Art Print Shop and the Less Stuff, More AdventureTM product line, all available at shop.livefreecreative.co. That was such a fun thing to get off the ground. We'd been thinking about it and talking about it for a long time and I finally got that out into the world in the middle of all of the other insanity.
December
In December were living in an airbnb. I did my winter workshop series going to Salt Lake City, Chicago and Portland and also teaching in Richmond. I finally finished my weekender bag. That leather bag that I started in February that I couldn't finish until I used my brother sewing machine in Portland, Oregon, and we took the kids on our very first ski trip over Christmas break.
Looking Back Helps Find Those Sweet Moments
That was quite a year. Without taking a moment to look back over the year. Actually go through my calendar and remember all of the different adventures that we went on, the different launches that I had, the different trips that we spent together as a family, I would have forgotten so quickly. It's so easy to also get wrapped up in the idea of feeling like maybe we didn't do everything that we hoped for, that we didn't measure up in the way that we wanted to.
If you take some time and you look back over the last year, I'm sure that you will find happy moments and sweet things that happened that you were hoping for and that still gives you a thrill. You will probably also find some things that were hilarious that you had forgotten about. You might find some things that were challenges that you got through and that it feels so good to remember the feeling.
I think that the practice of looking over the year, looking back over the last 12 months really helps us to then turn our sights forward to the upcoming year with a little bit more context and clarity. We can easily see all the different things that can and do sometimes happen, the expected, the unexpected, the exciting and the terrible and that we can wrap our minds around all of the potential that this upcoming year holds.
If you remember, and you could listen back to episode four where I share all about this year, we spent 2017 not buying non consumable goods. It was are More Than Enough Stuff Challenge where we were practicing minimalism. We downsized our house by half and we really started to develop this mantra of less stuff, more adventure.
More Adventure in 2018
I'm so happy looking over my 2018 year in review that there was a lot of adventure. I traveled by myself to:
New York City
Austin
Chicago
Portland
Salt Lake City
St. Louis
Dave and I were able to leave the kids with a sitter and traveled to:
Dallas
New York City
DC
As a family we went to:
Italy
San Francisco
Our month long road trip to Utah, Arizona, Texas, and Louisiana
Florida
North Carolina
Wintergreen, Virginia.
I think by far that is the most adventure and terms of travel that our family has ever done. It was so intentional. It was opened up to us because of this really clear idea that we wanted to spend our time and our energy and our finances on those experiences of traveling together. I think that that had something that we hoped for in the past and we've always been good about getting away here or there.
To be honest, it might have been a little bit much. As I look back, I'm like, whoa. It was so incredible to see our principles in action and to see how the things that we put our energy towards are the things that exist and happen in abundance in our lives that is also true for you. The things that you put your energy and your resources towards are the things that you are going to find in abundance in your life, whether that's travel, or whether that's work, or whether that's creativity, or whether that is frustration, focusing on the things that are obstacles or focusing on your challenges.
Whatever you put your energy towards, that is what will exist in abundance in your life.
"The things that you put your energy and your resources towards are the things that you are going to find in abundance in your life."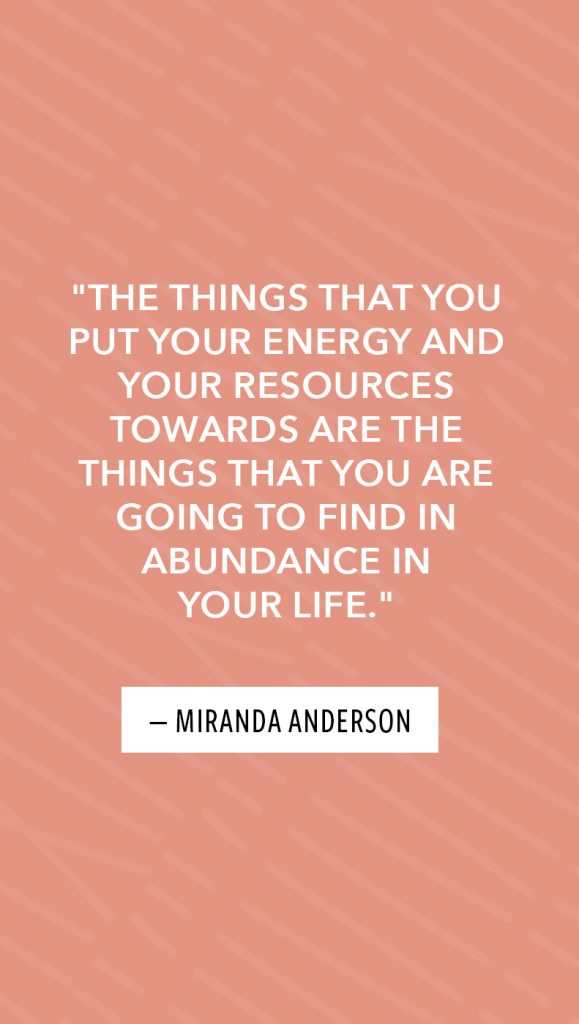 Things I Did Well In 2018
So now I want to go through a couple things that I did well this year as I look back and a few things that need improvement. I'm always trying, but things that I can work on as I move forward into 2019.
I'm going to start with the wins.
1. I went for it.
One of the wins for me this year was that I went for it. What I mean by that is all of the things that I thought that I wanted to do that felt like fun, that felt interesting or exciting. I tried them out. I did a lot of trying new things without expectation of how they would end up.
House
I bought a house with Dave and decided to design and renovate it as the general contractor. That was not something that I had ever done before. I didn't know exactly how it would go, but I was confident that I would be able to figure it out and so I did.
I was so excited to pursue a relationship with Home Depot as a sponsor of my blog. That was something that I had been working towards for several years and this year because of persistence and emailing over and over again and doing my best to create a great relationship with the people at Home Depot. I'm so happy that that was something that I was able to see accomplished and something that is a continuing relationship.
It feels so good to have a win like that of something that I had been working towards for a long time and I think that the reason that it happened was because I didn't give up on it. Even when I didn't get answers for awhile, even when I didn't know exactly how it was gonna work out or even when I was told, "no, I don't think that's the right project right now." I continued to persist and made it happen.
Workshops
Another thing that I went for was teaching my workshops. I have been teaching for years and I really love it, but I had this idea that I wanted to travel and teach in different cities. I wanted to reach more people than just who lived nearby. Again, I just fully went out on a limb and decided to put up classes in cities that I had never taught in. With Chicago and Portland especially. I put listings up to teach classes on the dates that I thought I could be there. Before I had even found a venue or even bought a plane ticket. I just decided that I was going to see how it went and figure it out along the way.
Travel
I really just went for it and all of those things turned out better than I could have ever expected. I just mentioned all of the traveling that we did as a family. That was another thing that we just went for. As opportunities arose, we felt it in our hearts and our guts and our minds and evaluated for a brief moment before saying yes, if it felt good.
I will mention there are a couple things, opportunities for travel and speaking that I turned down this year as I looked at my calendar and realized that there was already so much going on. I did gague and there were just a couple things that I said, "I don't think that that's going to work." So I'm glad that I did that, but for the most part when the opportunities came, we took them and a lot of them we just created.
Products
The other thing that I went for it was with the products in the Live Free Creative Co. Shop. They were things like I mentioned that I had been thinking about and working on for awhile and I just had to do it.
"Sometimes the difference between success and failure is literally just doing it and that's it."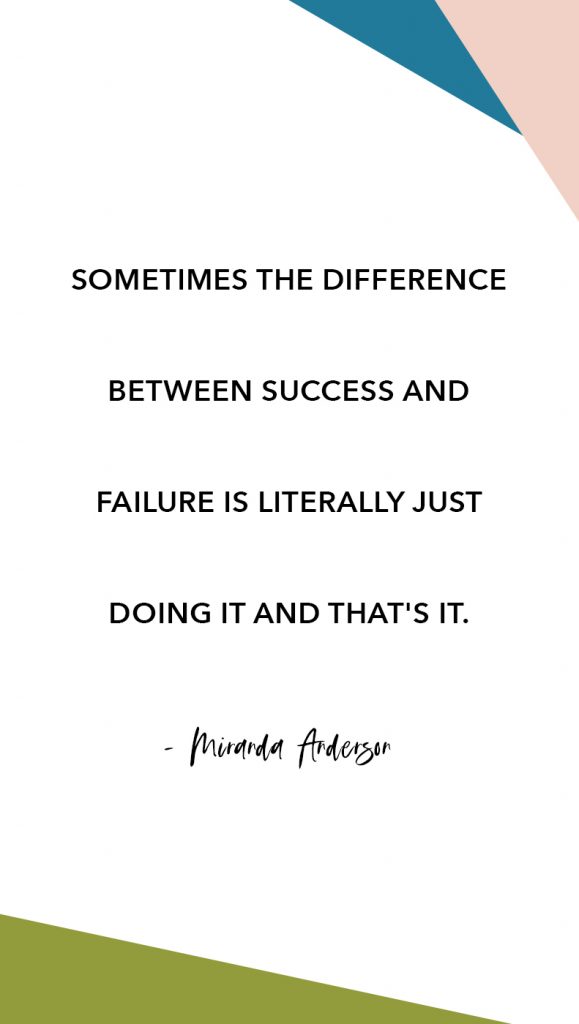 So a big win for me this year was going for it.
2. I was really intentional.
I think this came as a natural byproduct after the year of not buying things and how really focused and intentional we were with our consumer habits last year in 2017. I tried to be intentional about so many things.
Spending 1-0n-1 Time With The Kids
I really wanted to spend more one on one time with my kids and while I still have a ways to go. We did some weekly one-on-one dates. I decided that their piano practice for the boys, which has been such a headache because they don't really like to play the piano, but I'm just making them anyway. I decided that the best way to make that a good experience was for me to sit next to them at the piano bench the entire time that they practiced. It's not my favorite thing to do either, I'll be totally honest. I love watching them learn, but I don't love listening to them complain. But I decided that that could be a moment where I could be intentional with the way that I spend time with them and sitting with them and helping them made piano practice so much more effective.
Reading With The Kids
The other thing we were really intentional about as parents was to work on reading with the kids. Some of you who follow along on instagram (@livefreemiranda) saw during the summer that we did reading jars, I gave each of the kids a jar and they each got a wool felt ball every time they finished 50 pages of a book. It was such an incredible way to get them reading. Then the reward that they got at the end of filling up their jar was to go to Barnes and Noble and pick out another book.
So, it was this sort of self perpetuating enjoyment of reading. I let them read the books that they want. Most of them are like graphic kind of comic novels at this point. Lots of Dog Man and Captain Underpants. I've got a seven-year-old and a nine-year-old boy who are readers, and so those are some of the things that they really enjoy.
I knew going into the year with the ages and the stages of readers that I had that I reaLly wanted to help them become better readers and creating a system that made it fun for them to continue to spend time reading was really great.
Shopping And Organizing
The other thing that I was intentional about was shopping and organizing. Even though we were buying things again this year. We bought clothing and we bought some furniture. We weren't in a full on no shopping ban like we had been in 2017.
Shopping
We were very intentional about our purchases. Along with that we continued to organize and get rid of things all year long.
"I am certain that we own less now than we did at the beginning of last year."
Even having bought things along the way, we are consistently organizing and getting rid of things that don't add value to our lives anymore. If I did an inventory account by account article of clothing and shoes and backpacks and you know tchotchkes and all of the stuff that a household has, I am 100% certain that our actual quantity of belongings has decreased over 2018. That's something that I'm so happy about because we don't feel a lack in our lives as we do that.
We feel like there is space for the things that matter most.
3. I hired help.
"Another thing I did well this year was that I hired help."
This goes along with what I talked about in episode 19 about Wholeness In Motherhood, and not feeling like you have to do everything yourself. This year I hired three particular types of help.
Babysitter
I hired a babysitter during the summer and the days that my kids were off of school so that I could have a regular work schedule. This allowed me to spend time, not multitasking as mom. When I'm home with the kids, I can just be home with them and love on them and spend all the quality time in the world with them. When I'm at work, which is also when they're at school, but when they're not in school during the summer break or on days off, they get to spend time with the babysitter and I can still get some work done. It was really nice to let go of the mom guilt associated with hiring childcare while I get my work done.
House Cleaner
I hired a house cleaner and I know it turned out badly because our house cleaner was the cause of our catastrophic flood in November. Despite that accident, I am so happy that I made room in the budget to hire a cleaner to come twice a month and clean our house. All of the in between, you know, the kids and I do picking up and organizing things, but the deep cleaning of the house is not something that I want to spend my time on when I can employ someone else to do a good job of it.
I come home feeling so refreshed and excited about the clean floors and the clean bathrooms. I'm so happy that I made that happen. It's not something that is always easy, but we took a look at our budget and we figured it out how we could work it in and I'm so glad that we did. I have exactly zero regrets about hiring a cleaning service to help me with the house.
Virtual Assistant
The third and really fun person that I hired to help me this year was my virtual assistant, Michelle. I had had a virtual assistant before doing a small amount of work for me on a weekly basis. Then, I hired Michelle into a part time position. Basically where every day she's doing a couple hours of work.
She really did the bulk of the work when it came to the back end of getting the products up and ready for launch and managing some of the Live Free Creative Company instagram, and reaching out for collaborations with some of the shops that we worked with on the tour.
Deciding that it was the right time to find help for my business was a big deal for me, and I am so happy that I took that leap because the company and my enjoyment of the things that I'm doing within the company have only grown as I've been able to work hand in hand with someone else to make some of the more intricate logistical things happen. I'm so, so happy about that.
So those are my three wins that come to mind as I look back over the year: I went for it, I was really intentional, and I hired help when I needed it.
So I want you to think about as you do your own year in review, what are three winds that immediately come to mind from your life? What are three things that feel like a pat on the back, a big smile, someone should have given you a medal for that. That's the way that you should feel about some of the things that happened in your life in 2018.
Three Areas For Improvement
Now let's talk about the places that I feel need improvement. Of course we always want to be learning. We always want to be growing and we're not going to do everything right. So these are three areas that I felt like as I look back, lacked a little bit in my year, things that I definitely want to focus on improving for this coming year. Ways that I can grow and ways that I can do a little bit better.
1. Focus
The first one is focus. I don't know if you can tell that I liked to do a lot of different things. I am easily distracted by the next project, by the next trip, by the next adventure, by the next, the next thing. It's really fun for me to experience the newness and sometimes I lose focus on something that is important to me because something fun and new has come along to pique my interest.
That doesn't mean that the important thing is no longer important, or that I've decided I don't want to do it anymore. It just means that I lost my focus and that's something that I want to work on this coming year.
A couple of examples of things that I started and didn't finish this year were my sewing projects month by month.
Monthly Sewing Projects
I I wanted to do one sewing project a month and I did about four sewing projects this year other than my big halloween costume. I guess I made up for the rest of the year sewing five halloween costumes in two days, but I loved the idea as I started out the year of focusing on one project a month. Then I hit March and I tried to make that leather bag and it went awry because the machine didn't work properly.
I did end up sewing to other dresses this year. I made a couple blessing gowns for nieces of mine and that was really fun, but other than that I moved all of my sewing stuff into this bright beautiful studio and I haven't really used it that much now. I was focused on a lot of other things. I worked a lot on the house. I worked on these other products that we're going.
I love to sew though and I know that that's something that brings me joy and that fills me up and so even though I found creativity and the expression of it in a lot of different ways, I want to be able to focus at least a little bit on spending time doing that particular thing that I love.
My Book
I also started my book in January of 2018 and my hope was to finish it by the end of the year. It's not that I didn't have time, it's that I worked on so many other things as they came up. Now I'm back in book mode and in fact this month, the month of January is time. I'm trying to work on this. I'm trying to have a laser like focus in finishing the first draft of my book.
My hope is to have that done by January 31st and I will update you on the progress because I need the motivation of having other people involved in helping keep me on track because I am already excited about some other things I want to do this year and I want to just give each thing the focus that it deserves.
That is something that I'm trying to work on. I'm trying to start and finish something that matters to me now. If something doesn't matter, I get halfway in and I realize, yeah, I'm not that into this then that's one thing. But, I'm talking about losing focus on things that do matter a to me.
Does that happen to you? Do you do that as well? I hope I'm not alone in that.
I do want to do better and so that's something that I'm going to work on in 2019.
2. Healthy Meals And Exercise
Another thing that I just totally blew in 2018 was having regular family meals and exercising regularly. Just basic kind of health. I was going 100 miles an hour in a lot of different directions and it also was difficult because we lived in a rental and then we lived in our house and then we were doing renovation and then we traveled a lot and then our house broke and we were living other places.
Meals
We have eaten out more this year than probably ever. Not like all good intentional, fun restaurant eating out a lot of times. Just convenience. Just I didn't get groceries yet this week. And so we're driving through chick-fil-a again. Just not having a clear path for our family's meal times and that is something that in the past I've been really good at. I kind of got off the bandwagon this year and one thing I think perpetuates the other.
"When I'm eating right and I'm thinking about my nutrition as fuel for my body and the energy I need to accomplish life in the way that I want, I naturally am more interested in moving my body."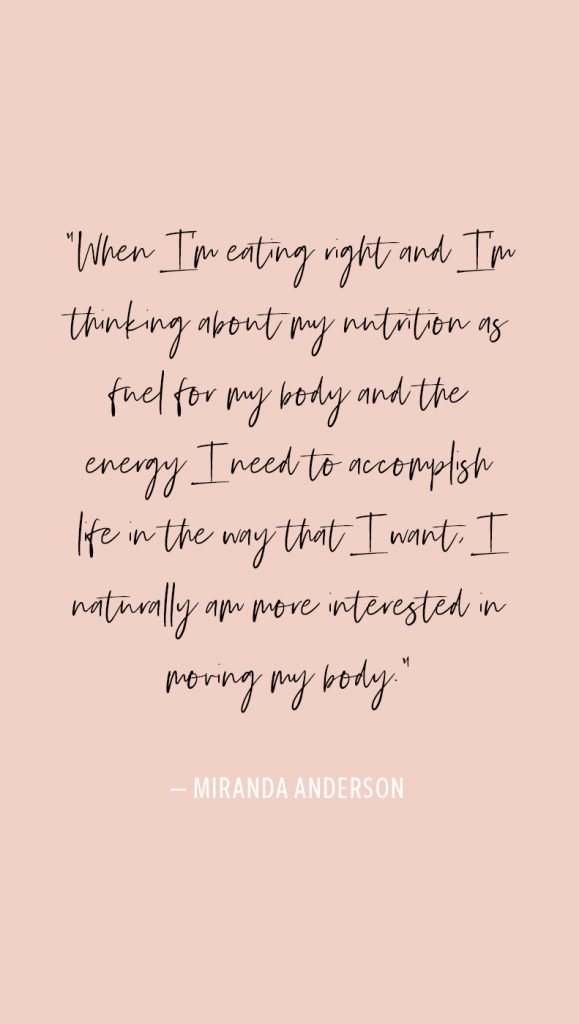 Going on my walks or my runs in. Getting to the gym and going on hikes. They also inversely affect each other, so if I'm eating crap then I am less motivated to take care of my body in other ways. That's something that really it didn't suffer in the way that all of us are like, you know, now super unhealthy, but generally I got off track. I want to improve that this year.
In the past my family has used a Minimal Meal Plan. I will link to the blog post about that in the show notes and I will also, maybe I'll do a full other episode about it because it's really a great. It's really great and I'm realizing that that was something that worked for a long time and I need to go back to it. So that is my plan for 2019 is to get back to my minimal meal plan.
The meals will probably look a little bit different. My kids are a little bit older but it helped me be consistent with knowing what to put on the table every night in an easy and affordable and healthy way.
Exercise
I've talked about exercise and getting back to a regular exercise routine since I started the podcast in September. I think it was one of the first things I talked about and I am doing a little bit better, but I still need to improve. I'm trying to go to the climbing gym a couple times a week. I want to get some regular runs in a Dave and I are going to do a half marathon in April and so that is always motivating.
I need to start a training program for that and that will help me stay on track as far as exercise goes, but really just, I mean these things are so basic. Eating well and exercise are two of the most important things to contribute to overall health and wellbeing and when I get so distracted or ahead of myself doing so many other things, then I think that we all suffer a little bit so I'm going to refocus on taking care of our bodies as a family.
3. Giving Back
The third and final thing–I mean there are a million things that need improvement in my life–if I'm being totally honest, as there probably are for you. But these three are the ones that jumped out at me as I was thinking about this. The third thing that I really want to improve this year is giving back.
We have been given so much and I feel so abundantly blessed in my life with belongings, with means and also with skills and with talents that I can share and with time I haven't been using it as much for focused giving as I would like. I would love for my kids to spend some time doing active service with me as a mom. I know that there are causes that need my donations both of time and have means and maybe have products I love to make things.
I have for years had this idea of hosting maybe a quarterly charity sewing group where everyone can come together. We can spend some time selling a project together and chatting and enjoying the community aspect of that. But then all of the things that we make are donated directly to a cause that needs them. These are things that have been on my heart and in my planner as notes, but that I haven't put into practice in the way that I want. And so that is something that I also want to improve in 2019 is creating opportunities for myself and my family to give back.
Conclusion
I hope that you've enjoyed this show as I've just gone over our full full year and that it has helped you think about spending some time looking back over your year and doing this exercise.
"Go through month by month just to get an overview of what happened, and then pull out three things that you did really well that you want to just feel proud of, and three things that you want to positively focus on moving forward."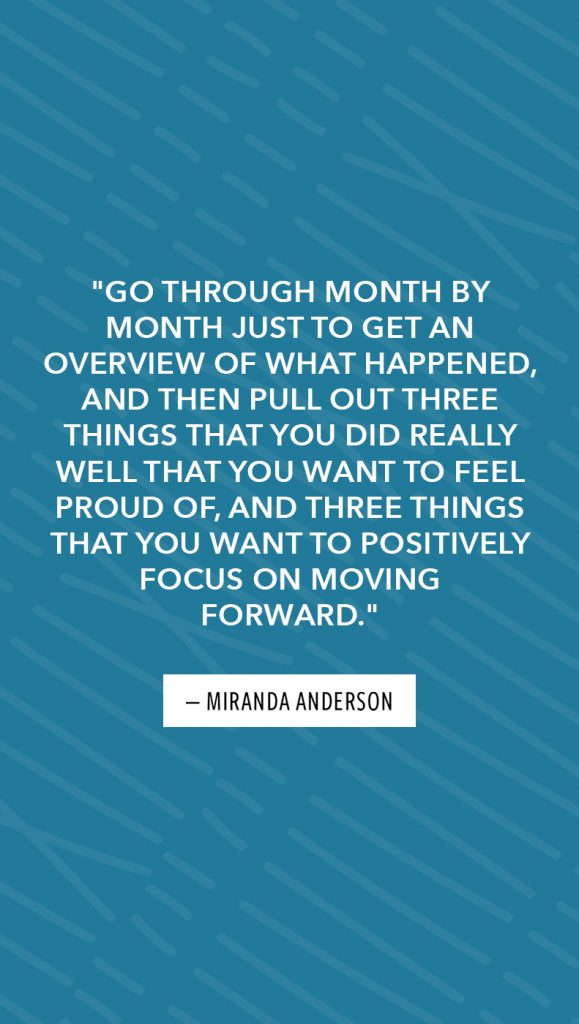 Not to beat yourself up or to say to you, you know, you're, you didn't do a good job, but to have a focus of things that you want to do a little bit better and to continue to improve throughout this year of 2019.
Five Days to Freedom: Tips for Choosing Less Stuff and More Adventure in your Daily Life
Five lessons with practical tips and exercises to help you feel more in control of your life!