Episode 35: Family Traditions Through The Year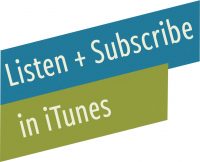 Introduction
Oh, hey, welcome back to the show!
I want to thank everyone who entered the 100,000 download giveaway and tell you that the winners for that giveaway for all of the different prizes are going to be shared on the show notes of this podcast later today. So if you head over tonight sometime to live free creative.co/podcast look for episode 35 scroll to the bottom and you will see whether or not you won and if you won, then we're going to send prizes to you. And even if you don't win, I want to just like thank you. If you were here in front of me, I would grab you and give you the biggest hug. Thank you for showing up for listening and for entering.
Family Traditions For Every Holiday Of The Year
This is episode 35 on family traditions for every holiday of the year. This isn't actually going to be every single holiday of the year, but a lot of them. I've talked about traditions before on the show and have had lots of questions and comments and a lot of interests basically in the things that our family does because we really have taken the idea of traditions and just conformed it to the way that our family loves to live and people ask for ideas a lot because we do some traditions fairly similarly to other people and then we do some traditions just kind of in our own way.
One of my messages, if you listen to the episode about creativity and traditions in December is that you get to choose the traditions that you have for your family. By sharing some of the traditions that we have in our family today, I hope that I'll just give you a little bit of a jog, a little bit of an inspiration for your mind so that you can start thinking about the way that your family does things and if you don't have a lot of traditions and you'd like some help, you realize that that's up to you. You get to choose them, you get to do whatever you want. That is the beauty of being alive and being an adult. Before I jump into this show, I'm going to share a little segment today. It's been a little while since I did peaks of the week, so here you go.
Segment: Peaks Of The Week
I've been running a lot in preparation for a half-marathon that I'm actually doing this weekend, this Saturday, 13.1 miles and it's been about seven years since I ran a half marathon, so I've been training and the things that keep coming up as I think about, gosh, what am I really loving right now in my life?
All things related running because I'm doing a lot of it. So this week my peaks of the week are all related to running or maybe just exercise.
My first peek of the week are these incredibly soft, wonderful, inexpensive delivered in two days because they're from Amazon running pants and shorts. I have some really great Lulu Lemon, more expensive ones that I got years ago that are wonderful and these ones I honestly liked better and they're only $25 and they have pockets down the sides and a thick waistband. So they're super high waisted.
The material is just this like luscious, buttery, soft spandex and I have them now both in the pant length, that's ankle length and in the short link that mine, I think I got eight inch inseam. So for the summertime and when you know it's now it's getting a little bit warmer, they're nicer to run in there. Some of my very favorite running slash exercise slash yoga pants and shorts that I've ever owned and they are $25 on Amazon.
So I'm going to leave the link in the show notes. I've shared about him on my blog before and I've also shared it on my Instagram story, but for those of you who show up here on podcasts more often than anything, if you need a new pair of running pants or shorts or yoga pants or shorts or exercise pants or shorts, and that's something that you have been looking for in your life and you just didn't really know where a good place to go was I want to highly endorse this payer. I got mine on Amazon and they're incredible. So find the link in the show notes for those.
2. Spinach Banana Peanut Butter Smoothie
My second exercise peak of the week is the spinach banana peanut butter smoothie that I make when I get home. And there are a million trillion smoothie recipes out there, especially green smoothies because they're like a thing and I really don't like very many of them. And so I keep coming back and back and back to the same one and I absolutely love it. So on the off chance that you are looking for a smoothie recipe and you would like one that feels really good after you exercise or even just as a breakfast substitution in the morning. Let me give you a quick recipe for my spinach banana peanut butter chocolate smoothie:
2 cups chocolate almond milk
1 cup ice
2 handfuls frozen or fresh spinach
1 Tbsp cocoa powder
1 Tbsp peanut butter
blend in a blender then add 
1 scoop protein powder
blend for 2 pulses
serve, enjoy immediately!
I got to come up with a slicker name for that but that's what it is right now. So you're going to start with about a cup to two cups depending on how many smoothies you're making. Let's just go with two cups in case you want to share with your husband or a friend or your kids. So two cups of chocolate almond milk, that's where you begin.
And then you put in, I put in about a cup of ice cause I like it to be really cold and I like the texture with ice. Then one banana and it can be frozen or fresh depending on what you have on hand.
And then about two big handfuls of spinach and I actually take my entire bag or box of spinach when I buy it. The baby leaf spinach and I put the whole thing in the freezer so the leaves are already frozen and then I don't have to go through it all in like one week.It won't go bad if it's in the freezer.
So two big handfuls of spinach and then you want to take about a tablespoon of powder, just straight like straight up cocoa powder. And then you want to take a bout a tablespoon of peanut butter.
I use the natural peanut butter from Trader Joe's. And then the last thing that's optional is if you have protein powder and you're into that, then you can put a scoop of protein powder in.
But wait, don't put the protein powder in until the end. So if you put in the milk and then the ice, then the banana, then the Spanish, then the peanut butter. It's all in the right layers in your blender for it to blend really smoothly because the liquid at the bottom kind of lifts everything up and helps it kind of move around. So blend that all together. And then when it's all blended, add your protein powder at the very end. Protein powder gets a weird kind of like fluffy marshmallowy texture if you blend it for too long.
I like to add it at the very end spin, just like a little bit like a couple little pulses and then I'm done. And the smoothie is so good it, it has spinach in it. Yes, but it tastes like a chocolate banana peanut butter milkshake, which is exactly what I feel like drinking after a run. So that spinach, banana, peanut butter chocolate smoothie is my second peak of the week.
3. Ingrid Michaelson
My final peak of the week for exercise this week is Ingrid Michaelson music. If you are unfamiliar, Ingrid Michaelson has, you know, she's been around for a long time. She has multiple albums. She's a little bit folksy. I love her music generally. But a couple of years ago I started to listen to it when I run and the incredible thing, I think I had tickets to a concert and so I wanted to kind of get prepared for the concert by listening to all of the old albums.
So I was familiar with the music because he wants to go to a concert and not know the music. Right. So you buy the albums, you listen to him, and then you know all the words when you go to the show. That's the way I like to do a concert.
So it was listening to her as I was running and I found that a lot of her songs have the exact pace that I run too. So I find myself actually running to the beat, which is a really fun experience when you're on a run and sometimes maybe you get a little bored or you're feeling a little bit tired, especially with training for this half marathon, I'm doing longer runs, so you know, 10 miles in, I'm feeling like, okay, when are we done? And when I'm listening, I often actually listen to podcasts when I'm running, but when I get tired of the listening to a podcast and the learning and I need to just like be able to kind of rock out a little bit and get my energy back up, I turn on Ingrid Michaelson.
It doesn't even matter what exactly it is, which of the albums, all of her albums I feel like have this same um, type of beats in some of them more upbeat songs and they're really, really fun to rent you or exercise. I'm sure if you're doing other types of exercise that would be really fun too. So if you're not familiar with Ingrid Michaelson, give it a try. If you need some new running pants or shorts, I'm going to just like, oh, you're going to love these ones so much. And that banana chocolate, peanut butter, spinach smoothies. Pretty amazing. So check it out.
Why Traditions Matter
Okay. I'm so excited to jump in and share some family tradition ideas with you. First I just want to tell you why I think traditions are so wonderful and important.
They Build Identity
One reason is that they build identity. There's some really cool research that shows that families that have some ingrained and some strong traditions have children who feel like they identify as part of this group. They feel really connected to their family members. And that's one thing that we think is so wonderful and we've been able to see in our family that our kids know what's coming. They know kind of how we do it and in the way that that adds value to their lives and serves them. That's a really, really positive thing.
Reduce Decision Making And Anxiety 
Another thing that I love about having traditions is that it takes a lot of the guesswork out of what's happening during the holidays. Major holidays and minor holidays, a lot of times these times of year are fraught with expectation. There are lots of commercial expectations there. Definitely. I mean, you can see in any store, even to like the little stories, you can go into a 7-Eleven before Easter, you know, this week and see all of the Easter candy out.
You can go into a Target the very first day of November and all of the Halloween stuff is gone and all of the Thanksgiving stuff is up. And some, you know, some stores even have Christmas App like as early as September, October. So if you don't have traditions surrounding some of these holidays, you may feel like you're polled every single year in these new directions and that you don't really know what you want to do. And so you may not do enough and feel badly after or you may do way too much and just like get lost in it all and kind of lose sight of what's really important in our family.
We have decided that we don't want to feel controlled or limited by our traditions, but feel the freedom and excitement of not having to choose something new every year. We look forward to our simple family traditions with anticipation. And so I hope that as I share these with you that you will feel the beauty of some of those things.
"We have decided that we don't want to feel controlled or limited by our traditions, but feel the freedom and excitement of not having to choose something new every year."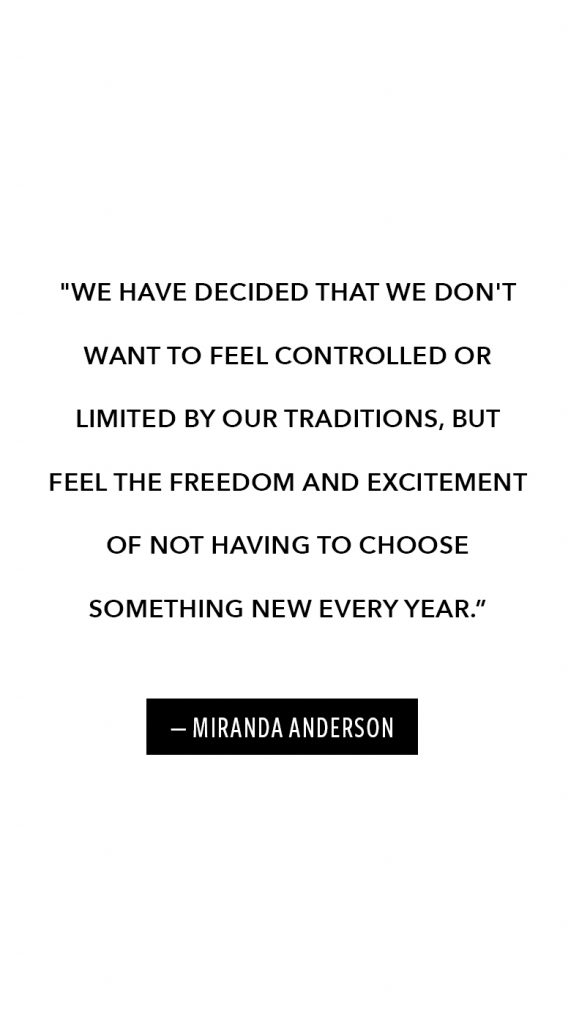 And like I mentioned, feel free to incorporate any of these into your own life or to just use them as a jumping off point to start thinking about traditions and recognize that you are in control of the traditions that your family has and you get to choose that.
Weekly Family Traditions
So I'm going to start with a couple of weekly family traditions because these are things that happen every single week.
Family Night On Monday
This is easy to start with Monday night, which is family night. This is something that has been instituted, started as a church tradition in the church that we grew up in.Monday nights were always set aside for what was called family home evening and we don't really call it family home evening anymore. We just call it family night.
The idea is that there's this night of the week that we don't have lessons and Dave and I don't make appointments and we don't have other social obligations. We use Monday nights as a chance to reconnect as a family after the weekend. Um, sometimes that involves calendaring. We come together and either watch a movie or play games together. We do some family learning. Uh, we go through and discuss what people are doing in their lives if they have school projects to work on or if they have an exciting performance or something coming up.
Monday nights is really when we get together and we use this time to reconnect to make sure that we're all on the same page for the upcoming week and we really love, especially as our kids are starting to get older and some of them are having play dates and they're having friends over that Monday night is one night that we choose to stay home or go out, but we do it together as a family.
Friday Pizza + Movie Night
If you followed along for any amount of time, you'll know that my next one is going to be Friday nights. Every single Friday night at our house is a pizza and movie night. We've been doing this for probably 10 years. I don't know how it started except for that. I love pizza and I would eat it like every single night. So knowing that we're eating pizza every Friday night is part of our minimum meal plan and you can go back and listen to a whole episode on minimum meal plans.
It's really nice to have Friday set aside. Some nights we order pizza and some nights we make pizza. We just eat pizza. It doesn't really matter like what form it comes in or how it gets to our house. Like we do pizza. Some nights we go out to a movie as a family and some nights we watch Netflix and some nights we get a red box, but we always do pizza and a movie on Friday nights and it's a really special time that we all looked forward to as a family.
Now I mentioned that my kids are starting to get a little older and have play dates. Last week my son had a friend who wanted to play on Friday night and we invited him to our house because we were going to have pizza movie night. So this, I hope as my kids get older, we'll be something that they can invite their friends to, that everyone can be invited. We can do pizza and a movie with all the people who want to be there and it is part of the institution of our family is to do pizza movie night on Friday nights.
Saturday Date Night
The next one is not necessarily a family tradition, but it's a Dave and I marriage tradition. Every Saturday night we go on a date. We've been doing that for, I don't know if seven or eight years, for a long time, we started finding a regular babysitter wherever we lived that would babysit every Saturday night.
Here in Richmond, she babysits from six to ten on Saturday nights. I pick her up and I dropped her off because she doesn't drive yet. And that means that Dave and I get to have a date and that the kids get to have some fun time with a babysitter. So "we recognized early, early in our marriage that if we didn't set aside time specifically for ourselves, that it would quickly be filled up by other people's agendas and by just all the demands of just regular life. So it's been really wonderful to have a Saturday date night that we do every week and we just look forward to it.
"We recognized early, early in our marriage that if we didn't set aside time specifically for ourselves, that it would quickly be filled up by other people's agendas. Regular Date Night is one of the best things we have done for our family."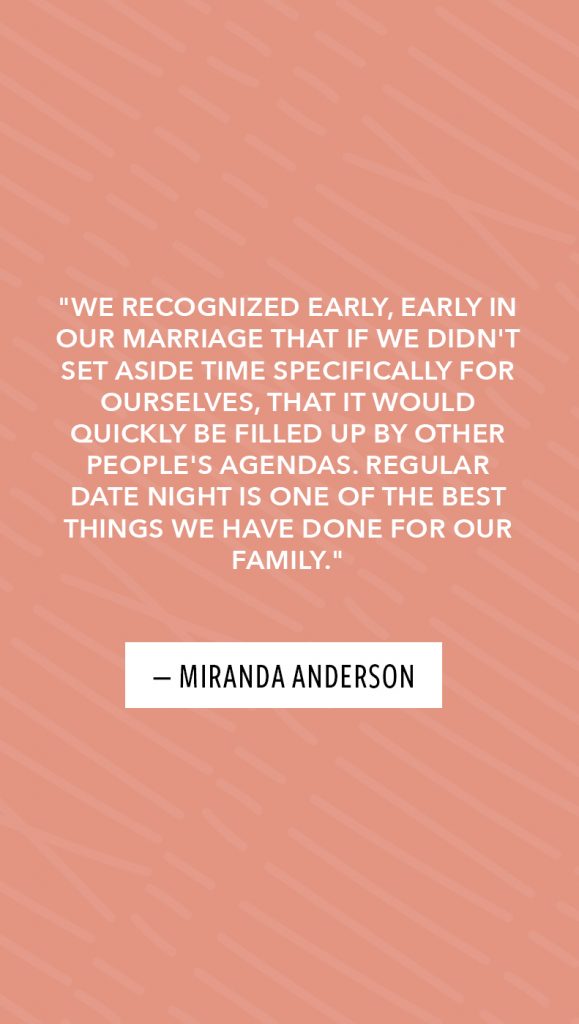 It's one of the best things that we've done for our marriage and for our family. Now those are our weekly traditions.
Minor Holiday Traditions
Next, I want to move on to some minor holiday traditions? These are things that you may not have heard of or may not have thought to celebrate. And there's something kind of fun about celebrating these kind of offbeat holidays that a lot of people don't really celebrate.
Three Kings Day
So the first one I want to share is Three Kings Day. If you grew up in a very traditional Christian household, you may have heard of Three Kings Day or celebrate it that it's a big holiday in central and South America where there's a lot of Catholic influence. And I imagined that in Europe as well.
Just to give you a little backstory on this because some people, especially Americans get confused about this. And I will admit I was so confused about this when I first discovered the order of events in the Christmas time holiday, is that advent are the four Sundays leading up to Christmas and after advent you have Christmas Day, which is the first day of Christmas. So if you've heard of the Twelve Days of Christmas, we have that song.
The first day of Christmas is not twelve days before Christmas. The first day of Christmas is Christmas Day, and then the twelve days of Christmas where you get the partridge in a pear tree and all of the rings and all of the chickens and the modes of making all the maids a milking. All of those things follow Christmas. So for 12 days, starting on Christmas Day and going, one, two, three, four, five, six, seven, eight, nine, 10 1112 those are the 12 days of Christmas. And the 12 days of Christmas end on January 6th which is kings day.
So kings day is the official end of the Christmas time season that begins the f the four weeks before Christmas Day, the four Sundays before Christmas Day, advent, and then the 12 days of Christmas. And then you finish the Christmas season by celebrating three kings day. So the way that we celebrate King's Day in our house is very simple.
How We Celebrate
We leave our Christmas Tree App until Kings Day, which a lot of people in America take everything down the day after Christmas because they put it up so early. But I actually like to slowly put up Christmas. I usually don't put a tree up until partway through December and we kind of slowly decorate and enjoy, I dunno, kind of savoring the season and then we leave the tree up until January 6th the night before on January 5th my kids leave their shoes beneath the Christmas tree and the idea is that during the night the three kings come and visit our house as they once had visited the baby Jesus and they bring a small final gift of Christmas.
Leave The Tree Up Until Jan 6th
Now, if you have a family tradition of doing huge elaborate gifts for Christmas every single year, you might just think, oh my gosh, one more thing. Why would I want to give my kids another gift? You know, two weeks after Christmas, they all just got so many, but we have a really fairly minimal Christmas time and so I always really appreciate the opportunity to give my kids one sweet little thing. It's a, it's a small thing. Maybe it's a card game. Maybe it's a little action figure that they've been looking forward to.
Leave Shoes Out For The Kings
Maybe it's a coloring book and some new markers. It's a small gift that feels really personal for each child and that's just a really fun kind of way to finish off the season. And then on they wake up in the morning on King's Day, they, we usually have crowns for them. They retrieved their shoes and see what the kings brought them. We take advantage of this opportunity to again, reiterate the Christmas season and the Christmas Christian traditions. The reason that we celebrate, we talked through the kings and the gifts that they brought and the symbolism of all of that.
Eat A Kings Cake
And then we have a King's Cake that night, which is a traditional Mardi Gras cake, usually happens around Mardi Gras. Uh, that's kind of like an eggy bread with some frosting and sprinkles on it and you put a little baby Jesus into the cake. Usually if you buy a king's cake at the store, oftentimes they'll come with a little plastic baby that you can slide in there. The last couple of years in our house, I haven't bought them.
I've been making a challah bread. That's this egg bread. And then I just in decorating it myself and then I stick an almond in it after it's baked, I just stick an almond in it. And the idea is that when someone, whoever gets the Allmond gets to be king for the day, and so when they find their almond, they actually get to choose all of the meals that we eat for the following day.
And that's how they get to be king for a day. So more than anything, celebrating kings day is giving me permission to not rush in taking down all of Christmas holiday before the new year. I love just the continuity of time feeling at home and the coziness of the holidays while at the same time being able to celebrate the anticipation of the, of the year that's coming up.
Doing that all just kind of in a slow, cozy way has been really fun. And of course I love the history and the tradition of celebrating King's Day with different cultures around the world.
Martin Luther King Day
Okay, next is Martin Luther King Day. What an important day to celebrate human rights, civil rights. A lot of people think of it as a great day off school and a fun 40 weekend. And I used to think of it like that. And then we lived in the Washington DC area and Dave and I spent one Martin Luther King Day sitting on the steps of the Lincoln Memorial and listening to the famous, I have a dream speech.
How We Celebrate
We pulled out our phone and watch clips from the speech and we just were so inspired. And at that point my kids were really little and we decided what a cool tradition to actually celebrate Martin Luther King and his vision and the different things that he accomplished during his lifetime on the day that is his. And so we started using Martin Luther King Day is a chance to remember the values that define Dr. King and the civil rights movement. We share videos and books and articles with our kids.
Learn About Civil Rights
We discussed the history of slavery in a prejudice and talk about diversity and acceptance and love. In addition, we looked up a few years ago, I looked up on Wikipedia what Martin Luther King loved to eat because you know, it's fun during holidays to celebrate with some traditional foods. And so we found just through the Internet, and of course, I don't know how accurate this is, but that Martin Luther King loved to eat fried chicken and Pecan Pie.
Eat Southern Food
Of course he was a southern man, right? And so these are really traditional southern foods. And now we live in the south, we live in Richmond. It's a real easy to find delicious fried chicken and become pie. So now on Martin Luther King Day, our kids know that we're going to spend some time talking through values and talking about acceptance and about love and about advocacy and really trying to learn more about how we can better stand for truth and justice and love in the world that we live in right now.
And we also enjoy fried chicken and Pecan pie in a traditional southern meal. And we read and learn more about Martin Luther King and the things that he'd stood for and the sacrifices that he made. Sometimes I feel a little bit like, am I doing enough? I'm there. We could always do more. Right? And then I remember that a lot of people on Martin Luther King Day or just you know at the beach or golfing or at the pool.
And so any little effort that we make as a family to try to further our learning and be intentional about celebrating, even if it's in a very simple trite, seemingly trite way, I feel like is a good step. So I feel good about that somehow.
Pi Day
The next holiday also involves pie. Do you guys celebrate Pi Day March 14th three one four is just a silly holiday, but we love it. It's been a really easy one to celebrate because what you do on Pi Day is eat pie. We like to eat pizza pie or choose pie from a favorite local bakery on ambitious year as we invite friends and neighbors to join us and have like a pie party. But if you just remember on March 14th to eat a pie, you're celebrating, you're doing it.
St. Patricks Day
Saint Patrick's day is what comes next. And this is one of those holidays has gotten really wrapped up in commercialism and I don't really know exactly how to celebrate.
There's so many different ways that you can build lucky leprechaun traps and you can have leprechauns come visit. And in the last couple of years I've seen people like that, the leprechauns are now delivering gifts and baskets. It's kind of like it's second Easter. Like there's this big, you know, you get your kids get all these big green surprises on Saint Patrick's day and we have not taken it that far.
St. Pancakes Day
In fact, our favorite tradition, aside from wearing a little bit of green, is to make fancy pancakes. We call Saint Patrick's Day at our house saint pancake state. We have done shamrock green pancakes, we've done rainbow stacks of pancakes. One year I did a these little golden, just regular golden pancakes, but I need them small. So they looked like gold coins and then we made a rainbow of fruit on the plate. So there is all sorts of ways to make your pancakes reflect the holiday.
And then that's about what we do. It's really fun and really simple. Very easy for me to know what we're doing for breakfast. I've never really gotten into the green milk thing. I know a lot of people like die everything green and I just can't get on board with like green milk and green eggs, but for some reason green pancakes feel okay. I actually preferred to do regular pancakes with rainbow colored fruit. I think that's my new favorite. We to celebrate Saint Pancakes Day.
My kids don't get gifts or any crazy wild saint Patrick's day stuff. We just celebrate as a family in the morning and uh, enjoy it that way.
Independence Day
Here is the 4th of July. Independence Day. If you're an American, you probably celebrate the 4th of July in some way.
And our traditions here are pretty classic. We usually have a breakfast that includes the blueberries and strawberries and whip cream. So that's like our red, white and blue for the morning. Had to know why all of my holidays tend to have breakfast traditions. But yeah, right. We find a parade to watch wherever we might be, which is often away from home because we like to travel during July. And so sometimes we will be in Utah and we'll go to the park city parade.
Red, White, and Blue Breakfast + Parade + BBQ
Uh, we've been in Texas and gone up to Dallas before and watched a really fun parade in Dallas. So we like to see a parade wherever we might be. And then we finished the day off with a barbecue. If we happen to be in Utah by family, we'll usually spend the day swimming at my parents' house. And if there are friends that have pools wherever we spend our 4th of July, then we'll probably do it with them at a pool.
We like to eat strawberries, blueberries in whipped cream in the morning, spend the day at the pool and then have a barbecue in the evening before we watch fireworks. If any of you have incredible different independent state traditions, send them along because I would love to have some other sort of interesting independence day tradition for our family. But we right now just stick to the classics and we have a really great time of that.
Halloween
The next one I'm going to share his Halloween. I love Halloween and one of my very favorite traditions has been to make handmade Halloween costumes. This is not a tradition that anyone else cares about except for me. In fact, it's probably a headache for my husband and a little bit for my kids. But I really, really like it. And so I tried to plan ahead and I spend most of September and October sort of working on the ideas.
Handmade Costumes
I never actually get to sewing them until usually like three days before because that's kind of how I roll. But I do start planning for them far in advance and it's really fun. I love the anticipation. So in recent years when my kids have wanted to be Rainbow Brite or like some specific Halloween character that you know you can buy easily at Costco, what I have done is let them do that.
So then I just make our family Halloween costume because we go to a family Halloween party every year. And so that's when they were the family costume. It gives me a chance, really, it's just for me to have a chance to stretch my creative muscles and spend some time sewing and it's just a really, really fun activity for me. And then for trick or treating or for the school, you know, parties and parades, they can wear whatever they want.
They can be whatever they want, they can dig it out of our costume bin. Or I'll let them choose a costume at a costume store. And so they get to costumes every year. One of them for mom and one of them for themselves. And that has worked out really well for us.
I will link a bunch of our family costumes in the show notes because there's some really fun ones.
This last year we were all characters from Winnie the Pooh and turned out so cute.
A couple of years ago we were all characters from the Wizard of Oz and those were also really, really fun. We've done lots of different things through the years and I really love that tradition.
Apple Cider Donuts
Another one of our Halloween traditions is to make homemade apple cider donuts for a few years. Actually when we lived in Texas, we made them for trick or treaters. So we actually took our propane stove, it's like a camping stove and we took it out and set it up in the middle of the coldest sack and we were making fresh apple cider donuts for trick or treaters as they came around to our house.
We haven't done that in Virginia and I don't know if we will because our kids are getting a little bit older to where we want to go trick or treating with them like they want to go far and wide through the neighborhood. And so Dave and I kind of pick up our roles as trick or treat helpers. Um, but it's really, really fun and I have a great apple cider donut recipe from smitten kitchen. I will link it in the show notes if you're interested in making some this coming year, anytime during the fall. They're really wonderful, but I will put that in the show notes for you.
Major Holidays Of The Year
Birthdays!!
Okay. I think we are ready to move on to some more major holiday traditions. What do you say the first one I'm going to share his birthdays. A lot of us don't think of birthdays as holidays. We just think of them as birthdays.
"Birthdays are the only holidays that we celebrate distinctly for the person being celebrated. Other holidays all have another meaning or purpose. On your birthday, the celebrations is truly all about you!"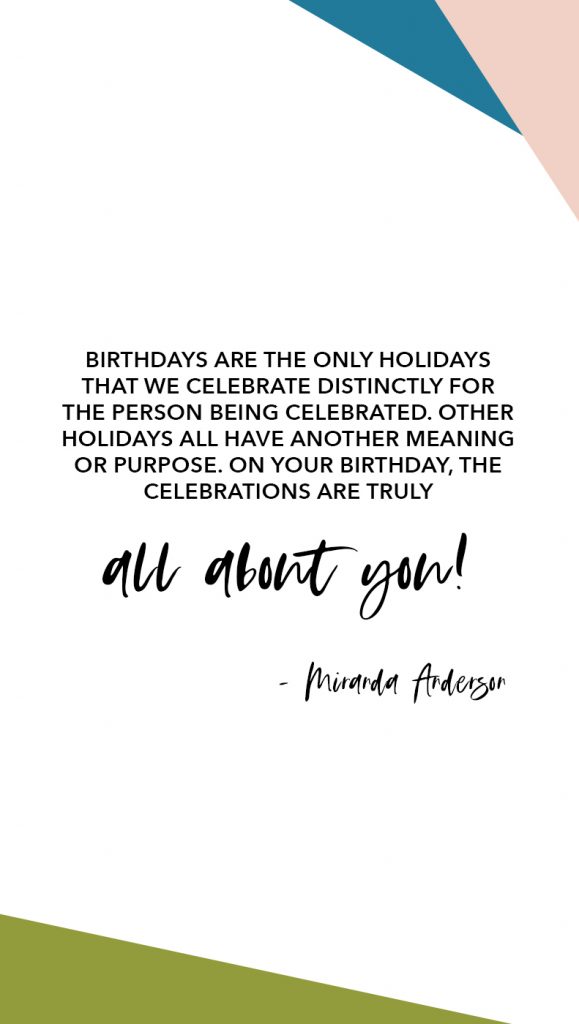 Birthdays are the holiday where you get to celebrate the person being born. It is the only holiday that the reason for celebrating is this one person. All of the other holidays where we give gifts to each other and we celebrate each other are not necessarily for the people that were giving gifts to. They're usually for some other reason that we're celebrating and then the gifts just happened to be part of the way that we celebrate.
How We Celebrate
Birthdays are so fun at our house because we have recognized that this is something we really want to focus on because this is their day, so we celebrate with a big festive breakfast. I leave really early in the morning and pick up sprinkled donuts for everyone. I decorate the house by hanging up banners. We have actually a really great banner that is fabric. It's like a fabric pennant banner that I made years ago and I will link in the show notes to the DIY because this has been one of the most used pieces of decoration ever because it's multicolor.
Birthday Morning Breakfast + Gifts
It goes for every occasion and I, it's fabric, so I pull it out every single birthday, hang it up around the house. We, I have a helium tank at my house, so I blow up balloons. We put balloons on the floor and we celebrate birthday mornings because I feel like sometimes you go through your whole day on your birthday, not really feeling like it's your birthday yet because you usually celebrate in the evening. So we do birthday mornings and the kids open their birthday gifts at breakfast time.
Day Off School/Work
We have this great fun breakfast and they get to feel like a birthday kid all day long. When I was growing up, I remember my mom letting me stay home from school on my birthday to have an adventure with her. And so I do that with my kid's school is optional on birthdays. Usually they opt out and I take them to a park or we go to a museum or we go to the zoo or we go to a movie. We go out to lunch and maybe go bowling. It's just a really fun way to celebrate.
On my own birthday, when I am the one who's the birthday girl, I take my day. I take a day off too and I take myself out to lunch and I take myself to the movies and to the park and I get my, I get a manicure and I celebrate my own birthday with as much Gusto as I celebrate my family's birthdays.
Parties or Weekend Trips
We do like to celebrate with birthday parties. It's not every single year. We usually let the kids choose between a birthday party and some sort of weekend trip, and so depending on how they feel that year will opt into a friend birthday party or we'll just do like a family dinner with a cake and then do a weekend trip for their birthday instead. Usually it's a short overnight trip camping or just like a staycation at a local hotel or something fairly inexpensive and Loki and also really fun.
Bigger, More Personal Gifts
And then unlike at Christmas, we do like to get bigger birthday gifts for the kids. So we usually keep it to a one bigger gift and a couple of smaller gifts. And we like doing gifts of experience. So whether it's a material gift or a nonmaterial gift, we really like to find things that they are excited about that will inspire activity and inspiration and creativity in their lives.
So we choose things that will help them continue developing their talents. And then we'll add some value and fun to our lives. And then the birthday kid chooses dinner, whether that's a fun dinner out or whether it's a dinner at home that they love, that we make. It's really just up to them to choose the things that they want to do for their special day. So we really love celebrating birthdays. And I think the big traditional part of that for us that maybe is different from other people is the birthday morning that we do the fun breakfast and open gifts and decorate and do all of that first thing in the morning so that they really start the day feeling like it's their birthday. And I love that.
New Year's Day
The next holiday I want to talk about is New Year's Day. So sometime around the time we had our first baby Milo, New Year's day last New Year's Eve, I should say, lost a lot of it's appeal because we were up with the baby and we didn't want to keep him up until midnight and we didn't really want to go anywhere and it was hard to find a babysitter on New Year's Eve.
New Year's Day Brunch!
And so rather than celebrating New Year's, the holiday of new years on New Year's Eve, we started celebrating with a new year's Day brunch. We instituted that the, when Milo was one year old and so we started celebrating by having an open house at our house and it was always a fun different theme and inviting people over to have a New Year's Day brunch. We instantly found out that this was a fantastic idea because while everyone makes plans for New Year's Eve, no one had made plans for the next morning.
New Year's Day is usually a day off of work for people. That is the actual holiday and so we have really loved continuing this tradition. We've had an annual new year's Day brunch now for about eight years.
Even though this last year we weren't living in our house on New Year's Day because the flood had happened. We were living in an airbnb. We hadn't yet moved out all of our furniture that in February, so in January at New Year's time, well, just a couple of weeks before the new year, I decided I was going to go ahead and have our annual brunch regardless of the state of our house. So we hosted a, all of our neighbors, about five or six families came over for an open house on New Year's Day.
I did a big spread of brunch foods and cheese and charcuterie and fruit, and it was really fun. And our house didn't have ceilings and we weren't even living in the house at the time, but it didn't matter because the whole point was getting together, spending time, developing relationships, and also I love to host and have an opportunity to invite people into my home.
I feel like that's one way that relationships really get to the next level and go deeper and you feel more connected as a community. So our new year's Day brunch has been an annual tradition that we just really, really enjoy. And if you don't do anything on New Year's Day, I'm going to recommend that that's something that you try.
"I love to host and have an opportunity to invite people into my home. I feel like that's one way that relationships really get to the next level and go deeper and you feel more connected as a community."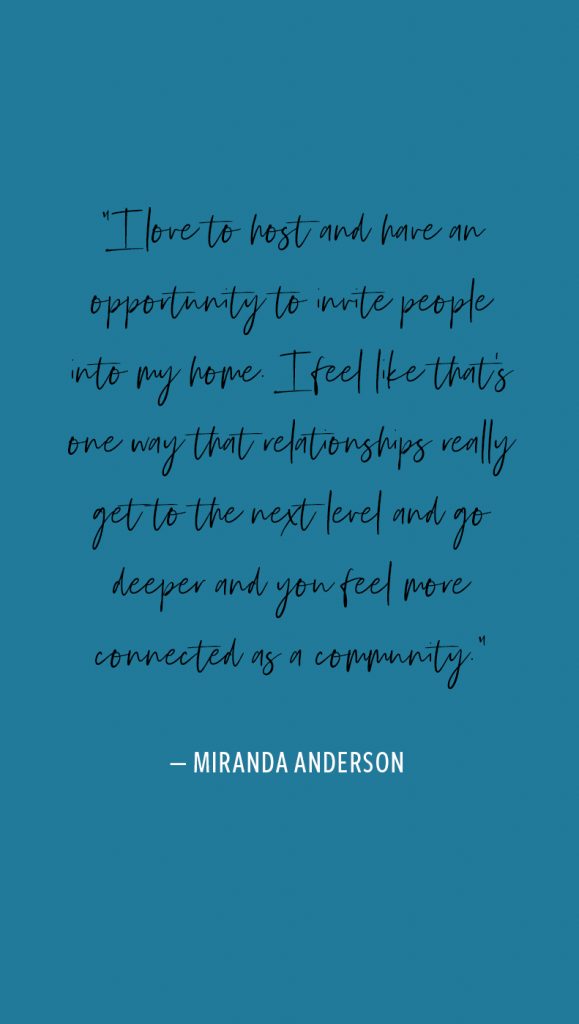 Even if you don't host a bunch of people, even if you just have one family over, have some, uh, have some friends over, have your sister over or just celebrate it yourself. It's really fun to have a New Year's Day tradition of celebrating on New Year's Day and as a family.
Annual New Year's Letters
We also like to write ourselves a letter for the next year, 2019 Miranda will write a letter to 2020 Miranda and usually it's kind of like some hopes and dreams and maybe some things that are going on and big goals and, and then we read them the following New Year's eve and then write ourselves another letter again on New Year's Day. So that's kind of another fun thing that we like to do to celebrate new years.
Valentine's Day
The next big holiday I'm going to talk about is Valentine's Day. If you listen to my podcast about creativity and traditions, then you already know that our big Valentine's Day tradition is to celebrate by giving each other books. And when I say giving each other books, what I mean is I buy books for all of the kids and my husband and myself. No one's giving each other books. Mom is getting books for everyone.
This is something that I grew up with. My mom did this for us and I loved this tradition. We had breakfast for dinner on Valentine's evening and we, my mom would decorate the table and have this really fun, simple Valentine's spread and then each one of us at our place would have a book that she had specially chosen for us.
And depending on what we were into and what we were interested in and what types of books we were reading, she would choose something that felt really personal and like she had thought a lot about us and I loved that so much. So we make Danish Aebleskivers with my grandmother's recipe that I will link in the show notes.
They're these really incredible pancake balls and serve them with fruit. And we have like a big spread. We do bacon or sausage or whatever, all the breakfast foods, orange juice and chocolate milk and sparkling cider and make it feel really special. And then each of us gets a book and that's a fun way to celebrate as a family. And I also love that it takes a lot of the romantic date, you know, feel bad if you're single type of thing out of the holiday of I'm married and so I don't have to worry too much about that, but, and my kids are a little young to be worried about it themselves.
Family Celebration Of Love
But having Valentine's date be a celebration of love as a family has been really instrumental in having it be a fun, exciting holiday for all of us every single year. Dave and I do our weekly date night and so rather than celebrating with a Romantic Valentine's Day date on Valentine's Day, we do our fun Valentine's dinner with our family and everyone gets a book and then we'll do maybe something a little more special or go somewhere a little bit different than we normally would for our Valentine's Day date.
But really the focus for us a Valentine's Day is as a family and sharing that love with each other.
Easter
Next I'm going to talk about Easter. You guys, Easter is coming up this weekend. It's one of my favorite holidays. Oh, because I love the symbolism. I am Christian and I love the celebration of new life and the resurrection and the beauty and symbolism in that and what it means for me.
I also love the pieces of the holiday that celebrates spring and spring is such an exciting time. I spoke a couple of weeks ago in the podcast about time and seasons, especially after a long winter. It's feels really wonderful to celebrate spring and new life and for my family, our dedication to Jesus Christ and his Gospel and the love and openness and a spiritual aspect of Easter is also really wonderful. The ability that I have during that time, particularly to meditate and to focus on new growth and leaving behind old habits and trying to change and become new now, uh, just as I know that I can.
How We Celebrate
So we have a couple of different ways that we celebrate Easter. One of them is as simple tradition for the Easter basket because I mean, Easter baskets are fairly traditional generally. I really have loved, this is another thing I pulled from my family that I grew up in.
Swimsuit In The Easter Basket
Rather than trying to figure out every single year what I'm going to put an Easter basket years and years ago. Actually forever. I mean we've been doing this forever because I grew up with it. And then my very first Easter married, I made an Easter basket for Dave and we always include a swimsuit in the Easter basket. So that is what my kids get in their Easter baskets. What I get, what Dave gets around Easter time is the right time to be thinking about the upcoming summer. And we go swimming a lot.
And so every year we get one new bathing suit to some years my kids need more than one, but they get one in their Easter basket. And then a couple really simple spring treats. So he usually, I do something garden inspired this year. Um, found some cute like new gardening gloves and some seed packets because we're going to plant a garden this year.
In years past, I've given them some gardening tools. They usually get a pair of flip flops. These are all useful things that they're going to use immediately in the upcoming weeks and months as we prepare for springtime in summertime. And so, but the swimsuit is kind of the anchor of the basket and that's really nice because I don't spin my wheels trying to think what new toy do they need or what random stuff can I get them. And our baskets are really simple. I mean it's like some, a little bit of Easter candy usually do a chocolate egg.
If I can find a chocolatetier nearby that does one with their name on them, that's what something that I loved growing up. And so I usually try to find a chocolate shop that will do like a special truffle egg for them with their name and then, uh, a swimsuit and a pair of flip flops and we call it good.
Handmade Easter Dresses
I also look forward to sewing Easter dresses for myself and plum. I do that pretty much every year. And I also, if the boys are into it, I will make them matching ties or a vest. So you can see that a lot of my personal traditions for holidays revolve around my opportunity to. So because it's something that I love doing. Plum super into it this year too. And I'm very excited about our dresses.
I'm just getting started on them this week and they will be, well when this podcast goes live, they hope will hopefully be finished already. So they're going to be really sweet.
And then the other tradition that is really fun that we have loved is our Easter feast. So on Easter night, Easter Sunday evening, the dinner that we have, I think a lot of what people might call traditional Easter foods would be like ham and potato casserole and uh, kind of like those kinds of foods.
I don't know that growing up we had a super traditional Easter dinner and so think we ate things differently all the time. I don't really remember actually a whole lot about, we actually spend a lot of our Easters like camping because it was kind of spring break time. And so I don't remember a lot of details, which is probably why I felt totally open to the idea of creating a whole new tradition for our family.
For our Easter meal. Again, we're going back to a tradition surrounding food because you know this is, this is what we do. A few years ago we started making a Mediterranean Easter style feast as a kid. Sometimes we ate lamb for Easter. That's one thing that can be traditional around the Easter holiday. My very favorite type of lamb to eat is the super flavorful spicy euro meat. So what we do sometimes is order your own meat from a local Mediterranean or Greek restaurant.
And then I just reheat it the day of. So I'll pick it up on Saturday and put it in the oven on Sunday. I usually will get pita from the same restaurant cause oftentimes those Mediterranean restaurants have the best soft pita. It's not like the more crackery style that you get at the grocery store. A couple of years ago I did my own chicken and lamb kabobs and use these really yummy spices that I got at world market. Actually, I have a link to an entire Mediterranean Easter style feast that I did in partnership with world market a couple of years ago. I will link the whole thing in the show notes because it has recipes for all of these different things.
We do hummus and pita, a Greek Salad, other Middle Eastern dishes, um, all lives and um, honey soaked figs. And it's just a really wonderful way to celebrate foods from the region where Christ lived and that Mediterranean region. And I love that type of food anyway and it's been a really fun sort of way to celebrate the symbolism of that in combination with actually eating foods that we like. So that has been really fun.
And if you don't have a super traditional Easter feast or you're not super into him and potatoes like I'm not super into him at potatoes, then you may want to try a different spin on it. And the, I'll share the link to that entire feast in the show notes.
Thanksgiving
Next we move on to another food centric holiday, which is Thanksgiving. Thanksgiving is funny around our house because our tradition is not having a tradition which is so interesting for one of the most traditional laid and holidays that there are probably, I mean, across America, how many families are eating the same meal or essentially the same meal around Thanksgiving.
The reason I think that we have not formed a solid Thanksgiving tradition intentionally is that it was a little bit of a toss up. When we got married. I had spent several thanksgivings as a kid traveling. I also as an adult without my family, I spent a couple thanksgivings in Argentina when I was living there as a missionary. I also spent a Thanksgiving in Mexico when I was living there on my study abroad.
So I have all these funny memories wrapped up and Thanksgiving. And then even after Dave and I got married, we moved away fairly soon. And so we, it was kind of up to us to figure it out. In one year we went to a Honduran restaurant for Thanksgiving and another year when we had young kids, we took them out to a really kind of fancy upscale restaurant in DC for the Easter meal that they provided.
And last year we took our kids to the beach and we did a full thanksgiving of Trader Joe's, like microwaveable Thanksgiving dishes in the Airbnb at the beach. And we spent most of our time at the beach over the weekend.
This coming year, we are going to be traveling for Thanksgiving. Dave is actually gonna be gone for work. And so I'm going to take the kids probably to New York City. That's what we've been talking about most recently. And that will involve some sort of interesting creative meal that is not traditional. I'm not going to spend all day cooking a Turkey because we're going to be running around.
So oddly enough, our favorite way to celebrate Thanksgiving is by not doing the traditional feast. Now, if we're with our family, if we fly home to Utah, which we have a couple times, but not every single year, then we'll do a traditional meal with our families.
"Our tradition for Thanksgiving is the freedom of doing whatever we want every year."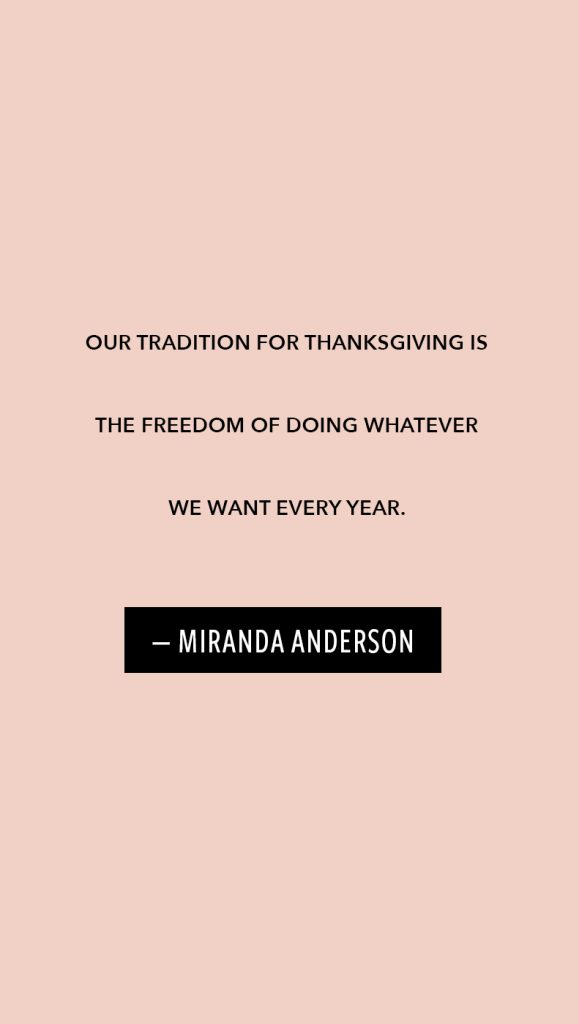 But when we're on our own, we like to do really fun, funky Thanksgiving things and so that our tradition for Thanksgiving is the freedom of doing whatever we want every year. Okay. We have made it almost through the year.
Christmas
Friends, the last big holiday that I want to talk about is of course Christmas. We celebrate Christmas every year and we really, really love Christmas time.
Holiday Cards
A couple of the things that are traditions for us are to send holiday cards every year. And this is a tradition that some people hate and I know in recent years as people are trying to simplify it, something that people cut out and they get rid of and I respect that. That is totally fine. I happen to adore creating and sending Christmas cards every year. And so for me it's been a really fun way and in fact, sometimes the only way during the year that I'm in touch with people that I grew up with or friends that we've made throughout the many places that we've lived.
I also love receiving Christmas cards back in the mail and having a special place where we get to see all of our friends and family smiling faces during the whole month when I put them up. I actually love to keep the cards that we receive and I turn them into a card ring or a little card book each year. And I've been doing that since 2010 I think.
So I have almost 10 years worth of Christmas cards that we received that we pull out every year and my kids and I get to go through them and look and see how the families have grown and changed over the years. All of the people who send us Christmas cards. So that is really fun.
As far as gifting, which is kind of a major part of the holiday of Christmas. We like to keep it simple.
So I have shared about this a couple different ways, but I just want to talk through the way that we like to handle Christmas gifts in our family. What works for us. This is something that Dave and I decided before we had kids. I remember sitting down and kind of chatting through our annual traditions and this is something that I would suggest that you do.
Sit down with whoever is the decision maker in your family with you and talk through the different holidays and if you'd like to have a tradition around it and brainstorm some ideas of what you possibly could do and how you want to handle different things. Making those decisions ahead of time is really, really helpful for preserving your energy and staying focused and intentional when the holiday rolls around. So at Christmas we decided years ago that Santa was going to bring a family themed gift. So rather than each child getting something totally different that would take them off to play in their own room and their own space.
"Sit down with whoever is the decision maker in your family with you and talk through the different holidays and if you'd like to have a tradition around it and brainstorm some ideas of what you possibly could do and how you want to handle different things. Making those decisions ahead of time is really, really helpful for preserving your energy and staying focused and intentional when the holiday rolls around."
Santa Brings Family-Themed Gifts
All of the gifts that Santa gave one gift for each of us would be family themed. For example, one year Santa brought some camping themed things. So each of us got a new sleeping bag and a set of like a mess kit, a plate and bowl and spoon and fork and knife and, and mug. Uh, and then that was something that we could use to spend the weekend camping together.
And we've used those many times since when we go on family camping trips. Another example is a year that our family brought us a family bicycle. So it was a Madsen bicycle. I've shared it on my Instagram a few times. It was a bucket bike, so one person drives. And then there's a big bucket on the back where you can fit up to four children. And in fact, I have even written in the back before. So Dave has pedaled and all four of us, me and the three kids will be sitting in the bucket on the back.
Most of the time we use it for me to ride around with my younger kids, the ones who don't yet ride bicycles and actually now it's been a few years that the only one of my kids that isn't writing completely independently is plum. She rides a bike. It's still has training wheels, so sometimes when we want to get somewhere a little quicker I'll throw her in the Madsen and then the boys will ride their own bikes.
That was a family gift. It was quite an investment and a really wonderful tool that we've had for our family to spend time together outside and that was what Santa brought us that year for Christmas. Other things we've thought of for the future, our, if we decide that we want to get into skiing as a family, we've gone skiing together one time as a family. Just this last year was the first time actually that there was a ski resort near enough for us to go skiing together.Dave and I are the only ones who own our own skis. So maybe at some point if that becomes something we want to do more as a family, Santa will bring all of the kids skis.
Or maybe one year we want to get in to playing tennis together as a family. All of us could get tennis rackets and tennis accouterments. Maybe one year we want to get into playing more games together and so each of us could get a different game that are all meant to be played together as a family. You can see where this is going, right?
One Personal Gift From Mom + Dad
So one family themed gift from Santa and then the kids each get one gift from mom and dad and those are things that are a little more personal to them. Milo might get a lego set and plum might get a princess dress up or a doll and a Eliot might get a set of books that he's been super into or excited about.
Stockings Filled With Consumable Goods
In addition to those two special gifts, we fill stockings with consumable useful items, so treats and maybe coloring books and crayons. Or if the gift that they received needs some sort of accessory to go with it, then we will add that to the stockings. But for the most part we're keeping it super simple at Christmas and no one has piles and piles of presence we like to reserve, like I mentioned earlier, they're really, um, if there's something super special or a little bit bigger that someone wants or needs, we'll reserve that for their birthday when we're really just celebrating them. And that allows us to not only spend less time shopping at Christmas time, which you all know if you've been listening to this podcast for any length of time that, uh, we like to focus on really intentional living and not buying things that we don't need and that we don't think add value to our lives.
And I think that Christmas has gotten so overrun with the idea that you need to have all of this stuff and we just like fill our baskets and you just keep shopping and shopping and shopping. I feel like that has been, um, and that's just super unnecessary and it's not something that adds a lot to the joy of the season.
In fact, when you can curb some of the unnecessary shopping, the unnecessary spending, some of the anxiety that comes along with that, then you also get to have space and time and energy to spend actually enjoying the people that you want to celebrate and the and have some time to think about the, the beauty of the season and the hope and the joy that it brings.
Gifts of Experience
We have really loved focusing on gifts of experience. And I should mention that I'll put a, actually a link in the show notes about a blog post that I did several years ago with 50 gifts of experience and ideas for that because sometimes people don't need more stuff.Sometimes they just need time to spend with you doing something fun. And so I have brainstormed and spend a lot of time in my life trying to give people gifts of experience that will be really meaningful and that allow to develop the relationship even a further rather than just giving a random thing.
Vacation for Christmas
One of our favorite things to do recently has been to focus on just doing a vacation for our family for Christmas. And so the family theme to gift that Santa Brings his plane tickets to go somewhere fun. And then the gift that mom and dad gives is something that will help add to that vacation. Maybe a new travel backpack filled with activities for the plane ride or a new outfit that is going to be perfect for the weather where we happen to travel.
So our plans for this Christmas are to wake up and go to Mexico City and we don't have all the details nailed down for that yet. But rather than doing a bunch of other gifts, that's going to be the gift for our family and it's going to be time that we get to spend together traveling and enjoying a new culture and a new place. And really just enjoying the relationships that we have that are continually changing as we all change, as our kids grow up. I love just creating space that we can get to know them and the people that they are as they continue to develop more and more into them.
A Year Of Traditions
That's a whole year's worth of traditions. I'm sure there's a lot of other little random holidays in there that I haven't mentioned. Those are the main ones that I could think of. The weekly and the little holidays and the bigger holidays and the things that we like to do to celebrate them in a specific way so that we know what's coming.
We can prepare ahead and really so that we have the freedom when the holiday comes to not be stressed out about what we are supposed to be doing or thinking or buying, but so we can really actually just enjoy the meaning behind each of the holidays as they pass. So I hope that this has been helpful and you've gotten some good ideas. Whether you want to start doing some of the traditions that our family does, you're welcome to them. They're free for anyone to enjoy.
Create Your Own Traditions!
You also might want to just think of some of your own ideas and the ways that you want to celebrate and bring more meaning and more intention into the holidays, in your own family and your own life. I think now's a good time for me to mention and I'm going to add this into the show notes. Before Christmas last year, I did an episode about Planning Your Year. A lot of you really liked that episode and after the episode was over I had my designer create a printable that just has the months of the year on it. And so I'm going to mention that again because, and I'm going to add it into the show notes. I didn't mention it back then because it hadn't been, we created it like a week after the show.
So I've added it back to the show notes of that episode, but I'm going to include it again in the show notes of this episode because it may be really helpful to use as a tradition planner.
So you can go to the show notes at livefreecreative.co/podcast look for episode 35 and download the year planner. That will have just a space for each of the months of the year and it has the months labeled, but it's a really beautiful kind of speckled sheet and it's just a cool principle. And then you could use this as a tradition planner.
DOWNLOAD THE YEAR PLANNER PDF HERE!
Almost each of the months has some sort of small or big tradition and you could use it as you're thinking through the things that you want to celebrate in the way you want to create traditions as a place to write those things down. Maybe you sit with your husband or your wife and you, maybe you want to involve the kids or not, but you could spend a little bit of time just kind of thinking through and making some decisions around this. And also I want you to know and just feel really comfortable with the idea that you are free to change your traditions at any time.
Feel Free To Change Your Traditions
That may be sounds backwards because the tradition is supposed to be something that you do over and over again, right? But as soon as it's not serving you or your family or it's causing more stress, you know the net benefit is gone and you're actually feeling more stressed out or more frustrated or more anxious because of our particular tradition.
If it's not inspiring and adding value and making you feel great, then maybe you don't need that one. Or maybe you just pause it for a little while. It's okay to start and stop tradition. That hope is that you can find some that don't take too much away from the holiday itself, but that actually add to it and enhance it and make it feel more robust and more meaningful and more intentional. That's what we've tried to do and I, that's my hope for you too.
So if you need a printable to help with that, this one is really great and just very simple and it's free on the blog right now. I hope that you've enjoyed the show, so let me know if you have other holidays or other traditions that you want to share, but I'd love to hear about them so you can find me on Instagram at live free Miranda and send me a message and let me know. Maybe I'll do an update of some other fun traditions that people have a surrounding each of these holidays and I also want to just encourage you as I do every week to share this episode with someone who might need it.
Share The Show!
Take us screenshot and share it on Instagram, on your story or on Facebook or if you Twitter tweet it, tweet about the show. That'd be amazing. Also, I'm going to encourage you as I do all the time. If you have a chance and you haven't yet left a review on iTunes, now is a great time to do that. I am so happy to see so many of you enjoying the show every week and I just appreciate you being here. I do not take it for granted that you give me some of your attention. I hope that these messages are inspiring and helpful and help you live your best life the way that you want to live at. I'll talk to you later. Happy Easter.
Thank you all so much for entering and sharing your love! Here are the six random winners! All winners have been contacted and prizes will be sent next week!
#1 Elise Donahue
#2 Klaire Edwards
#3 Janette Hawkley
#4 Anna Whitmore
#5 Kathleen Van Buskirk
#6 Bri Rich